Homemade French Onion Dip is better than anything you can buy at the store, and much easier to make than you might think! You'll want to dip everything from chips to carrot sticks in this savory dip.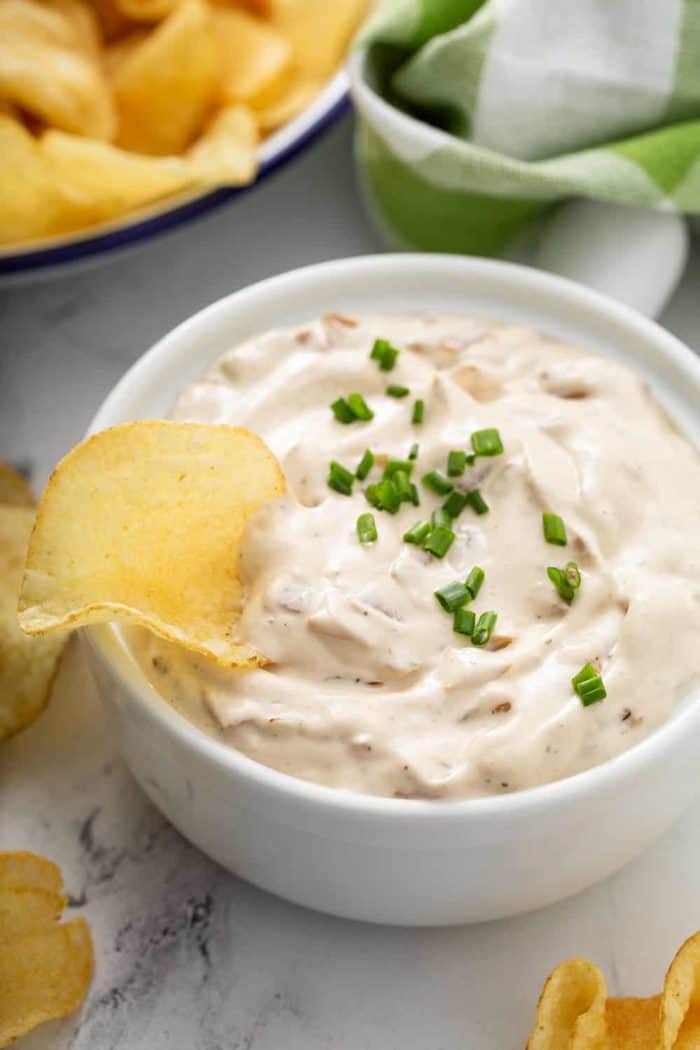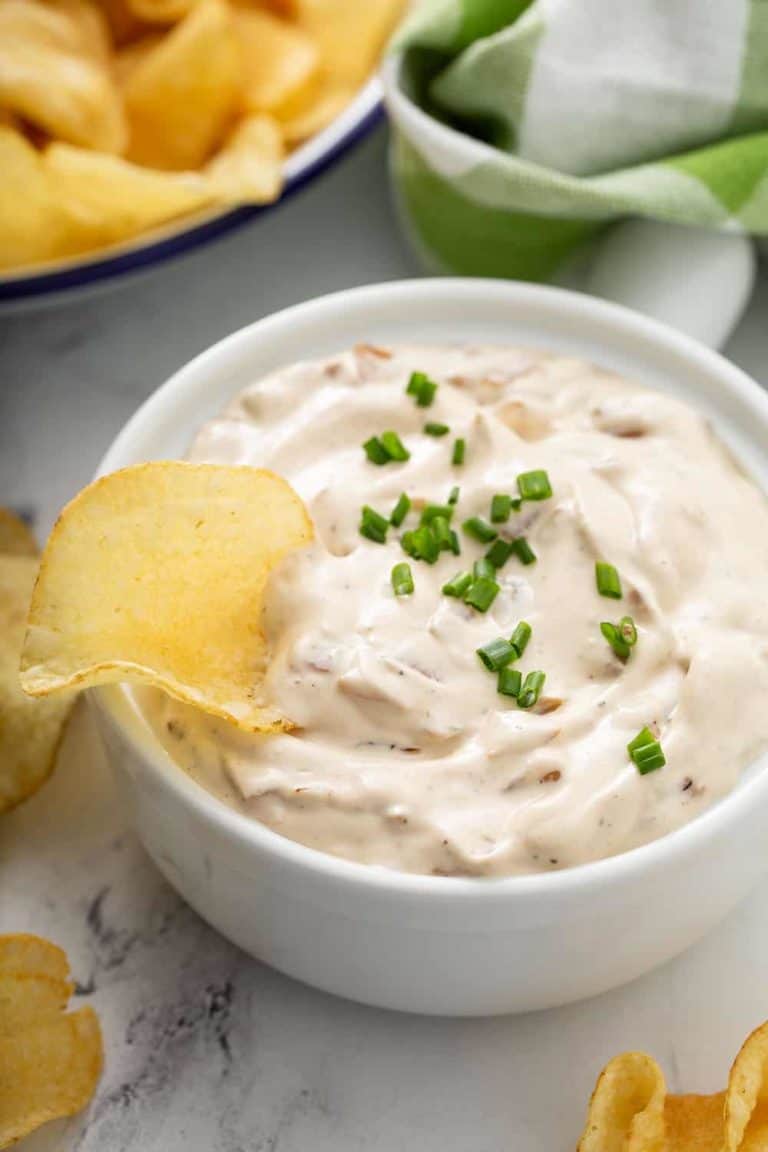 One thing in my life that I am super particular about when it comes to food is chip dip – more specifically French Onion Dip. I'm not super picky when it comes to the dippable items. Basically just give me a chip, but I am a total chip dip snob.
When I was a kid, I fell pretty hard for the French Onion Dip at a local carry out in my hometown and now as an adult, I'll drive miles to pick up that chip dip over just grabbing a name brand from the grocery store.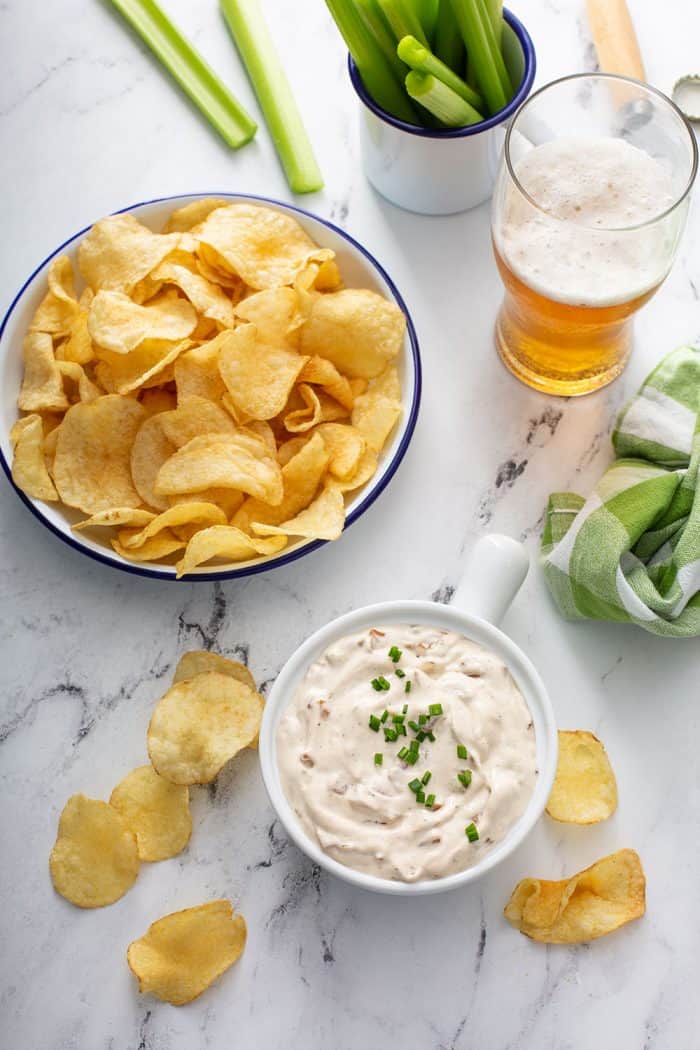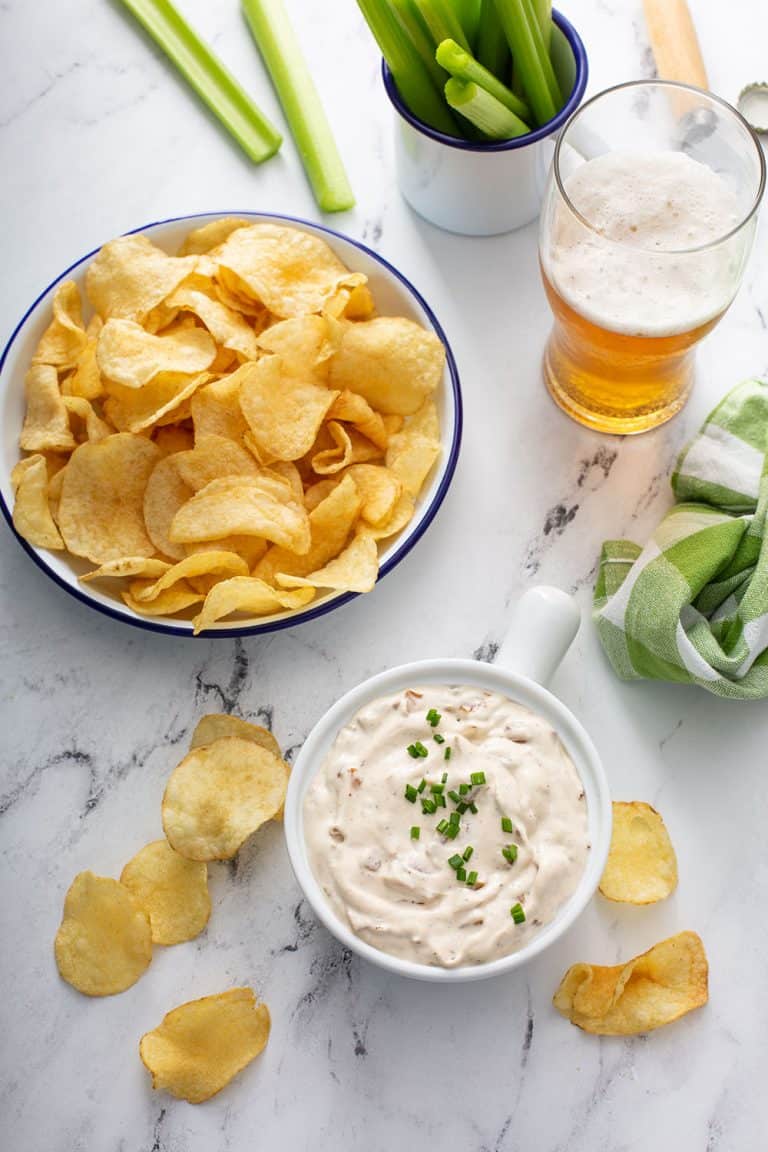 THE PERFECT GAME-DAY DIP
The other day when I shared my Pumpkin Dip recipe with you, we talked about how I am a *little bit* obsessed with dips.
And over the weekend, I fell pretty hard for the Fried Pickle & Ranch Dip from Sam's. Seriously, go grab yourself a tub – you can thank me later.
If you ask me, there's no better snack than an assortment of chips and veggies and a buffet of everything from Buffalo Chicken Dip and Jalapeño Popper Dip to this Homemade French Onion Dip.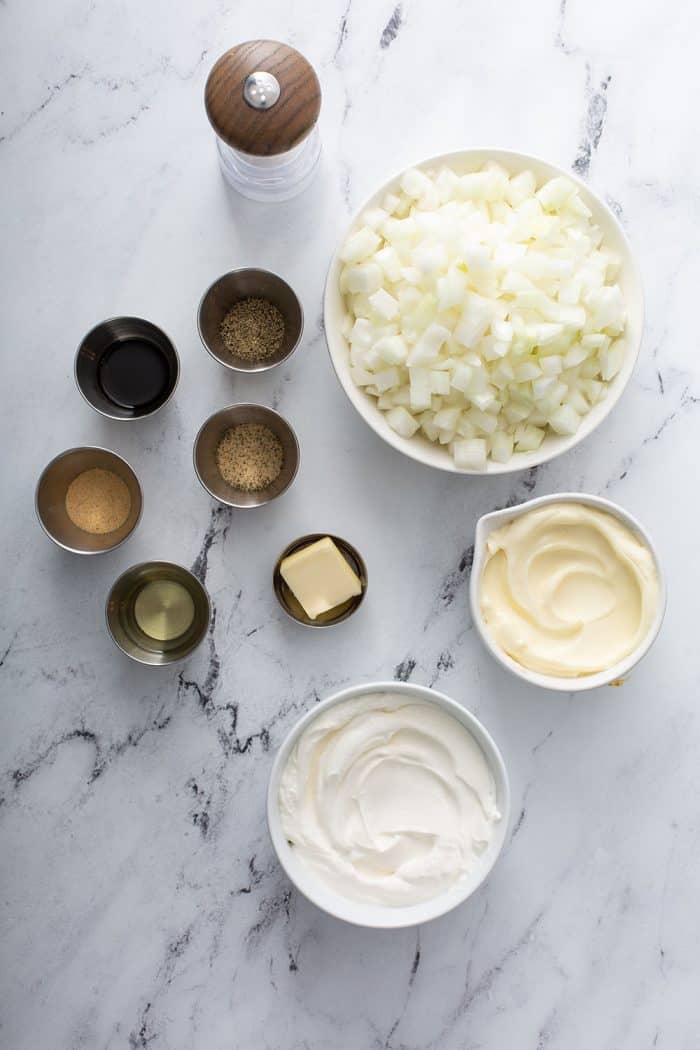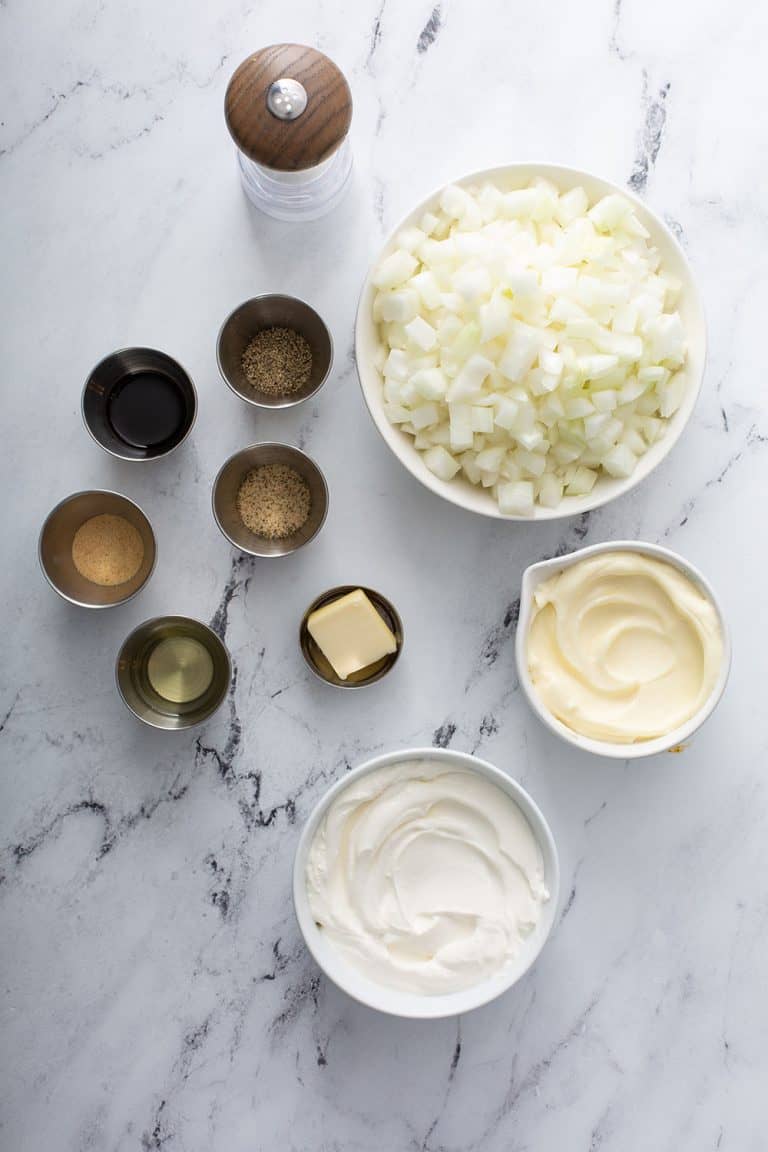 Like, I may not be much into sports (please don't ask me the score or even which teams are playing), but I can get fully into game day when there's a table of dips just begging to be eaten, okay?
And is there really a more classic game-day dip than French onion dip?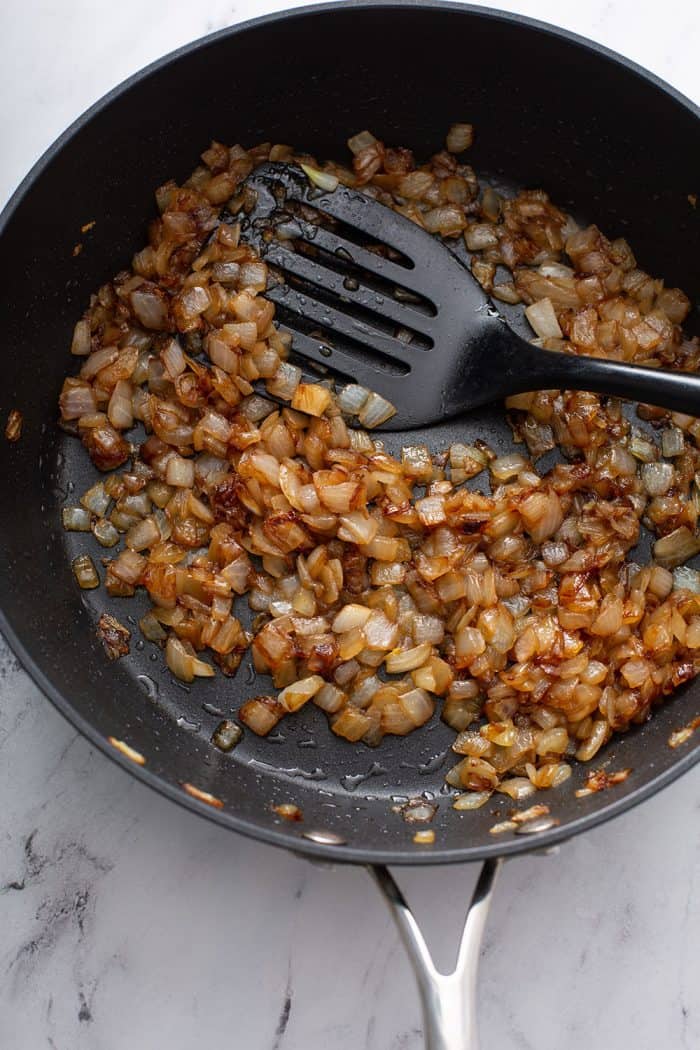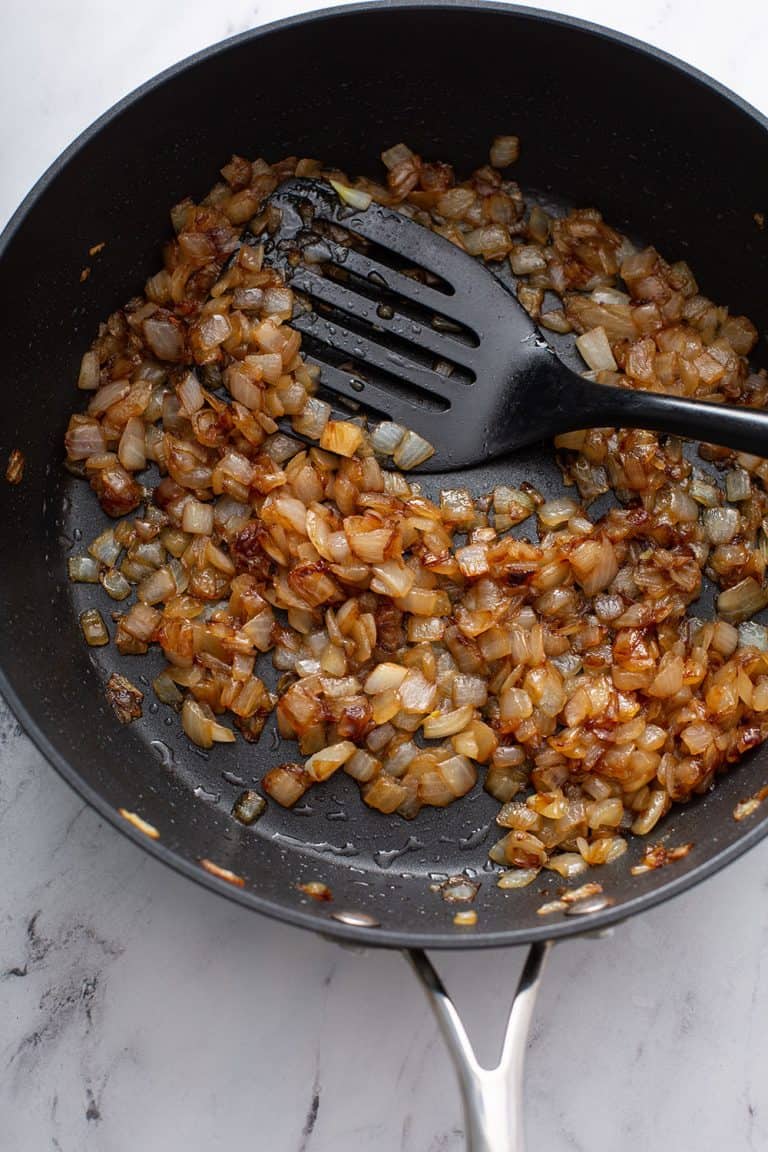 Creamy, savory, and just a little bit sweet thanks to those bits of caramelized onions…this dip is honestly everything you could ask for.
I'm not against buying a tub of French onion dip at the store, but when I have a few extra minutes, I really love to make my own.
It only takes a few ingredients and is really easy to do!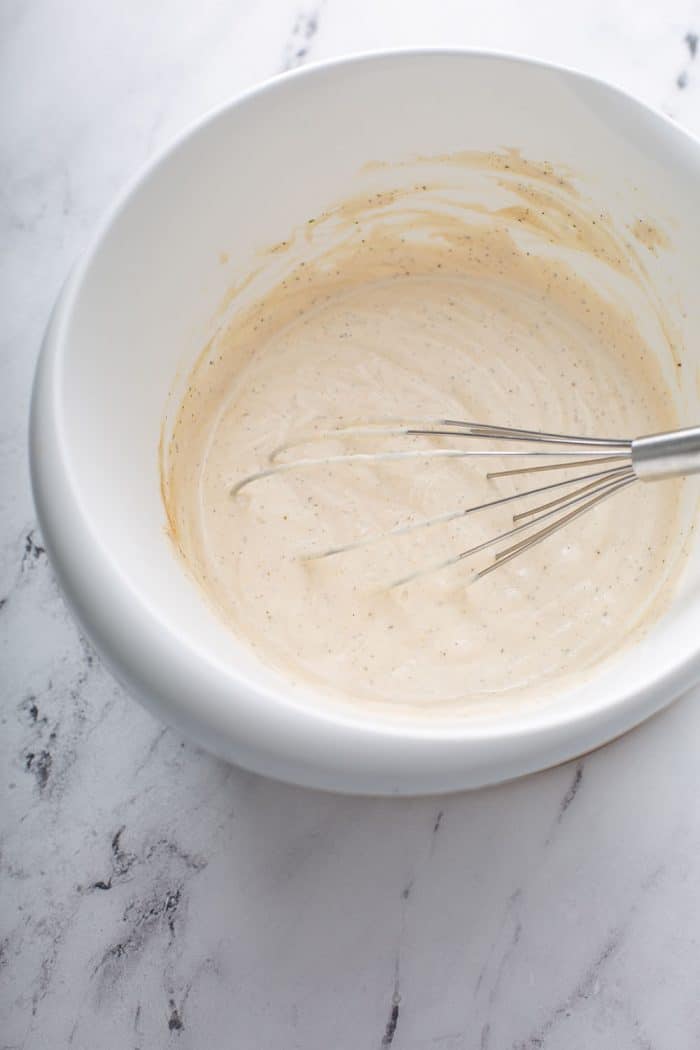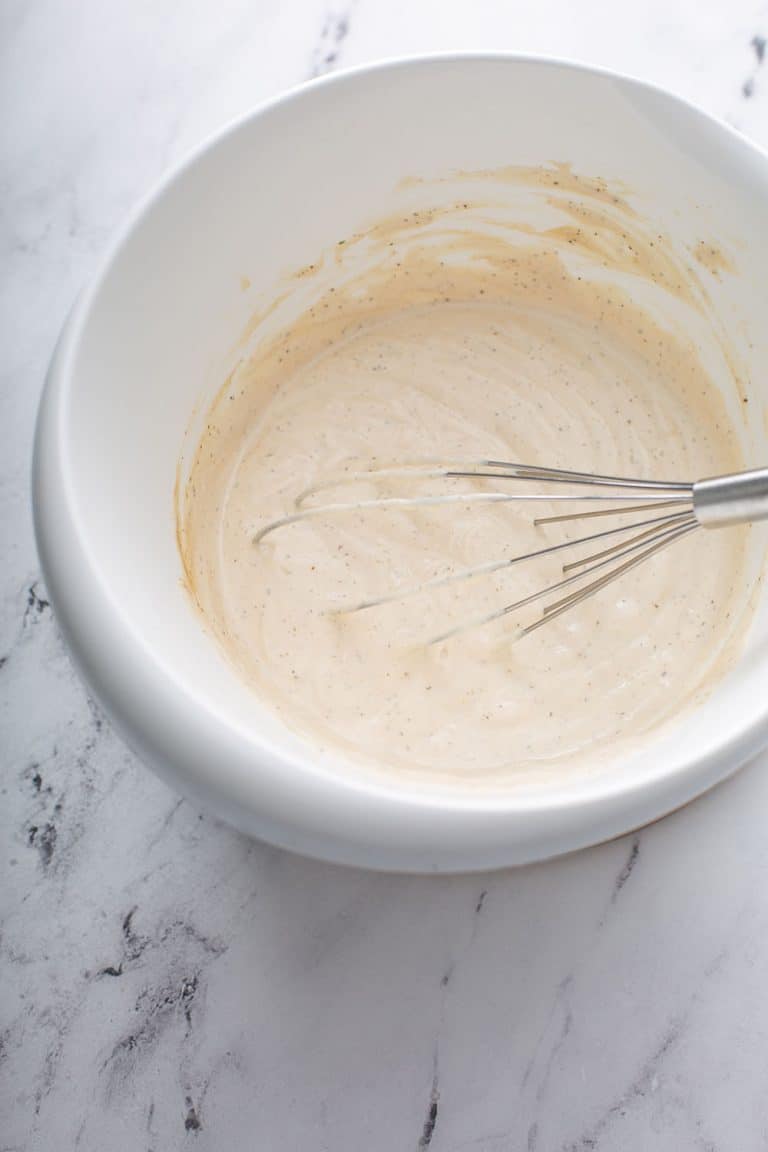 FRENCH ONION DIP INGREDIENTS
Homemade French Onion Dip comes together with just a handful of ingredients:
Caramelized onions (made with onions, butter, and oil)
Sour cream
Mayonnaise
Seasoned salt
Garlic powder
Worcestershire sauce
Ground black pepper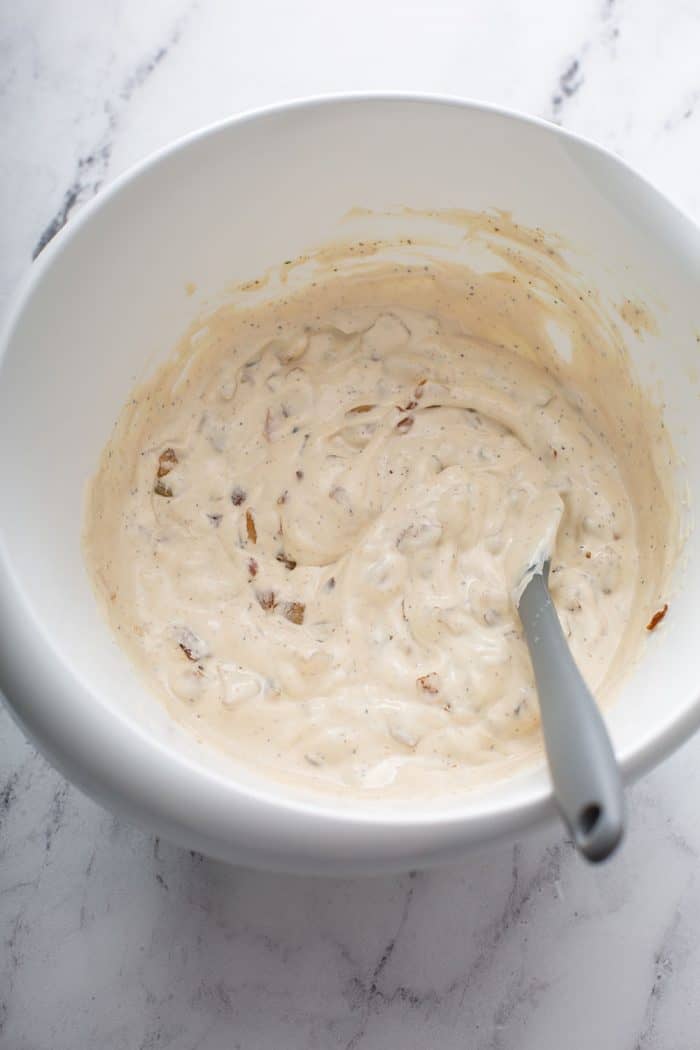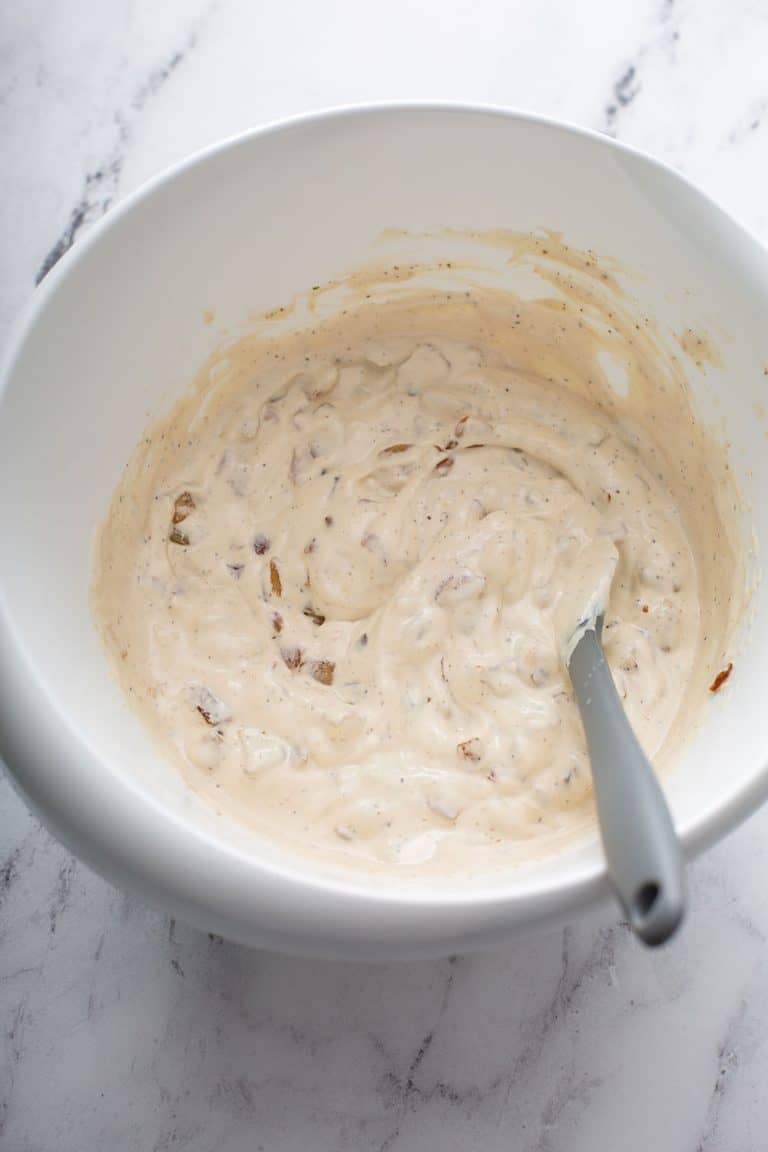 I don't know about you, but all of these are pantry and fridge staples in my house. Which means that I can whip together this dip on the fly any time we get a craving for it!
I know that caramelized onions sound intimidating, but they're pretty simple to make – you just need about 30 minutes. Let me talk you through it.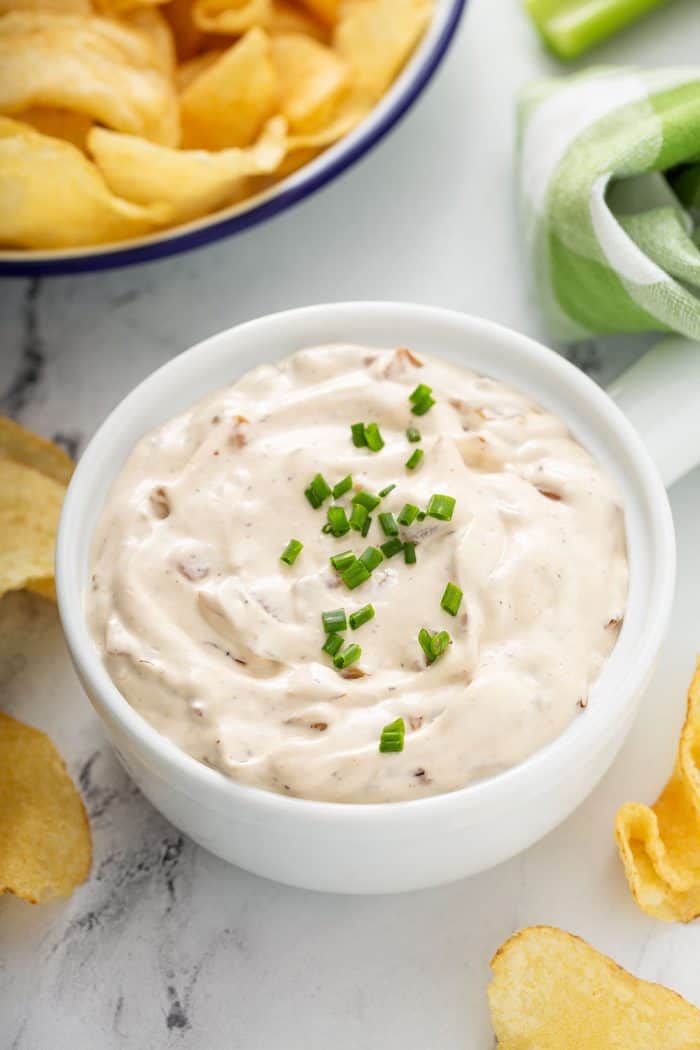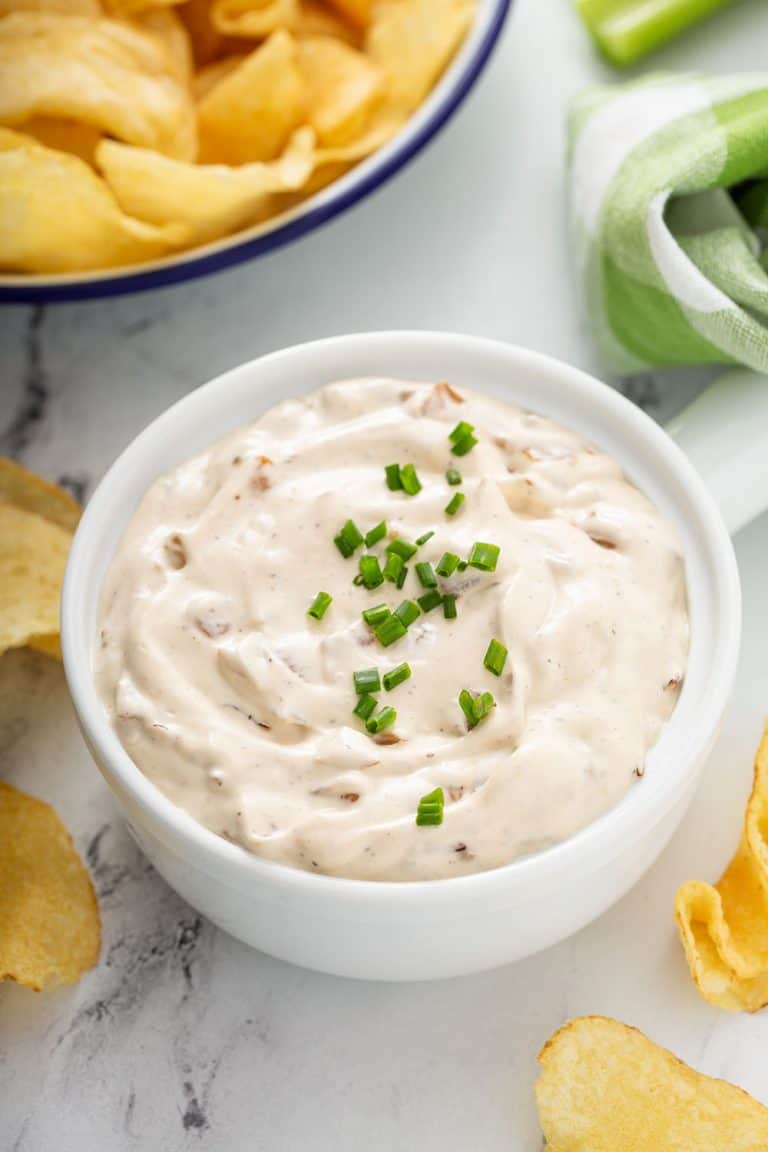 HOW TO MAKE FRENCH ONION DIP
Grab a saute pan, add in the butter and oil, and heat it over medium heat. Add in the diced onions.
I like to use vidalia onions because they are naturally so sweet, so they make excellent caramelized onions. But you can use regular yellow or white onions if you happen to have them on hand.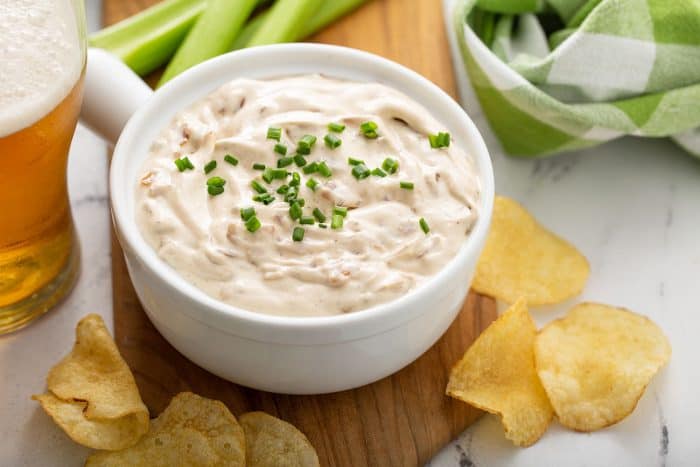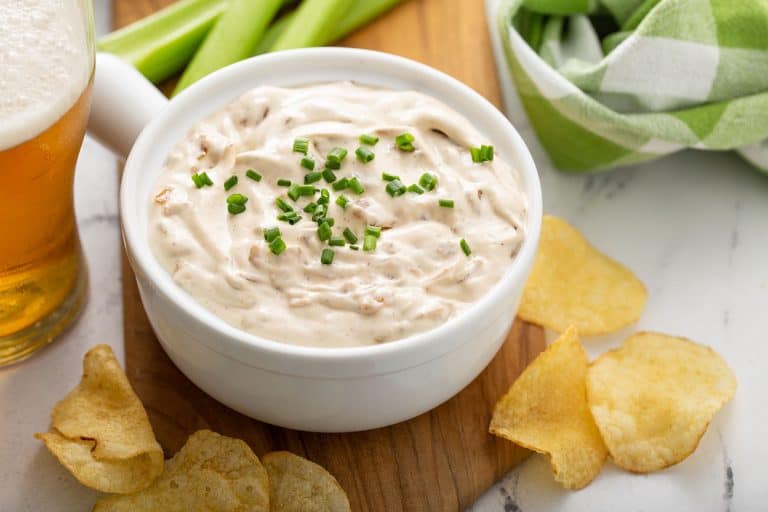 Cook the onions over medium heat, stirring occasionally, until they're deep golden brown. It'll take a little time to get there – usually at least 30 minutes, depending on your pan and your stove.
Don't worry too much about babysitting them or stirring them constantly. A few stirs every now and again will do.
And that's it! You just made caramelized onions!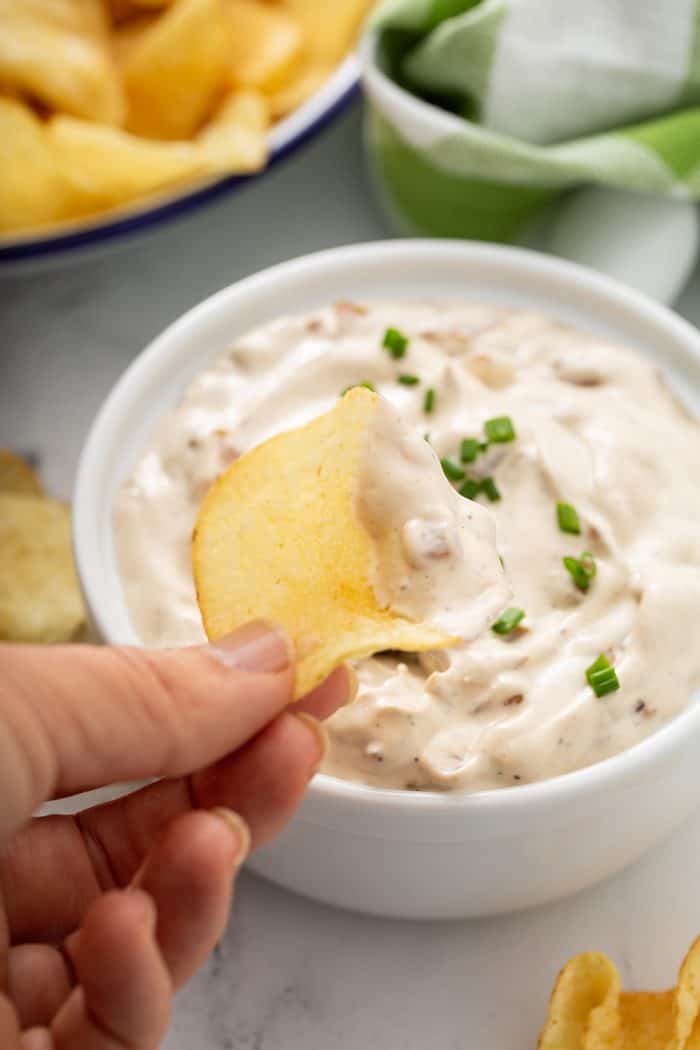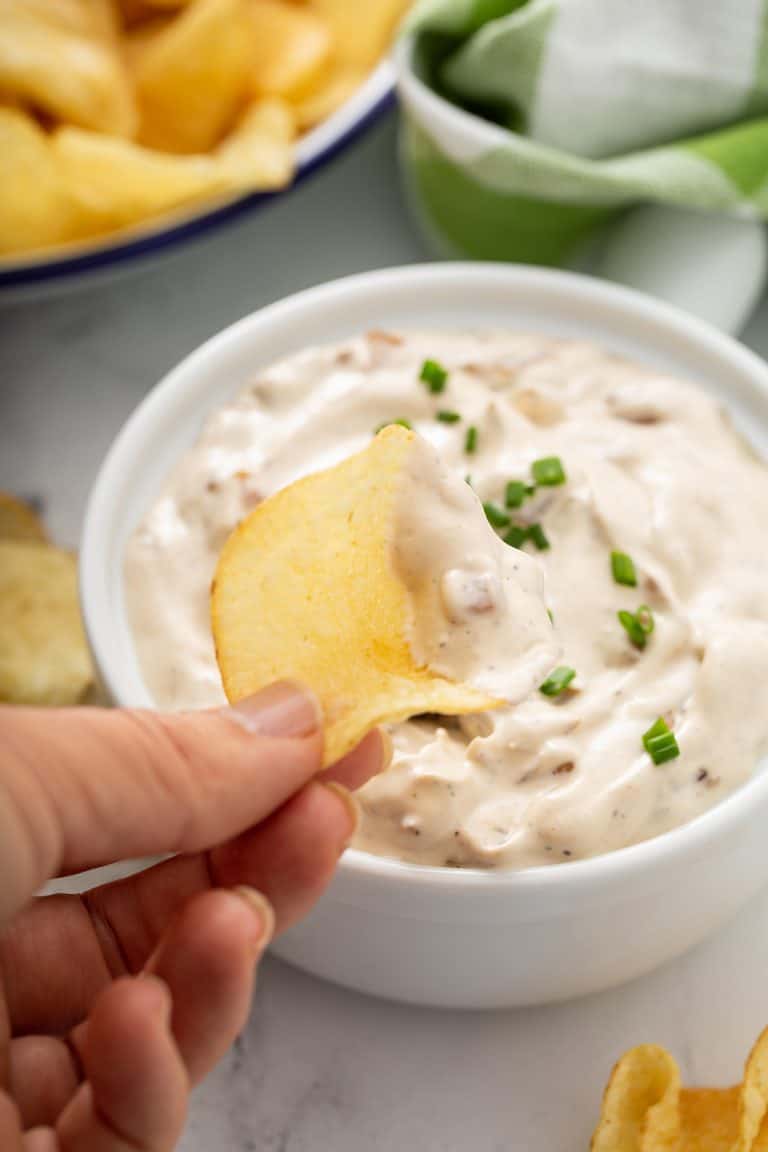 Now let the onions cool. Stir together the rest of the dip ingredients in a bowl before folding in the cooled caramelized onions.
Let the dip chill in the refrigerator for at least an hour (although longer is better) before serving.
I love to serve Homemade French Onion Dip with potato chips, but it's equally delicious with veggies. I've even slathered it on a burger before.
Honestly, no matter how you serve it, you can't go wrong!