French Onion Chip Dip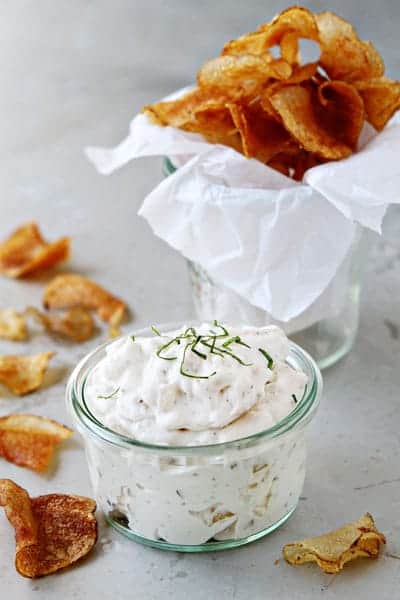 If you follow me on Facebook or Instagram, you know that I recently purchased a Big Green Egg. A Big Green Egg is a kamado-style ceramic charcoal smoker and grill. I'm pretty sure the people behind the Big Green Egg brand name are as literal as you get, because one look at this thing and you know why that's the brand name. Within a few short weeks, we've kind of fallen head-over-heels in love with the big lug.
As you can imagine, it's pretty much a man magnet. And of course, with the new toy, comes the need to show the new toy off to friends. Case in point: an impromptu burger grilling session on Tuesday before the Miami Heat game.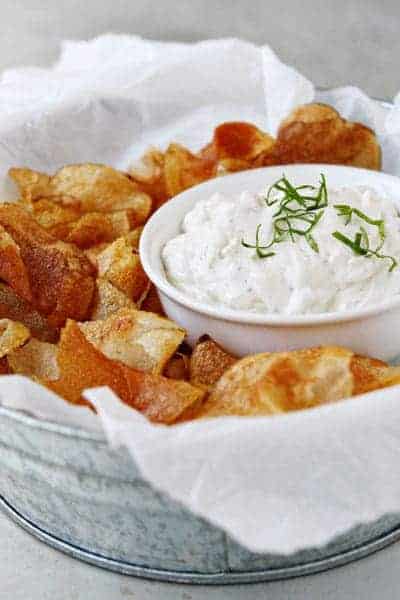 Brian's amazing with grocery shopping and as long as I provide a specific list and, in extreme cases, photos. He'll find every single item – even the crazy spices that he's never heard of. However, if he goes it alone, armed with only his wits – he'll come home with just meat and lots of it. That was exactly what happened on Tuesday when he smacked a large butcher paper wrapped package of ground beef on the counter.
I quickly scanned the kitchen for another bag only to realize there wasn't one. When I inquired about a side dish to go with the burgers, he said chips and then said something along the lines of "too bad there's no dip". Funny how these things never occur to him when he's actually at the magical place where he can think of something, lay his hands on it, and purchase it with money.
His out-loud wish for dip was also his not so subtle way of prompting me into kitchen magician mode. I wasn't sure as I headed for the fridge whether we even had sour cream. Brian's pretty lucky I was able to whip together this incredible French Onion Chip Dip.
Reduced fat mayonnaise and sour cream combine with spices and caramelized Vidalia onions to create a dip that's worthy of just about anything. From carrot sticks to homemade potato chips, it'll be scoffed up in no time at your next backyard barbecue or impromptu game night dinner.
[pinit]

French Onion Chip Dip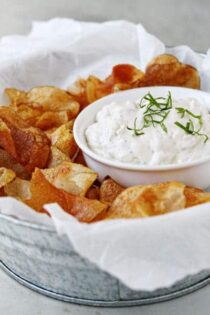 Ingredients:
2 tablespoons canola oil
1 tablespoon butter
2 large Vidalia onions, diced
2 cups reduced fat sour cream
1 cup reduced fat mayonnaise
1 teaspoon Nature's Seasoning (see note below)
¼ teaspoon garlic powder
1 teaspoon Worcestershire
1 teaspoon freshly ground black pepper
salt to taste
Directions:
1. In a large saute pan over medium to medium-high heat (adjust to your cook top), add oil and butter. When butter is melted, add onions and saute stirring often until golden brown and caramelized, about 30-35 minutes. This may take less time depending on the size of your onions and your cook top. Set aside to cool to room temperature.
2. Meanwhile, in a medium bowl, combine sour cream, mayonnaise, Nature's Seasoning, Worcestershire, salt and pepper. Fold in onion mixture. Chill at least 1 hour or overnight, prior to serving.
Notes:
– If you don't have Nature's Seasoning, you can substitute celery salt. However, I highly recommend Nature's Seasoning, it's good stuff.
– Store dip in an airtight container within the refrigerator for up to 3 days.
– Want more info on caramelizing onions? Check out this helpful tutorial on Simply Recipes.
My Baking Addiction adapted from Guy Fieri via The Food Network.
All images and text ©
Follow Jamie on Instagram. We love to see what you're baking from MBA! Be sure to tag @jamiemba and use the hashtag #mbarecipes!
This post may contain affiliate links. We are a participant in the Amazon Services LLC Associates Program, an affiliate advertising program designed to provide a means for us to earn fees by linking to Amazon.com and affiliated sites.