Buffalo Chicken Dip is a game-day must! Whether you're watching the game at home or with your friends, everyone will love this spicy, creamy dip.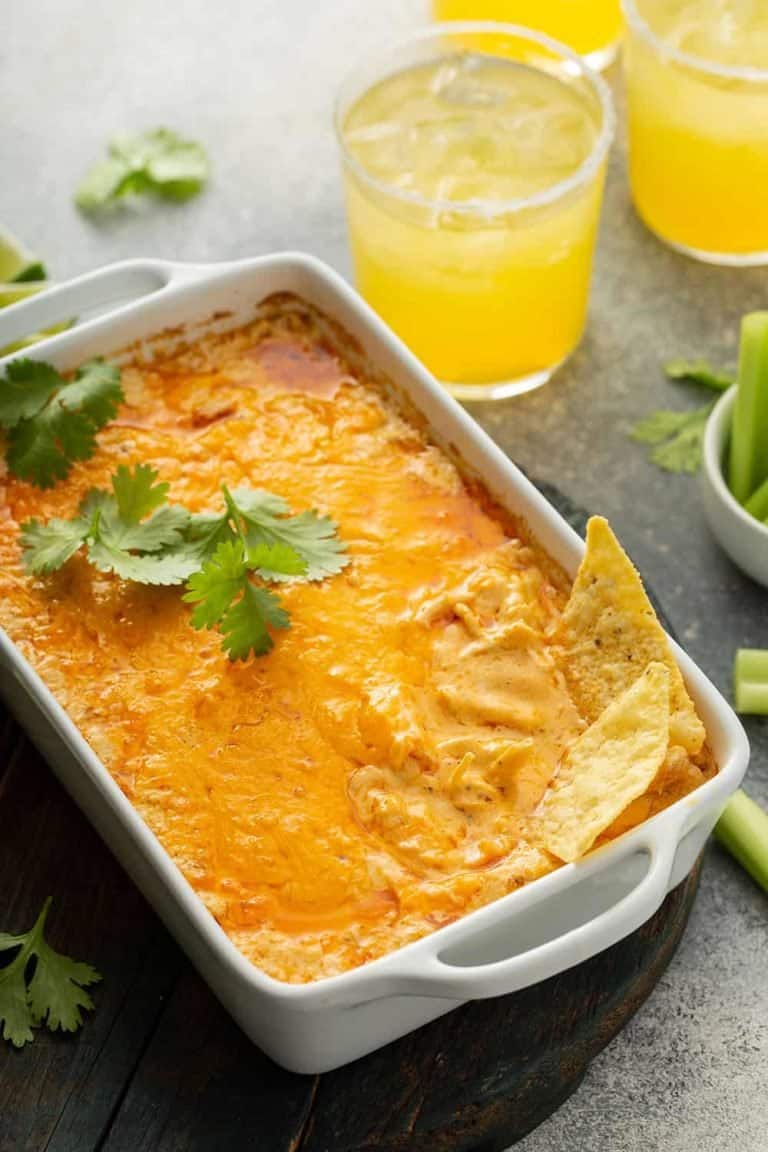 My husband has been in the best mood since he heard the Big Ten announced their schedule for the 2020 season.
In fact, I think he's about 2 seconds away from making a paper chain to countdown the days until the first Ohio State Buckeyes game.
And since he's been really into air fryer chicken wings, I'd thought I'd throw a little buffalo chicken dip action into the mix using the same flavors as the wings he's been loving. Game day snacks are the best, right?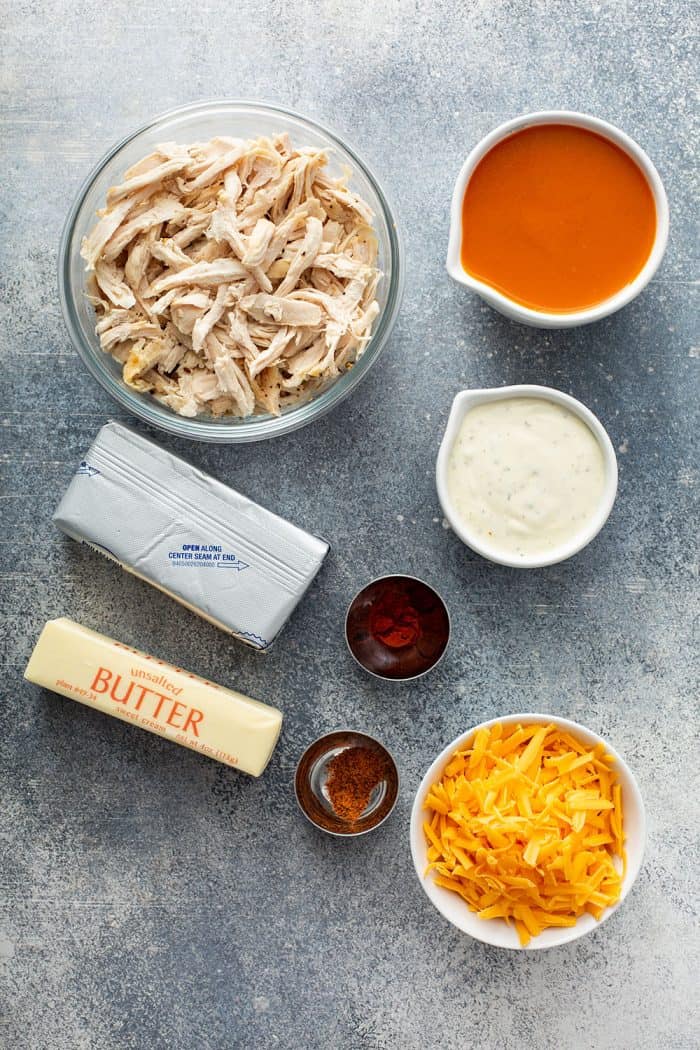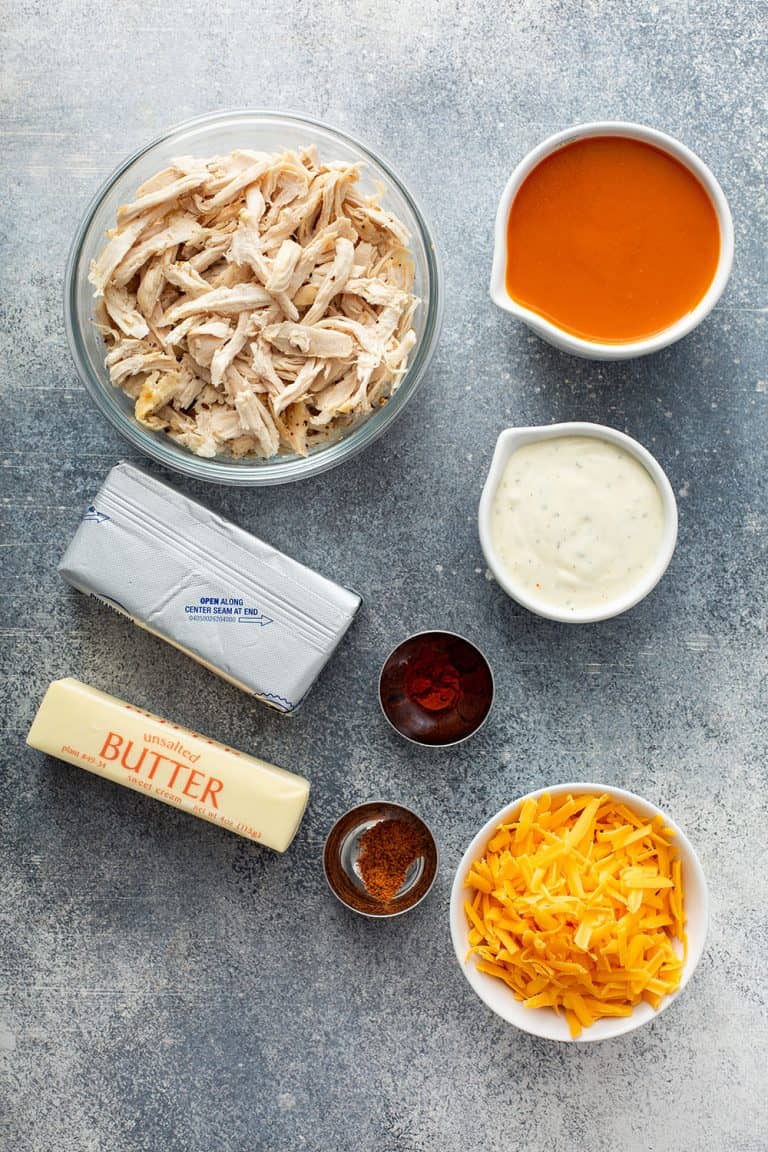 BAKED BUFFALO CHICKEN DIP
Have you ever had Buffalo Chicken Dip?
I feel like it's a game-day must-have here in the Midwest. We love a good dip around here (like Jalapeño Popper Dip or French Onion Dip), and there's something about the contrast of a creamy dip with the spicy hot sauce that is always a hit.
I've had a few different versions of this snack, including slow cooker versions. This particular version is prepped quickly on the stove and then finished in the oven, which means you can get the top as browned and crispy as you like!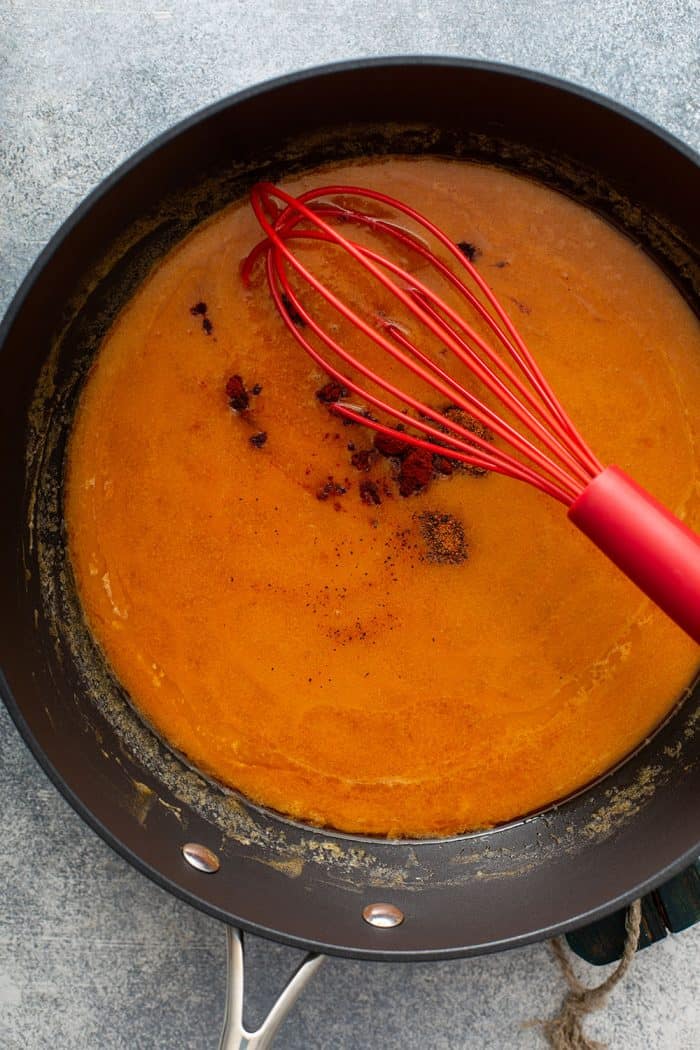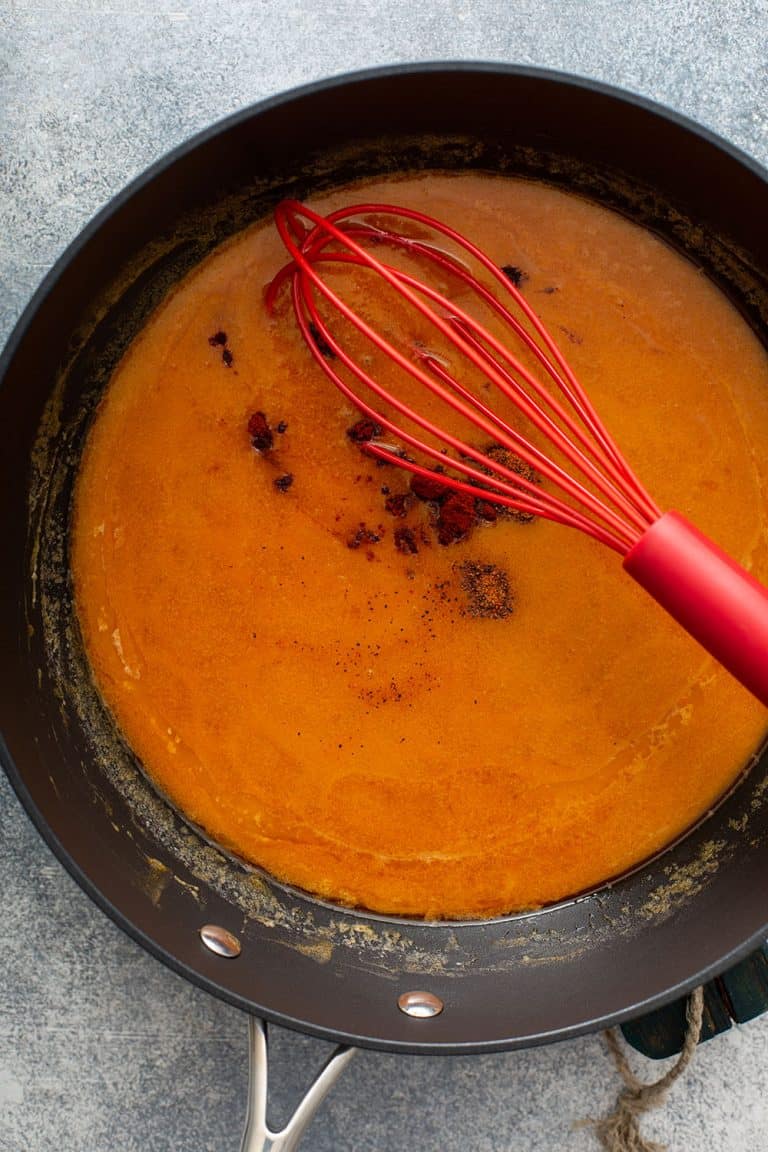 WHAT HOT SAUCE AND CHICKEN SHOULD I USE?
Obviously two of the main ingredients in this dip are going to be hot sauce and chicken. But there are a few options for both of these, so which should you use?
One of my friends has a literal collection of hot sauce. We're talking 50+ types of hot sauce. So when I wanted to know which was the right hot sauce to use in this Buffalo Chicken Dip, I turned to the expert.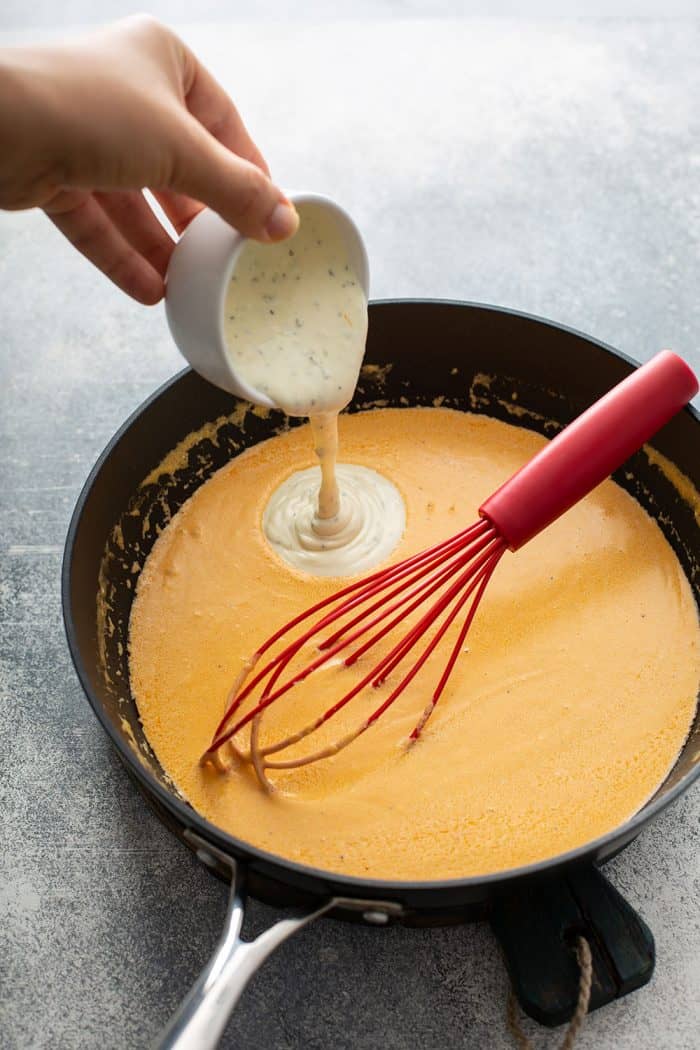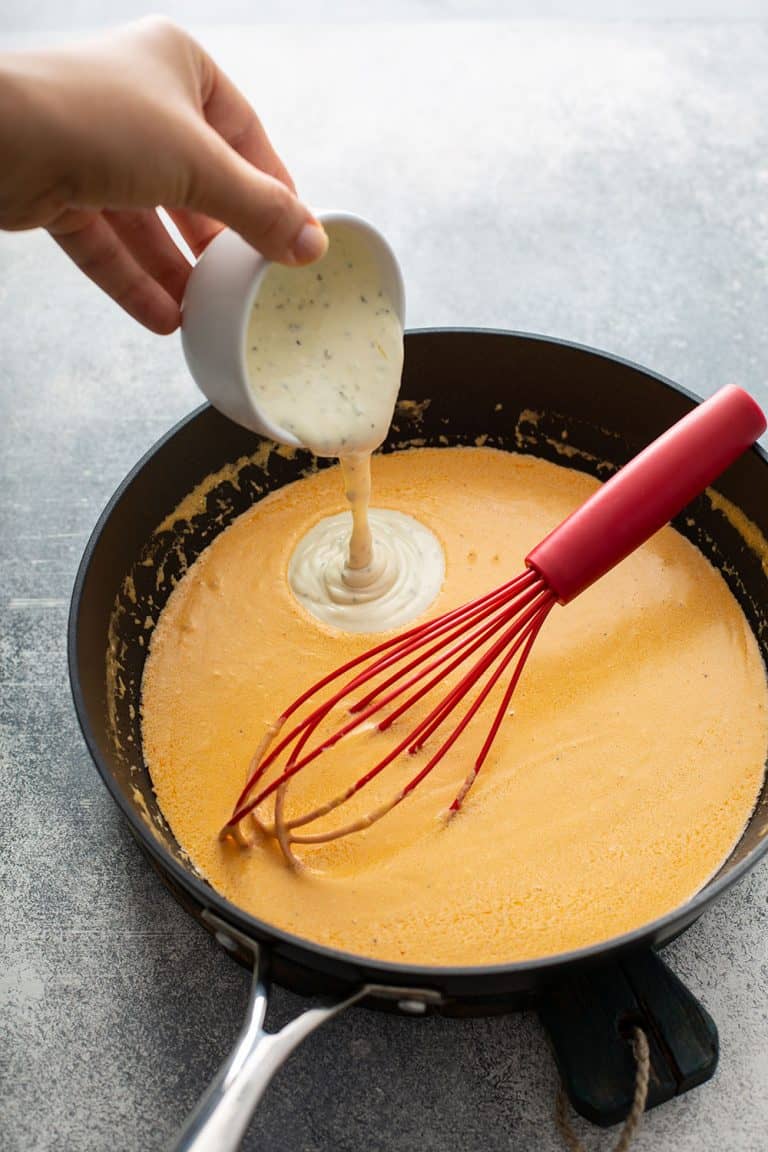 For a classic buffalo sauce flavor, you'll want to grab your favorite classic cayenne pepper sauce. My friend recommended Sweet Baby Ray's Hot Sauce or Frank's RedHot.
For the chicken, I like to grab a rotisserie chicken and shred it up. It's quick and easy and the cooking has already been done for me.
You could also cook chicken breasts, shred them, and store them in the freezer for whenever you need them.
I'm going to be honest, though, sometimes I take the ultimate shortcut. Are you ready?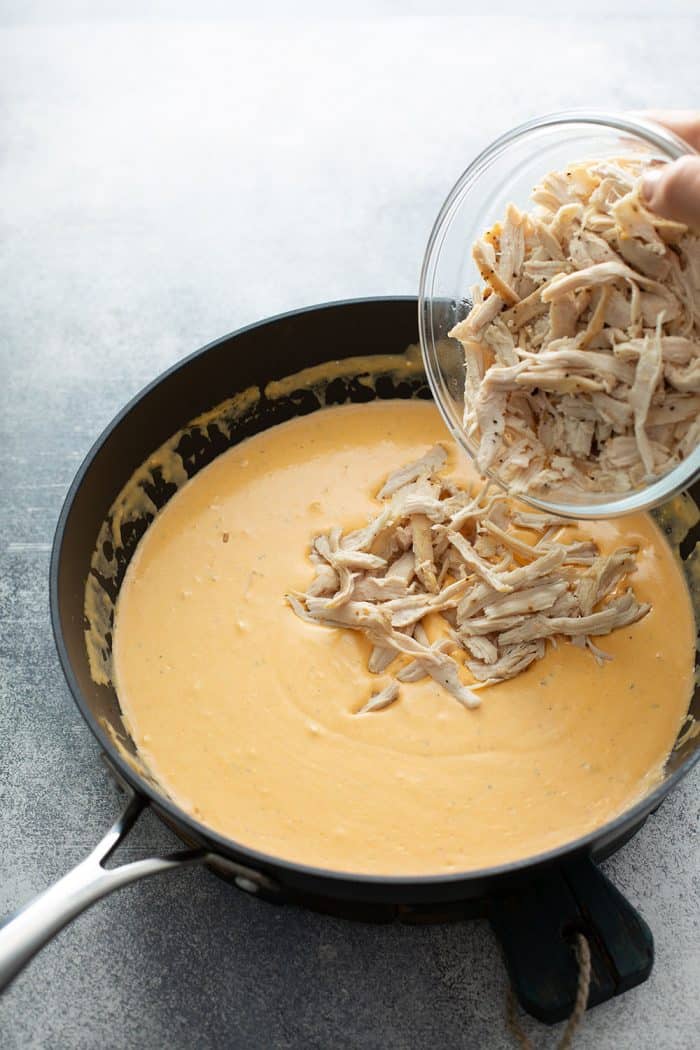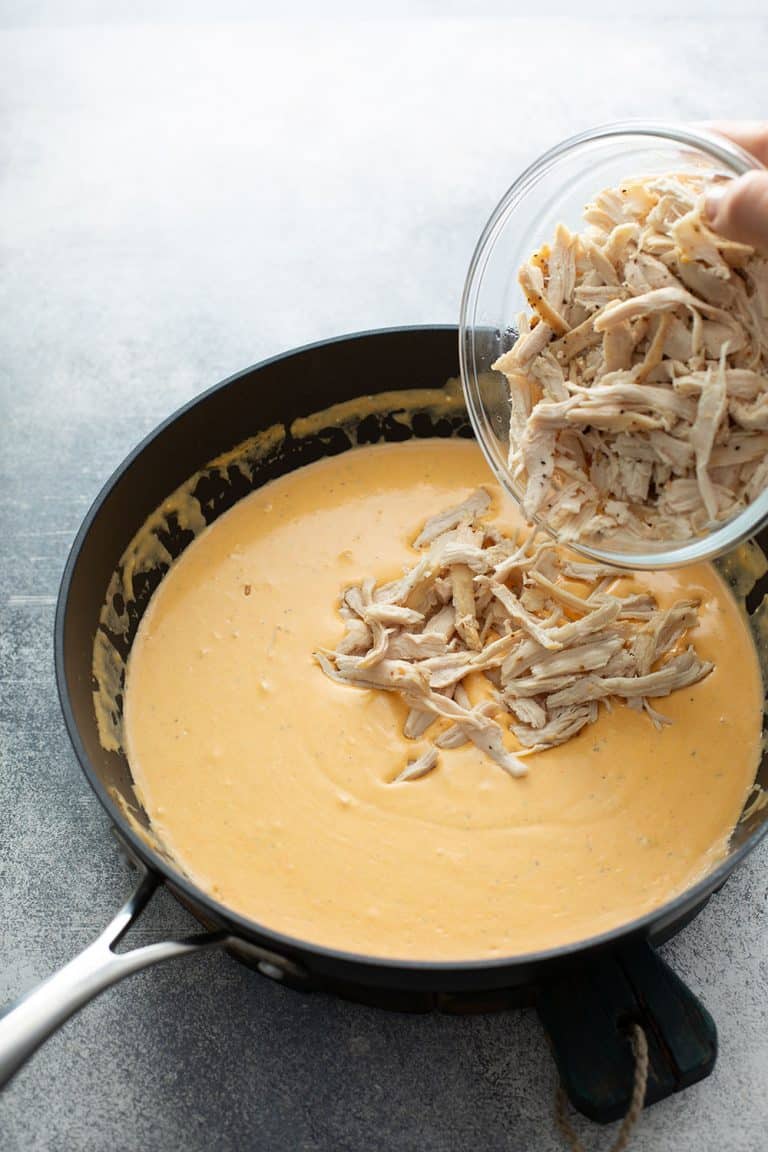 Sometimes I use canned chicken in this dip.
It's not an ingredient I reach for a lot, but it works great in this kind of recipe! It is also really finely shredded, which can be nice.
If you want bigger pieces of shredded chicken, go for the rotisserie. If you want it super fine? Canned is the way to go. (I promise no one will know!)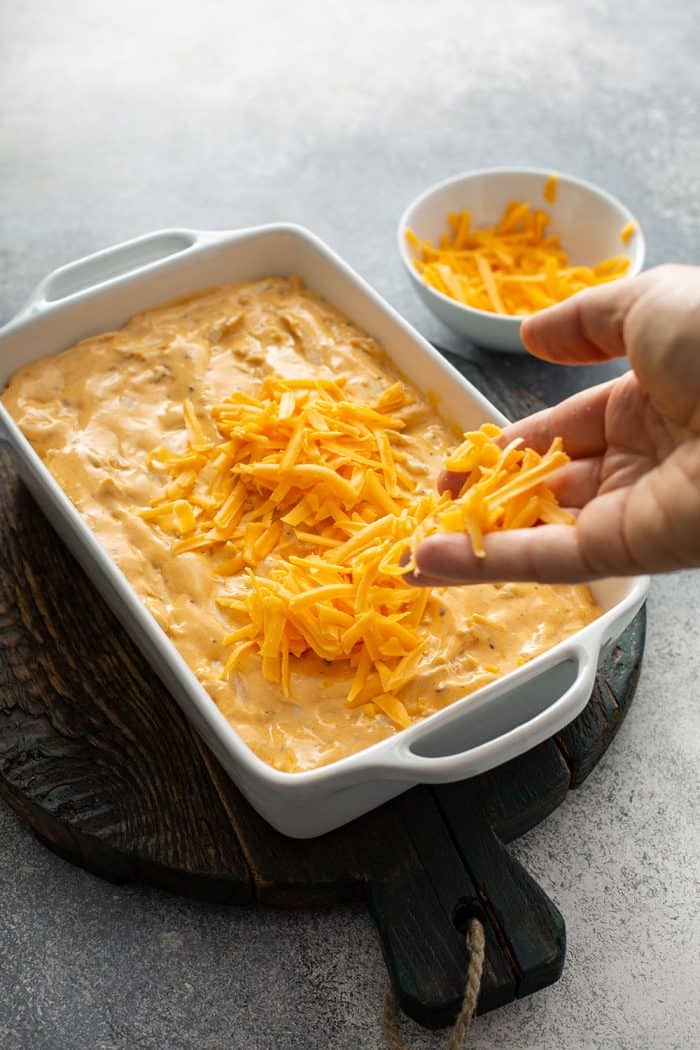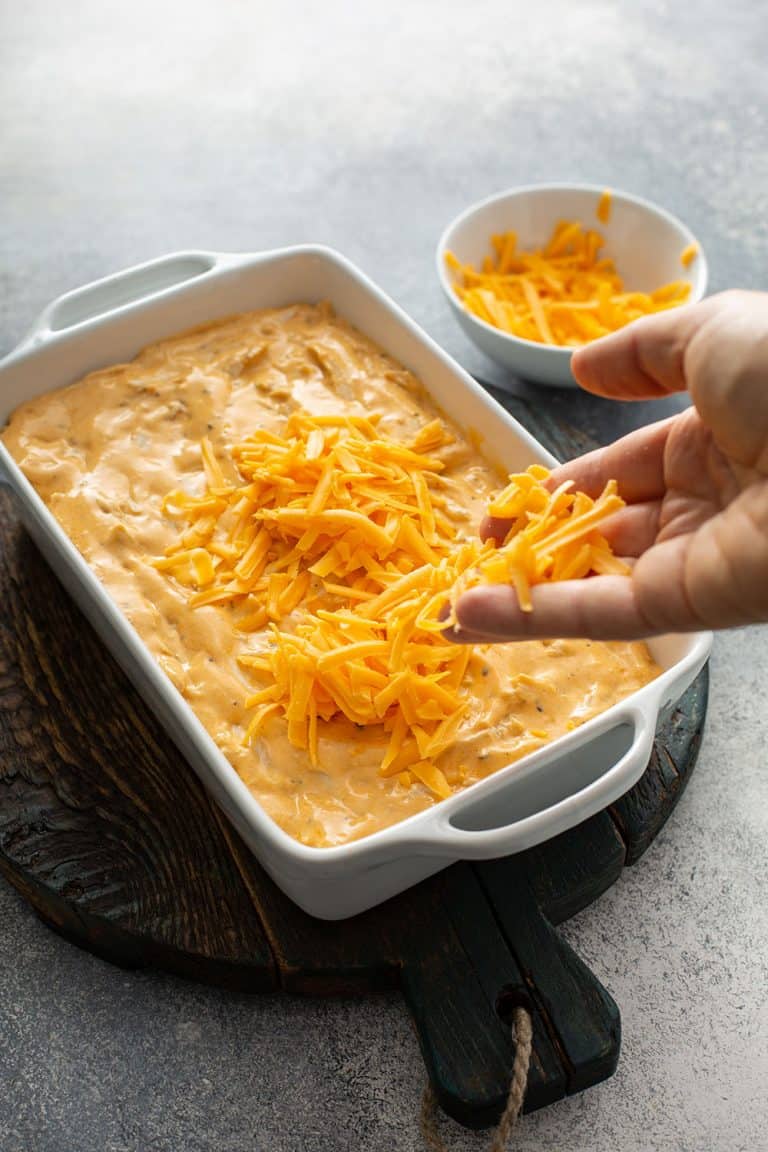 HOW TO MAKE BUFFALO CHICKEN DIP
This dip is so simple to make, you'll find yourself making it for everything from your annual Super Bowl party to a casual weekend movie night!
Ingredients you'll need
All of the ingredients for this dip are easy to find, and may even be things you already have on hand in your fridge and pantry:
1 cup hot sauce, such as Sweet Baby Ray's or Frank's RedHot
½ cup (1 stick) unsalted butter
¼ teaspoon Old Bay seasoning
¼ teaspoon smoked paprika
8 ounces cream cheese, softened
½ cup ranch dressing
4 cups shredded cooked chicken
½ cup shredded cheese of choice – cheddar, monterey jack, pepperjack, etc.
If you want, you can use homemade ranch dressing in this recipe, but the bottled stuff will do just fine.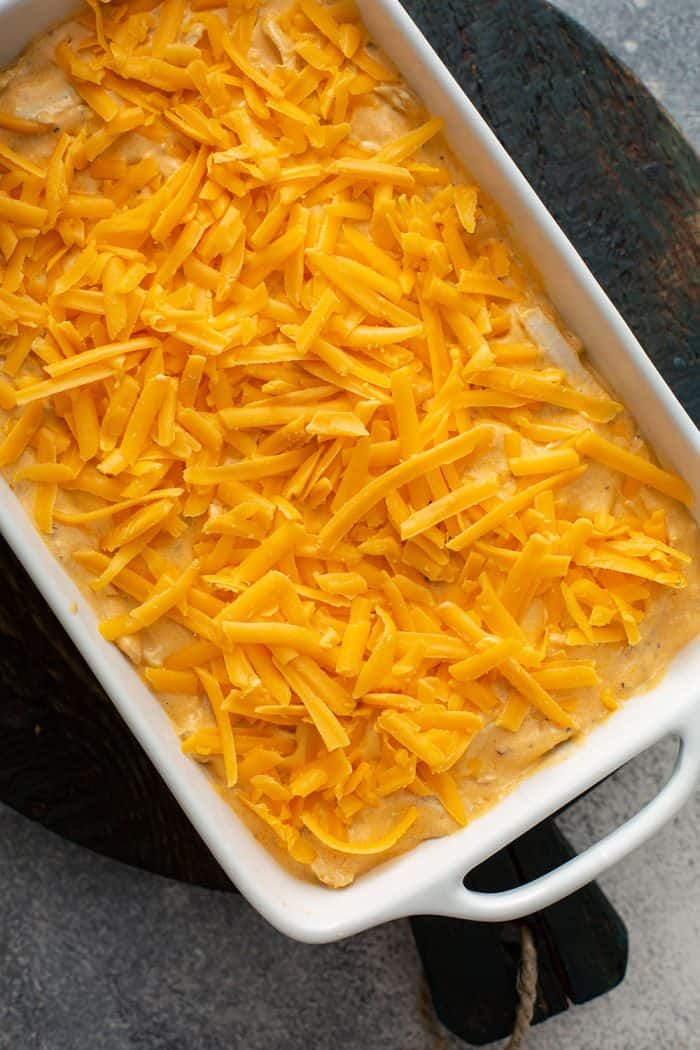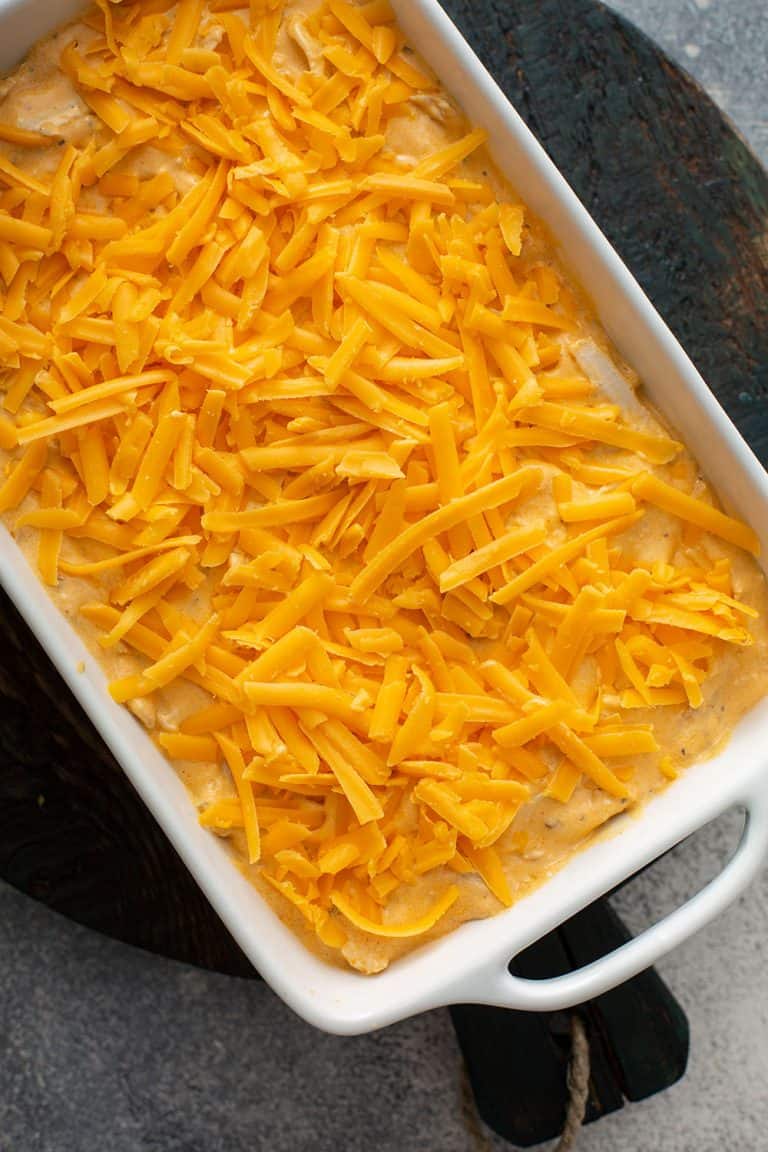 Making this recipe
To make this baked Buffalo Chicken Dip, grab a saucepan and whisk together the butter and hot sauce over medium heat until the butter is melted.
Did you know that you just made buffalo sauce? Yep, buffalo sauce is just a combo of hot sauce and butter.
Some buffalo sauce recipes will add other ingredients, such as vinegar or spices. But at its simplest, it's just hot sauce and butter. (The butter is why it tastes so good!)
Next, whisk in the seasonings and cream cheese, adding in the ranch dressing once the cream cheese is melted.
Give it a taste – now is a good time to add salt and pepper to taste and adjust the heat level if necessary.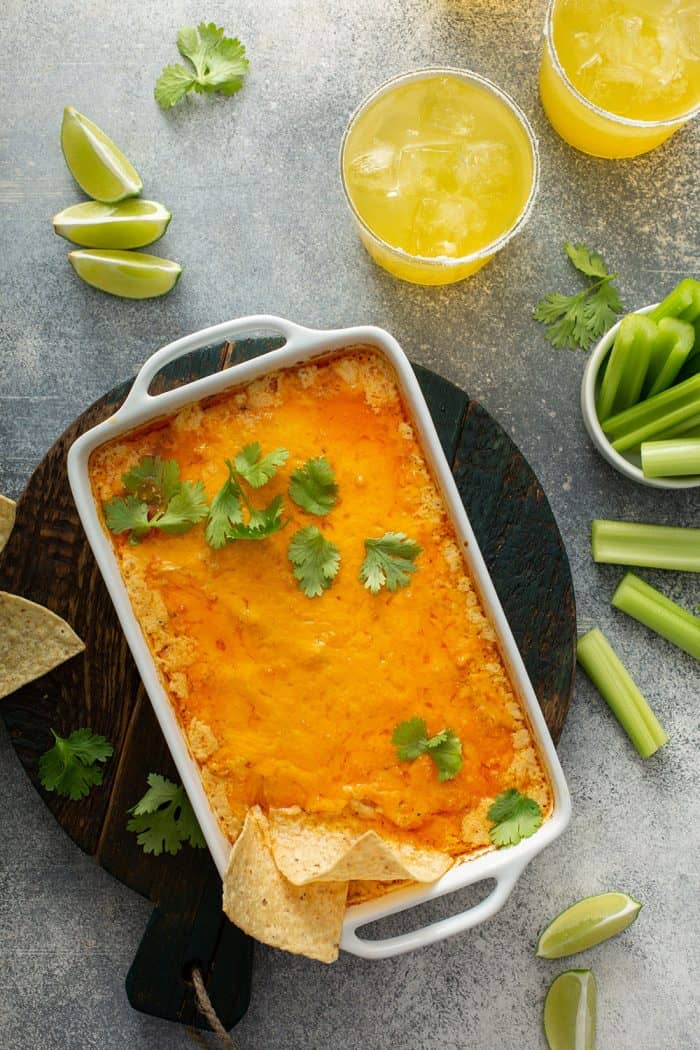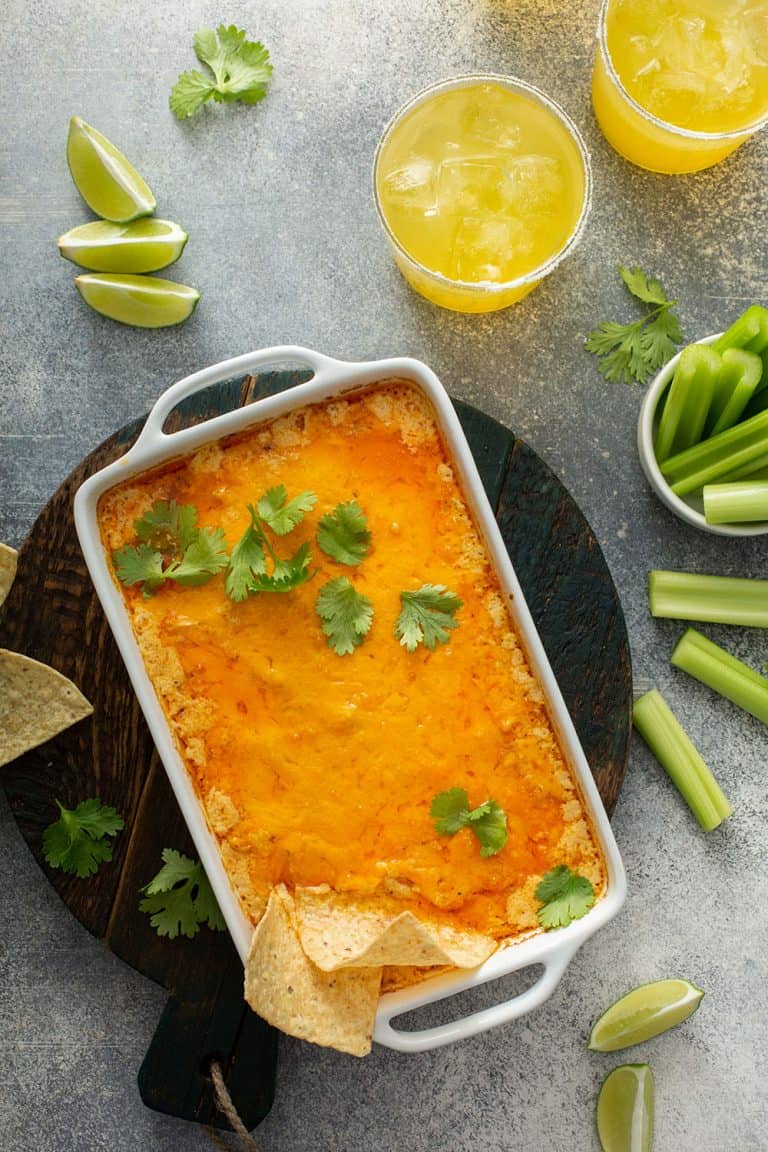 Stir in the chicken and spread the dip into a 2-quart baking dish. Top with the shredded cheese of your choice; I like to use cheddar, but you could use monterey jack or pepper jack if you prefer.
Bake for about 20 minutes or until hot and bubbly. If you like, pop it under the broiler for a few minutes until the top is nice and browned.
Garnish with a little sliced green onions or cilantro and you're ready to serve!
How to make this dip spicier or milder
I know not everyone will love a spicy dip and others will want it super spicy, so there are a couple of ways you can adjust the heat in this recipe:
For a milder dip, omit the Old Bay seasoning and paprika and increase the ranch dressing to taste. You can add as much as ½ cup more ranch dressing if needed.
For a hotter dip, add additional Old Bay seasoning to taste, or add a few drops of a super fiery hot sauce.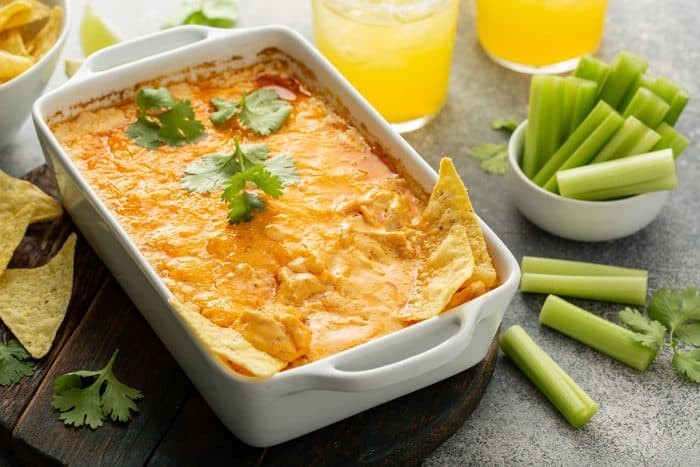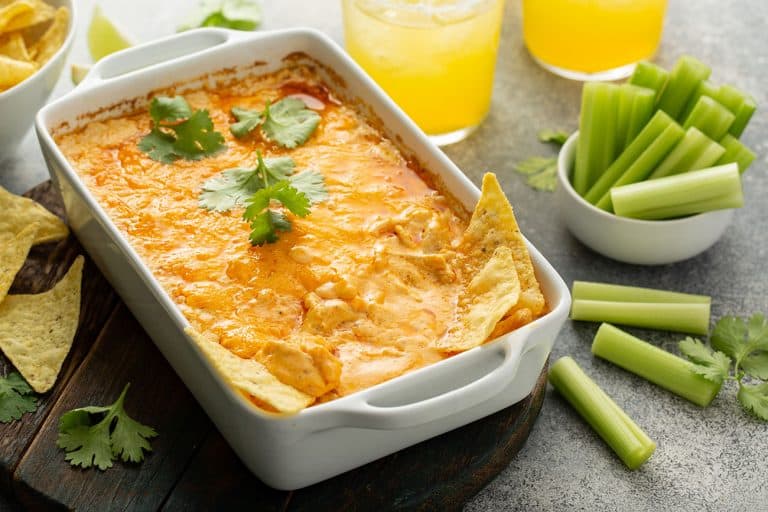 MAKE-AHEAD TIPS
If you've got friends coming over for game day, you might be wondering if you can make your Buffalo Chicken Dip ahead of time.
The answer is: absolutely!
To do this, just prep the dip and spoon it into the baking dish. Cover and refrigerate until you're ready to bake it off.
You may find that you need to bake it for a bit longer if baking from chilled, so add on an extra 10-15 minutes if needed for the dip to get hot and bubbly.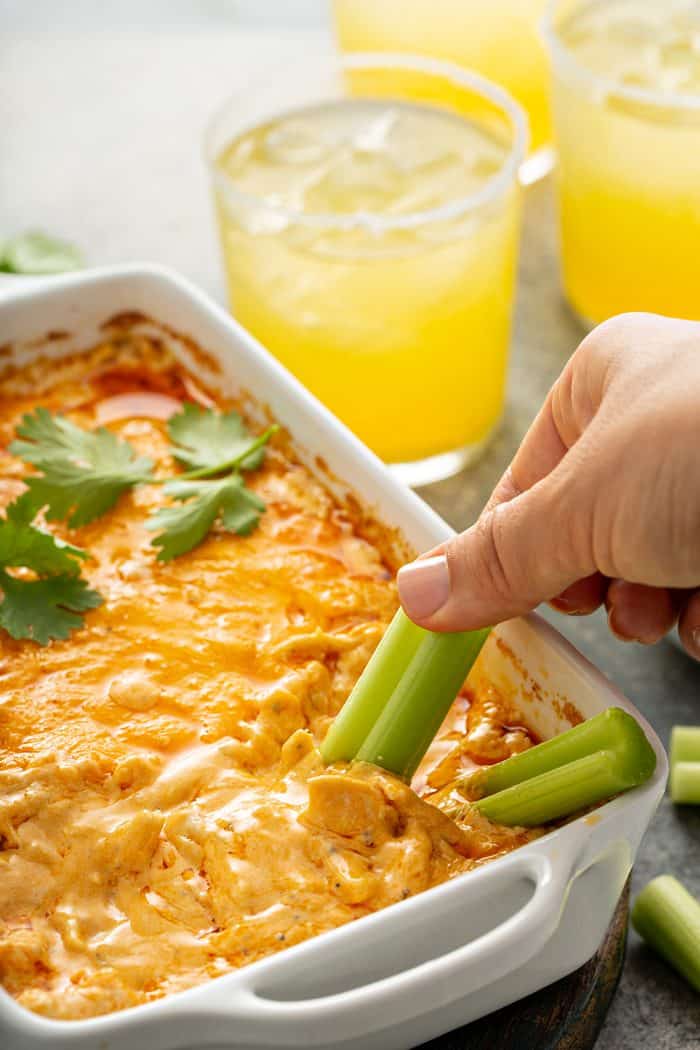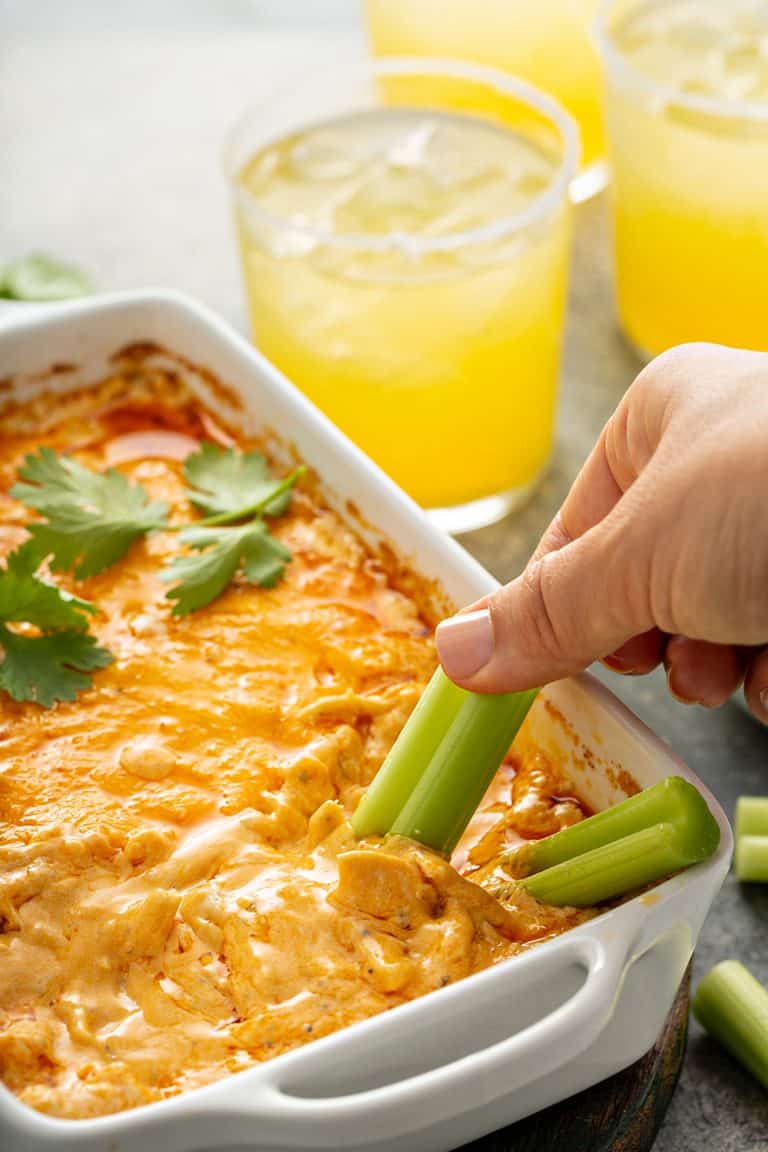 WHAT TO EAT WITH BUFFALO CHICKEN DIP
So, what do you serve with this spicy, creamy dip?
There are lots of options!
Tortilla chips are my favorite. Make homemade tortilla chips if you're feeling fancy. Celery sticks and carrot sticks really drive home that buffalo wing feel, since they are often served alongside baskets of hot wings.
Pretzel crisps or crackers would be good, too.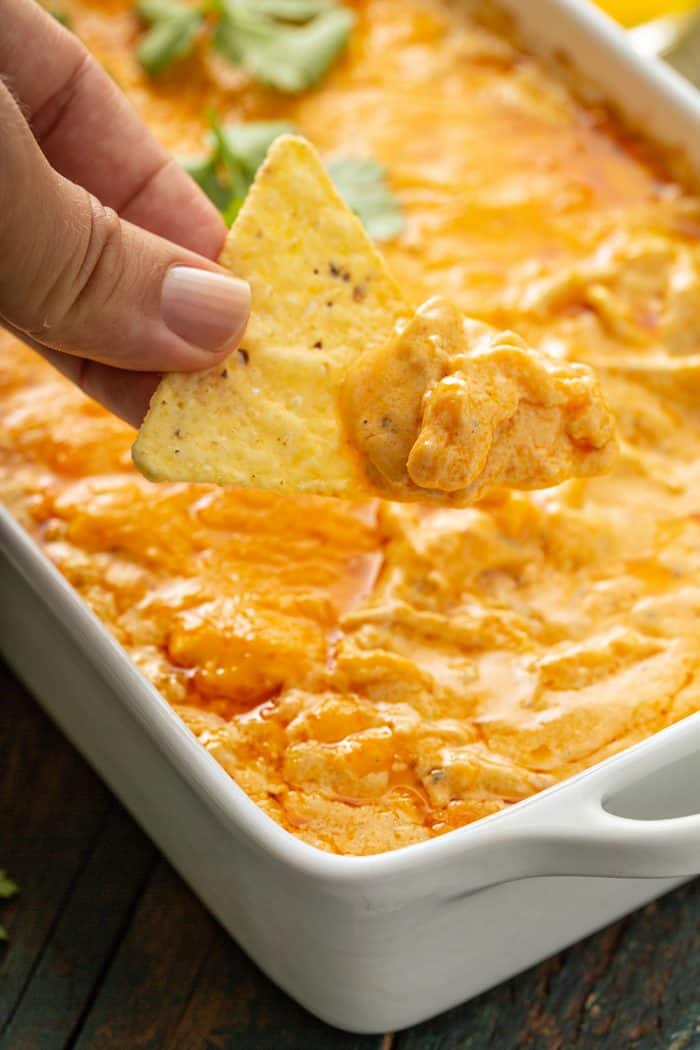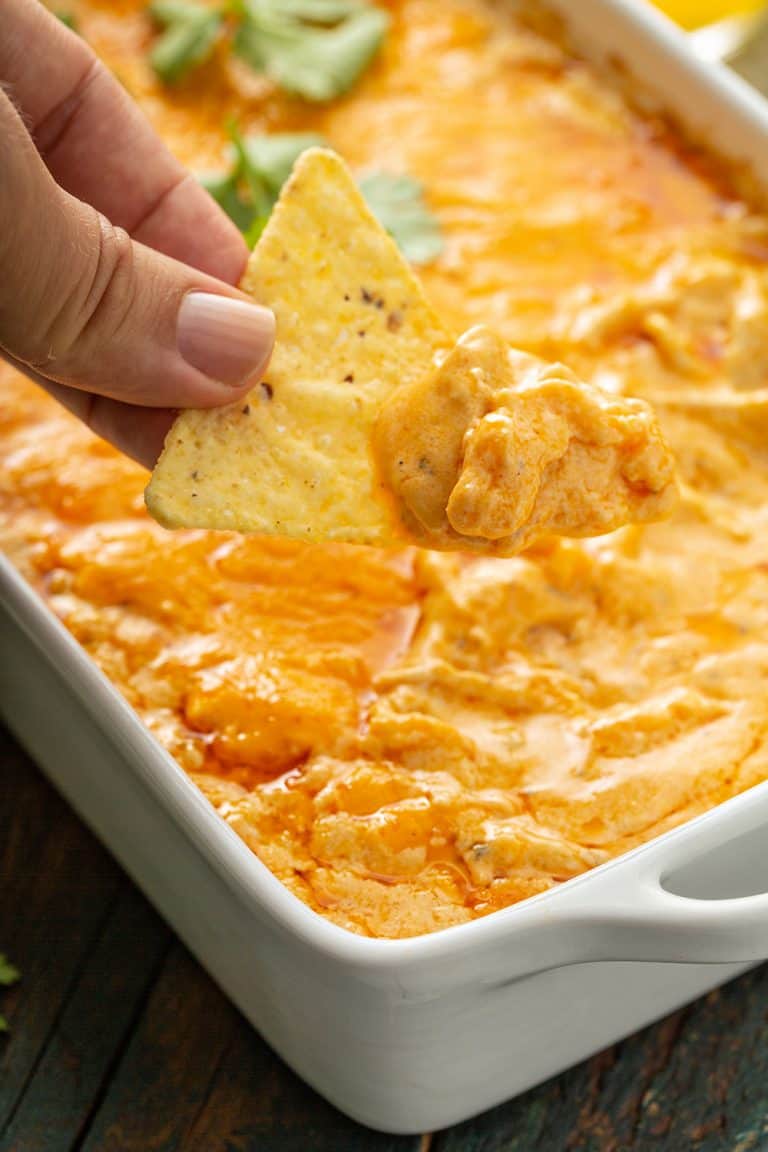 Honestly, this dip makes a great wrap, too, especially the next day. I wrap it up in a tortilla with some lettuce and tomato for a spicy buffalo chicken wrap. Sometimes I even turn it into buffalo chicken sliders!
Whether you're making this Buffalo Chicken Dip for a party or a game-day tailgate at home alongside Ham & Cheese Sliders or Crockpot Pulled Pork, it's sure to be one of the first things to disappear!