These hot Ham and Cheese Sliders come together in a snap and are easy to make for the big game! Serve them up alongside your favorite game day snacks for a buffet that everyone will love.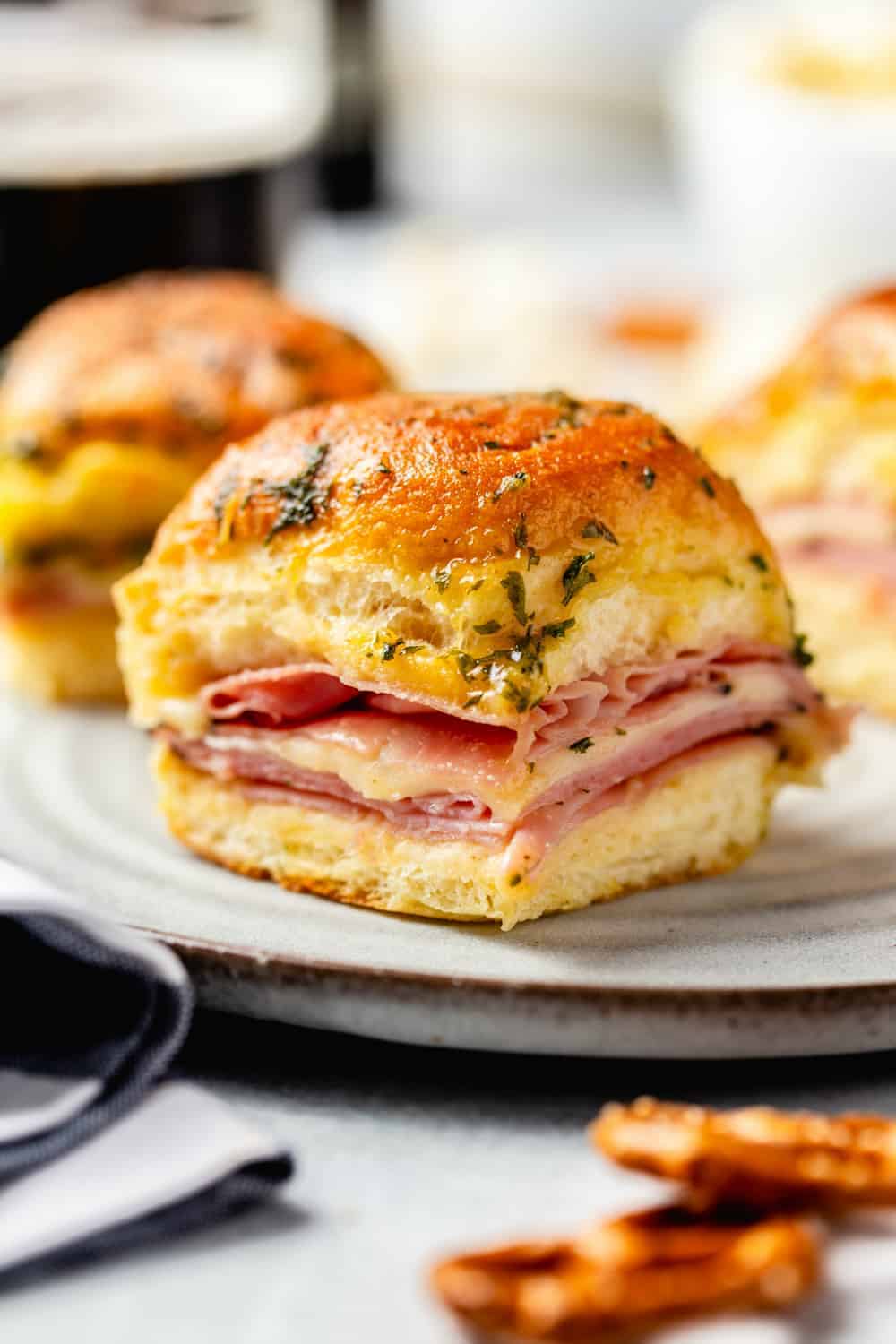 I'm going to be straight with you guys. Football isn't really my jam.
You'll find me at basketball games on occasion, but when it comes to football, I really only start to pay attention as we head towards the end of the season, and all the parties for playoffs and the big game at season end.
As you can probably guess, it's not because I care about who is actually playing. I'm just here for the snacks, okay?
I even have a t-shirt to that effect, for wearing to these parties, haha!
Why are game day snacks just so dang good? I could happily never eat a fancy dinner again, so long as you tell me I can have game day level snacks.
Queso, chips, and sliders like these.. I'd be set.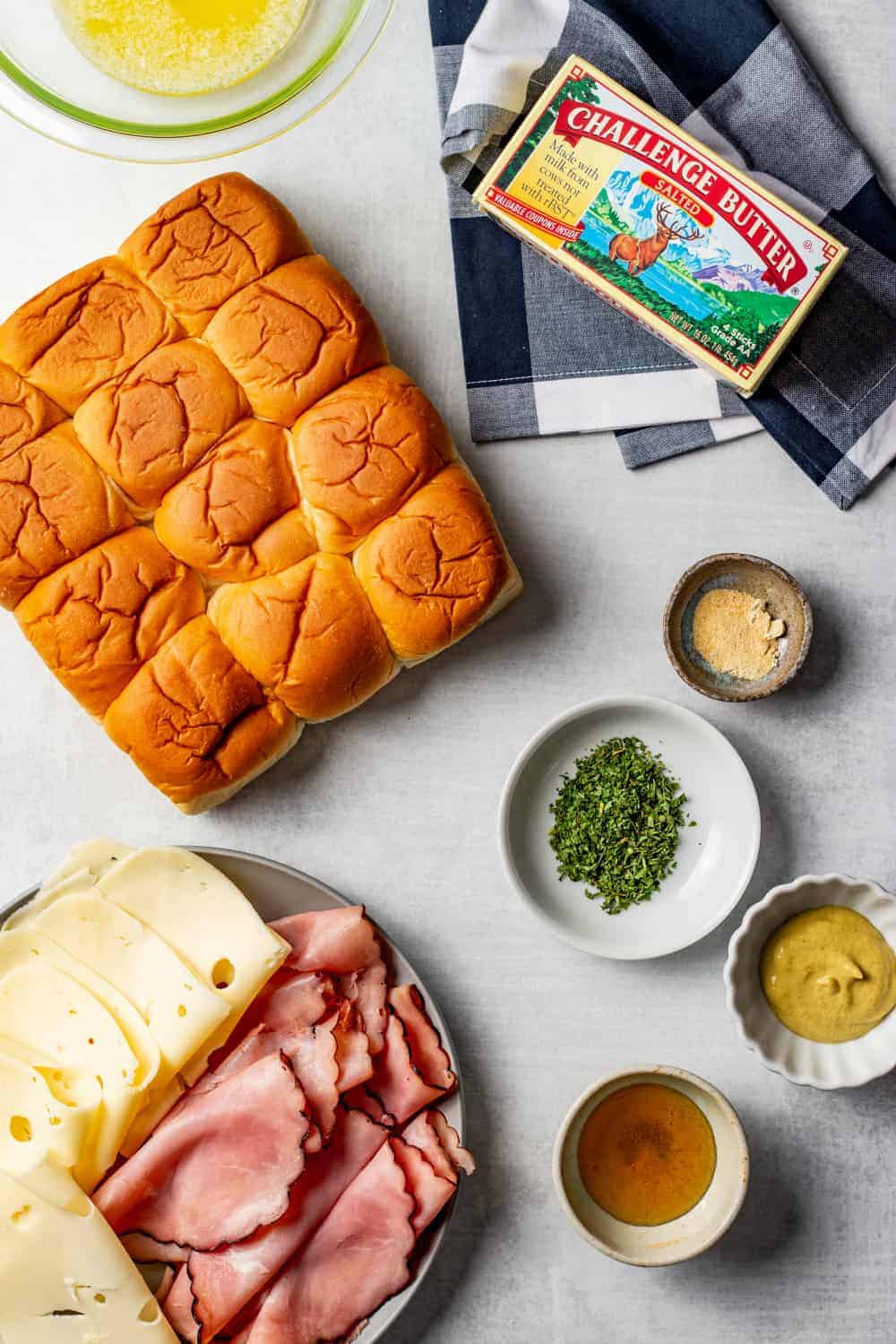 HOT HAM AND CHEESE SLIDERS: THE EASIEST GAME DAY SNACK
As someone who is really just into the big game for the snacks, I of course take my game day menu very seriously.
In addition to appetizers like French Onion Chip Dip and Pizza Dip, I like to have a couple of sandwich options alongside Jo Jo Potato Wedges and Macaroni Salad.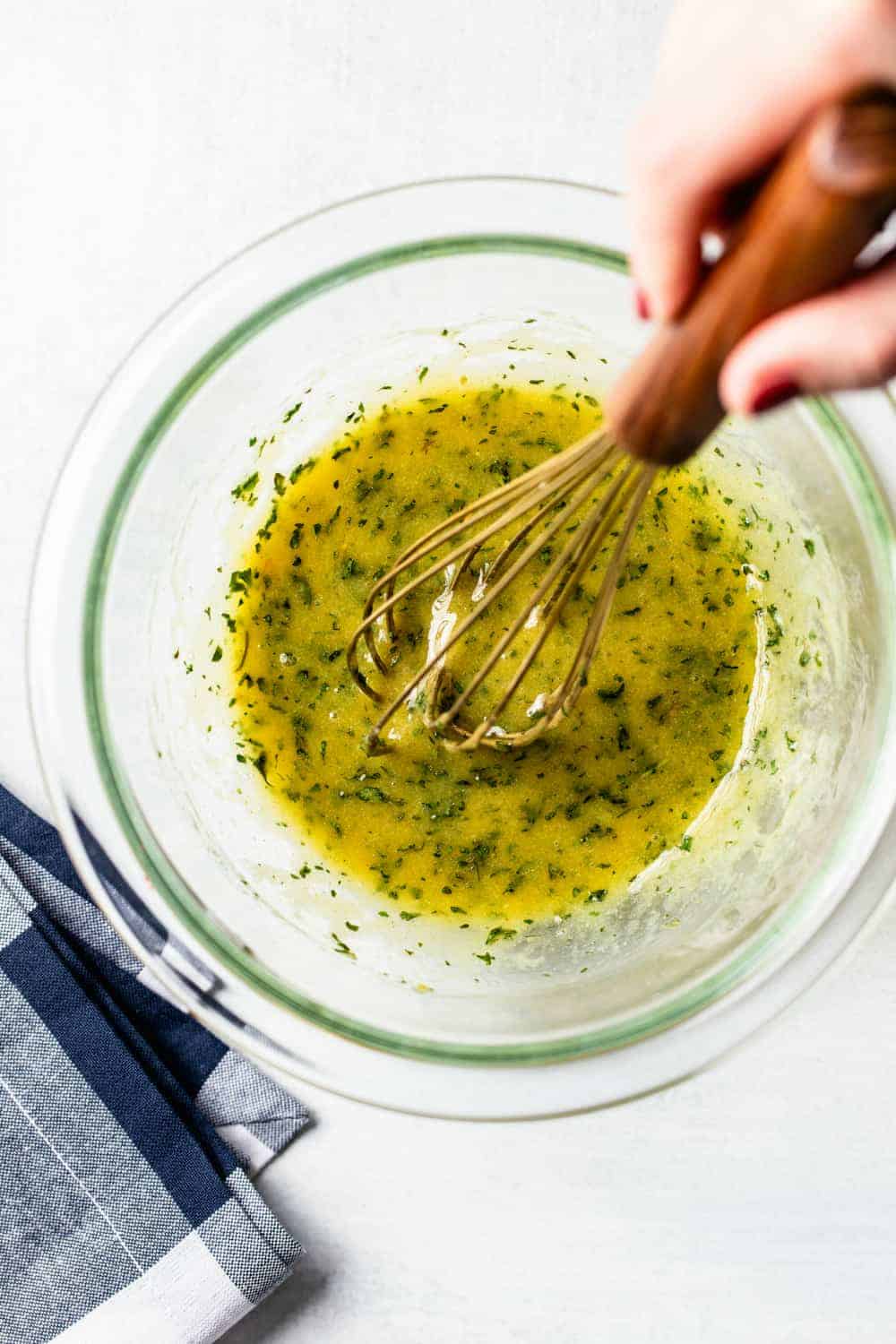 In the past I have thrown together Instant Pot Pulled Pork, but this year I am all about these easy Ham and Cheese Sliders.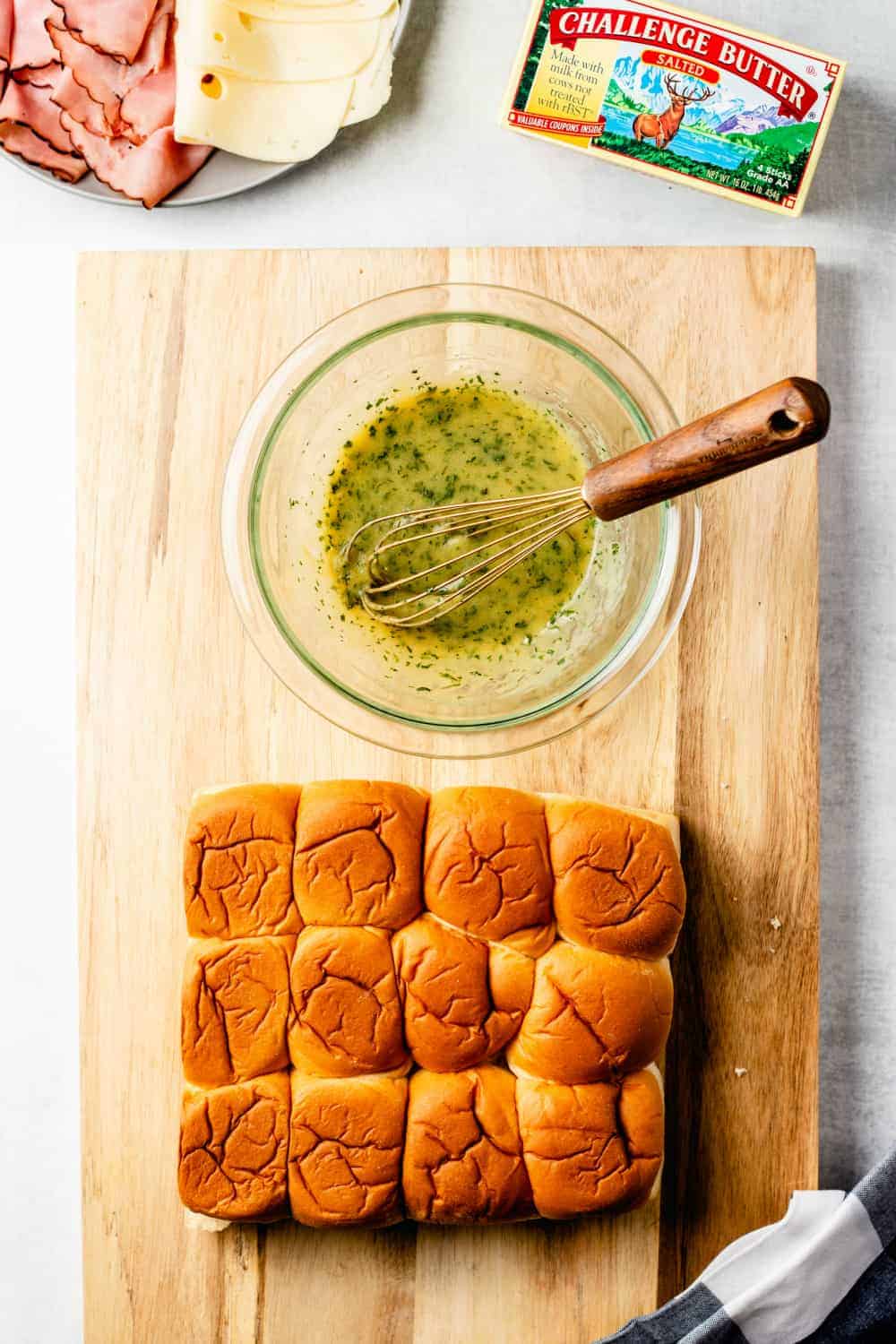 The first time I made these sliders, my family inhaled them. As much as I love them for game day, they're also perfect for an easy weeknight dinner or family movie/game night snack.
If your kids are old enough for sleepovers, I think they'd be super fun for sleepover snacks as well!
As great as the combo of ham, cheese, and Hawaiian rolls is, it's the buttery herb topping that really takes these sliders over-the-top.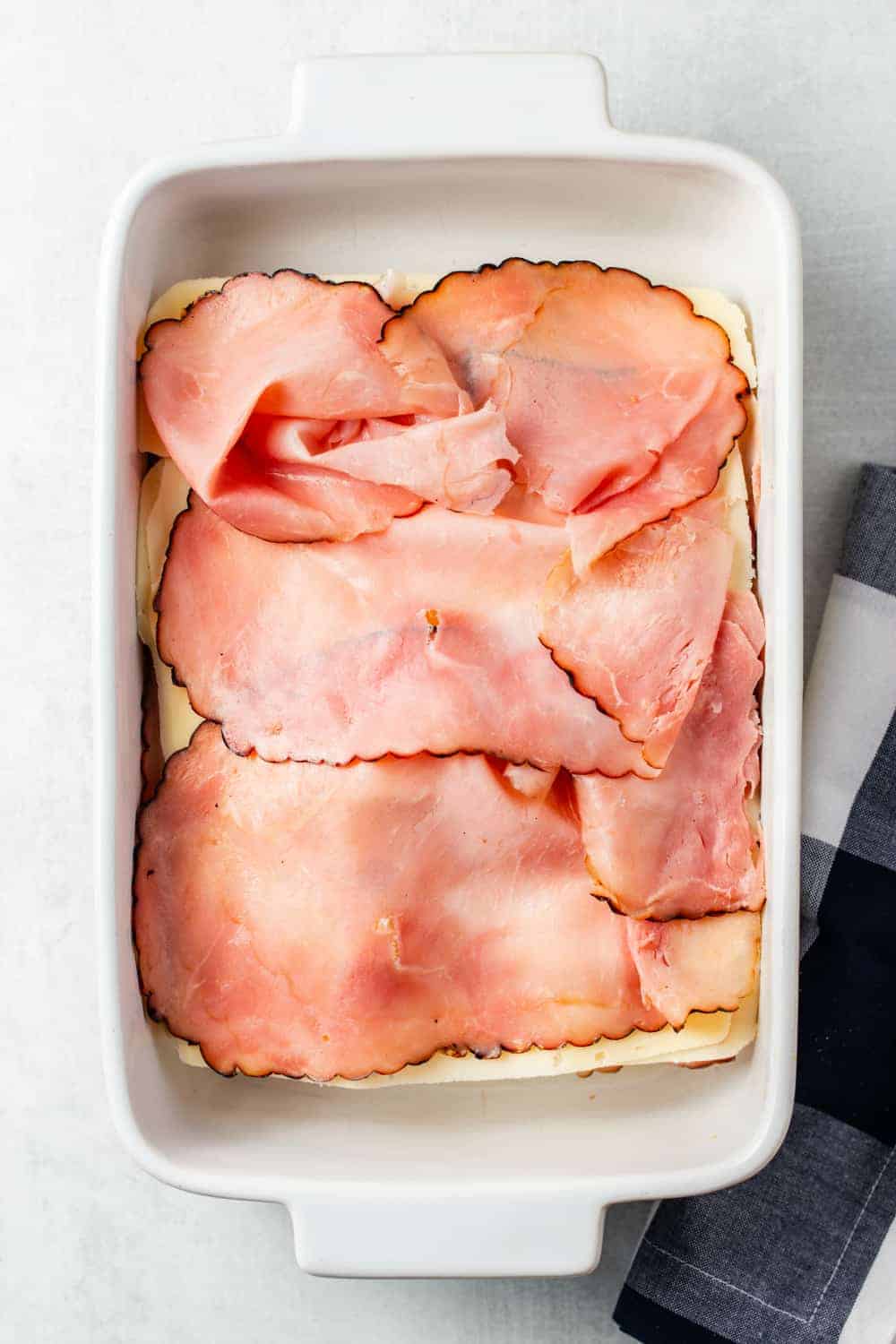 HOW TO MAKE HAM AND CHEESE SLIDERS
Ham and cheese sliders are so easy to make:
Slice Hawaiian rolls in half
Layer with ham and cheese
Brush with mustard and herb butter
Cover with foil and bake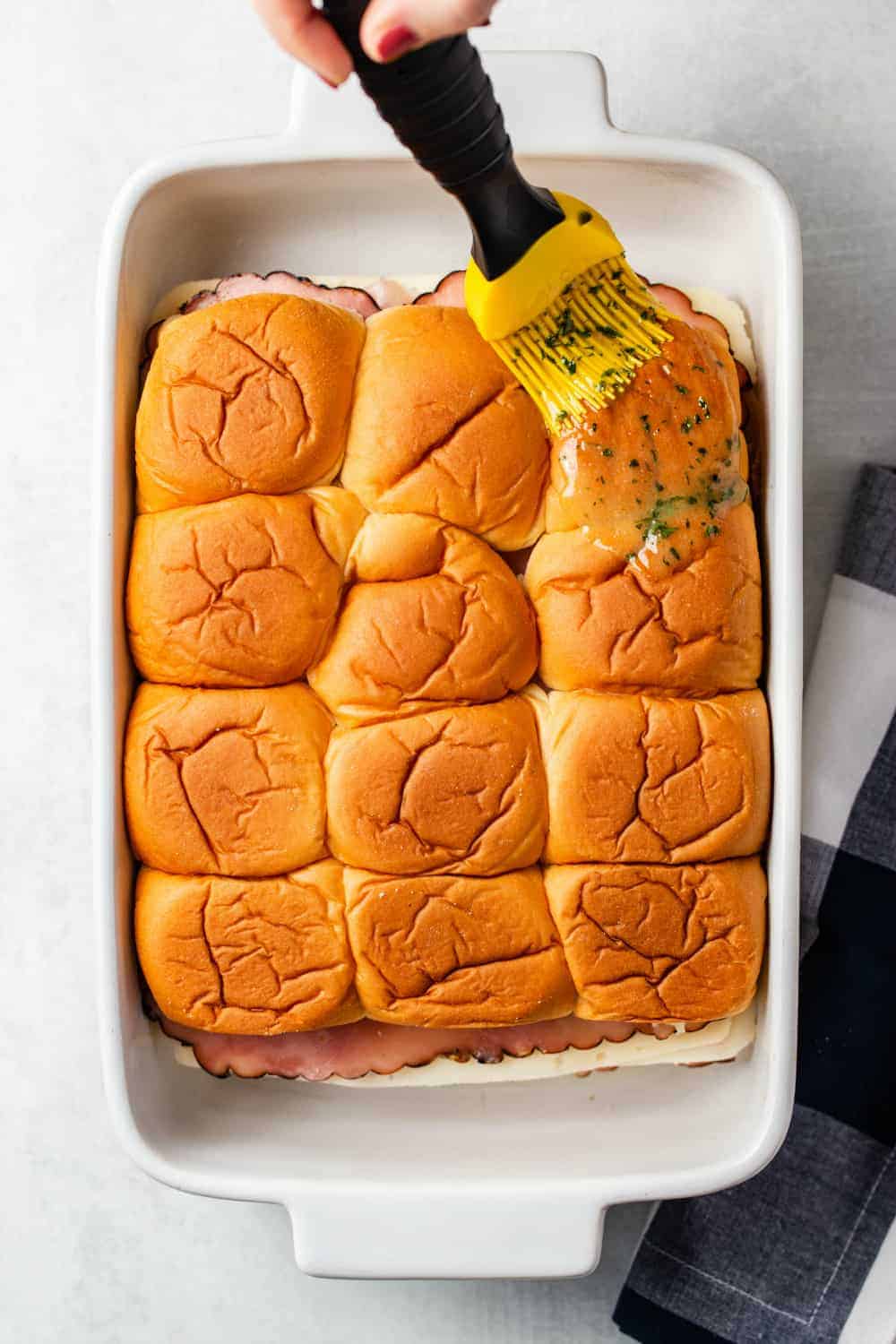 One of the things that makes this recipe so easy is that the sliders are assembled all together. Instead of separating the rolls, simply slice across the entire package of rolls, almost as if you are slicing a bagel.
Layer the sliced ham and cheese onto the bottoms of the rolls, then place on the tops.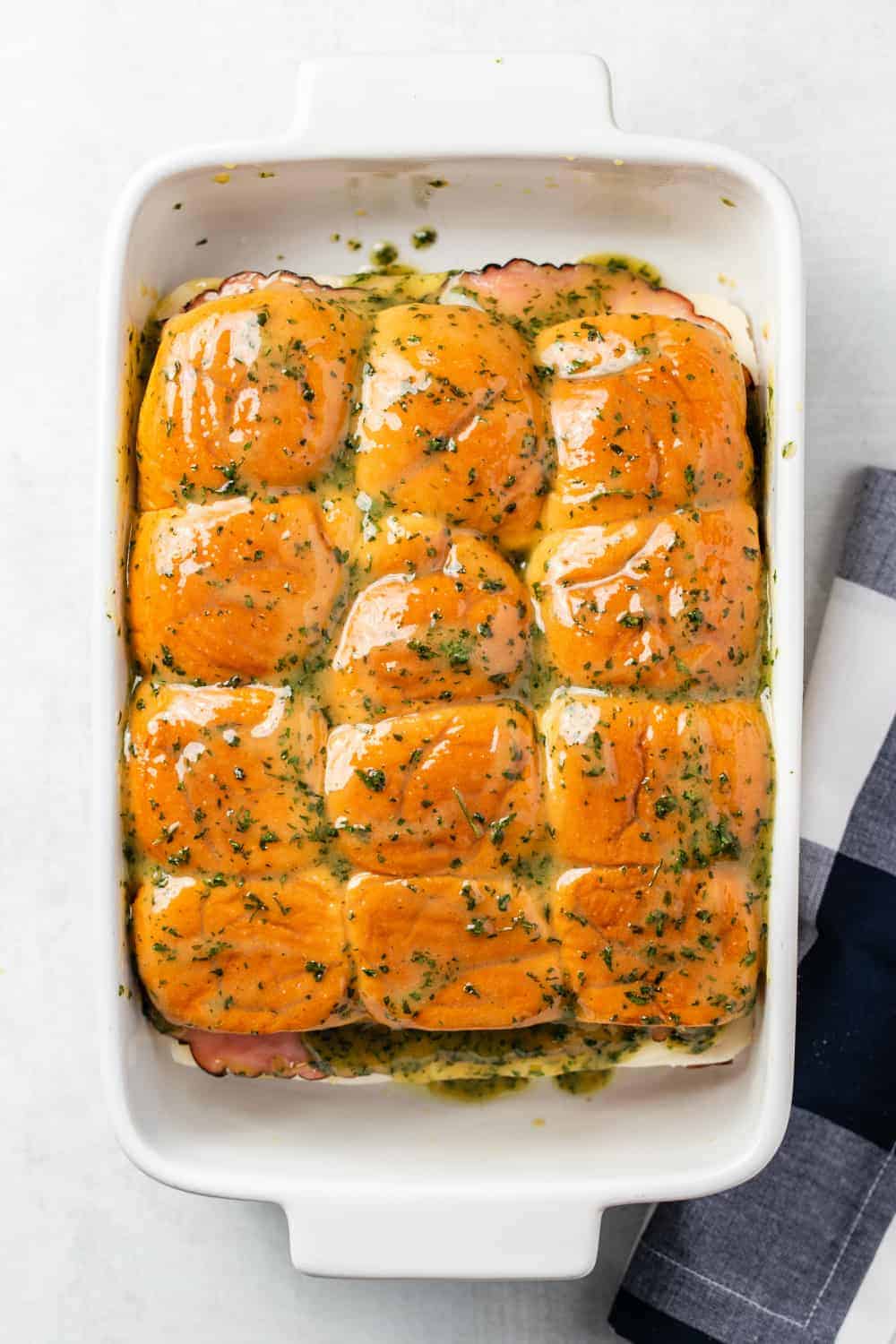 Here's where it gets really good. Mix together Challenge Salted Butter with dijon mustard, honey, dried parsley, onion powder and garlic powder, and brush the tops of the rolls with this mixture.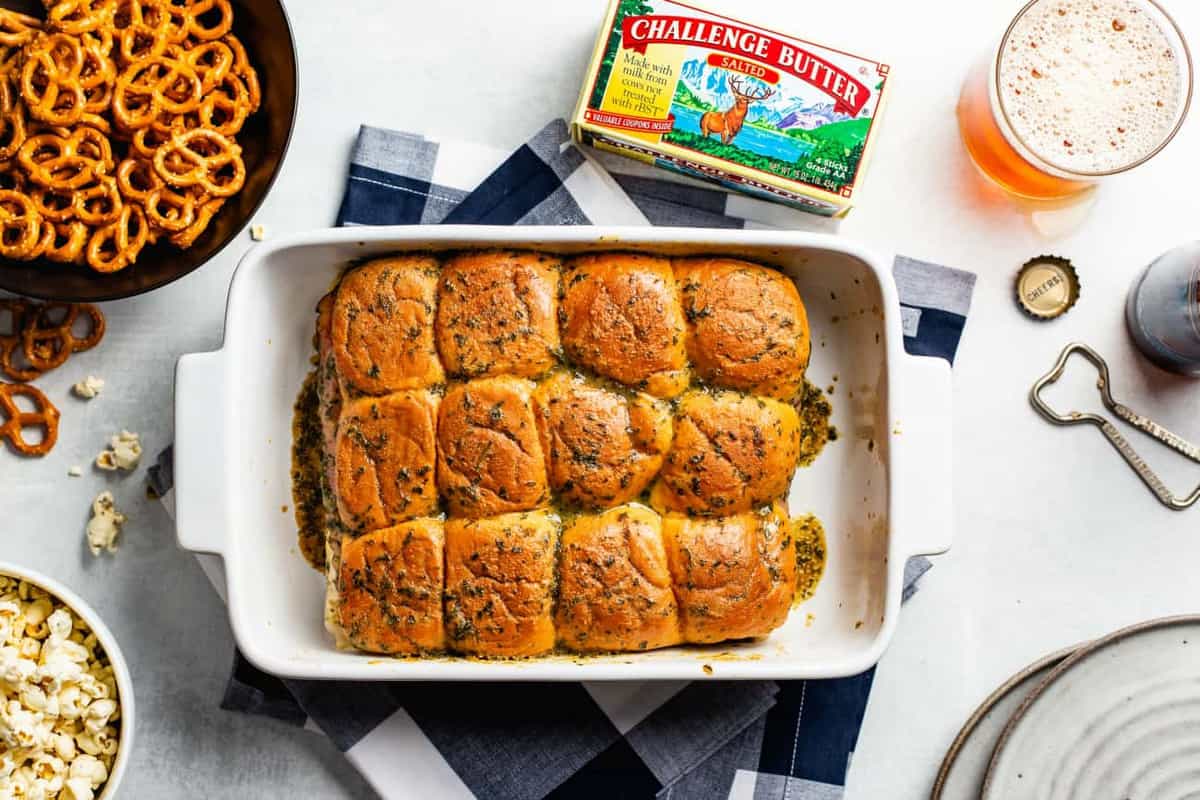 Because Challenge butter is so high quality, it already brings a ton of much flavor to this party. The added herbs and spices only make it even more flavorful and add something really special to the sliders.
Once everything is assembled, simply bake and slice into individual sliders to serve.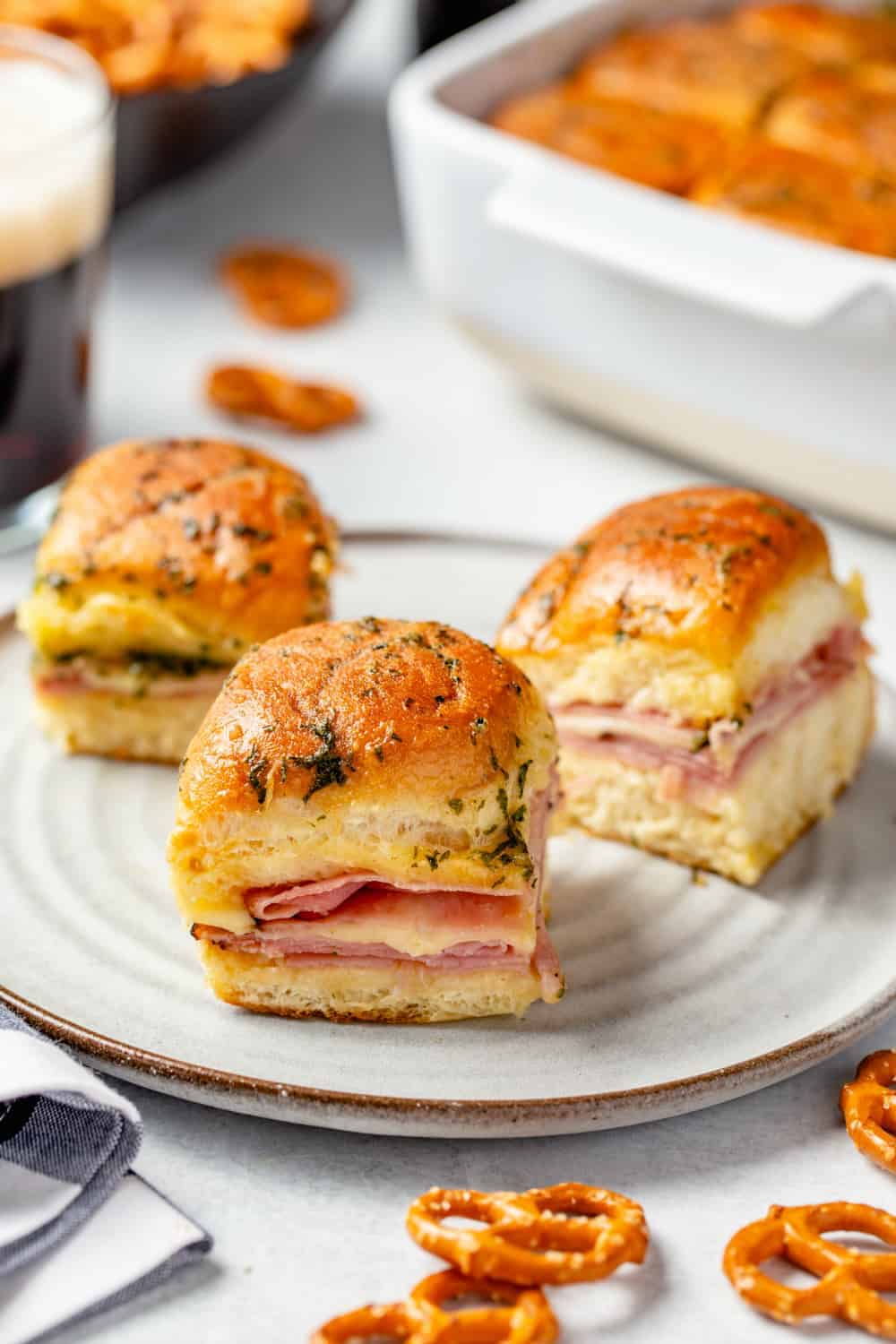 CAN YOU MAKE HAM AND CHEESE SLIDERS IN ADVANCE?
If you want to prep your snacks before your guests arrive, you could easily make these sliders in advance!
Simply assemble the sliders in the pan, cover the pan with foil and refrigerate for up to 4 hours.
When you're ready to eat, simply bake the prepped sliders as noted in the recipe.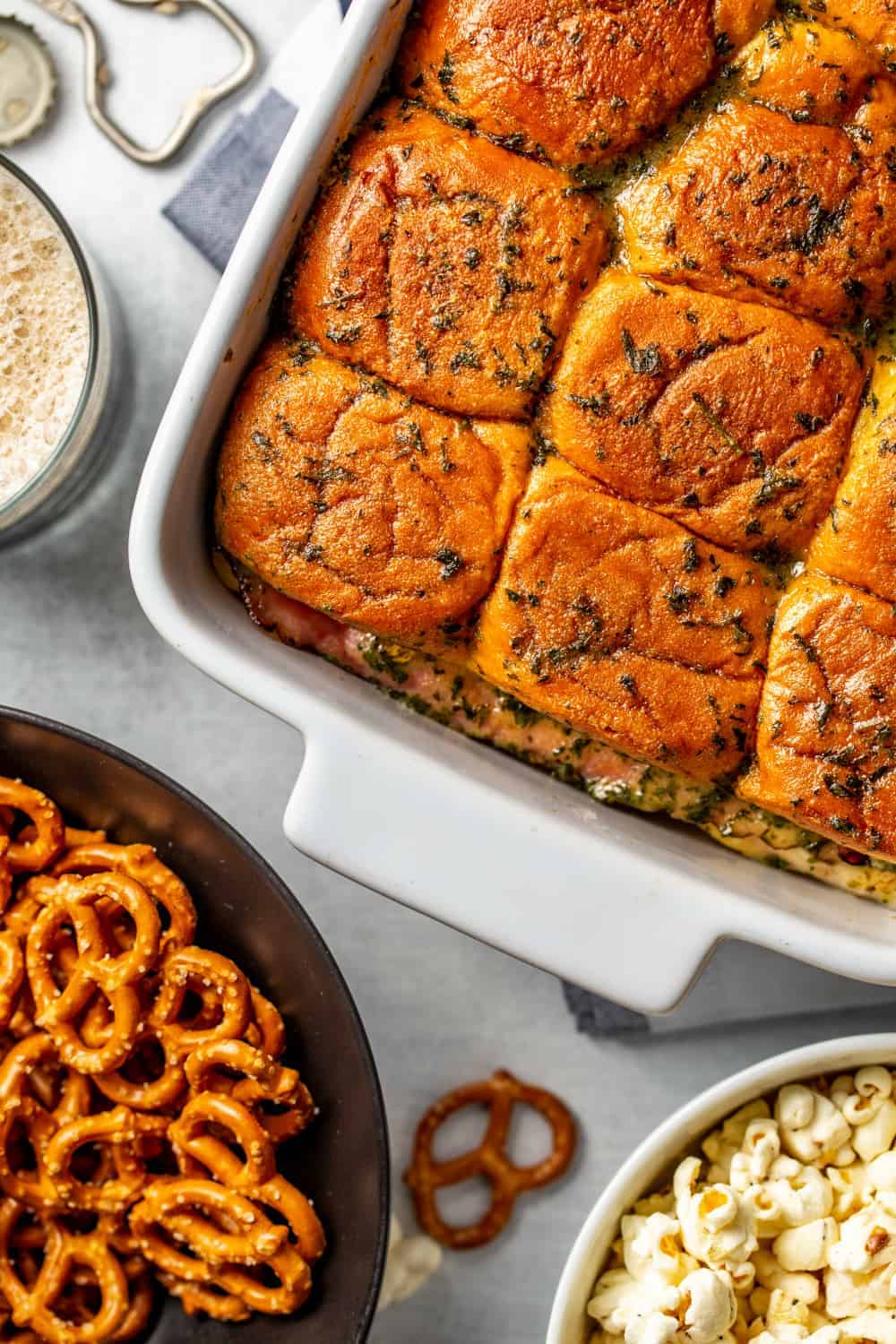 ARE HAM AND CHEESE SLIDERS GOOD COLD?
Look, I am not above snacking on leftover Ham and Cheese Sliders straight from the refrigerator. In fact, I think they're delicious cold.
But if you prefer them warm, simply wrap one or two sliders in foil and pop the package into a preheated oven for around 10 minutes, or until reheated.
Whether you enjoy these sliders on game day or for a weeknight dinner, this is an easy recipe you'll want to save to make again and again.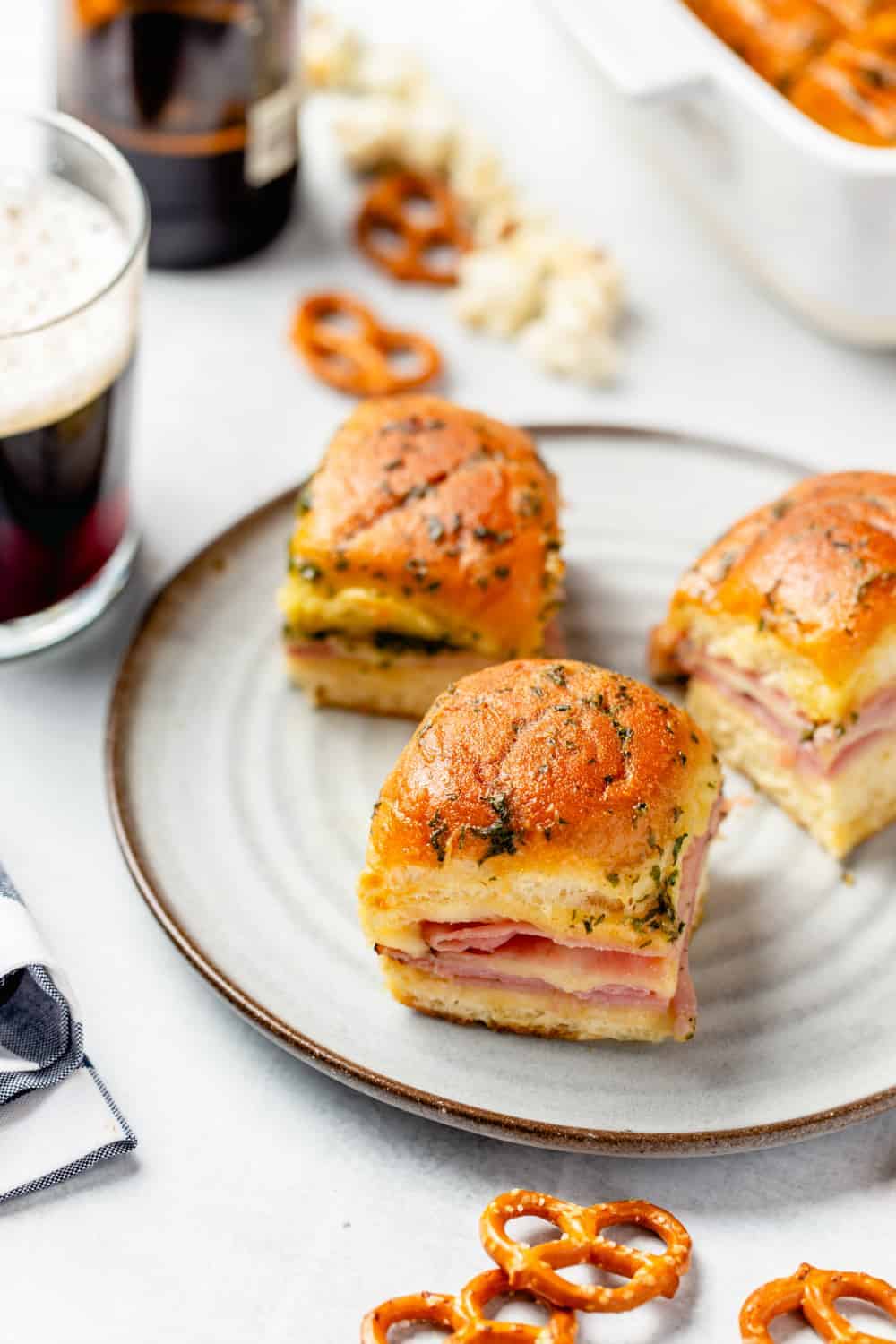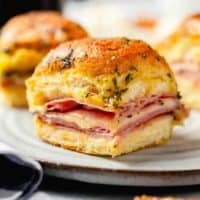 Ham and Cheese Sliders
These hot Ham and Cheese Sliders come together in a snap and are easy to make for the big game! Serve them up alongside your favorite game day snacks for a buffet that everyone will love.
Print
Pin
Servings: 12 sliders
Ingredients
4 tablespoons Salted Challenge Butter melted
1 tablespoons Dijon mustard
1 tablespoon honey
1 tablespoon dried parsley
⅛ teaspoon onion powder
⅛ teaspoon garlic powder
1 package sweet Hawaiian rolls 12 rolls
½ pound thinly sliced cooked deli honey ham
½ pound thinly sliced Swiss cheese
Instructions
Spray an 11-inch x 7-inch baking dish with nonstick cooking spray.

In a small bowl, stir together the melted butter, mustard, honey, dried parsley, onion powder and garlic powder.

Do not pull the rolls apart, simply use a large serrated knife to slice the rolls in half as you would slice a bagel, separating the tops from the bottoms. Place the layer of bottoms into the prepared baking pan, cut side up.

Layer half of the ham onto the rolls. Next, layer the Swiss cheese over the ham, and top with remaining ham slices. Place the layer of tops onto the sandwiches.

Brush all of the butter mixture evenly over the rolls. At this point you can cover and refrigerate for up to 4 hours, or bake immediately.

When you're ready to bake, preheat the oven to 350 degrees F. If your pan isn't covered with foil, go ahead and cover it now.

Bake covered sliders in the preheated oven for 12 minutes. Remove the foil from the baking pan, return the sliders to the oven and bake uncovered for an additional 10 minutes.
Nutrition
Serving: 1slider | Calories: 161kcal | Carbohydrates: 2g | Protein: 9g | Fat: 13g | Saturated Fat: 7g | Polyunsaturated Fat: 1g | Monounsaturated Fat: 4g | Trans Fat: 0.2g | Cholesterol: 39mg | Sodium: 304mg | Potassium: 76mg | Fiber: 0.1g | Sugar: 1g | Vitamin A: 278IU | Vitamin C: 0.2mg | Calcium: 174mg | Iron: 0.3mg
The default measuring system on My Baking Addiction is US Customary. Unit conversions are provided as a courtesy; please be aware that there may be some discrepancies.
Card may contain affiliate links. As an Amazon Associate and member of other affiliate programs, I earn from qualifying purchases.