Pizza Sliders make it easy to have pizza night any night of the week! These simple Hawaiian roll sliders can be made with your family's favorite pizza toppings for a meal that will put a smile on everyone's face.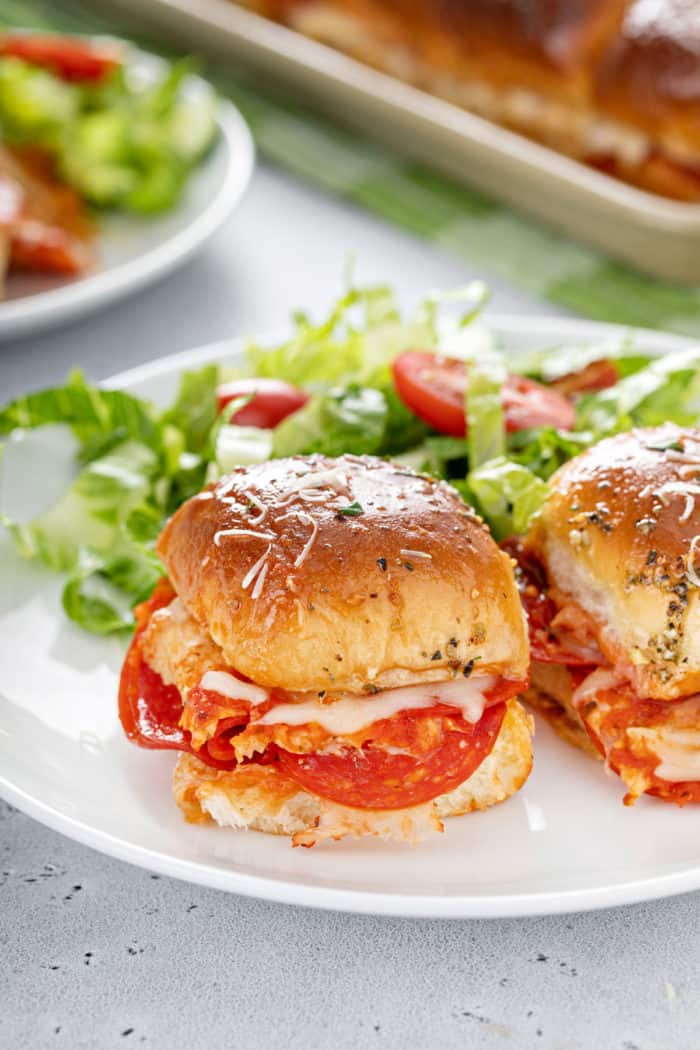 This post contains affiliate links.
We're in that home stretch of the school year when it feels like there is something going on every single day.
Special lunches. Recitals. Karate tests. Field days. The list goes on and on.
By the time we get to dinnertime, we either barely have time to eat before we have to get to the next thing, or I'm so drained I don't really want to think about cooking.
On nights like this, it's a "sliders to the rescue" kind of dinner.
Sometimes we turn to our favorite Ham and Cheese Sliders. Sometimes it's Cheeseburger Sliders. Lately it's been these incredibly easy Pizza Sliders.
No matter which recipe we choose, I can always count on Hawaiian roll sliders to be quick and easy for me to make and to be a meal we will all enjoy.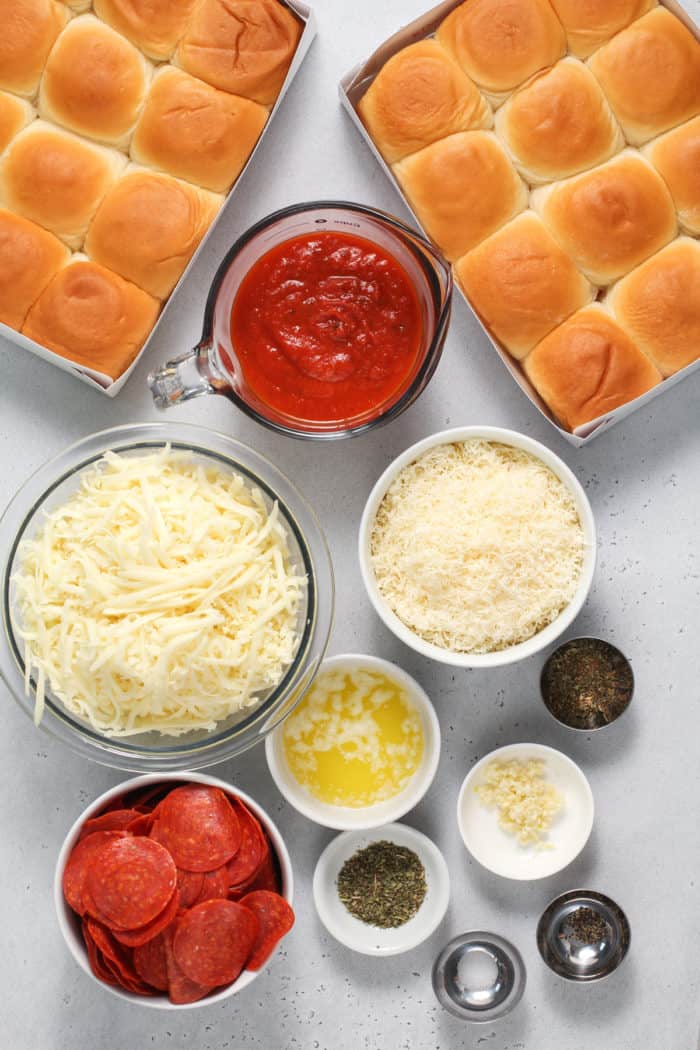 SUPER EASY PIZZA SLIDERS
I feel like it's practically a rule that if you have kids, you have a designated pizza night.
To be honest, pizza night at our house doesn't usually include homemade pizza. As much as I like making my homemade Chicken Bacon Ranch Pizza, that's usually more of a special treat around here these days.
But Pizza Sliders or Pepperoni Bread? Now those are simple versions of "pizza" I can throw together to make any weeknight into homemade pizza night.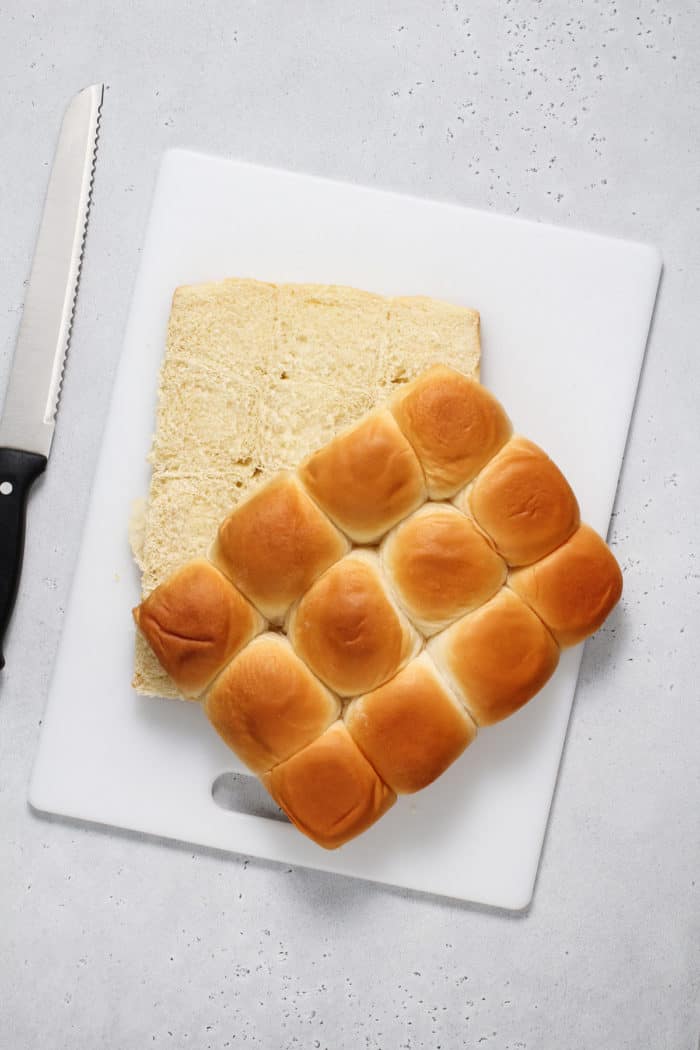 These Pizza Sliders come together in about 10 minutes and only need about 20 minutes to bake. That means that I can have dinner on the table in 30 minutes.
With a quick green salad with homemade ranch dressing or homemade blue cheese dressing, you've got a full meal that will make everyone happy.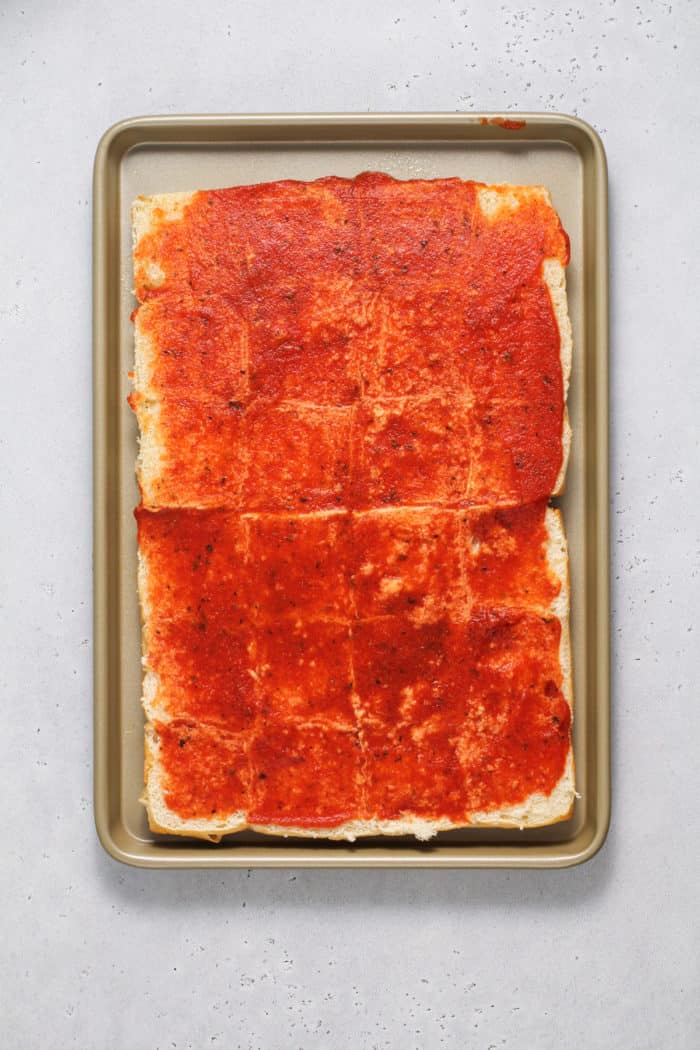 HOW TO MAKE PIZZA SLIDERS
Don't believe me that these come together in 10 minutes? Let me show you how we make our favorite pepperoni version of these sliders!
Slider ingredients
My family's favorite version of Pizza Sliders is with lots of pepperoni. To make this version, you'll need:
King's Hawaiian rolls: I haven't found a better bun for sliders than King's Hawaiian rolls. The size is perfect and I love the slight sweetness they bring to the sandwiches. They also make actual slider buns that you can use, too, if you prefer.
Pizza sauce or marinara sauce: You can use your favorite store-bought pizza sauce or marinara or a simple homemade tomato sauce.
Sliced pepperoni: Any sliced pepperoni will do here, but if I'm feeling fancy I will use a mix of traditional pepperoni and thinly sliced deli pepperoni.
Mozzarella cheese and parmesan cheese: I love using both cheeses in this recipe. The mozzarella cheese is super melty and the parmesan brings all of that great nutty flavor.
Pizza seasoning: My favorite pizza seasoning is the King Arthur Flour Pizza Seasoning, but use whichever one you like best.
Butter: We need butter for brushing over the top of the buns!
Garlic and Italian seasoning: A little garlic and Italian seasoning add some nice flavor to the tops of the sliders, too.
Skip down to "More Topping Ideas" to learn more about using your family's favorite pizza toppings in this recipe.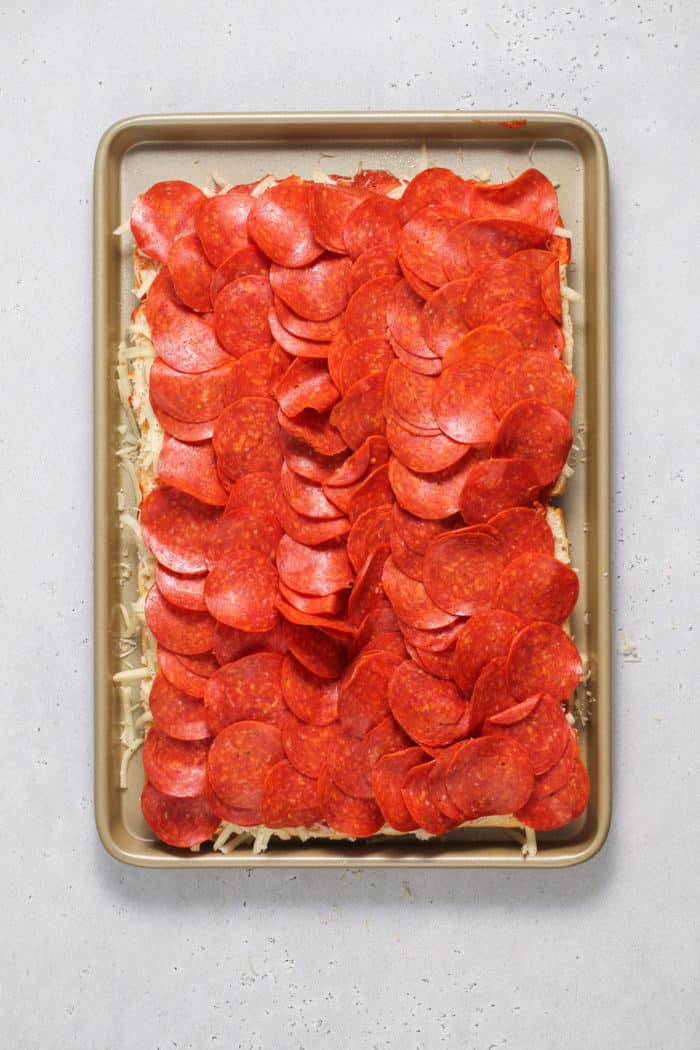 Making this recipe
If you can sprinkle cheese and layer pepperoni, you can make these sliders.
Start by prepping your rolls. Don't pull them apart; simply use a big serrated knife to slice them in half, just as you would slice a bagel, so you have separate tops and bottoms.
Place the bottoms of the rolls on a greased baking sheet or in a large greased baking dish. Spread on about half of the pizza sauce.
Mix the two cheeses together in a bowl. Sprinkle half of the cheese over the sauce. Layer on the pepperoni, then top with the rest of the cheese.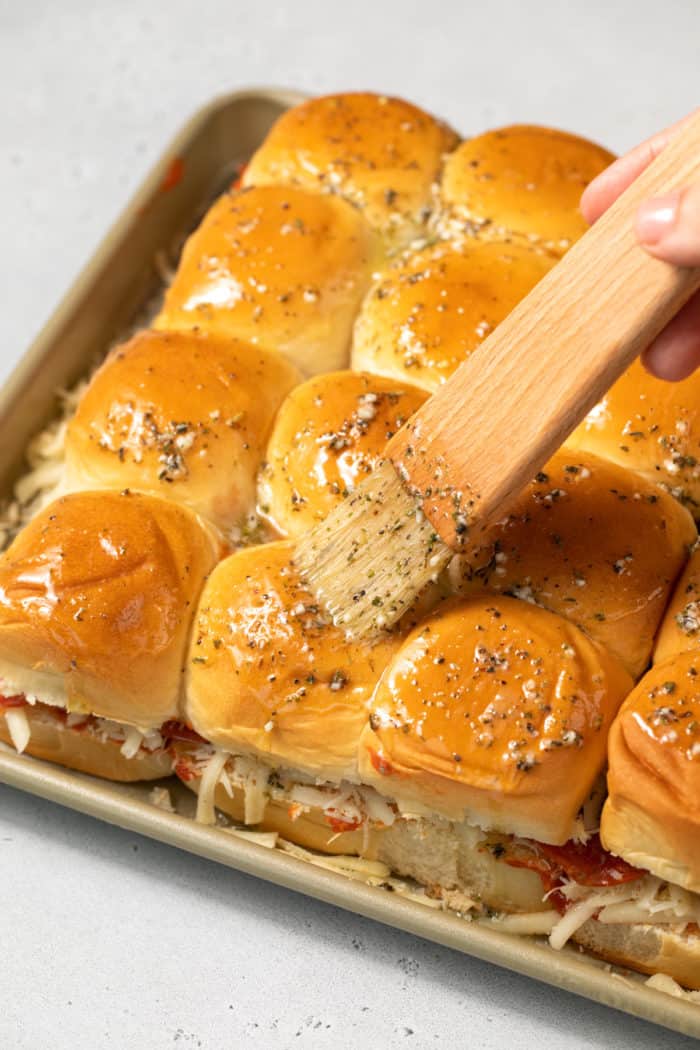 Spread the rest of the pizza sauce on the underside of the roll tops and place the tops on the sliders.
Melt the butter and mix it with the garlic and Italian seasoning and add a pinch of salt and pepper. Brush this evenly over the tops of the sliders.
Bake the sliders for 15-20 minutes. You want the tops to be slightly browned and the cheese to be nice and melty.
I like to grate some extra parmesan cheese over the tops of the sliders right after pulling them out of the oven. You can never have too much cheese!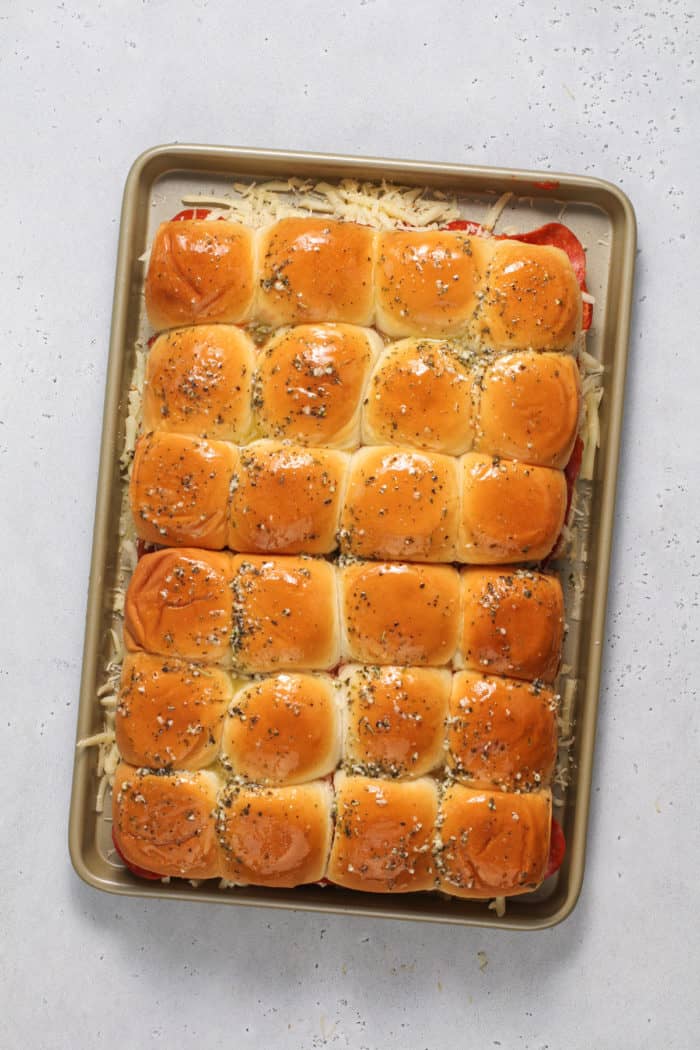 MORE TOPPING IDEAS
My family really loves pepperoni pizza, so we love Pizza Sliders with lots of cheese and pepperoni. But you can use your family's favorite pizza toppings!
You can either layer extra toppings on top of the pepperoni or omit the pepperoni altogether.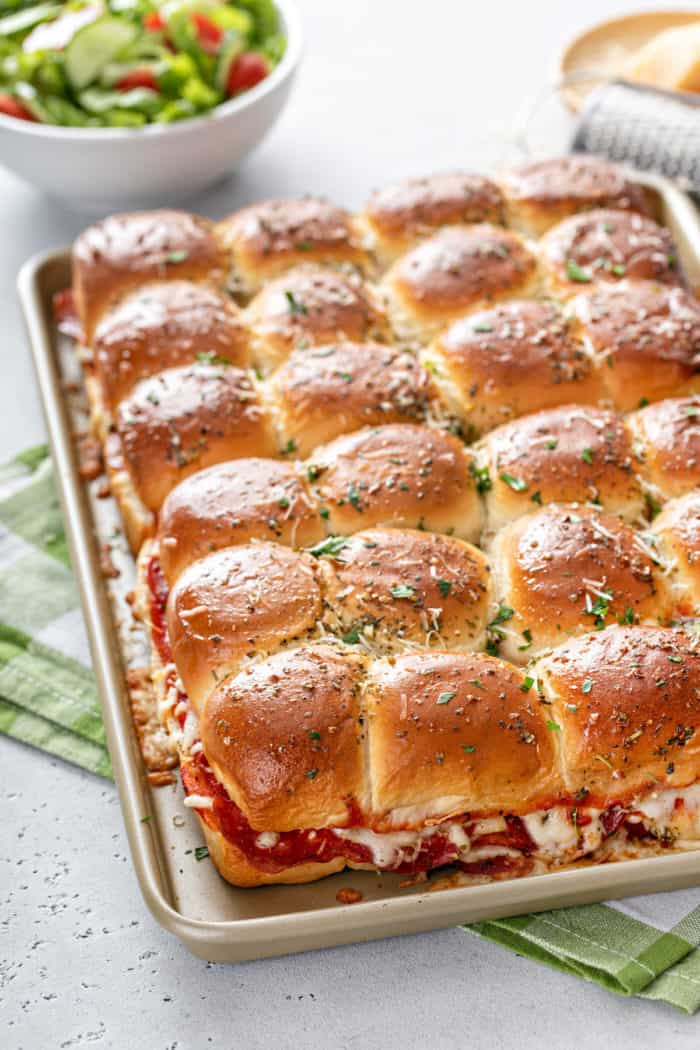 Some toppings that would work really well in this recipe include:
Thinly sliced green bell peppers
Roasted red pepper
Thinly sliced onion
Cooked and crumbled sausage
Thinly sliced mushrooms
Sliced jalapeño
Black olives
Canadian bacon
Crushed pineapple
And more!
Just make sure that any vegetables you add, especially raw veggies, are thinly sliced.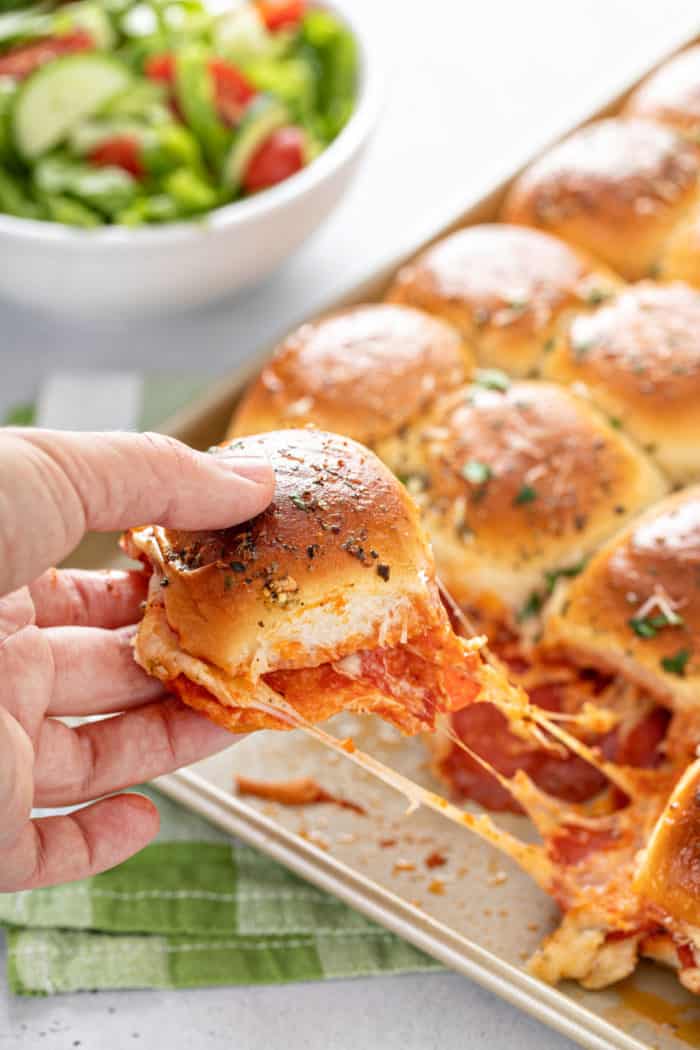 REHEATING TIPS
I guess if you're a fan of cold leftover pizza, you might not mind eating these leftover sliders cold.
But I personally like to reheat the leftovers.
You can reheat Pizza Sliders by wrapping them in foil and baking them at 350°F for about 10 minutes. You can also use your air fryer to reheat them – I usually put them at 350°F for about 5 minutes.