Do you ever just get a craving for a fast-food burger? These easy Cheeseburger Sliders are quick to make and taste just like your favorite fast-food cheeseburger!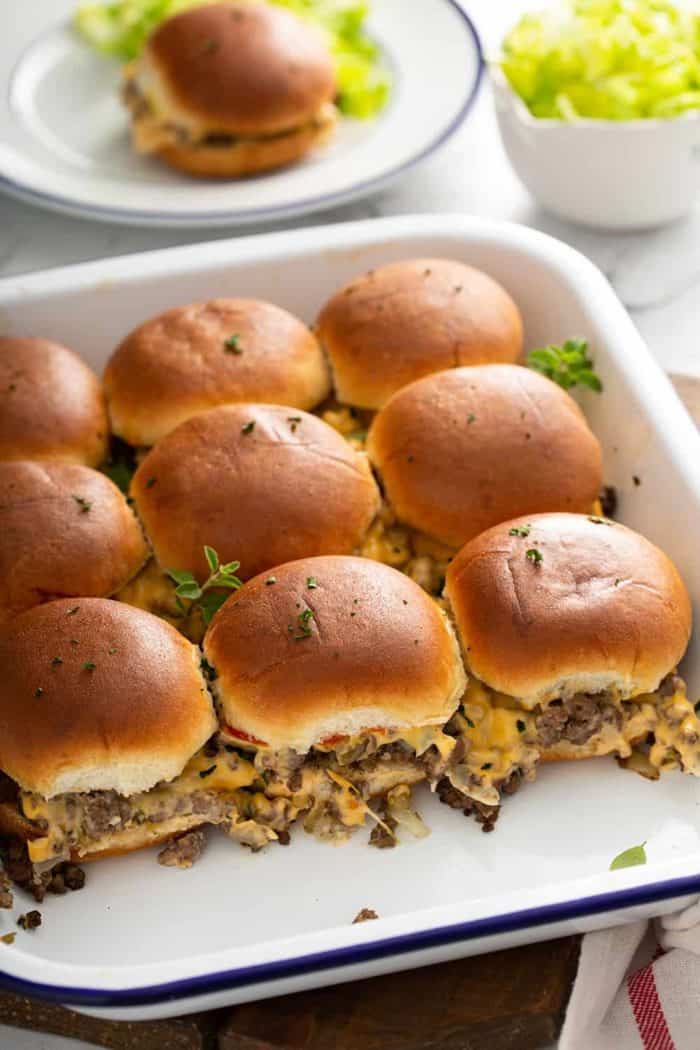 We've been watching a lot of football around here.
I mean, hello – the Browns were in the playoffs. Which is still kind of crazy for us Clevelanders considering how terrible their record was for so many years.
I should probably rephrase that, Eric has been watching a lot of football. I only kinda sorta pay attention when he yells at the TV.
I'm basically in charge of the snacks. Whether it's jalapeño popper dip, buffalo chicken dip, or these cheeseburger sliders, I pretty much have the whole game day grub thing perfected.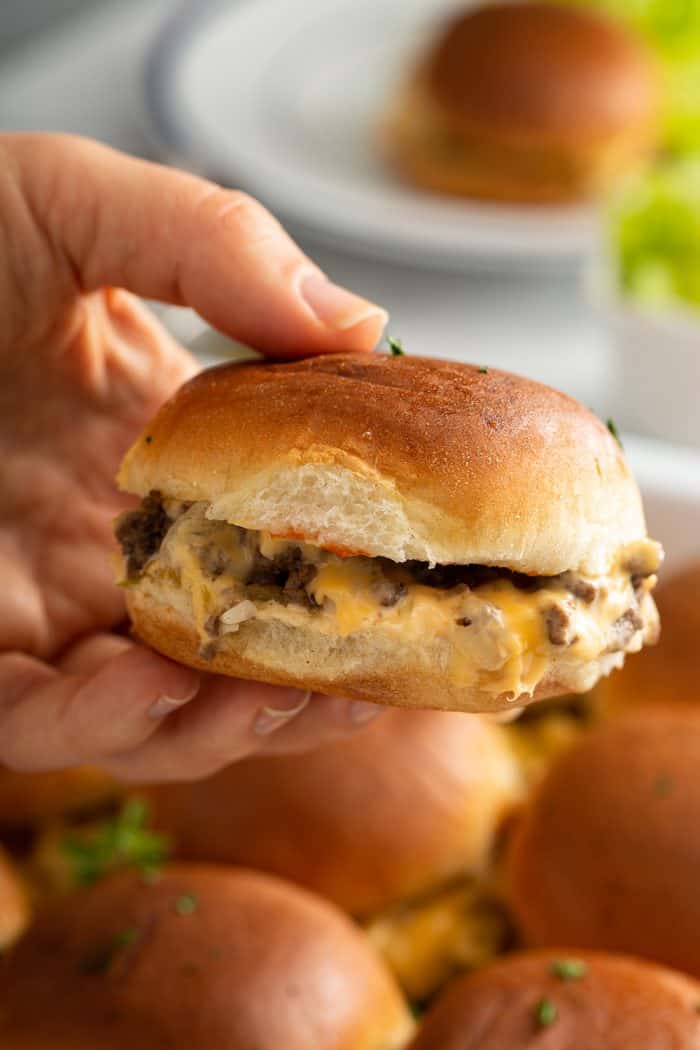 MY FAVORITE CHEESEBURGER SLIDERS RECIPE
I may love the taste of a fast food burger, but I don't always love the way I feel after eating one.
Enter homemade Cheeseburger Sliders.
I love these sliders for a couple of reasons.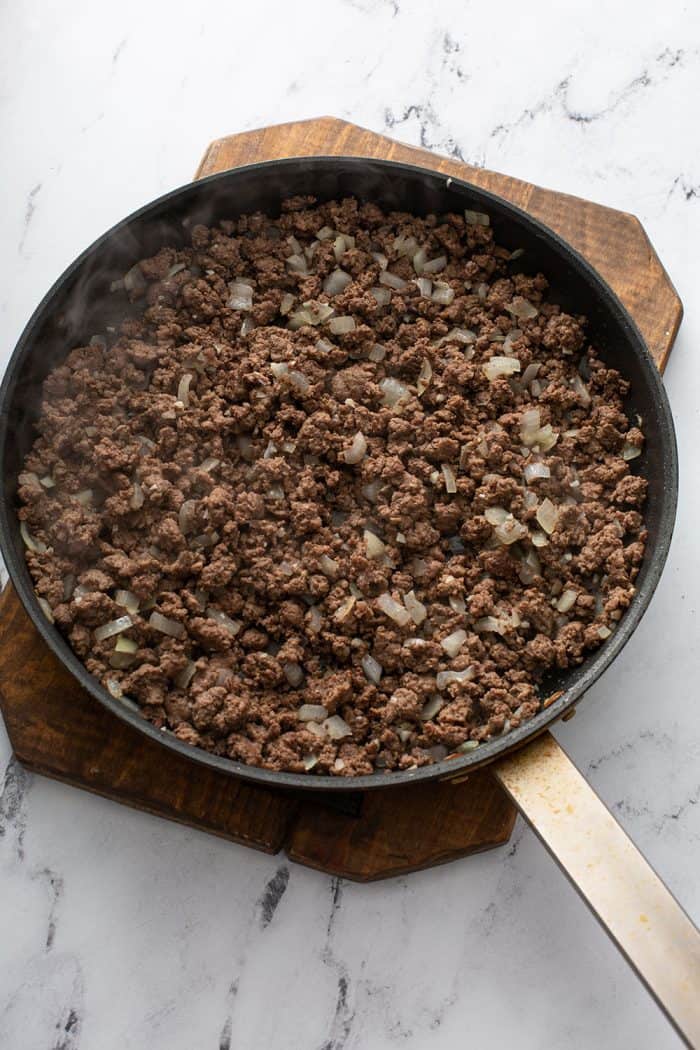 For one, I think they taste just like a McDonald's cheeseburger. Except I actually know what is in them.
That's not to say these are a healthy meal. But I can at least know what ingredients I'm using and can always change things up if I like (more on that in a bit).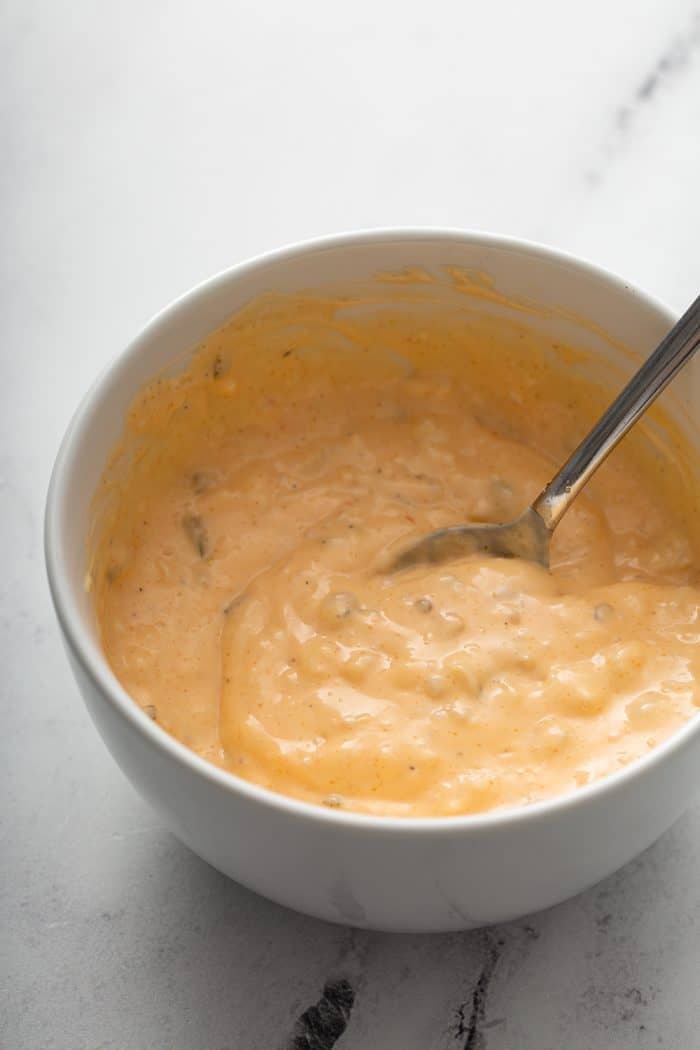 And second, they're really easy. These are baked sliders, similar to my Ham and Cheese Sliders. So instead of making and grilling individual patties, we are going to make the burger meat in a skillet and spoon it on top of the slider buns.
Here, let me show you how to make them.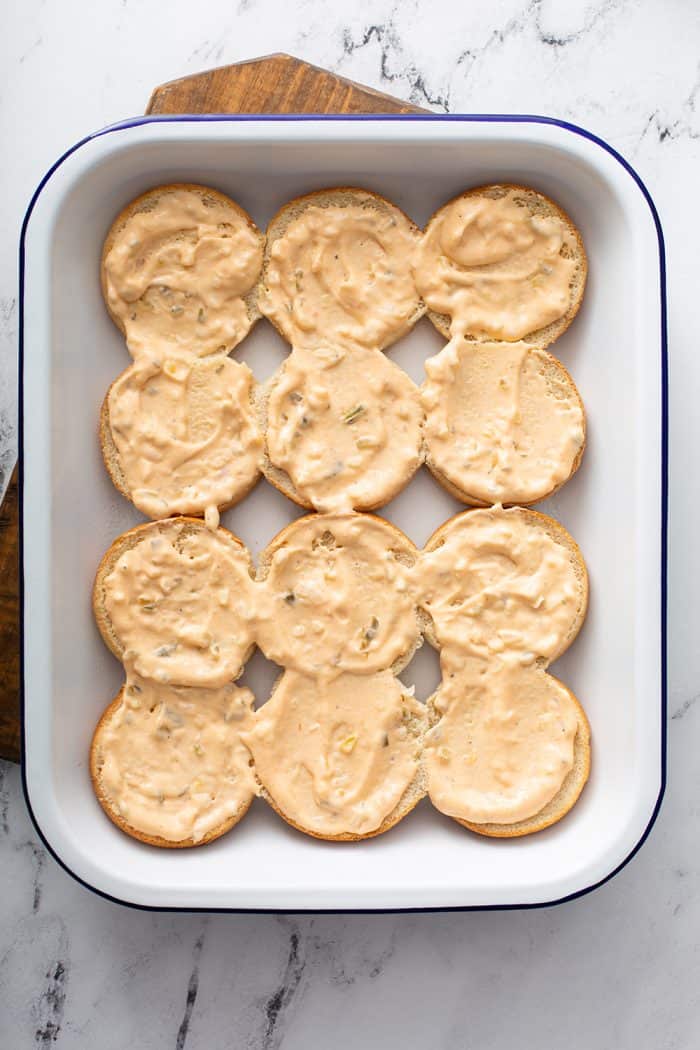 HOW TO MAKE THESE EASY SLIDERS
Start by browning a pound of ground beef in a skillet with some finely diced onion and garlic and a liberal amount of salt and pepper.
Once the beef is fully cooked, add in the sweet pickle relish and give the mixture a taste for seasoning.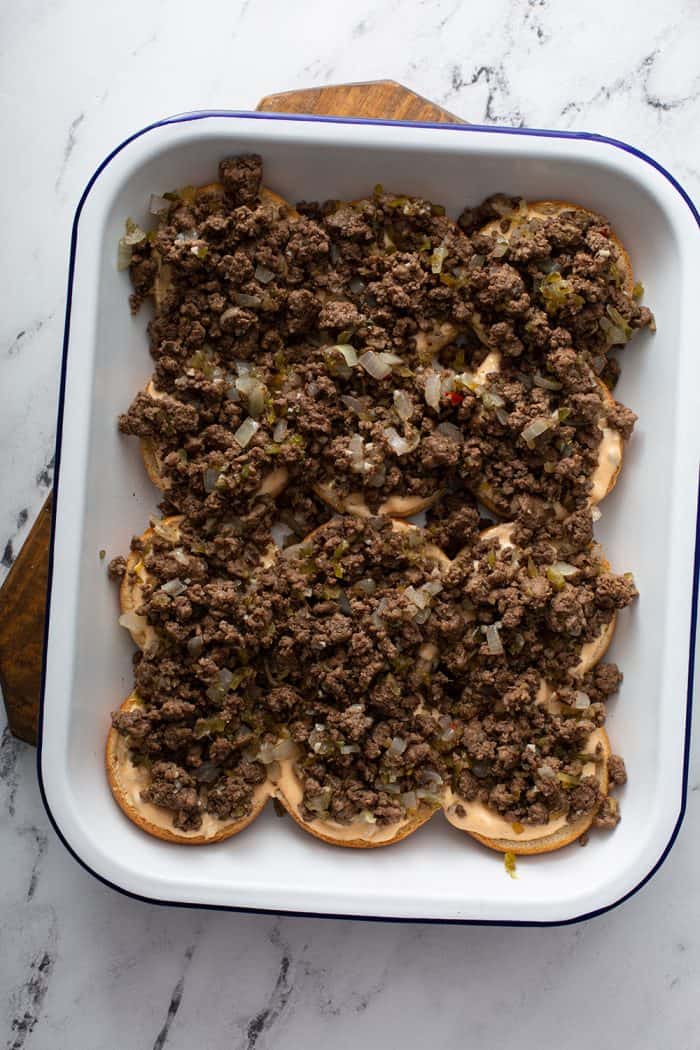 In a small bowl, mix together the burger sauce. To make this, you'll need:
½ cup mayonnaise
2-3 tablespoons French dressing
1 tablespoon sweet pickle relish
1 tablespoon very finely minced onion
1 teaspoon white vinegar
1 teaspoon sugar
Salt and pepper to taste
2-3 dashes of hot sauce (optional)
A lot of grocery stores carry pre-made burger sauce, which you're welcome to use if you don't want to make your own. I actually made these the first time with a pre-made burger sauce, but they didn't taste quite right to me. The pre-made stuff wasn't tangy enough!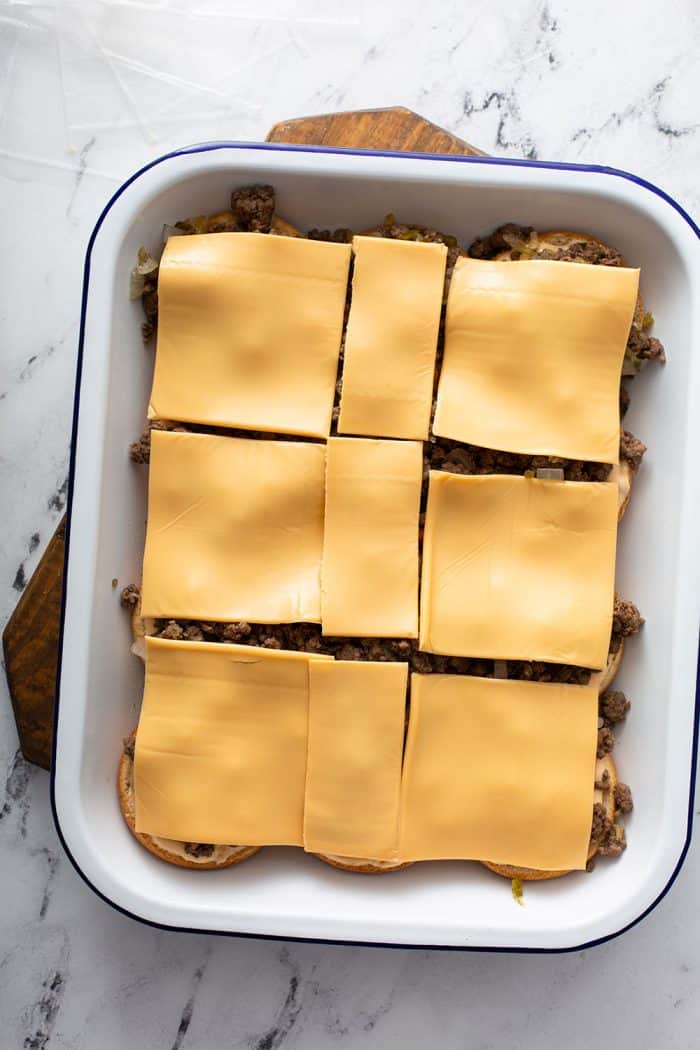 But if you're running low on energy, I would be the last one to judge you if you decided to forego making your own.
To assemble the sliders, place the bottoms of 12 slider buns in a 13×9-inch pan. Spread on the burger sauce, then top with the beef mixture, followed by slices of American cheese.
Spread the tops of the slider buns with ketchup and mustard before placing the tops on the sliders.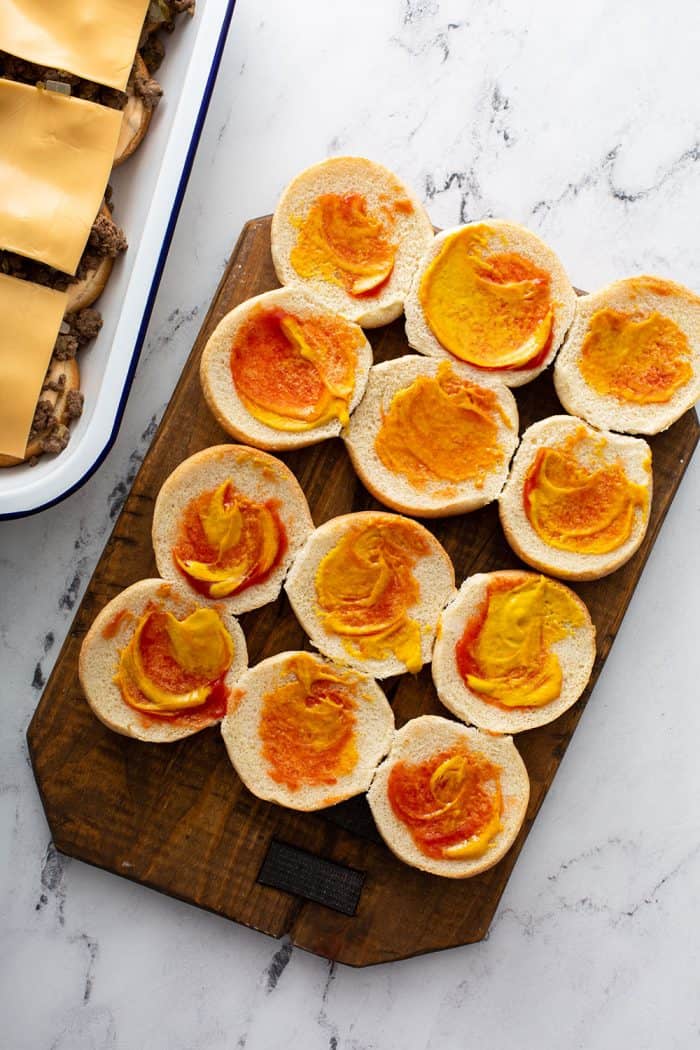 You can always skip the extra ketchup and mustard if you like, but I think it really gives the sliders that nostalgic flavor.
Bake your Cheeseburger Sliders for about 10 minutes, or until the cheese is melted.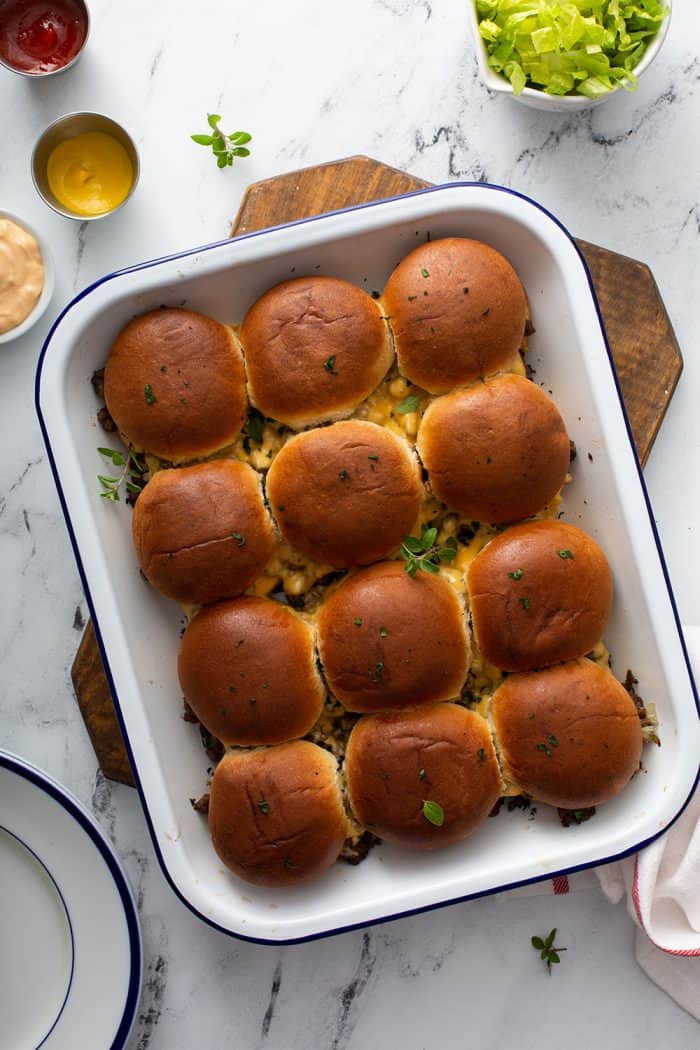 HOW TO CHANGE UP THIS RECIPE
I like making these Cheeseburger Sliders as written because to me they taste like a McDonald's cheeseburger, but you could totally change up this recipe if you want a slightly different flavor!
Use a different cheese. American cheese is the go-to on most fast-food burgers, but you could use cheddar or pepper jack instead.
Add bacon. Do I really need to say more? You could either add cooked and crumbled bacon to the beef mixture or add cooked bacon on top.
Change out the buns. A standard slider bun makes these more like the burgers we all grew up with, but you could also use hawaiian rolls or even brioche slider buns or potato rolls.
Serve these sliders up with Jo Jo Potato Wedges or homemade french fries and plenty of ketchup and enjoy the nostalgia that comes with them!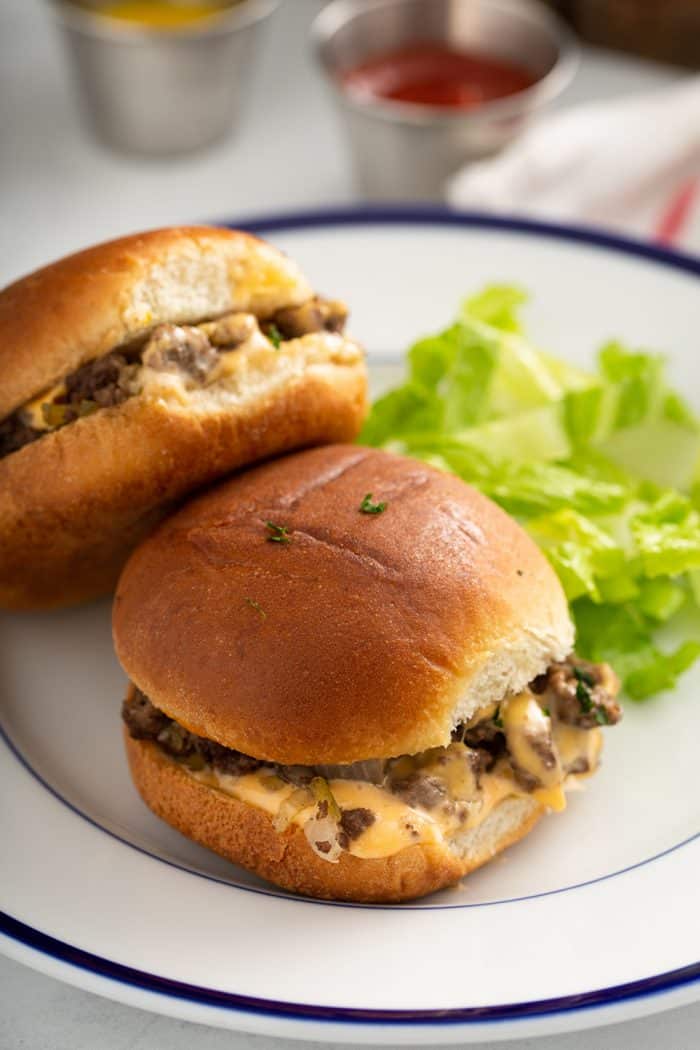 HOW TO REHEAT LEFTOVER CHEESEBURGER SLIDERS
If you happen to have any sliders left over, you can easily reheat them the next day. The best way to do this is in an oven or an air fryer.
Place the leftover sliders in the basket of an air fryer and cook at 375 degrees for about 5-10 minutes.
Alternatively, wrap them in foil and reheat in a 375 degree oven for 10-15 minutes.