Jalapeno Popper Dip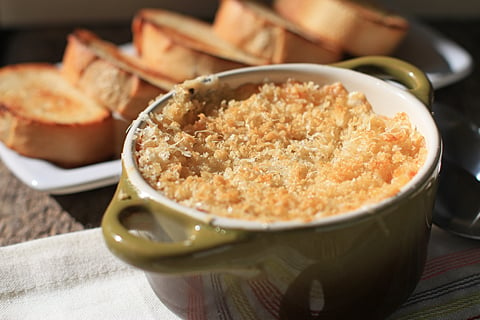 If you read my blog on a regular basis, you may recall me saying that I am not a big football fan, okay let me rephrase that, I am not a football fan AT ALL. On occasion, I will pretend to watch it to appease my football loving family, but in all honesty I really have no clue what is going on. However, I do love to cook, so this "Man Holiday"  aka the Super Bowl gives me the perfect opportunity to whip up some fabulous snack food to share with my readers. I will have two posts going up today, the first is for this delicious, spicy, cheesy Jalapeno Popper Dip. It's easy, incredibly tasty and highly addictive.
It pairs perfectly with toasted French bread, tortilla chips, crackers, raw veggies and beer! I will forewarn you, this dip definitely has a little kick, but if you like things a little more on the mild side, simply cut back on the jalapenos and chilies to suite your taste buds. I hope this recipe makes it on to your Super Bowl Spread. Have a great day and be sure to check back later for a last minute snack idea.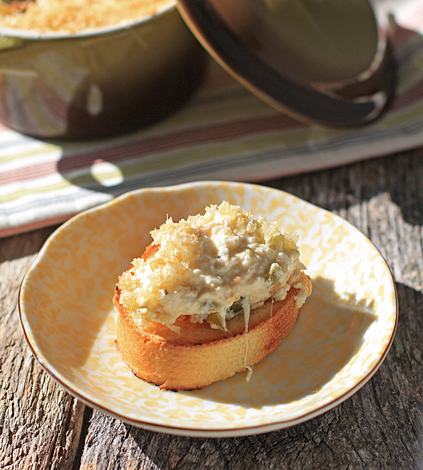 Jalapeno Popper Dip
Ingredients:
2 (8 ounce) packages cream cheese, softened
1 cup mayonnaise
1 (4 ounce) can chopped green chilies, drained
4 ounces canned diced jalapeno peppers, drained
1/2 cup shredded Mexican style cheese
1/2 cup shredded mozzarella cheese
1 cup Panko bread crumbs
1/2 cup freshly grated parmesan cheese
Directions:
Preheat oven to 350 degrees and spray an oven safe serving dish with non-stick cooking spray.
Using an electric mixer, blend the cream cheese and mayonnaise until smooth.
Stir in green chilies, jalapeno peppers, and Mexican and mozzarella cheeses. Spoon this mixture into the prepared baking dish.
Mix together the Panko and parmesan cheese and sprinkle it over the cream cheese mixture.
Spray the Panko and parmesan with a quick spray of non-stick cooking spray.
Bake for 25-30 minutes or until the mixture is hot and the topping is lightly browned.
Notes:
– If you are in a hurry, skip the Panko/Parmesan topping and simply microwave the cream cheese mixture until hot and bubbly.
– Serve this dip with French bread, fresh vegetables, tortilla chips, crackers…pretty much anything that pairs well with cheese!
All images and text ©
Follow Jamie on Instagram. We love to see what you're baking from MBA! Be sure to tag @jamiemba and use the hashtag #mbarecipes!
This post may contain affiliate links. We are a participant in the Amazon Services LLC Associates Program, an affiliate advertising program designed to provide a means for us to earn fees by linking to Amazon.com and affiliated sites.