So, it's been a whole week and a couple days since I became a mama to the sweetest little girl you've ever seen. If you follow me on Instagram, you may have even seen a few shots of her.
I feel like things are slowly getting back into a rhythm. It's a totally new rhythm, but a rhythm nonetheless. One new thing? Instead of Eric and I packing up every other weekend or so and traveling an hour to visit my family, my family is now making the trek here. I mean, there is a magnetic new little personality doing the pulling, so I totally get it.
When you've got a bunch of family around, it's always a good idea to have savory snacks on hand to keep folks going through the baby-passing and football watching. We've got the bonus of an extra big game this weekend, which is always an excuse for extra special snacks, like this Sweet and Spicy Snack Mix.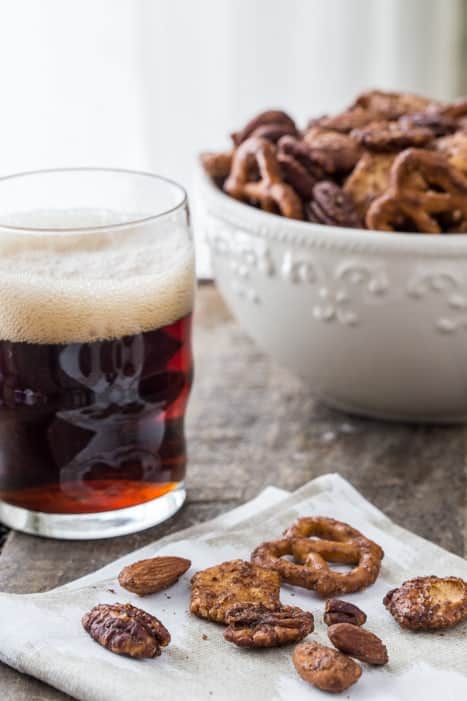 Chock full of Fisher almonds and pecans, pretzels and oyster crackers, and a savory sweet spice mix, you will NOT be able to stop eating it! It comes together so quickly we've made several batches in the last week, even with a newborn in the house. Now that is seriously easy.
When I'm having a crowd of people over, I like to strategically place bowls of this snack mix around the house. It's perfect to nosh with a beer or glass of wine, or even just fizzy water while you reconnect with friends and family you might not have seen in a while.
I'll tell ya, nothing brings family back together like a new baby or the biggest football game of the year. But I'm totally cool with just keeping this Sweet and Spicy Snack Mix around for post-game day too. It's addicting!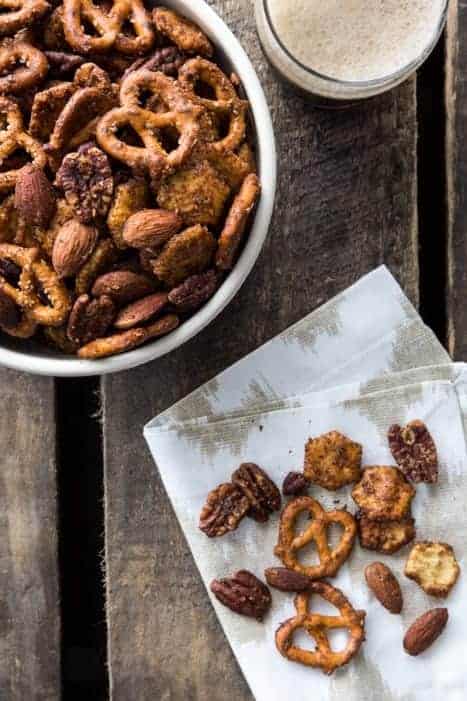 Sweet & Spicy Snack Mix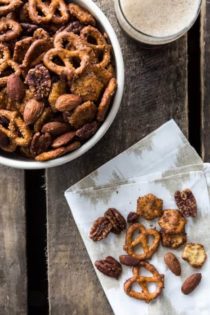 Ingredients:
1 cup Fisher Whole Almonds
2 cups Fisher Pecan Halves
4 Tablespoons unsalted butter, melted
1/4 cup light brown sugar
2 Tablespoons pure maple syrup
1 teaspoon cinnamon
3/4 teaspoon cayenne pepper
1/4 teaspoon ground cardamom
2 teaspoon kosher salt
2 cups small pretzel twists
2 cups oyster crackers
Directions:
Preheat oven to 350 degrees. Spread almonds and pecans out onto a rimmed baking sheet. Bake until nuts are warm and fragrant, about 10 minutes.
Meanwhile, in the bottom of a large bowl whisk together melted butter, brown sugar, maple syrup, cinnamon, cayenne pepper, cardamom and salt. Add warm nuts, pretzels and oyster crackers. Stir gently until all nuts, pretzels and crackers are evenly coated.
Spread nut mixture evenly onto rimmed baking sheet and bake for 15-20 minutes, stirring once halfway through baking time. Remove from oven and let cool completely. Store mix in an air tight container for up to 5 days.
Notes:
When mixture comes out of the oven, the glaze will still be wet. It will dry and set as the snack mix cools. Be careful not to over bake the mix.
All images and text ©
Follow Jamie on Instagram. We love to see what you're baking from MBA! Be sure to tag @jamiemba and use the hashtag #mbarecipes!
Disclosure: My Baking Addiction has teamed up with Fisher Nuts to develop recipes using their products. This is a sponsored post written as part of that program. All opinions about Fisher Nuts are my own.