Made with frozen bread dough, this Pepperoni Bread is an easy and fun recipe to make. Serve it as an appetizer or as an entree alongside a big salad for a fun take on pizza night.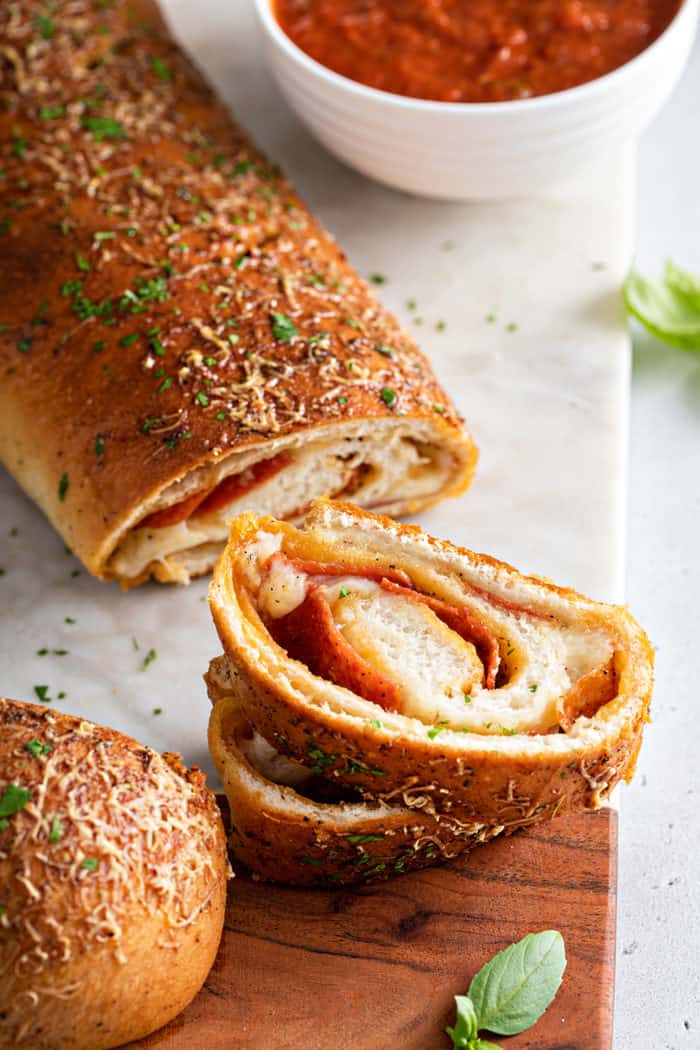 You know I love breads like classic parker house rolls, but I especially can't resist stuffed breads like cheesy ranch pull-apart bread.
That's why this pepperoni bread is a new favorite here. My mom used to make a version of this bread years ago, so I thought I'd try to recreate it after finding a couple of loaves of frozen bread dough in the depths of my freezer that I had on hand for these pecan sticky buns.
This pepperoni bread is perfect for an appetizer, snack, or even as a twist on pizza night!
Plus, this pizza bread is extra easy thanks to frozen bread dough. There's no need to worry about mixing and rising pizza dough.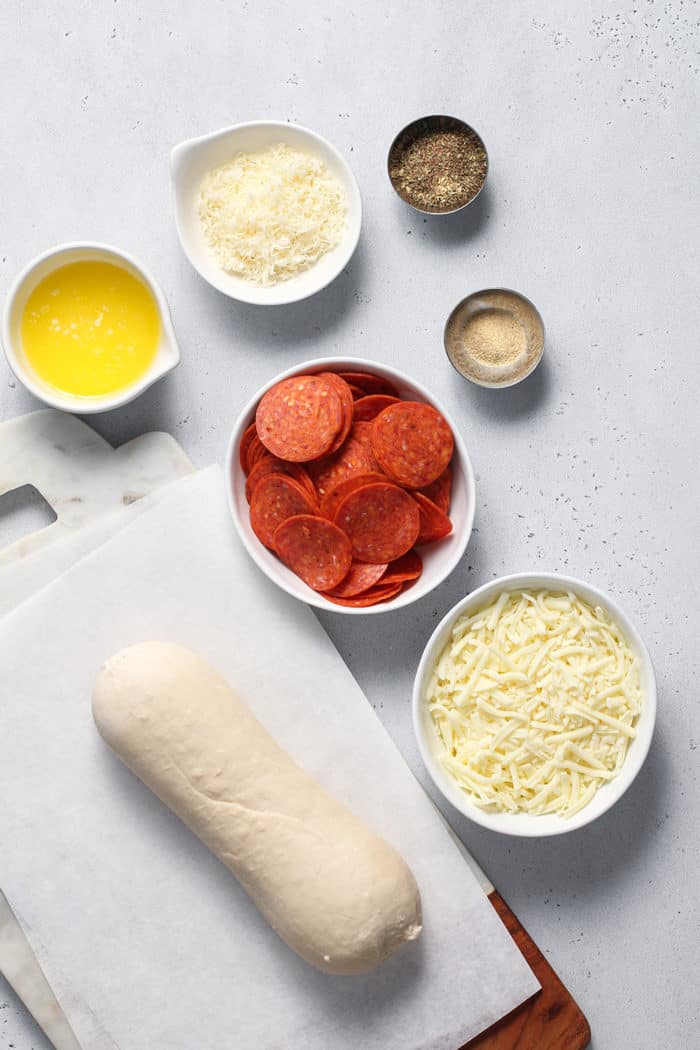 HOW TO MAKE PEPPERONI BREAD
First, gather your ingredients.
1 pound frozen bread dough, thawed, such as Rhodes
Salted butter, melted
Pizza seasoning
Garlic powder
Pepperoni slices
Shredded mozzarella
Grated parmesan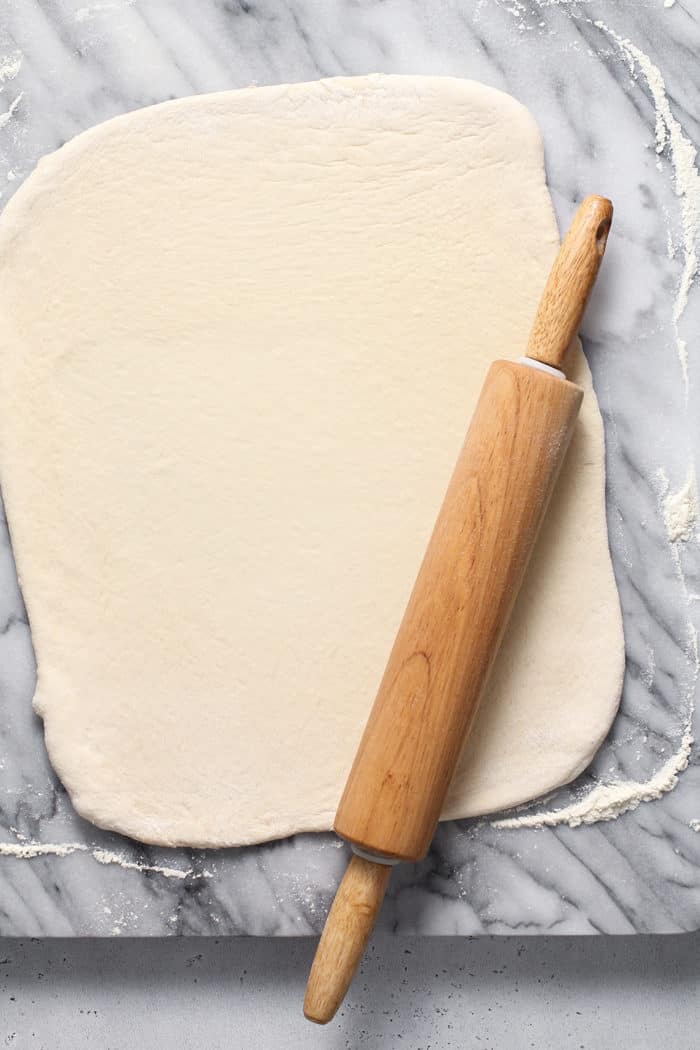 Because we are using a premade frozen bread dough, it needs to be thawed ahead of time.
Depending on the brand, the instructions for thawing will vary. Be sure to plan accordingly!
Pizza seasoning is a mix of basil, oregano, fennel, garlic flakes, onion flakes, and other ingredients. You can buy it premade, make your own, or simply swap in Italian seasoning.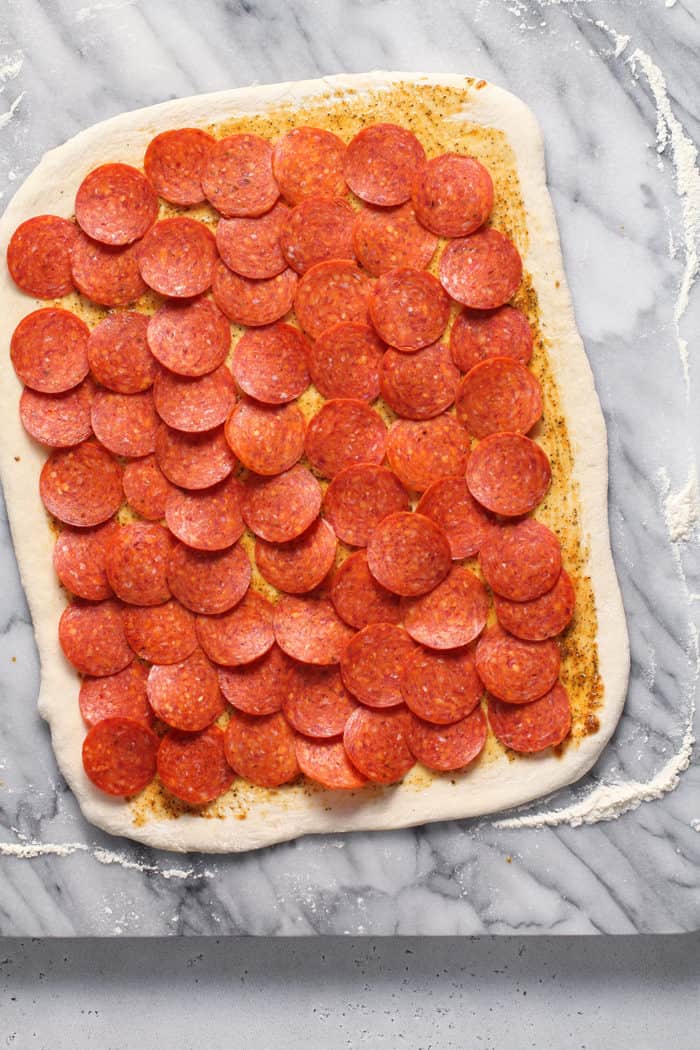 Once your bread is thawed, preheat the oven to 375°F and line a rimmed baking sheet with parchment paper. You can also use a reusable silicone liner.
Sprinkle flour on a clean work surface and roll out the thawed dough. We're aiming for a 12-by-10-inch rectangle.
Because the dough is thawed instead of fresh, you'll need to roll the dough using a rolling pin, as well as stretch it a bit using your hands. If the dough is resisting too much, let it rest a bit before rolling and stretching again.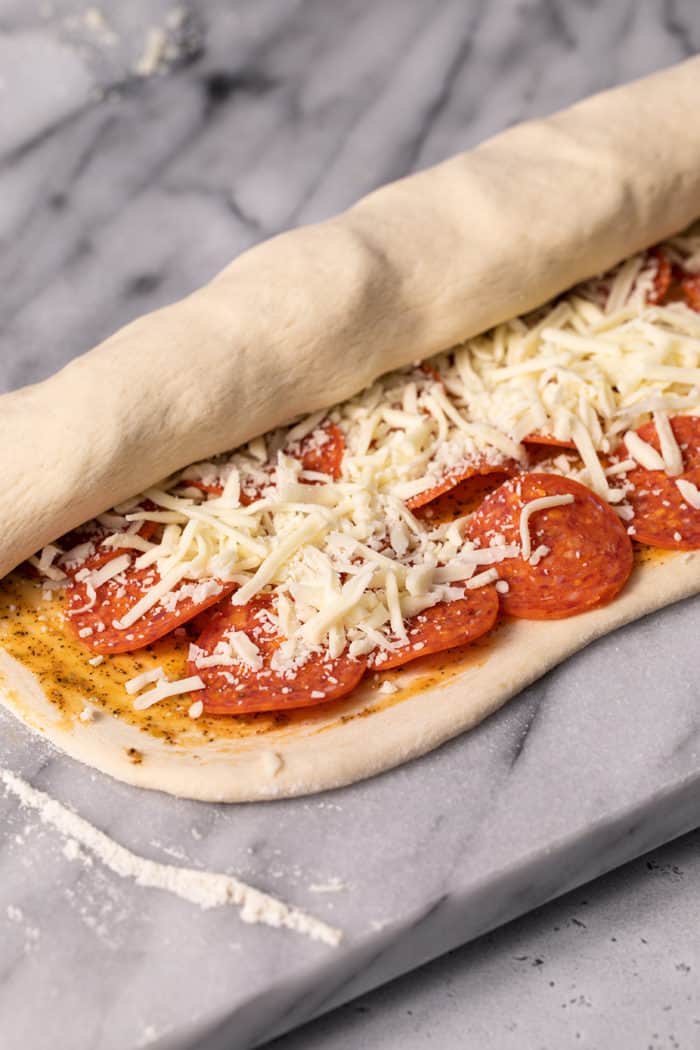 Whisk together the melted butter, pizza seasoning, and garlic powder.
Using a pastry brush, spread half of the butter mixture over the dough. If you don't have a pastry brush, spread as best you can using a spoon or offset spatula.
Arrange the pepperoni evenly onto the dough, overlapping slices if needed. Scatter on the mozzarella.
Now it's time to roll. Just like making cinnamon rolls, start with the long edge of the dough.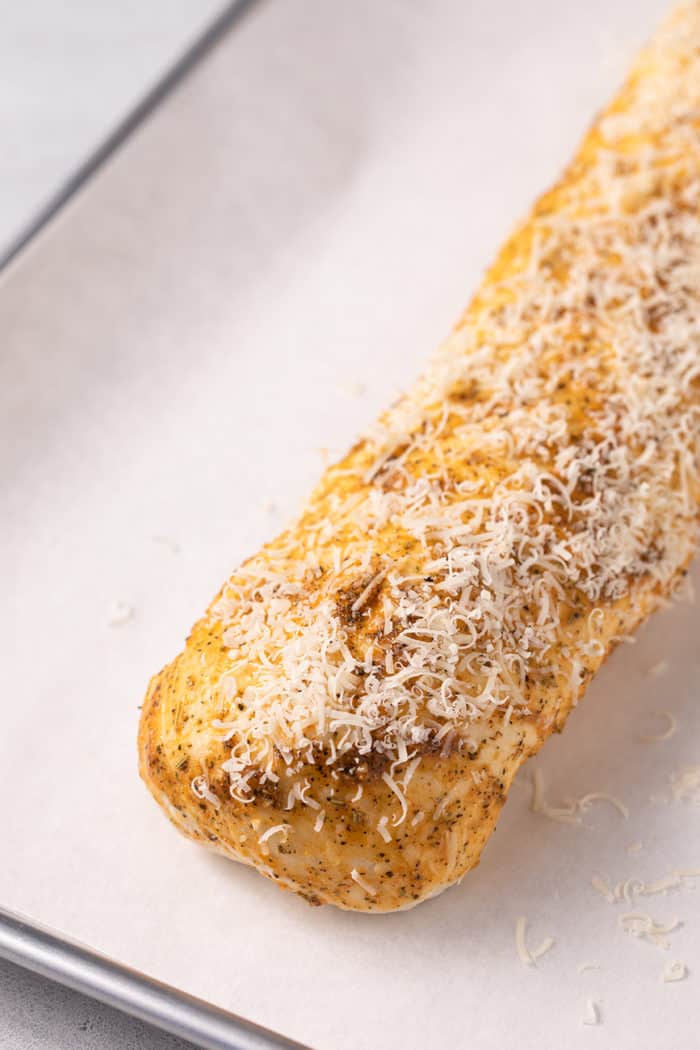 Roll dough tightly to the other edge and tuck the ends of the bread under. Carefully transfer the bread to the prepared baking sheet.
Use a small sharp knife to cut 3 vents into the top of the bread. Space them evenly if you can; this will help the inside cook as well as release steam.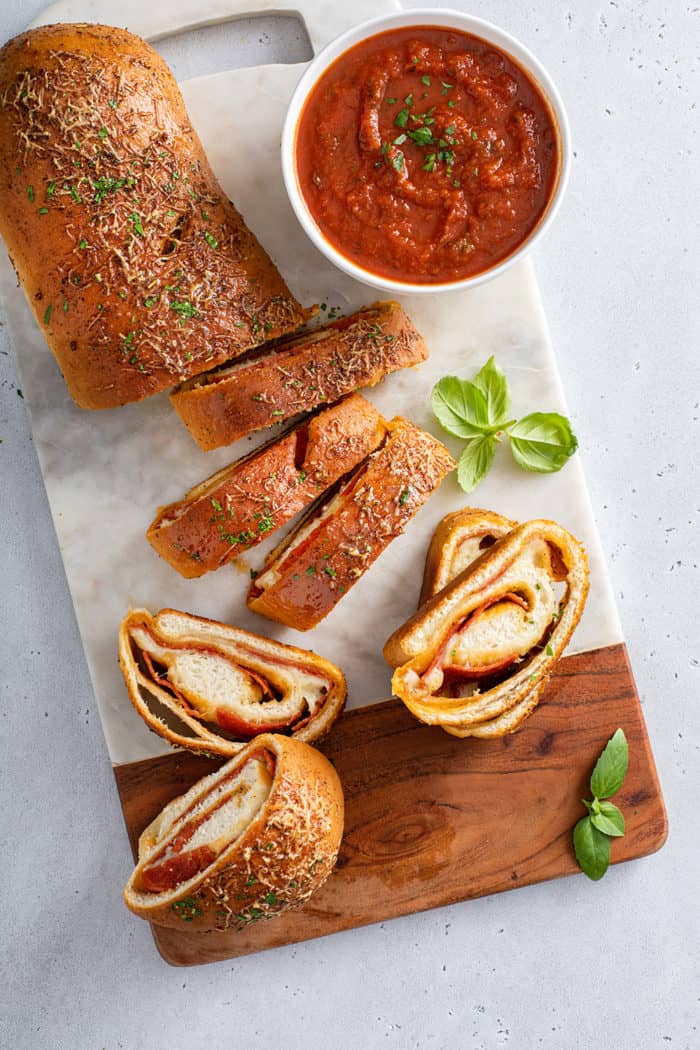 Brush the remaining butter mixture onto the pepperoni bread, then sprinkle on the parmesan cheese.
Bake until golden brown, about 20-25 minutes.
Make sure to let it cool for about 10 minutes before slicing. Then, slice and serve with marinara sauce, pizza sauce, or ranch dressing.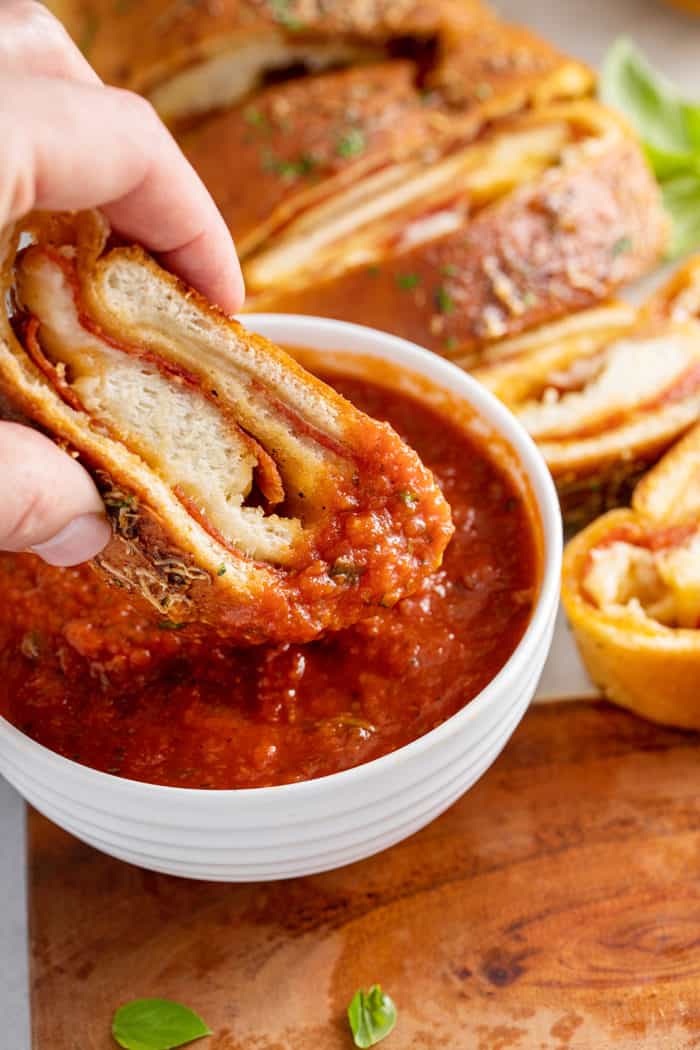 ADDITIONS AND SUBSTITUTIONS
Want to change up the flavor of this pizza bread? No problem! Pepperoni bread is super easy to customize.
This recipe works best with larger pepperoni slices, but you can use your favorite size or even change the meat. Turkey pepperoni is a good option.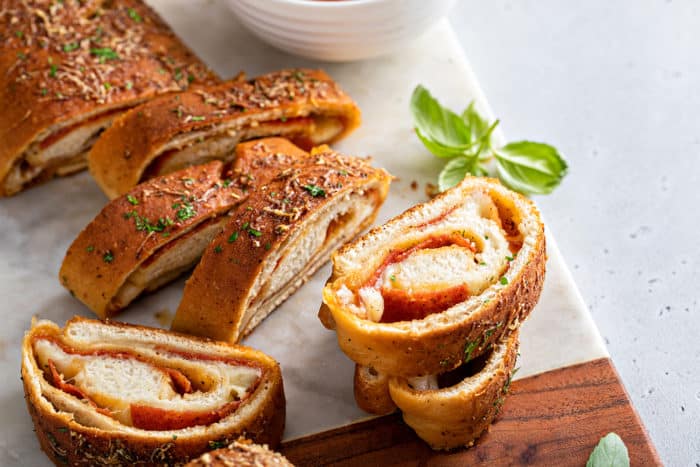 Try it with different varieties of salami, chopped ham, or cooked crumbled sausage.
Swap the mozzarella for other melty varieties like pepper jack cheese, provolone cheese, or gouda.
Add your favorite veggies like sliced olives, chopped bell peppers, onions, or sliced mushrooms.
Be careful to not add too much though, as overstuffed pepperoni bread can get soggy and not bake all the way through.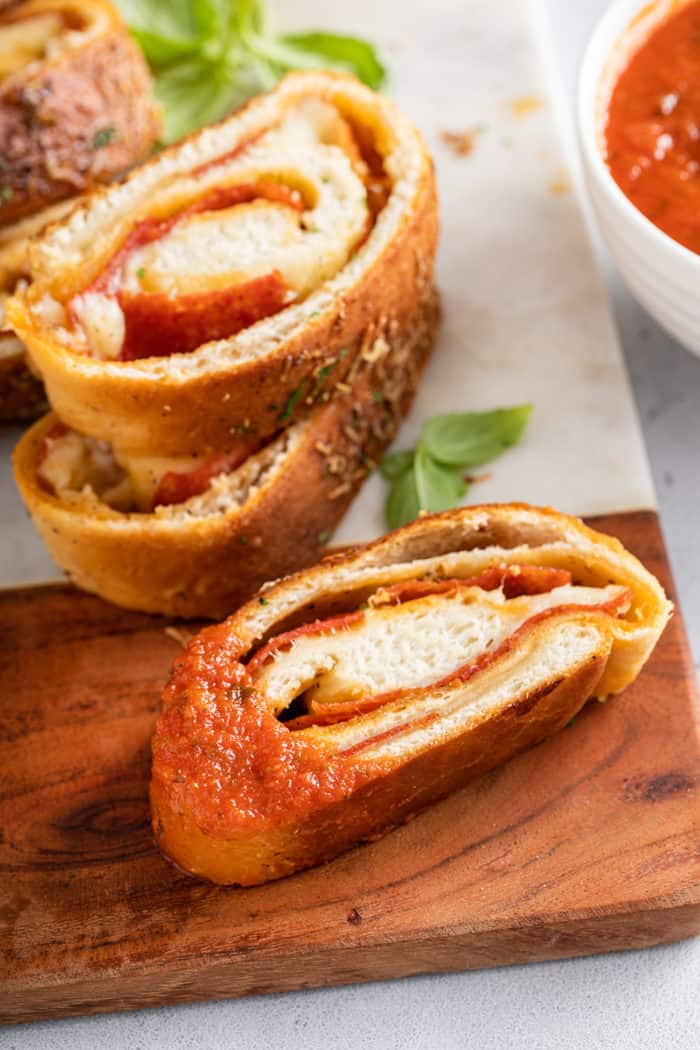 STORAGE TIPS
Have leftovers of this pepperoni roll? Store bread wrapped in plastic wrap or in an airtight container in the refrigerator for up to 4 days.
To reheat, individual slices can be warmed in the microwave, or use the oven for best results.
Place on a nonstick baking sheet and warm in a 350°F oven for 5-10 minutes.
Serve up pepperoni bread with all of your game day favorites like buffalo chicken dip, spinach artichoke dip, and loaded baked potato dip. The crowd will go wild!