These super simple Pecan Sticky Buns use a secret ingredient to make them quick and easy to prep. You'll never guess the dough wasn't made from scratch!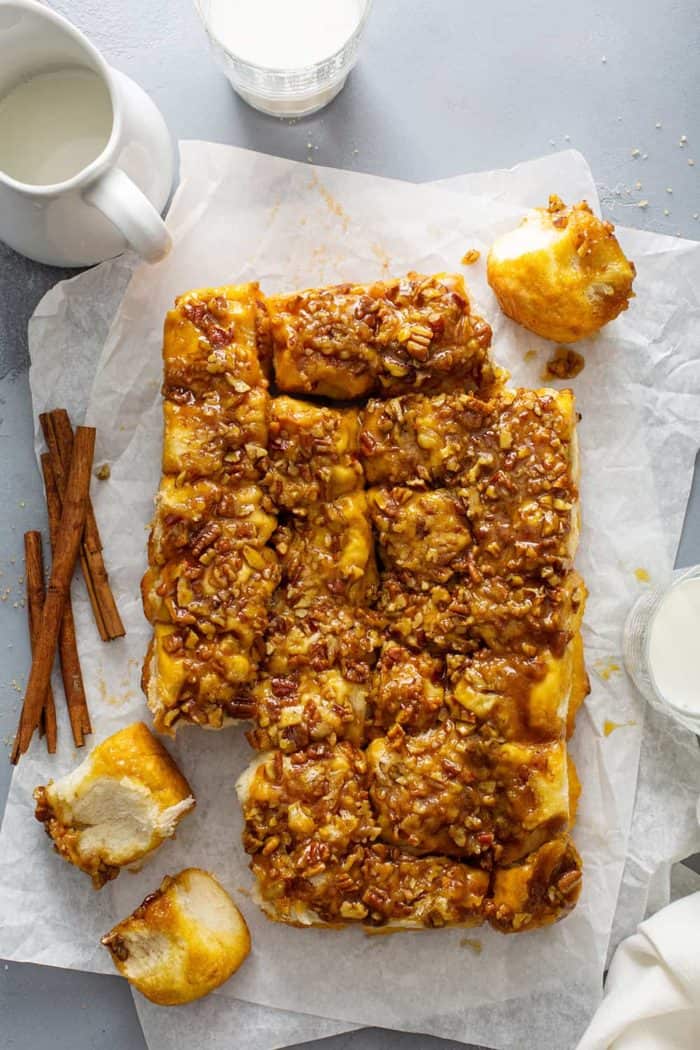 Every once in a while, someone sends me a recipe that I'm so intrigued by, I make it almost immediately. And that was 100% the case with these super simple Pecan Sticky Buns.
Elle's kindergarten teacher, who also just happens to be one of the kindest and most lovely humans on the planet, sent me this recipe. She's been making these sweet rolls for over 20 years and found the original recipe named Ben's Buns in an old cookbook called Eat, Drink and Be Chinaberry.
A recipe that anyone stands behind for over 20 years is a must-make in my book, so I immediately added a few ingredients to my Instacart order and had these sticky buns in the oven the very next day.
Even though I have never heard of, or tasted these sweet rolls before, my friend Erin confirmed after one bite that these were her Grandma's Pecan Sweet Rolls. She even got a little emotional because she thought she'd never have them again and now she's so excited to make them for her dad.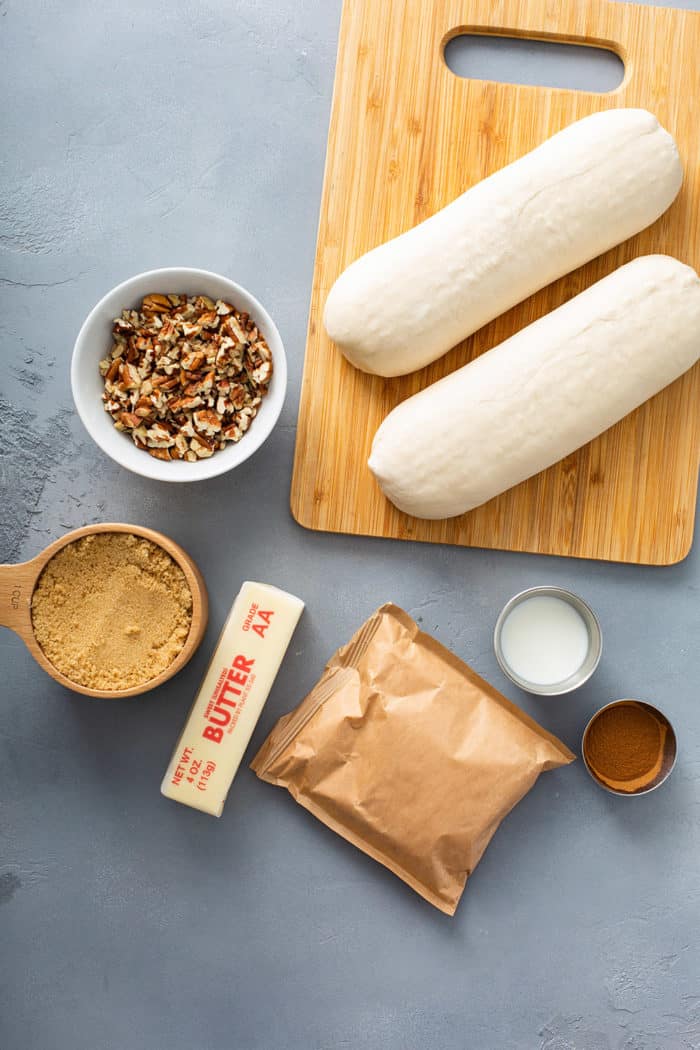 SUPER EASY STICKY BUNS
Look, I love sweet rolls.
Traditional cinnamon rolls, Chai Spice Sweet Rolls, Pumpkin Spice Cinnamon Rolls, Overnight Toffee Cinnamon Rolls…I love them all.
But I have to be honest, I don't always love having to go through the process of making the dough, letting it rise, rolling it, shaping it, and letting the rolls rise again.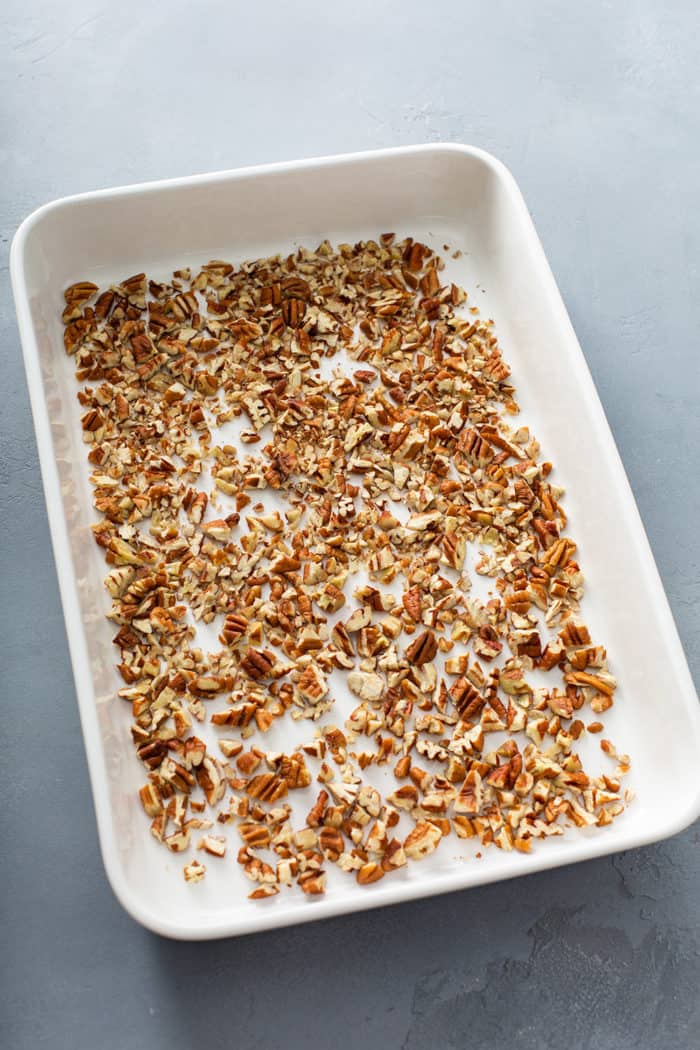 It's not that it's hard to do. I just don't always want to do it.
There's a big difference. Honestly, I'll admit that sometimes laziness is the difference.
So what's a girl to do? Make these Pecan Sticky Buns, that's what.
Like I said, I got this recipe from Elle's kindergarten teacher and let me tell you: they're amazing. They're sweet, they're perfectly sticky, they're fluffy, and they use a secret ingredient to make them super easy.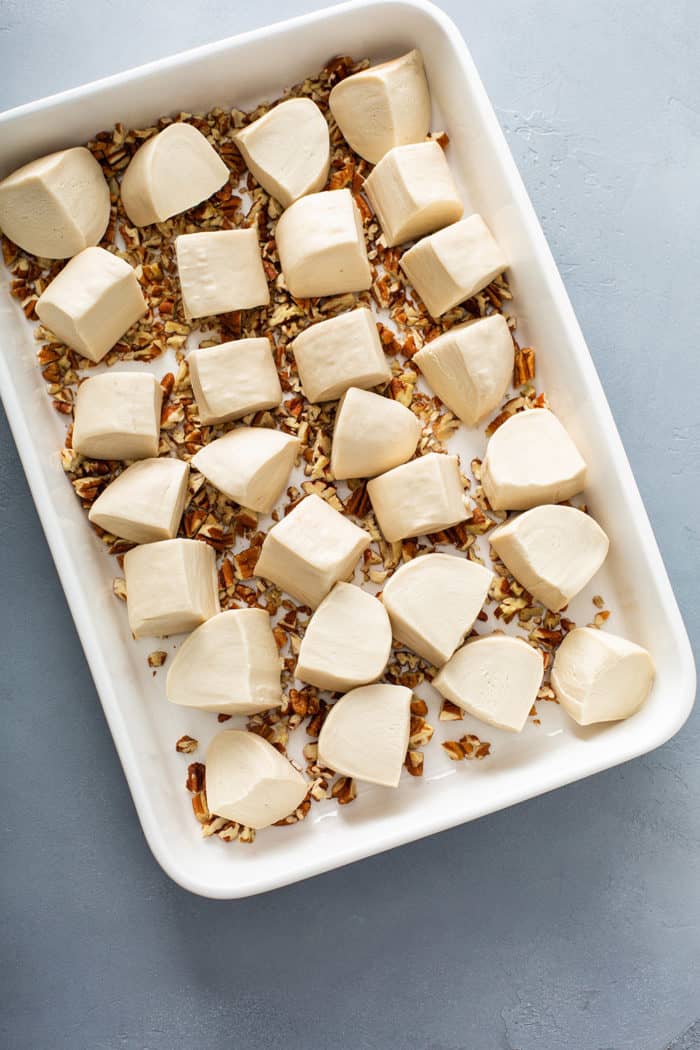 HOW TO MAKE PECAN STICKY BUNS WITH FROZEN BREAD DOUGH
So what's the secret to these Pecan Sticky Buns? Frozen bread dough.
Yes! That's right. The kind of dough you would normally thaw, let rise, and bake into a loaf of bread.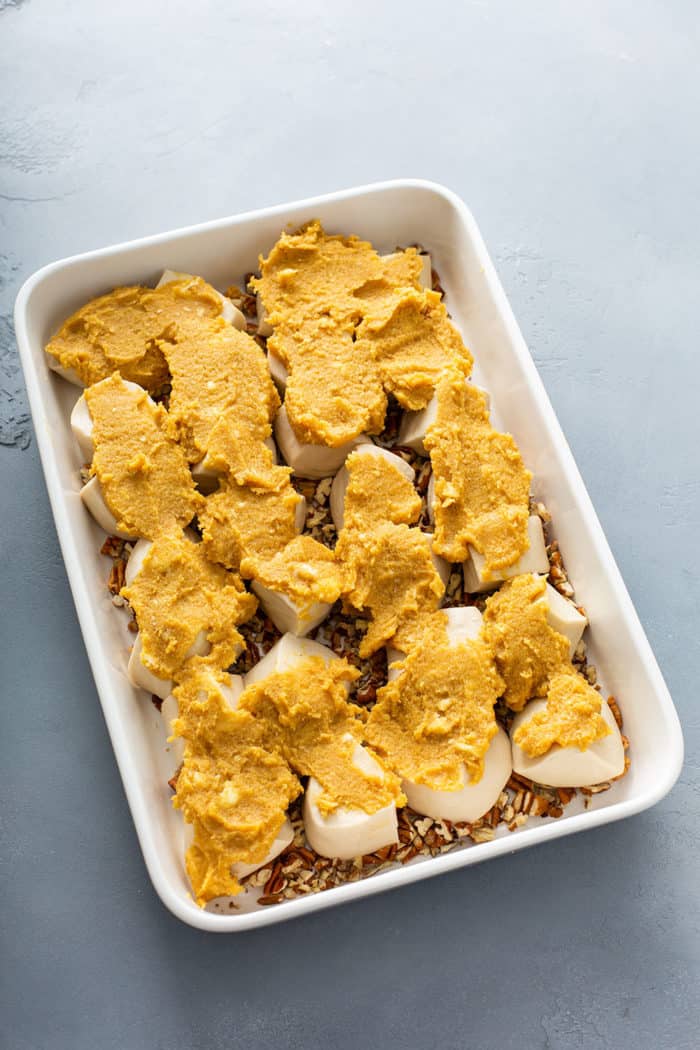 There are actually three kinds of frozen dough you can use in this recipe:
Frozen sweet bread dough: The original recipe calls for Rhodes Sweet Bread Dough. I've made it with this dough and the final sticky buns are amazing, but the sweet bread dough can be a little hard to find.
Frozen white bread dough: The traditional white bread dough loaves are easier to find and more widely available than sweet bread dough. And the recipe has enough sugar in the topping that I don't notice a real difference in the final buns by not using a sweet dough.
Frozen bake-and-serve yeast roll dough: If you can't find frozen bread dough, frozen yeast roll dough works great!
While Rhodes is probably the most popular brand of frozen dough that I know of, I have also made these Pecan Sticky Buns with store-brand dough and it worked great.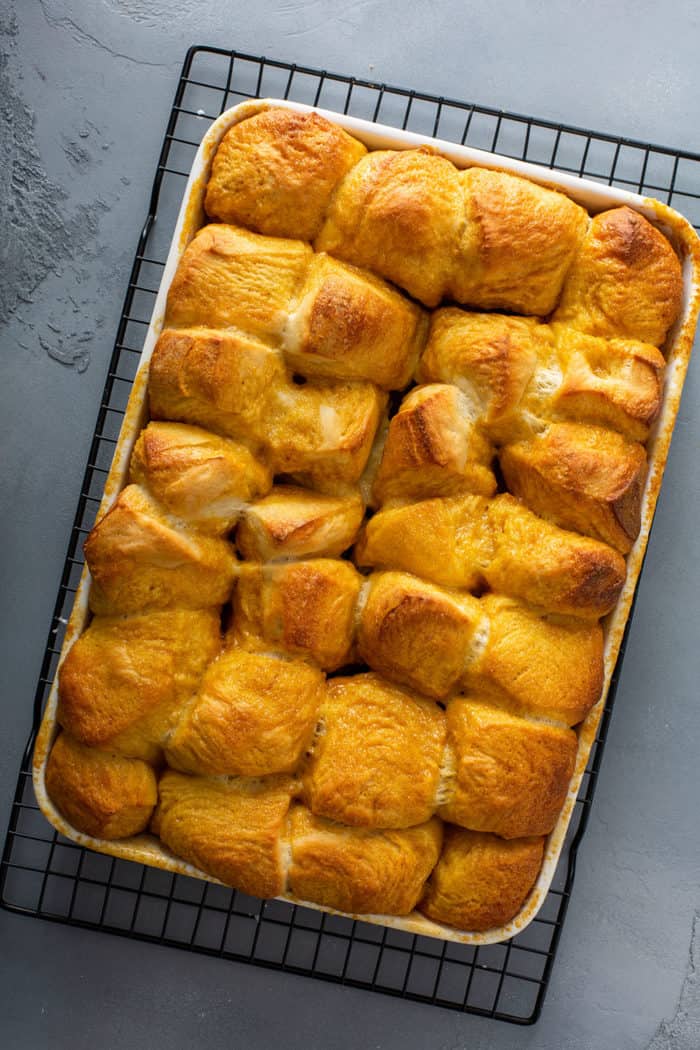 To make the buns, start by scattering some chopped pecans in the bottom of a 13×9-inch baking dish.
If you're using bread loaves, you'll want to thaw the dough just enough to be able to cut it into about 28 pieces. Lay the dough pieces on top of the pecans.
If you're using roll dough, place 24 frozen rolls on top of the pecans. You won't need to slice them.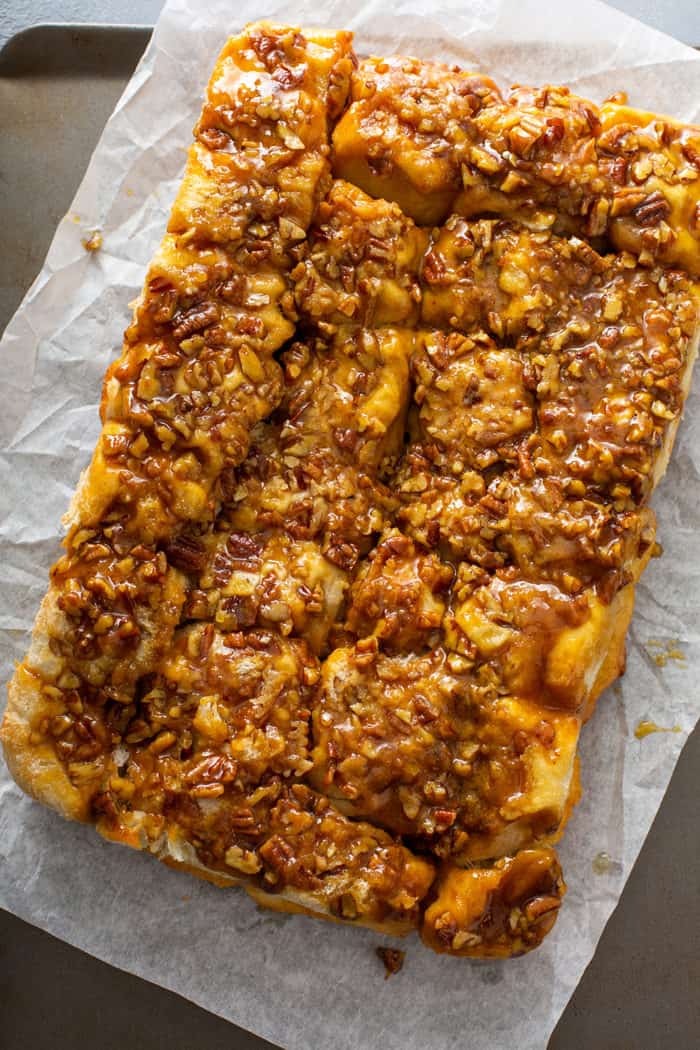 In a bowl, mixt together the topping ingredients:
1 (4.6 oz.) box "Cook & Serve" vanilla pudding mix (Do not use instant pudding)
1/2 cup unsalted butter, softened
1 cup brown sugar
1 teaspoon cinnamon
2 tablespoons milk
The topping will be a thick paste. Dollop this evenly over the dough and cover the pan.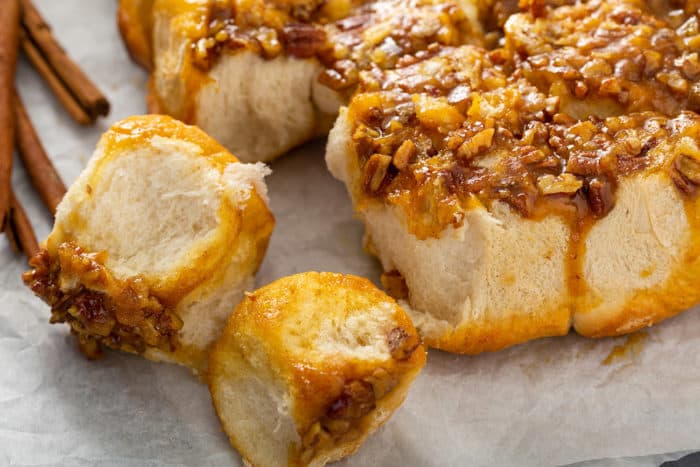 CAN I MAKE THIS RECIPE AHEAD OF TIME?
Now you can decide if you want to bake the rolls the same day or wait to bake them the next morning.
If you want, you can cover the pan and let the rolls rise for 3.5-4 hours on the counter before baking.
But I really prefer to let them hang out in the refrigerator overnight. The next morning, preheat the oven and let the pan sit out at room temperature for 60-90 minutes before baking. I like to set the pan on my preheating oven to take the chill off the pan.
The rolls are ready to bake when they're slightly puffy.
After baking, let the pan cool for about 10 minutes before inverting the rolls onto a baking sheet or large platter. All of that sticky pecan goodness will be on the top of the rolls now!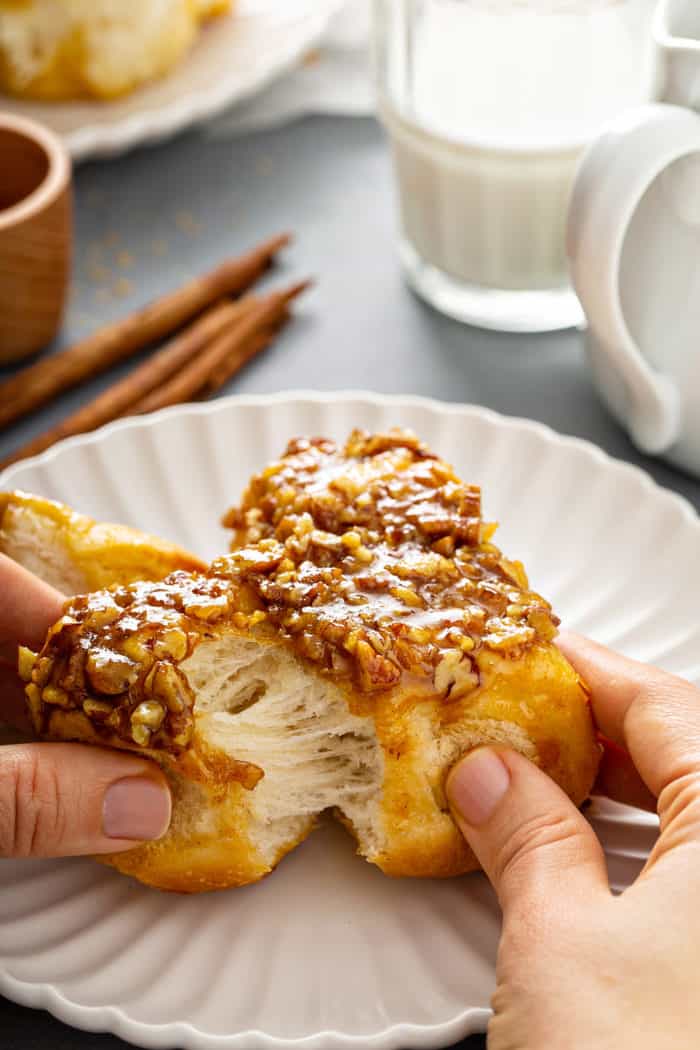 ARE STICKY BUNS AND CINNAMON ROLLS THE SAME THING?
Confused about the difference between sticky buns and cinnamon rolls?
Both sweet rolls are made with a yeasted dough. Sometimes sticky buns are rolled, like cinnamon rolls, sometimes not.
But the real difference is that sticky buns are baked on a layer of pecans and caramel glaze, then inverted after baking so the glaze and pecans are now on top of the buns.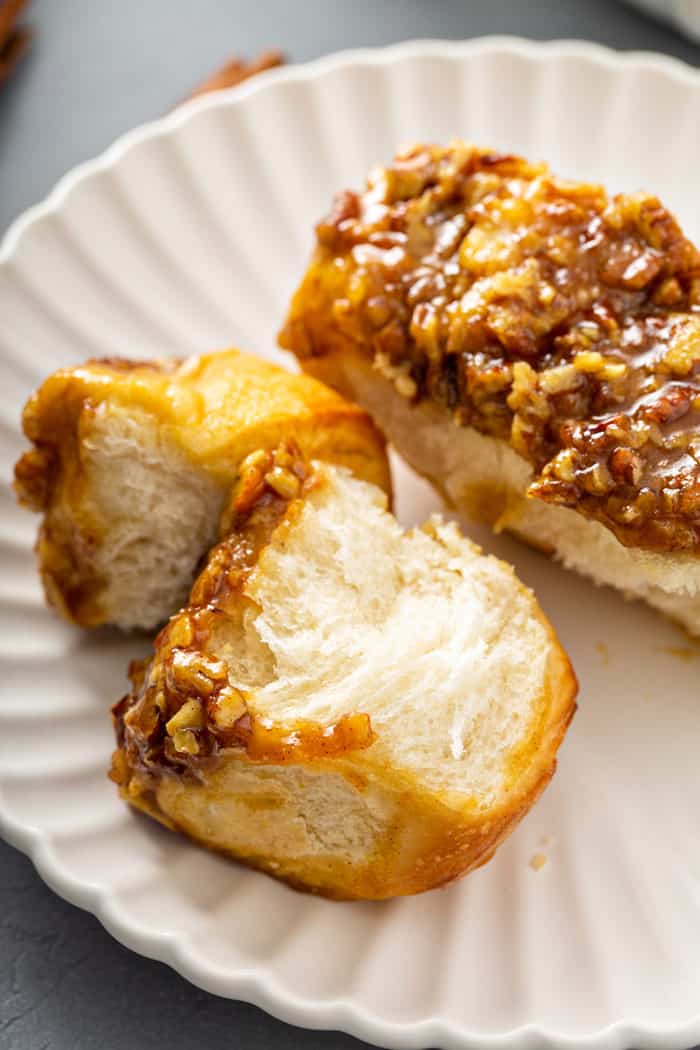 Cinnamon rolls, on the other hand, are placed directly into the pan and topped with a glaze or frosting after baking. They also typically don't contain nuts.
So there you have it! And if you're still curious about the difference, I suggest whipping up a batch of these easy Pecan Sticky Buns. You know – for science.