Pumpkin Spice Cinnamon Rolls are fluffy, sweet, and packed with everyone's favorite pumpkin spice flavor. Make these cinnamon rolls the night before and pop them in the oven on a cozy autumn morning for a breakfast the whole family will love.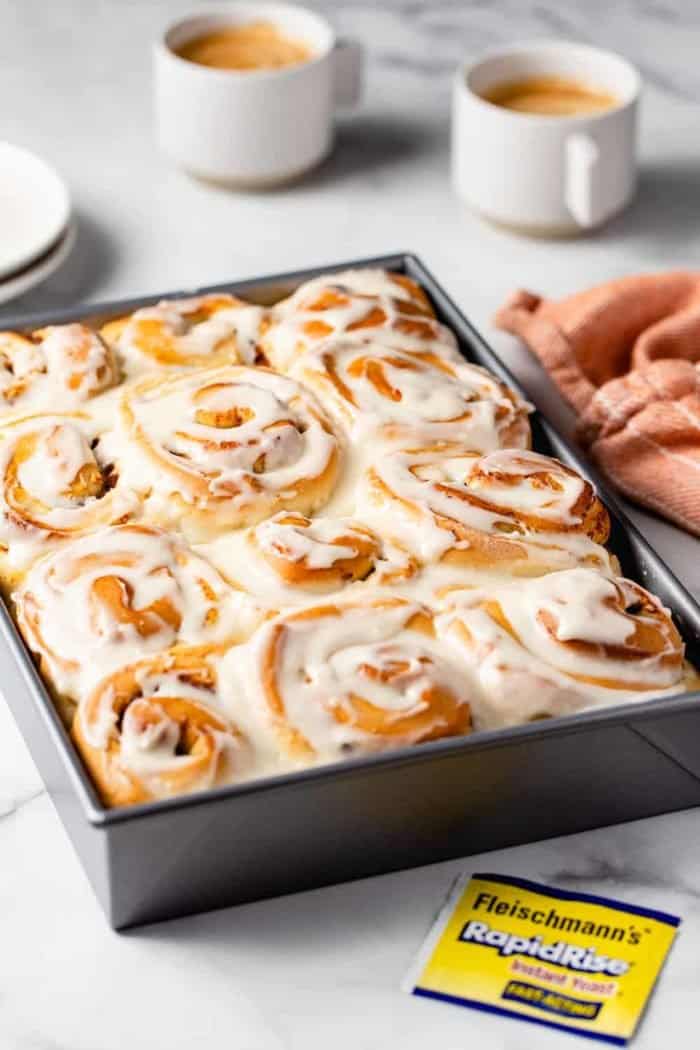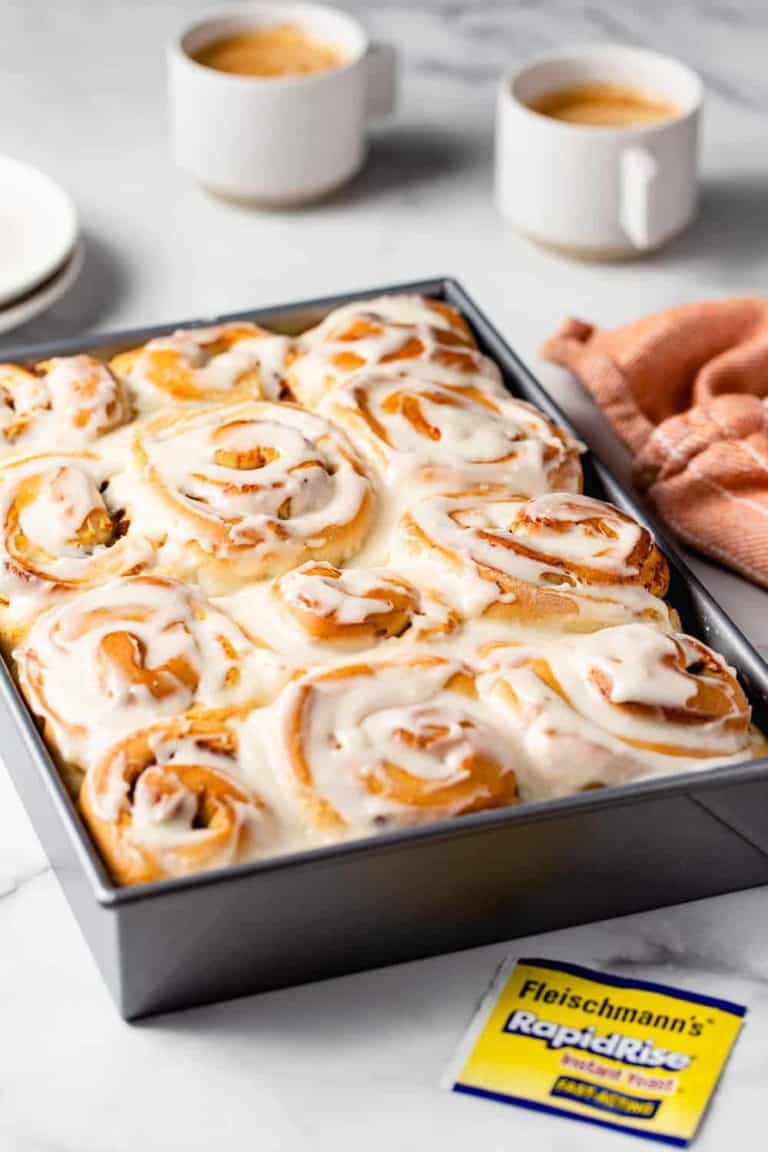 Fall is undeniably my favorite season of the year.
From the cozy sweaters and apple picking to enjoying warm cups of spiced apple cider while snuggled up under a blanket, fall is the best.
And when else can we enjoy my favorite pumpkin spice treats without our friends and family thinking we're weird?
Whether it's pumpkin bread, pumpkin bars, or pumpkin cookies, you guys know that I go through more cans of pumpkin puree and more batches of pumpkin pie spice than I can count every fall.
Another of my favorite fall traditions is making special breakfasts on the weekends. There are few things more special than pulling a hot breakfast from the oven on a cool fall Saturday morning and kicking off the day with Eric and Elle around the breakfast table.
Overnight cinnamon rolls are one of my favorite fall breakfast options: I assemble the rolls the night before and bake them in the morning. Then the rolls are ready for my family to grab, along with a cup of coffee (or even a homemade pumpkin spice latte) or orange juice, whenever they roll out of bed.
Seeing my little family gathered around the breakfast table in their pajamas enjoying their homemade cinnamon rolls is a sight that warms my heart and makes me so grateful for this beautiful season, as cheesy as it sounds.
So when I can combine my love of cozy fall breakfasts with pumpkin spice? That's just the best.
This year, my family is asking for these Pumpkin Spice Cinnamon Rolls on repeat.
And what can I say? I give the people what they want.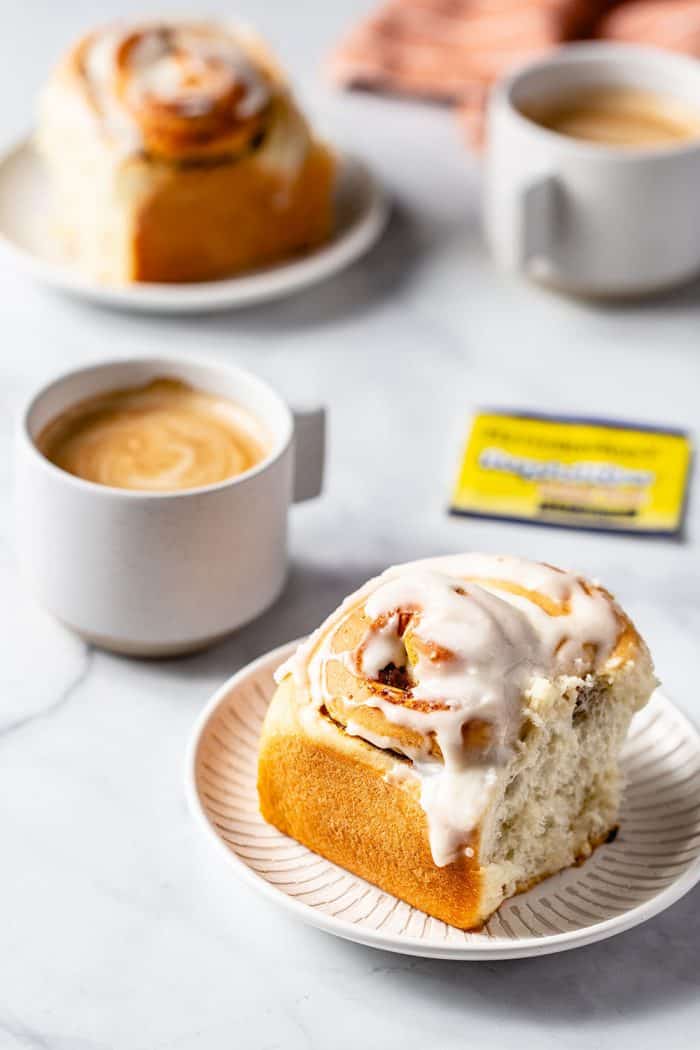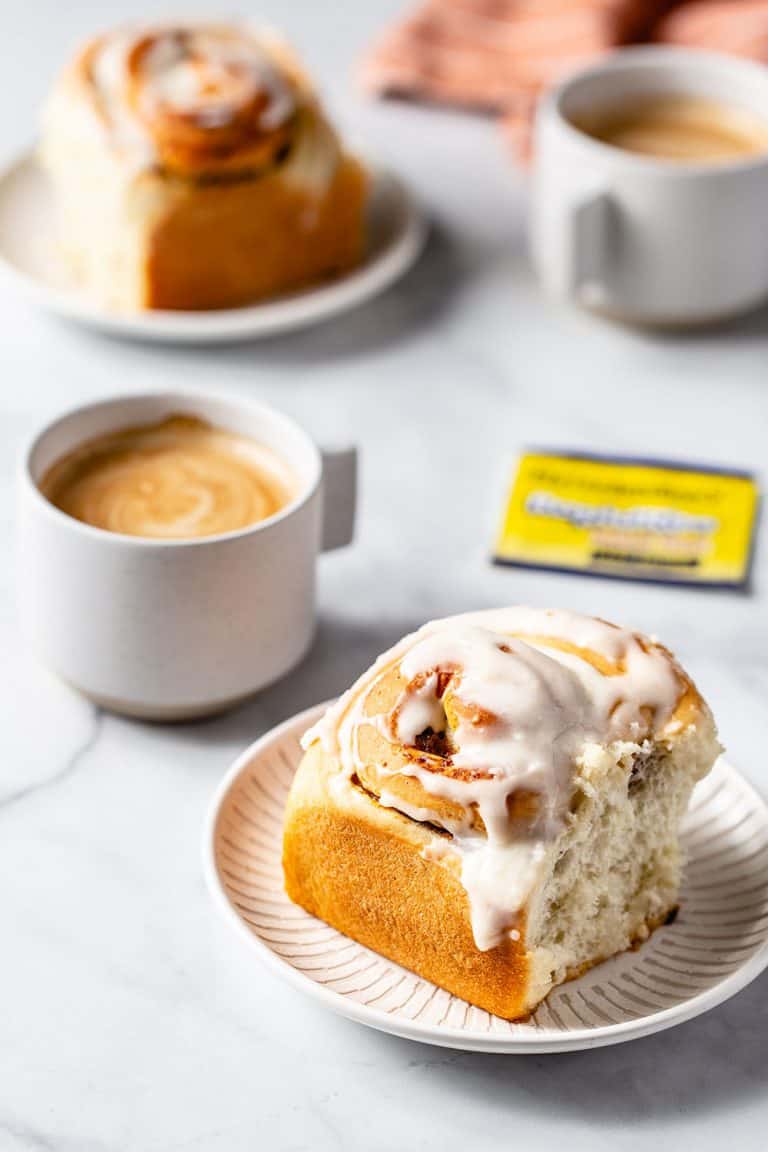 PUMPKIN SPICE CINNAMON ROLLS WITH CREAM CHEESE FROSTING
These Pumpkin Spice Cinnamon Rolls use a homemade cinnamon roll recipe as the base, but are given a fall-friendly makeover by adding pumpkin puree and pumpkin pie spice into the filling.
The pumpkin adds a silky texture to the filling and helps keep the rolls moist, while the pumpkin pie spice shines with warm spices like cloves and ginger.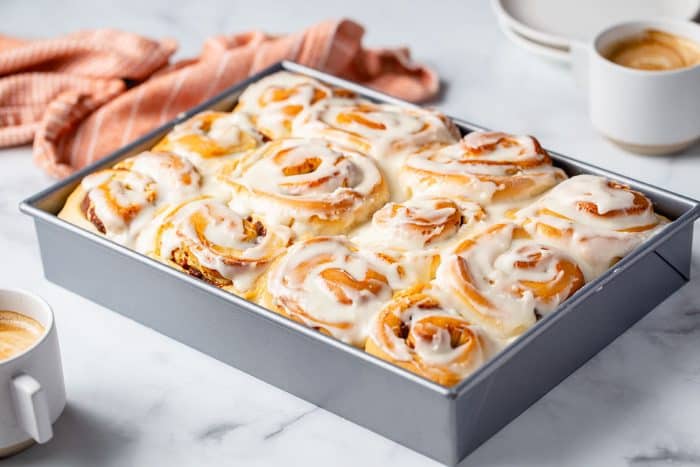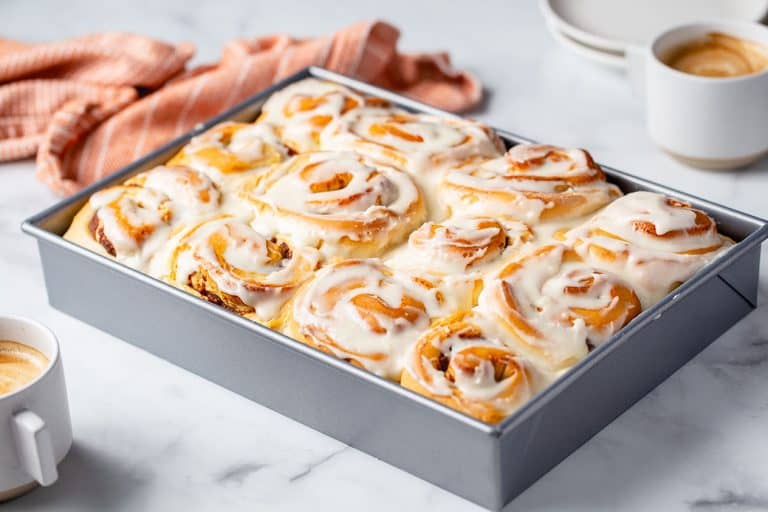 I wanted to give these cinnamon rolls a pumpkin roll feel, so once they came out of the oven, I slathered them with sweet cream cheese frosting.
Sweet pumpkin, warm fall spices, tangy cream cheese frosting…could there be anything better? These rolls seriously scream comfort food.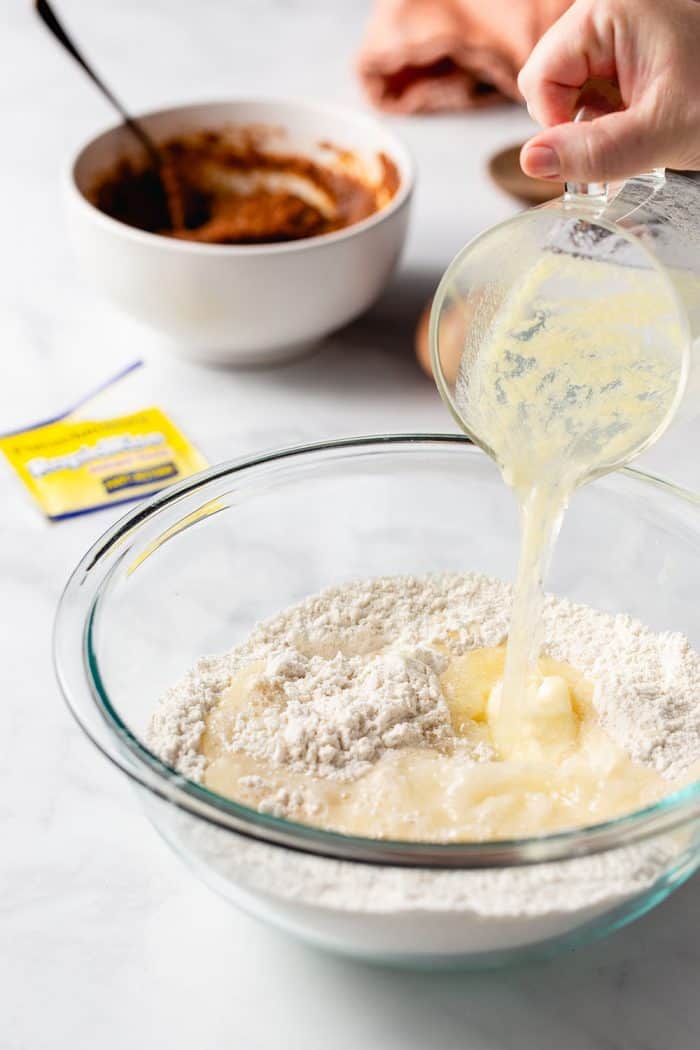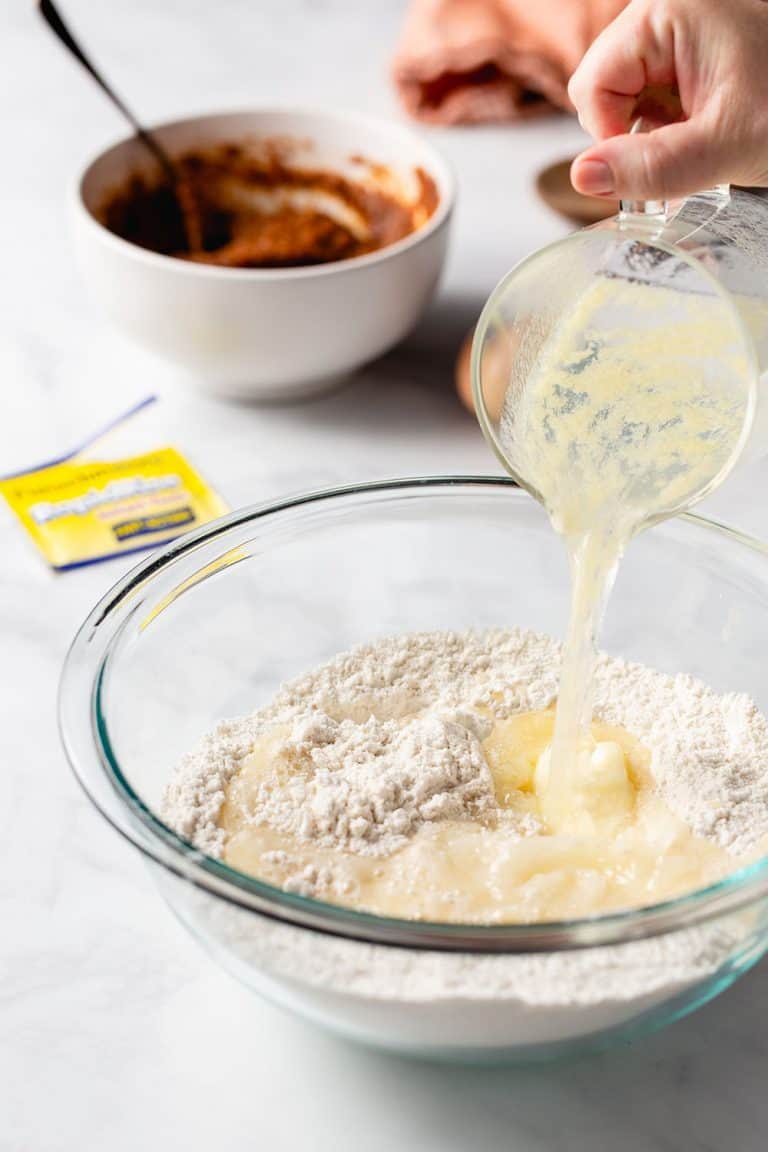 HOW TO MAKE OVERNIGHT CINNAMON ROLLS
Look, I know how mornings go. I need at least 2 cups of coffee to function enough to bake anything before 10 am.
Lucky for you, these Pumpkin Spice Cinnamon Rolls are really easy to make. If you thought homemade cinnamon rolls were a hassle to make – think again.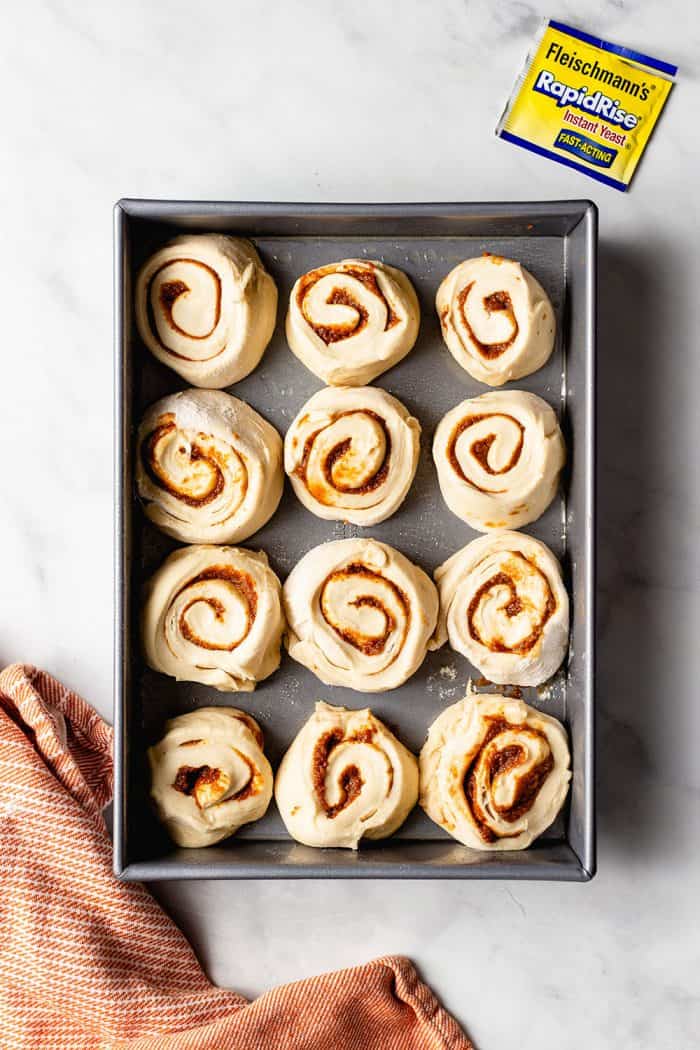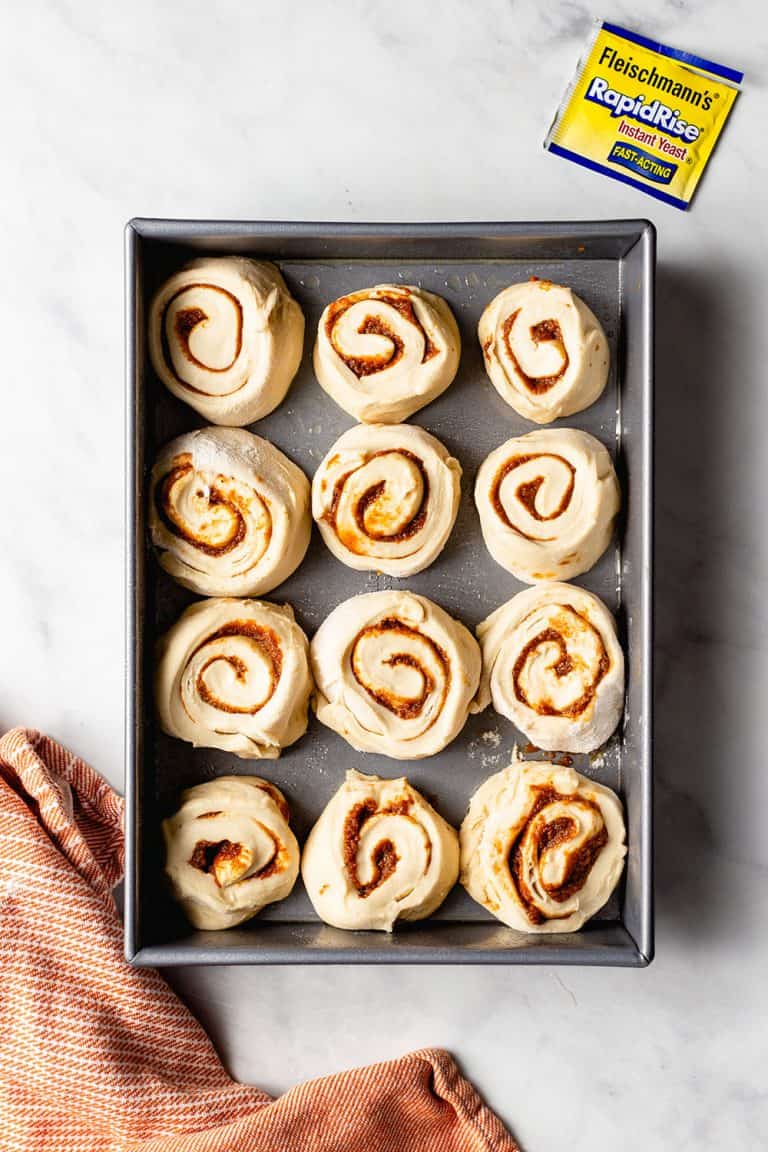 These are made using Fleischmann's® RapidRise® Yeast, which is my go-to yeast for two reasons:
First, you don't have to rehydrate the yeast in water before using it. You just add it right into the dry ingredients, so it's super easy to use.
Second, this instant yeast only requires one rise, which saves tons of time. This particular recipe only needs one 10-minute rest and one full rise, which can be done in the refrigerator overnight.
Preparing your overnight cinnamon rolls can be broken down into a few simple steps:
Make the dough
Let the dough rest for 10 minutes
Roll the dough into a rectangle
Add the filling
Starting from one of the long sides, roll the dough tightly into a log
Slice into 12 even pieces and place in a greased baking dish
Cover with plastic wrap and refrigerate overnight
Now, go to bed and get some rest! You work hard and you deserve it.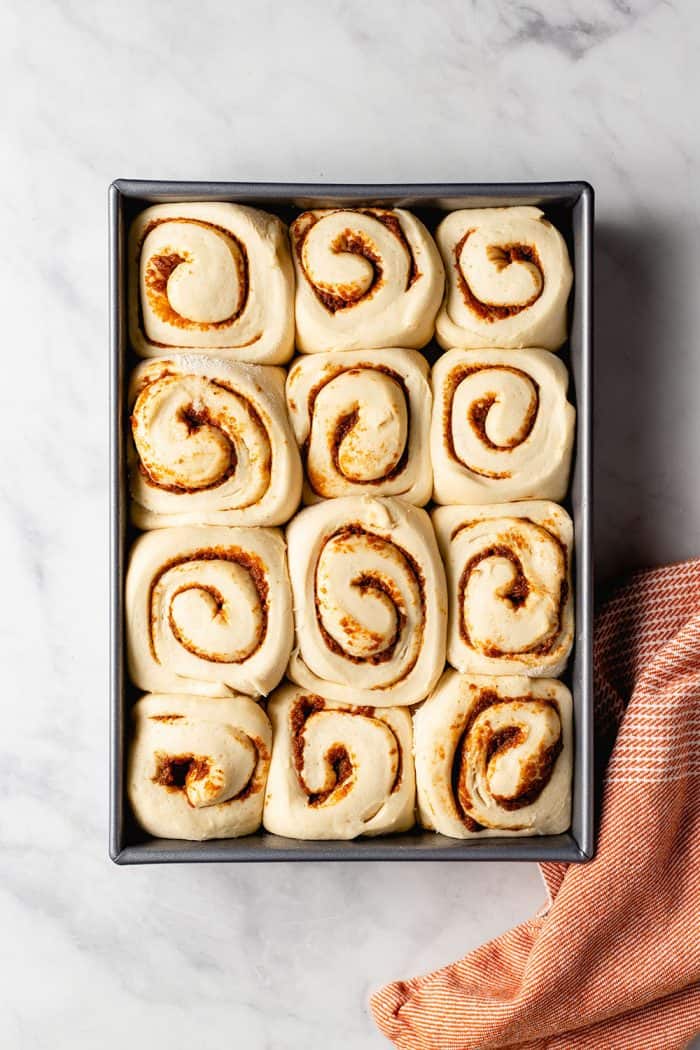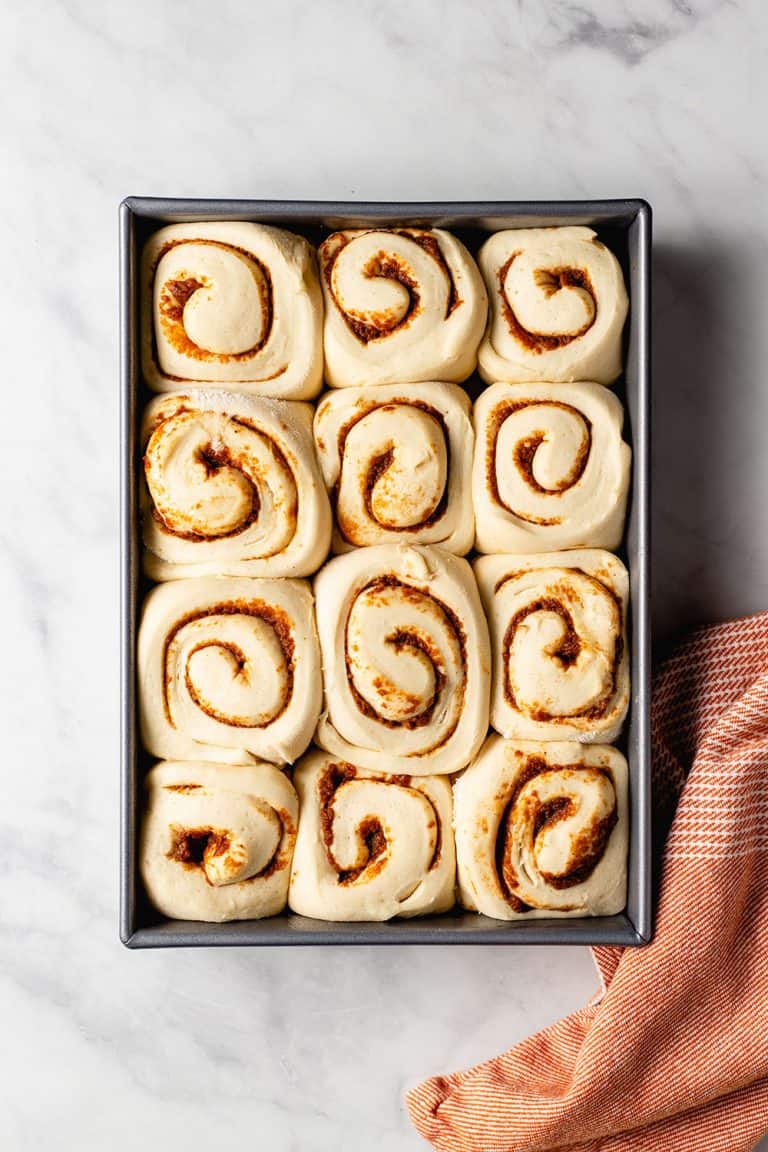 In the morning, let the rolls sit at room temperature for 30-40 minutes while the oven preheats.
I like to only let my Pumpkin Spice Cinnamon Rolls cool for about 10 minutes after they come out of the oven before I top them with the cream cheese frosting. I like the frosting to get nice and melty into the swirls of the rolls.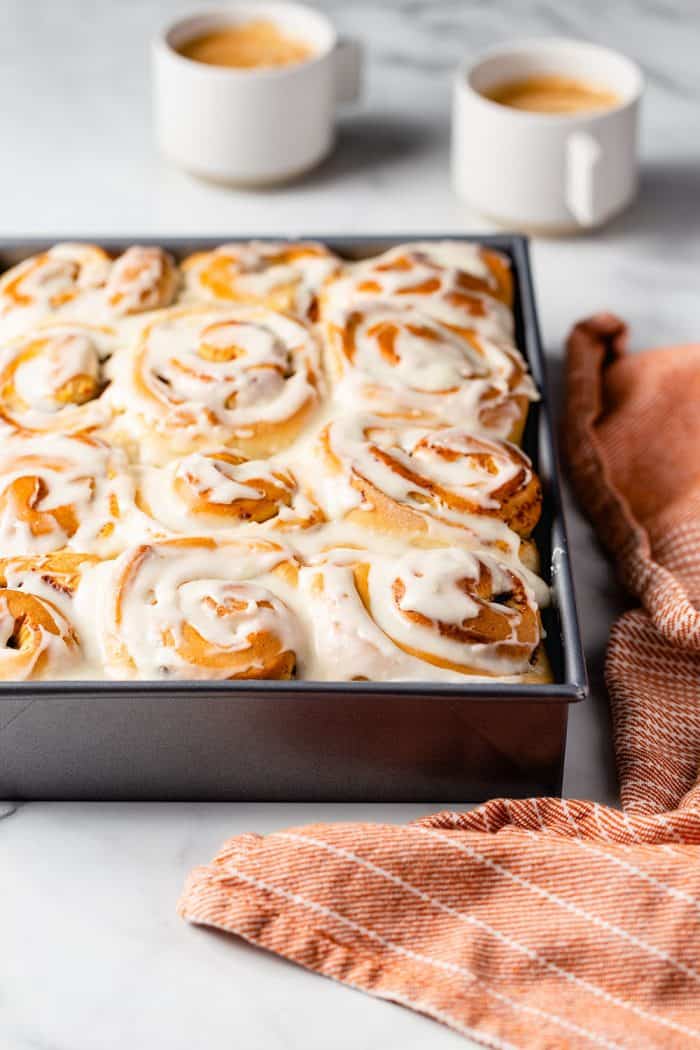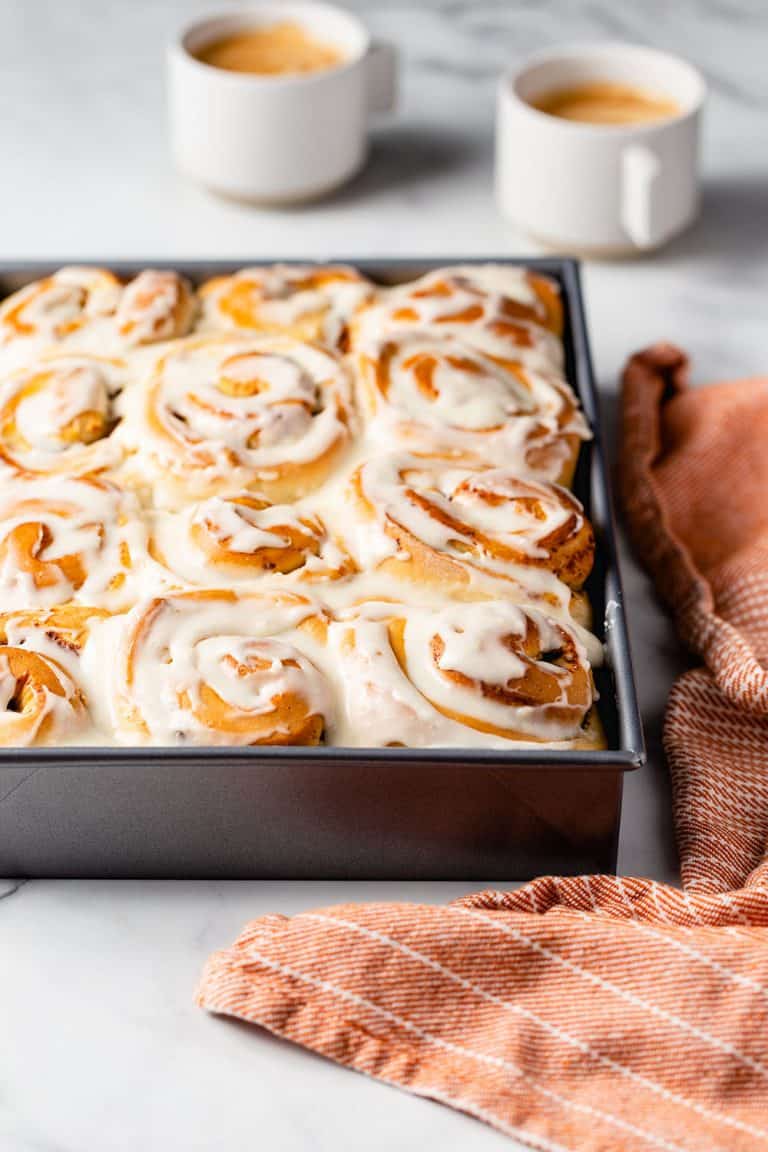 If you prefer a more distinct layer of frosting, though, you could wait for the rolls to cool more before frosting them.
And don't worry – you can make these all the same day if you prefer! Just let the shaped rolls rise for about an hour in the pan before baking them instead of popping them in the fridge.
But since I can't function well before I've had my coffee, I'll personally stick with making the dough the night before.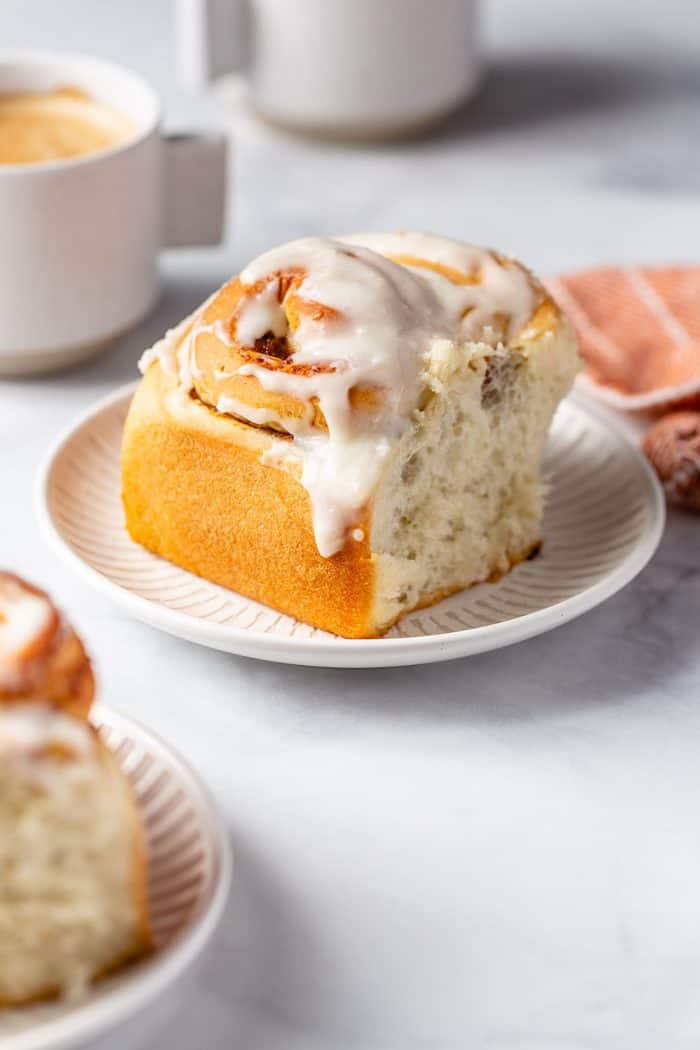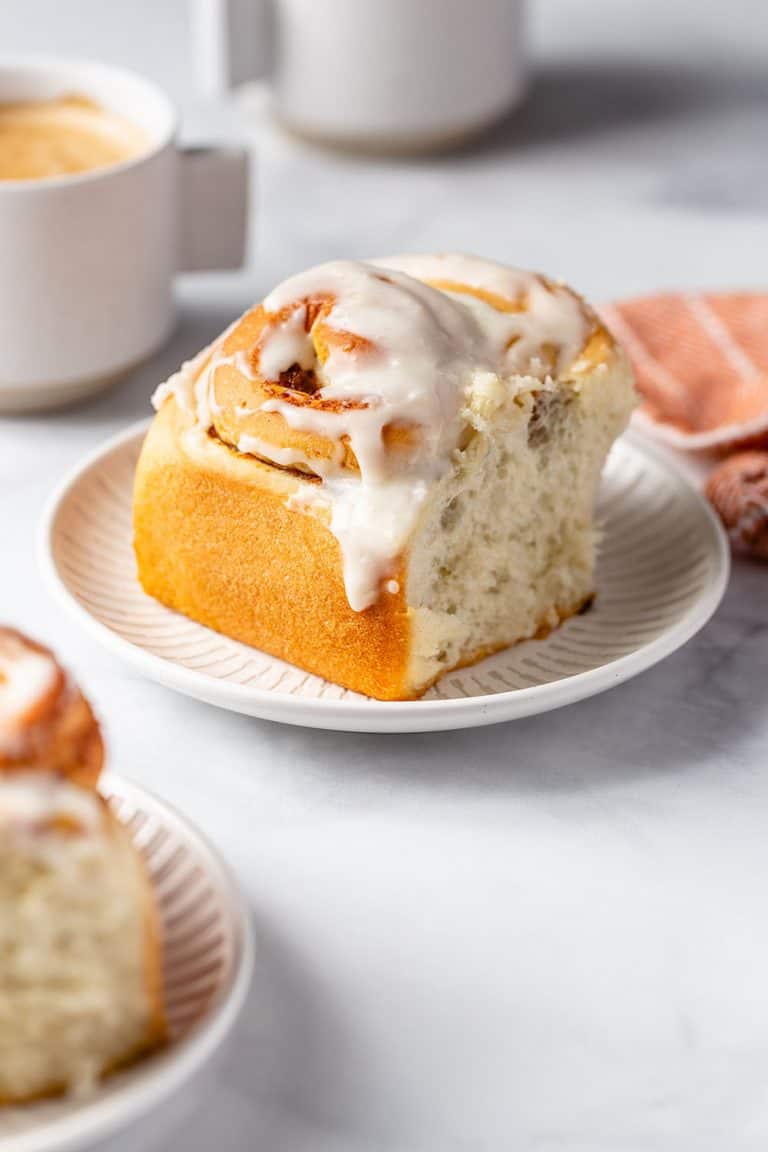 CAN I FREEZE HOMEMADE CINNAMON ROLLS?
If you have a big family, you might not find yourself with any leftover cinnamon rolls on your hands. But even if there's just a few of you in the house, you can still make yourself a batch of Pumpkin Spice Cinnamon Rolls to enjoy in the morning and freeze the leftovers for later.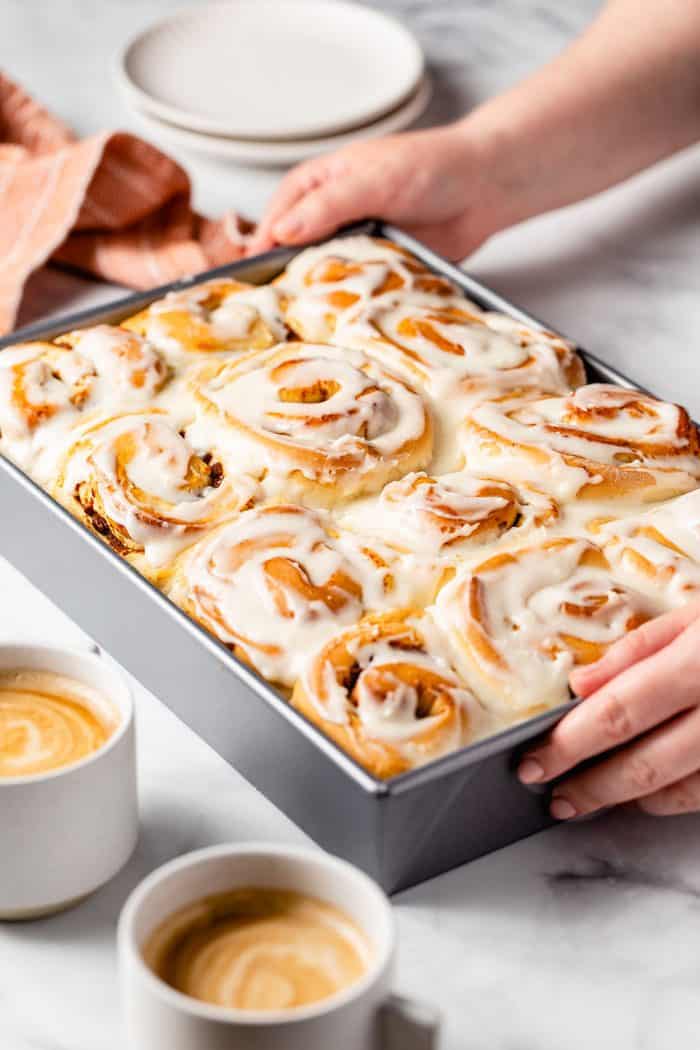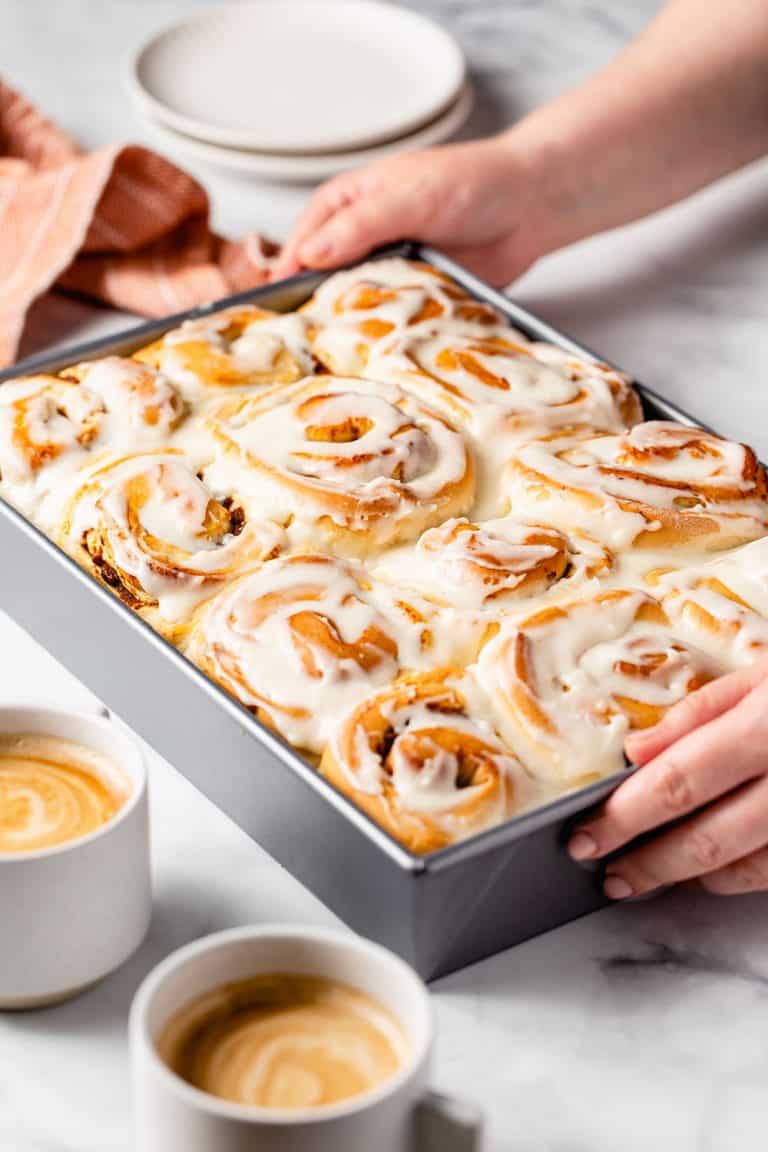 To freeze any leftover rolls, just wrap each roll in plastic wrap and toss them in a freezer-safe zip-top bag before putting them in the freezer.
When you're ready to enjoy a roll, just grab one from the freezer, unwrap, and microwave for 30-60 seconds until nice and warm.
Trust me, you'll be so happy to have a warm, gooey, homemade Pumpkin Spice Cinnamon Roll on a random chilly morning. There's really nothing better.