Pumpkin Bars with Cream Cheese Frosting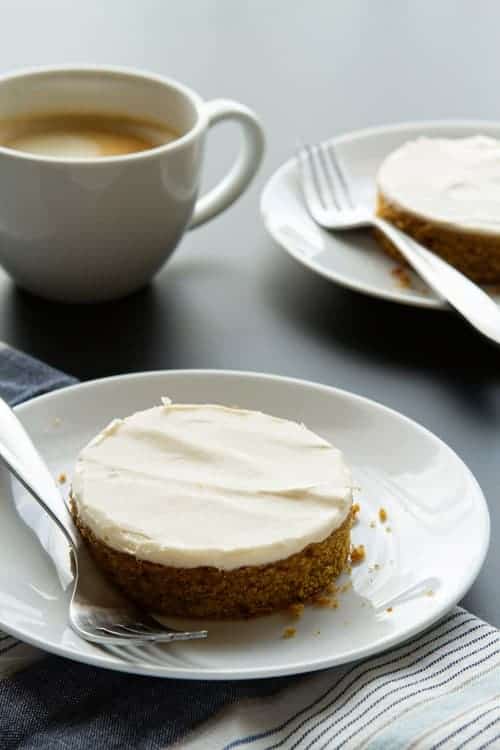 Spiced Pumpkin Bars are topped with cream cheese frosting to create the perfect Fall dessert.
I was laying in bed last night at 3:00 am because I couldn't sleep. I have a history of sleeping problems, but since I resigned from my teaching position, I've slept pretty well. But, as someone with anxiety, I've always been a worrier. Ya know – about the typical worrisome things like deadlines, alarm clocks, locked doors, and cheesecake recipes.
At that moment I realized that even though I'm lucky enough to work from home, I seem to worry so much more than I used to.
Being a mama to our sweet Elle is definitely the best thing ever, but guys – all the worrying – all the time. Is she warm enough? Is she too hot? Is she happy? Is she teething? Is she eating enough? Is she eating too much? Is she getting enough attention? Is she getting too much attention? ALLTHETHINGS.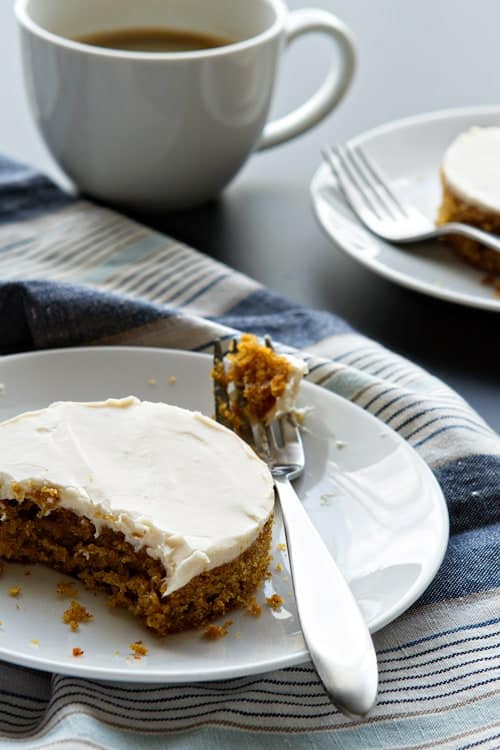 Then it occurred to me that Elle is 8 months old, so this is whole mama worrying thing is pretty much going to be my life – forever. And then I went downstairs, opened the fridge, and ate two pumpkin bars with cream cheese frosting. It helped. A little.
I love this recipe for so many reasons – first of all there's pumpkin involved. If you've been following along for the last few years, you know that pumpkin is my jam. And I'm fairly certain I could eat a piece of notebook paper if it had enough cream cheese frosting on it. Combined, they're the perfect way to eat your feelings in the early morning hours, or please a crowd of party-goers.
There are not a lot of things in life that define Fall more for me than this combination. I've made these bars a little more unique by using a round biscuit cutter to cut adorable little round cakes. I think it makes them even more irresistible. If you're feeling fancy, you could even sprinkle a little pumpkin pie spice on top of the cream cheese frosting for decoration.
This recipe makes a lot of bars, so they're also perfect for any upcoming holiday function, potluck or just eating your feelings at 3am. Just sayin'.

Pumpkin Bars with Cream Cheese Frosting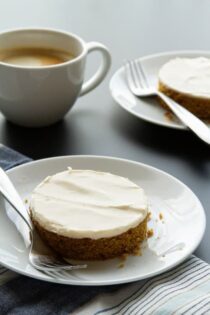 Ingredients:
For the Bars
4 large eggs
1 2/3 cups granulated sugar
1 cup vegetable oil
1 15-ounce can pumpkin puree
2 teaspoons pure vanilla extract
2 cups all-purpose flour
2 teaspoons baking powder
1 teaspoon baking soda
1 tablespoon homemade pumpkin pie spice
1 teaspoon salt
For the Cream Cheese Frosting
1 8-ounce package cream cheese, room temperature
softened
4 tablespoons unsalted butter, softened
1 teaspoon pure vanilla extract
2 cups confectioners' sugar, sifted
Directions:
1. Preheat oven to 350&degF. Line a 10x15 inch jelly roll pan with parchment paper and spray lightly with non-stick cooking spray. Set aside.
2. In the bowl of a stand mixer fitted with the whisk attachment or in a large bowl with an electric mixer, combine the eggs, sugar, oil, pumpkin and vanilla until thoroughly combined. Sift together the flour, baking powder, baking soda, pumpkin pie spice and salt. Stir flour mixture into pumpkin mixture until combined.
3. Spread batter evenly into prepared pan. Bake in preheated oven for 25-30 minutes or until a toothpick inserted into the center of the cake comes out clean. Allow pumpkin bars to cool completely before frosting.
4. When pumpkin bars are completely cool, prepare the cream cheese frosting. In the bowl of a stand mixer fitted with the paddle attachment or in a large bowl with an electric mixer, beat the cream cheese, butter and vanilla on medium-high speed for 3 minutes. Turn speed down to low and gradually add in confectioners' sugar until incorporated. Turn speed back to medium-high speed and beat for an additional 2-3 minutes. Use an offset spatula to frost the pumpkin bars.
Notes:
- Pumpkin Bars with Cream Cheese Frosting can be stored in an airtight container within the refrigerator for up to 3 days.
- I've made these bars a little more unique by using a round biscuit cutter to cut adorable little round cakes. I frosted the bars and refrigerated them overnight before cutting them into circular shapes.
adapted from allrecipes.com
All images and text ©
Follow Jamie on Instagram. We love to see what you're baking from MBA! Be sure to tag @jamiemba and use the hashtag #mbarecipes!
Love pumpkin recipes as much as I do? Be sure to check out these delicious pumpkin recipes:
This post may contain affiliate links. We are a participant in the Amazon Services LLC Associates Program, an affiliate advertising program designed to provide a means for us to earn fees by linking to Amazon.com and affiliated sites.