Pumpkin Bars with Cream Cheese Frosting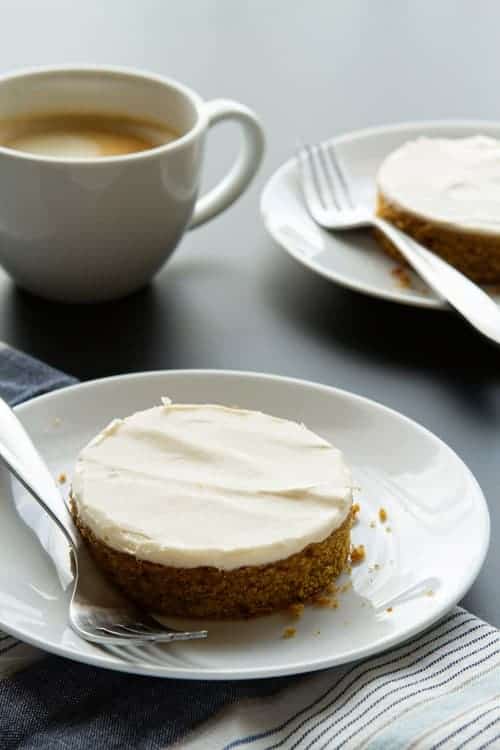 Spiced Pumpkin Bars are topped with cream cheese frosting to create the perfect Fall dessert.
I was laying in bed last night at 3:00 am because I couldn't sleep. I have a history of sleeping problems, but since I resigned from my teaching position, I've slept pretty well. But, as someone with anxiety, I've always been a worrier. Ya know – about the typical worrisome things like deadlines, alarm clocks, locked doors, and cheesecake recipes.
At that moment I realized that even though I'm lucky enough to work from home, I seem to worry so much more than I used to.
Being a mama to our sweet Elle is definitely the best thing ever, but guys – all the worrying – all the time. Is she warm enough? Is she too hot? Is she happy? Is she teething? Is she eating enough? Is she eating too much? Is she getting enough attention? Is she getting too much attention? ALLTHETHINGS.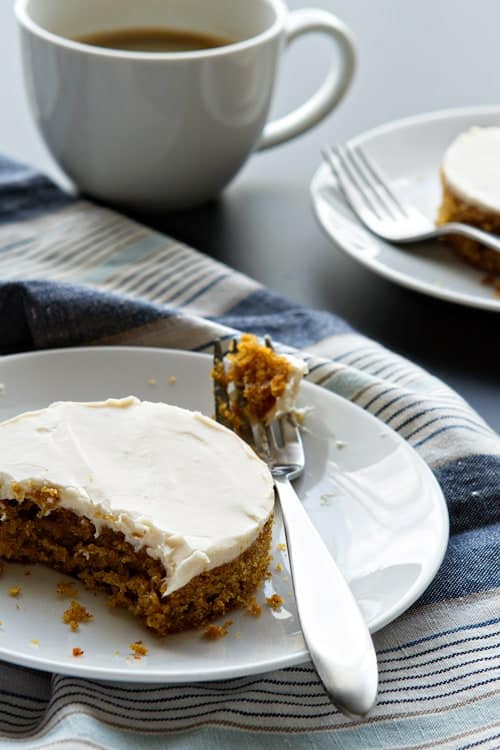 Then it occurred to me that Elle is 8 months old, so this is whole mama worrying thing is pretty much going to be my life – forever. And then I went downstairs, opened the fridge, and ate two pumpkin bars with cream cheese frosting. It helped. A little.
I love this recipe for so many reasons – first of all there's pumpkin involved. If you've been following along for the last few years, you know that pumpkin is my jam. And I'm fairly certain I could eat a piece of notebook paper if it had enough cream cheese frosting on it. Combined, they're the perfect way to eat your feelings in the early morning hours, or please a crowd of party-goers.
There are not a lot of things in life that define Fall more for me than this combination. I've made these bars a little more unique by using a round biscuit cutter to cut adorable little round cakes. I think it makes them even more irresistible. If you're feeling fancy, you could even sprinkle a little pumpkin pie spice on top of the cream cheese frosting for decoration.
This recipe makes a lot of bars, so they're also perfect for any upcoming holiday function, potluck or just eating your feelings at 3am. Just sayin'.

Love pumpkin recipes as much as I do? Be sure to check out these delicious pumpkin recipes:
This post may contain affiliate links. We are a participant in the Amazon Services LLC Associates Program, an affiliate advertising program designed to provide a means for us to earn fees by linking to Amazon.com and affiliated sites.