Pumpkin Cookies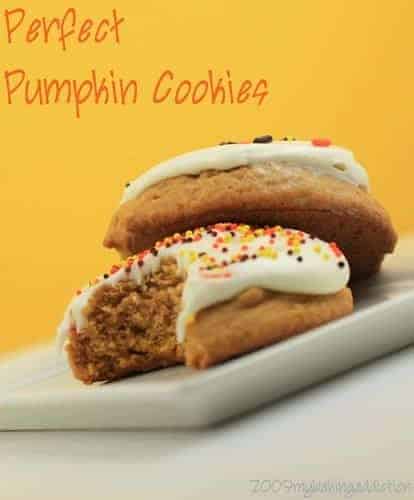 Okay, I know I have been in fall mode for about two weeks, but yesterday was the official first day of Autumn. I thought I would celebrate by baking pumpkin cookies with cream cheese icing! If you follow my blog, you may recognize these bad boys from last year…yep, same cookies…different icing!
As I said on Monday, I am dedicating this week to recipes that deserve recognition for being so good I found it necessary to make them over and over again! These cookies are a perfect example: they are soft, cake like while being a little chewy and oh so perfect for fall. Last year I made them with caramel icing and again with maple icing. This year I switched them up yet again and loaded them with cream cheese icing! What could be better?
I hope you had a great first day of Autumn. Now get in your kitchen and make these cookies! Thanks for stopping by. Come back later this week for another recipe worthy of repeating! Hint: chocolate is involved!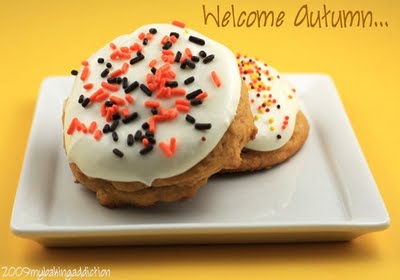 Pumpkin Cookies with Cream Cheese Icing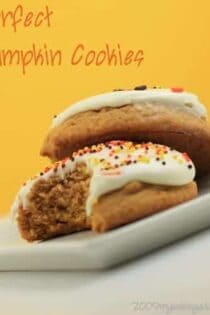 Ingredients:
For the Cookies
1 cup butter flavored shortening
1 cup unsalted butter; softened
2 cups white sugar
2 cups canned pumpkin (solid; not pie mix)
2 eggs
2 teaspoons baking soda
3 teaspoons ground cinnamon
2 teaspoons pumpkin pie spice
1/2 teaspoon nutmeg
1 teaspoon salt
4 cups all-purpose flour
For the Cream Cheese Icing
1 (8 ounce) package cream cheese, softened
2 tablespoons butter, softened
4 cups confectioners' sugar
1 teaspoon vanilla bean paste (extract will also work)
2 tablespoons milk
Directions:
For the Cookies
1. Cream shortening, butter, white sugar and pumpkin. Add eggs and mix well.
2. Sift together the baking soda, ground cinnamon, pumpkin pie spice, nutmeg, salt and flour. Add to pumpkin mixture and mix well.
3. Drop from spoon to cookie sheet. Bake 13-15 minutes at 350°F (175°C).
For the Cream Cheese Icing
1. Mix the cream cheese with the butter, confectioners' sugar, vanilla extract, and milk in a bowl.
2. Heat in a microwave for 15 seconds.
3. Drizzle spoonfuls over the cooled cookies and smooth with the back of a spoon or a spatula.
Notes:
- I wanted big cookies, so I measured each cookie out to 1/4 cup, I shaped the cookies into circular blobs and smoothed the tops with dampened finger tips.
- When the cookies were just slightly warm, I spooned on the cream cheese icing, smoothed the surface and tossed on some fall inspired sprinkles.
- This icing recipe does not harden!
adapted from allrecipes
All images and text ©
Follow Jamie on Instagram. We love to see what you're baking from MBA! Be sure to tag @jamiemba and use the hashtag #mbarecipes!
[pinit]
This post may contain affiliate links. We are a participant in the Amazon Services LLC Associates Program, an affiliate advertising program designed to provide a means for us to earn fees by linking to Amazon.com and affiliated sites.