Soft and chewy oatmeal cookies are sandwiched together with delicious vanilla buttercream to create the perfect dessert. Forget Little Debbie, fresh, homemade Oatmeal Cream Pies are where it's at.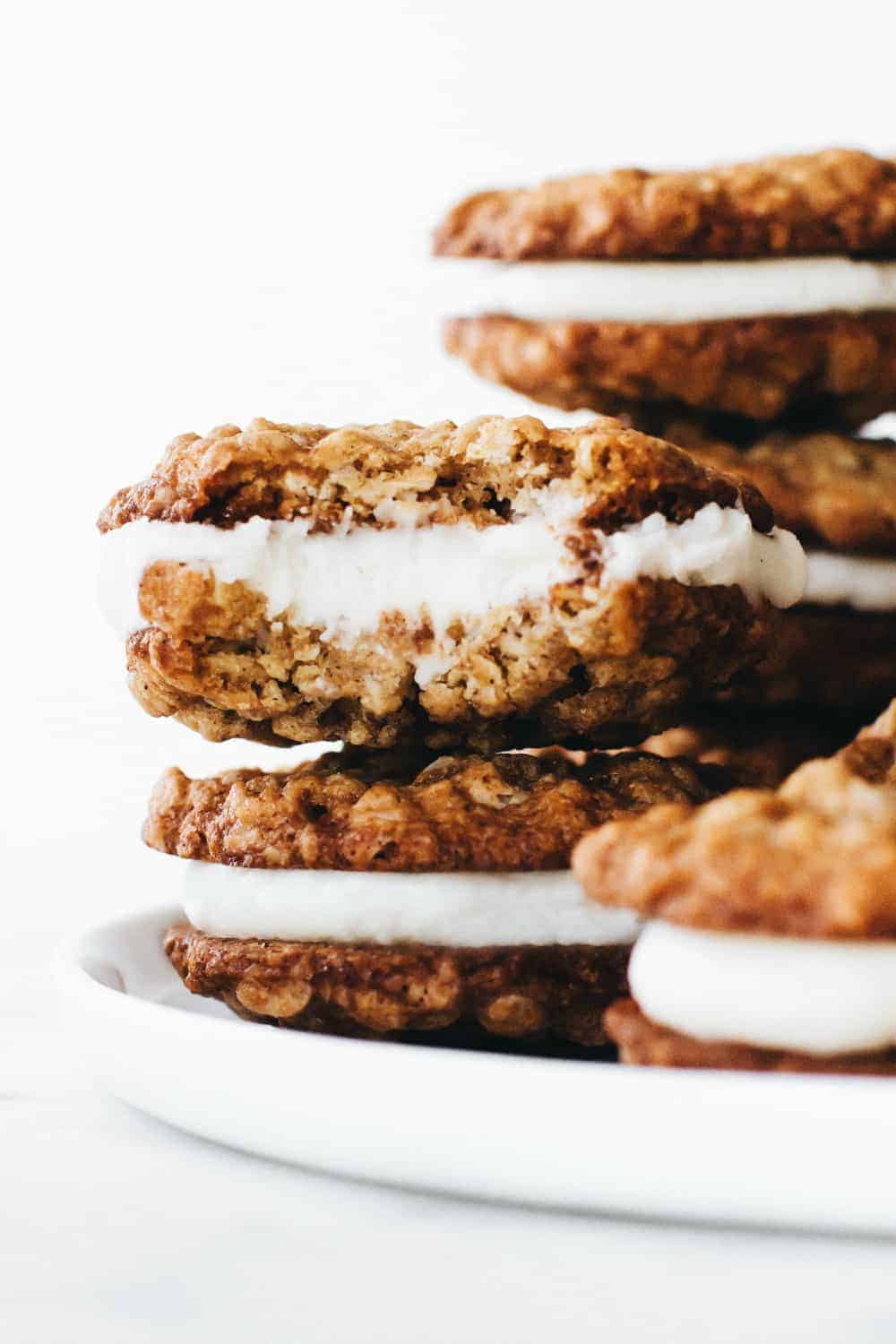 Oatmeal Cream Pies are one of those store-bought items that I simply can't have in the house.
I loved them as a kid and even had them on my weekly shopping list in college – which totally contributed to the freshman twenty.
Well, those and Taco Bell nachos bel grandes with extra sour cream. Keepin' it real, folks.
There's just something about soft oatmeal cookies sandwiched together with a layer of sweet frosting that makes me happy and nostalgic.
Do you remember opening up that crinkly plastic wrapper and getting hit with the sweet, oaty smell of those super soft cookies and delicious frosting?
Someone should totally make a candle that smells like that.
I had to permanently remove them from my shopping list when I found myself noshing down on an entire box of them in a matter of a few days.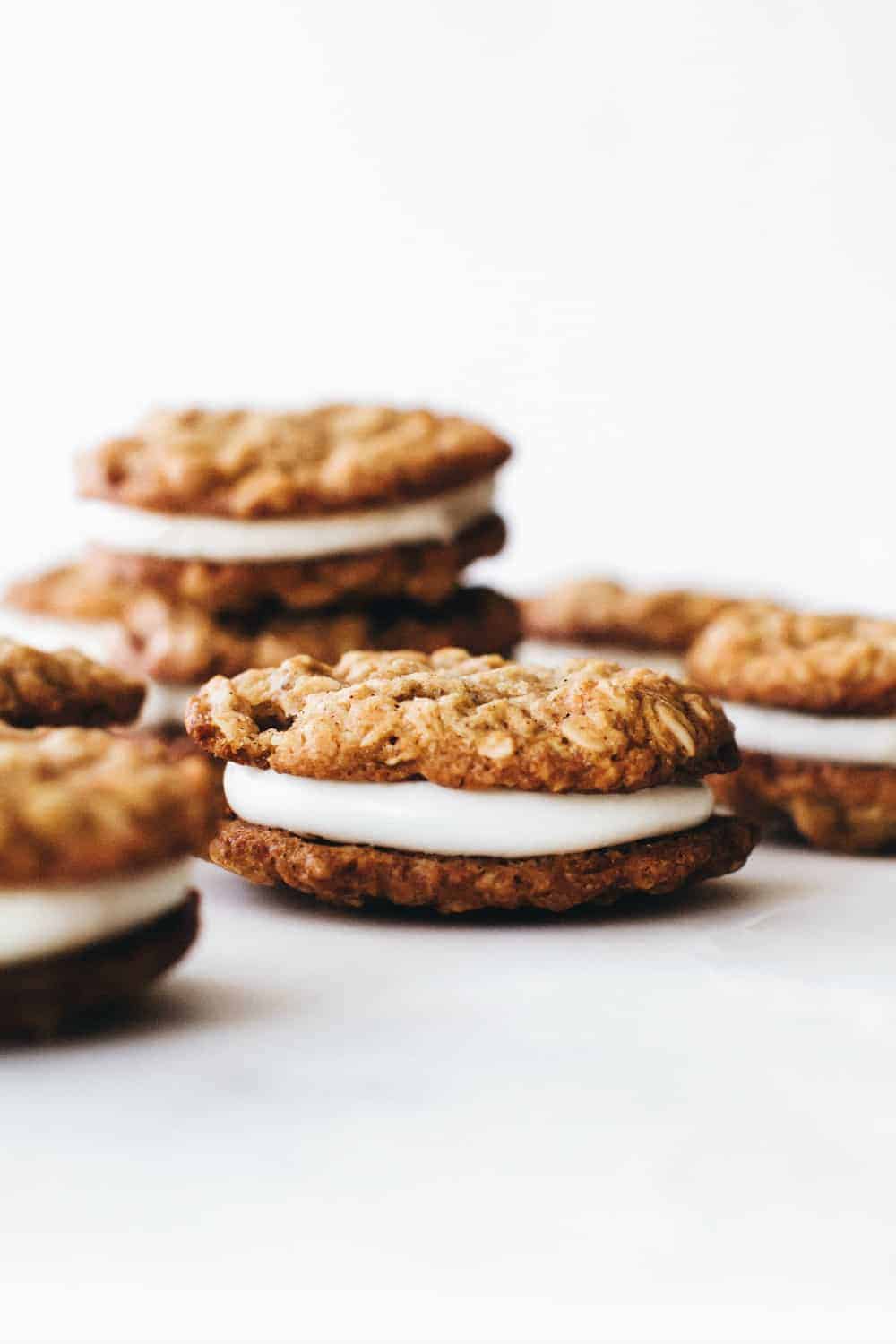 If you haven't had an oatmeal cream pie in awhile, allow me to remind you that there are 12 oatmeal cream pies in a box, so I was getting down with those suckers in a serious and not-so-good-for-me kinda way.
They'd pretty much fallen off my dessert/snack radar for years until last month when I stopped into a local bakery to pick up a cake.
Keeping it even more real, this baking blogger bought a cake for her stepmom's birthday. Sometimes life gets the best of you, and a bakery is just the way to go, friends.
The lovely girl who owns the bakery greeted me a gorgeous ombre rose cake and an oatmeal cream pie the size of my face.
The thing was crazy big, so I broke a not-so-tiny piece off and passed the rest off on my mom.
But then I immediately added giant, homemade oatmeal cream pies to my must-bake recipe list.
And since bigger is always better when it comes to oatmeal cream pies, I wasn't messing around with small, flat oatmeal cookies.
These babies are large, sturdy cookies.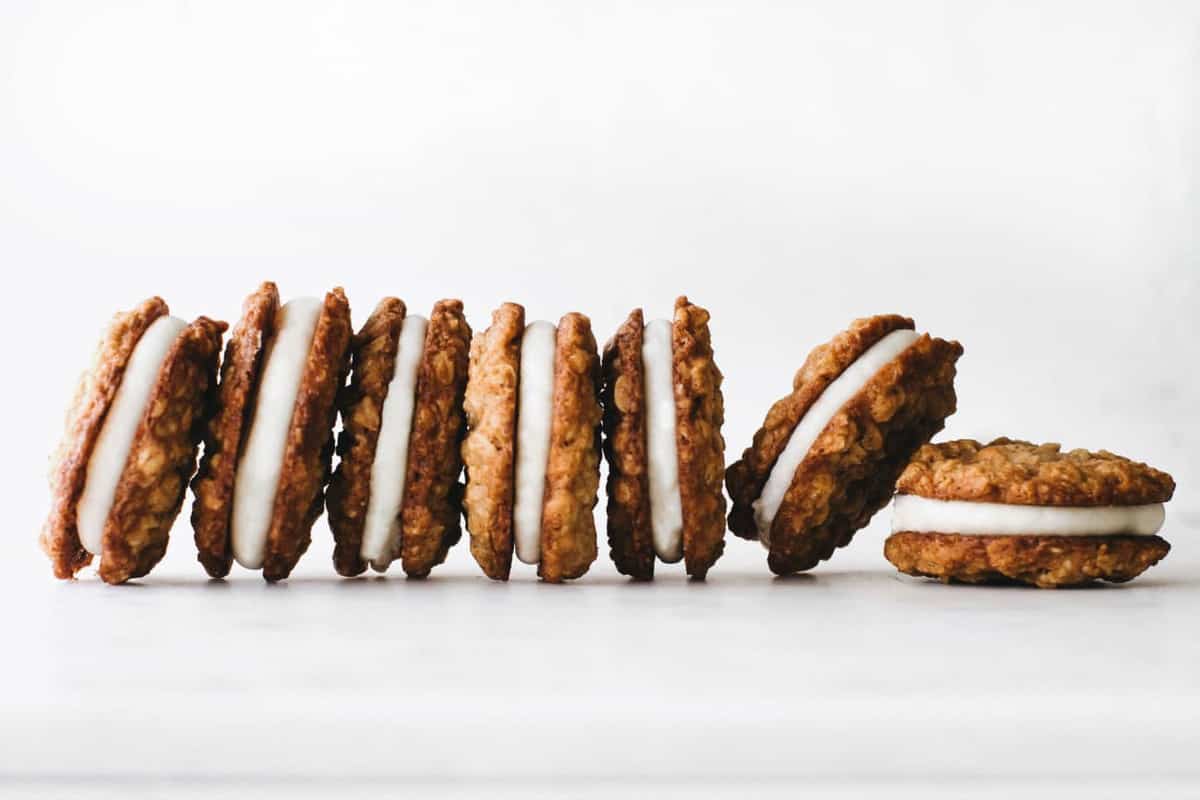 They're slightly crisp on the outside and perfectly chewy on the inside, which makes them perfect for sandwiching together with a generous slathering of vanilla buttercream.
My whole house smelled like that candle I want someone to make, and it. Was. AMAZING.
Eric had been out at the gym, and when he walked in the door, I believe he exclaimed, "OMG WHAT did you bake?!".
This house is never short on good baking smells, so that's saying somethin', folks.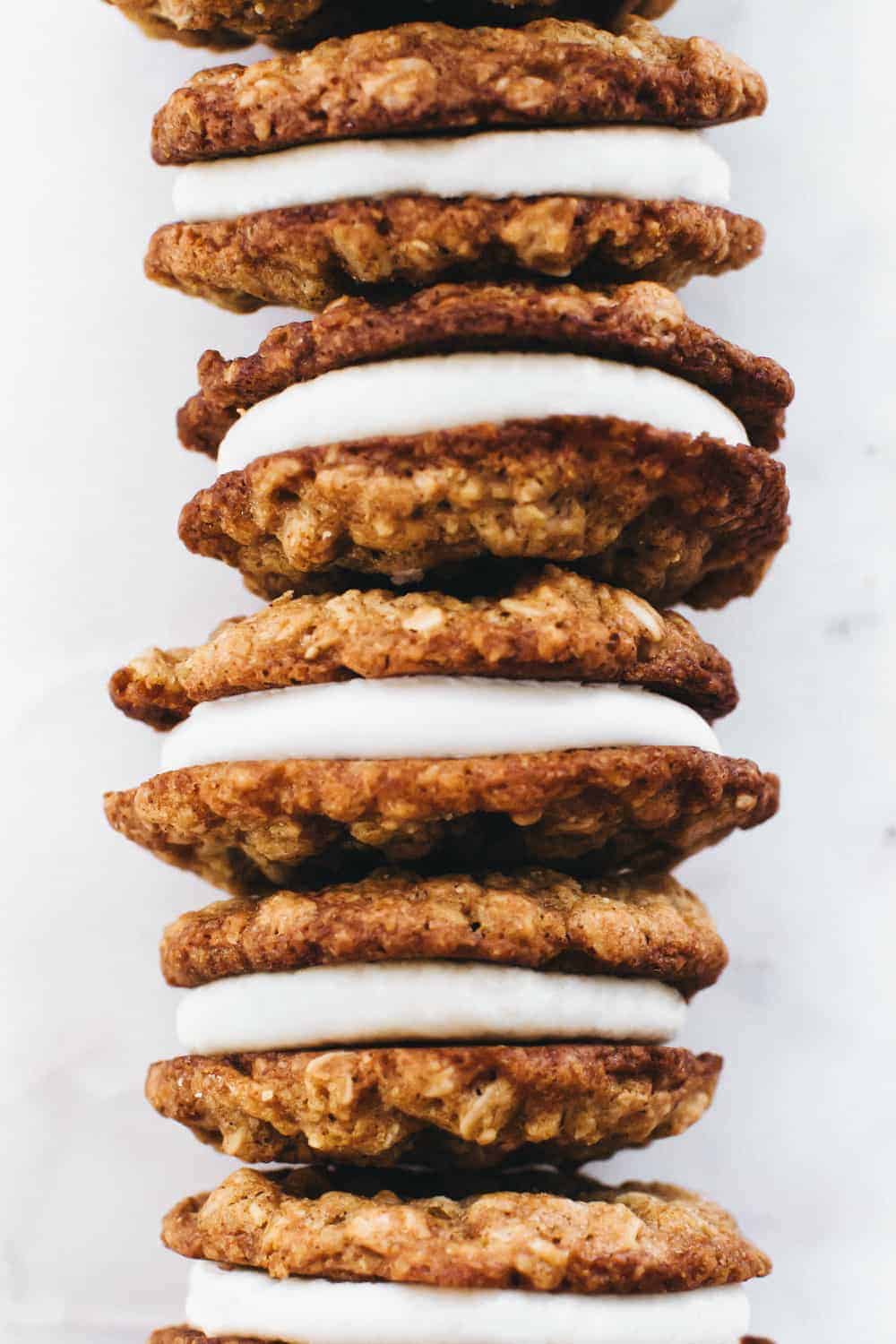 These homemade oatmeal cream pies would be fantastic for taking along to summer picnics and potlucks because they travel easily and well.
They're sure to be crowd pleasers – have you ever known anyone to ever turn down an oatmeal cream pie, let alone a homemade one? Doubtful.
You'll be a potluck hero, for sure!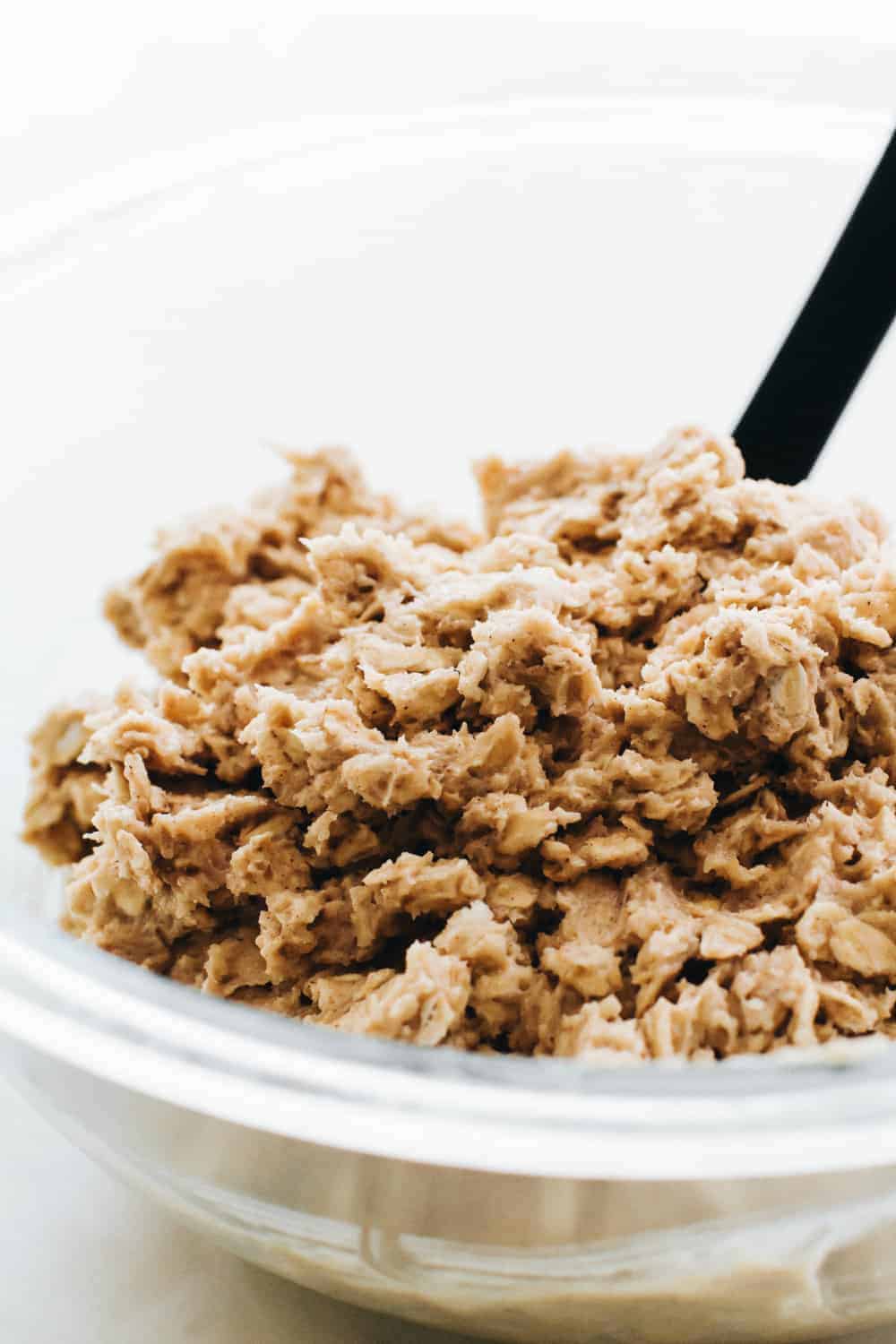 OATMEAL CREAM PIE INGREDIENTS
One of my favorite things about these Homemade Oatmeal Cream Pies is that I know what the ingredients are.
I don't know if you've ever looked at the ingredients list on the store-bought version but…it's not great.
I've definitely been known to let my kid indulge in store-bought snacks and there's a time and a place for everything. But if I can give her a homemade version that tastes better and has a better list of ingredients?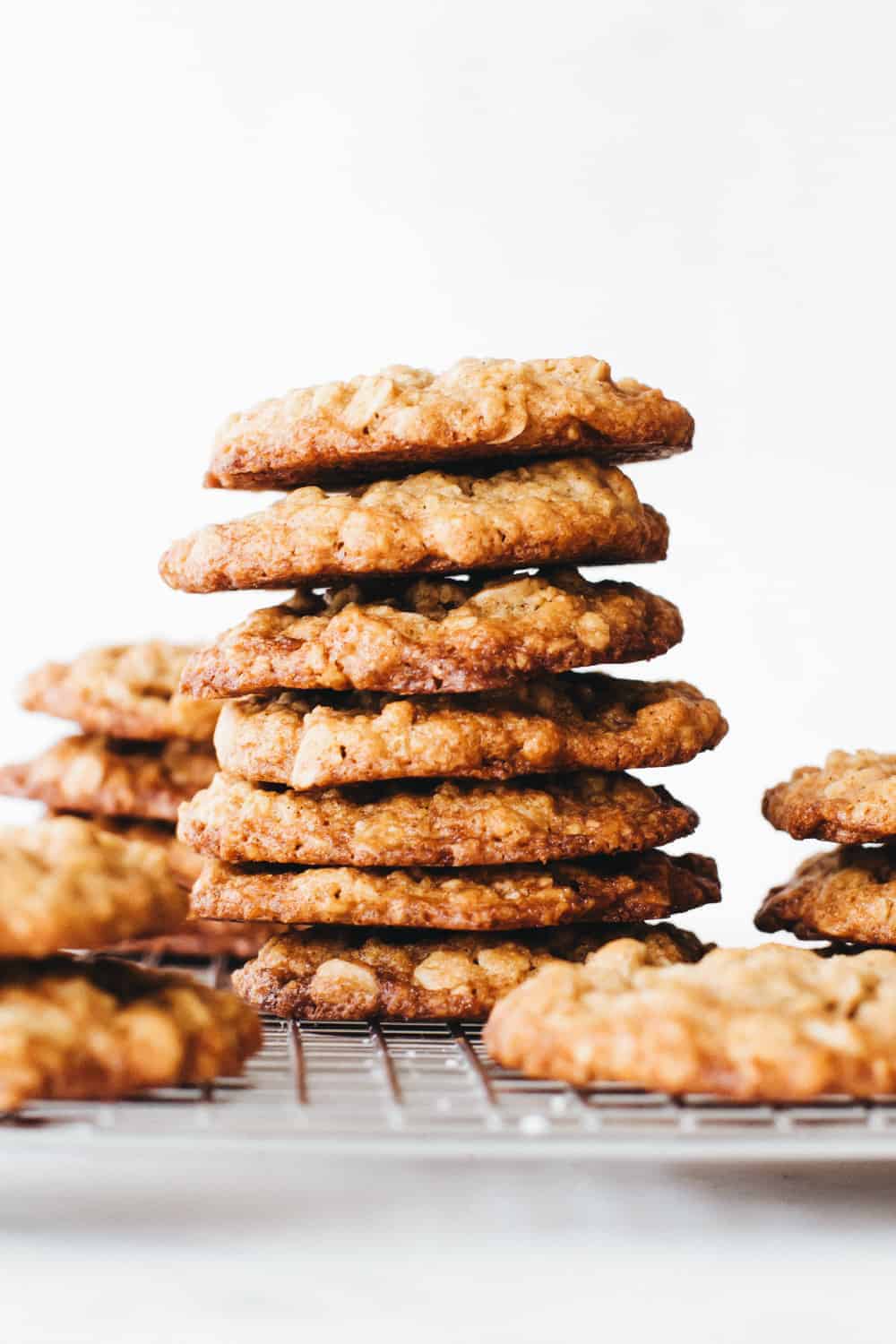 I'm gonna call that a win.
If you've ever made oatmeal cookies, you'll recognize the ingredients as very traditional oatmeal cookie ingredients. I bet you even have everything you need to make them in your pantry right now.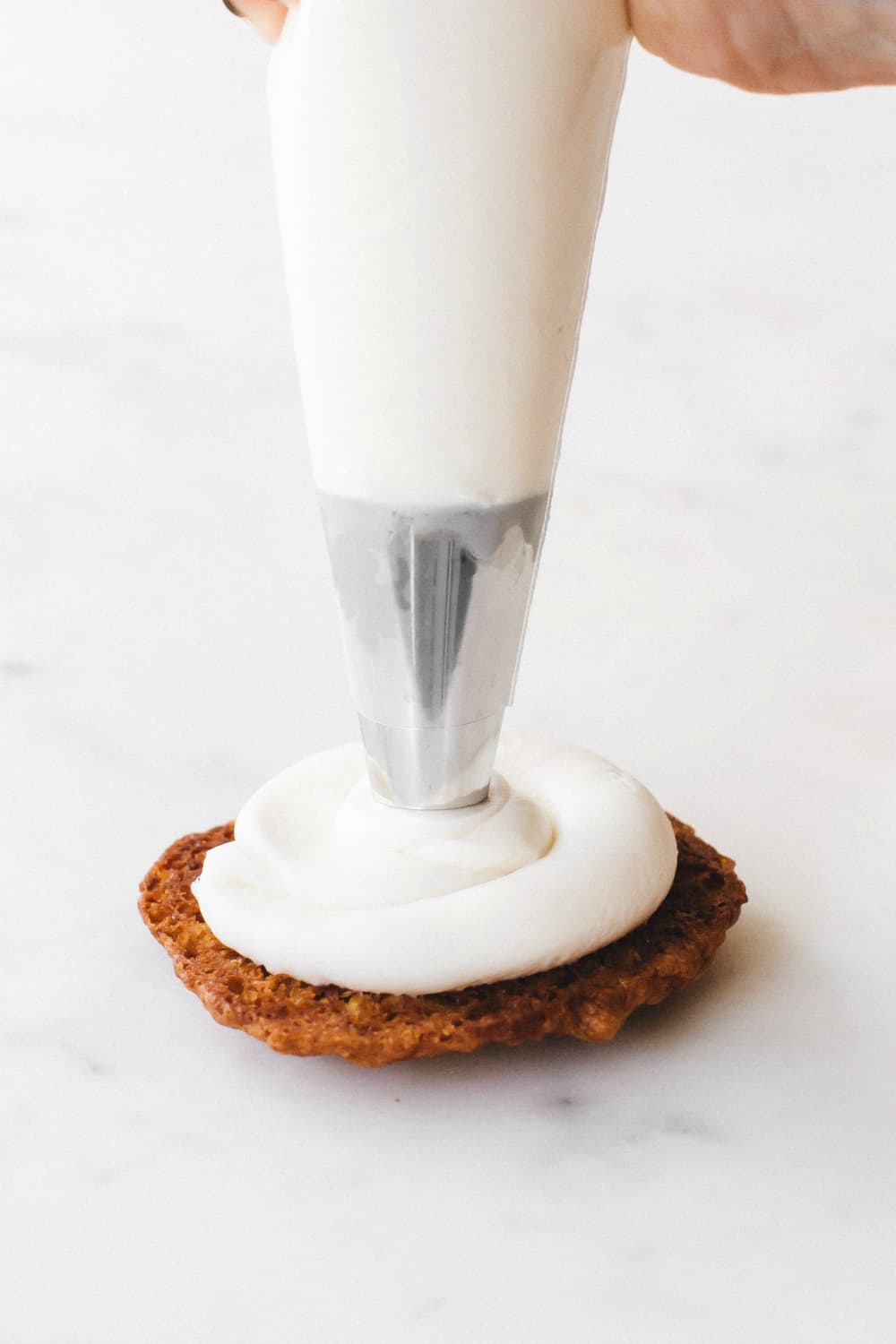 OATMEAL CREAM PIE FILLING
That recognizable ingredients list applies to the oatmeal cream pie filling, too.
The filling for our Homemade Oatmeal Cream Pies is basically a buttercream frosting. The key is to beat the butter for 5 full minutes.
I know it seems like a long time, but it'll make the buttercream filling extra fluffy.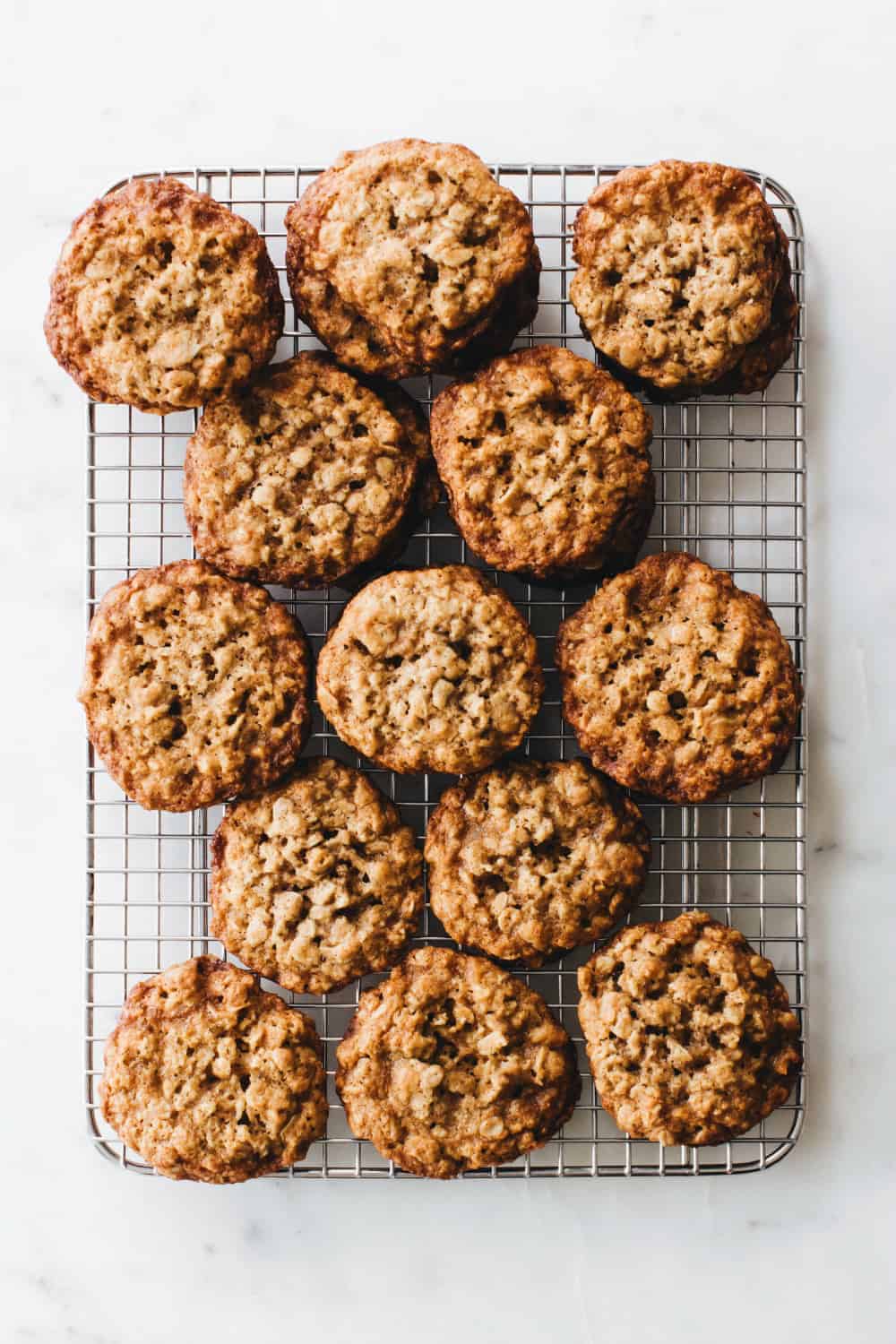 I like to use a piping bag to add the filling to the cookies, but you could also use a small offset spatula to spread on the filling instead.
Make sure you only pipe or spread the filling in the center of the bottom cookie, leaving ¼ to ½ an inch around the edge of the cookie. When you add the top cookie, you'll press down slightly and the filling will come right to the edge of the oatmeal cream pie without coming out the sides!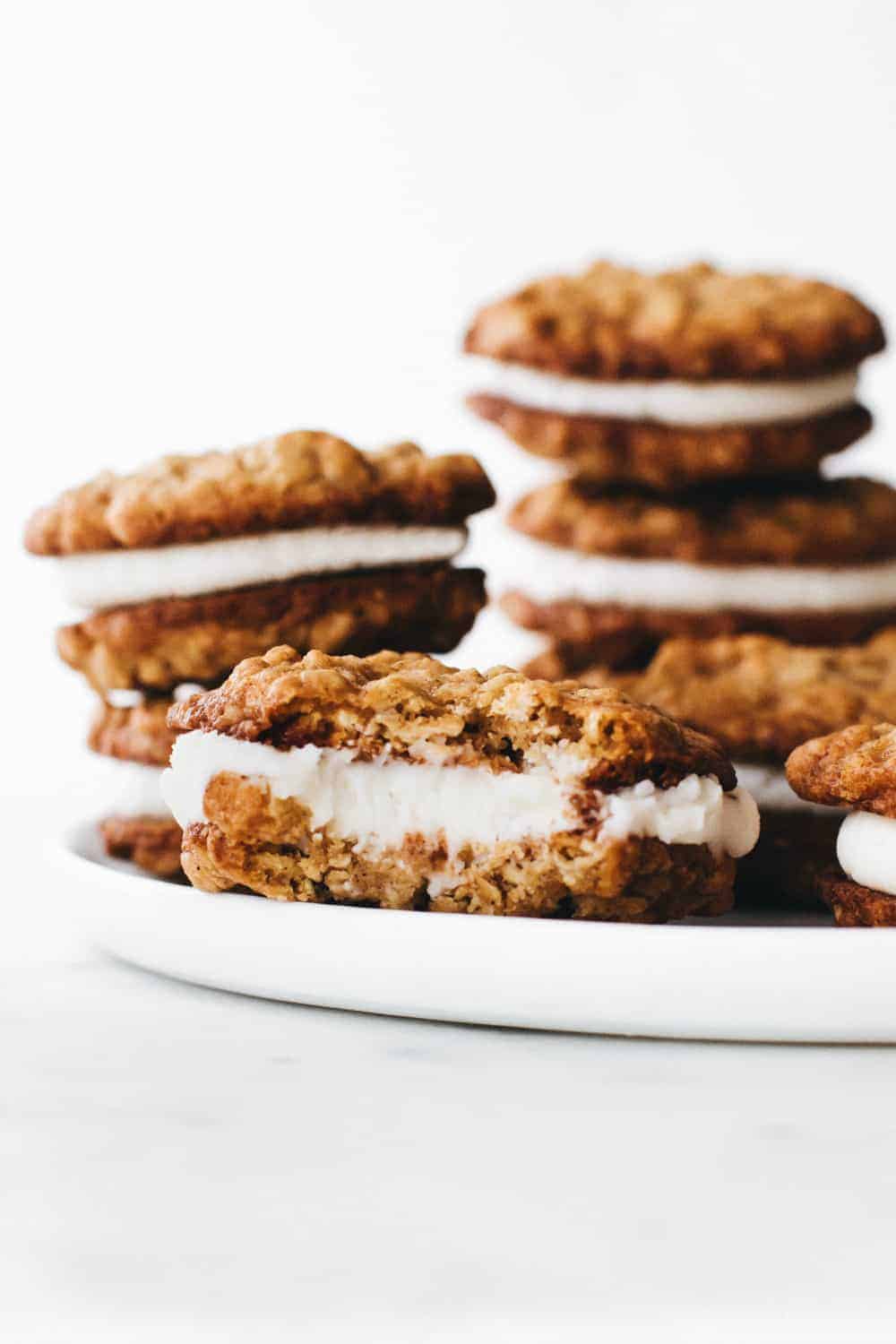 HOW TO STORE HOMEMADE OATMEAL CREAM PIES
Store your Homemade Oatmeal Cream Pies in an airtight container in the refrigerator for up to 3 days.
Homemade Oatmeal Cream Pies will taste best and the filling will have the best texture if you let them sit at room temperature for about an hour before serving.
Not that I haven't eaten them straight from the fridge before. Because when you need an Oatmeal Cream Pie…well, you really need an Oatmeal Cream Pie.
Looking for more oatmeal cookie recipes? Be sure to check out these Oatmeal Banana Cookies and these Oatmeal Raisin Cookies.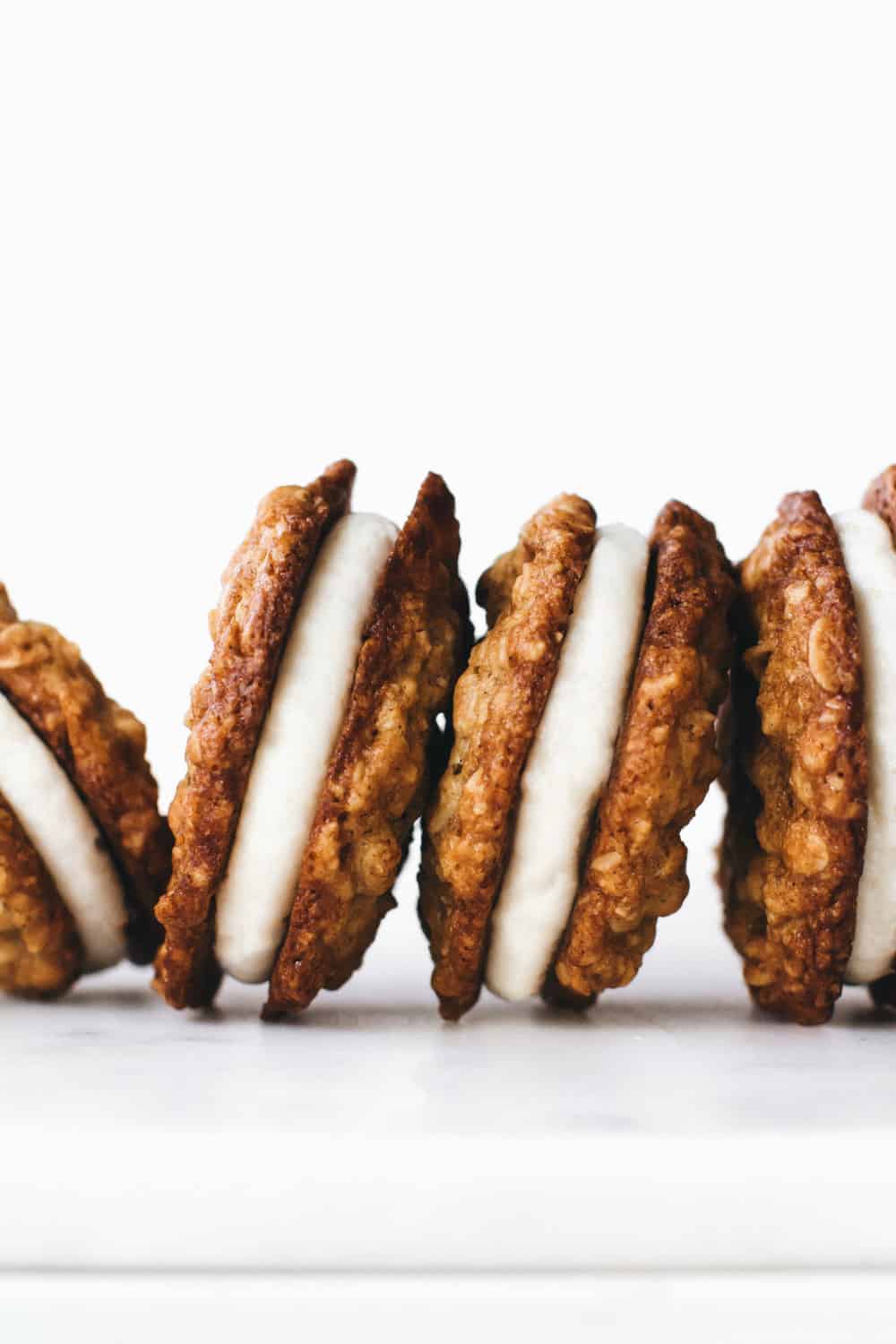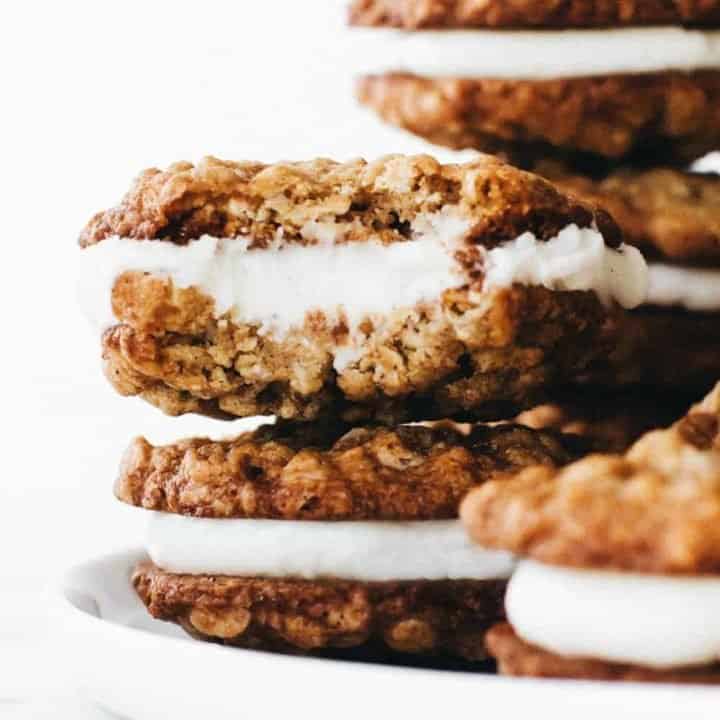 Homemade Oatmeal Cream Pies
Yield:
9 large sandwich cookies
Soft and chewy oatmeal cookies are sandwiched together with delicious vanilla buttercream to create the perfect dessert. Forget Little Debbie, fresh, homemade Oatmeal Cream Pies are where it's at.
Ingredients
For the Cookies
1 cup unsalted butter, softened
3/4 cup firmly packed light brown sugar
1/2 cup granulated sugar
2 large eggs
1 teaspoon pure vanilla extract
1 1/2 cups all-purpose flour
1 teaspoon baking soda
1 teaspoon ground cinnamon
1/2 teaspoon salt
3 cups quick or old fashioned oatmeal
For the Cream Filling
3/4 cup (1 1/2 sticks) cup unsalted butter, softened
2 1/2 cups confectioners' sugar, sifted
1 teaspoon pure vanilla extract
1 tablespoon milk or half and half
Instructions
Preheat oven to 350°F. Line cookie sheets with parchment paper.
In the bowl of a stand mixer fitted with the paddle attachment, or in a large bowl with an electric mixer, cream together butter and sugars until light and fluffy, about 3 minutes. Add in eggs and vanilla and mix until combined.
In a medium bowl, whisk together the flour, baking soda, cinnamon and salt. Slowly add the flour mixture to the wet ingredients, mixing until just combined. Add in oats and mix until incorporated.
To make large cookies, use a large cookie scoop (about 3 tablespoons) to drop dough onto prepared cookie sheets. Bake in preheated oven for 13-15 minutes or until golden brown. Allow cookies to sit on cookie sheets for about 5 minutes before removing them to a wire rack to cool completely. To makes small cookies, use a medium cookie scoop (about 1.5 tablespoons) of dough per cookie and bake for 10-12 minutes. Once cookies have cooled completely, prepare the cream filling.
Prepare the Cream Filling:
In the bowl of a stand mixer fitted with the paddle attachment, beat butter on medium-high speed for about 5 minutes. This process will lighten the color of the butter and ensure you buttercream in extra fluffy.
Turn the speed down to low and gradually add in the powdered sugar. Continue mixing on low speed until the powdered sugar is completely incorporated. Add in vanilla extract and milk and mix until combined.
Turn mixer back up to medium-high speed and beat the mixture for an additional 3-5 minutes. If needed, add in a little more cream 1 teaspoon at a time until you reach the consistency you desire.
To assemble the cookies, pipe or spread the cream filling on the flat side of half of the cookies and put the remaining cookies on top.
Notes
Homemade Oatmeal Pies can be stored in an airtight container within the refrigerator for up to 3 days. Allow Homemade Oatmeal Cream Pies to sit at room temperature for one hour before serving. Recipe will yield 9 large sandwich cookies or 18 small sandwich cookies.
Recommended Products
As an Amazon Associate and member of other affiliate programs, I earn from qualifying purchases.