Spiced Oatmeal Raisin Cookies are made even more delicious with the addition of Raisinets.
Last week I decided that I'm getting old. Older and progressively more anxious. Which is a problem because I'm already pretty darn anxious. I'm sure you've come across posts on Buzzfeed that read 1000 Thoughts Every Anxious Girl Has – yep, that's me – each and every single last one of them.
Last week I thought it would be a great idea to take a road trip to Columbus with a friend. In my brain, the 3-hour drive each way sounded like a excellent idea. Three hours of chatting and catching up was just what I needed this week. Although, let's be clear here, I wasn't going to be the one to do the driving because I hate to drive outside of my 10 mile radius comfort zone. But we were absolutely going to be taking my car because I really like my car.
All was well on the way down, even though we left at ridiculous o'clock. We had to leave so early that I didn't even sleep the night before. Great idea for embarking on a 3 hour drive, right? Then… then we hit typical Columbus traffic. It put us so behind schedule that I had to simply drop my friend at her appointment for her to be on time. This forced ME to park my car in downtown Columbus during rush hour.
I think I drove around the block 18 times looking for a spot because I just can't do parking garages. Then my phone fell between the seats and I got lost due to my GPS-enabled phone being hidden in the depths of my car. I would've been able to hear Siri's cheery instructions had I not muted her annoying navigation voice halfway through our drive. I finally found my way and a spot after about 40 minutes and repeatedly telling (read: yelling) at myself to get a grip. This is so typically ME, I can't even begin to tell you.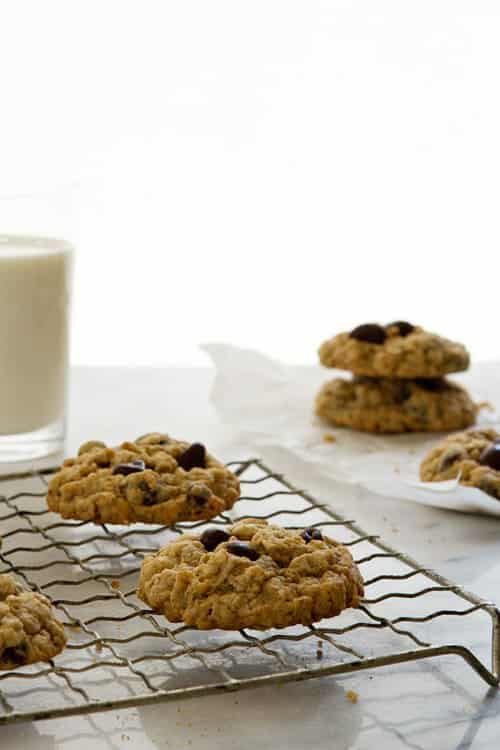 Guys, it was a terrible experience. If you are an anxious type, you totally feel my pain right now. My palms were so sweaty that I had to literally wipe them on a stack of napkins, and my eye started to twitch. A coincidence? I think not. Basically I came home, took an epic three-hour nap, and upon waking only wanted to rock myself gently in the corner while dipping cookies in wine.
Which leads me to these Spiced Oatmeal Raisin Cookies. They're chewy, delicious, and flecked with chocolate covered raisins because how else to make oatmeal raisin cookies better than with chocolate?
I came up with the idea for these babies in my delirium as we drove back from Columbus. I don't know why or where they came from in my exhausted, anxious state, I just knew I had to make them immediately… or at least when my eye stopped twitching.
There's something about baking that calms me. The measuring, pouring, and stirring calm my frayed nerves better than any mood-altering drug can. (At least while I'm still breastfeeding, anyway.) Putting together these delish morsels of chocolately, oatmeal goodness put me back to rights.
They're a great cookie to welcome Fall, and your babies home from school at the end of the day. They're also really great for eating your feelings. I promise.
Looking for more oatmeal cookie recipes? Be sure to check out these Oatmeal Banana Cookies and these Homemade Oatmeal Cream Pies.
Oatmeal Raisin Cookies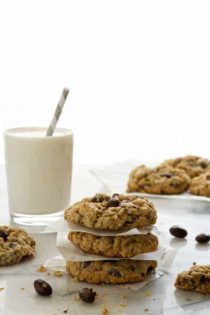 Ingredients:
1 cup unsalted butter, room temperature (I used Challenge Butter)
1 cup packed light brown sugar
1/2 cup granulated sugar
2 large eggs, room temperature
1 1/2 teaspoons pure vanilla extract
1 1/2 cups all-purpose flour
1 teaspoon baking soda
2 teaspoons homemade pumpkin pie spice
1/2 teaspoon salt
3 cups quick or old fashioned oatmeal
1 1/2 cups Raisinets
Directions:
1. Preheat oven to 350°F. Line cookie sheets with parchment paper.
2. In the bowl of a stand mixer fitted with the paddle attachment, or in a large bowl with an electric mixer, cream together butter and sugars until light and fluffy, about 3 minutes. Add in eggs and vanilla and mix until combined.
3. In a medium bowl, whisk together the flour, baking soda, pumpkin pie spice and salt. Slowly add the flour mixture to the wet ingredients, mixing until just combined. Add in oats and Raisinets and mix until incorporated.
4. Use a medium cookie scoop (about 1 1/2 tablespoons) to drop dough onto prepared cookie sheets. Bake in preheated oven for 10-12 minutes or until golden brown. Allow cookies to sit on cookie sheets for about 5 minutes before removing them to a wire rack to cool completely.
Notes:
Oatmeal Raisin Cookies will store at room temperature in an airtight container for up to 3 days.
My Baing Addiction dapted from allrecipes.com
All images and text ©
Follow Jamie on Instagram. We love to see what you're baking from MBA! Be sure to tag @jamiemba and use the hashtag #mbarecipes!