As a food blogger, I try to keep my site somewhat versatile in an effort to appeal to a vast audience. Although My Baking Addiction's primary focus is on homemade desserts and decent food photography, I do try to throw in the occasional side dish and also attempt to supply my lovely readers with easy, kid friendly recipes.
I know not everyone has time to make cupcakes from scratch or spend hours preparing a gazillion step Daring Bakers recipe. Although I am not a big user of boxed mixes, I do realize they come in very handy in many households and can produce some damn tasty desserts, which is why I post them from time to time.
Since I stalk sitemeter like it's my job, I know the stats from my blog on a daily basis. I know what is getting a bunch of hits and what does not seem to be going over very well. Last week I received a ton of hits from stumbleupon for my Rocky Road Bars and being oh-so-curious, I checked the tags and ratings for the recipe. I realized that someone had stumbled the recipe and tagged it as trash because it contained a box mix.
Was I offended? Heck no, it cracked me up! And I would like to take a moment to personally thank that person for the stumble because it sent over a lot of traffic… so smooches to you, my anti-boxed cake mix friend, although I have no clue who you are!
Okay, enough of that randomness. In honor of the trash tag, I bring to you another boxed cake mix recipe. This one is ridiculously easy and perfect for a child foodie to make.
It uses very simple ingredients and produces a nicely textured, fruity bar. I used a lemon cake mix and blackberry jam (that is what I had on hand) which was decent, but the recipe as it is written with the yellow cake mix is much tastier, so definitely follow that route. I am thinking the combinations for this recipe are endless and I just bet some of you come up with some scrumptious versions!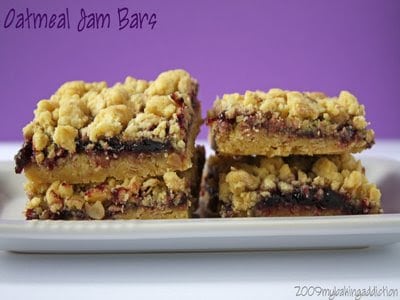 Oatmeal Jam Bars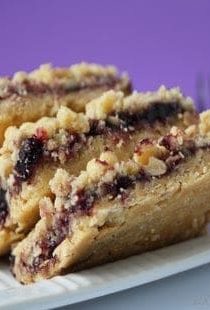 Ingredients:
1 (18.25 ounce) package yellow cake mix
2 1/2 cups quick cooking oats
3/4 cup margarine, melted
1 cup raspberry jam
1 tablespoon water
Directions:
1. Preheat the oven to 375°F (190°C). Grease a 9"×13" inch pan.
2. In a large bowl, mix together oats, cake mix, and melted margarine so that it makes nice clumps and there is no dry mix left. Press 1/2 of the oats mixture evenly into the bottom the prepared pan. In a separate bowl, mix jam with water, and spread over the crust. Sprinkle the remaining oat mixture evenly over the top.
3. Bake in the preheated oven for 18 to 23 minutes, or until the top is lightly browned. Cool before cutting into bars.
- from allrecipes
All images and text ©
Follow Jamie on Instagram. We love to see what you're baking from MBA! Be sure to tag @jamiemba and use the hashtag #mbarecipes!
[pinit]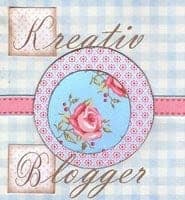 The rules are as follows
1. Thank the person who has given you the award-goes without saying lol
2. Copy the logo and place it on your blog
3. Link to the person who has nominated you for the award
4. Name 7 things about yourself that people might find interesting
5. Nominate 7 Kreativ Bloggers
6. Post links to the 7 blogs you nominate
7. Leave a comment on which of the blogs to let them know they have been nominated
According to the rules, I have to post 7 things you may not know about me:
1. I am not a morning person.
2. I hate bugs with a passion and you will never catch me in a tent.
3. I love fountain pop, diet coke or regular…if I feel like living on the edge.
4. I have an obsession with crime shows, my absolute fave being Criminal Minds.
5. I teach children with emotional disturbances.
6. I love Cheetos…even the baked ones!
7. I treat my dog, Henry, like a child.
Okay, now I have to pass this off to 7 rad bloggers…Here are my nominations!
1. Maria from Two Peas in a Pod
2. Ingrid from Baseball Baking and Books
3. Em from The Repressed Pastry Chef
4. Sara from Sara's Sweets
5. Avanika from YumsiliciousBakes
6. Eliana from A Chica Bakes
7. Cassie from How to Eat a Cupcake
You gals are all great and keep the recipes coming!!!