These Raspberry Bars are as easy as can be to make! This recipe uses cake mix, oats, and brown sugar to create a delicious crumble topping over the top of a raspberry jam filling.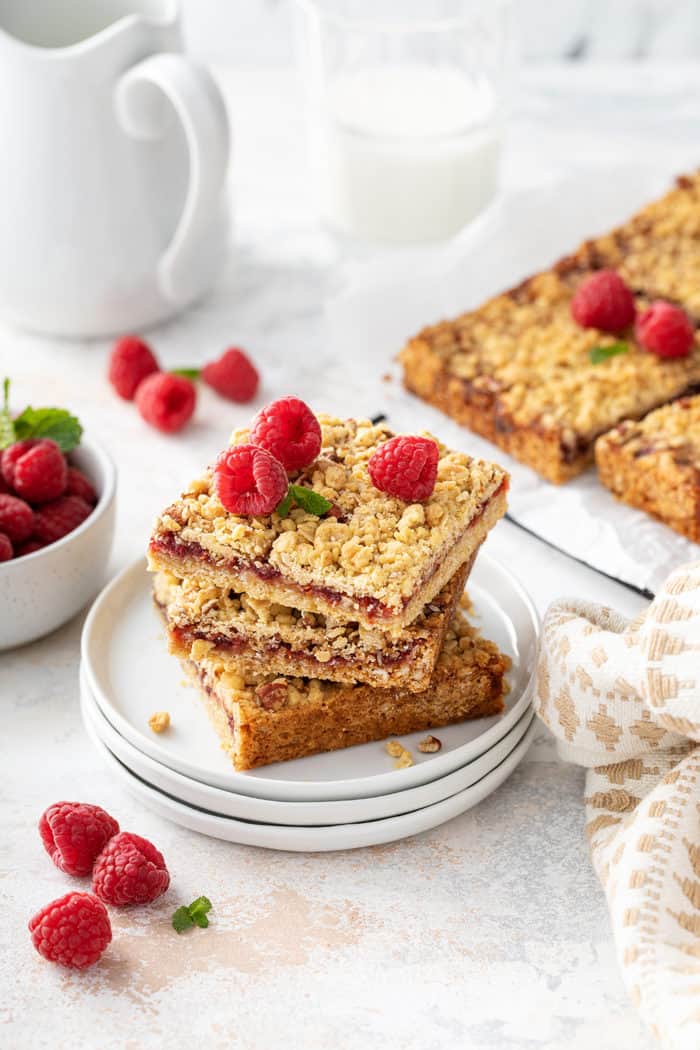 I feel like we're pretty much stuck in an endless winter situation here in Ohio.
Yes, I know it's only February. And yes, I also know that us midwesterners should be used to these dramatic weather changes, but it's still annoying and I'm still going to whine about it.
Guys, it was 65 degrees 2 days ago and now we are expecting yet another winter storm.
One thing I do love about snow days is that Elle and I can get into the kitchen and whip up simple desserts that she can make almost entirely be herself.
Easy recipes like peanut butter pretzel bars, rice krispie treats and these raspberry bars are amongst some of our snow day favorites.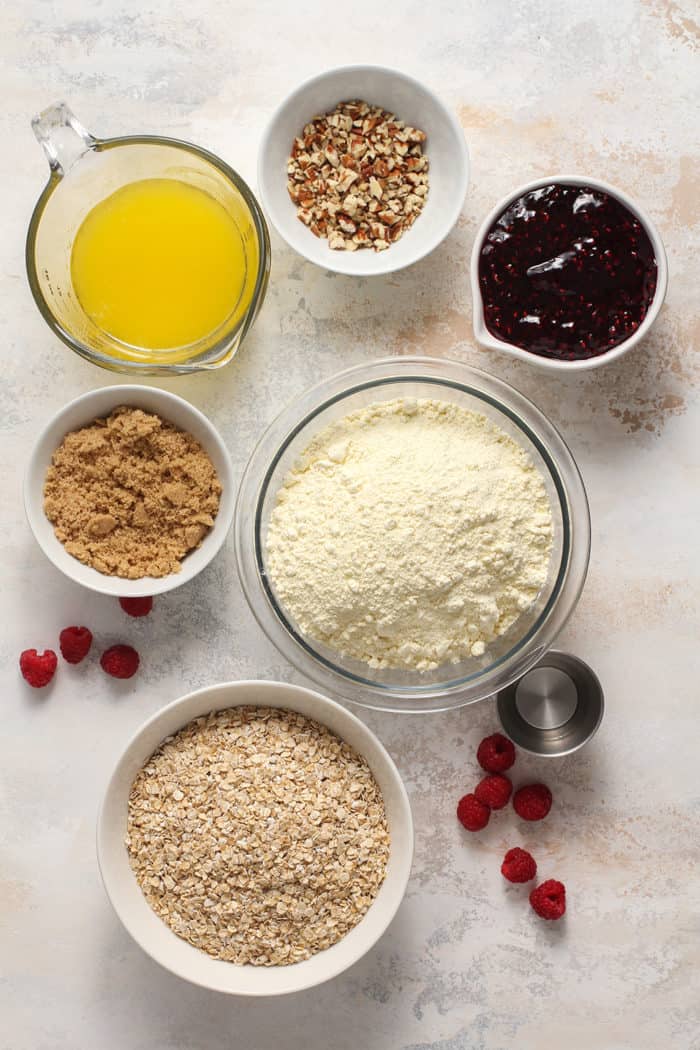 EASY RASPBERRY CRUMBLE BAR INGREDIENTS
It's no secret how much I love a baking mix shortcut. Whether it's using cookie mix in pumpkin cheesecake bars or homemade Bisquick mix in Make-Ahead Banana Coffee Cake, I don't mind taking a little baking shortcut every now and then.
And as much as I love making recipes like Berry Crumble Bars, Apple Pie Bars, and Cranberry Crumb Bars from scratch, I knew there had to be a quick-and-easy way to make crumble bars.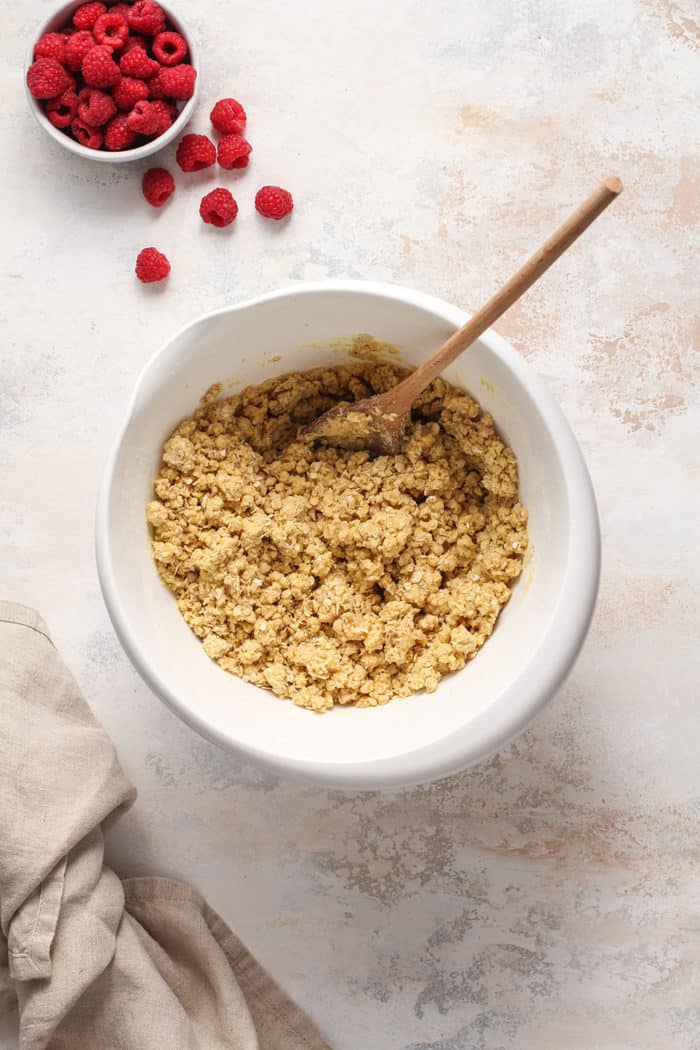 Enter: Raspberry Bars.
These simple bars use just a handful of pantry staples to make a crumble bar that comes together in minutes:
Yellow cake mix
Quick oats
Light brown sugar
Unsalted butter
Pecans
Raspberry jam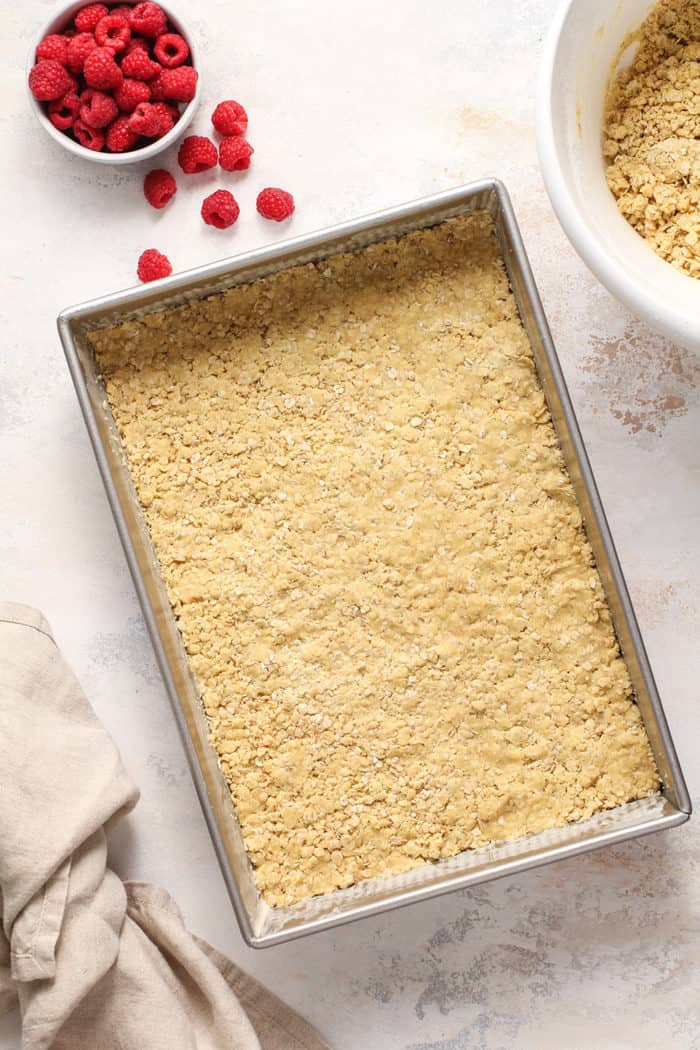 See? I bet you have several of those ingredients on hand already, if not all of them!
Give yourself about 30 minutes and you'll have a pan of delicious Raspberry Bars to share with friends and neighbors or take to that last-minute potluck you forgot about.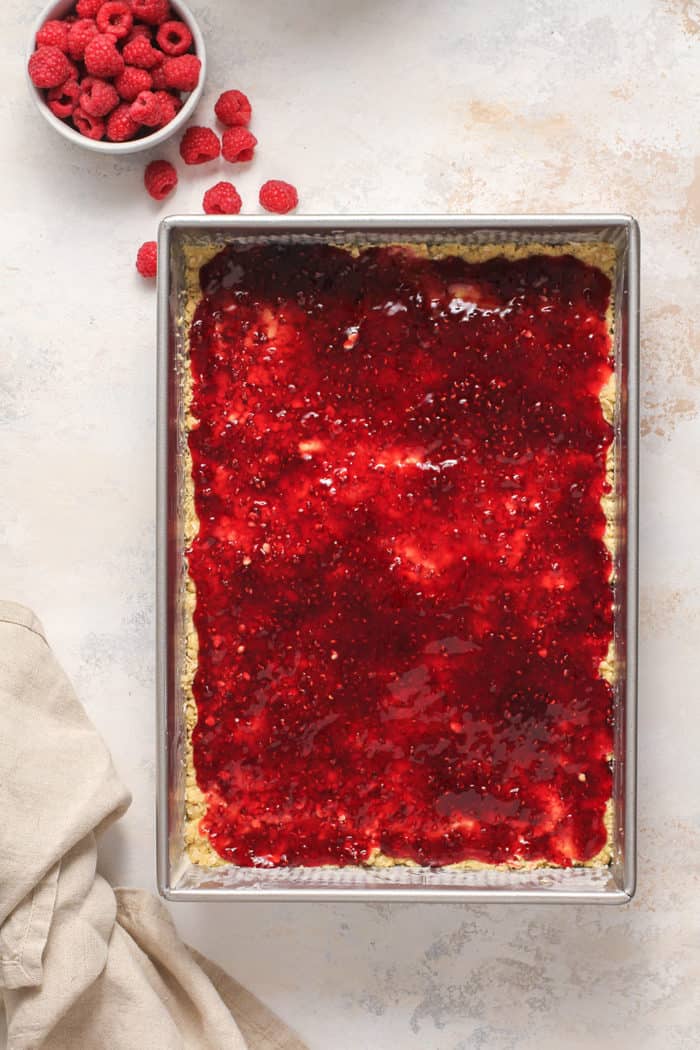 HOW TO MAKE RASPBERRY BARS
To make these raspberry crumble bars, grab a large bowl and mix together the yellow cake mix, oats, brown sugar, and melted butter. Mix everything together until the mixture resembles coarse crumbs and you don't have any dry mix left.
Add just over half of the crumb mixture into a greased 13×9-inch pan and press it evenly to cover the bottom of the pan.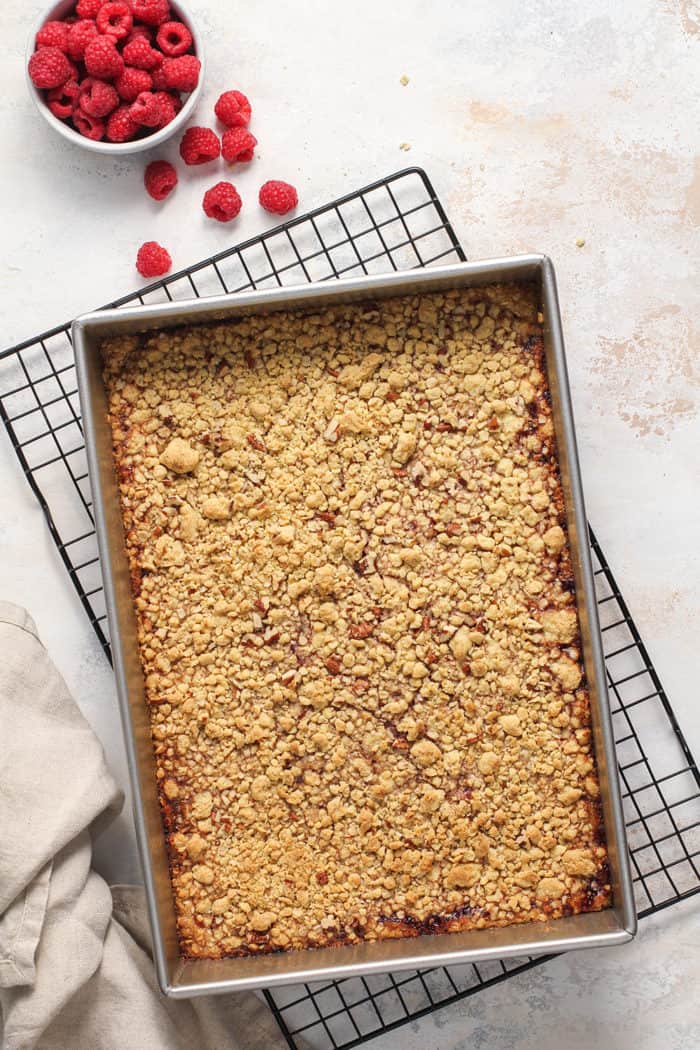 If you're adding pecans to your crumble topping, stir the pecans into the remaining oat mixture now.
In a small bowl, whisk together the raspberry jam and water to make your raspberry filling. Spread this over the crust, then sprinkle the remaining oat mixture over the top of the jam layer.
Bake the bars for 18-23 minutes, or until the topping is golden brown. Cool completely before cutting into bars and serving.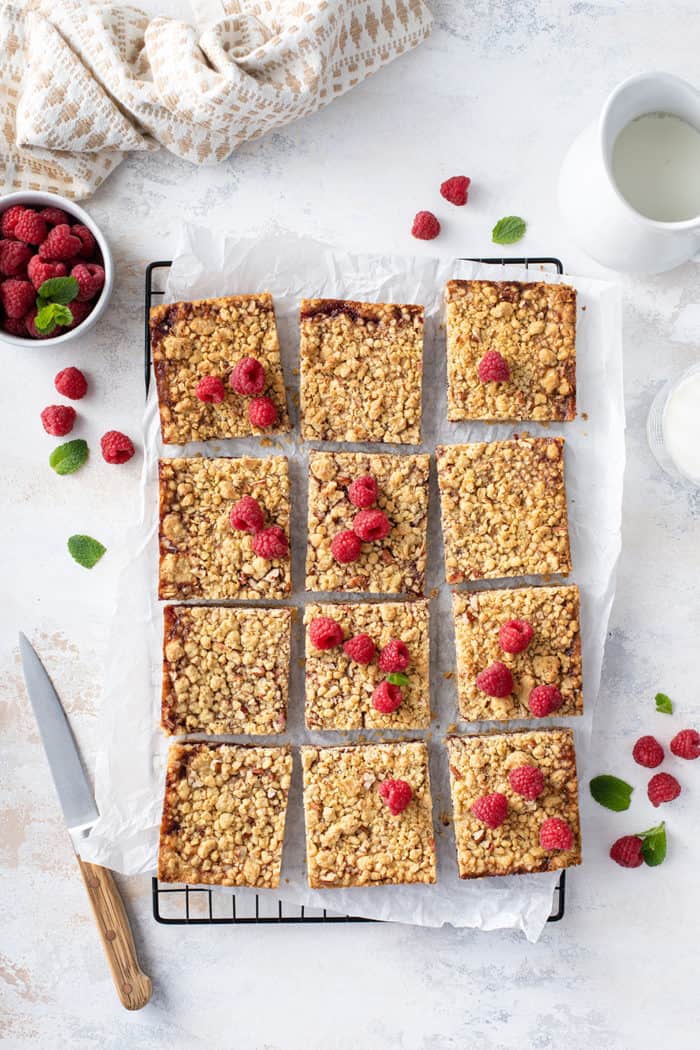 CRUMBLE BAR ADAPTATIONS
The fun part about this recipe is that you can change it up in a few different ways!
Don't love raspberries? Try a different flavor of jam! Swap out the raspberry preserves for blackberry jam or even strawberry or blueberry preserves.
Try a different cake mix flavor. If you don't have a yellow cake mix on hand, grab a butter cake mix or even a lemon cake mix instead.
Leave out the pecans or swap them out! Feel free to leave out the nuts altogether, or use finely chopped walnuts or even pistachios in place of the pecans.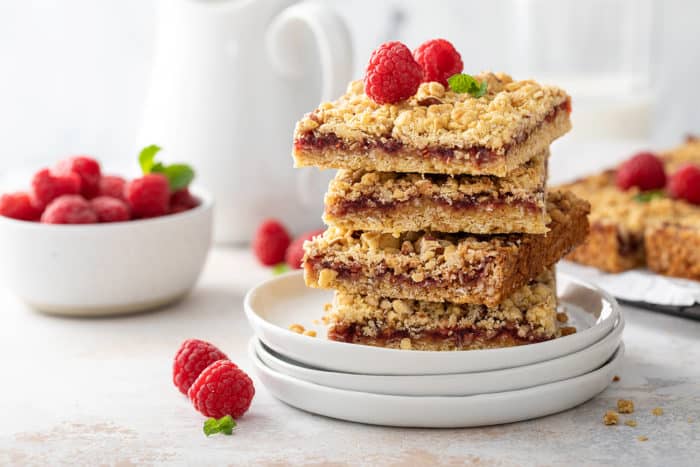 If you don't have any quick oats on hand, you can substitute rolled oats (also known as old-fashioned oats) by pulsing them in a food processor a few times. Be sure to measure them out for the recipe after they take a spin in the food processor, not before!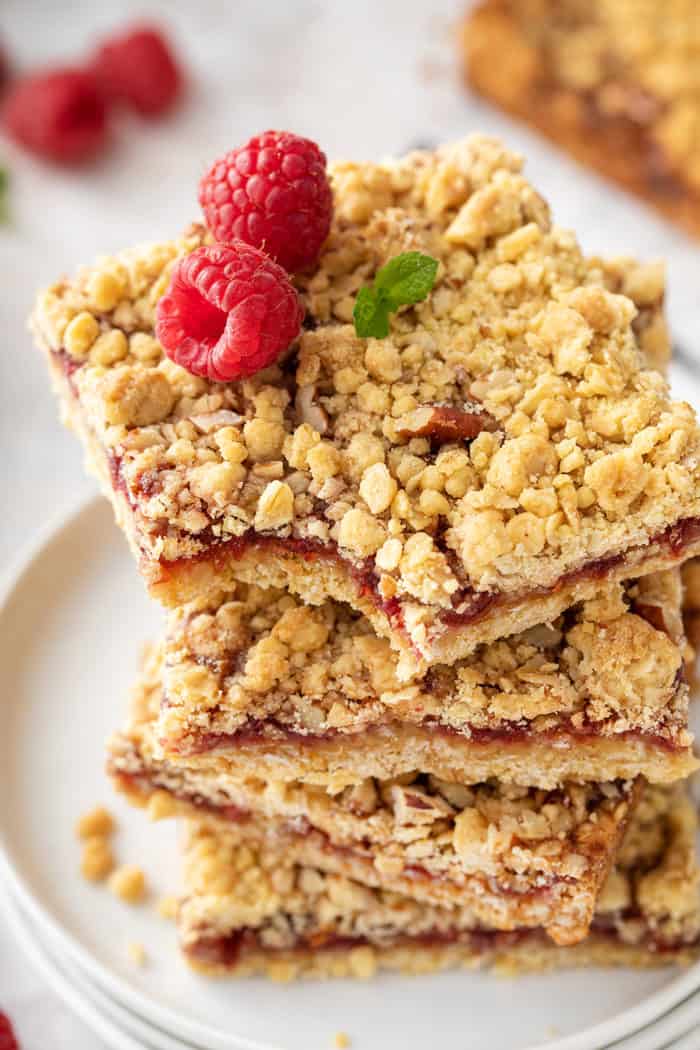 STORAGE AND FREEZING TIPS
Store the bars in an airtight container on the counter for up to 3 days.
If you'd like to freeze these Raspberry Bars, place them in an airtight, freezer-safe container. If you need to layer the bars, place pieces of parchment paper between them.
Freeze the bars for up to 1 month. Let the bars thaw at room temperature before serving, or microwave for 30 seconds to warm them before digging in!