If you love tart cranberries, you'll adore these Cranberry Crumb Bar! These bars are a cross between a cookie and a pie with plenty of tart cranberry flavor to go around.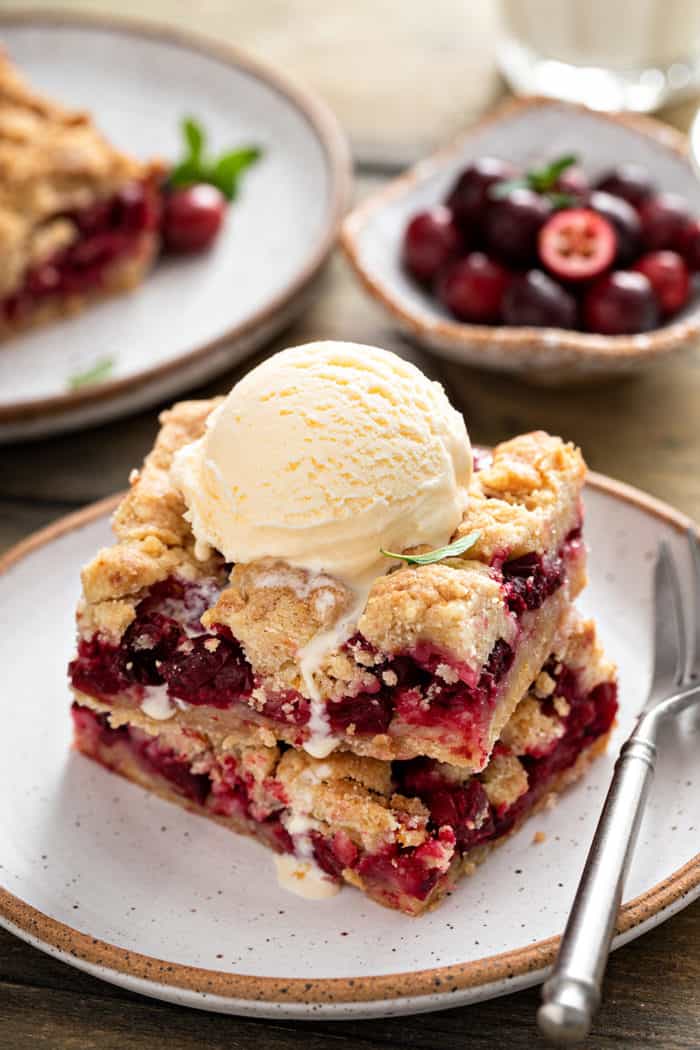 These Cranberry Crumb Bars have been a holiday favorite of mine since I first posted them way back in 2010.
When I was deciding what recipes I wanted to share with you this year, these bars made it to the top of my list because they are absolutely delicious, but the photos and text definitely needed a little updating.
The sweet crumb topping pairs perfectly with the tart cranberries. The pop of orange and hint of cinnamon makes them a festive addition to any holiday celebration.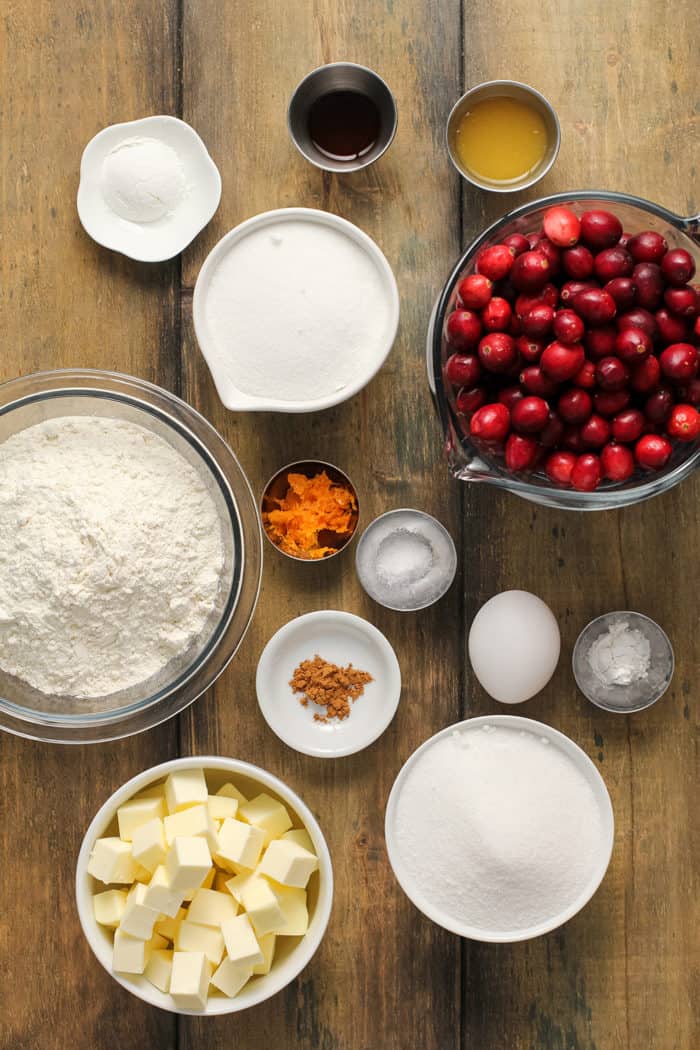 SWEET AND TART CRANBERRY BARS
You all know I love a crumb bar and love an excuse to try them with different fruits.
I've got berry crumble bars, peach crumb bars, and for the holidays, these cranberry crumb bars!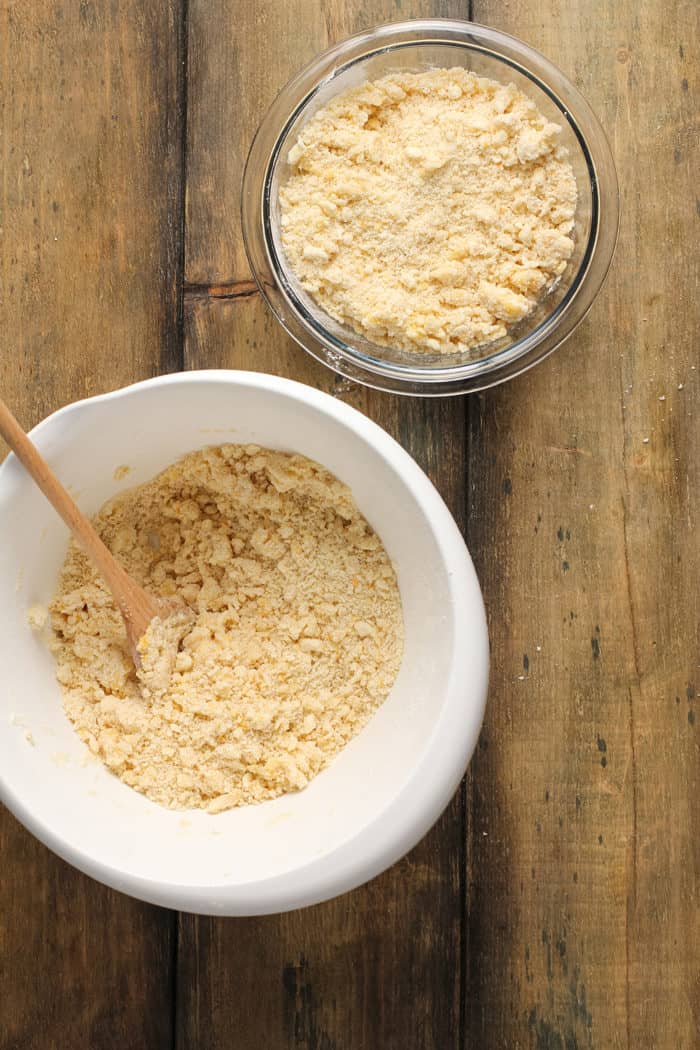 These cranberry bars are a little bit like a cookie, a little bit like a pie. It's much easier than a pie though, because the crust and the topping are the same mixture, and no rolling is needed.
Like cranberry gooey butter bars, these use fresh cranberries to make the most deliciously tart crumble cookie bar.
Plus, they also have orange, and I just love the combination of orange and cranberry!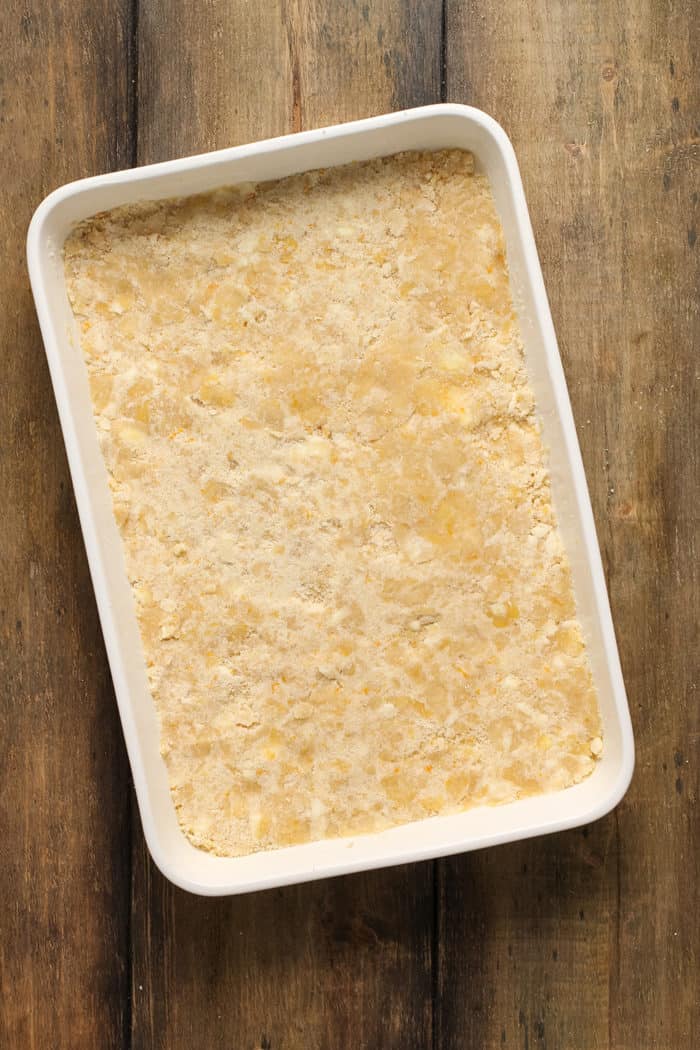 HOW TO MAKE CRANBERRY CRUMB BARS
These bars are a cinch to make with just a few steps.
First, grab you ingredients for the crust and topping:
Granulated sugar
Orange zest
All-purpose flour
Baking powder
Salt
Ground cinnamon
Cold unsalted butter, cut into pieces
Egg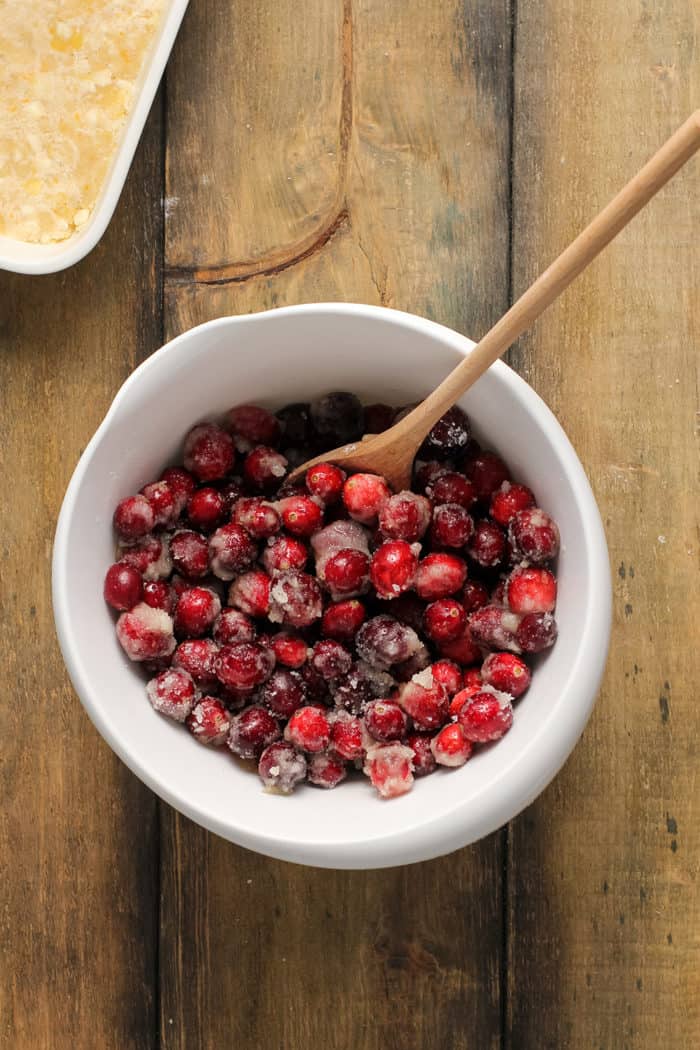 You also need to preheat the oven to 350°F and coat a large 9×13-inch baking pan with nonstick spray.
In a bowl, combine the sugar and zest. You can use your fingers to rub the zest into the sugar, or just whisk it together.
Then, add the flour, baking powder, salt, and cinnamon. Stir until well mixed.
Take your cold butter and cut it into the dry mixture until it forms coarse crumbs. A pastry blender is a handy tool for this, or you can use two knives. A food processor will also work, but be sure to only pulse the mixture to prevent over-mixing.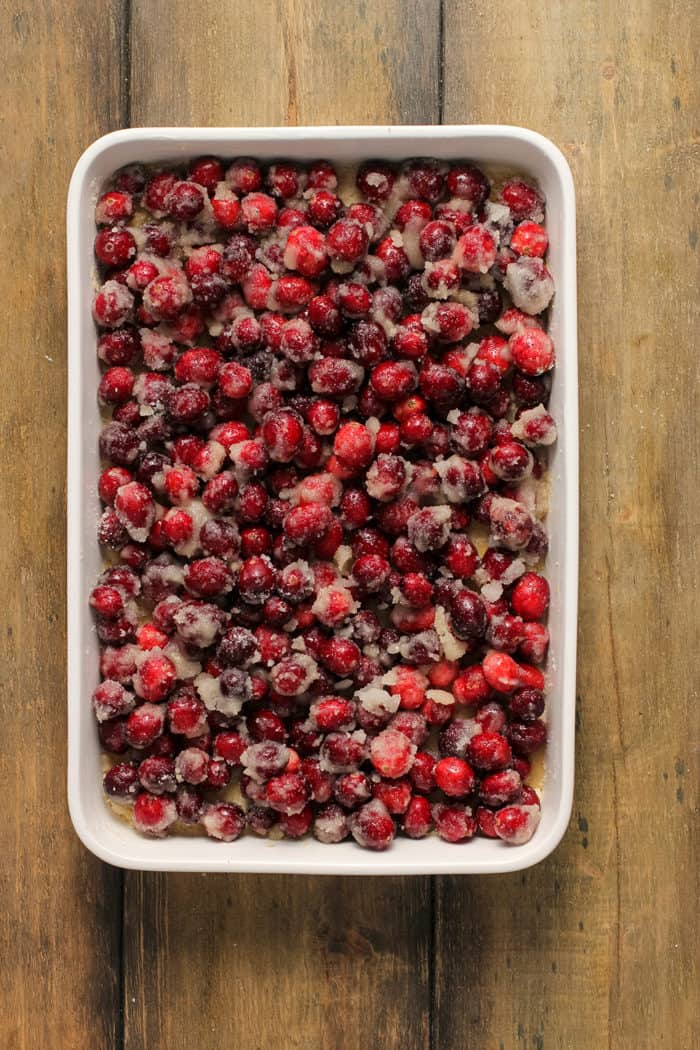 Stir in the egg just until combined.
Scoop out 2 ½ cups of the mixture and press it evenly into the bottom of your prepared baking pan. The bottom of a flat measuring cup or a glass is great for forming an even crust.
Save the rest of the crumble — you'll use it for the topping!
Now, make the filling with your ingredients:
Fresh cranberries
Granulated sugar
Orange juice
Vanilla extract
Cornstarch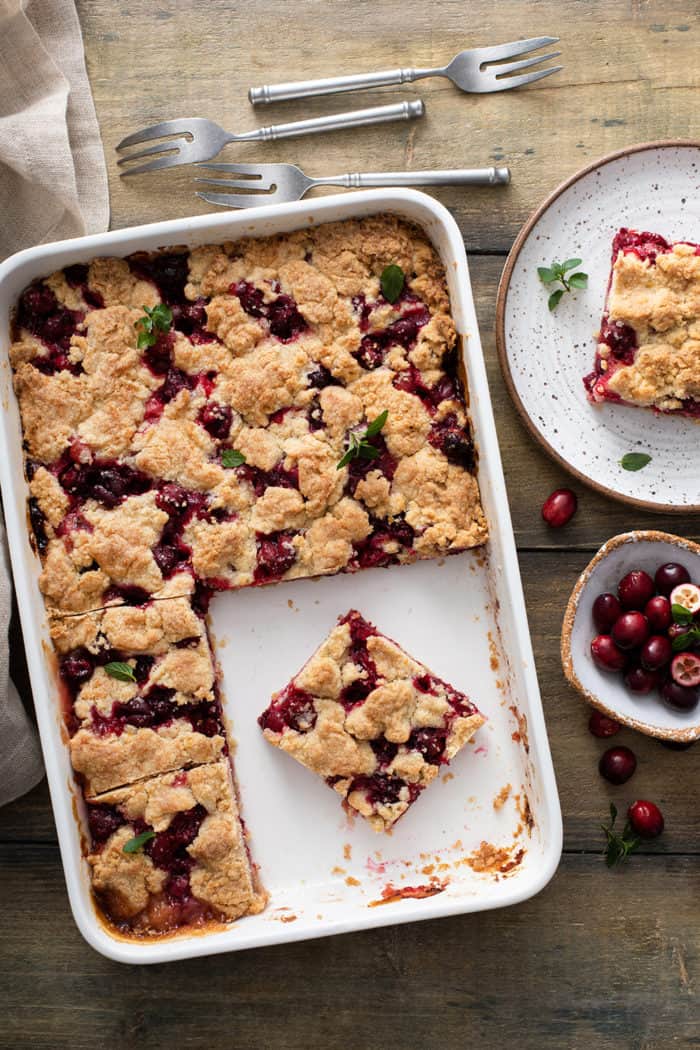 Be sure your cranberries are washed and patted dry. Frozen and thawed cranberries will work as well, but make sure to drain any excess juices from thawing.
In a bowl, mix together the cranberries, sugar, orange juice, vanilla, and cornstarch.
Don't skip out on the cornstarch! It will help the juices thicken so your fruit layer isn't too wet. Do be sure to break up any chunks so that it will dissolve in the juices without any gloppy bits.
Scoop the cranberry mixture onto the prepared crust and spread into an even layer.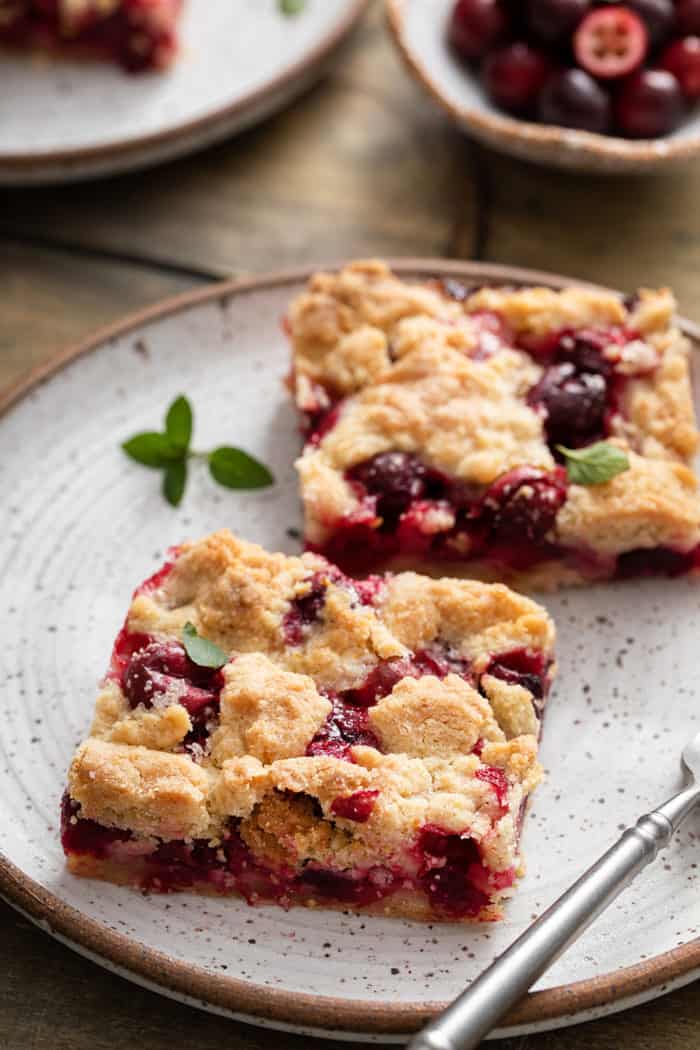 Now it's time for the topping. Use your hands to squeeze the remaining crumble mixture into small clumps. Scatter them on top of the fruit so that they are distributed evenly.
Pop the pan into the preheated oven and bake for about 50 minutes. The topping will be golden and any visible juices will be a bit bubbly.
You'll want to let it cool completely before slicing. I know, it will be difficult! Letting it cool will help the fruit set so you get perfect slices for the dessert table.
Once cooled, place the pan in the refrigerator to make slicing easier. Serve cold or at room temperature, or warm individual slices in the microwave.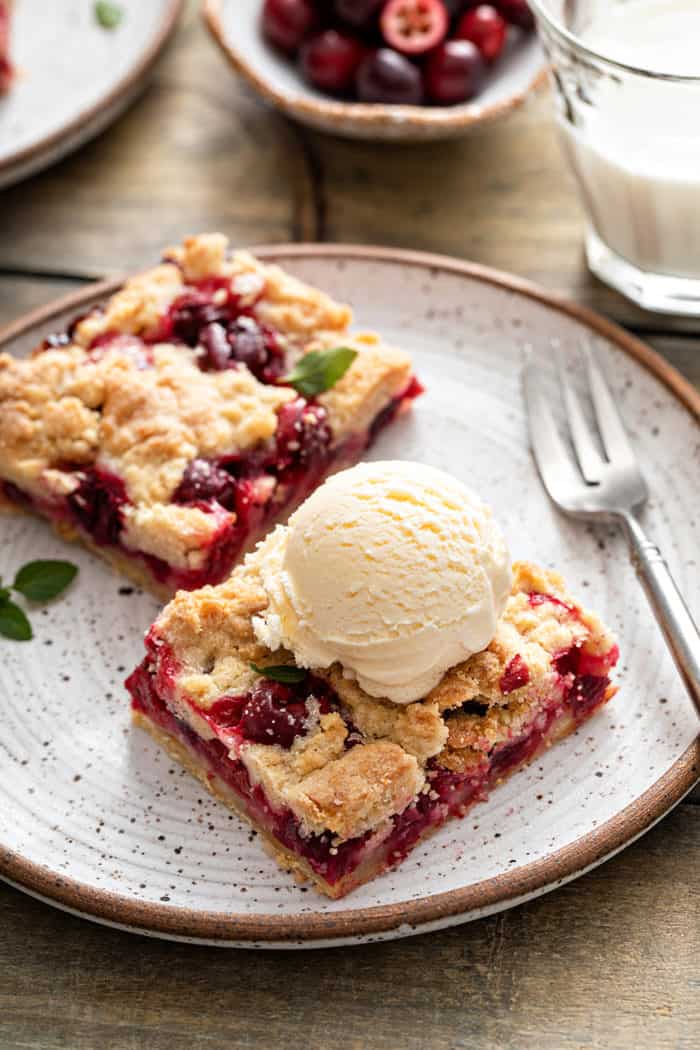 MORE CRANBERRY DESSERTS
Love cranberry desserts? Try my cranberry bar recipe or you can even try putting cranberries in ice cream, like in this spiced cranberry ice cream!
If you only have dried cranberries on hand, try pistachio cranberry holiday cookies or these coffee-shop-famous cranberry bliss bars.