Cranberry Gooey Butter Bars are a holiday spin on the classic gooey butter cake! These bars are tart, tangy, and sweet and oh so pretty when dusted with powdered sugar.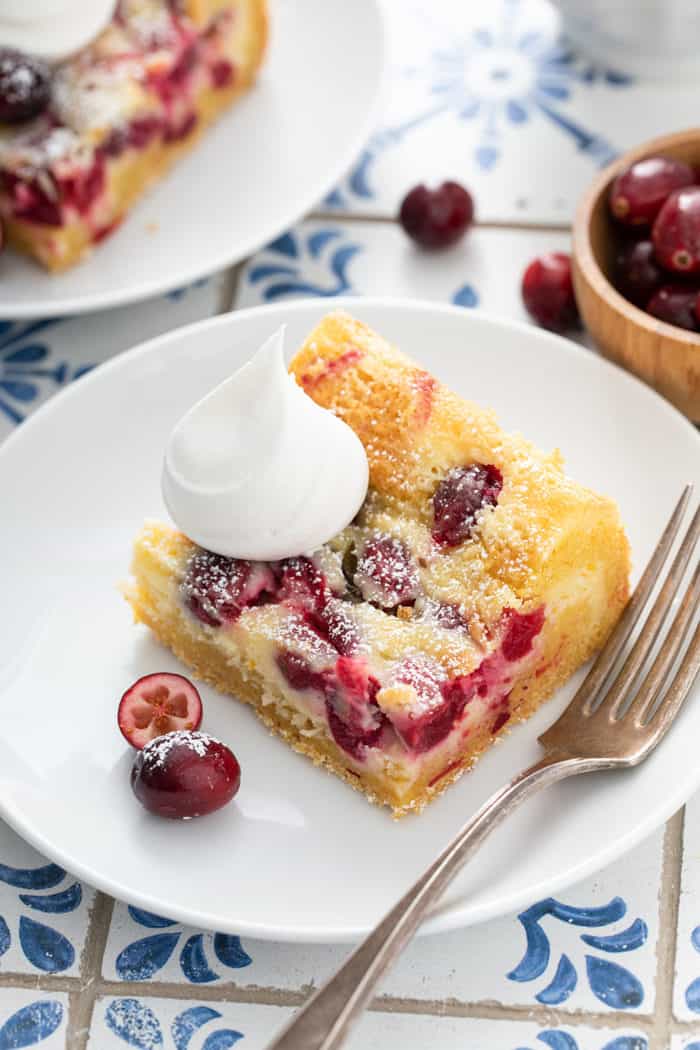 As I mentioned yesterday in my post for Frosted Ginger Cookies, it's full-on holiday treat factory over here. And while I love baking our favorite Christmas cookies, I think bar desserts need a little love around the holidays too.
My gooey butter cookies are some of my favorites, so when the holiday season rolled around I knew I wanted to try a seasonal twist on this classic flavor.
And honestly, what food is more festive during the holidays than cranberries?
Dessert bars are great for the holidays because they are perfectly portioned and are easier to make than cookies.
These cake bars are similar to cranberry crumb bars and cranberry bliss bars, but have a wonderful sweetened cream cheese filling that balances the tart berries.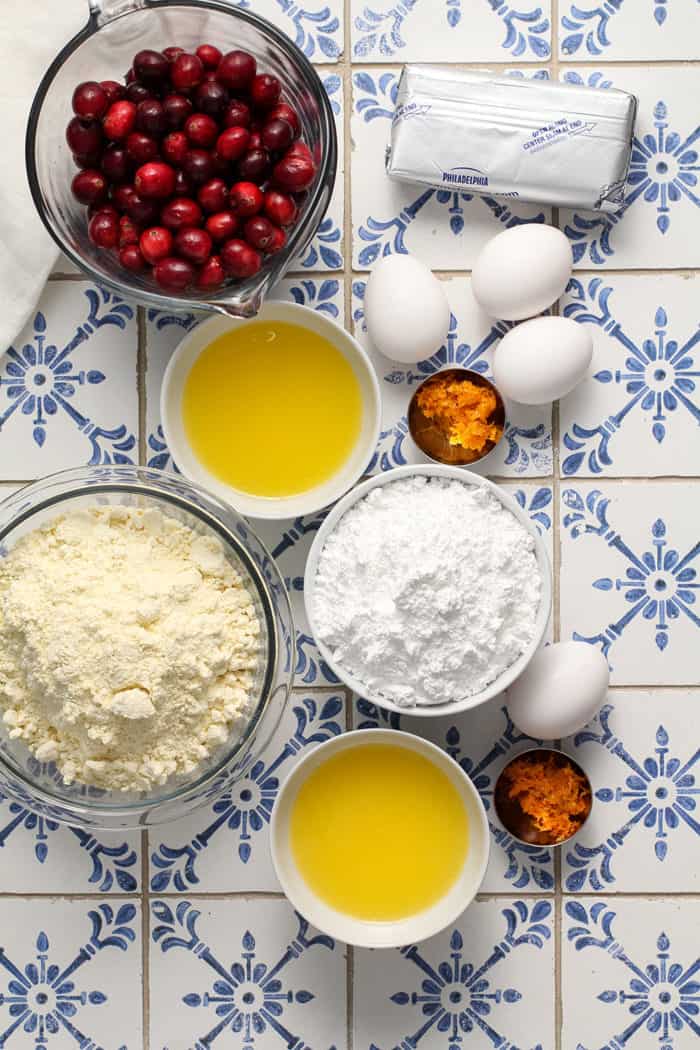 INGREDIENTS FOR CRANBERRY CAKE BARS
One reason I like this recipe is because it uses a shortcut of boxed cake mix, which I find essential during the holidays!
However, if you prefer to make your own, you can use about 3 cups homemade yellow cake mix instead.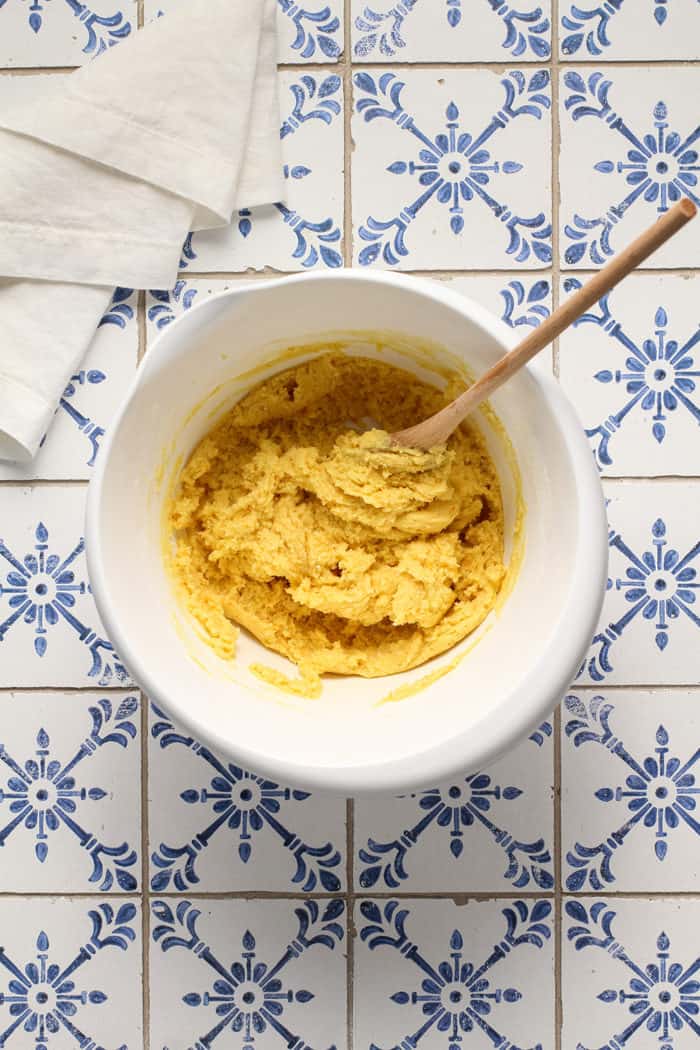 To make these cranberry bars, you'll need:
1 15.25-ounce box yellow cake mix
Unsalted butter
Eggs
Fresh cranberries
1 orange, for zesting
Powdered sugar
Cream cheese
You'll want to make sure the cream cheese is at room temperature before using, so check out my tips for how to soften cream cheese.
If you need the recipe to be gluten free, simply swap in your favorite gluten-free cake mix.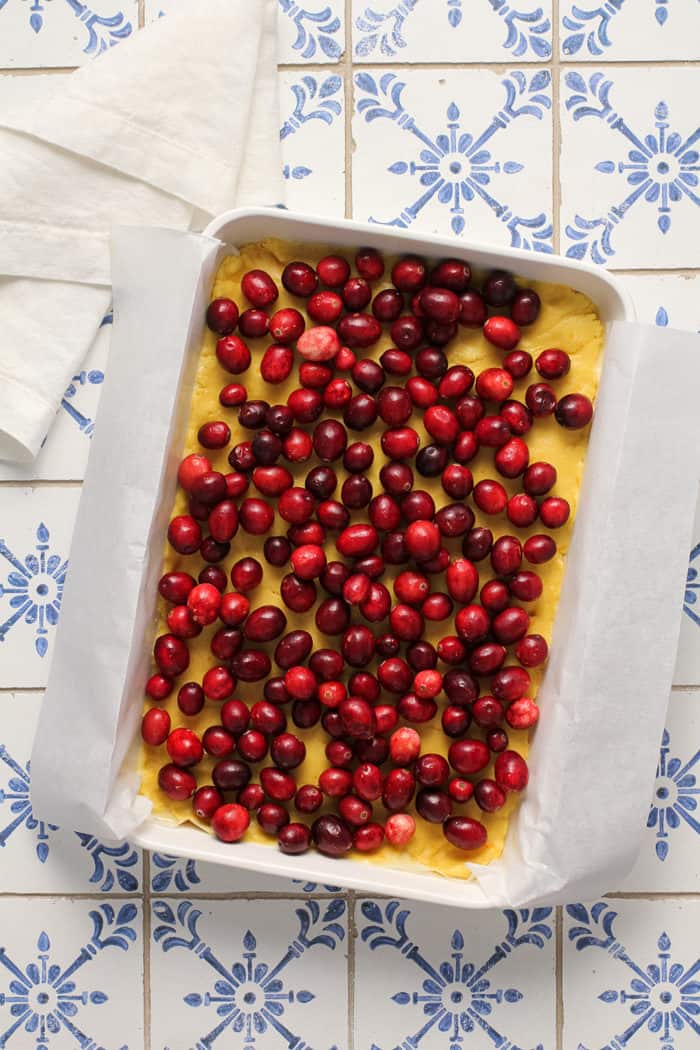 HOW TO MAKE CRANBERRY GOOEY BUTTER BARS
This recipe has two parts: a cake base and the cranberry cream cheese filling.
First, preheat your oven to 350°F. Grab a large 9×13-inch cake pan and line it with parchment paper, then spray with nonstick spray.
This double method prevents the cake from sticking, and allows you to remove it from the pan for easy slicing.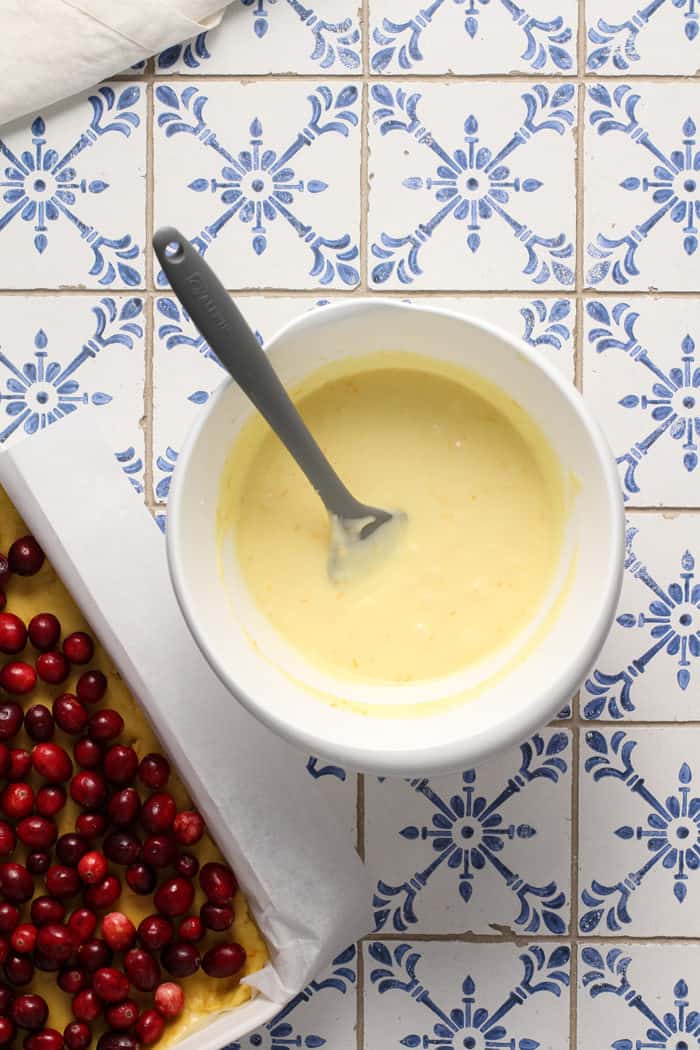 In a large bowl, combine the cake mix, melted butter, egg, and orange zest until completely blended.
Be sure to use fresh zest from an orange, not prepackaged orange peel. A microplane is a great tool for zesting, but you can also use the smallest holes of your box grater.
The batter won't be as runny as if you were making a standard cake. Press it evenly into the pan to form the cake bar crust.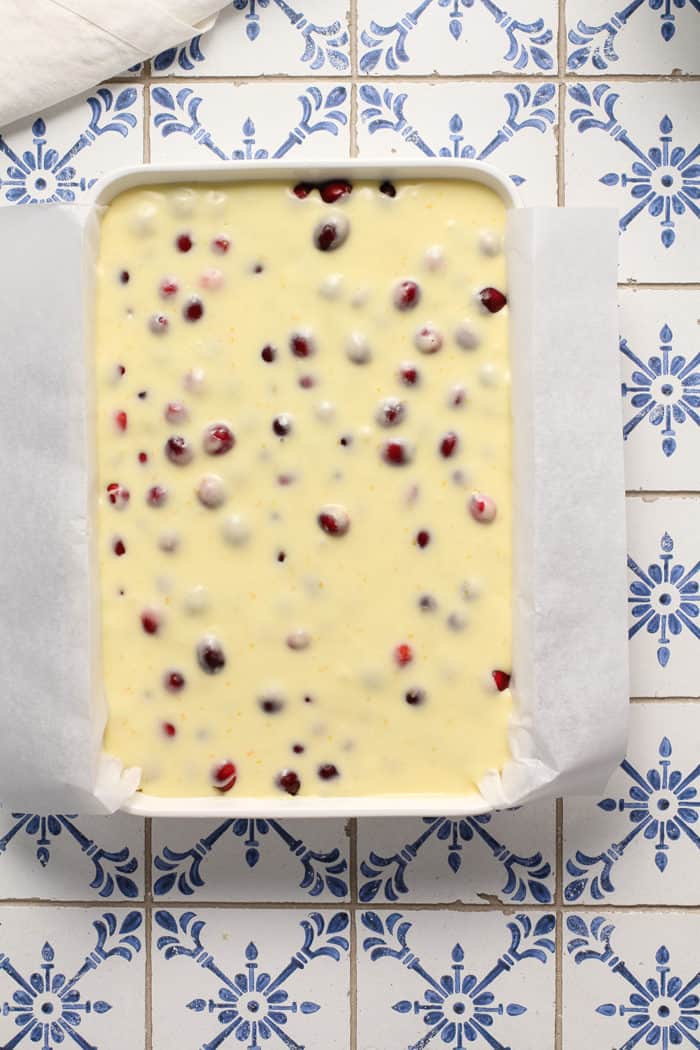 Scatter on the cranberries as evenly as possible.
In another bowl, mix together the softened cream cheese, powdered sugar, and orange zest. A hand mixer is the best tool for blending, or you can use a stand mixer. It should be smooth and free of any lumps.
Once blended, mix in the melted butter, then mix in each egg separately. Be sure to stop and scrape the sides of the bowl as you mix so everything is well-blended.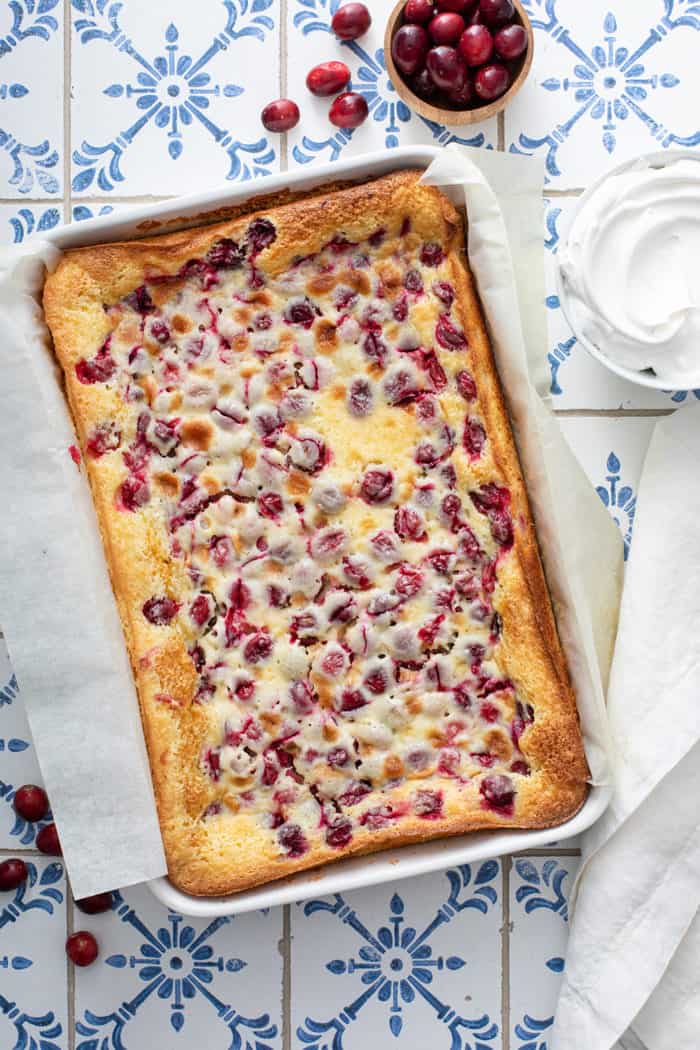 Pour the cream cheese mixture over the top of the cranberries. If needed, rearrange the cranberries so they are evenly dispersed.
Bake the cranberry bars until the top is set and golden. There might be some bubbles or browned spots; that's OK!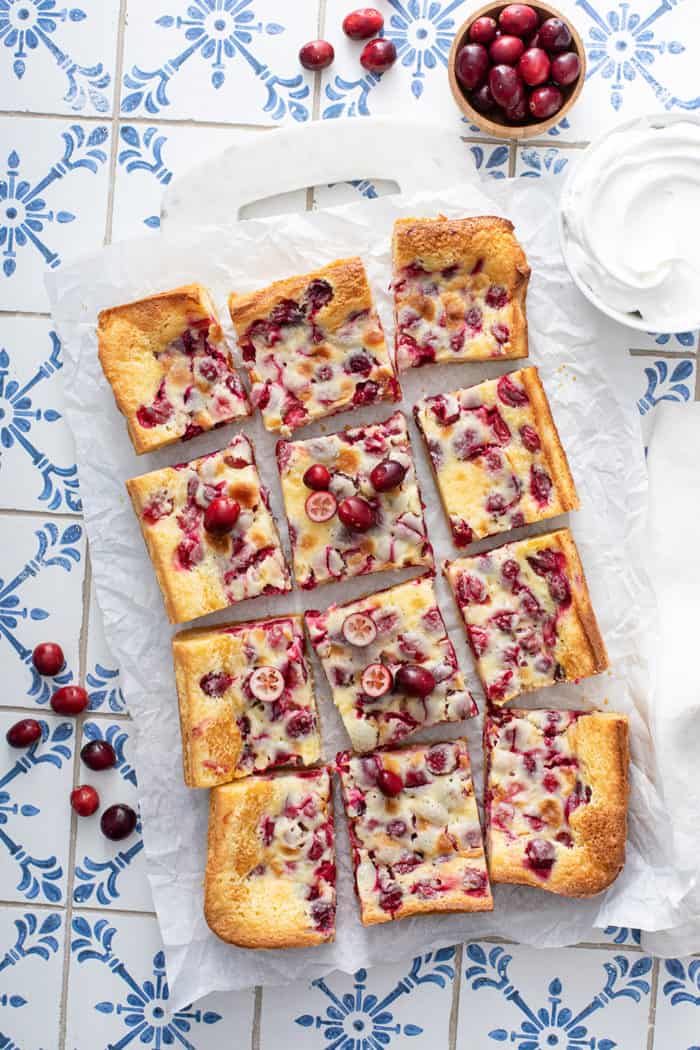 Let cool to room temperature, then cover and chill in the refrigerator for at least 4 hours to set completely.
When you're ready to serve, cut into squares and top with whipped cream or a dusting of powdered sugar.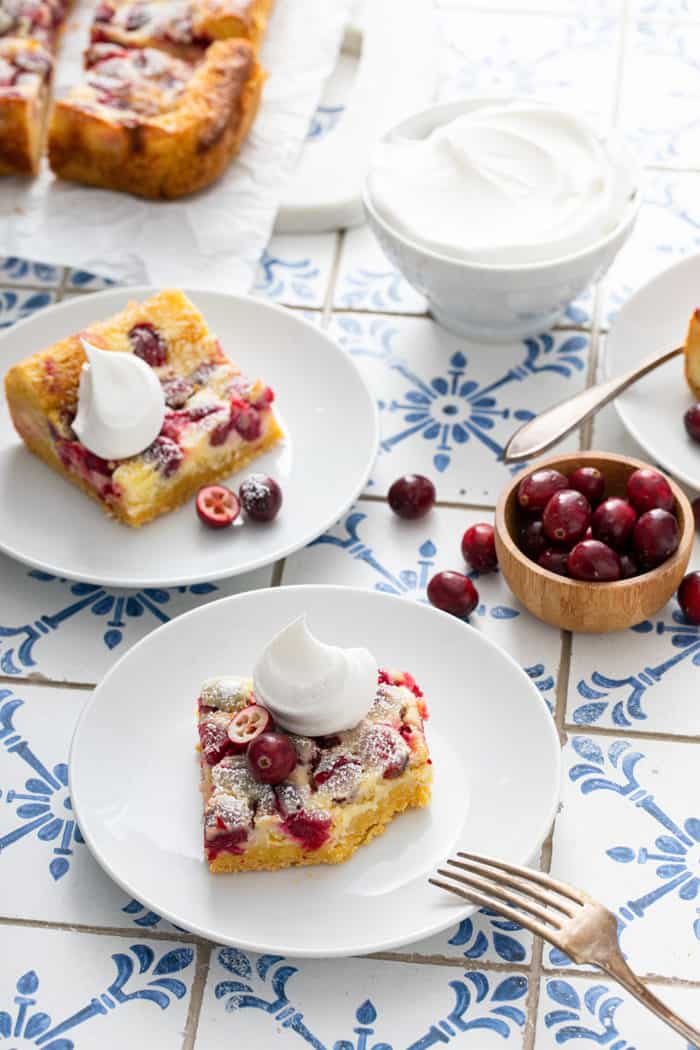 STORAGE TIPS
These cranberry bars will keep in the refrigerator, covered, for up to 3 days.
Be sure to keep them chilled due to the cream cheese.
If you like, you can freeze cranberry cake bars. Cut into individual portions and wrap with plastic wrap, then store in a freezer-safe container for up to 3 months.
These cranberry gooey butter bars are such a great treat. You'll love how easy they are to whip up for your next holiday celebration!