Gooey Butter Cookies have all the delicious flavors of gooey butter cake, but in cookie form. A sprinkling of powdered sugar makes them extra special!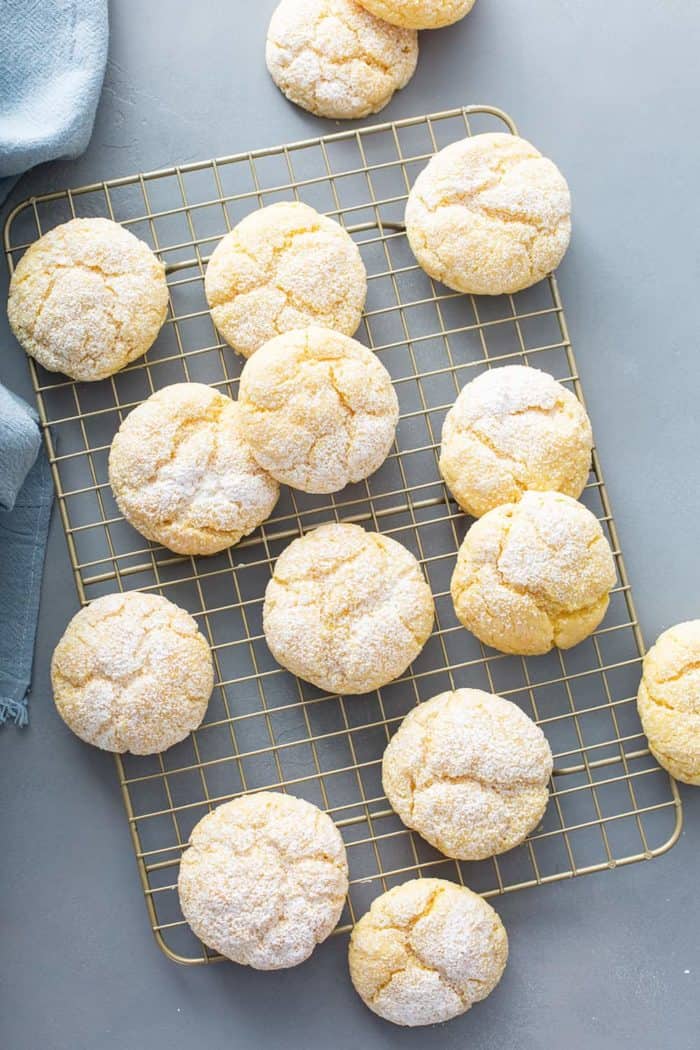 After almost 13 years of blogging here on My Baking Addiction, it's pretty safe to say that I go in phases with what I'm whipping up in the kitchen.
Sure there are seasonal ingredients like pumpkin in the fall and cranberries in the winter, but beyond that, I typically bake up whatever I feel like baking up and right now I'm in a total cookie phase.
From my very favorite chocolate chip cookies and Peanut Butter Blossoms to these Gooey Butter Cookies, I just can't enough of cookie baking.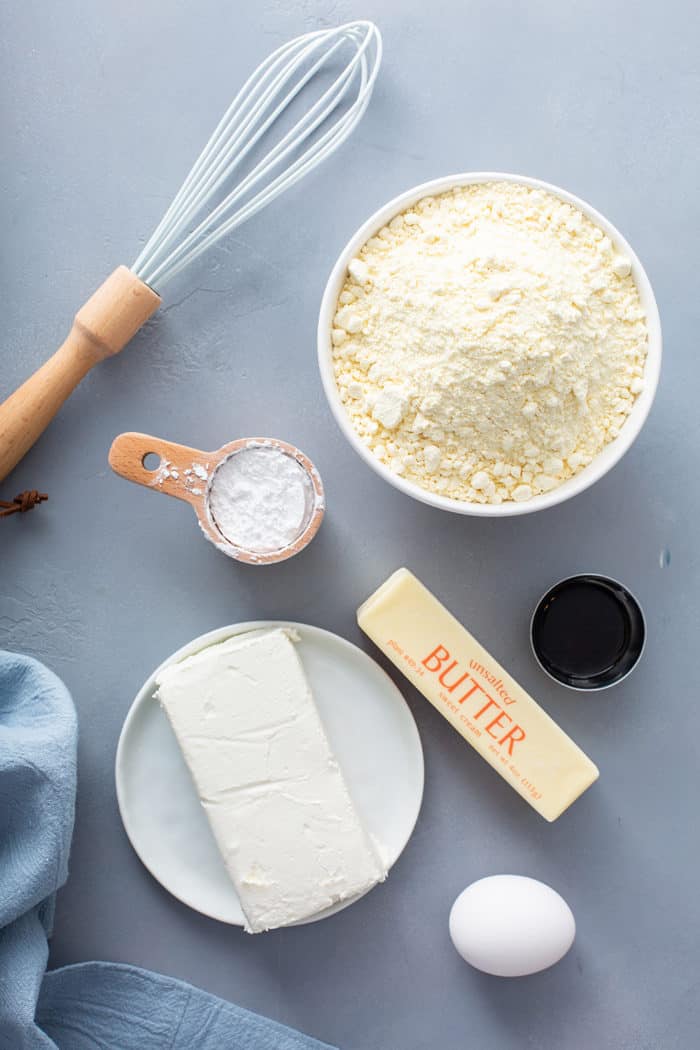 WHAT ARE GOOEY BUTTER COOKIES?
If you're not from the midwest and have never heard of gooey butter cake, you might be confused by the name "Gooey Butter Cookies."
These cookies are a take on gooey butter cake, which is famous in St. Louis, Missouri.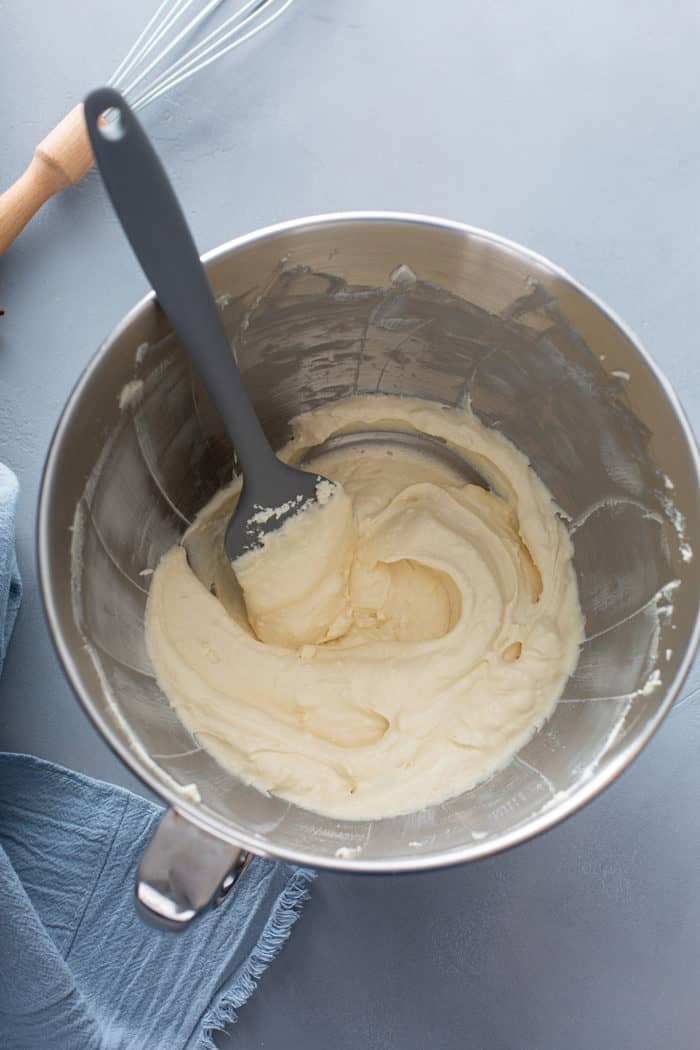 While there's a more complicated traditional recipe, most home bakers in the Midwest make their gooey butter cake with a layer of yellow cake batter, made with cake mix, topped with a cream cheese, butter, and powdered sugar mixture that gets spread on top.
When it bakes up, the cake becomes a bit of a crust with the gooey cream cheese "filling" on top.
These Gooey Butter Cookies use all of the same flavors as the famous cake, but in a more portable form!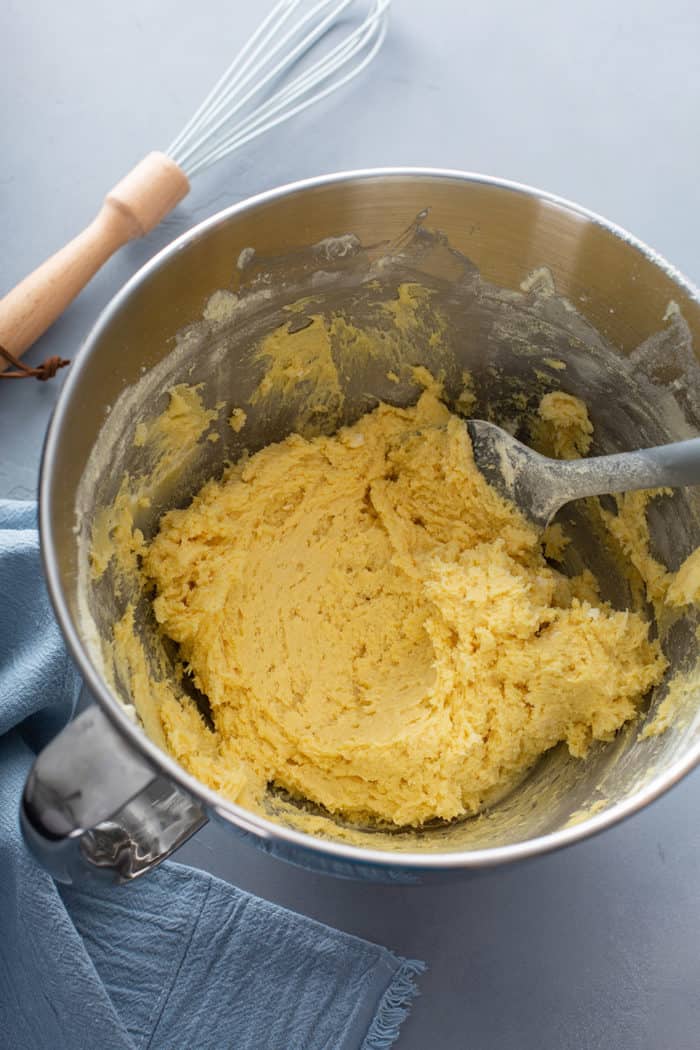 HOW TO MAKE THESE COOKIES
I've long been a huge fan of gooey butter cake – you simply can't go wrong with butter, cream cheese, and sugar, right?
So when I stumbled upon a recipe for Gooey Butter Cookies, I knew they'd instantly become one of my favorites. And since Gooey Butter Cake and cookies both use a boxed cake mix, the recipes come together in no time.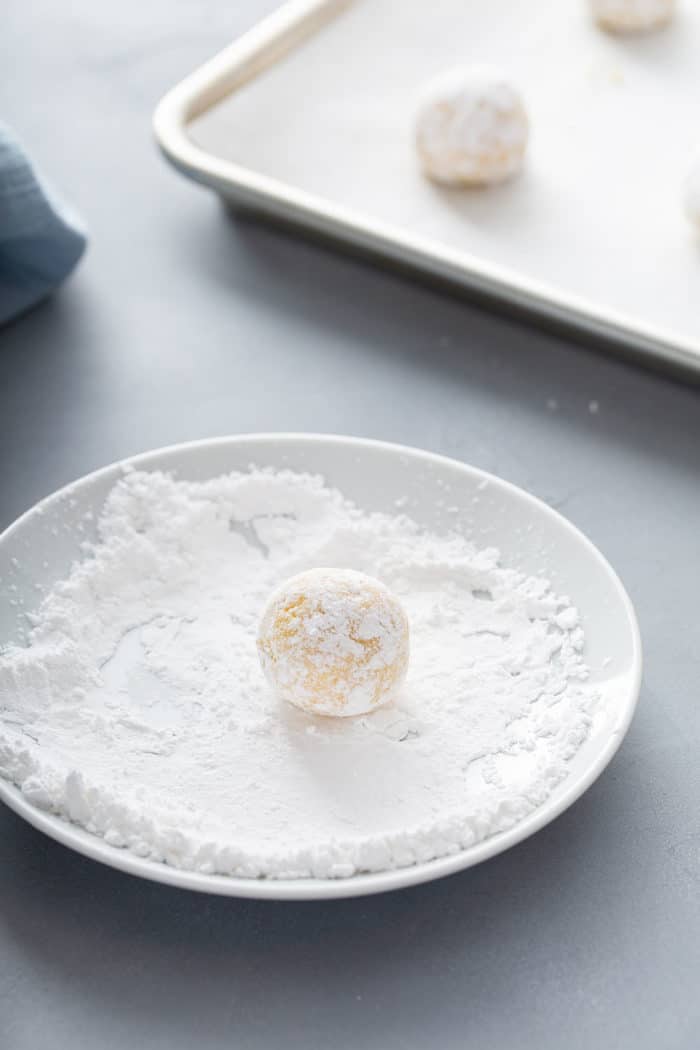 So they're perfect when you're short on time, or have a bit of a cake mix hoarding problem like I do.
To make these cookies, you'll need:
1 8 ounce package Cream Cheese, room temperature
1/2 cup Unsalted Butter, room temperature
1 large Egg, room temperature
1 teaspoon Pure Vanilla Extract
1 box Yellow Cake Mix
1/4 cup Powdered Sugar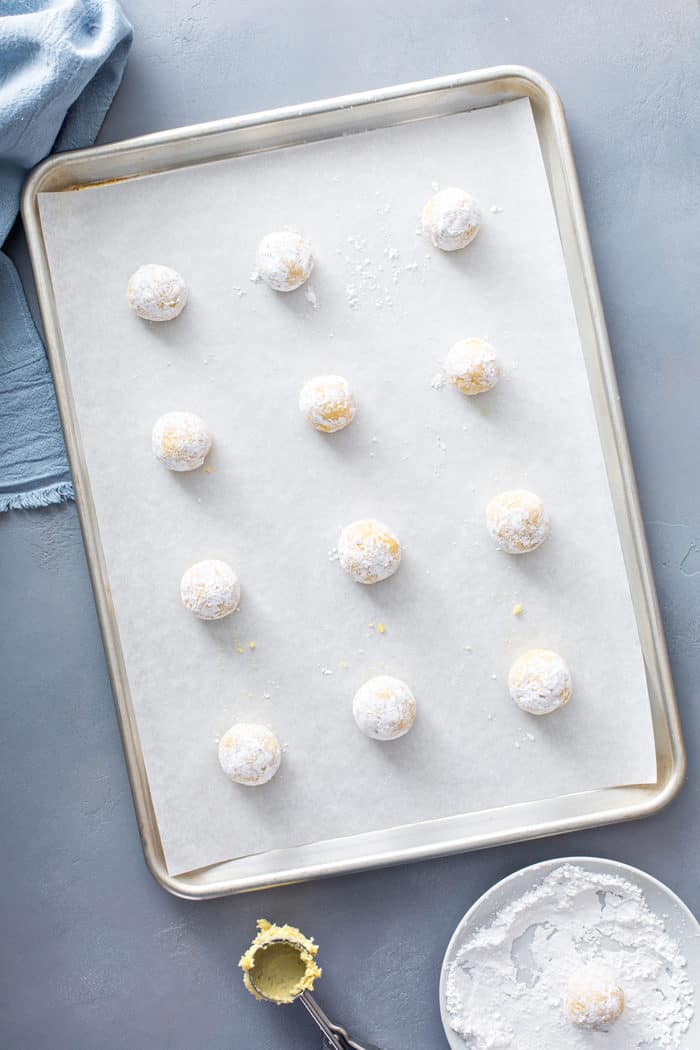 (Psst! Forgot to set out your butter and eggs again? Learn how to bring butter and eggs to room temperature and how to soften cream cheese.)
Mix together the cream cheese with the butter, then add the egg and vanilla. Mix in the cake mix and chill the dough for 1 hour.
You don't technically have to chill the dough before baking, but it makes the dough a lot less sticky and easier to roll. So I recommend it!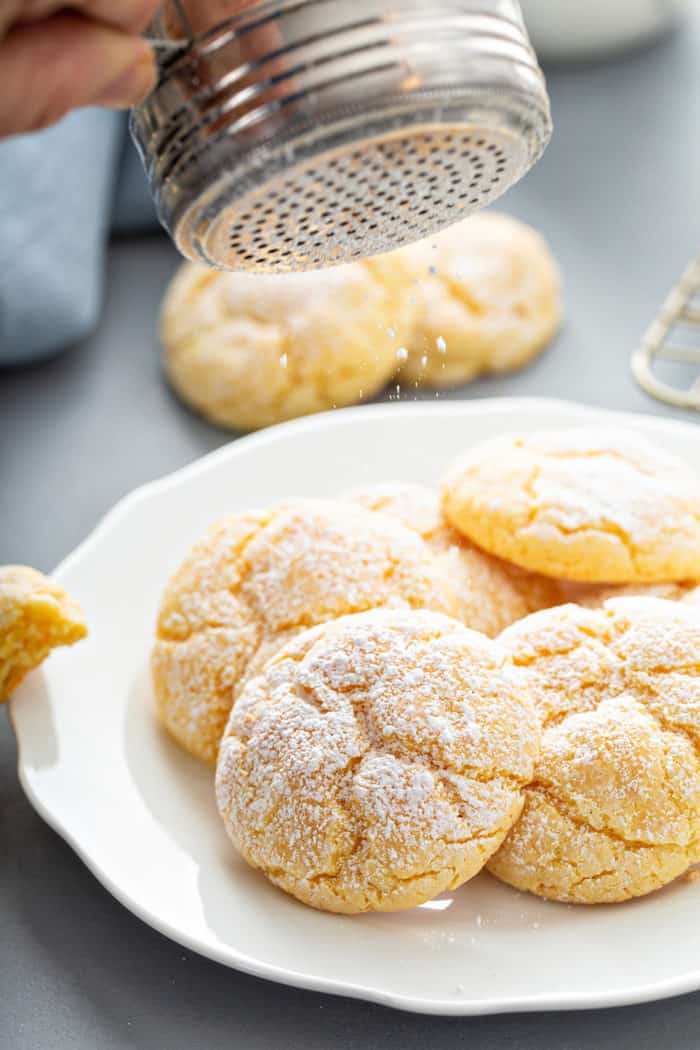 Roll the dough into 1-inch balls and then roll them in powdered sugar. Place them on a lined baking sheet and bake.
Before serving, I like to dust them with a bit more powdered sugar, just like their cake cousin!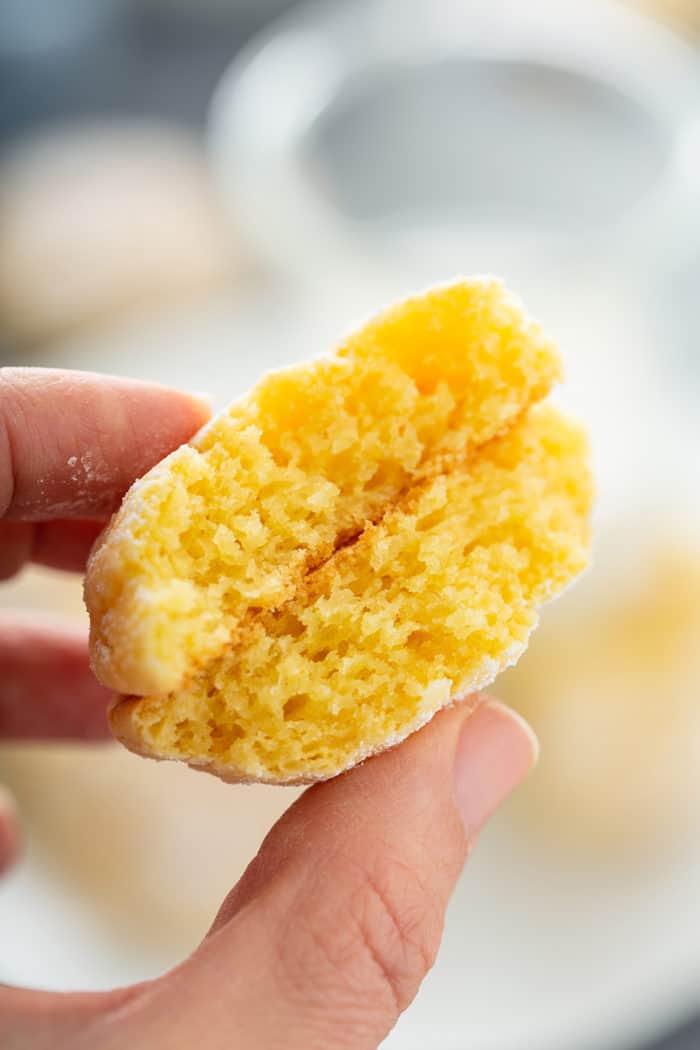 CAN YOU FREEZE THESE COOKIES?
If you want to freeze your Gooey Butter Cookies, the best way would be to freeze the dough before it is baked.
I have a helpful tutorial on how to freeze cookie dough that walks you through the best way to do it.
You could freeze the baked cookies, but they are so soft and cakey that you'll want to freeze them on a baking sheet before putting them in an airtight freezer bag. You don't want them to get smashed by putting them in the bag first!
These Gooey Butter Cookies are soft, cake-like and just plain delicious. Give this recipe a try with lemon cake mix and devil's food cake mix, too!