Chewy gingersnaps are topped with a simple buttercream frosting for wonderfully seasonal Frosted Ginger Cookies! These are so good, you may want to eat them all year 'round.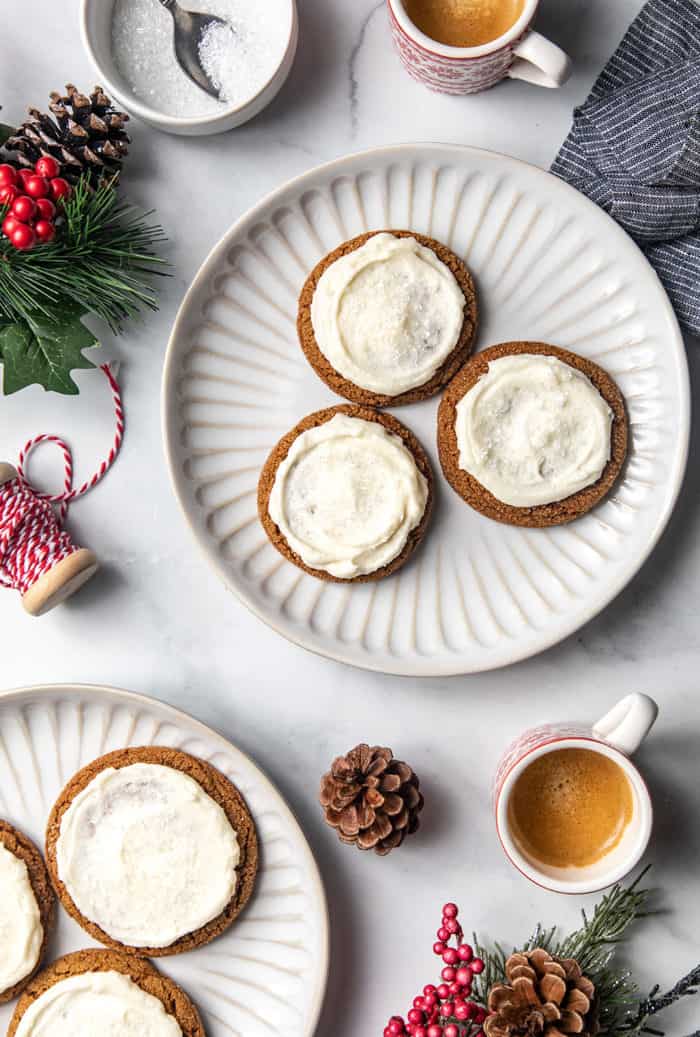 This post is sponsored by Challenge Butter. Thank you for continuing to support the brands that make My Baking Addiction possible.
I am fully in holiday cookie-baking mode. The decorations are up, Elle's Elf on a Shelf is getting into her nightly shenanigans, and my kitchen is a full-on holiday treat factory.
Recipes like my Peanut Butter Blossoms, Snowball Cookies, and Chocolate Crinkle Cookies are always on the list, and there's a good chance I'll be whipping up some Snowflake Sugar Cookies and Coconut Macaroons at some point, too.
We'll eat some of everything, but most will be packaged up with a nice note and given to neighbors, teachers, and maybe even our UPS driver. I mean, he's been at our house a lot this year, ok??
This year, I'm adding these Frosted Ginger Cookies to the rotation, too. They're soft, chewy, and have just the right amount of ginger in them. I think they'll be a hit!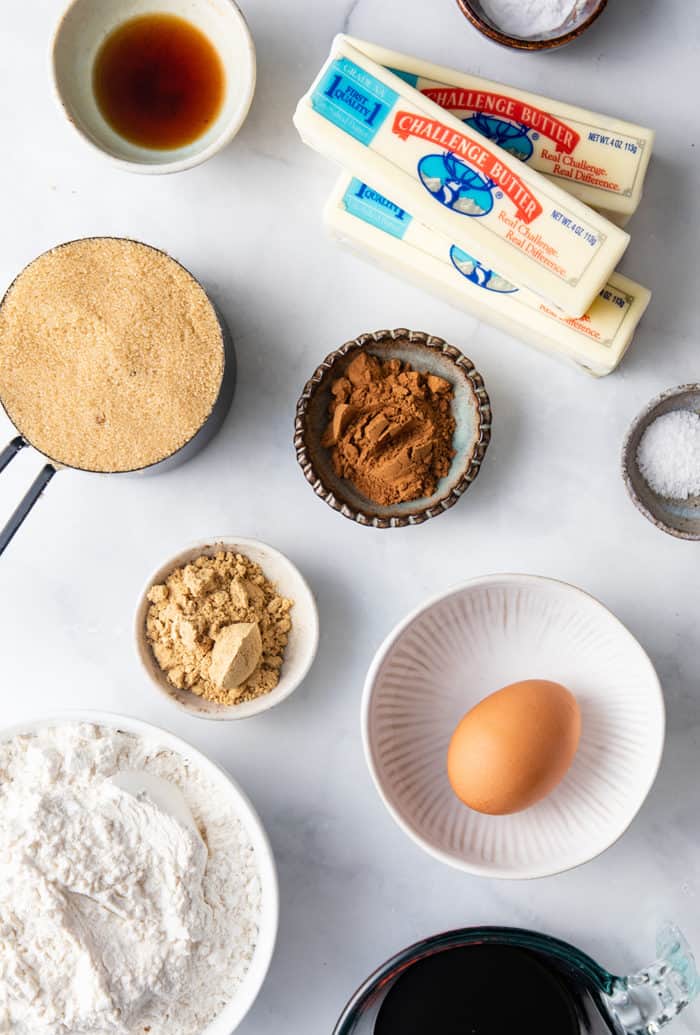 PERFECT CHEWY GINGER COOKIES
I love all kinds of ginger cookies, but my favorite are big, soft, chewy ginger cookies. There's a bakery nearby that makes these huge chewy ginger cookies topped with frosting and crowned with sparkling sugar every year, and every year I am obsessed with them.
As much as I love supporting a local small business, I finally had to admit that buying their cookies on a regular basis was probably getting a little expensive, so I decided it was time to recreate them at home.
These Frosted Ginger Cookies have just the right amount of ginger zip to them, which goes so well with the sweet buttercream frosting on top. They are buttery, rich from the molasses, thin but still chewy, and are just the right size to package up for gifts.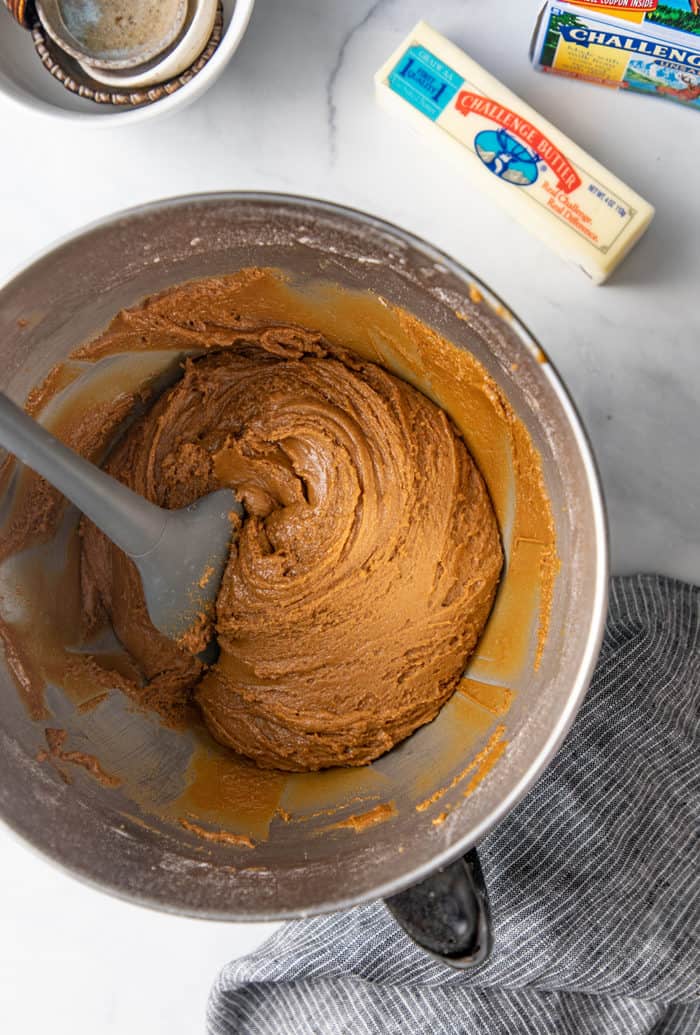 WHICH MOLASSES SHOULD I USE?
If you aren't familiar with baking with molasses, don't get intimidated at the store.
You'll want to get regular unsulfured molasses for these cookies. Sometimes it'll be called "original" or "light" on the bottle, but you can also grab "full flavor."
Just make sure you do NOT use blackstrap molasses. Blackstrap molasses is bitter and will not be good in these cookies.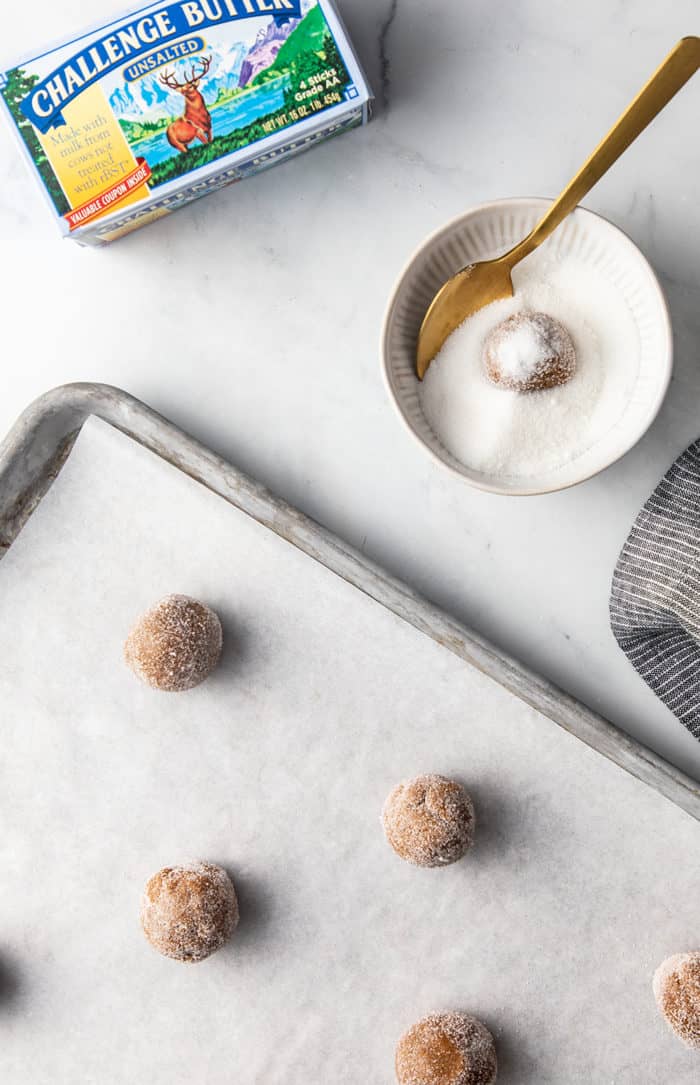 HOW TO MAKE FROSTED GINGER COOKIES
Before you start, grab up the ingredients you'll need for your Frosted Ginger Cookies:
3/4 cup Challenge Unsalted Butter, melted
1 cup packed light brown sugar
1 large egg, room temperature
1/4 cup unsulphured molasses
1 teaspoon pure vanilla extract
2 cups all-purpose flour
2 teaspoons baking soda
1/2 teaspoon salt
2 teaspoons ground cinnamon
1 tablespoon ground ginger
1/3 cup granulated sugar, for rolling cookies before baking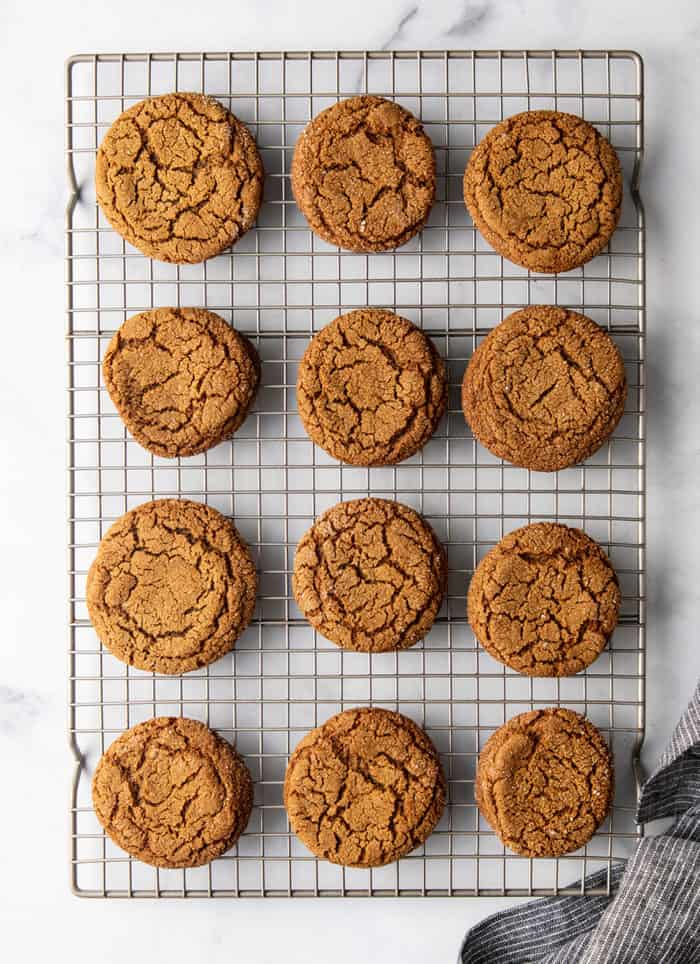 I start these cookies with Challenge Unsalted Butter and also use it in the frosting because, well, it's the best!
Challenge Butter is churned fresh every single day and is made without any artificial preservatives, fillers, or dyes. Its amazing flavor pairs so well with the molasses and ginger in these cookies and makes the buttercream frosting on top *chef's kiss* perfect.
To make the cookies, we use melted Challenge Butter and mix it with the brown sugar and egg until smooth, then mix in the molasses and vanilla extract.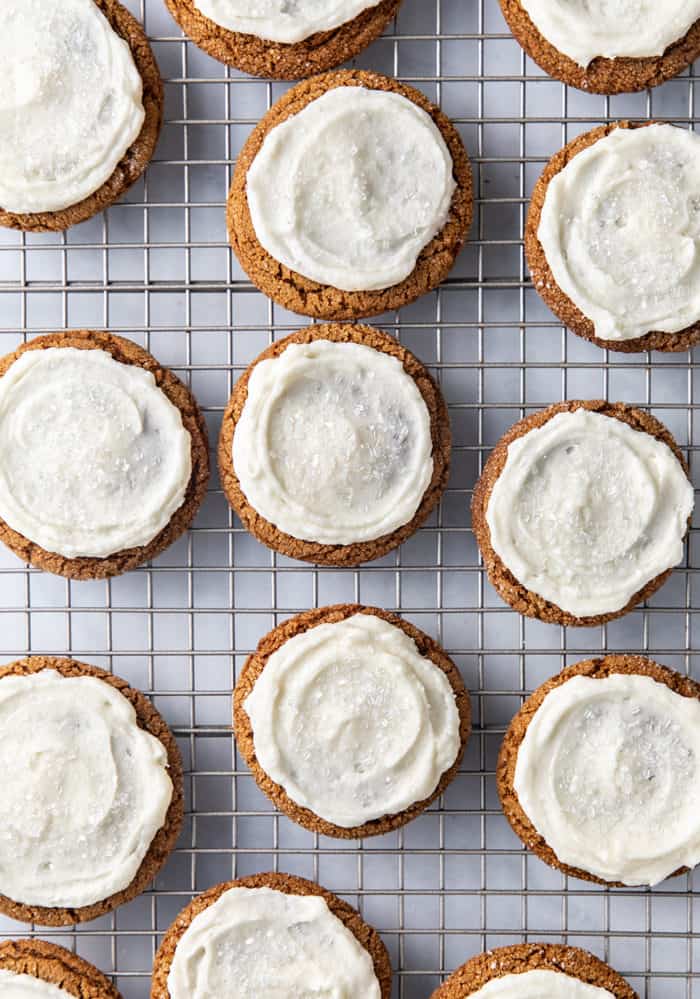 You can use a stand mixer or an electric mixer to do this, but you can also use a whisk and some good old-fashioned elbow grease if you don't want to bust out your mixer. If you're making these with kids, sometimes I think it's more fun to make them all by hand, without the mixer!
In a separate bowl, whisk together the dry ingredients. Gradually add them to the wet ingredients and mix until just combined, then cover and refrigerate the dough for at least 2 hours.
When you're ready to bake, use a cookie scoop to scoop out the dough and roll it into balls. Roll the dough balls in granulated sugar, then place them on a lined baking sheet about 2 inches apart.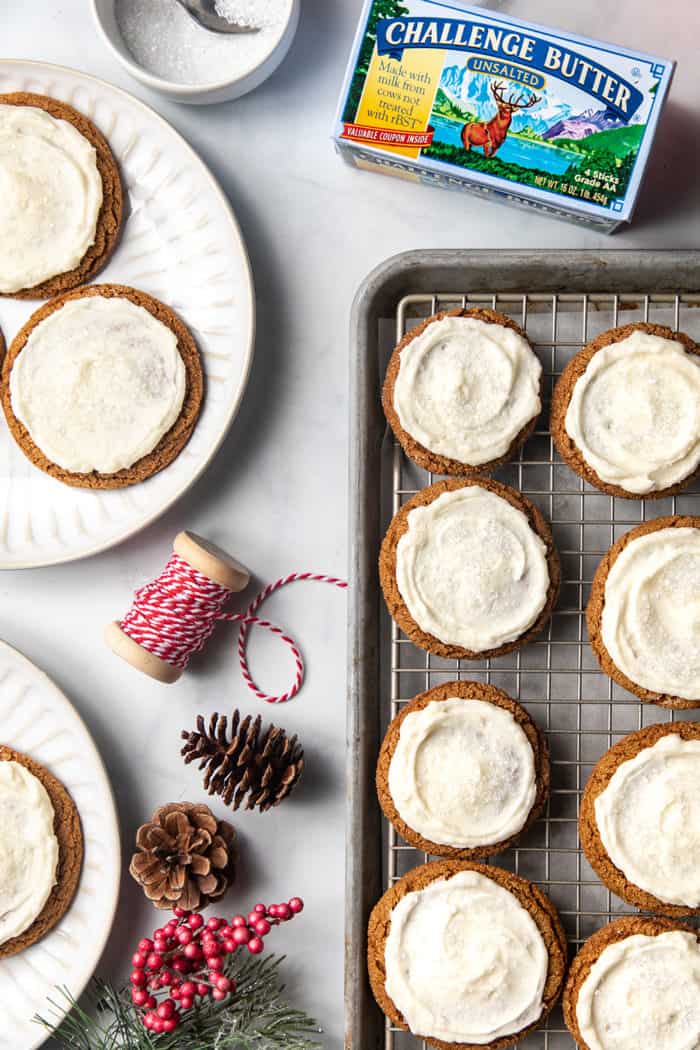 Don't forget, these ginger cookies will spread quite a bit so you want to give them a lot of room!
Bake the cookies for about 10-12 minutes, then let them cool on the baking sheet for 5 minutes before moving them to a wire rack to cool completely.
Once the cookies are completely cool, whip up the simple buttercream frosting and spread it on the cookies. I like to finish them with coarse sugar for a beautiful, wintery look. It reminds me of snow!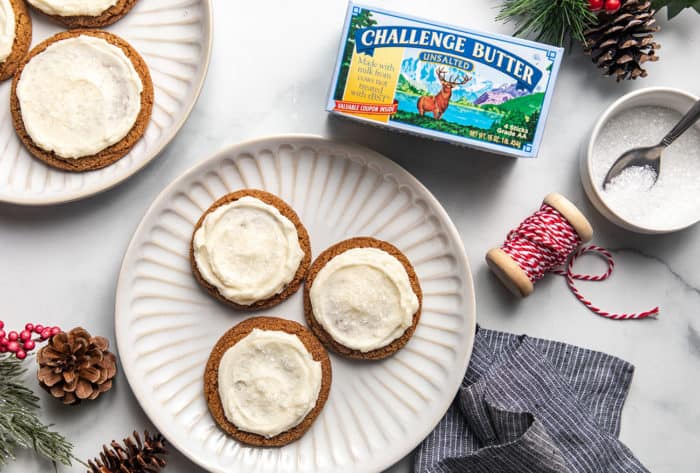 STORAGE AND FREEZING TIPS
Since the frosting has a good bit of butter in it, I recommend storing these Frosted Ginger Cookies in the refrigerator, in an airtight container, for up to 3 days.
If you want to freeze the cookies, you can do that before or after you frost them.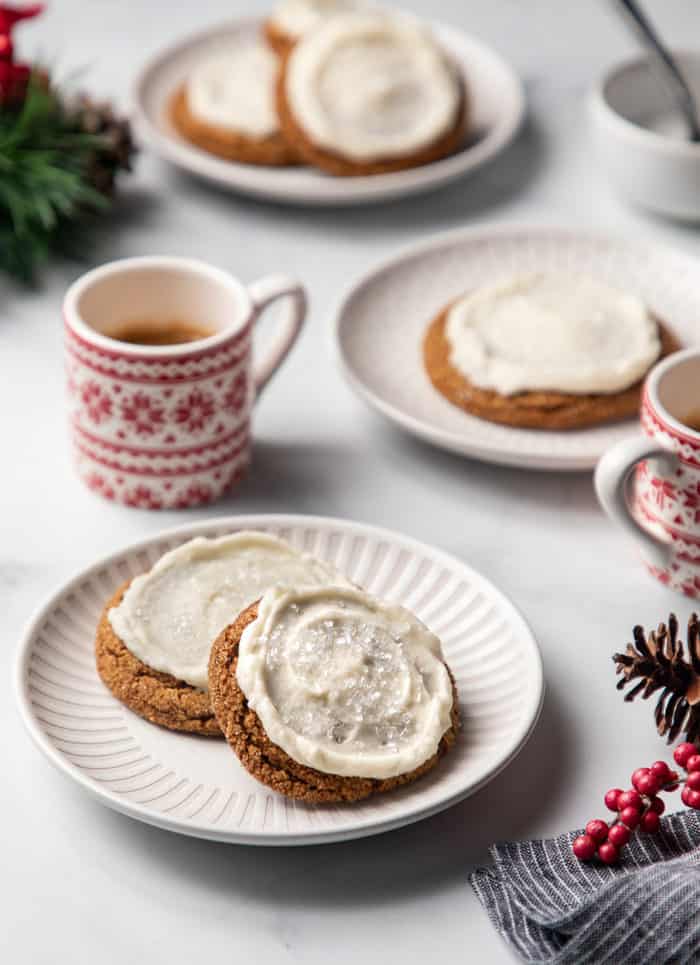 To freeze the unfrosted cookies, place them in an airtight container or a zip-top freezer bag and freeze for up to 1 month. Let them thaw at room temperature before frosting and serving.
To freeze the frosted cookies, place them in an airtight container with layers of parchment paper between them. Freeze for up to 1 month.
If you want to get really adventurous, you could follow my instructions for how to freeze cookie dough and freeze the balls of dough (before you roll them in granulated sugar). Just make sure to roll them in sugar before baking!