These Coconut Macaroons are sweet, chewy, and packed with coconut and almonds. Package them up for someone you love or add them to your holiday cookie platter!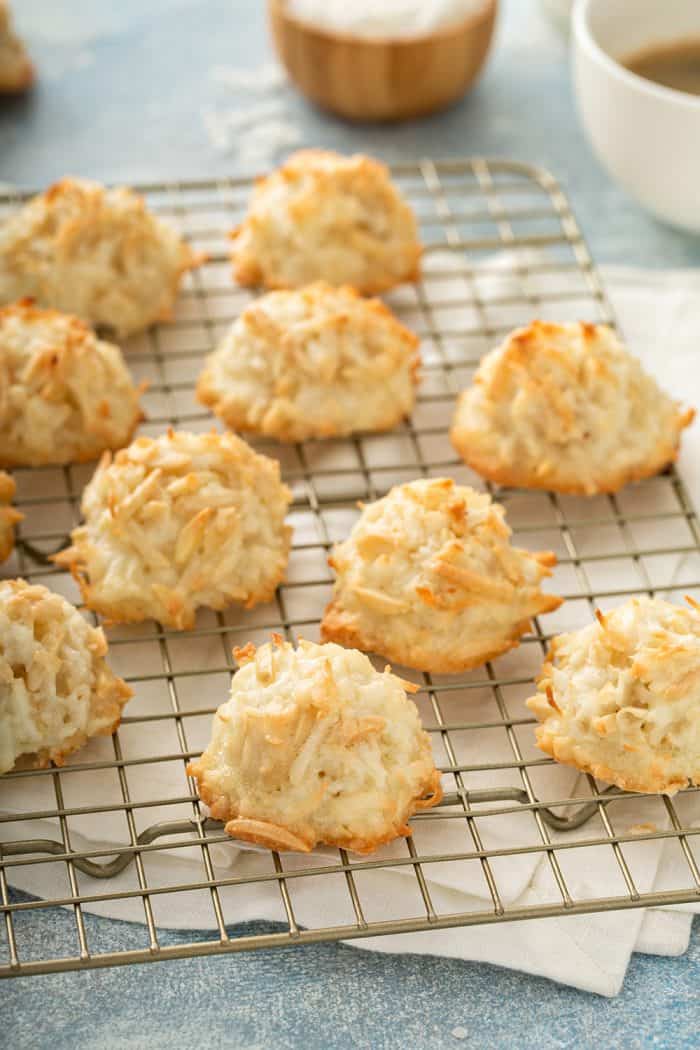 Obviously the holidays are looking a lot different for many of us this year, but I don't think a low-key Christmas is going to stop me from baking all the cookies.
Of course I have my faves that I bake year after year, such as my favorite chocolate chip cookies, snowball cookies, peanut butter cup cookies, mint chocolate cookies and my personal fave – peanut butter blossoms.
But this year I am thinking about bringing some new cookies to the table.
Hello cornflake cookies, ambrosia cookies and coconut macaroons.
I mean, really what else do I have to do aside from bake cookies and wrap presents? The answer is – not much.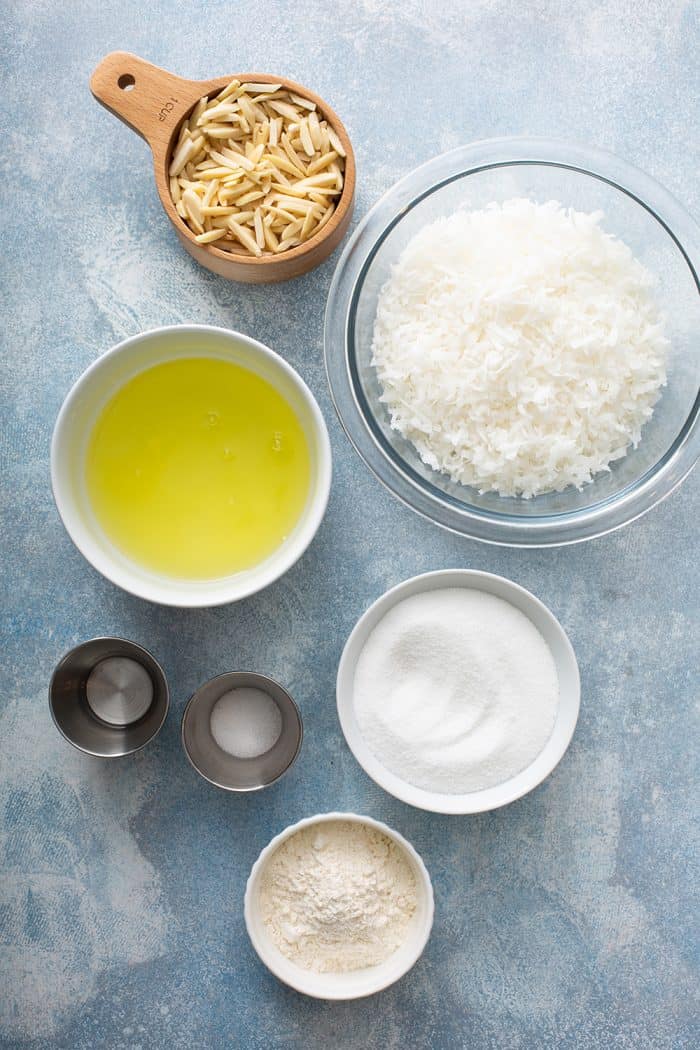 WHAT ARE COCONUT MACAROONS?
Have you ever had a coconut macaroon?
Not to be confused with a macaron. Macarons are those fancy-pants cookies made from almond meal. While they're delicious, they're finicky to make.
Not exactly something I'm bothering with these days.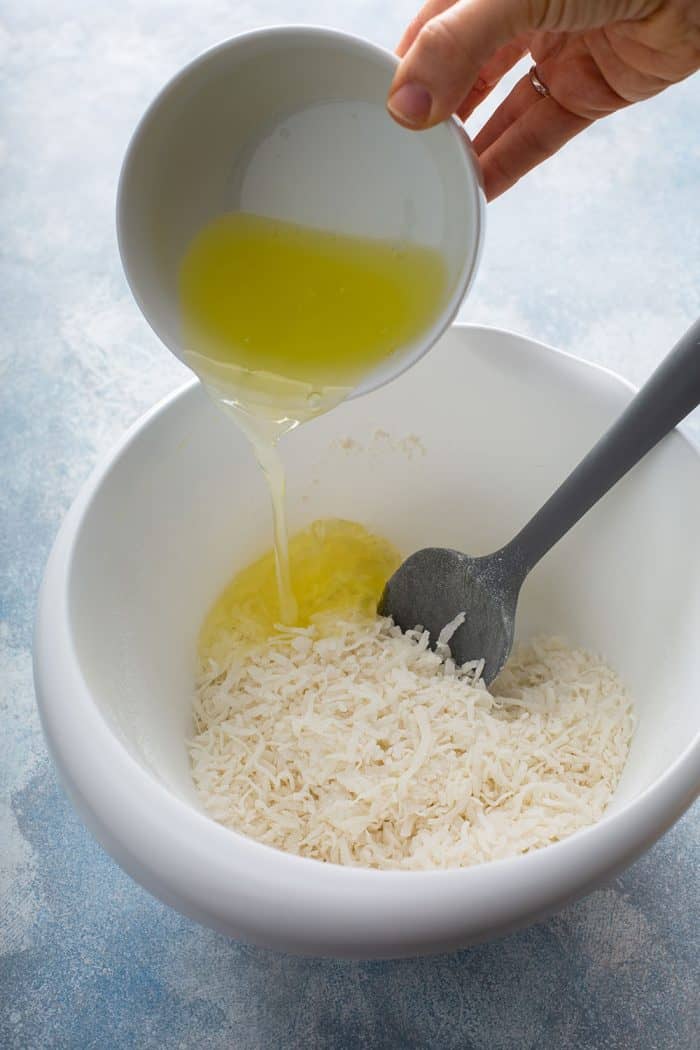 Coconut macaroons, on the other hand, are delightful little cookies made from shredded coconut held together with egg whites and sugar. They are super chewy and the ideal cookie for any coconut lover.
I think they look like little balls of snow, which makes them perfect for the holiday season, but honestly I love eating them year-round.
There are a few different ways to make macaroons, but I like this particular recipe because it is so easy.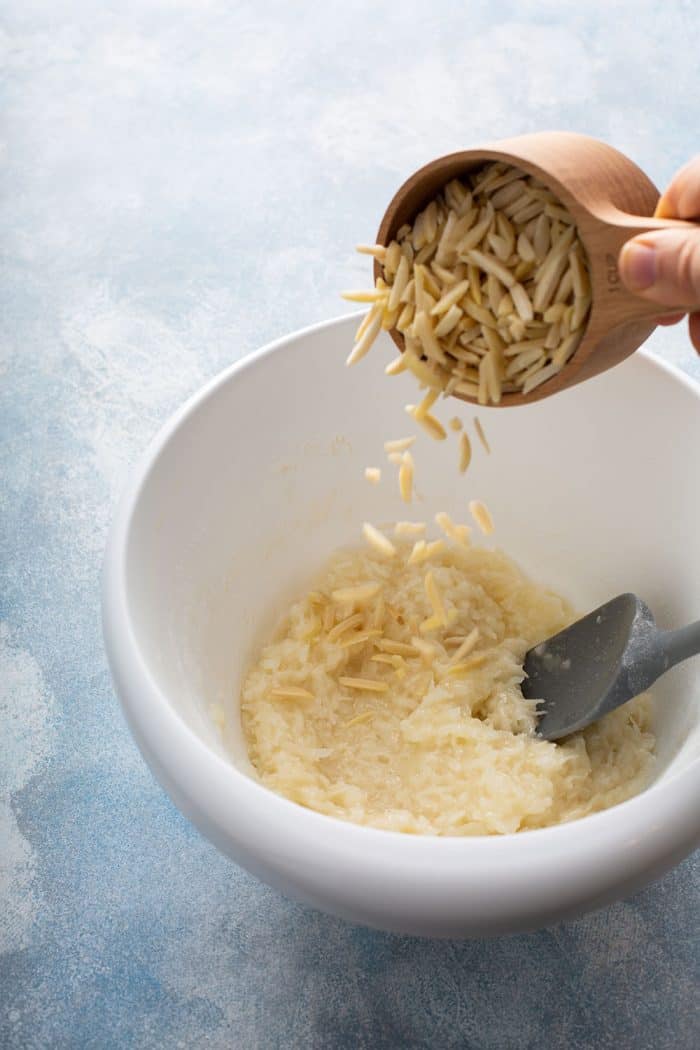 COCONUT AND ALMONDS: A GREAT HOLIDAY COMBO
Another thing I really love about this particular recipe is that it marries almond together with the coconut.
I think coconut often gets thought of as a summery flavor. Probably because it is so often paired with citrus or other tropical fruits, like in Key Lime Pie Bars or Chewy Lime Sugar Cookies.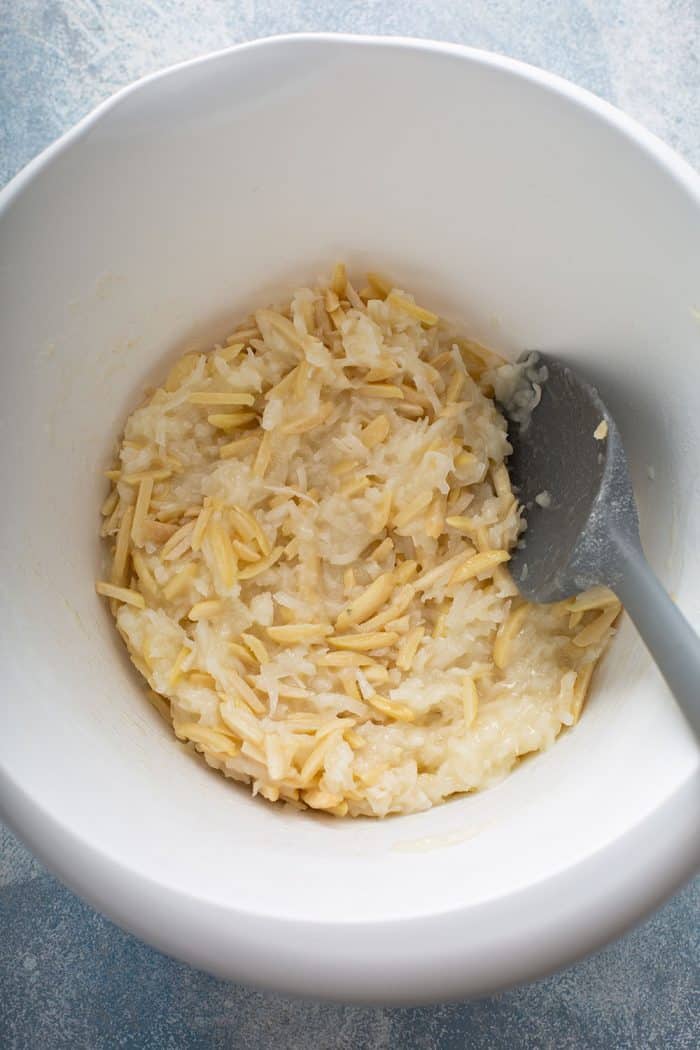 But coconut actually goes so amazing with almonds! And there's something about the combo that just feels like the holidays to me.
These macaroons use sliced or slivered almonds in addition to the shredded coconut. The recipe also uses almond extra for an extra hit of flavor.
If you don't love almond extract you can always leave it out. But I am a big fan of the flavor it adds to cookies, so I love it in this recipe.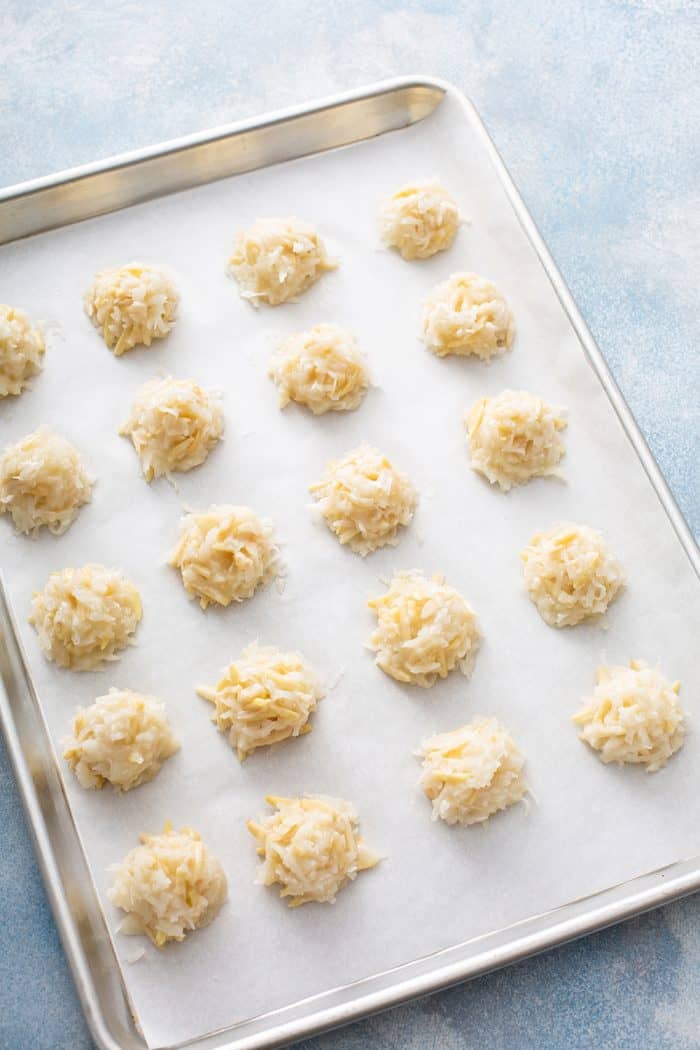 HOW TO MAKE THESE COCONUT ALMOND MACAROONS
Even with adding almonds and almond extract to this recipe, you still won't need very many ingredients for these cookies:
2 ⅔ cups sweetened flaked coconut
⅔ cup sugar
¼ cup flour
½ teaspoon salt
4 egg whites
¼ to ½ teaspoon almond extract
1 cup sliced or slivered almonds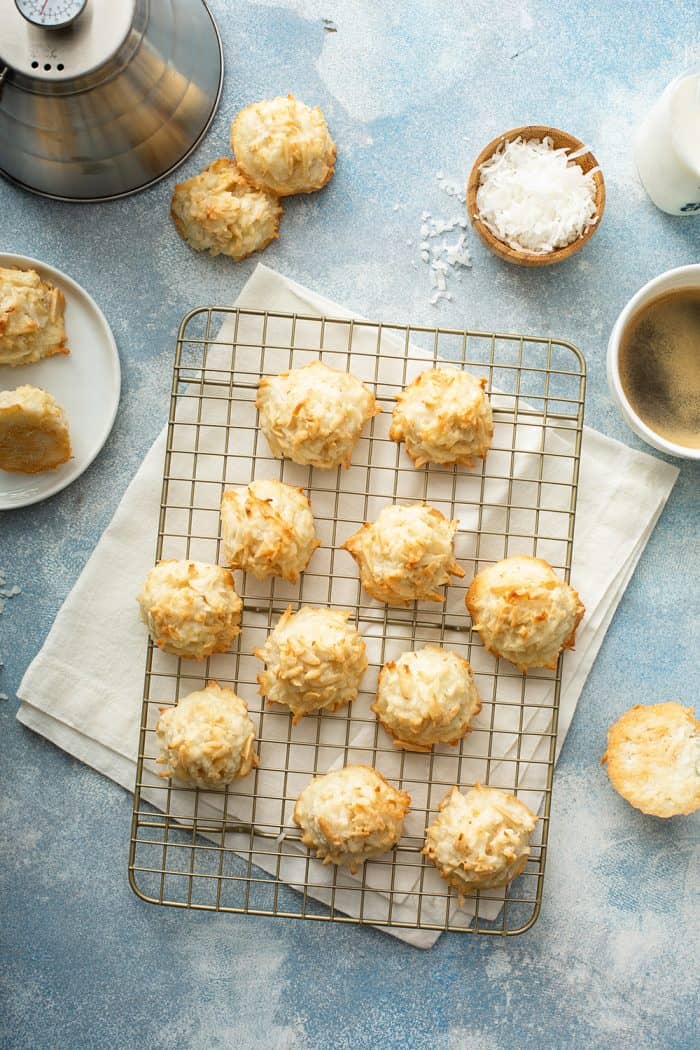 To make these macaroons, mix together the coconut, sugar, flour, and salt in a large bowl. Stir in the egg whites and the almond extract, then mix in the almonds.
Use a cookie scoop to drop the mixture onto parchment-lined baking sheets. Because these cookies won't rise, you don't need to leave as much space between them as if you were making Cornflake Cookies or Chai Sugar Cookies, for example.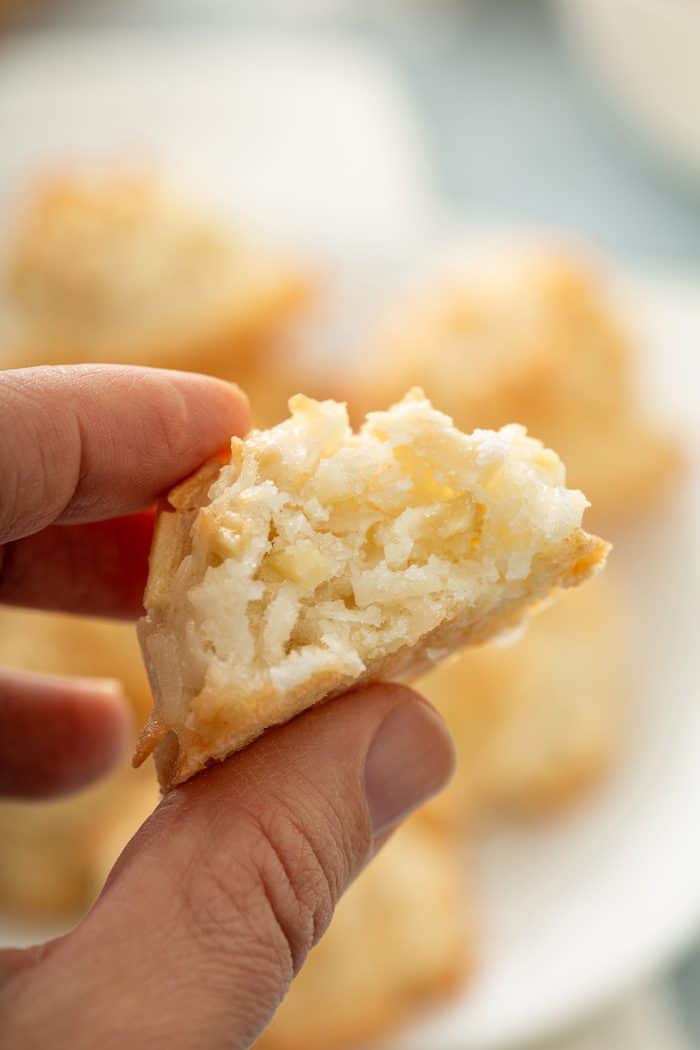 Bake the Coconut Macaroons for about 20-25 minutes or until the edges are golden and the outsides are dry.
Go ahead and remove them from the baking sheets to a cooling rack right away. Let them cool completely before packaging them up and gifting them to loved ones.
(Or save them all for yourself. Whichever.)