Mint Chocolate Cookies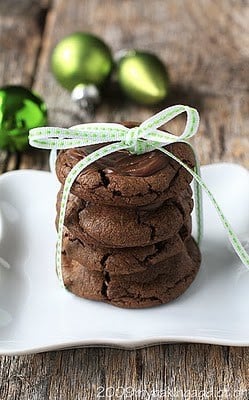 Only 9 days until Christmas…have you started baking your holiday cookies yet? If not, ya better hop to it! I am a huge procrastinator in almost every aspect of my life… I tend to think I work better under pressure (although my friends and fam may beg to differ). With that being said, I have very little shopping done and no cookies in the freezer! If you are at all like me and need to check some people off of your holiday list, this is the perfect recipe for you!
If you make these delectable cookies and put them into a cute holiday tin or box, I guarantee you will bring a smile to someone's face!
These Mint Chocolate cookies are easy, fun to make and all kinds of delicious. The taste is very reminiscent of Girl Scout Thin Mints, but in my opinion, the texture is much better! Growing up I always remember my dad buying Thin Mints by the trunk load (okay maybe a slight exaggeration), and stockpiling them in our freezer; he was convinced they tasted better cold!
To this day, I still buy them, freeze them and eat them frozen while thinking of my dad with every bite! You can bet I will be taking some of these to town when I visit the pops for Christmas!
Thanks so much for stopping by, have a great day and get to baking!
Like what ya see and don't want to miss a sweet treat? Subscribe to My Baking Addiction!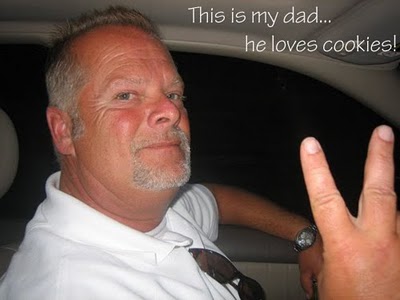 P.S. Love ya, Dad!

Mint Chocolate Cookies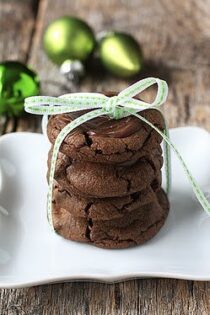 Ingredients:
3/4 cup butter
1 1/2 cups packed brown sugar
2 tablespoons water
2 cups semisweet chocolate chips
2 eggs
2 1/2 cups all-purpose flour
1 1/4 teaspoons baking soda
1/2 teaspoon salt
36 chocolate mint wafer candies (I used Andes Mints)
Directions:
1. In a large pan over low heat, cook butter, sugar and water until butter is melted. Add chocolate chips and stir until partially melted. Remove from heat and continue to stir until chocolate is completely melted. Pour into a large bowl and let stand 10 minutes to cool off slightly.
2. At high speed, beat in eggs, one at a time into chocolate mixture. Reduce speed to low and add dry ingredients, beating until blended. Chill dough about 1 hour.Preheat oven to 350 degrees F (175 degrees C).
3. Roll dough into balls (I used my 1TBS cookie scoop to measure) and place on ungreased cookie sheet about 2 inches apart. Bake 8-10 minutes. While cookies are baking unwrap mints and divide each in half. When the cookies come out of the oven, put 1/2 mint on top of each cookie. Let the mint sit for up to 5 minutes until melted, then spread the mint on top of the cookie.
Adapted from allrecipes.com
All images and text ©
Follow Jamie on Instagram. We love to see what you're baking from MBA! Be sure to tag @jamiemba and use the hashtag #mbarecipes!
[pinit]
This post may contain affiliate links. We are a participant in the Amazon Services LLC Associates Program, an affiliate advertising program designed to provide a means for us to earn fees by linking to Amazon.com and affiliated sites.