If you love salty-sweet desserts, these blondies are for you! These Salted Caramel Blondies are packed with sweet caramel bits, chocolate chips, and – as an added surprise – salty pretzel pieces.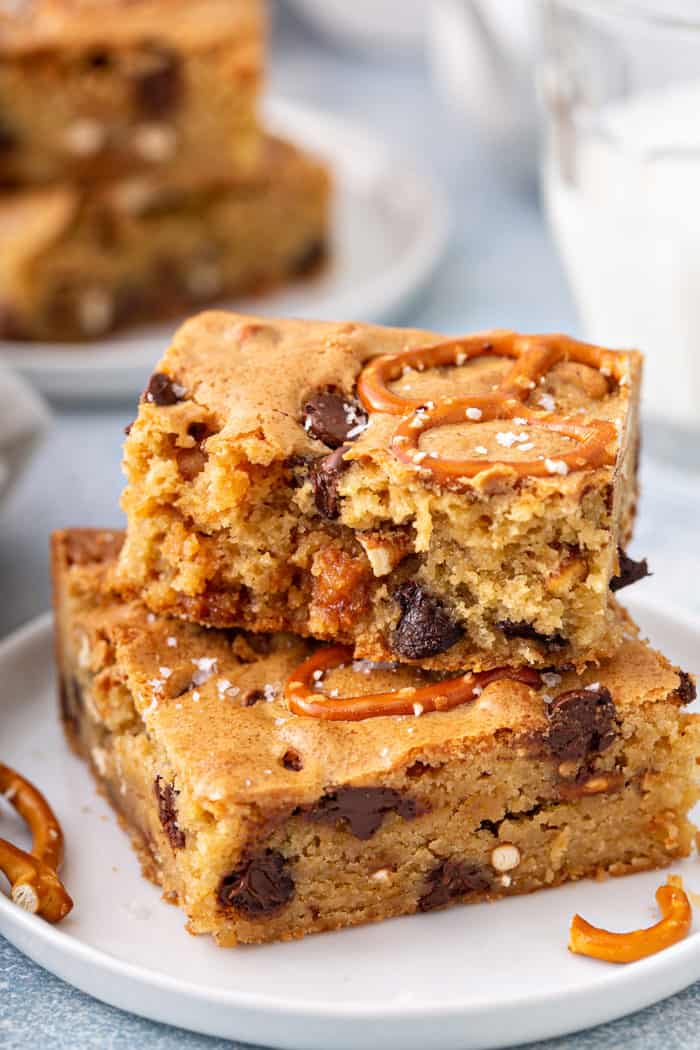 We've been blessed with really great weather here in Ohio for the past couple of weeks, which has been an awesome start to summer break and enabled us to hang out at the pool almost every day.
However, in recent days we've been seeing a ton of rain which has kept us indoors watching funny YouTube videos, crafting and of course – baking up some delicious treats like these sweet and salty Salted Caramel Blondies with yummy bites of pretzels!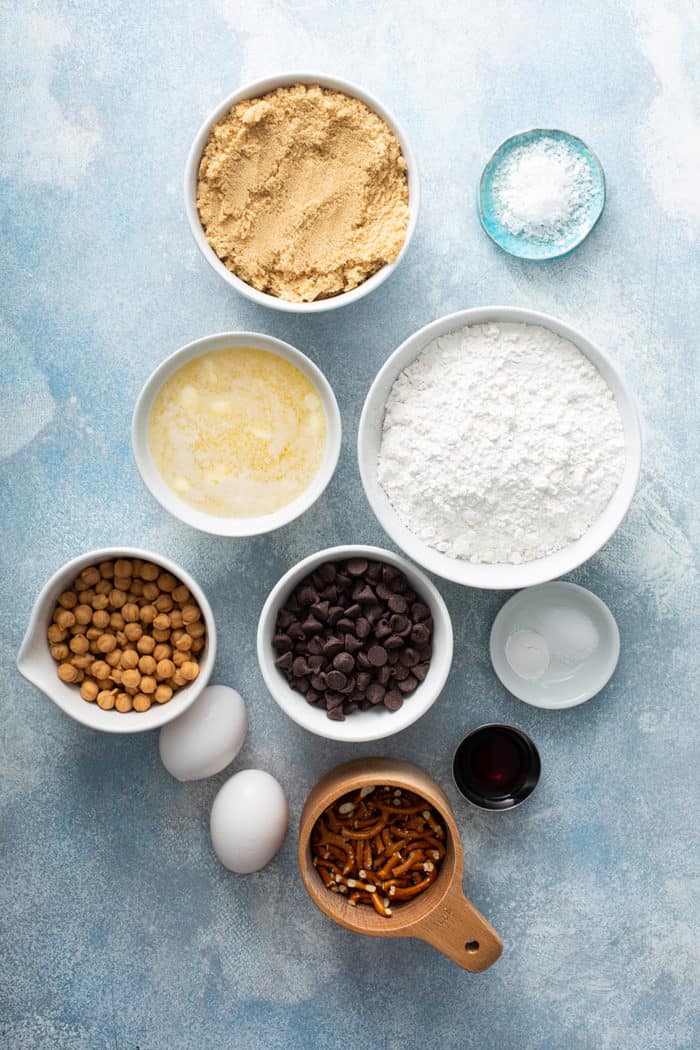 THE PERFECT SALTY-SWEET BLONDIE BARS
When I shared my Chocolate Chip Blondie recipe with you last week, I told you that I had some variations of it up my sleeve that I couldn't wait to share.
As soon as I tried the classic chocolate chip version, I wondered what it would be like with some added salty crunch. I took one look at the bag of pretzels in my pantry and knew I had to give it a try.
But what's salty without some extra sweet?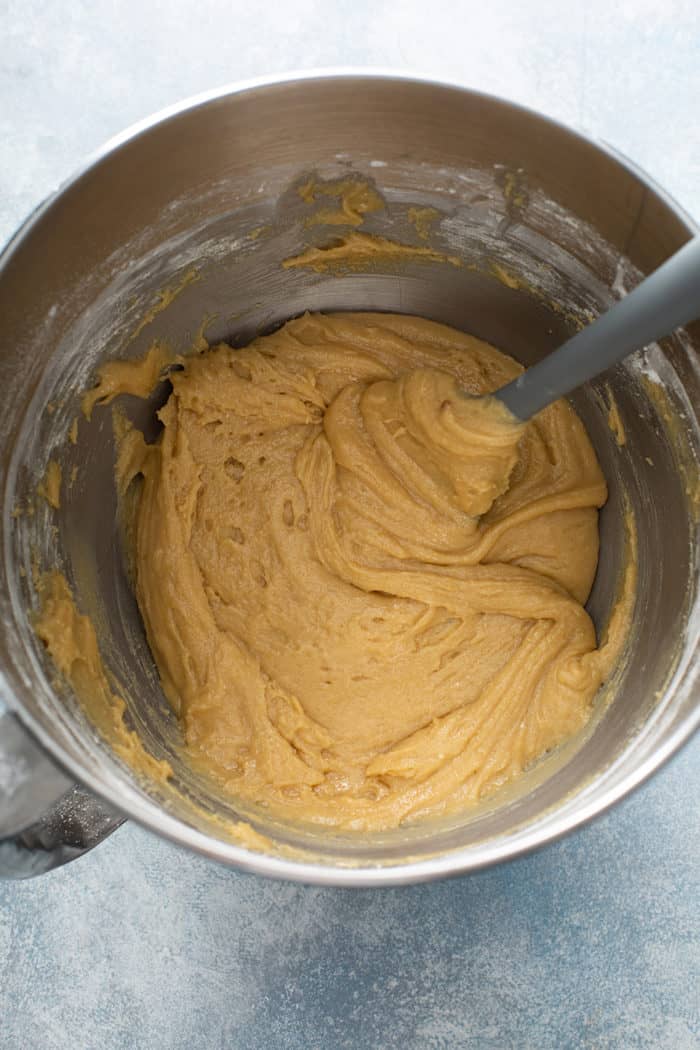 I'm always looking for ways to add some caramel into my favorite desserts. My Salted Caramel Brownies and Caramel Apple Crisp are proof of that.
So I grabbed that bag of pretzels and a bag of caramel chips and whipped up another batch of blondies. These still had plenty of chocolate chips but with added caramel chips and pretzel pieces.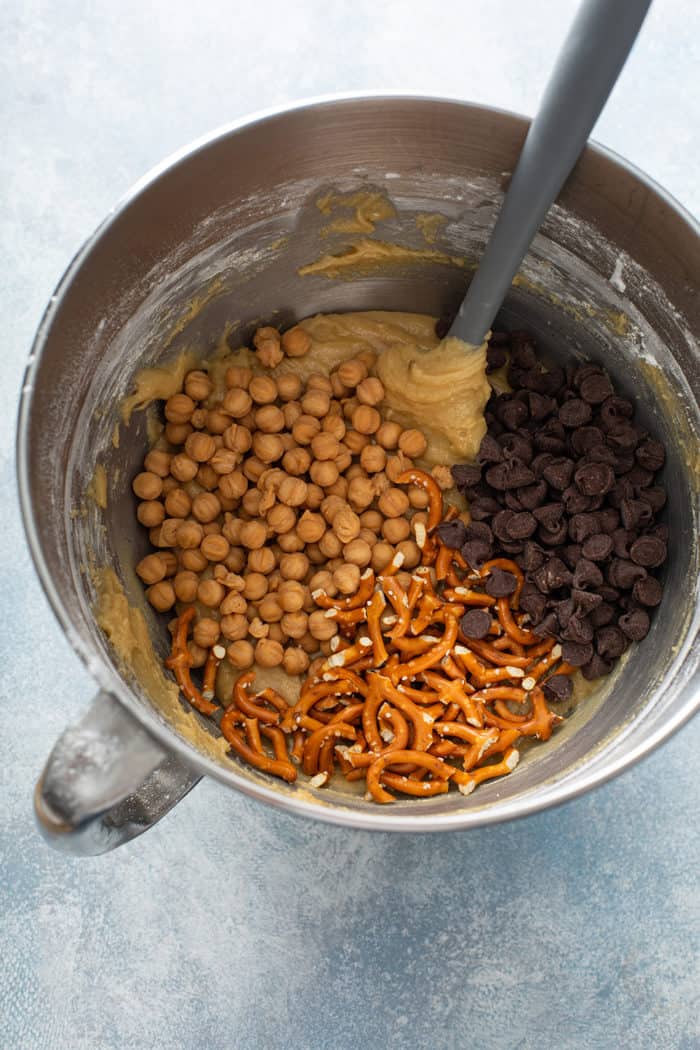 These might just be the best blondies I've ever eaten, ok?
Maybe I'll come up with a version I like even better soon but for now, these are my all-time winner. They hit all of my sweet and salty dessert wishes, with some added crunch from the pretzel pieces.
You guys are gonna love these.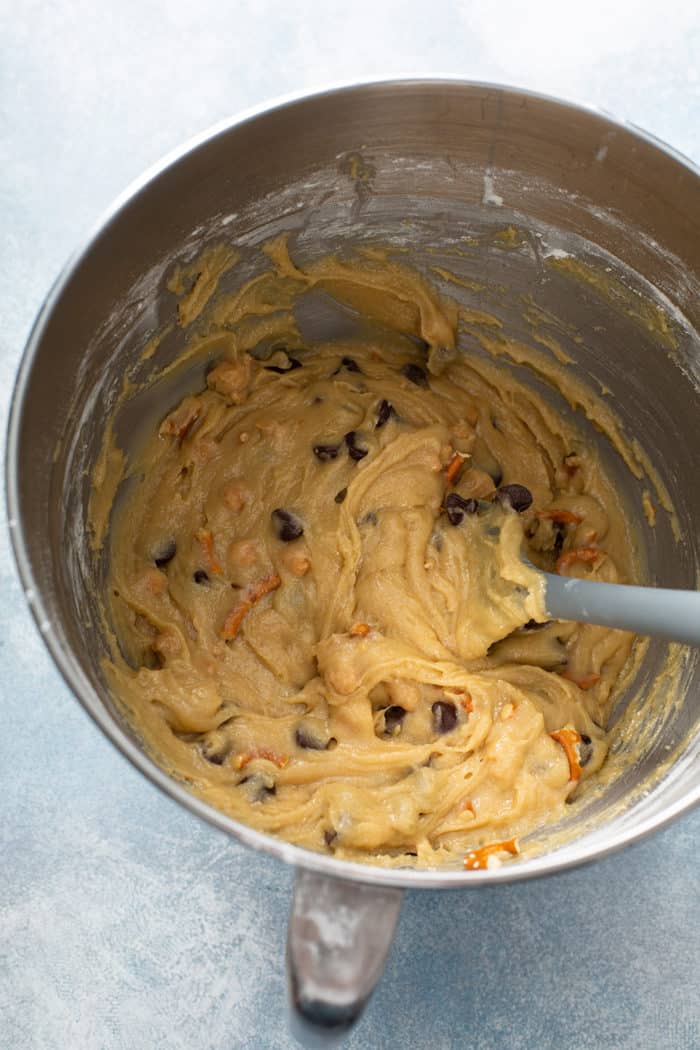 WHAT ARE BLONDIES?
Need a reminder on what blondies are?
Blondies are bar desserts, just like brownies. But instead of being flavored with chocolate, they are flavored with vanilla. They also contain brown sugar, which helps make them chewy.
And just like brownies, blondies can be flavored in all sorts of ways! In addition to these Salted Caramel Blondies with Pretzels and the classic Chocolate Chip Blondies, I've also tried Pumpkin Blondies, Snickerdoodle Blondies, and Maple Walnut Blondies.
If you love bar desserts like I do, you'll be a big fan of blondies.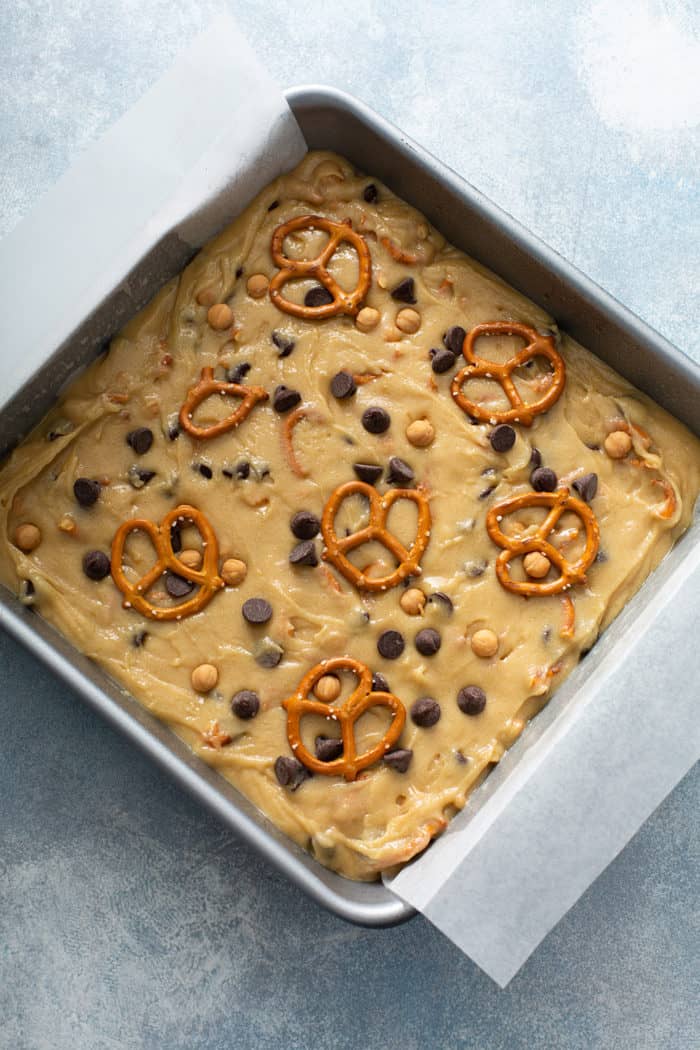 HOW TO MAKE SALTED CARAMEL BLONDIES WITH PRETZEL PIECES
To make this recipe, we'll start by mixing together the batter base. You can use an electric mixer for this, but I like to just use a bowl and a whisk!
Whisk together the flour, baking powder, and salt. Set that aside.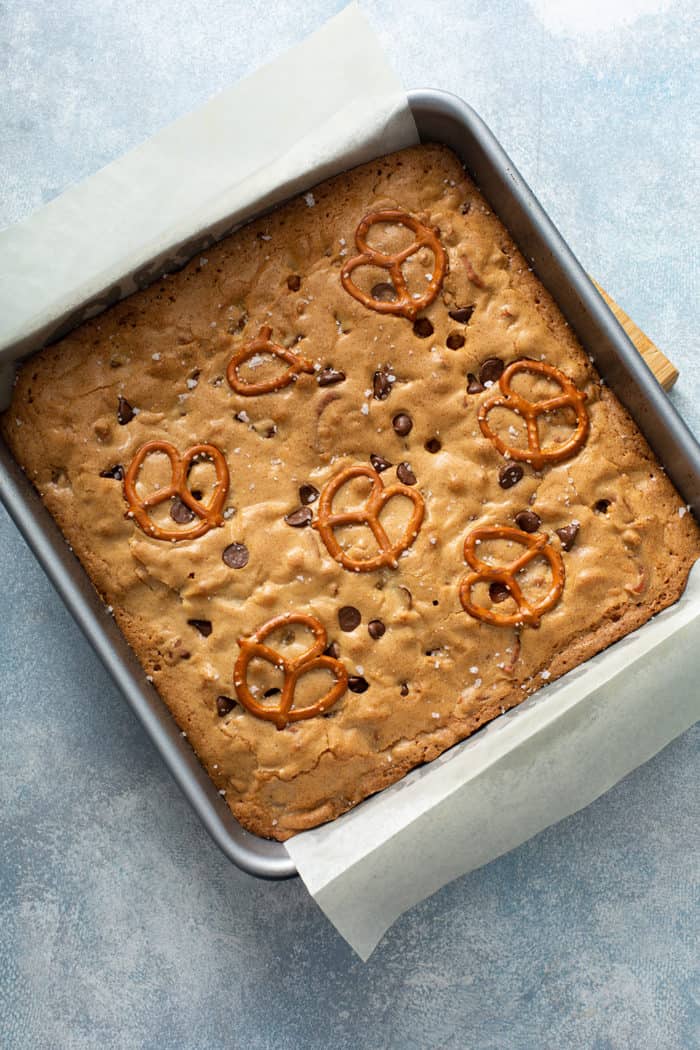 In a separate bowl, whisk together the butter and brown sugar. Add the eggs and vanilla, whisking until well combined. I like to whisk these until the mixture has lightened in color slightly.
Stir in the dry ingredients until just combined, then stir in the mix-ins.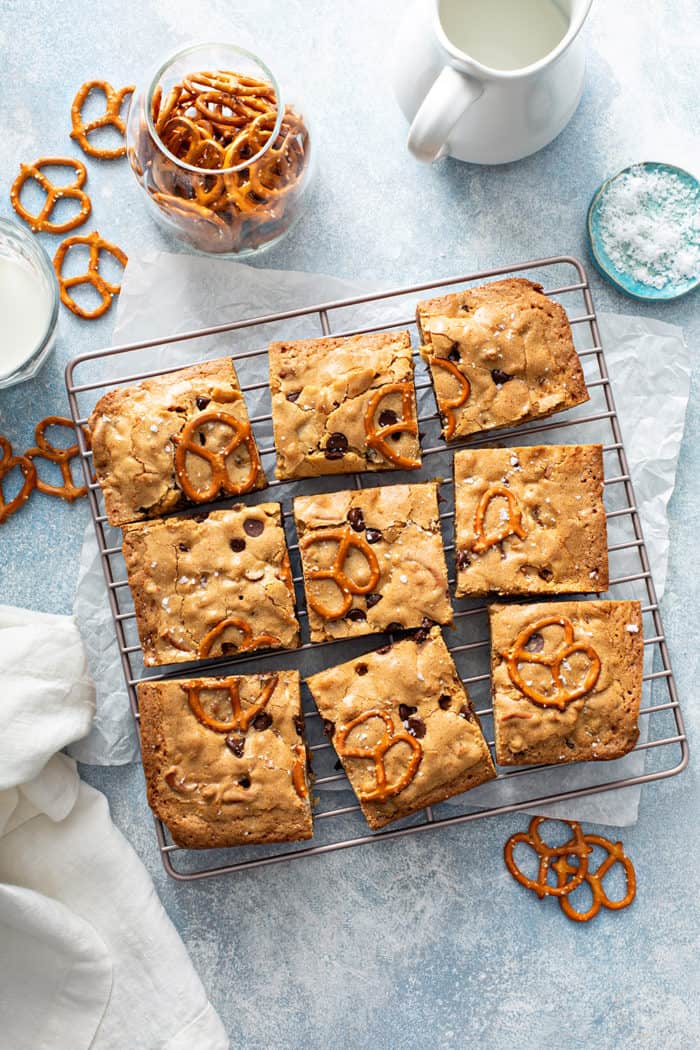 We aren't going to skimp on the mix-ins here. We're going to add:
⅔ cup Kraft Caramel Bits
¾ cup semisweet chocolate chips
⅔ cup mini pretzel twists, broken into coarse pieces
I mean, if you're going to make a Salted Caramel Blondie, you should really go for it, right?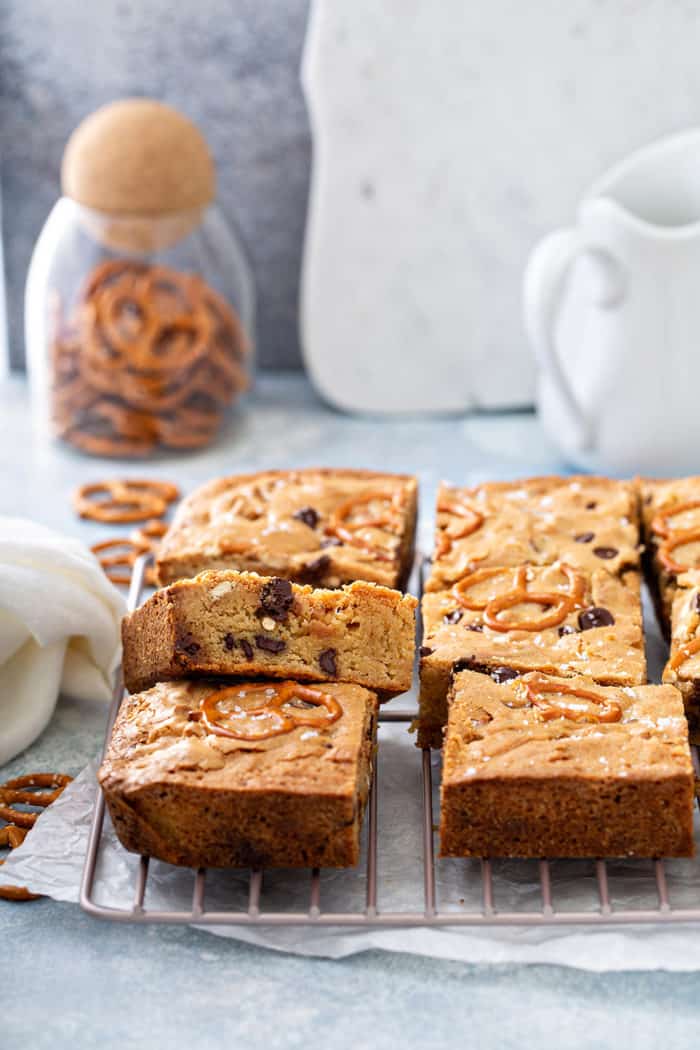 Spread the batter into a greased and lined 9×9-inch baking pan and bake the blondies for 35-38 minutes. You want the center to just be set when you pull them from the oven – you don't want to overbake these.
If you want to really play up the salty side of these blondies, sprinkle the tops with a bit of flakey sea salt as soon as you pull them from the oven. Let them cool completely in the pan before cutting. This will let the center continue to set up so they're perfect once you cut them.
I dare you to not want to eat this whole pan yourself. I had to give most of mine away to friends so I wouldn't hoard them all myself. That's just how good these are.