Chewy chocolate chip blondies brimming with caramel candies and sprinkled with sea salt.
Blogging is a busy business. Baking, photographing, writing and then promoting posts through social media takes time. A lot of time. Since having Elle, things on the blog end of life have definitely slowed down for me.
I no longer spend my free time pinning things I'll never buy and hairstyles that I'll never try. As a matter of fact, I haven't had a haircut or color since August. If you knew me pre-baby, that right there is a shocker. I'm pretty much rocking a natural ombre with a few strands of gray thrown it.
And the time I've spent on other blogs has diminished drastically. Instead, I prefer to spend my time playing endless hours of peek-a-boo, wiping up drool, and reading 5 Minute Princess Stories.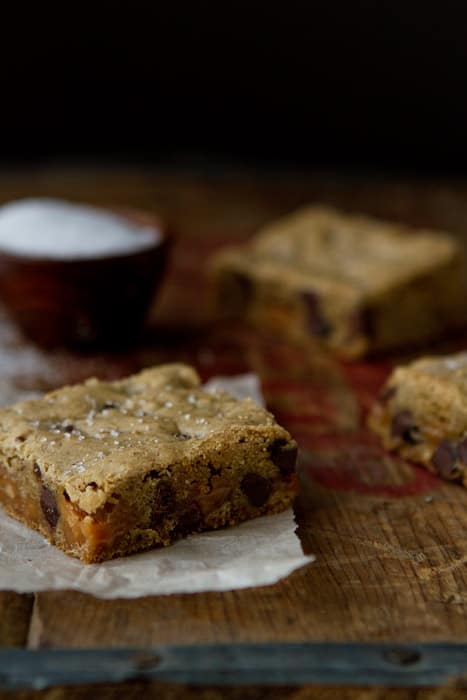 Every so often, I'll hop onto the iPad, scroll through my BlogLovin feed and ogle over all the delicious creations from my food blogging friends. Last week, I stumbled upon Salted Caramel Brown Butter Cookie Cups from the ever-so-talented Karly from Buns In My Oven and I literally could not get them out of my head – for like days.
With salted caramel, browned butter and chocolate chips – they're pretty much perfection in baked good form. I immediately shared them on the MBA Facebook page, and judging from the amount of love they got – you guys couldn't stop thinking about them either!
Instead of making Karly's creation, I drew inspiration from those little cups of salted caramel goodness and worked the same flavors into blondies. And let me tell you, they were a total win! They also got me thinking about how much I enjoy a good blondie – especially when they're brimming with chocolate chips, caramel candies and sprinkled with sea salt. I mean, how could that possibly be a bad thing?!
Whether you're looking for a little baking therapy while the baby is napping, or you simply want a snack to pair with your mid-morning cup of coffee, these Salted Caramel Chocolate Chip Blondies are the way to go.
Salted Caramel Chocolate Chip Blondies
Yield: 12 servings
Prep Time: 20 minutes
Cook Time: 20-25 minutes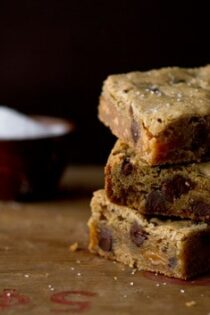 Ingredients:
1 cup all-purpose flour
1/2 teaspoon baking powder
1/4 teaspoon baking soda
3/4 teaspoon sea salt
1/3 cup unsalted butter, melted (I recommend Challenge Butter)
1 cup packed light brown sugar
1 large egg
2 teaspoons pure vanilla extract
1 cup semisweet chocolate chips
15 caramel candies, unwrapped and cut into fourths
additional sea salt to top bars
Directions:
1. Preheat oven to 350 degrees F. Line a 9x9-inch baking pan with foil and spray with non-stick cooking spray.
2. In a medium bowl, combine flour, baking powder, baking soda, and salt.
3. In the bowl of a stand mixer fitted with the paddle attachment or in a large bowl with an electric mixer, combine the brown sugar and melted butter. Add egg and vanilla, mixing until well combined. Gradually add in dry ingredients and mix until just combined. Stir in chocolate chips and caramel pieces.
4. Spread the batter into the prepared pan. Lightly sprinkle bars with additional sea salt - about 1/4 teaspoon. Bake in the preheated oven until a toothpick inserted in the center comes out clean, about 20 to 25 minutes. Remove pan to wire rack and cool completely.
Notes:
Store bars in an airtight container at room temperature for up to 3 days.
All images and text ©
for My Baking Addiction
Follow Jamie on Instagram. We love to see what you're baking from MBA! Be sure to tag @jamiemba and use the hashtag #mbarecipes!