I was actually pleasantly surprised to see blueberries on sale today at Whole Foods and picked up two pints. I have no idea what I am going to do with them yet, but I am thinking scones because scones equal bliss in my book or maybe blueberry ice cream, such a tough decision. Whatever I choose to make, I will definitely post here on MBA.
I came across these Blueberry Crumble Bars on allrecipes and knew they would be amazing. I kicked the flavor up a bit by using butter instead of shortening, adding in a bunch of lemon zest and a splash my homemade vanilla extract. The lemon-blueberry flavor is great for summer and the texture of the topping is absolute perfection. Honestly they are delish for breakfast with a cup of coffee, as dessert witha nice scoop of vanilla ice cream or as a snack…it's truly an anytime of the day baked good. These also travel pretty well, so if they strike your fancy, be sure to bookmark them for a future summer barbeque. If you decide to make these, definitely come back and leave a comment letting us know you liked them. Have a fantastic and delicious weekend!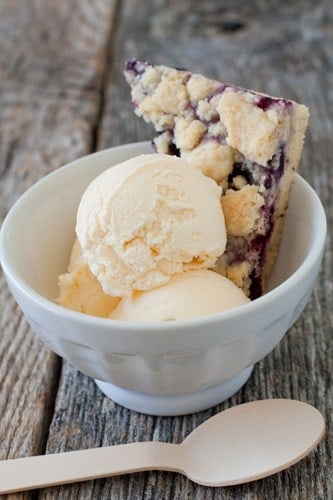 Looking for more blueberry deliciousness? Check out these posts:
Blueberry-Lemon Bundt Cake from My Baking Addiction
Blueberry Zucchini Bread from My Baking Addiction
Blueberry Cornmeal Cake from Vino Luci Style
Blueberry Lemon Cream Cheese Muffins from Two Peas and Their Pod
Low Sugar Double Blueberry Parfaits from Kalyn's Kitchen
Blueberry Crumb Bars
Ingredients
1 cup white granulated sugar
1 teaspoon baking powder
3 cups all-purpose flour
1 cup unsalted butter
1 egg
1 teaspoon pure vanilla extract
1/2 teaspoon kosher salt
zest of two lemons

4 cups fresh or frozen blueberries
1/2 cup white sugar
3 teaspoons cornstarch

Method
1.Preheat the oven to 375 degrees F (190 degrees C). Line a 9×13 inch pan with parchment paper and spray with nonstick cooking spray.
2.In a medium bowl, stir together 1 cup sugar, 3 cups flour, salt, lemon zest and baking powder.
3. In a small bowl, whisk the egg and vanilla together until combined.
4. Use pastry cutter or your food processor (see not below for alternative method) to blend the flour mixture with the butter and egg/vanilla mixture. Dough will be crumbly. Pat half of dough into the prepared pan.
5. In another bowl, stir together 1/2 sugar and cornstarch. Gently mix in the blueberries. Sprinkle the blueberry mixture evenly over the crust. Crumble remaining dough over the berry layer.
6. Bake in preheated oven for 45 minutes, or until top is slightly brown. Cool completely before cutting into squares.

Note: If you do not have a pastry cutter or a food processor, simply freeze your butter and use a box grated to grate the butter into the flour mixture. Use two forks or your fingers to fully incorporate.

I adore blueberries…fresh out of a bowl, in my cereal and especially baked into yummy desserts…throw in some lemon and I am one happy girl. Although I love some blueberry goodness, I refuse to pay the crazy high prices I have been seeing at the market. I improvised a bit and used frozen berries in this recipe and they worked just beautifully. Moral of the story, if you find a deal or don't mind the price tag, use fresh, but frozen berries work just fine.