Fresh lemon zest and juicy blueberries combine to create a delicious lemon blueberry bread that is perfect for any summer celebration.
I have always loved blueberries in baked goods, but only recently began to love them on their own. I've mentioned before that Eric and I order our produce weekly from Door to Door Organics – we absolutely adore the service. It may be a little pricier than the organic produce at our local market, but the selection and quality is far better, so it just works for us. And the blueberries? They are spectacular.
I'm a huge online shopper, I just prefer it and with a 5-month old teething baby, strolling the mall or grocery store isn't always an option. Let's just say that shopping for groceries online has just as much eye candy, but is majorly cheaper than my favorite clothing store.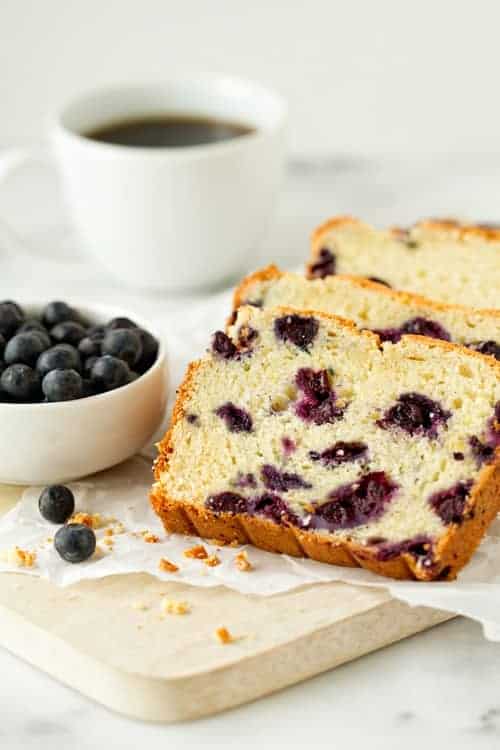 Last week, Door to Door Organics was featuring a Summer Berry Palooza and of course, I had to get in on the action. Juicy raspberries, strawberries, blueberries, and blackberries have definitely been my fruits of choice this week. And the blueberries were so darn delicious, I simply had to make them into something sweet, tart and perfect for summer breakfast – or dessert.
A few years back, I made a delicious Strawberry Bread and it quickly became a summer staple recipe year after year. I thought I'd jazz it up a bit by swapping out strawberries for blueberries and loading the batter with fresh lemon zest. This time, I added a sweet and lemony glaze, because go big or go home – amiright?
This is the bread you want right beside your mug of coffee in the morning. And it's excellent for that last little nibble after dinner. This quick bread is the perfect celebration of Summer's best offerings. I just know you're going to love it, and make it again and again.
For more Fresh Berry inspiration, check out these recipes:
Fresh Berry Crisp
Lemon Cheesecake with Fresh Berries
Lemon Strawberry Shortcake
Fruit Pizza Cupcakes from Confessions of a Cookbook Queen
Glazed Lemon Blueberry Bread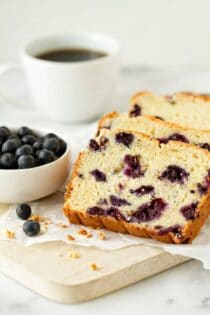 Ingredients:
1 cup granulated sugar
zest of one large lemon
1/2 cup unsalted butter, softened
4 ounces cream cheese, softened
2 large eggs
1 teaspoon pure vanilla extract
2 cups all-purpose flour
2 teaspoons baking powder
1/2 teaspoon baking soda
1/2 teaspoon salt
1/2 cup buttermilk
1 1/2 cups fresh blueberries
For the Glaze
3 tablespoons unsalted butter; melted
1 cup confectioners' sugar; sifted
1/2 teaspoon pure vanilla extract
2 tablespoons freshly squeezed lemon juice
Directions:
1. Preheat oven to 350°F. Butter and flour a 9x5 inch loaf pan.
2. In a medium bowl, combine sugar and lemon zest, mixing with fingertips until sugar becomes moistened and fragrant. In the bowl of a stand mixer, fitted with the paddle attachment, or with an electric mixer in a large bowl, beat sugar, butter, and cream cheese until fluffy, about 3 minutes. Add eggs one at a time. Mix in vanilla.
3. In separate bowl, whisk together the flour, baking powder, baking soda and salt. Gradually add dry ingredients into the butter mixture and mix until flour is incorporated. Add buttermilk and mix until just combined; do not over mix. Gently fold in blueberries.
Add batter into prepared pan.
4. Bake in a preheated oven for 50 to 60 minutes. Allow bread to cool in pan for 20-30 minutes before gently removing bread from pan and to a wire rack to cool completely. Once bread is cool, prepare the lemon glaze.
5. In a medium bowl, prepare the glaze by mixing together the melted butter, confectioners' sugar, vanilla and lemon juice. Whisk until smooth. Drizzle over cooled lemon blueberry bread. Glaze will slightly harden.
Notes:
Lemon Blueberry Bread will store in an airtight container within the refrigerator for up to 3 days. Bring to room temperature before serving.
Adapted from food.com
All images and text ©
Follow Jamie on Instagram. We love to see what you're baking from MBA! Be sure to tag @jamiemba and use the hashtag #mbarecipes!