Fresh lemon zest and juicy blueberries flavor this delicious Lemon Blueberry Bread that brings a pop of summertime flavor any time of year.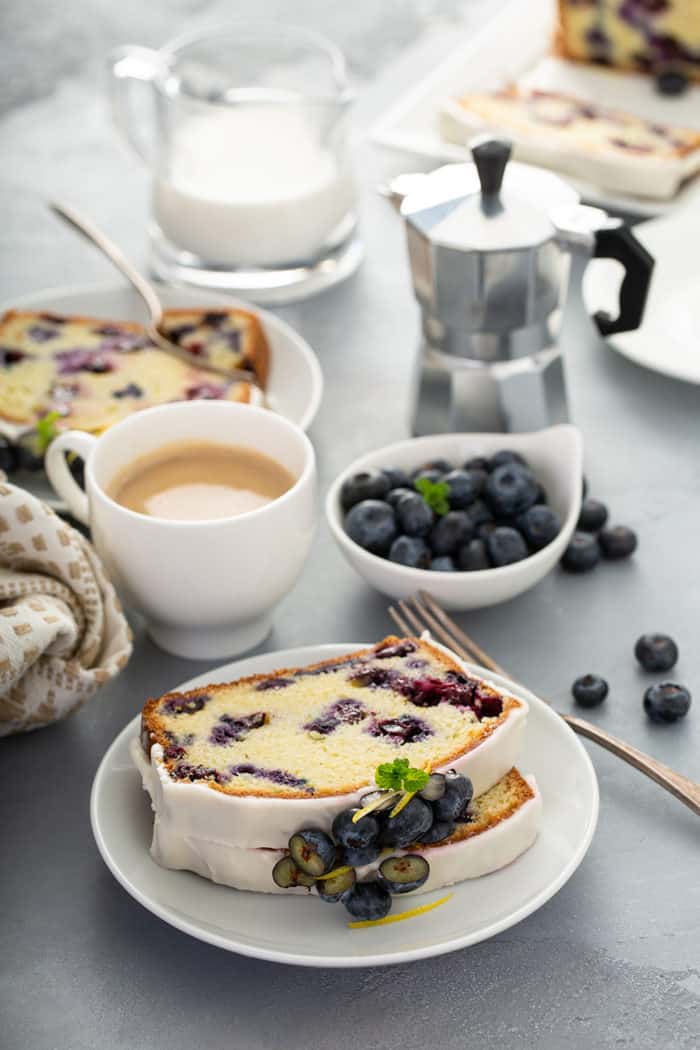 I have no idea what the weather is like in your neck of the woods, but based upon the news, I'm going to guess it's pretty crappy.
It's been snowing here in Ohio for what seems like 10 days straight and when they say it's going to let up – it really doesn't. And I know that we're pretty lucky when it comes to being able to handle weather like this.
Aside from Elle loving to get outside to play in the snow, I'm pretty much over it and ready for spring. And I'm guessing you might be as well. Which is why I'm sharing this bright, delicious Lemon Blueberry Bread recipe with you in February.
Whether you make it this week for yourself or a friend in need or save the recipe for later, it might just be what you need to brighten up your day a bit.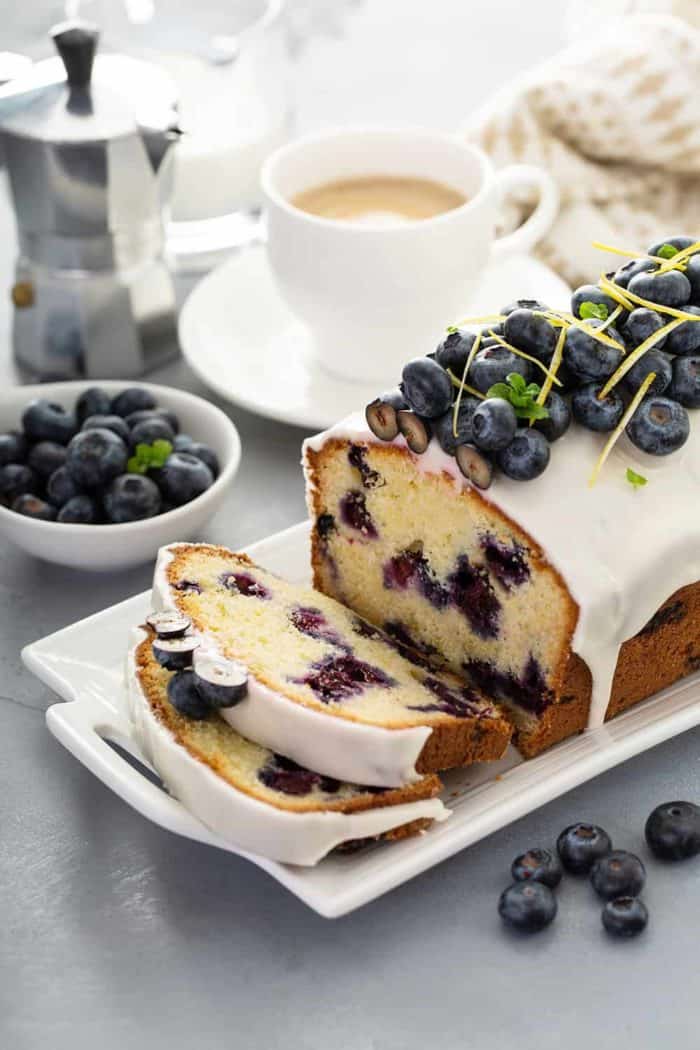 MY GO-TO LEMON BLUEBERRY BREAD RECIPE
I have always loved blueberries in baked goods, but only in recent years have I begun to love them on their own.
Of course, that doesn't mean that I don't also still love blueberries in baked goods, such as Blueberry Doughnut Muffins or Blueberry Muffin Top Cookies, or slathered on top of a slice of vanilla cheesecake in my Homemade Blueberry Sauce.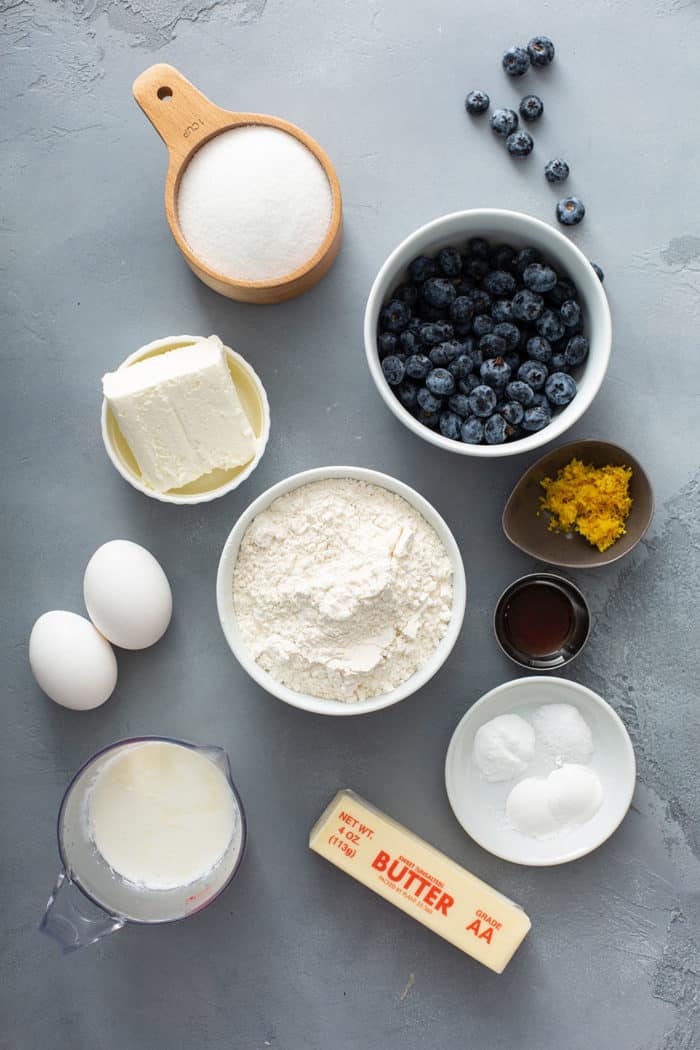 And this heavenly Lemon Blueberry Bread.
A few years ago I shared my Fresh Strawberry Bread recipe. That recipe quickly became a summer staple recipe year after year. But strawberries are either in season and delicious or out of season and…really not delicious.
Blueberries are easier to find year-round. They're also easier to freeze yourself or buy already frozen.
So I simply had to make a blueberry and lemon version of that strawberry bread. Something sweet, tart, and perfect for breakfast – or dessert.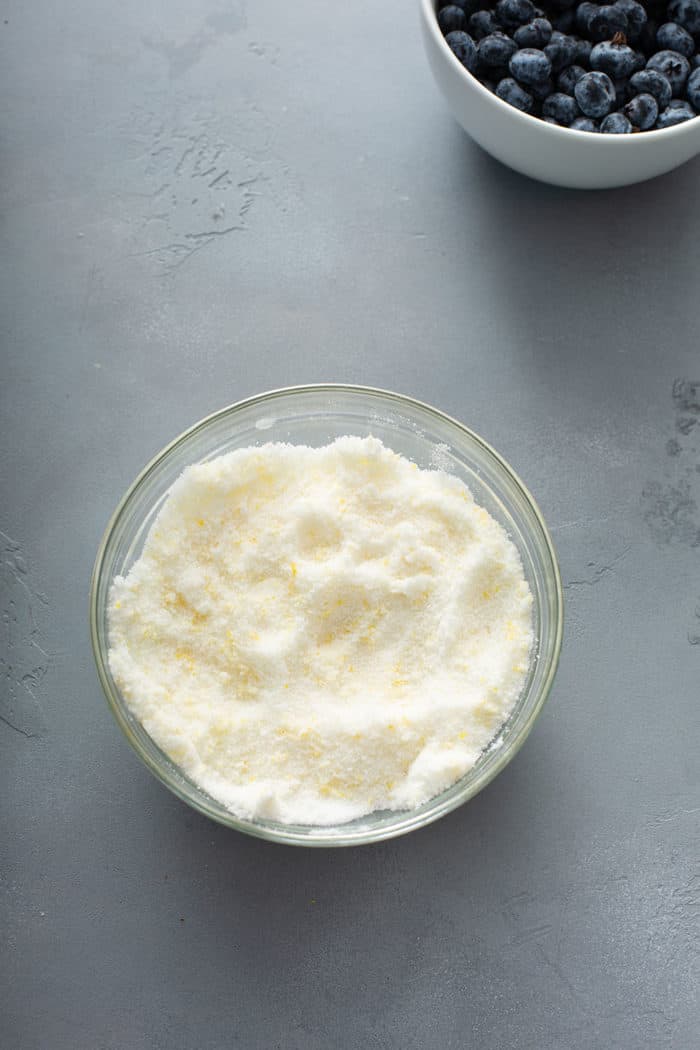 HOW TO MAKE LEMON BLUEBERRY BREAD
A lot of my quick bread recipes are made by mixing together all of the wet ingredients, then stirring in all of the dry ingredients.
This blueberry bread recipe is made more like a cake by creaming together the sugar with the fats and eggs, adding the dry ingredients, and ending with buttermilk.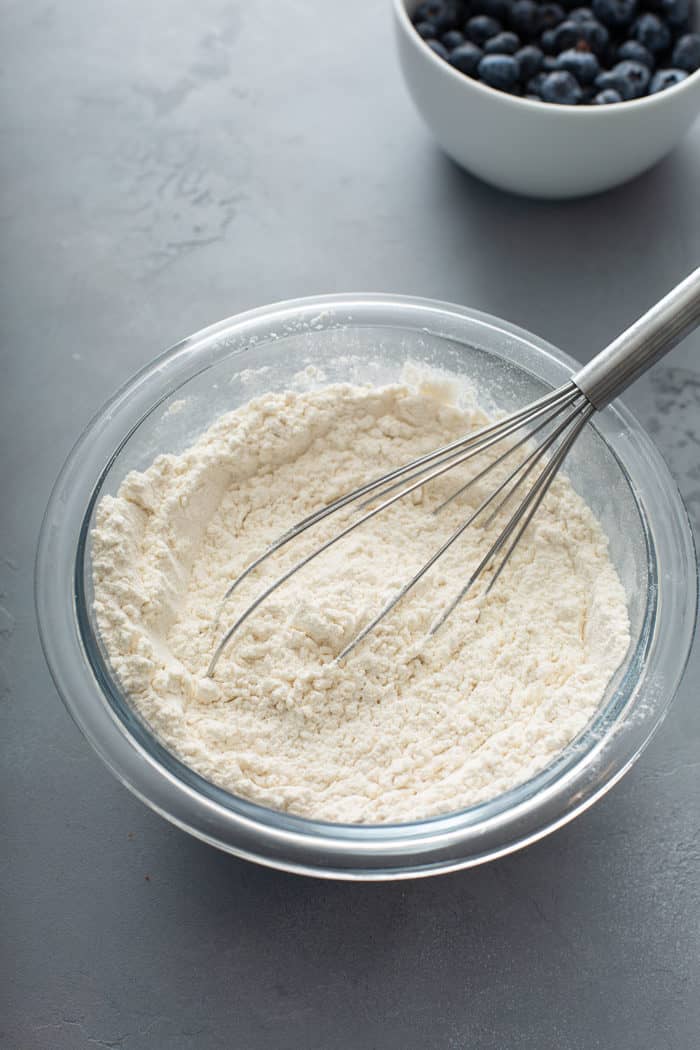 The texture of the bread comes out more like a lemon loaf cake, and I'm not upset about that at all, okay?
To make this bread:
Mix together the sugar and lemon zest. Beat this mixture with softened butter and softened cream cheese until fluffy.
Add the eggs one at a time, followed by the vanilla.
Whisk together the dry ingredients and gradually add them to the butter mixture until just combined.
Add the buttermilk and mix until just combined. Fold in the blueberries.
Add the batter to a greased and floured 9×5-inch loaf pan and bake for about an hour!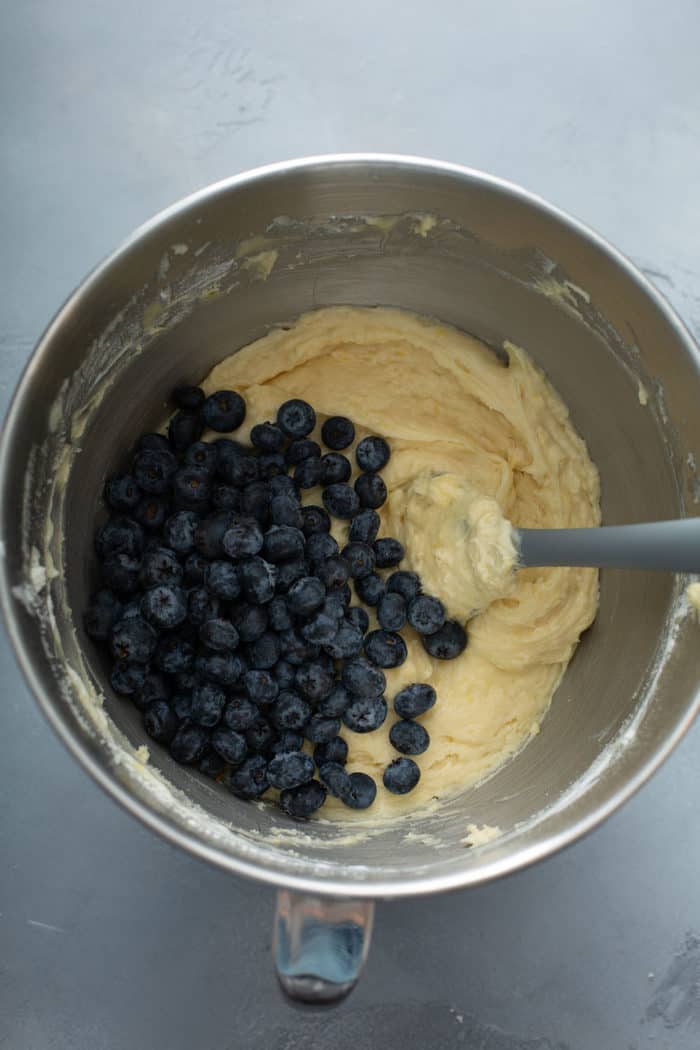 If you don't have buttermilk on hand, don't forget that you can use my easy buttermilk substitute!
If you like, I strongly recommend finishing the bread with a simple lemon glaze. Like…really strongly recommend it.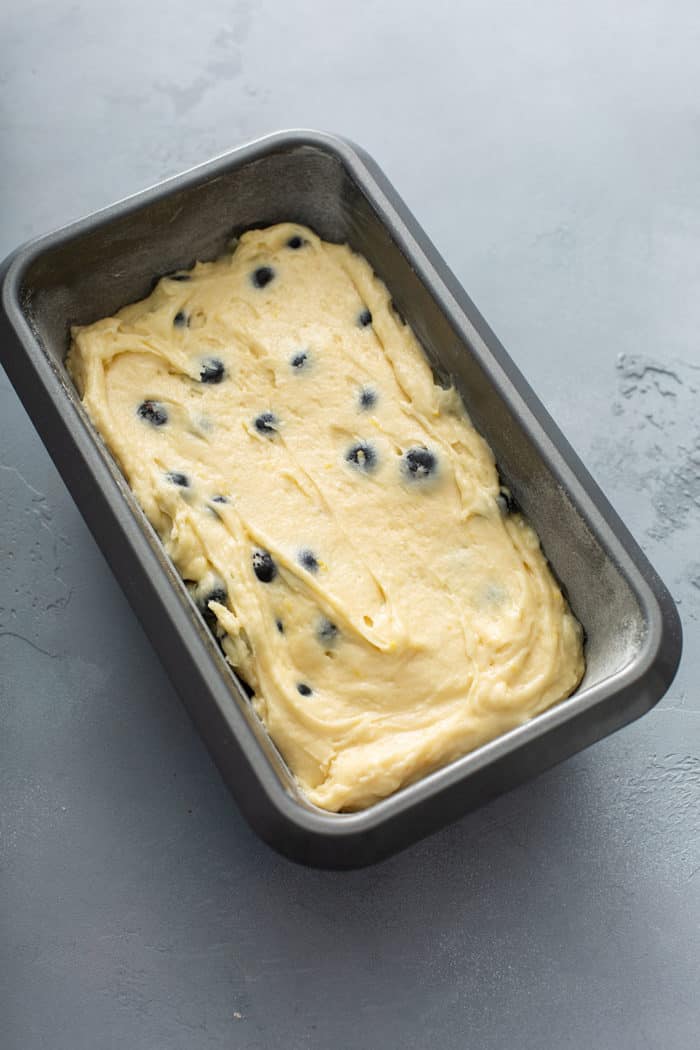 WHY MIX TOGETHER THE SUGAR AND LEMON ZEST?
You might have noticed that several of my recipes that use citrus zest call for rubbing the zest into the sugar as the first step.
It's the first step of Glazed Orange Scones, Cream Cheese Pound Cake, Cranberry Orange Pound Cake, and Cranberry Orange Scones.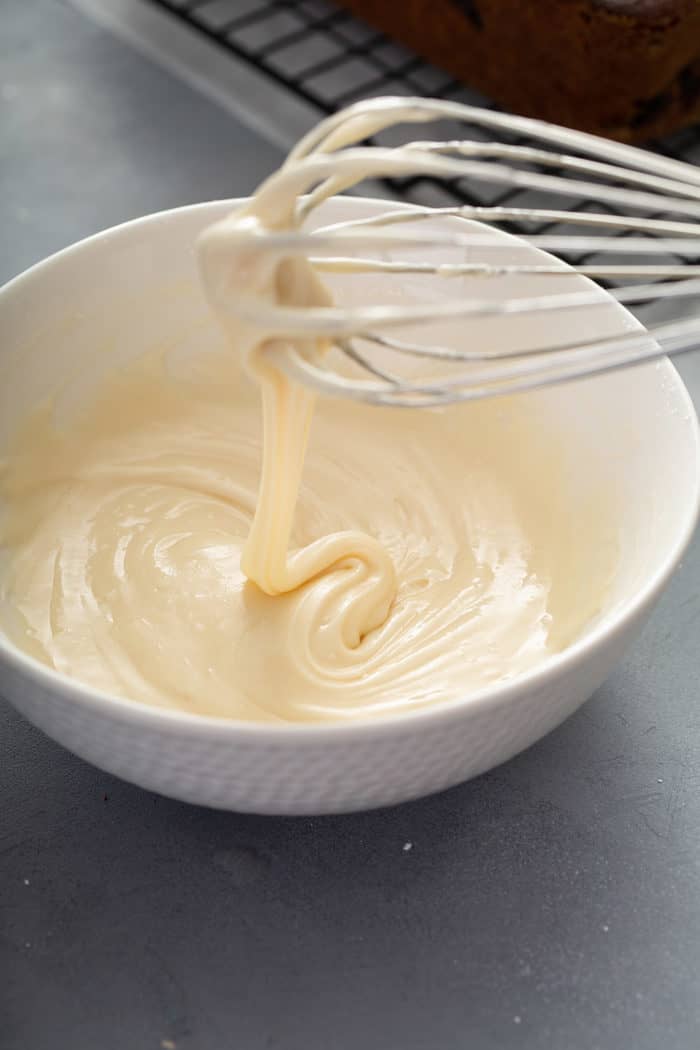 "But Jamie, why?"
Glad you asked! When you mix the sugar with the citrus zest, it releases the oils in the zest. It makes the sugar super fragrant and really boosts the citrus flavor in the final recipe.
So don't think it's a silly step and skip it. It really makes a difference in the lemon flavor of this Lemon Blueberry Bread!