Blueberry Muffin Top Cookies are covered in streusel and drizzled with a lemon glaze. They're perfect for breakfast, dessert, or a midday snack. Recipe contains a gluten-free option.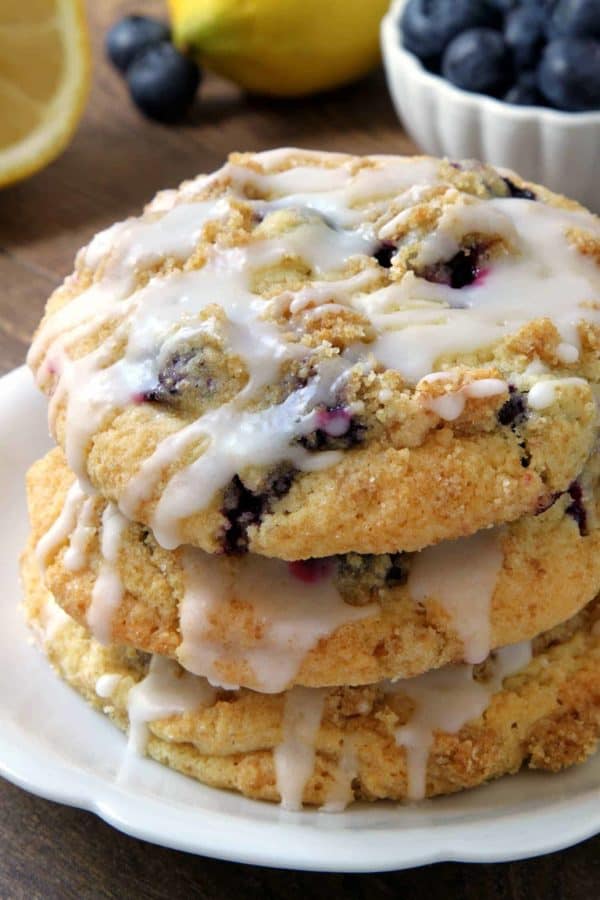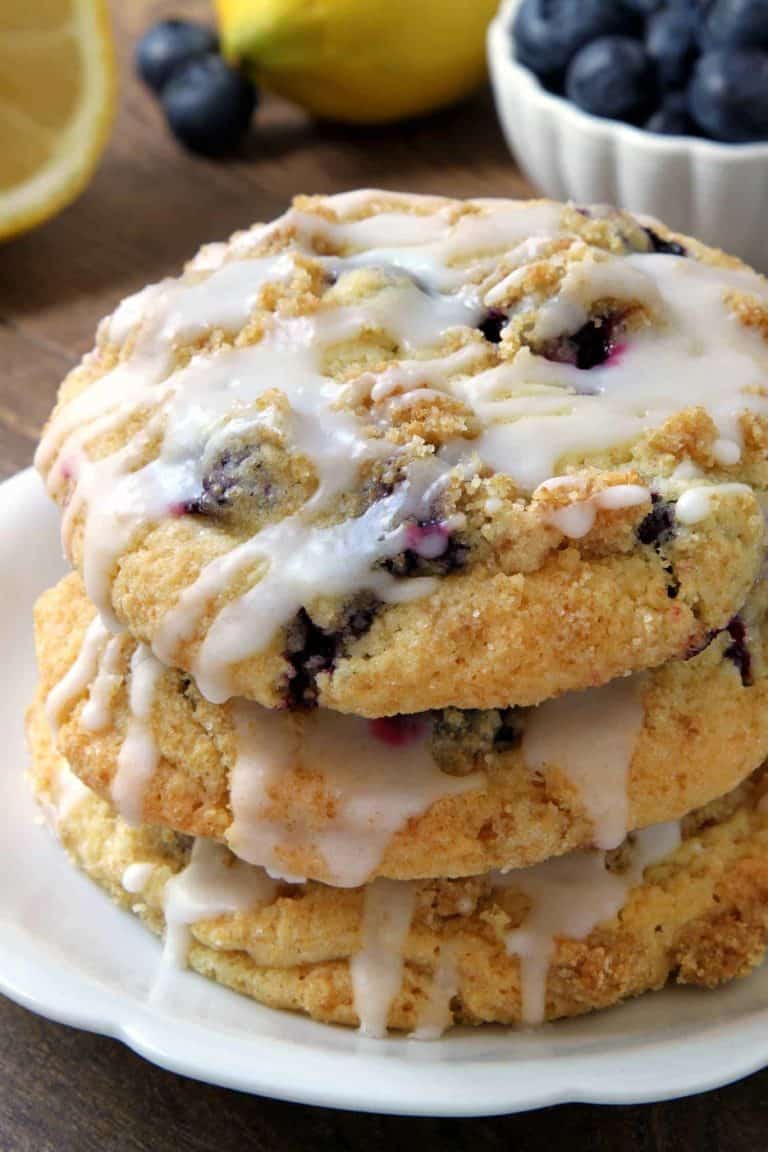 These are among my favorite cookies ever. I only make them for special occasions because unless they're destined for a birthday party, BBQ or something else, I eat one after another until I feel sick or they're all gone. I know this from experience.
I'm normally only interested in chewy cookies. Cakey and soft cookies just aren't my thing. These cookies are definitely an exception! They're soft, but not cakey, and they really are just like a blueberry muffin top.
With the added streusel and lemon glaze, these Blueberry Muffin Top Cookies become dangerously addictive. You could omit the glaze but I don't recommend skipping the streusel! It's what makes these cookies so special.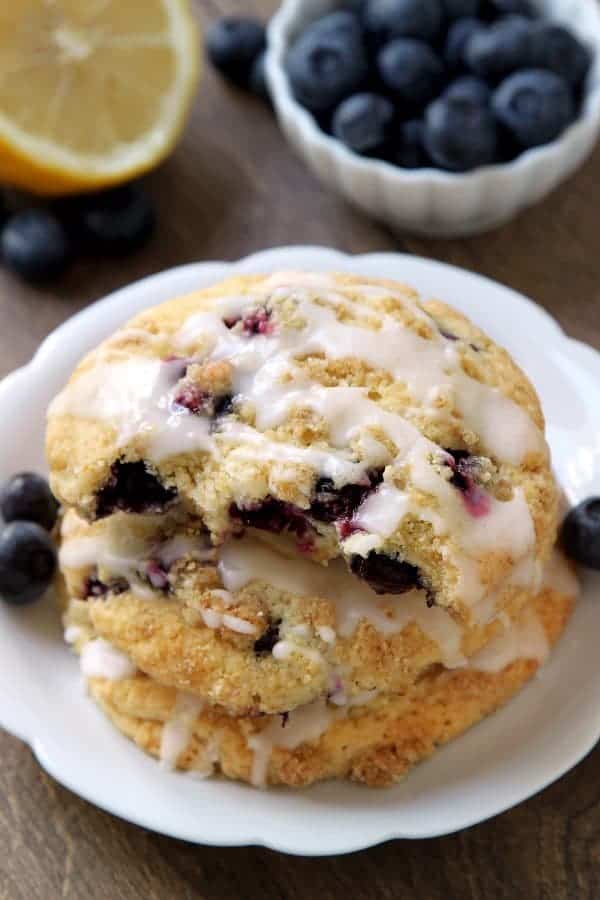 Covering the dough balls in the streusel can be a little messy. The streusel doesn't want to stay put so you really have to pat it on. Once you taste these cookies, I'm sure you'll agree with me that they're so worth that minor annoyance!
One other thing you have to be careful about is adding the blueberries. You can't mix them into the dough using a hand mixer or a spoon. You have to use your hands to incorporate them into the dough to ensure that they don't break. It's not a huge deal if a few do – it'll just color parts of the dough blue.
I've only used blueberries in these cookies and I'm not very optimistic about using other types of fruit. Fresh raspberries could work as long as they're quite firm and not super fragile.
I think cut strawberries, peaches and other fruit would make the dough too wet, which would contribute to soggy and perhaps cakey cookies. If you decide to experiment, let us know in the comments how it goes!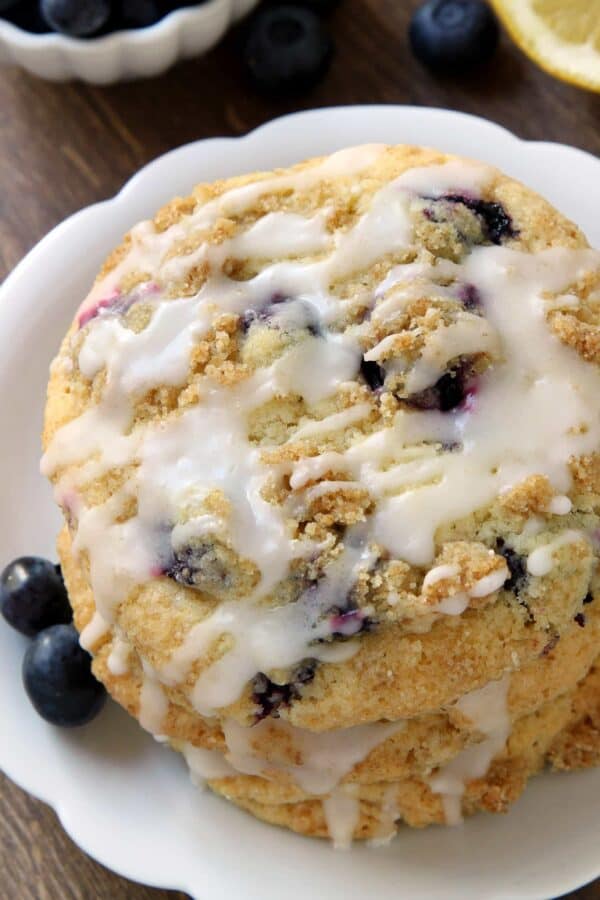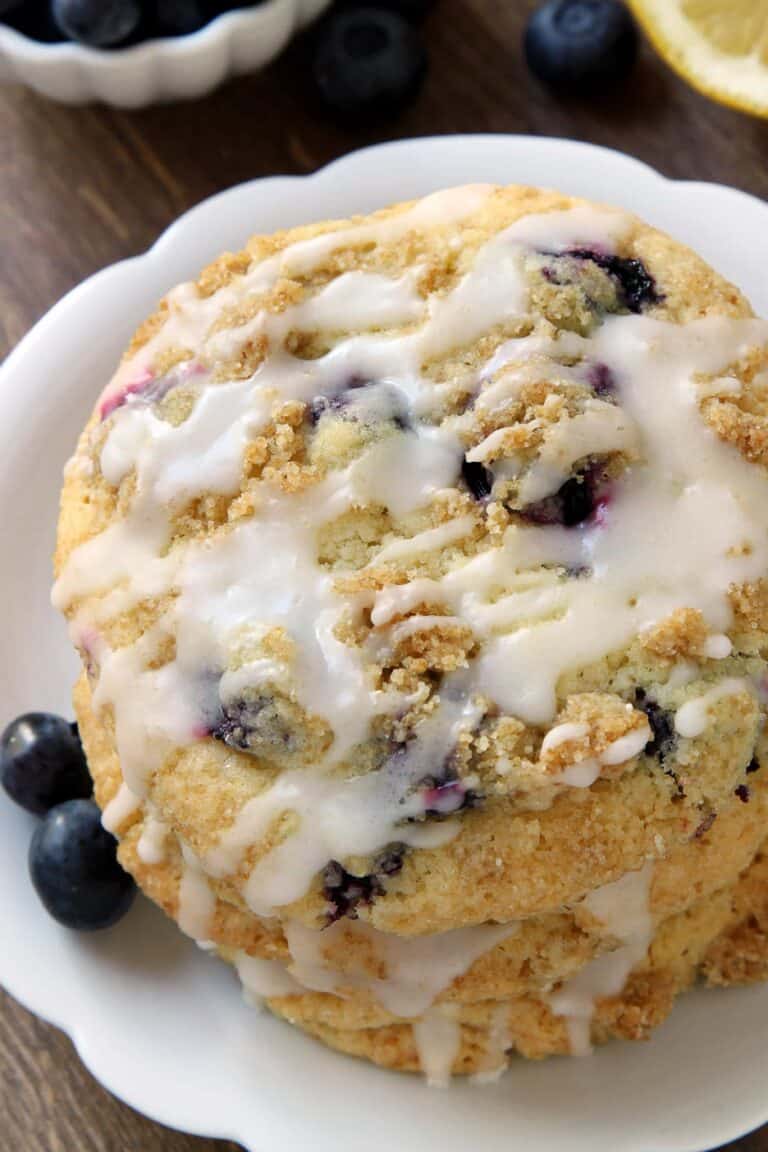 One thing you could play around with is the type of extract and zest. I think an orange or lime version would be great, as would a version using almond extract.
Like I mentioned in these berry cookies cups, I do love my almond flavored goodies! It just pairs so well with fruit.
For another blueberry-filled treat that also tastes just like a blueberry muffin, try this blueberry coffee cake. And for something different, this creamy blueberry cream cheese pie is sure to be a hit!