Blueberry coffee cake is full of fresh blueberries with just a hint of lemon. With a perfect streusel topping, this cake tastes just like your favorite blueberry muffins! Follow the alternate directions for a gluten-free version.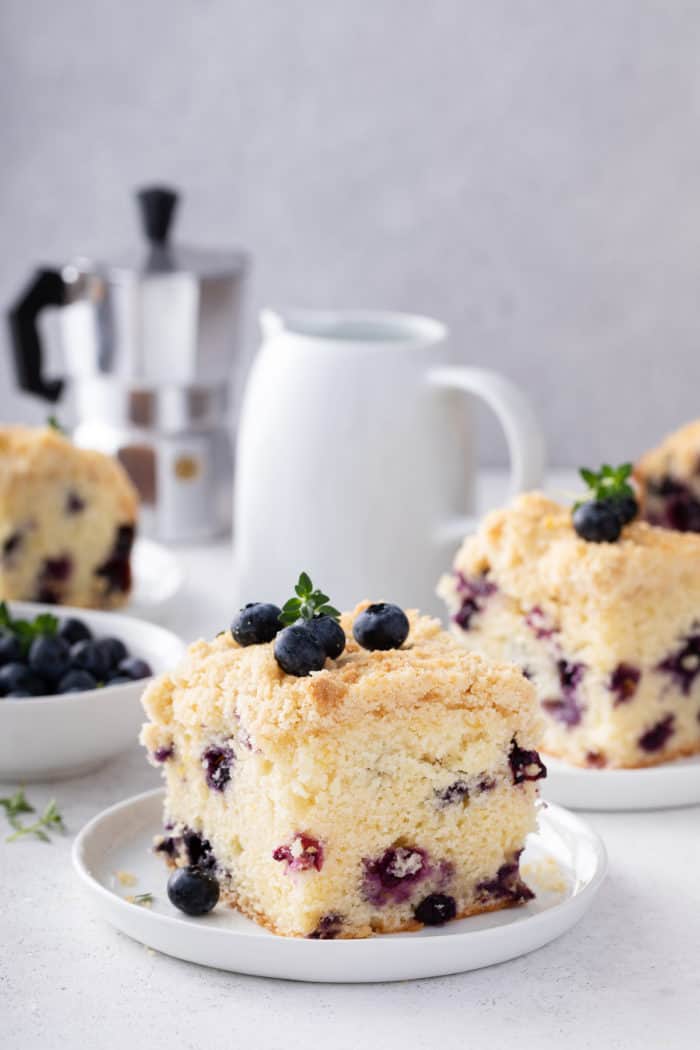 This post contains affiliate links.
We're having some work done on our house starting this week and I'm here to tell you that the dogs and I are already exhausted.
Well, one dog is terrified and exhausted. The other one is totally unbothered.
If I'm going to have workers in my house disrupting my peace and quiet, I may as well bake. Right?
At least then I can have a slice of afternoon coffee cake.
This blueberry coffee cake is another absolute winner from my friend Erin at Texanerin Baking. Between the sweet blueberries in every bite, the hint of lemon, and the streusel on top, it's hard to pick my favorite thing about this recipe.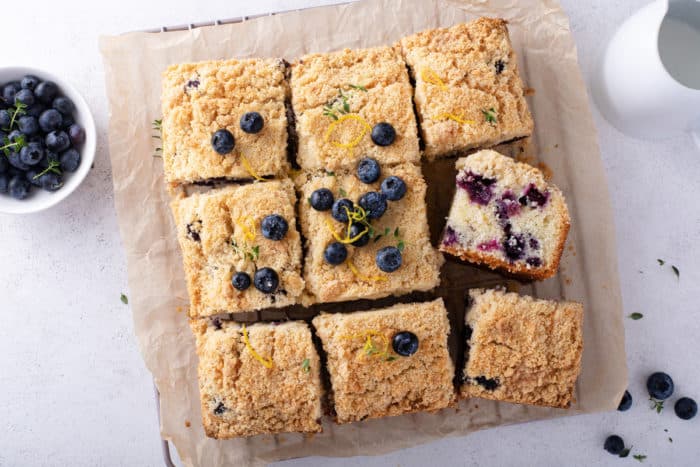 BLUEBERRY COFFEE CAKE WITH STREUSEL TOPPING
This blueberry coffee cake could just as well be called blueberry muffin cake. It really tastes like blueberry crumb muffins with a little bit of added lemon!
Like cinnamon coffee cake, pumpkin coffee cake, and easy coffee cake, it also makes for a great make-ahead breakfast.
I like to make it along with some fruit cups the night before serving so I can just roll out of bed without having to worry about preparing breakfast.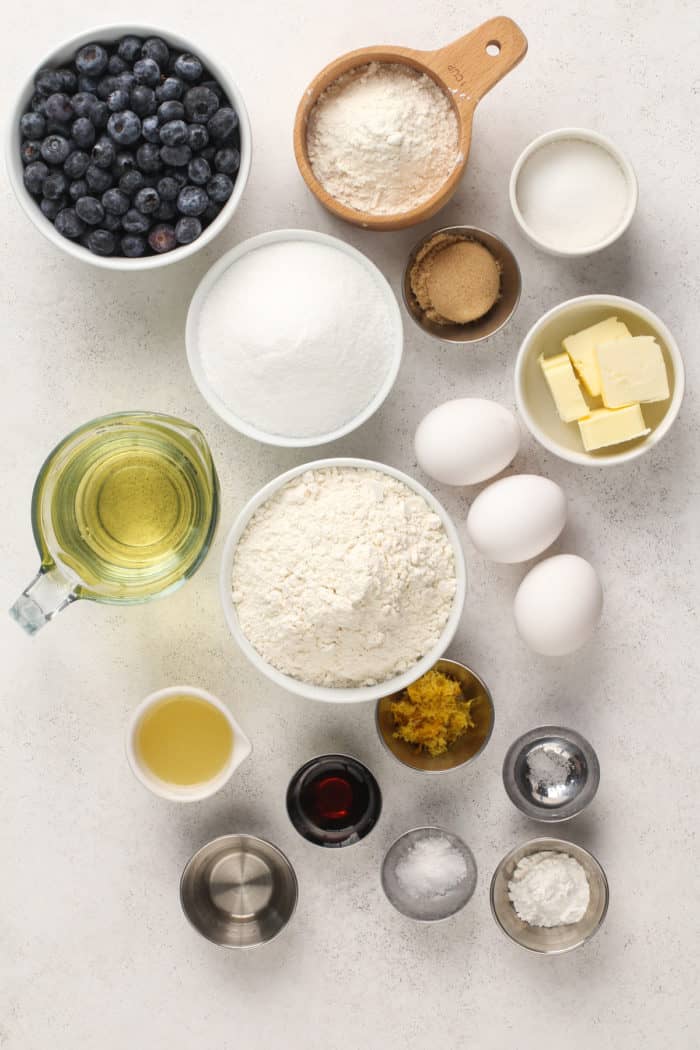 I rarely make anything with berries without adding some lemon flavor. The lemon just seems to brighten up whatever it's added to, like this blueberry cream cheese pie. So in this blueberry coffee cake, I've added lemon juice, zest and lemon extract.
If you want even more lemon flavor, use more lemon extract in place of the vanilla and double the amount of zest.
If you don't want any lemon flavor at all, I'm thinking an almond version of this coffee cake would be amazing! Just omit the zest, use milk in place of lemon juice, and almond extract instead of lemon.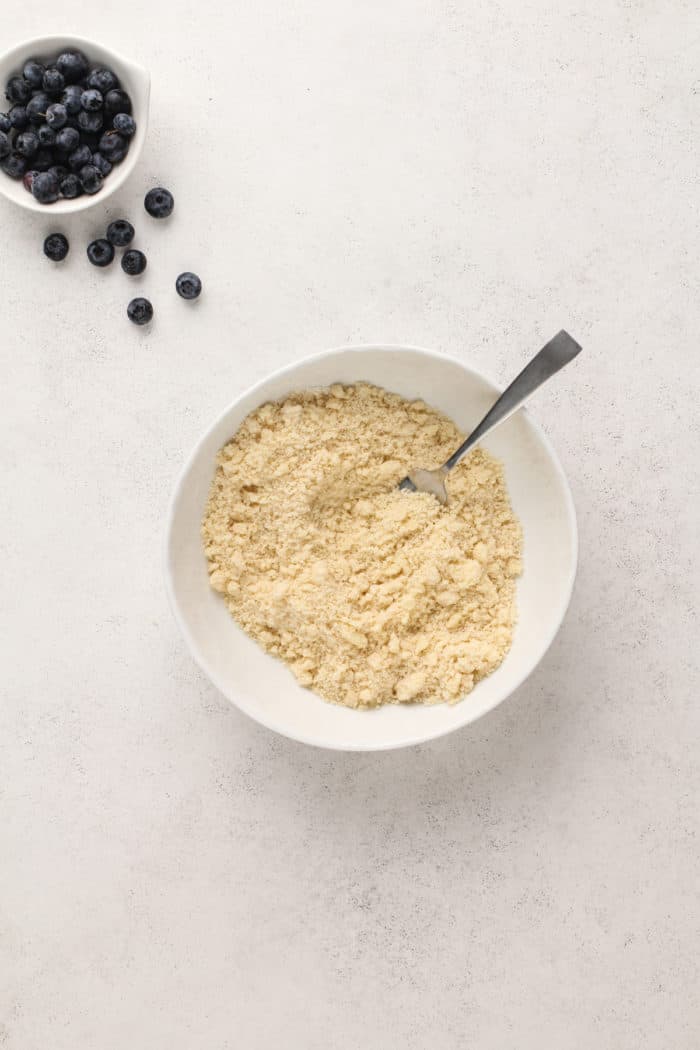 HOW TO MAKE THIS BLUEBERRY COFFEE CAKE
Like my caramel apple cake, this is another cake recipe that does not require a mixer. Just grab some mixing bowls, a pastry blender, and a spatula and you're set!
Can you use frozen blueberries in this cake?
Ideally you would use fresh blueberries in this blueberry coffee cake. Even though fresh blueberries are available at most grocery stores year-round, I know that they aren't always the best or most affordable.
If frozen blueberries are all you have, don't sweat it! You can swap in frozen blueberries just fine – just make sure they are NOT thawed when you add them, or else they will turn the batter an unappealing shade of gray.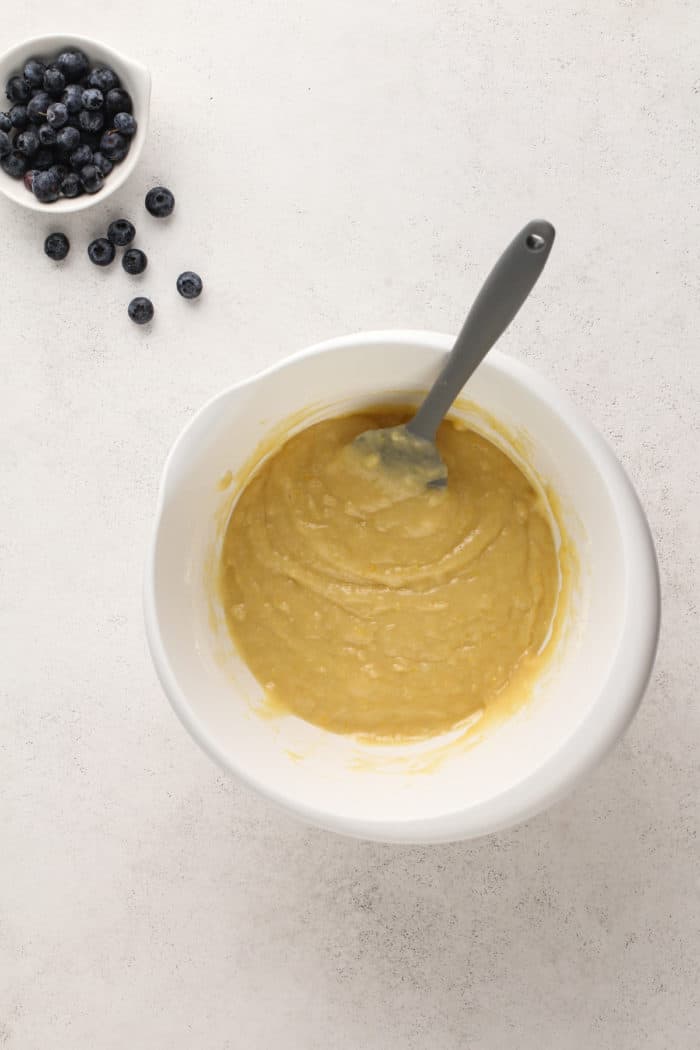 Gluten-free version
This cake uses 2 ¼ cups of flour in the cake batter and ¾ cup of flour in the streusel. You can use all-purpose flour or make it gluten free by using the following mix:
Alternatively, you could use an all-purpose gluten-free baking flour. Both work just as well in this coffee cake.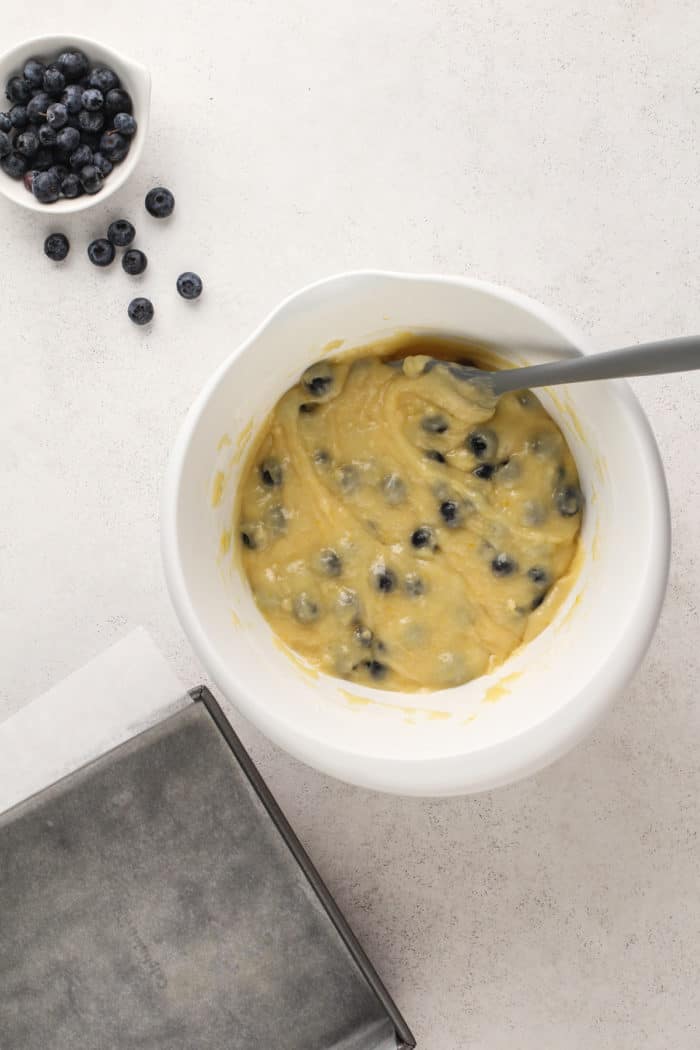 Making this recipe
This recipe is baked in an 8×8-inch pan for a nice tall cake. These are generous slices! Make sure to line your pan with parchment paper to get started.
Make the streusel by stirring together the flour (all-purpose or gluten-free), the sugars, and the salt. Cut the butter in using a pastry blender; you want the mixture to look like coarse crumbs.
Set the streusel in the refrigerator while you make the cake batter.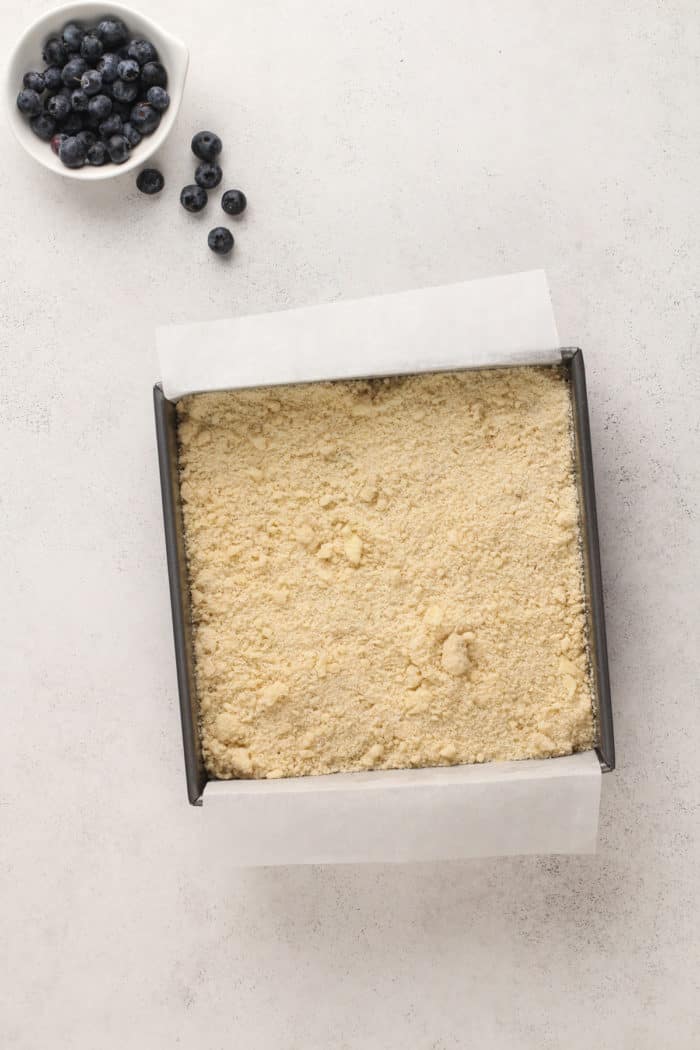 Mix the flour, baking powder, and salt together in a bowl.
In a large bowl, stir together the oil, sugar, lemon juice, lemon zest, lemon extract (if you're using it), vanilla extract and the eggs. Fold in the flour mixture, followed by the blueberries. Be careful not to overmix the batter.
Pour the batter into the lined cake pan and sprinkle the streusel over the top.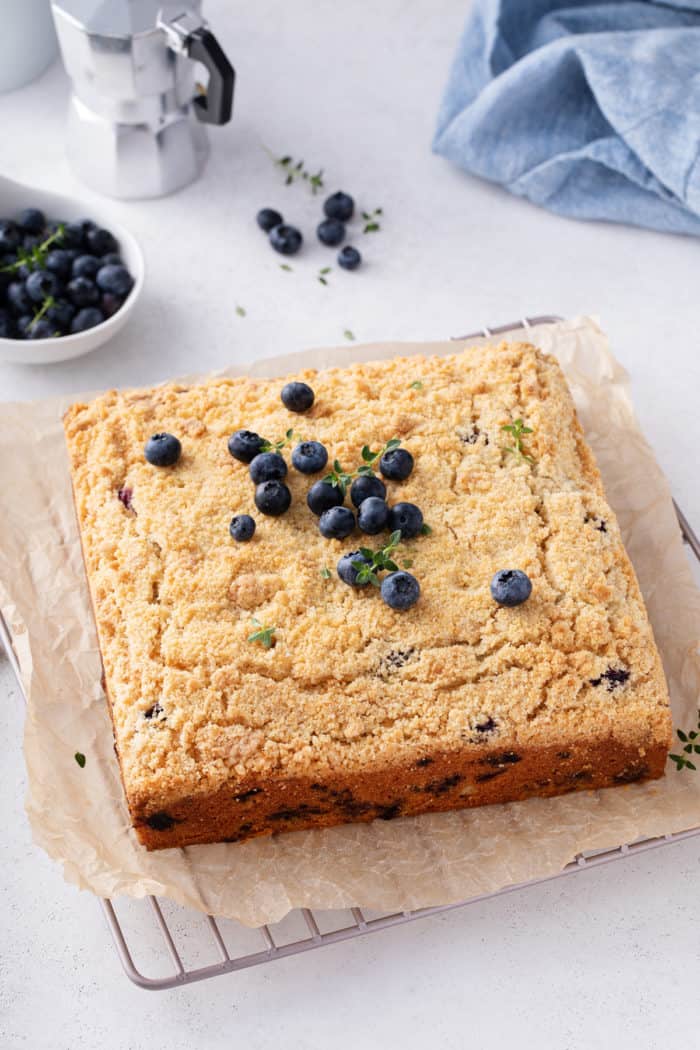 Since the cake is so thick, it will take about an hour to bake. It's done when a toothpick inserted into the center comes out clean, with only a few moist crumbs clinging to it.
Let the cake cool for about 15 minutes before serving.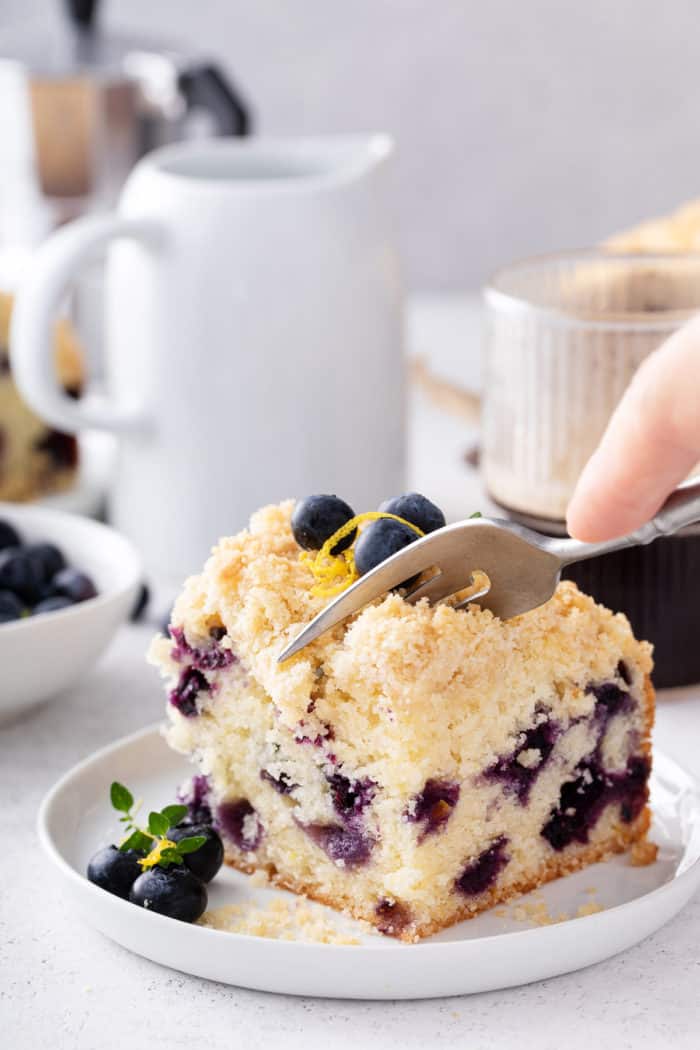 STORAGE
Cover and store any blueberry coffee cake leftovers at room temperature for up to 3 days.
This cake stays nice and moist, so it is delicious at room temperature. If you want to warm up leftover slices, pop them in the microwave for 15-30 seconds.
If you'd like to freeze slices of the cake for later, place the cooled slices in an airtight zip-top freezer bag. Freeze for up to a month.
When you're ready to enjoy a slice, you can let it thaw at room temperature for a couple of hours or microwave it for 30-60 seconds before enjoying.