This bundt-style coffee cake makes for a delightfully decadent breakfast, sweet afternoon treat, or simple dessert. Made with baking mix, this easy coffee cake recipe is simple to throw together and the sweet ribbon of cinnamon streusel is the best part!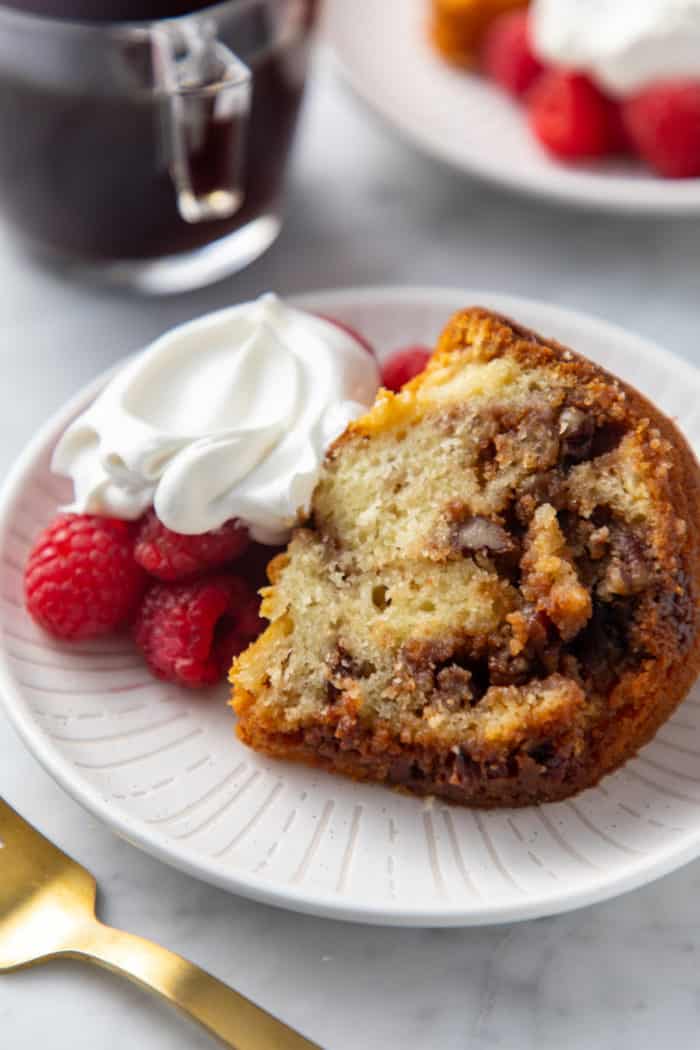 When I was a little kid, I remember my Nana having different flavors of Entenmann's desserts on her counter. Whether it was donuts or pastries, I was pretty much always a fan of her selection, unless it was crumb cake.
I think she always referred to their crumb cake as coffee cake and when you're 6, anything with the word coffee in it is a no-go.
But fast forward 35+ years later and coffee cake is one of my absolute favorite sweet treats!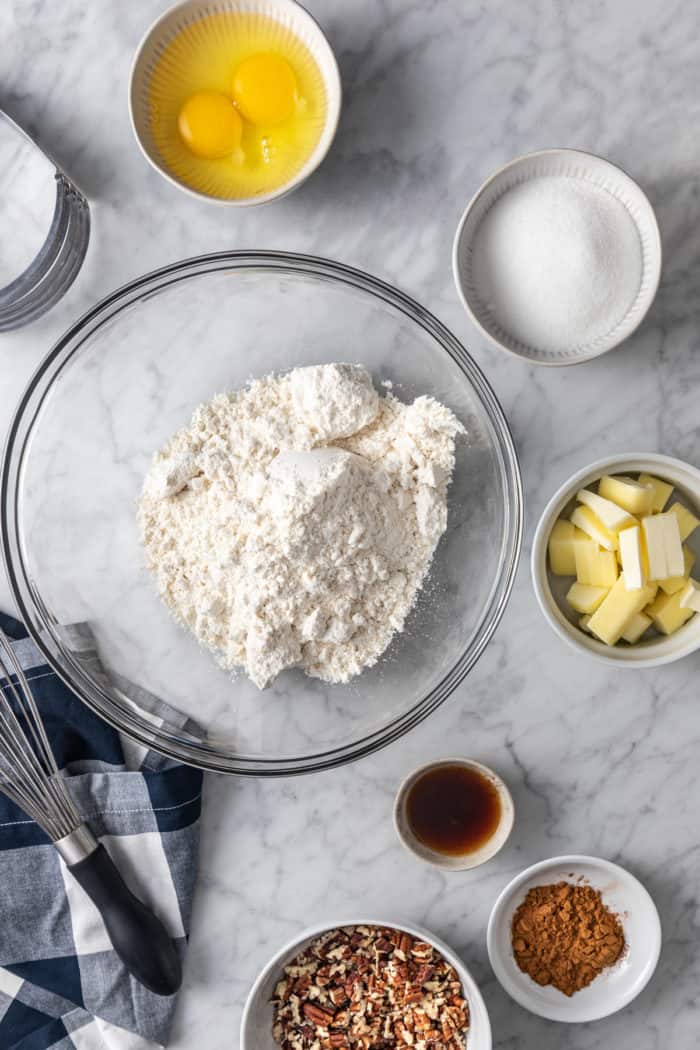 WHAT IS COFFEE CAKE?
Every time I share a coffee cake recipe, I get someone wondering why there's no coffee listed in the ingredients. So we have to ask:
Does coffee cake actually have any coffee in it? Why is it called coffee cake?
Coffee cake is a moist cake that is often topped with some kind of streusel topping. It does not typically have any coffee in it. It is called coffee cake because it is meant to be enjoyed alongside a cup of coffee (or tea!).
This easy coffee cake recipe is one that does not have any coffee in it, but I can testify that it does taste great alongside a cup of your favorite coffee!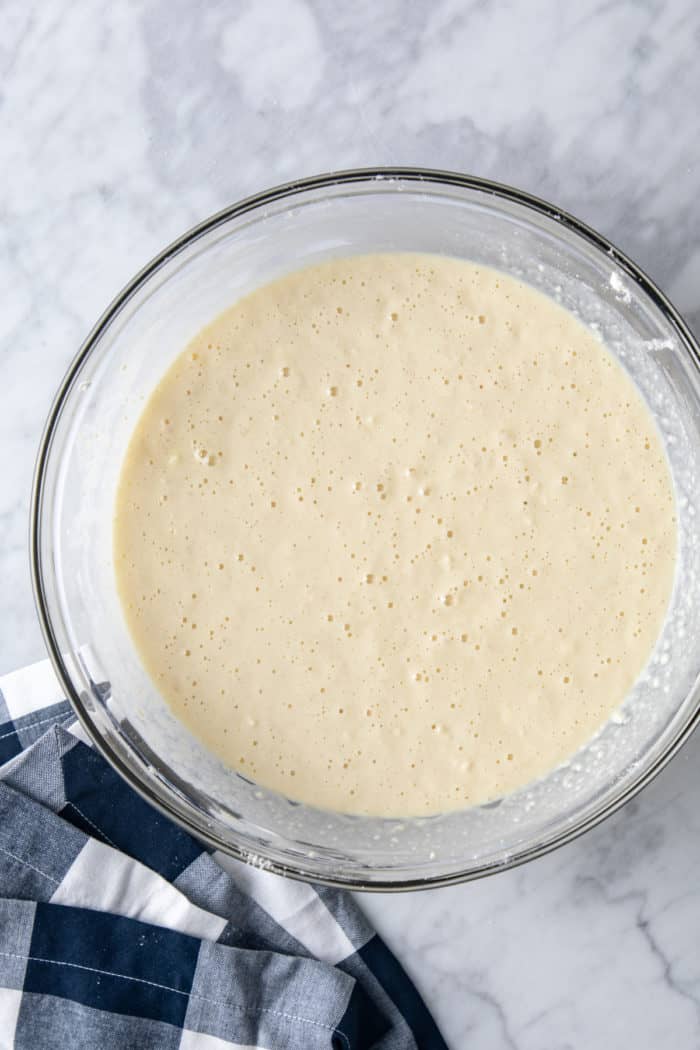 HOW TO MAKE THIS EASY COFFEE CAKE RECIPE
Every once in a while I come across a vintage baking recipe in an article that catches my eye. It's how I found out about whipping cream cake, and it's how I found out about this easy coffee cake recipe.
The original recipe calls for "JIFFY" all-purpose baking mix and even though I tweaked the recipe itself quite a bit, I stuck with using the "JIFFY" mix.
The result is a super light, buttery coffee cake with a ribbon of cinnamon streusel running through the center. It is one of the best coffee cakes I've ever eaten!
Is "JIFFY" baking mix the same as Bisquick?
I did a side-by-side comparison of the ingredients in the "JIFFY" all-purpose baking mix and Bisquick mix. While they do share a lot of similar ingredients, they also have quite a few differences.
So at the end of the day: No, "JIFFY" baking mix and Bisquick mix are not the same.
That said, they are both all-purpose mixes, so you should be able to substitute them for each other in most recipes.
I easily found the "JIFFY" mix with the other all-purpose baking mixes at my grocery store. If you are having trouble finding it, you should be able to use my homemade Bisquick in this recipe instead.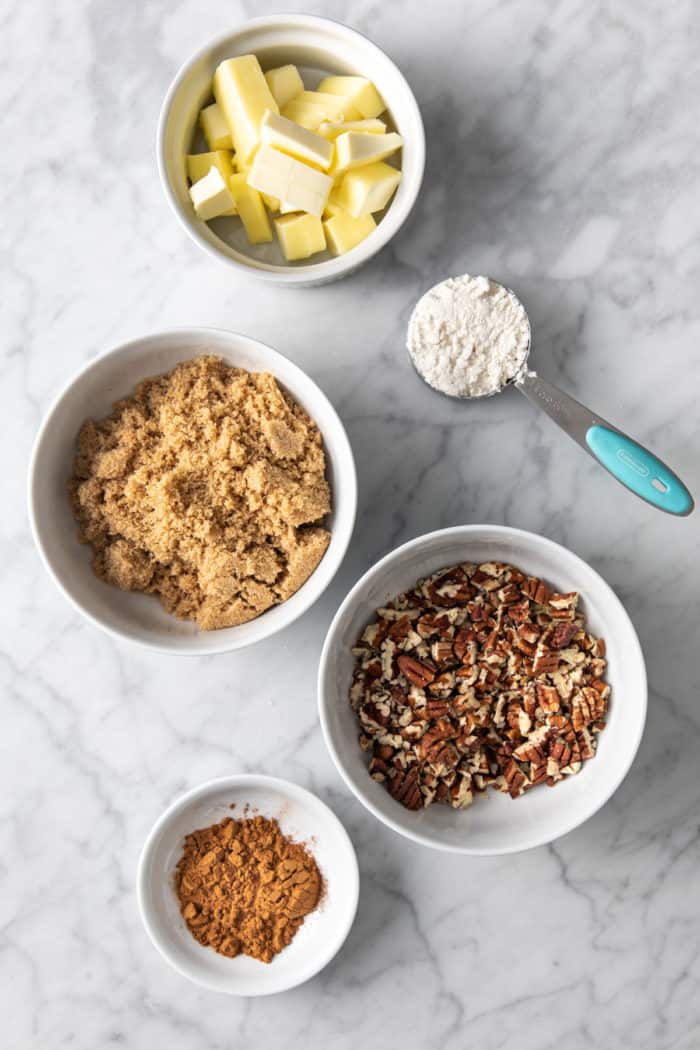 The best pan for this recipe
I tried making this recipe two different ways: Once in a bundt pan, and once in a 13×9-inch pan.
While the sheet-style cake in the 13×9-inch pan was good, it didn't hold a candle to the bundt-style version.
Look, I can't tell you why the bundt cake was better, ok? All I can say is that I highly recommend baking this easy coffee cake recipe in a bundt pan. It's so good.
When you use the bundt pan, just make sure that you grease and flour the pan, or use a nonstick spray especially for baking. Otherwise, you will struggle to get the cake out of the pan in one piece.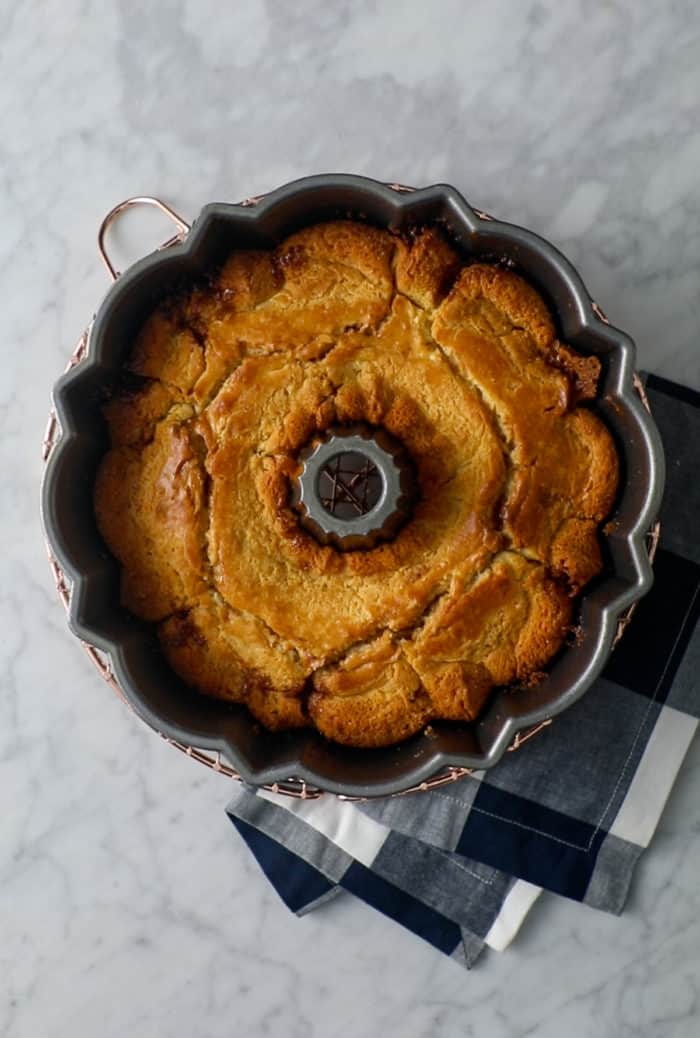 Making this recipe
To make the coffee cake batter, whisk together the baking mix and sugar in a large bowl.
Since baking mix is crumbly and compacts easily, I like to measure it the same way I measure flour. Learn how to measure flour to make sure you have success with this recipe.
Use a pastry cutter to cut the cold butter into the baking mix until the mixture is crumbly and resembles a coarse meal.
Next whisk together the wet ingredients and add them into the dry mixture, stirring just until combined. Don't be confused at this point: the batter is going to resemble a thin, lumpy pancake batter. I promise this is right!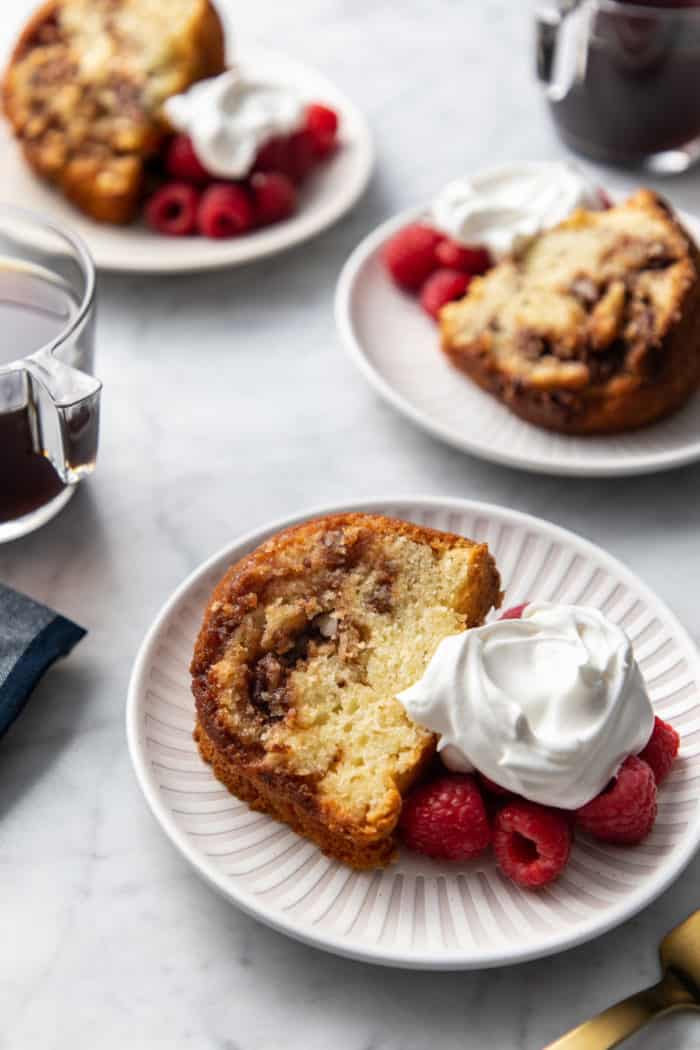 Let the cake batter rest for 10 minutes while you make the streusel.
Mix together the brown sugar, baking mix, cinnamon, and chopped nuts.
(Psst! If you ran out of brown sugar, use my brown sugar substitute. If you opened your brown sugar container to find the sugar is hard as a rock, learn how to soften brown sugar quickly!)
Use your fingertips to rub the softened butter into the brown sugar mixture until crumbs form.
Once the streusel is ready and the batter has rested for 10 minutes, you can assemble your cake. You'll notice that the coffee cake batter is much thicker now than it was before!
Pour half of the batter into the prepared bundt pan. Top with half of the streusel, then the remaining cake batter, followed by the rest of the streusel.
This easy coffee cake will bake for about 45 minutes. Make sure to let the cake cool in the pan for 20-30 minutes before turning it out and serving.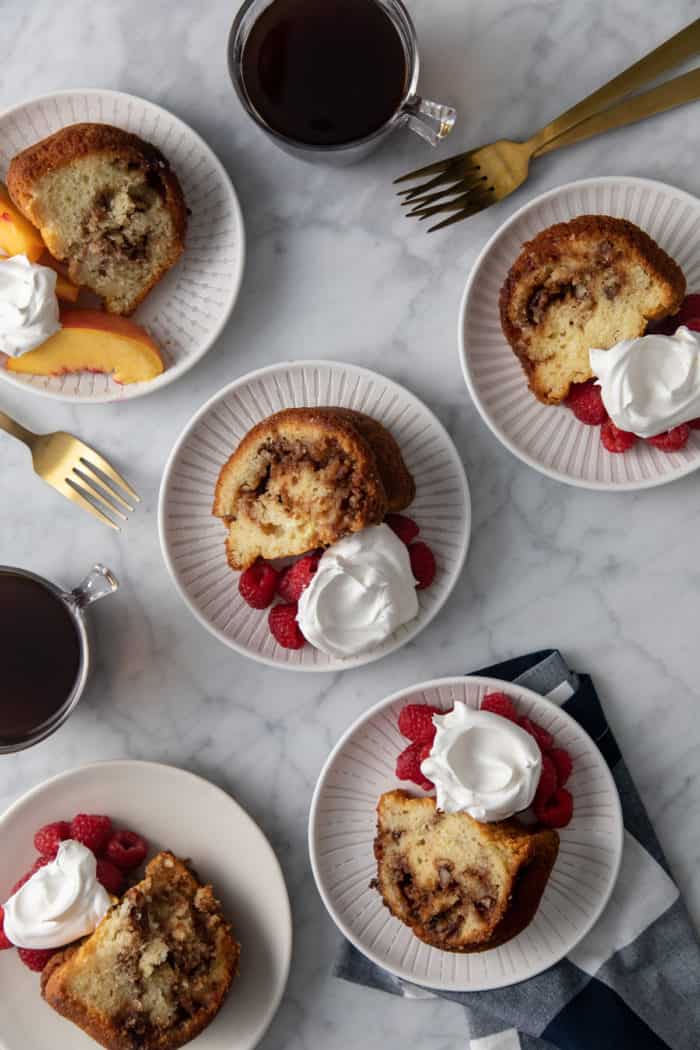 MORE GREAT COFFEE CAKE RECIPES
I'm such a fan of coffee cakes. Maybe it's the streusel topping, maybe it's the excuse to eat cake for breakfast.
If you loved this easy coffee cake recipe, make sure you check out these other delicious coffee cakes: