Looking for a coffee cake full of fall flavors? You'll definitely want to try this Pumpkin Coffee Cake! Packed with pumpkin and topped with streusel and a simple icing, this is the perfect cake for snacking on alongside a cup of coffee or chai.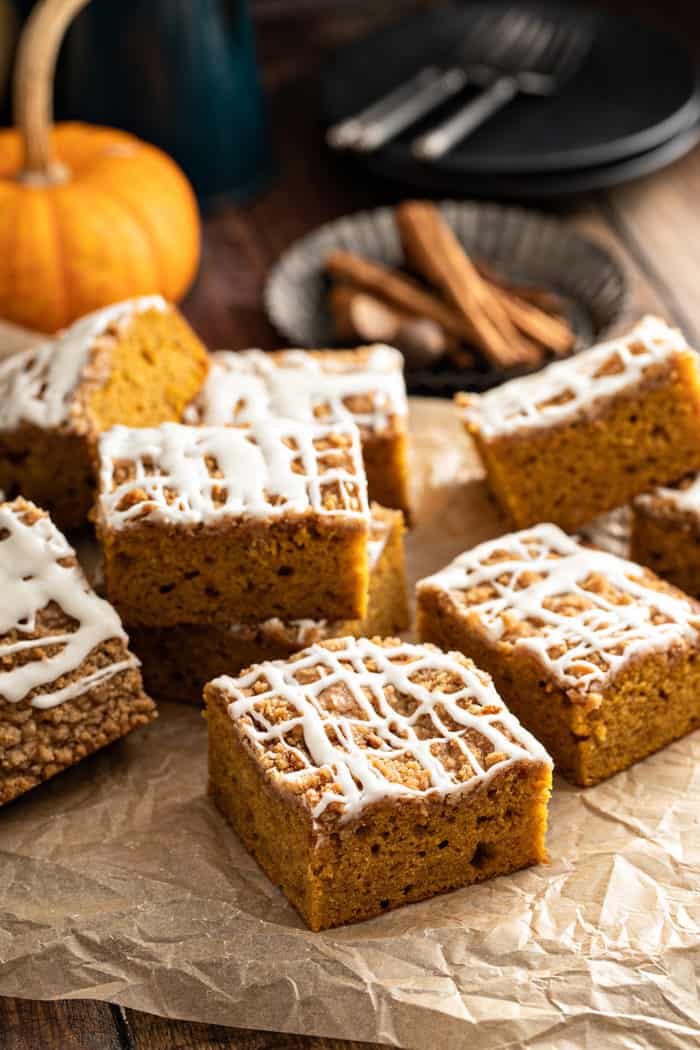 If there is one pumpkin recipe you make from My Baking Addiction (aside from my Pumpkin Bread and Pumpkin Roll) it has to be this Pumpkin Coffee Cake.
Between testing it and just making it to share with friends and family, I think I've made this Pumpkin Coffee Cake over 5 times within the last month. And let me tell you, it might just be one of my new favorite pumpkin recipes.
This Pumpkin Coffee Cake is super easy to put together and it is perfect for holiday entertaining, potlucks, or as a delicious dessert throughout the week. The flavors actually deepen after it's baked, so in my opinion it's even better the day after it's made.
Serve it up with a piping hot cup of coffee or tea and you pretty much have the perfect fall breakfast!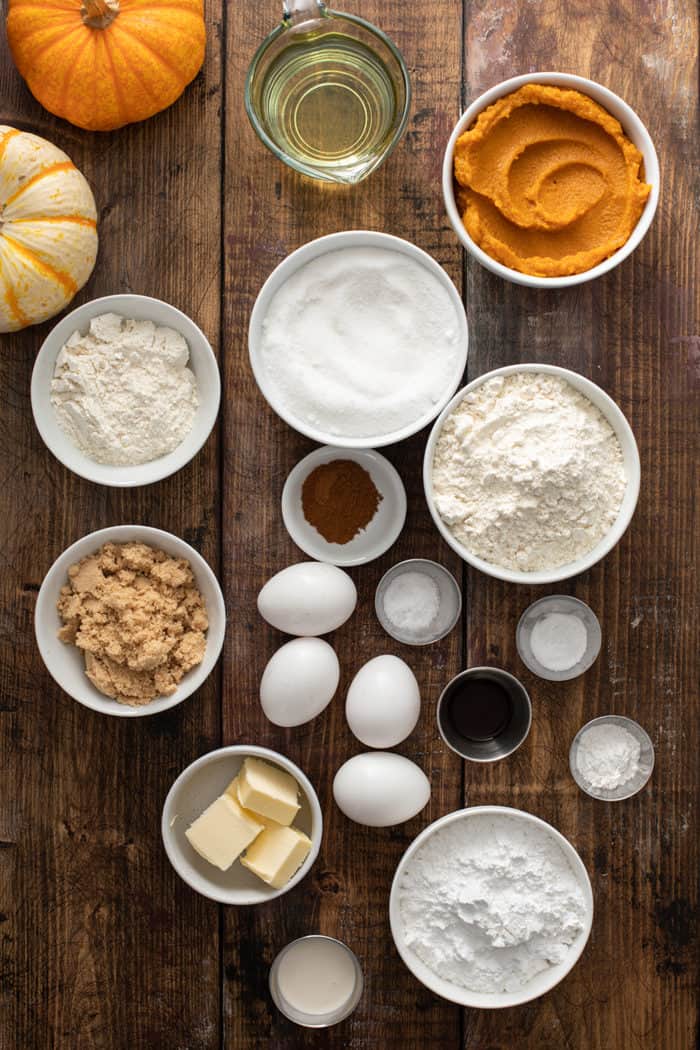 WHAT IS COFFEE CAKE?
Don't freak out if you don't like coffee. I promise there isn't any coffee in this Pumpkin Coffee Cake!
Here in the U.S., coffee cake doesn't usually have any coffee in it. The name "coffee cake" refers to a sweet cake that is intended to be eaten with a cup of coffee or tea.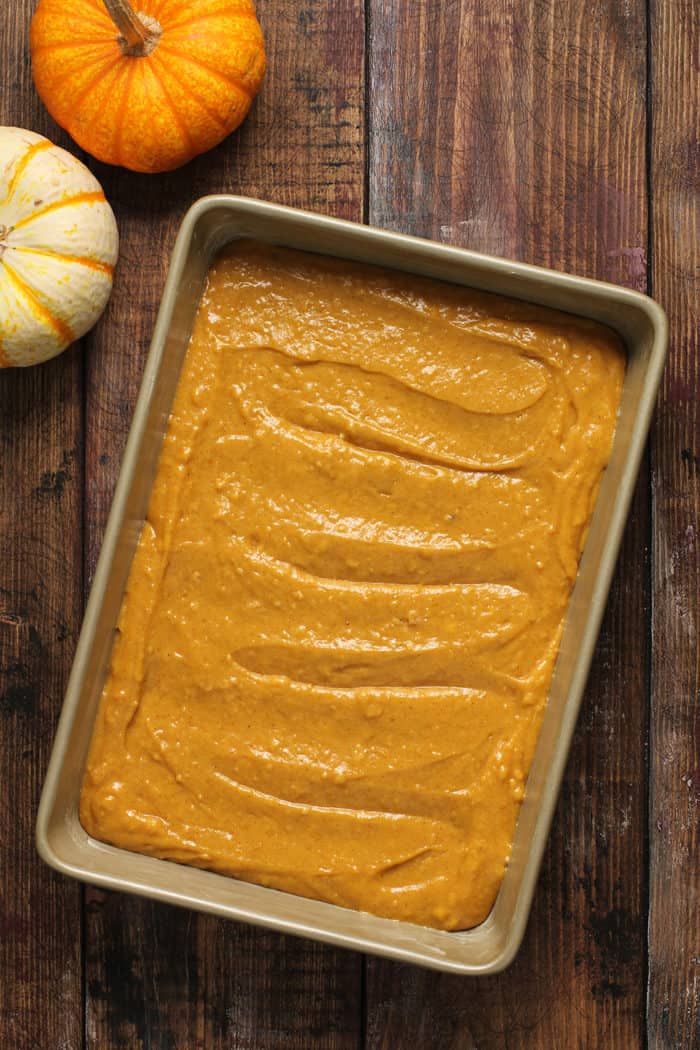 Most of the time, coffee cakes have a crumb or streusel topping, like in Cinnamon Coffee Cake, Make-Ahead Banana Bread Coffee Cake, and this Pumpkin Coffee Cake.
In addition to a streusel topping, a lot of coffee cake recipes are finished with a glaze or drizzled icing. This recipe is no exception! The icing is optional, but I love the extra bit of sweetness it adds to the cake.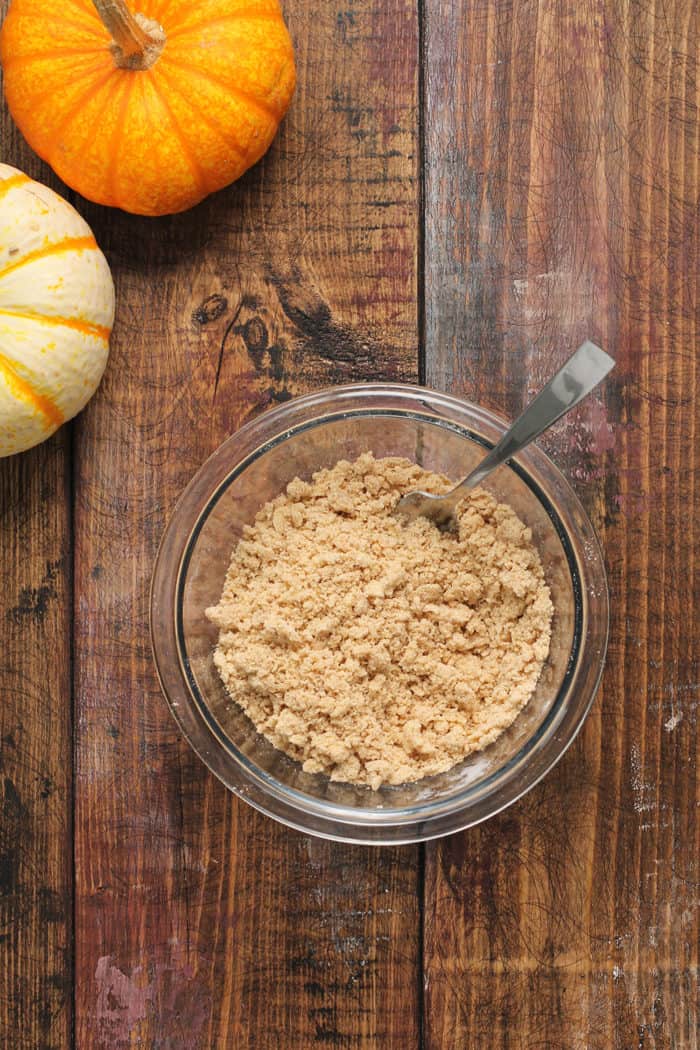 HOW TO MAKE PUMPKIN COFFEE CAKE WITH STREUSEL TOPPING
Start by gathering the ingredients for your coffee cake. To make the cake, you'll need:
4 large eggs
1 2/3 cups granulated sugar
1 cup vegetable oil
1 15-ounce can pumpkin puree
2 teaspoons pure vanilla extract
2 cups all-purpose flour
2 teaspoons baking powder
1 teaspoon baking soda
1 tablespoon homemade pumpkin pie spice
1 teaspoon kosher salt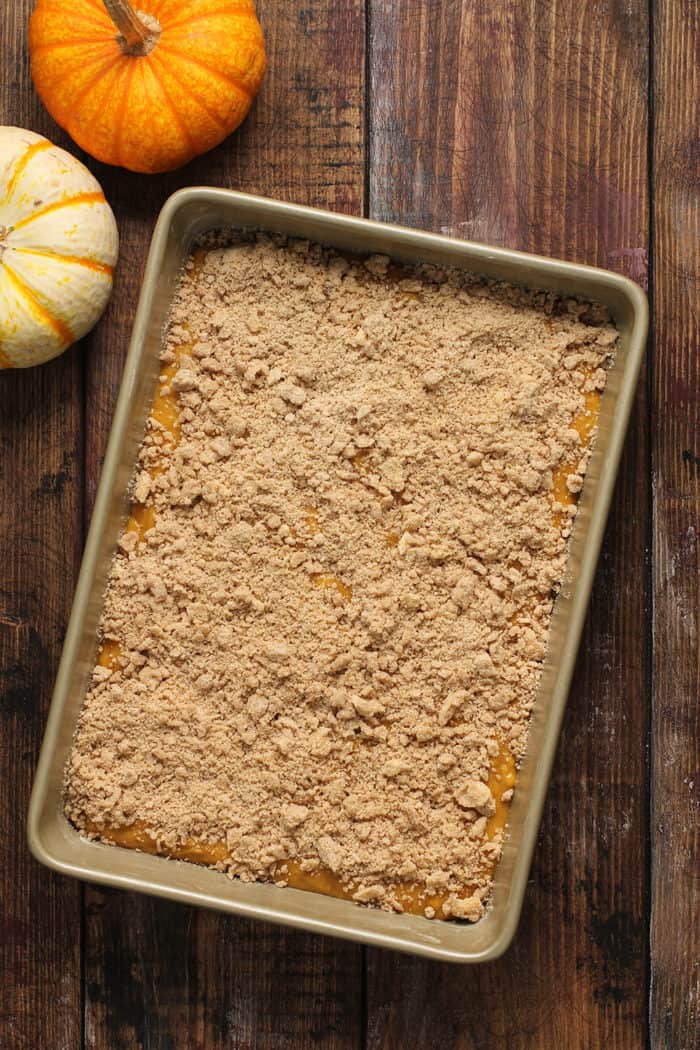 That's right, this cake uses a whole can of pumpkin! I told you it was going to be packed with fall flavors.
Just make sure you grab pumpkin puree and not pumpkin pie filling. I use canned pumpkin puree, but with pie pumpkins readily available right now, you could make a bunch of pumpkin puree from scratch and freeze it to use later.
Use an electric mixer to thoroughly mix the eggs, sugar, oil, pumpkin puree, and vanilla extract in a large bowl.
In a separate bowl, whisk together the flour, baking powder, baking soda, pumpkin pie spice, and salt. Stir the dry ingredients into the pumpkin mixture until just combined, then pour the batter into a greased 13×9-inch pan.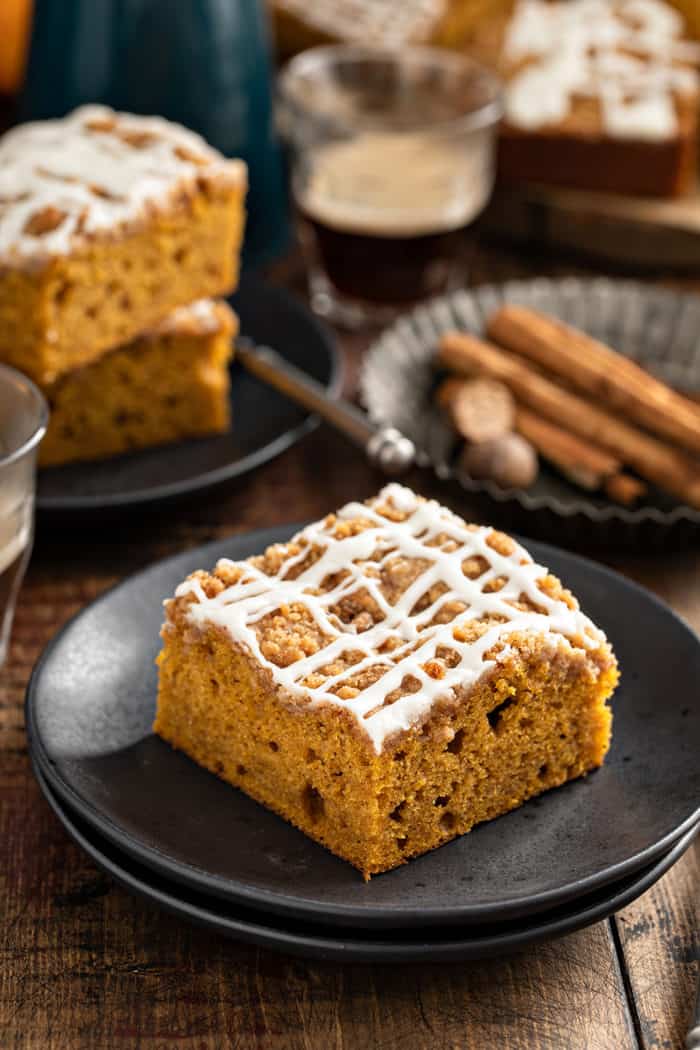 Mix together the streusel topping using:
1/2 cup packed light brown sugar
1/2 cup all purpose flour
1/2 teaspoon pumpkin pie spice
4 tablespoons unsalted butter, softened
Combine that with a fork until it resembles coarse crumbs, then sprinkle it on top of the cake batter and bake for about 35-40 minutes.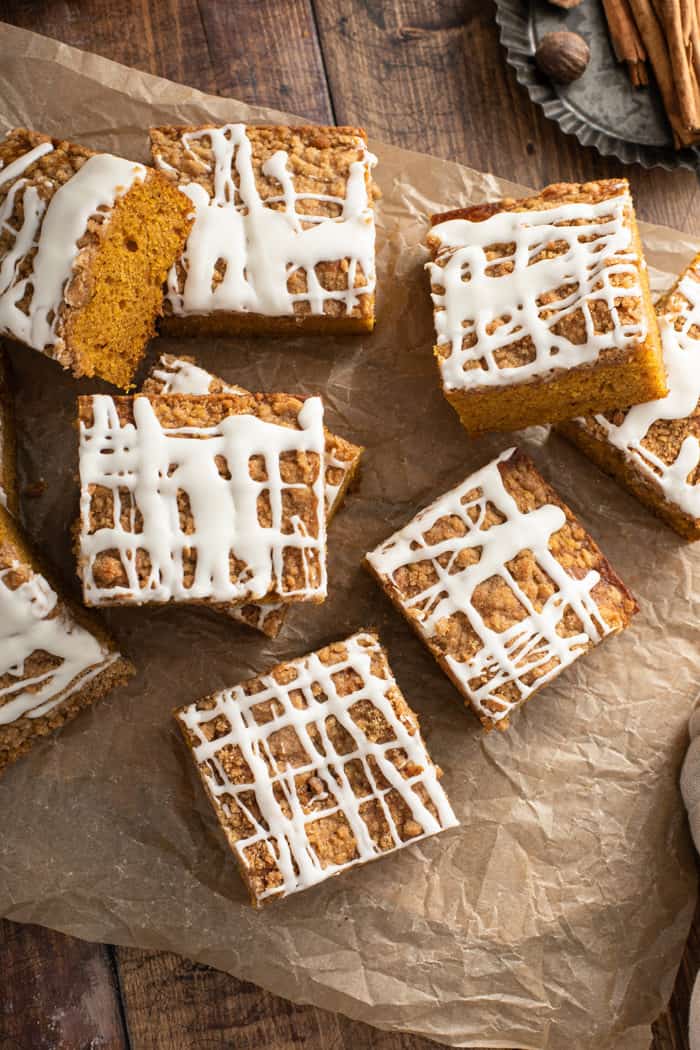 After the cake comes out of the oven, let it cool and top with a super simple glaze made with powdered sugar and vanilla coffee creamer.
Don't have coffee creamer on hand? Not to worry! You can use milk and a splash of vanilla extract instead.
You could even swap out the icing and use the brown sugar glaze from my Apple Coffee Cake instead.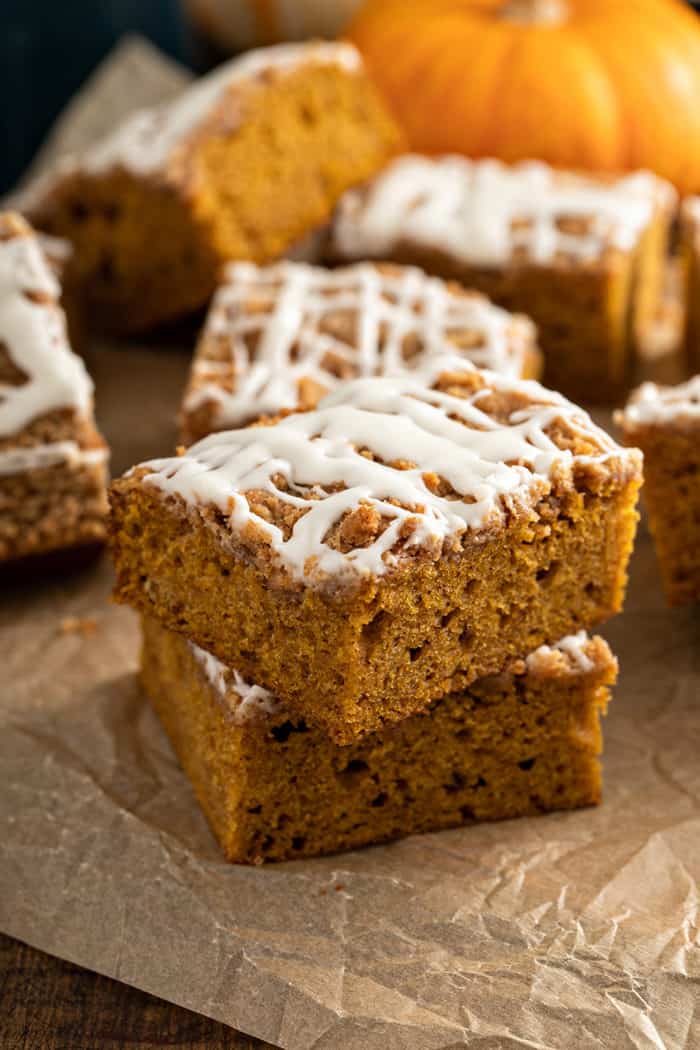 STORING AND FREEZING
This Pumpkin Coffee Cake recipe makes a 13×9-inch pan, so it definitely feeds a crowd.
If you end up with leftovers, place the slices in an airtight container and store at room temperature for up to 2 days.
For longer-term storage, wrap the cooled slices individually in plastic wrap, then place them in a zip-top freezer bag and freeze for up to a month. When you'd like a slice of cake, unwrap it and microwave for 30-60 seconds.