Cinnamon Coffee Cake is moist, tender and buttery, topped with a sweet cinnamon streusel. Served alongside a piping hot cup of coffee or tea, this cake makes a delicious breakfast treat or afternoon snack!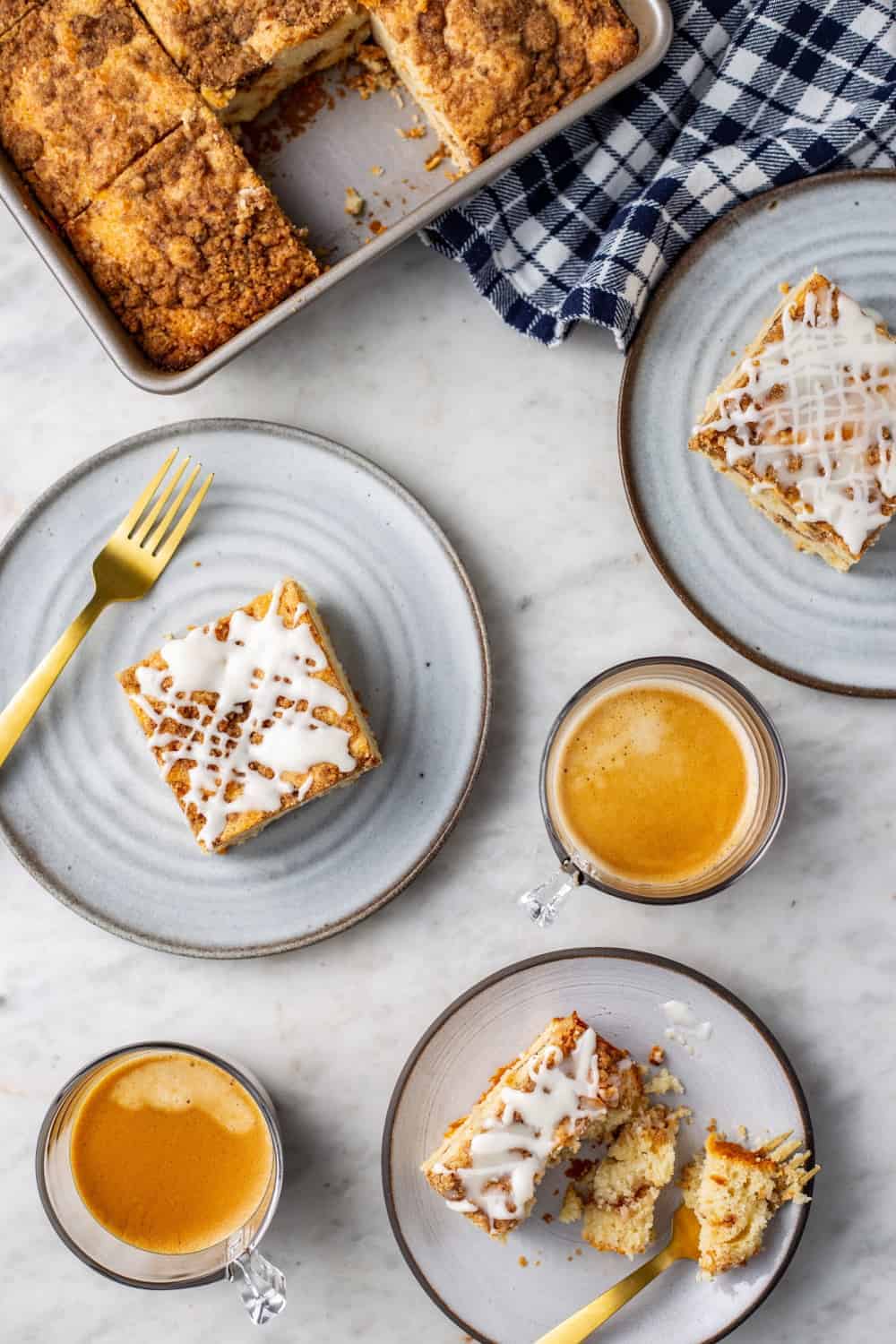 One of the hardest parts of this season in history has been feeling disconnected from the people around me.
I'm not exactly an extroverted person and am kind of a homebody anyway, so staying at home hasn't been all the different from normal. But not being able to see family or friends has been hard on all of us.
It took a little time for me to realize that, even though we might not be able to do play dates or pop over to see grandparents whenever we want, that doesn't mean I can't still cook and bake for the people I love.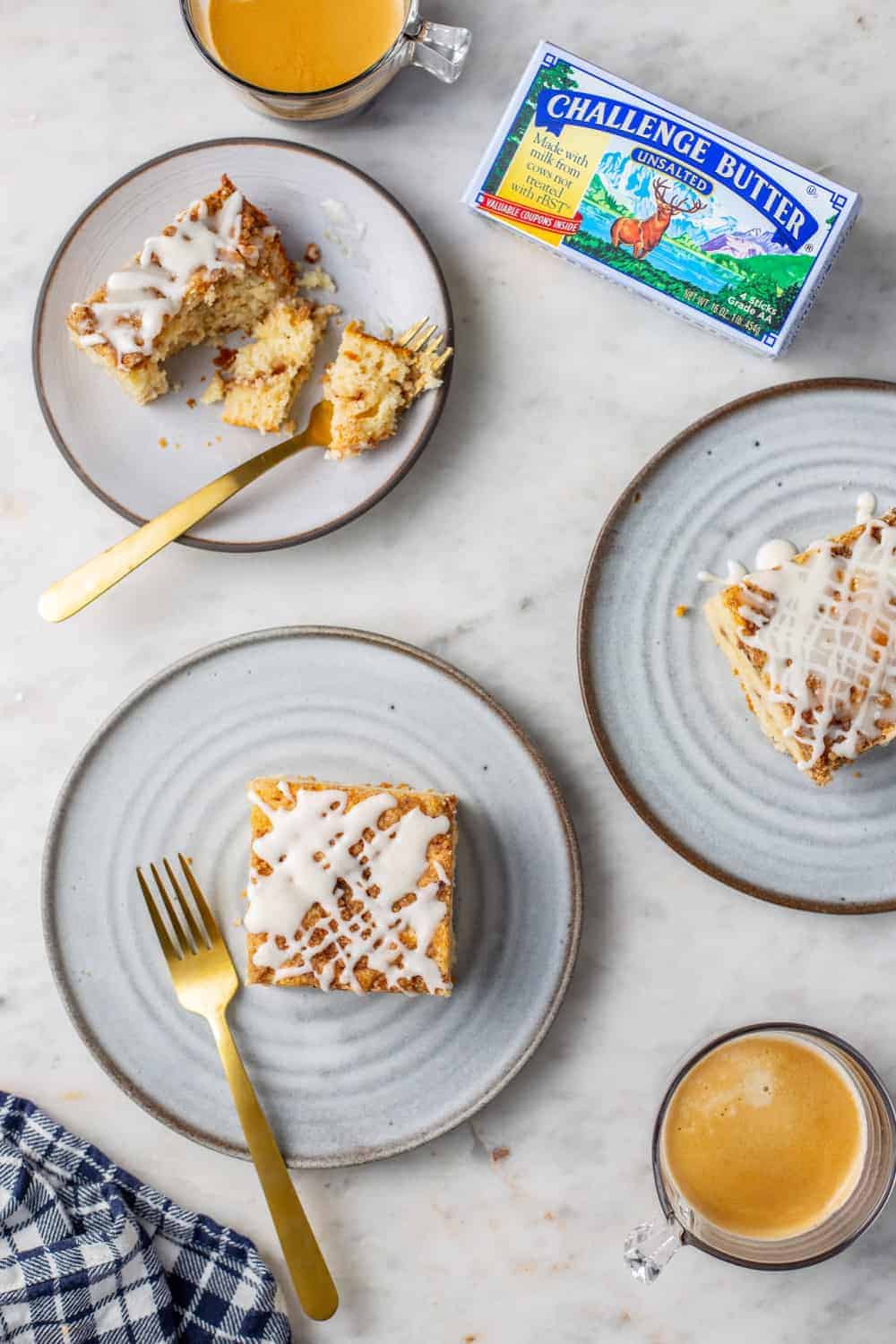 I can make a pan of Ham and Cheese Sliders or a batch of Easy Homemade Meat Sauce and pasta for neighbors or my mama friends that have reached their limit with home-schooling and Zoom calls.
I can get in the kitchen with Elle and bake up a couple of loaves of banana bread for family or some of my favorite chocolate chip cookies to deliver to her school friends.
Just because social events are cancelled doesn't mean that caring for others through food is cancelled!
This Cinnamon Coffee Cake is my new favorite treat to bake up for loved ones. For an extra-special treat, I like to package up several slices of this moist, flavorful cake and do a porch delivery with some piping hot lattes from my local coffee shop.
After all, who wouldn't love a special homemade breakfast delivered right to their door?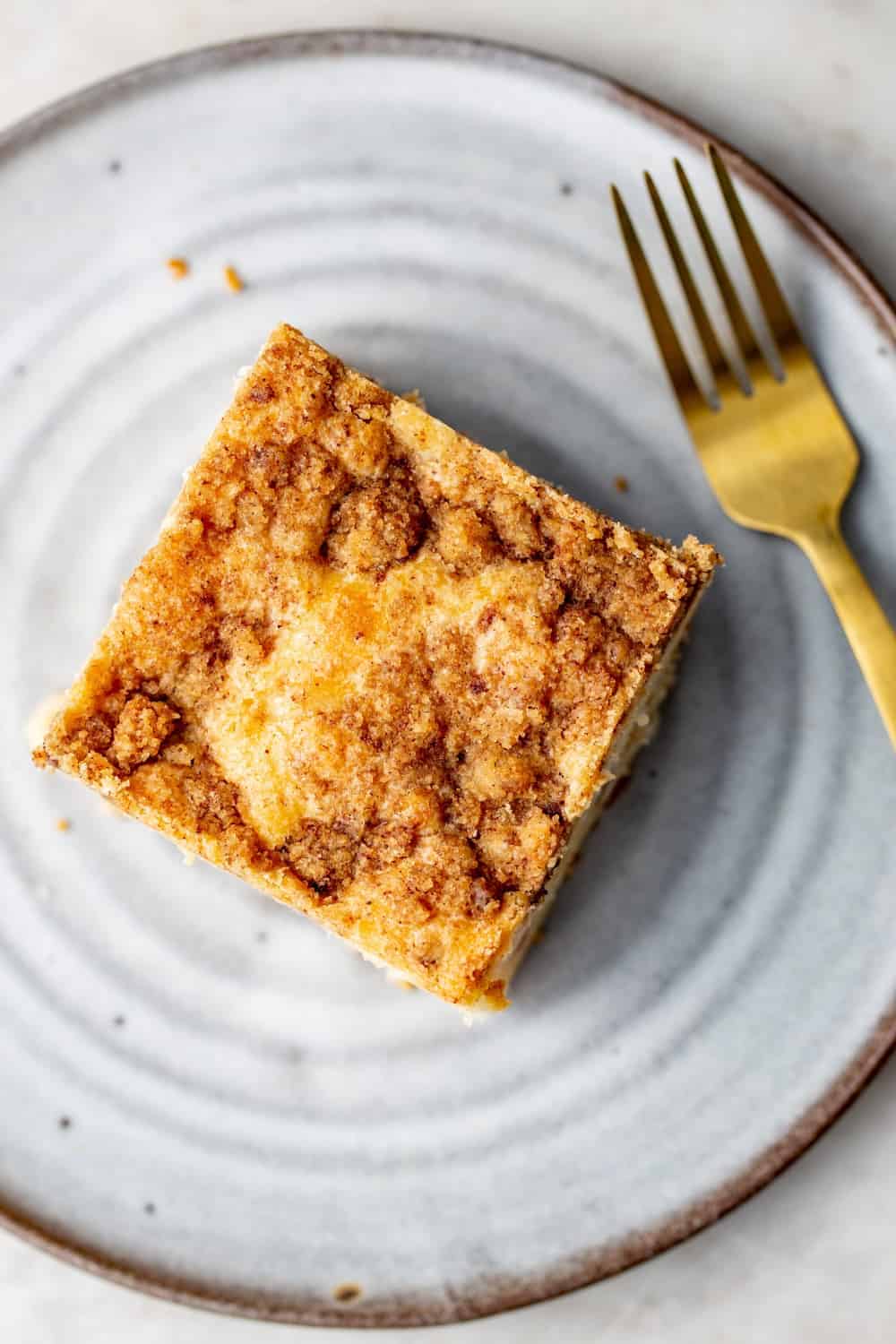 WHAT IS COFFEE CAKE?
Before we get to my Cinnamon Coffee Cake recipe, let's address the elephant in the room:
Does coffee cake have any coffee in it? Why is it called coffee cake?
Coffee cake is a moist cake that is often topped with some kind of streusel topping. It does not typically have any coffee in it. It is called coffee cake because it is meant to be enjoyed alongside a cup of coffee (or tea!).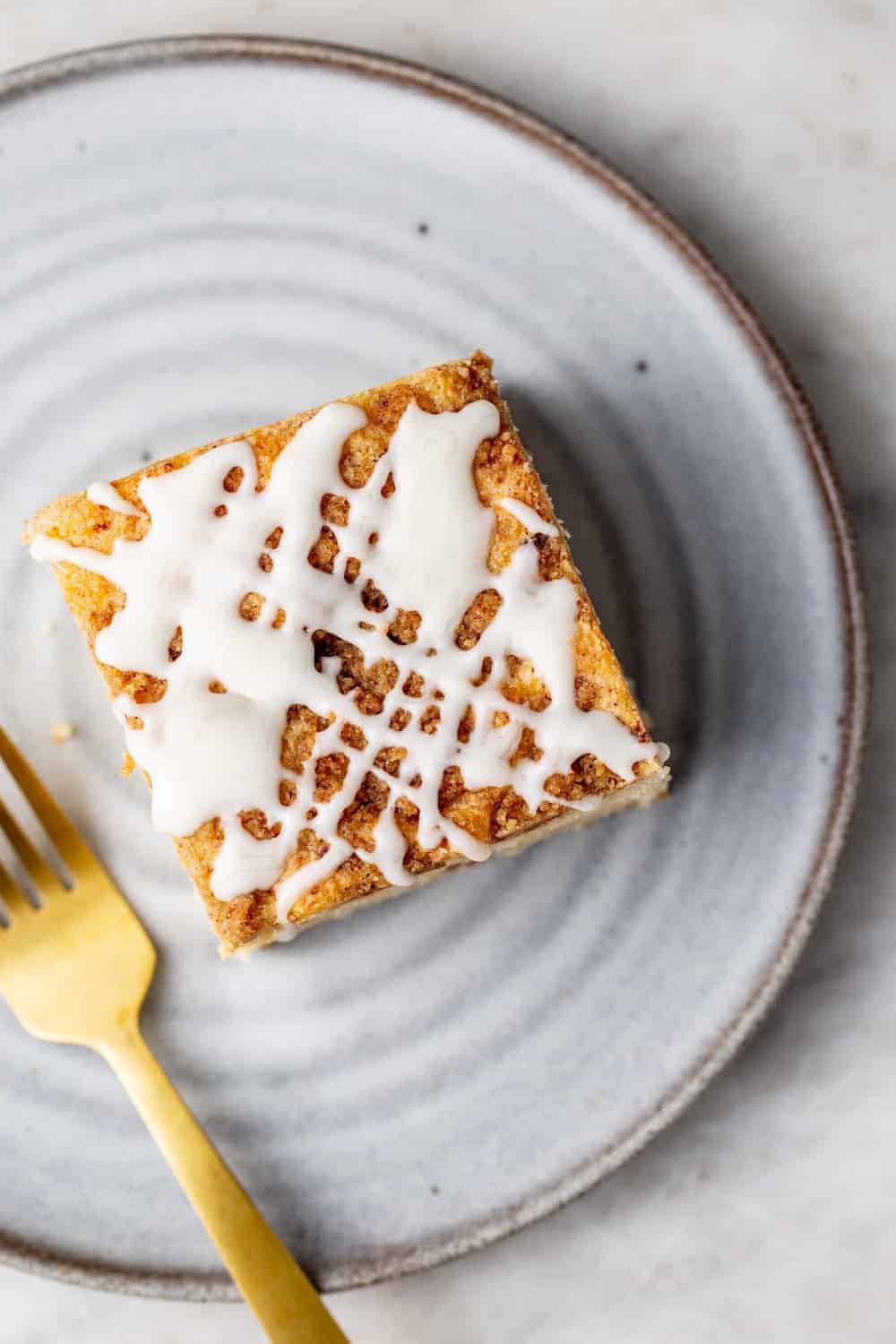 HOW TO MAKE CINNAMON COFFEE CAKE
My Cinnamon Coffee Cake recipe has three components:
Buttery cake made with sour cream for a moist texture and tangy flavor
Cinnamon and brown sugar streusel that goes in the middle and on top of the cake
Vanilla glaze for a little added sweetness on top
Even though you have to mix together three different parts of this cake, it makes a lot, so you'll have plenty to enjoy yourself and also share.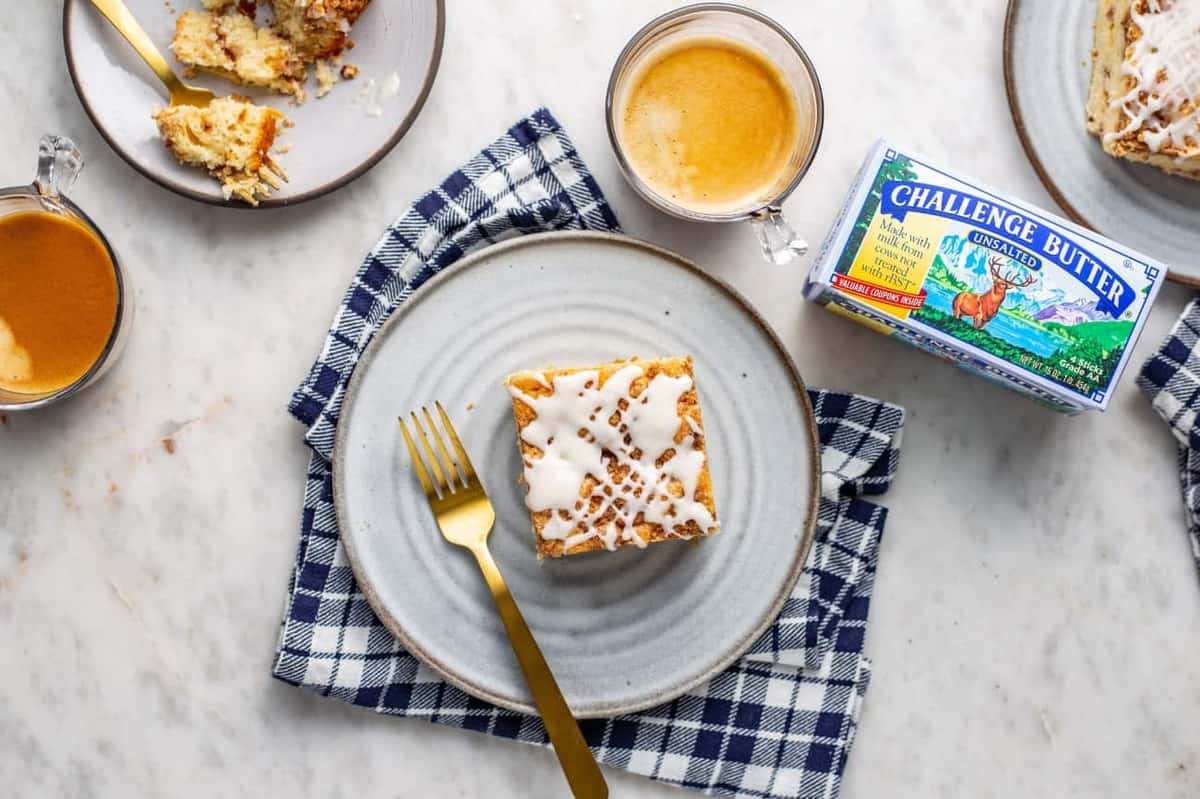 To make the coffee cake, prepare the batter as you would most cakes, by beating together the butter and sugar, adding the eggs, then the sour cream, and finally the dry ingredients.
I use Challenge unsalted butter in all three parts of this cake. I am a big fan of the flavor and freshness of Challenge dairy products – their butter is churned fresh daily and never features any artificial additives or fillers – and think it provides just the right amount of butteriness in this recipe.
After mixing the cake batter, half of it goes into the bottom of a greased 13×9-inch cake pan. Sprinkle on half of the cinnamon streusel topping – made with flour, brown sugar, cinnamon and more Challenge butter – before adding the rest of the batter to the pan.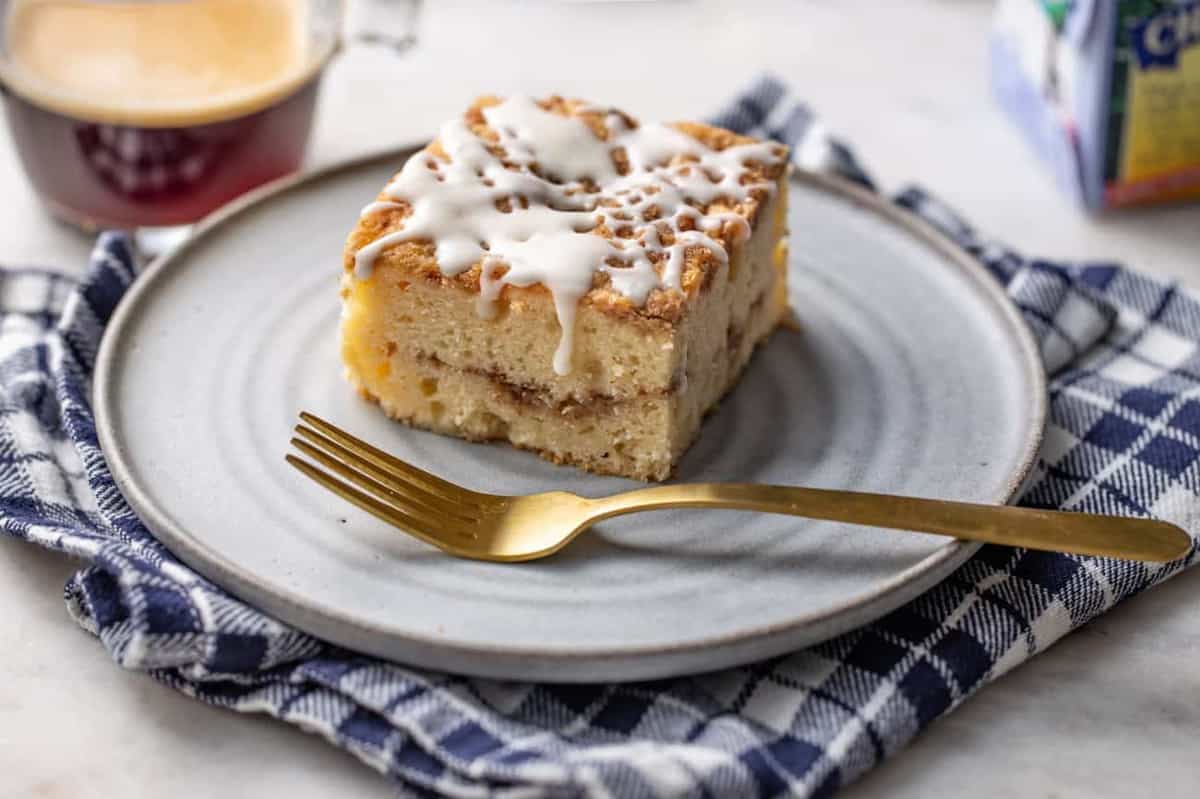 Before baking, top with the remaining streusel. Putting half of the streusel in the center and half on top of the cake means that each bite is bursting with rich cinnamon flavor.
After the cake comes out of the oven, allow it to cool completely before drizzling on the vanilla glaze.
I think that Cinnamon Coffee Cake is delicious served at room temperature, but it's really amazing when slightly warmed in the microwave. It's just what you need to kickstart your morning or during an afternoon break!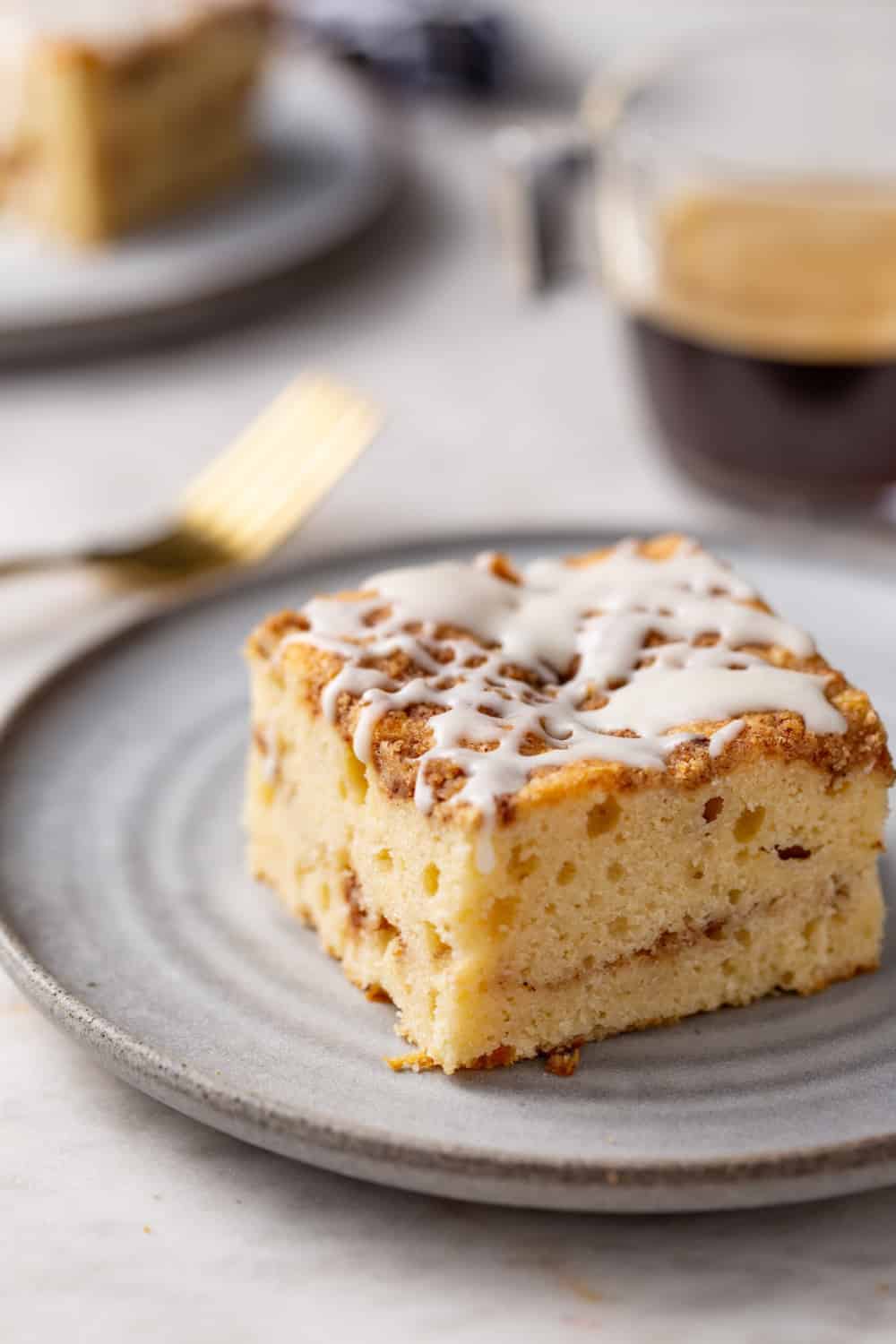 CAN COFFEE CAKE BE FROZEN?
If you wrap it well, Cinnamon Coffee Cake will last a day or two at room temperature.
If you want to extend its shelf life, you can consider freezing your coffee cake to enjoy later.
To freeze, I like to cut the cake into individual pieces and wrap each piece tightly with plastic wrap. This way, I can take out one or two pieces at a time without having to thaw the entire cake!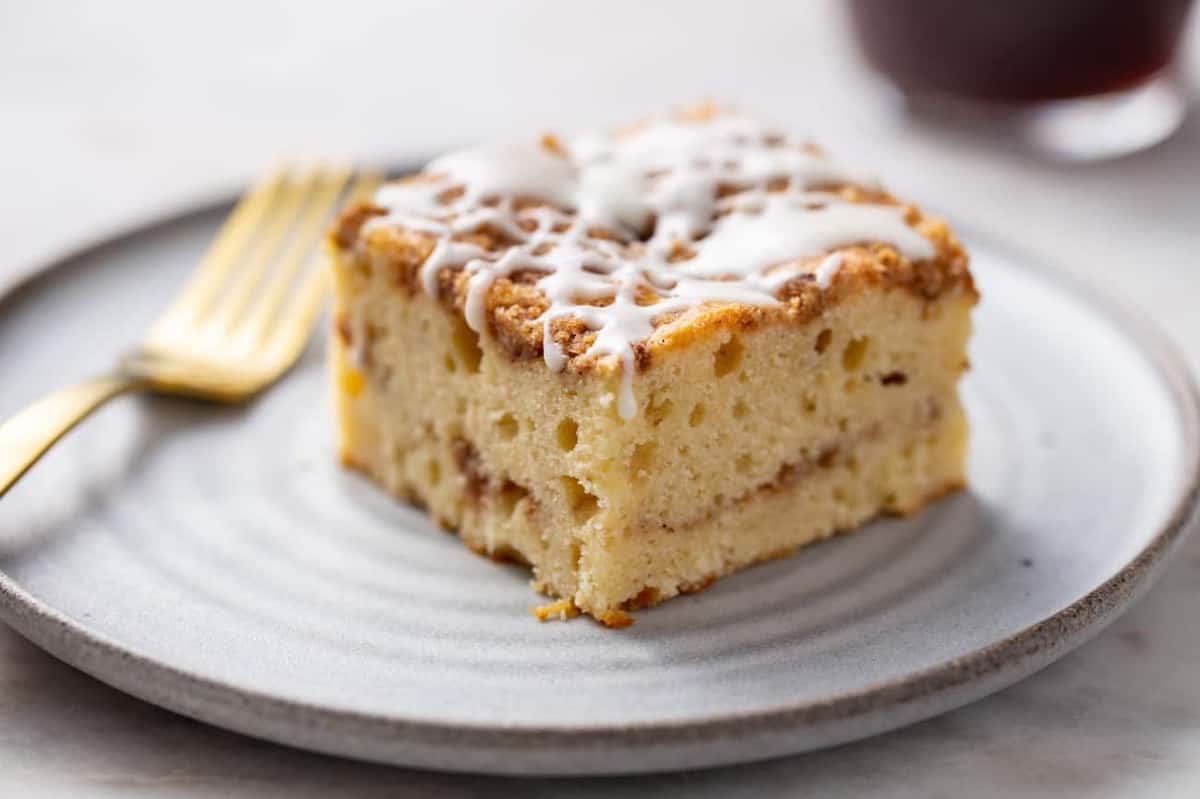 Put the wrapped pieces into a freezer bag, label and freeze for several months.
When you're ready to enjoy, grab a slice of cake from the freezer, unwrap it, and microwave for about 1 minute. Note that you may need more or less time depending on your microwave, so experiment to see what works best for you!
Having Cinnamon Coffee Cake in the freezer is a perfect treat for rainy afternoons when you just need a little pick-me-up. After all, who wouldn't love a piece of buttery, cinnamon-streusel-topped cake with a cup of afternoon coffee?