Make-Ahead Banana Coffee Cake brings coffee cake and banana bread into one bite. Prep this recipe the night before and bake it in the morning for a warm-from-the-oven holiday breakfast.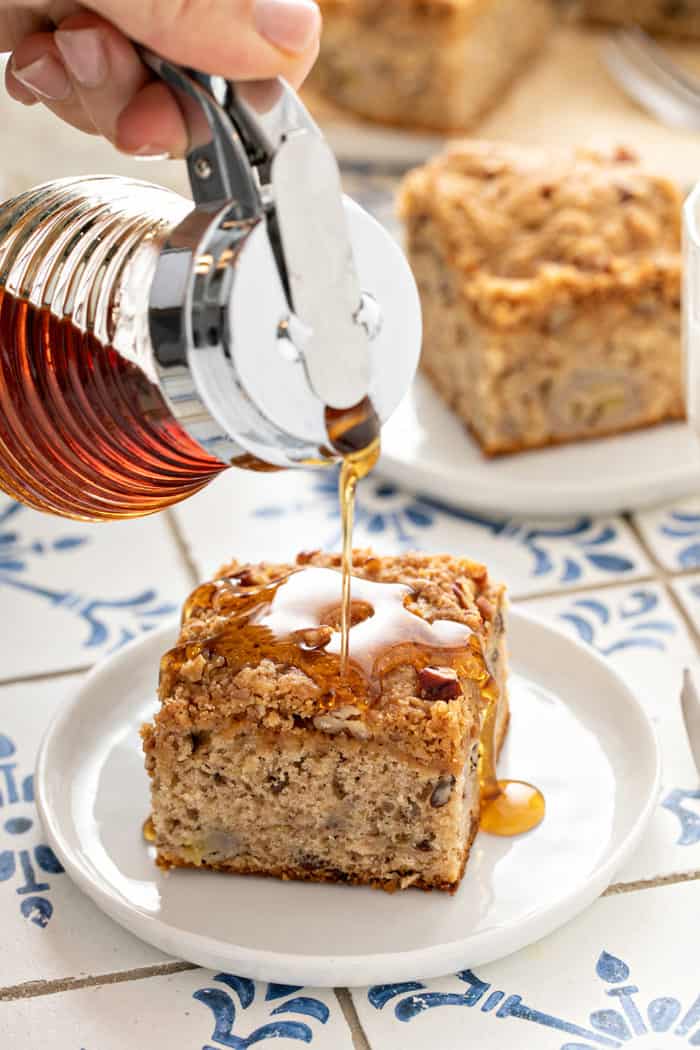 One of my absolute favorite ways to start my day is with a hot cup of coffee and slice of banana bread.
Whether homemade or from Starbucks, there's just something about this combination that really hits the spot during the winter months.
Although I am pretty known for the banana bread that I bake on a very regular basis, sometimes I like to switch it up with this Make-Ahead Banana Coffee Cake.
It's simple, delicious and the perfect way to feed a small crowd on Christmas morning. Just add some fresh fruit, bacon or sausage and you're good to go!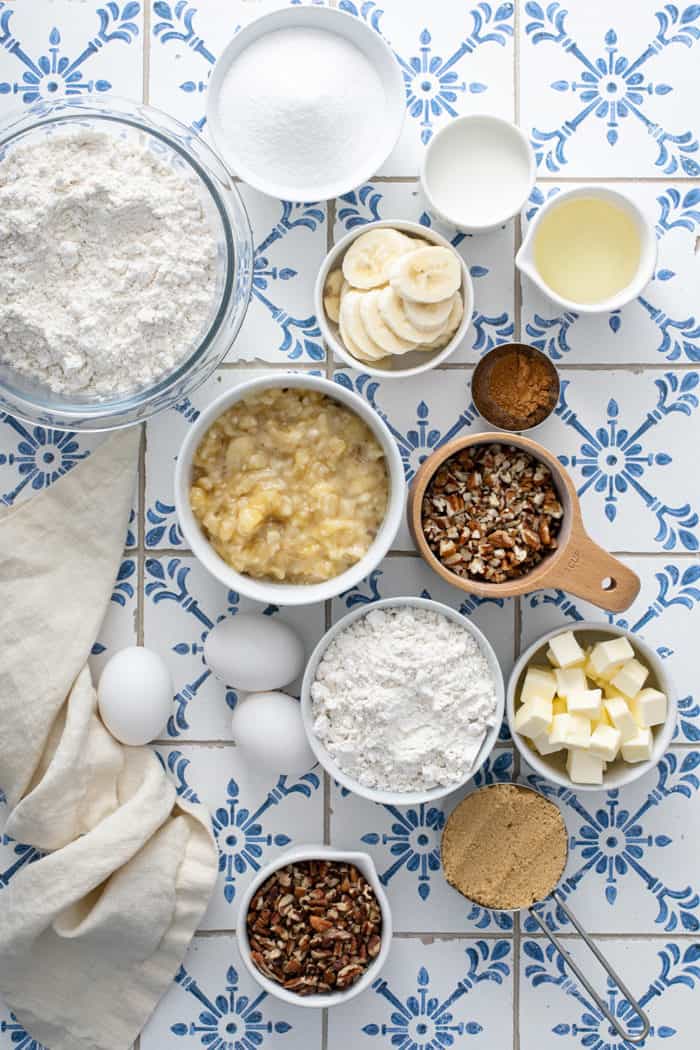 EASY BANANA COFFEE CAKE WITH BISQUICK
I am a big fan of using my homemade Bisquick mix to make everything from fluffy Bisquick pancakes to simple Bisquick biscuits.
But would you have guessed that you can also use this handy baking mix to make an overnight coffee cake?
It's true!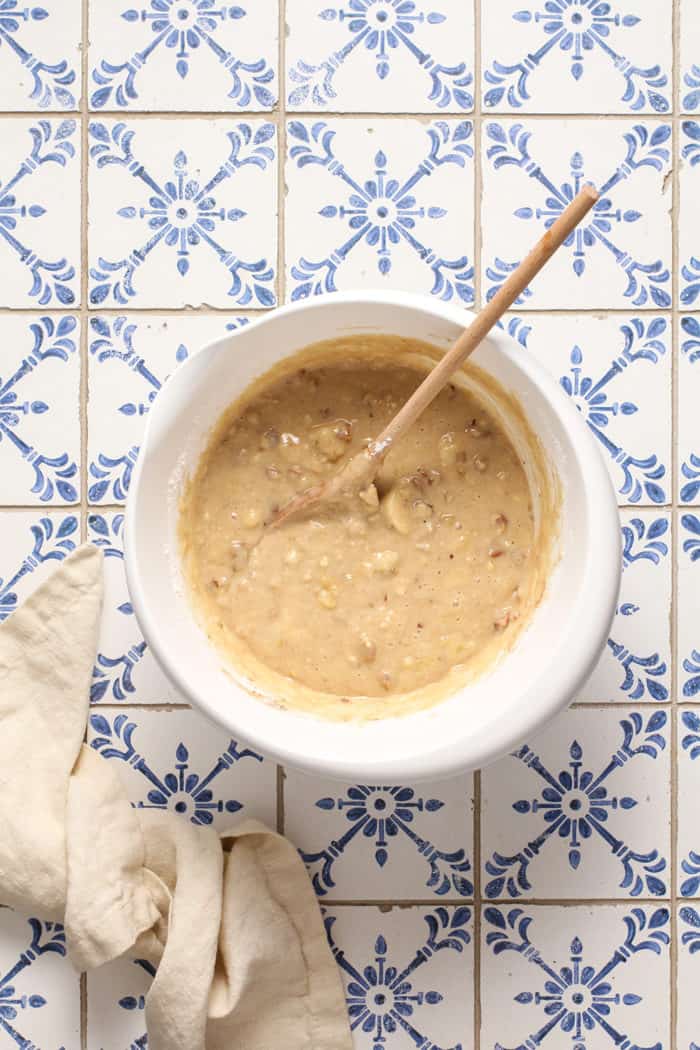 I didn't really believe it either when I first heard about this. But I decided to give it a shot anyway and sure enough, you can totally make a super easy coffee cake with Bisquick.
I decided to take this concept and combine it with banana bread to make a moist and delicious coffee cake that will start any holiday morning off on the right foot.
After all, you've got to give yourself fuel to get through all the festivities, people. I speak from experience. No one wants to see mom in a fit of ugly crying because she's hangry. Trust me.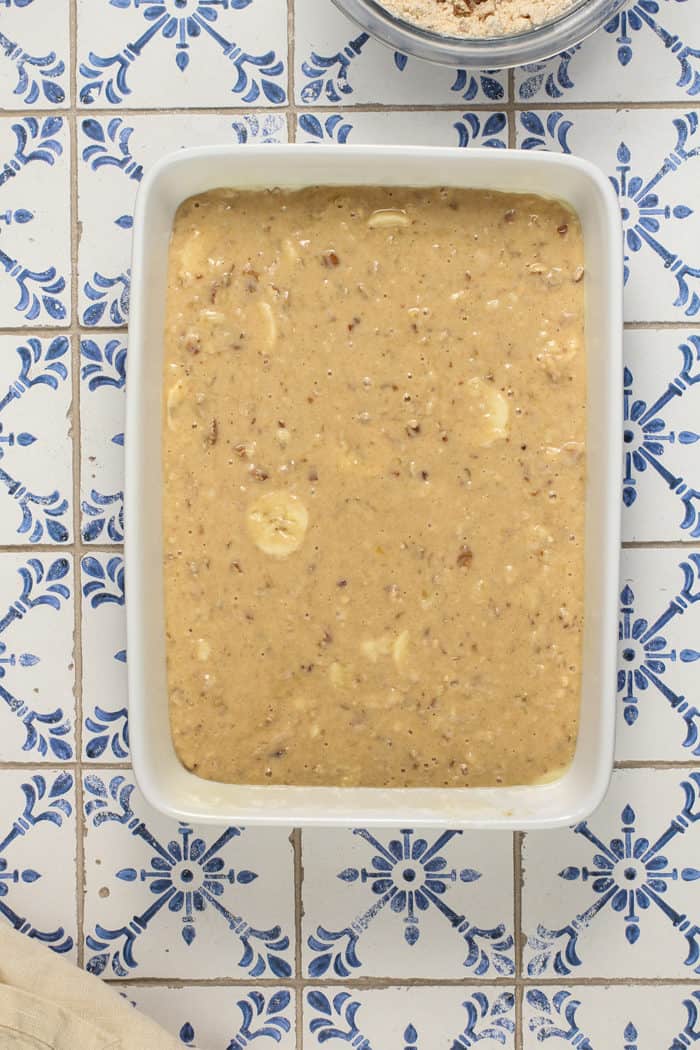 To keep this coffee cake moist, I added both mashed and sliced bananas to the batter. The mashed bananas make sure you get banana flavor in every bite, while the sliced bananas add some nice texture throughout the cake.
And don't forget the chopped walnuts or pecans! They're optional, but add great flavor and texture to the cake, so I recommend using them if you can.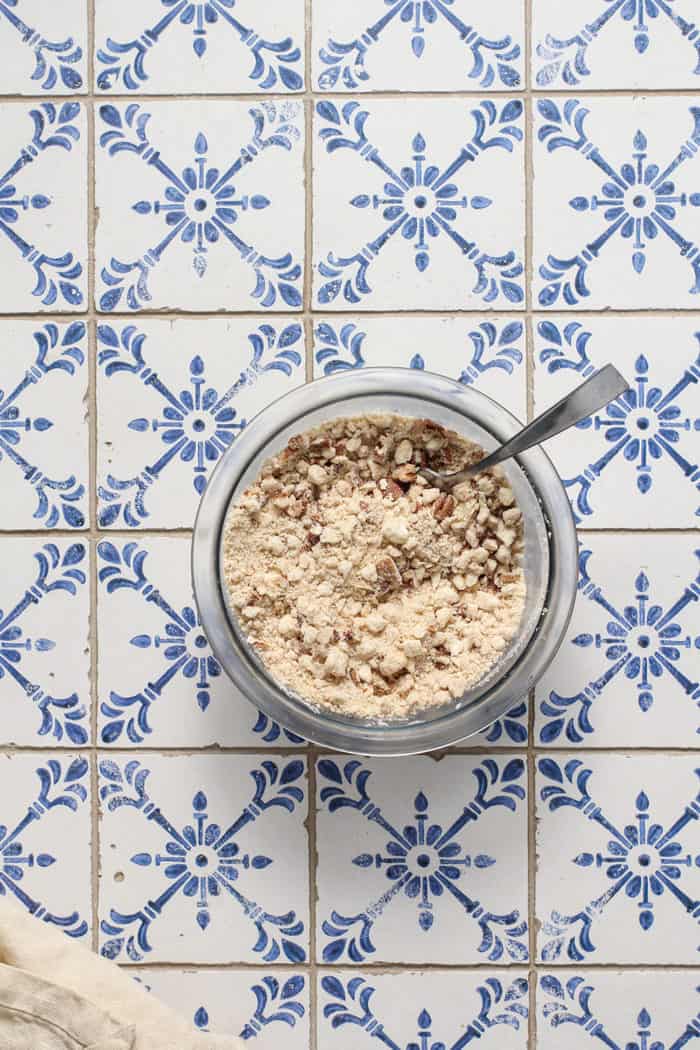 HOW TO MAKE THIS COFFEE CAKE
Because Make-Ahead Banana Coffee Cake uses baking mix as its base, there aren't a ton of ingredients to gather up. You'll need:
2 to 3 large ripe bananas, mashed (about 1 1/3 cups), plus 1 large banana, sliced
2/3 cup granulated sugar
1/4 cup milk
3 tablespoons vegetable oil
1 teaspoon ground cinnamon
3 eggs
2 2/3 cups Bisquick mix (from the store or homemade)
3/4 cup chopped walnuts or pecans (optional, but highly recommended)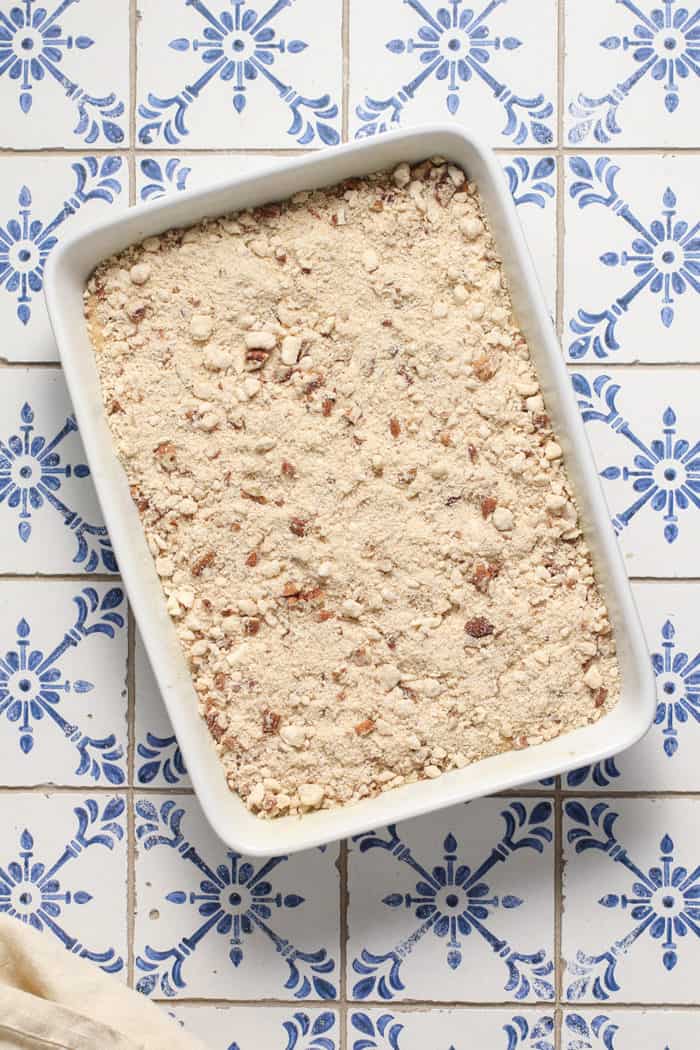 Grab a large bowl and stir together the mashed bananas, sugar, milk, oil, cinnamon, and eggs. Once that is combined, stir in the Bisquick mix and the nuts, fold in the banana slices.
The batter is done and you didn't even need to pull out a mixer! How easy was that?
Spread the batter into a greased 13×9-inch pan, then mix up the streusel.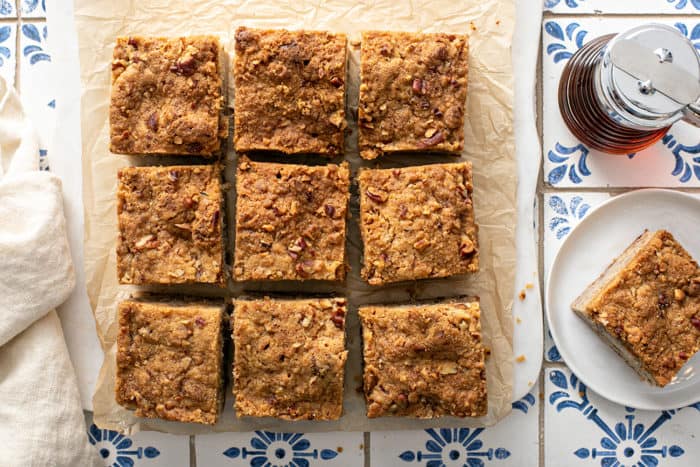 The streusel topping also uses Bisquick mix as its base, so it's super simple to throw together as well. Just cut together Bisquick, brown sugar, more chopped nuts, and some cold butter and sprinkle this over the top of the cake batter.
Bake the banana coffee cake for around 30 minutes or until a toothpick inserted in the center comes out clean.
If you're in the mood for a bit more sweetness, feel free to drizzle the cake with some maple syrup before digging in!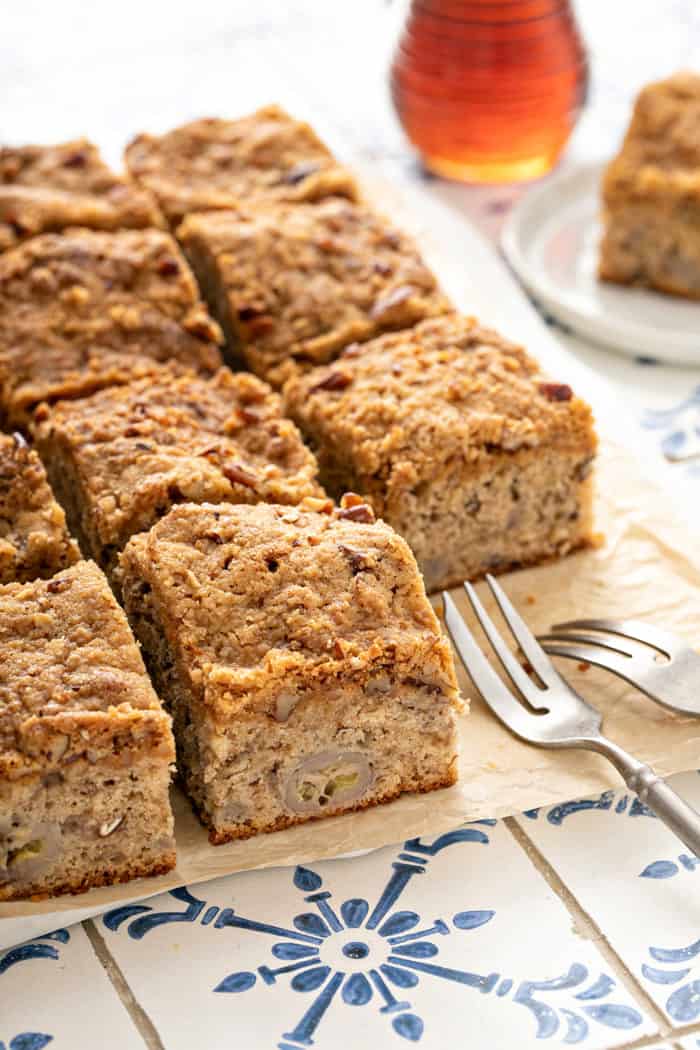 MAKE-AHEAD BREAKFAST TIPS
If you're planning a big holiday dinner, it's easy to let breakfast slip through the cracks. Prepping your breakfast the night before will make sure everyone has a breakfast that will keep the full until it's time for that big dinner.
For this Make-Ahead Banana Coffee Cake, assemble the cake – including sprinkling on the streusel topping – and pop it into the refrigerator overnight. Bake it off first thing in the morning and it'll be ready by the time everyone has gotten up.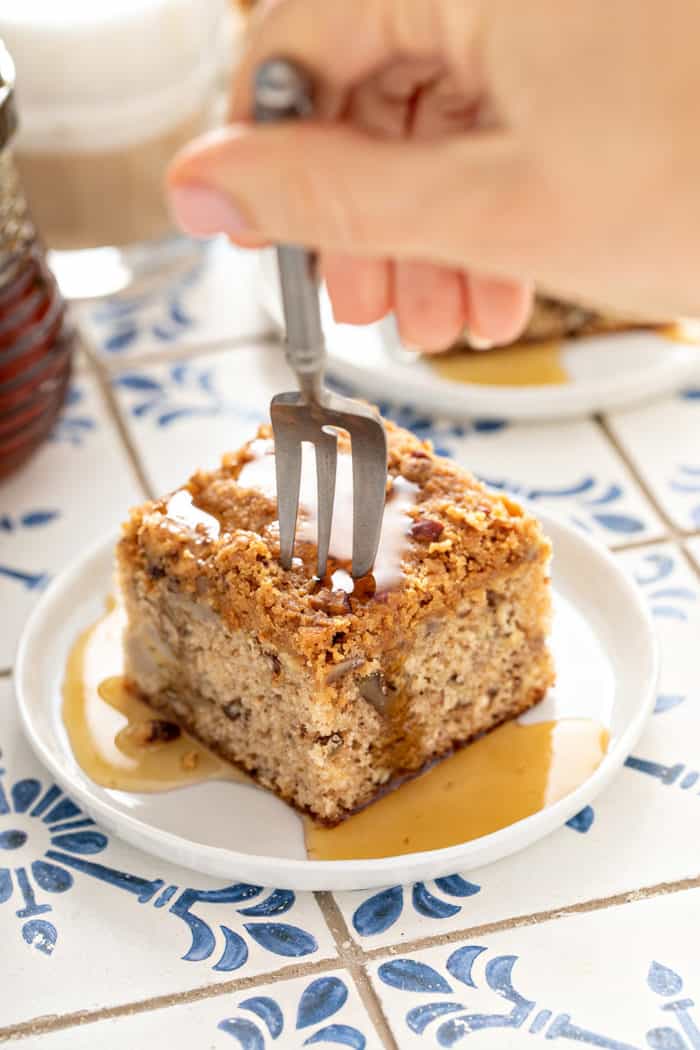 If you want to add in something savory alongside the sweet coffee cake, you could also whip up my Make-Ahead Breakfast Casserole or Hash Brown Breakfast Casserole.
I also like to cut up some fruit the night before and grab containers of yogurt and granola that guests can snack on throughout the morning.
With this breakfast buffet at the ready, your family can grab breakfast whenever they wake up. They'll be so impressed with you and you don't have to admit that you prepped everything the night before.