Make-ahead Banana Bread Coffee Cake is the perfect breakfast for Thanksgiving day.
This is a sponsored post on behalf of my Bisquick's Holiday Make-Aheads Brand Ambassadorship.
How many of you skip breakfast on Thanksgiving morning? *raises hand* I'm certainly guilty of this silly act. The day seems like it's going to be SO filled with food that somewhere in my illogical brain, it doesn't make sense to eat breakfast.
What a terrible idea! It's hours before you're going to eat any meal at all, hours before the hors d'oeuvres will show their pretty little faces. You've got to give yourself fuel to get through to game time, people. I speak from experience. No one wants to see the cook in a fit of ugly crying because her blood sugar dipped dangerously low. Trust me.
I've got you covered though. This make-ahead Banana Bread Coffee Cake is killer. Seriously good. It takes everything you love about banana bread and twists it up into a fancy cake with crumbly topping, taking that old stand-by and making it new again.
And the streusel. Oh, the streusel. I could eat it all by itself, with a spoon.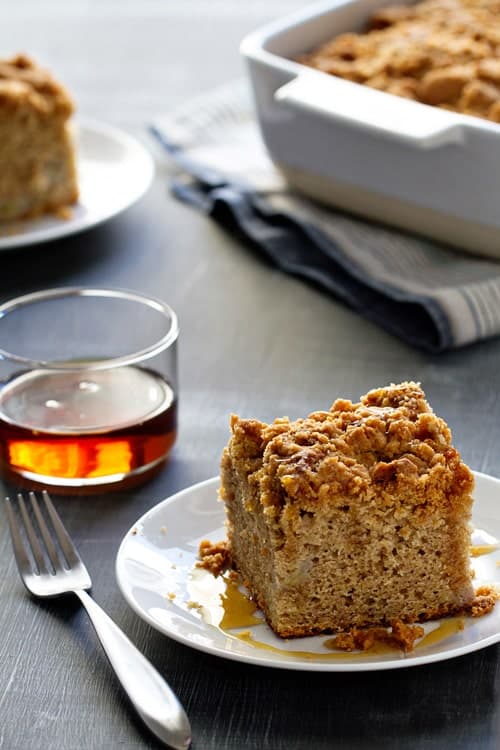 I love that this Banana Bread Coffee Cake has both mashed and sliced bananas in it. It means that every bite is incredibly moist (from mashed bananas), but with nice big chunks of banana too. This, this, is a breakfast cake that will get you through until that turkey is on the table, you guys.
And because it's make-ahead, you can have it ready to go a the night before. Just pop it into the refrigerator overnight, and bake it off first thing in the morning. Lord knows your oven will be getting a workout, may as well start the day with something you can eat immediately, don't ya think?
This is also a huge crowd pleaser – everybody loves coffee cake, everybody loves banana bread – so if you have guests staying, what a way to wake them up on Thanksgiving morning! I'm pretty sure it'll inspire them into helping out with all that Turkey Day prep too.
Top this make-ahead Banana Bread Coffee Cake with delicious, warmed, pure maple syrup. Because maple syrup.
For more delicious make-ahead recipes, check out Bisquick's 20 Make-Ahead Recipes for a Happier Holiday and be sure to visit Bisquick on Facebook and Pinterest.
This is a sponsored conversation written by me on behalf of Betty Crocker via Burst Media. The opinions and text are all mine.