Make Ahead Breakfast Casserole
Make-Ahead Breakfast Casserole is loaded with sausage, cheese and eggs. Assemble it the night before for a simple, delicious breakfast in no time!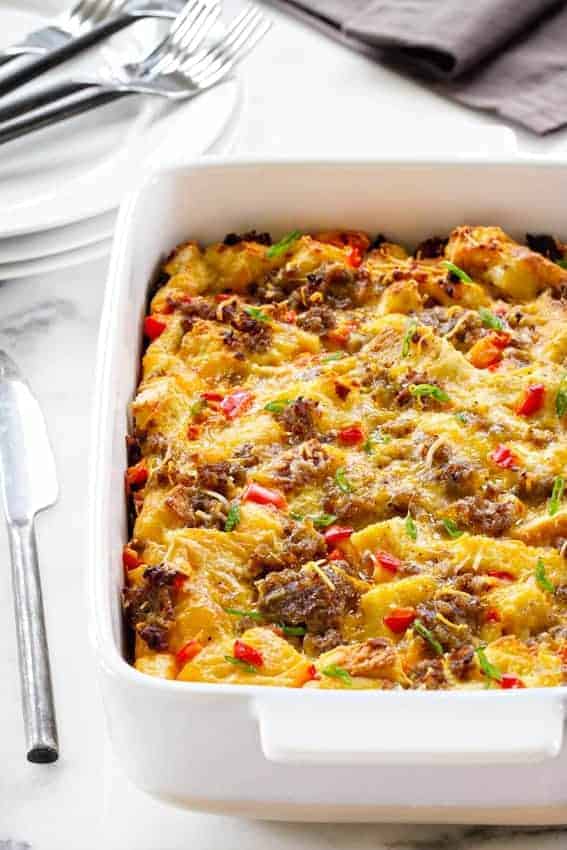 Christmas morning is just days away and I must admit that I am starting to feel the pressure.
From loads of unwrapped presents to countless cookies that need to be baked, I'm staring at an ever-growing to-do list.
I'm betting you might be feeling the same way, so I decided to take the guesswork out of your Christmas morning meal by sharing this Make-Ahead Breakfast Casserole.
This is the first Christmas that we'll be celebrating in our new home, so we're having everyone over bright and early to watch Elle open her gifts from Santa.
And since it's Christmas morning, a family size box of Captain Crunch and a gallon of milk simply isn't going to cut it for breakfast.
But I'm also not trying to play short order cook all morning, so it's a make-ahead breakfast for the win!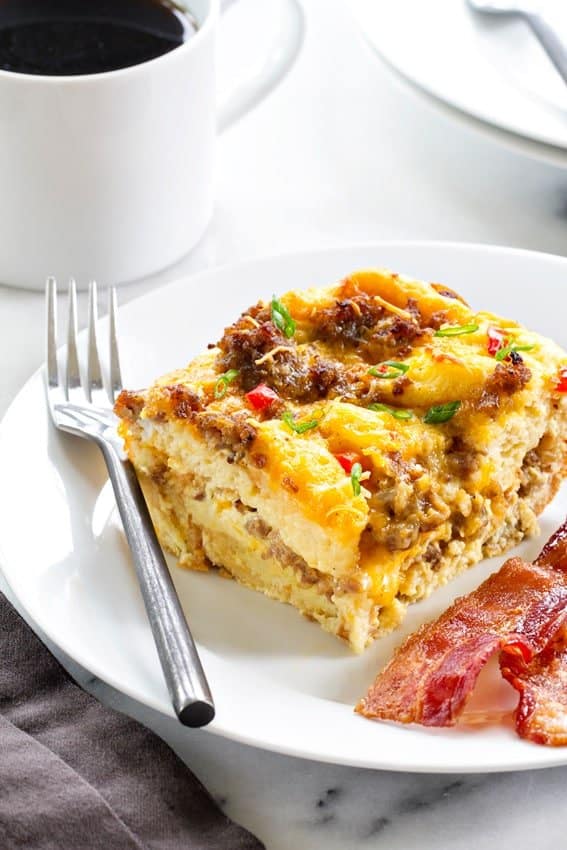 I first stumbled upon this recipe from Jimmy Dean years ago and clipped it from a magazine for my recipe binder.
10 plus years later, it's still one of my favorite breakfasts to share with a crowd.
When I was teaching, we often had early morning, pot-luck style breakfast meetings on teacher work days.
We'd all bring a dish to share and this casserole was my go-to because it's so easy, but it was always one of the first things disappear.
Okay, the bacon was always the first thing to disappear, but this casserole was a close second.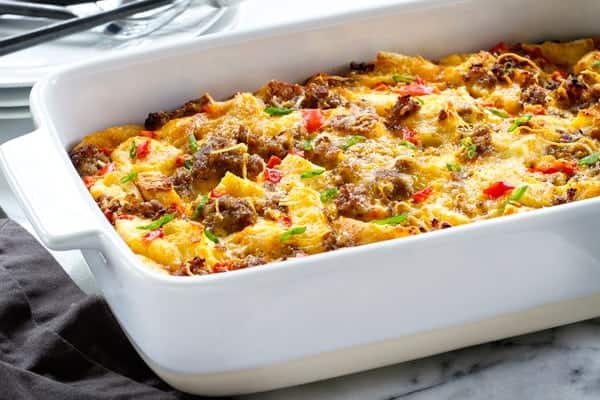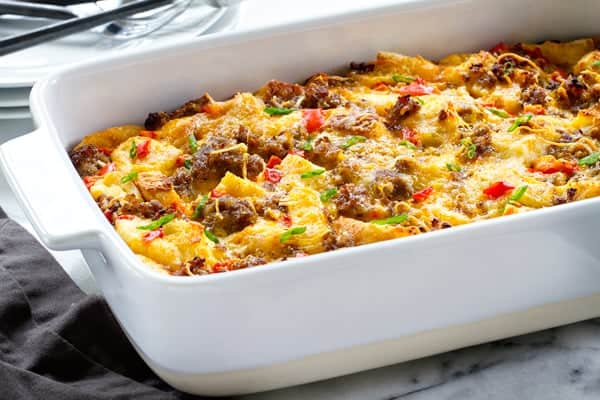 I would prep everything the night before, refrigerate it overnight and then pop it into the oven while I got ready for work.
I'd cover it with foil and it would still be piping hot by the time our meeting started.
This simple Make-Ahead Breakfast Casserole is loaded with sausage, cheese, eggs and bread. And you can totally customize it by adding in all sorts of vegetables like mushrooms, onions, peppers, and tomatoes to make it even more flavorful.
Top it with pieces of crispy bacon and thinly sliced green onions for a little added visual appeal.
Whether you're looking for a simple and delicious breakfast for Christmas morning or feeding a crowd for Sunday brunch, this Make-Ahead Breakfast Casserole is sure to please!
If you're looking for more delicious make-ahead ideas, be sure to check out this Make-Ahead Banana Bread Coffee Cake and these Cranberry Orange Scones.
Make Ahead Breakfast Casserole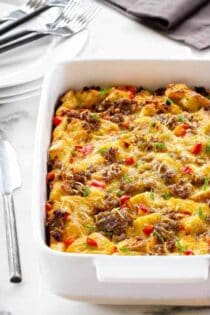 Ingredients:
1 (16 ounce) package pork sausage
10 eggs, lightly beaten
3 cups milk
1 teaspoon salt
6 cups cubed bread*
2 cups shredded sharp Cheddar cheese
1/2 teaspoon black pepper
1/2 cup diced red pepper, optional
sliced green onion, optional
Directions:
Butter a 9 x 13 x 2 inch casserole dish.
In large skillet, cook sausage over medium-high heat, stirring frequently until thoroughly cooked and no longer pink.
In large bowl, whisk together eggs, milk, and salt until thoroughly combined.
Evenly distribute half the bread into the prepared casserole dish. Sprinkle with half the cheese, half the black pepper, half the red pepper, and half the sausage. Repeat layers.
Pour egg mixture evenly over casserole.
Cover and refrigerate overnight, or bake immediately.
When you're ready to bake the casserole, preheat oven to 325 F. Bake uncovered for 55-60 minutes, or until eggs are set. If the top begins to brown too quickly, loosely cover the casserole dish with foil.
If desired, sprinkle the casserole with sliced green onions. Serve warm.
Notes:
*I toast my bread before incorporating it into the casserole, but this step is optional.
Follow Jamie on Instagram. We love to see what you're baking from MBA! Be sure to tag @jamiemba and use the hashtag #mbarecipes!


This post may contain affiliate links. We are a participant in the Amazon Services LLC Associates Program, an affiliate advertising program designed to provide a means for us to earn fees by linking to Amazon.com and affiliated sites.