Don't want to get up in the morning to make an entire batch of homemade cinnamon rolls? Try these Overnight Cinnamon Rolls instead! Prep them the night before and bake them in the morning for a fresh-from-the-oven breakfast treat without getting up at dawn.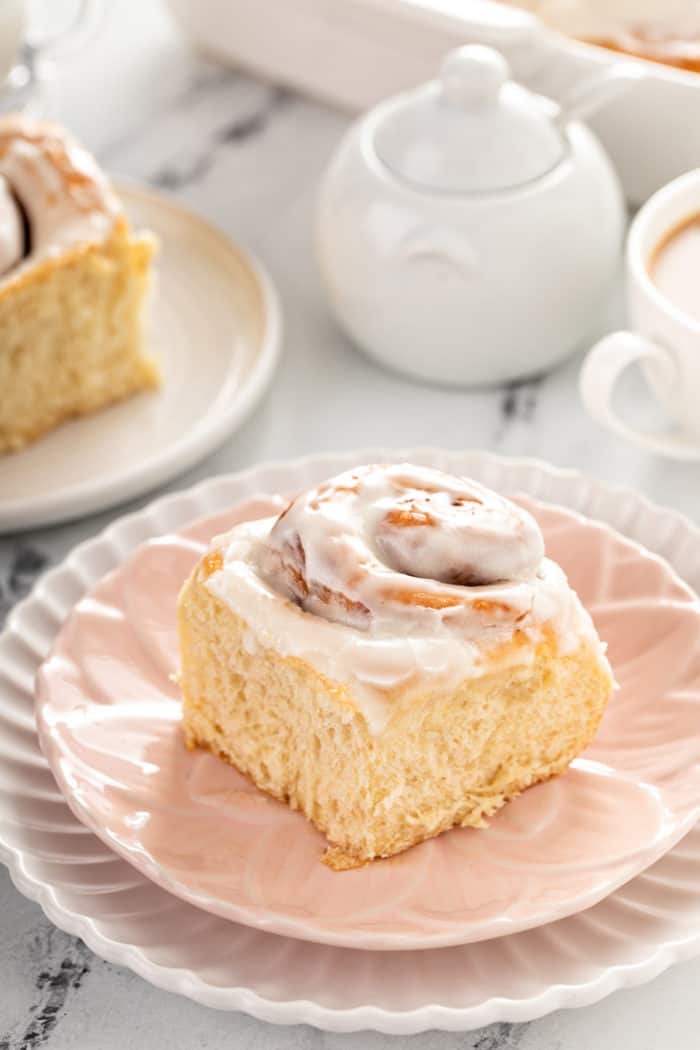 There's something special about having a big weekend breakfast, isn't there?
There's nothing quite like waking up to a pot of fresh coffee and a batch of freshly baked cherry turnovers or orange scones.
Except, when you're the cook of the family (like I am), you don't get to wake up to the smell of breakfast baking in the oven. You get to wake up and be the one to make breakfast for everyone.
Don't get me wrong, I still love making a special breakfast for Eric and Elle, but getting up 2+ hours early to make homemade cinnamon rolls from scratch kinda makes the whole thing less fun.
Thankfully, I've got Overnight Cinnamon Rolls I can turn to for a breakfast that can make us all happy.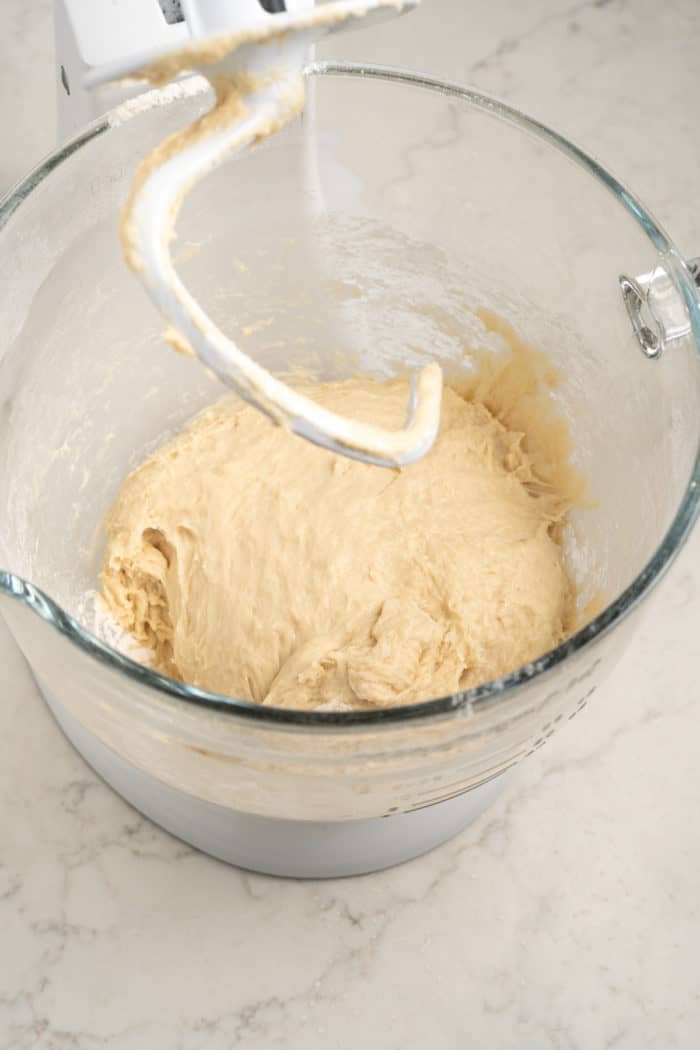 WHY OVERNIGHT CINNAMON ROLLS ARE THE BEST
If you're the person who naturally wakes up at 5am and wants to make a fresh batch of cinnamon rolls from scratch before your family rolls out of bed…well then I'm very excited for you.
But I'm not that person.
I'd rather do most of the work the night before and be able to throw breakfast in the oven when I wake up in the morning. It's why I love recipes like my Pecan Sticky Buns, Make-Ahead Breakfast Casserole, and Overnight French Toast Casserole.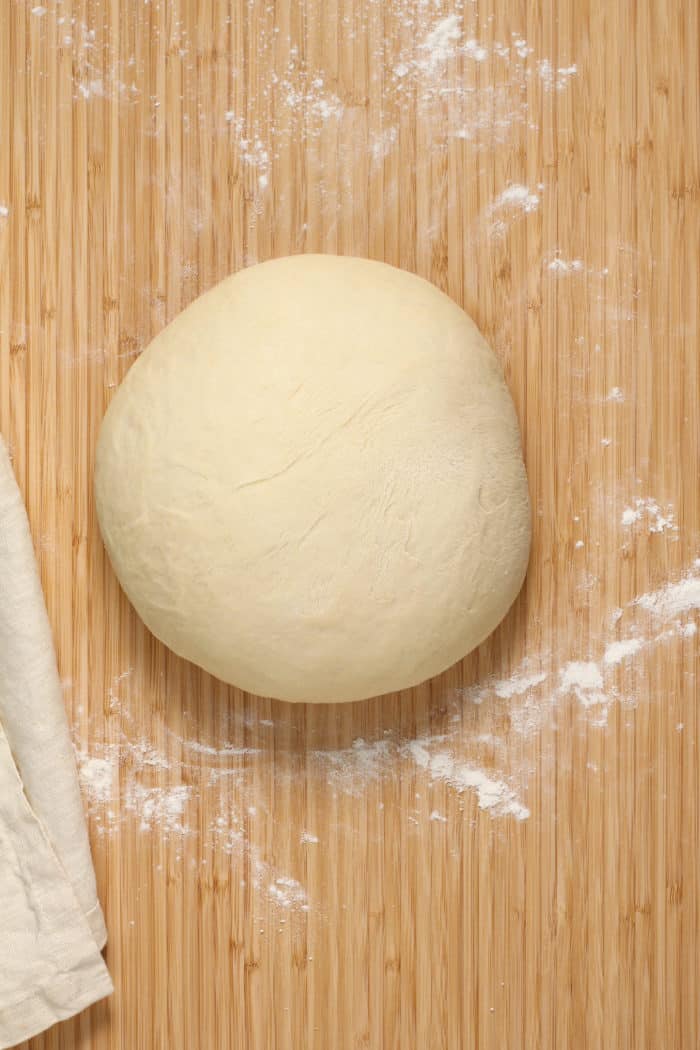 And it's why I love Overnight Cinnamon Rolls.
With this recipe, you can make the dough and shape the rolls in the evening, then allow the rolls to rise in the refrigerator overnight. The next morning, pop the rolls in the oven, sip on your coffee while they bake, and slather them in icing when they come out of the oven.
It makes your pre-coffee life so much easier, trust me.
If you want to make the rolls in one day, you can still do that! But having an overnight option…that's where it's at for me.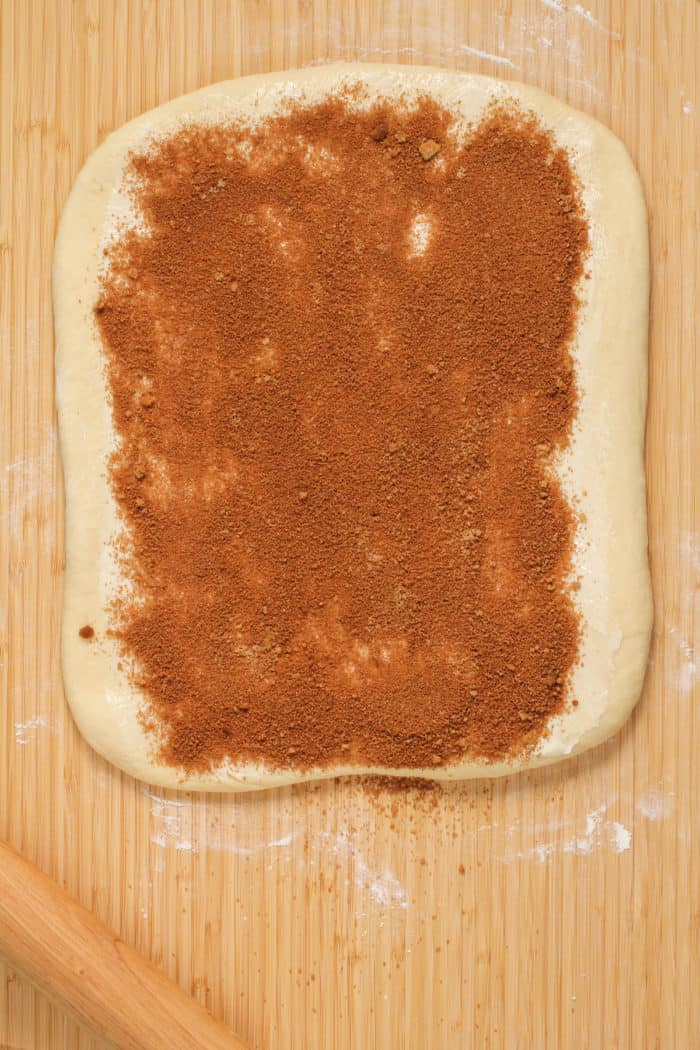 HOW TO MAKE THESE CINNAMON ROLLS
These fluffy cinnamon rolls are filled with brown sugar and cinnamon and topped with icing for ooey-gooey cinnamon roll perfection. Let's go over how to make them!
Ingredients you'll need
If you've made cinnamon rolls before, you'll be familiar with this list of ingredients:
4-1/2 to 5 cups all purpose flour
2 (4-½ tsp.) packets instant yeast
⅓ cup plus 3 tablespoons light brown sugar, divided use
1 teaspoon fine sea salt
1-1/2 cups water
9 tablespoons unsalted butter, divided use
1 egg
1 tablespoon ground cinnamon
When measuring out your ingredients, make sure you know how to measure flour correctly so the dough turns out perfect every time.
And don't freak out if you realize you're out of brown sugar. You can whip up a brown sugar substitute with just 2 ingredients!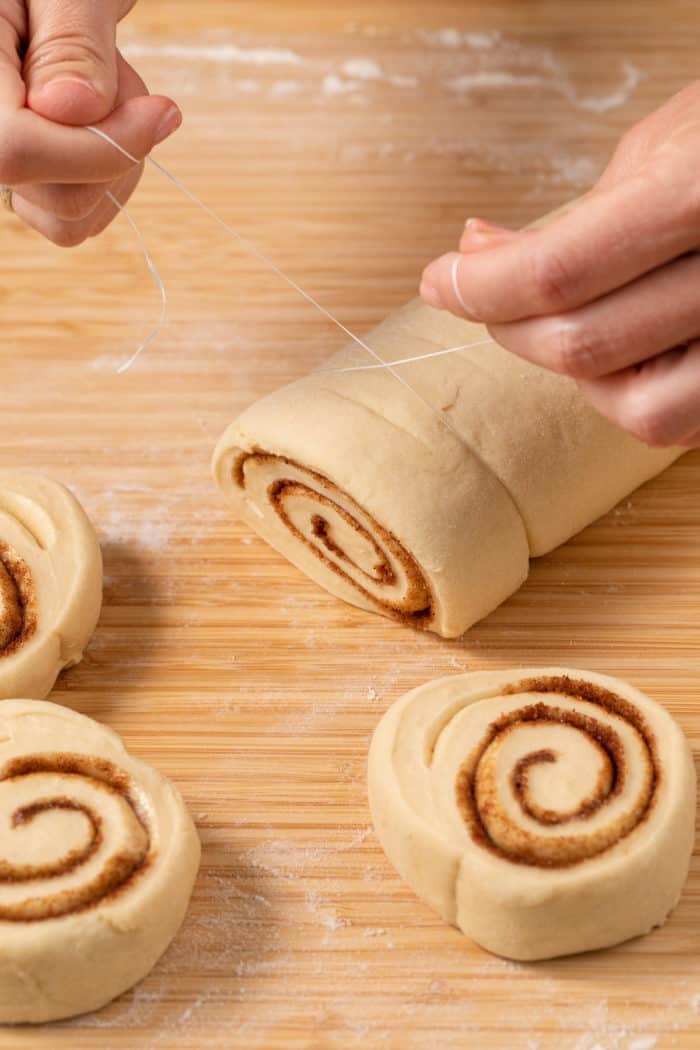 Making these overnight cinnamon rolls
If making yeast dough is new to you, don't worry. I'll walk you through it so you can have a batch of homemade cinnamon rolls to impress your family with!
Add 2 cups of the flour, the yeast, 3 tablespoons of the brown sugar, and the salt to the bowl of a stand mixer fitted with the dough hook. Mix to combine.
In a microwave-safe bowl or measuring cup, combine the water and 6 tablespoons of butter and microwave until very warm but not hot. Do this in 15-second increments to make sure you don't boil the liquid!
Add the butter mixture to the dry ingredients, followed by the egg, and beat for 2 minutes at medium speed. Add 1 cup of flour and beat again for 2 minutes. Then stir in just enough of the remaining flour to bring the dough into a ball.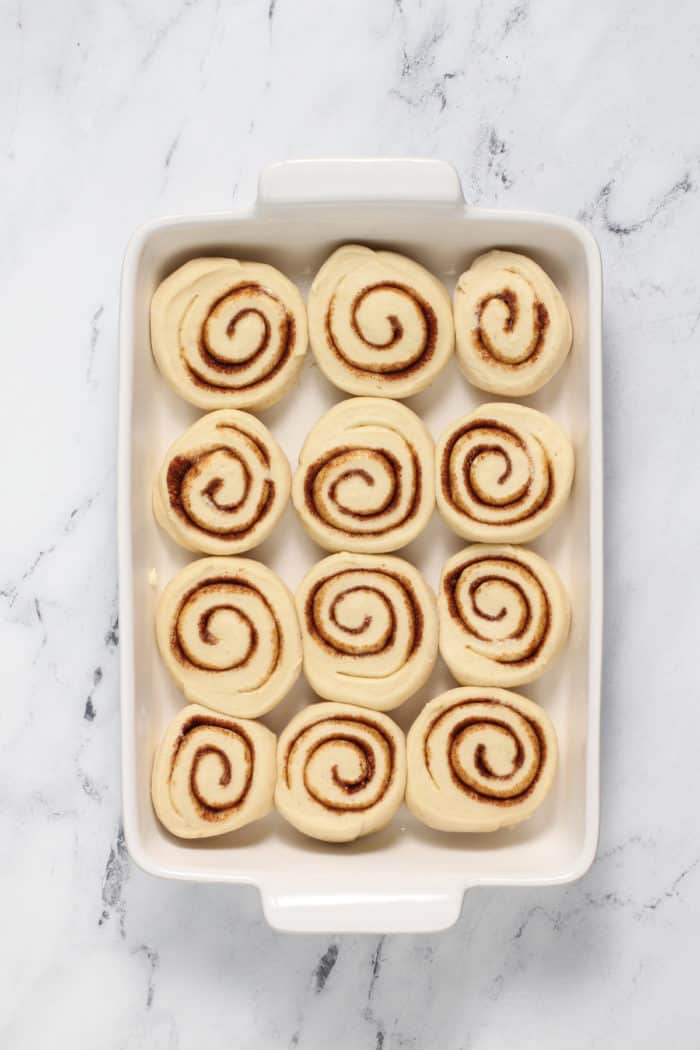 Turn the dough out onto a lightly floured surface and knead it for about 6 to 8 minutes. You want the dough to be smooth and elastic. If you press it lightly with 2 fiers, the dough should spring back.
Cover the dough with a towel and let it rest for 10 minutes while you mix the remaining brown sugar and the cinnamon in a small bowl.
After the dough has rested, roll it into a rectangle about 15 inches long and 10 inches wide. Spread the softened butter over the dough, the sprinkle on the cinnamon sugar.
Roll the dough up tightly along the long side and pinch the seams to seal. Cut the dough into 12 pieces and place them – cut sides down – in a greased 13×9-inch baking pan.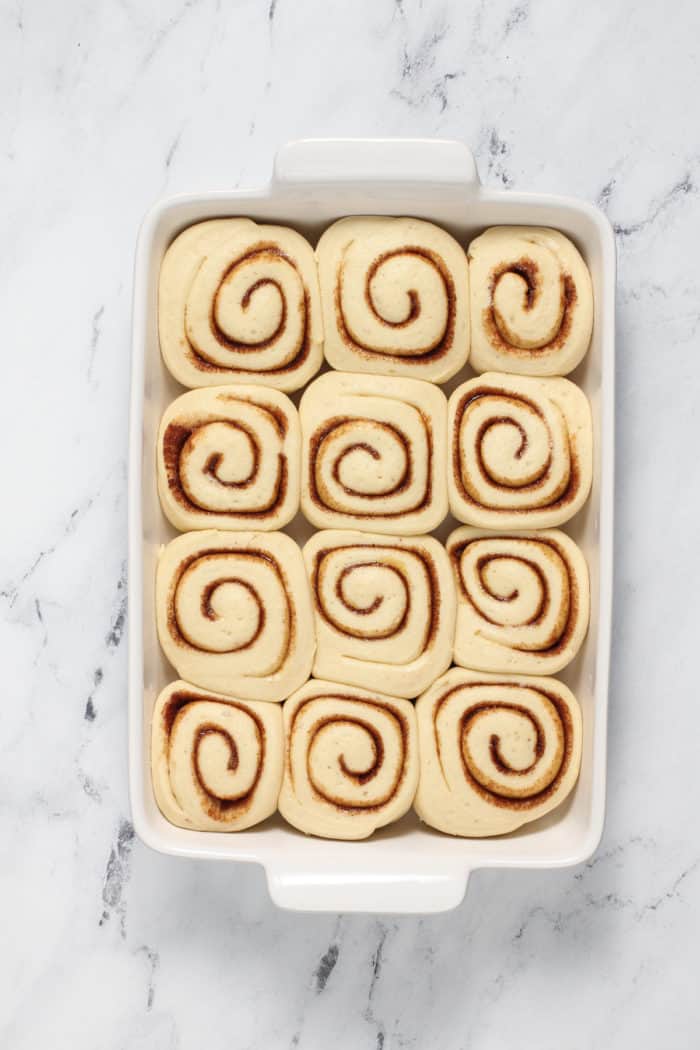 From here you can cover the pan with plastic wrap and place it in the refrigerator to rise overnight, or lightly cover the pan with a tea towel and let it rise in a warm place for 30-60 minutes, until the rolls are doubled in size.
If you're making the rolls overnight, let the pan sit at room temperature for 30 minutes the next morning while the oven preheats.
Bake the rolls for 25-30 minutes, then let them cool for about 20 minutes before adding the icing.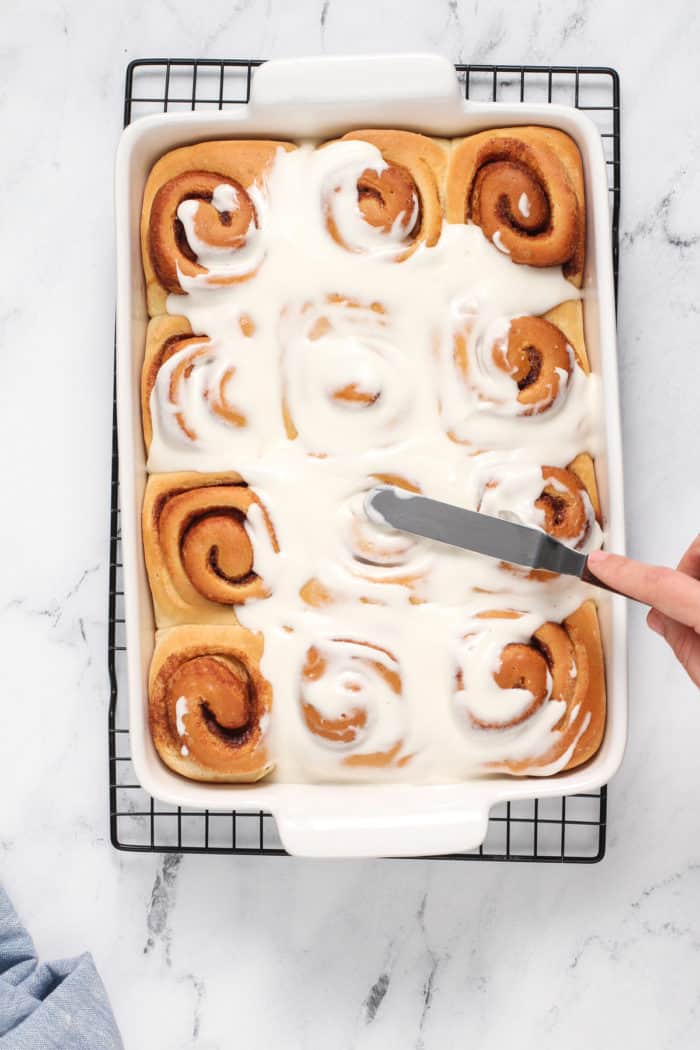 Cinnamon roll icing
I like a simple icing on my Overnight Cinnamon Rolls. For this icing, I mix together:
2-1/2 cups powdered sugar
2 tablespoons unsalted butter, room temperature
2 to 3 tablespoons milk
1 teaspoon pure vanilla extract or vanilla bean paste
Spread the icing over the still-warm rolls so it melted into all of the swirls – that's the best part!
You could also top them with a cream cheese frosting if you prefer.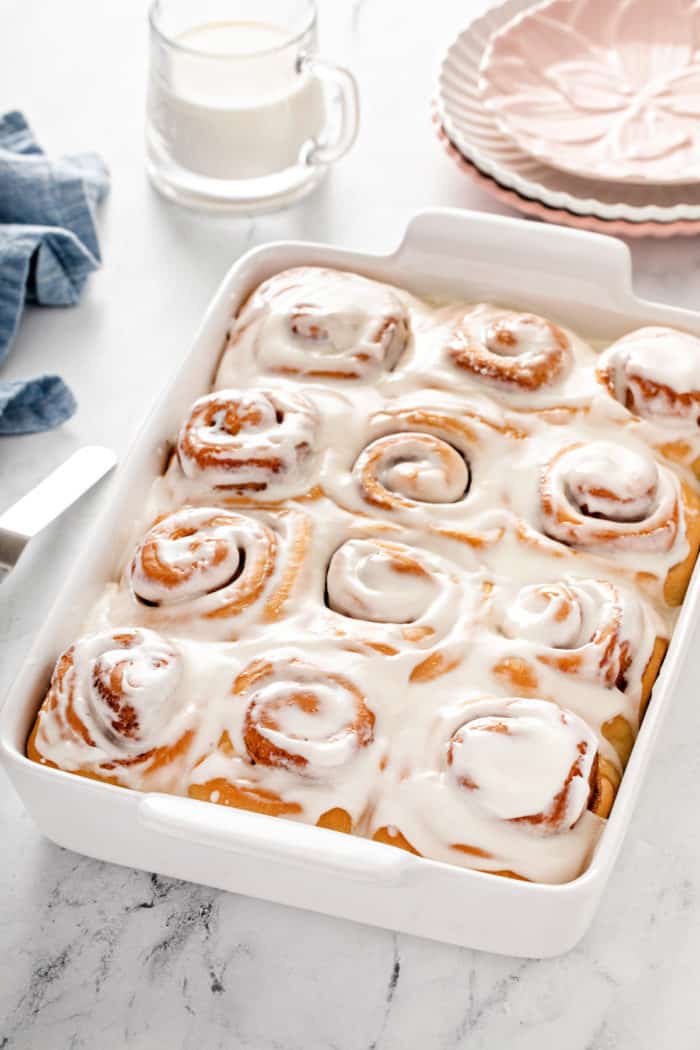 STORING AND REHEATING
You can store any leftover cinnamon rolls covered at room temperature for up to 2 days. But I actually prefer to freeze them so the dough doesn't get stale.
To freeze cinnamon rolls, I cut them apart and wrap each fully cooled roll in plastic wrap. Then place the rolls in a zip-top freezer bag or airtight container and freeze them for up to 3 months.
Now you can take out as many rolls as you'd like whenever you want one! Simply unwrap your cinnamon roll, pop it onto a plate, and microwave it for 30-60 seconds to warm it through.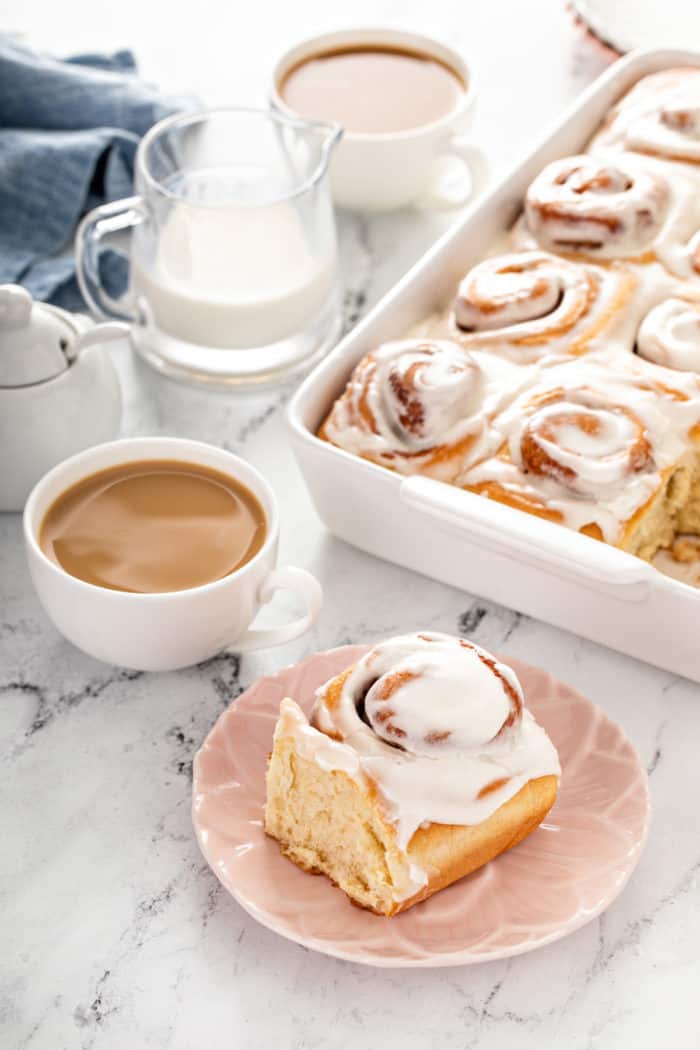 MORE CINNAMON ROLL RECIPES
This recipe makes a cinnamon roll with pretty classic flavors, but that doesn't mean you can't get more creative with your sweet rolls! I love experimenting with different fillings and icings to make cinnamon rolls for all seasons.
Check out some of these great cinnamon roll recipes to get inspired: