These Cranberry Orange Cinnamon Rolls are bound to be your new favorite homemade cinnamon roll recipe! Packed with dried cranberries, orange zest, and cinnamon, these fluffy cinnamon rolls are a delight to make and eat.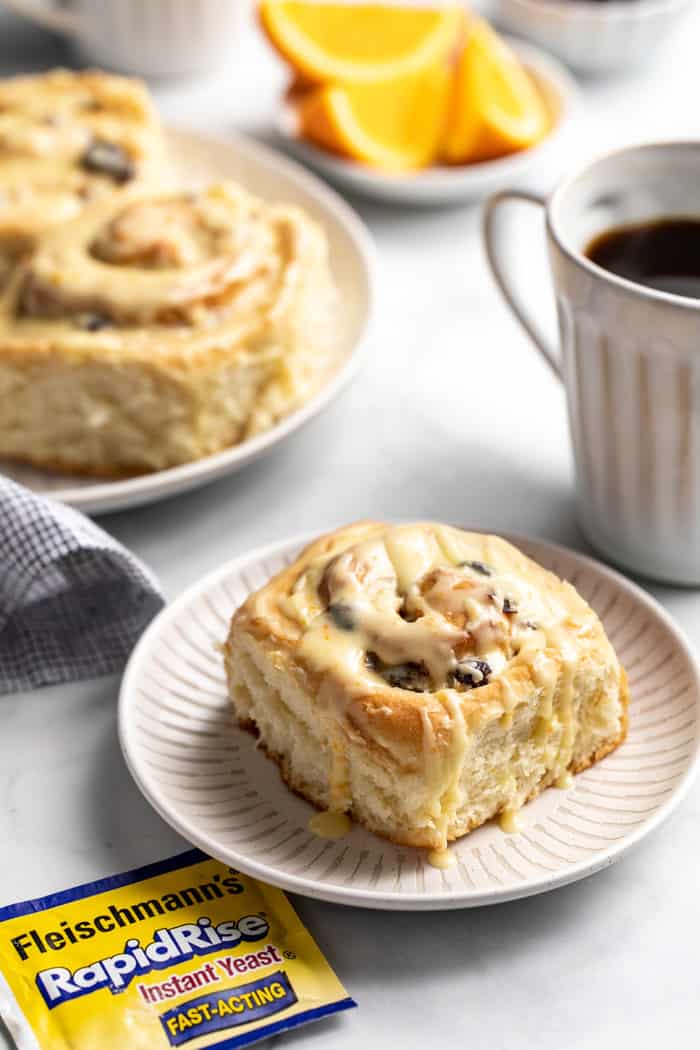 This post is sponsored by Fleischmann's® Yeast. Thank you for continuing to support the brands that make My Baking Addiction possible.
While I love cinnamon rolls any time of the year, there's something really special about making them during the fall and winter holiday season.
Maybe it's because I love getting in the kitchen with Elle, and she's getting old enough to really start helping me with more of my baked goods. Even though we started out making things like No-Bake Cookies and Pumpkin Dip, she's at an age where she can take on recipes with more steps to them.
These Cranberry Orange Cinnamon Rolls are going to be perfect for us to make together this fall. They make her feel like she's taking on more of a challenge by making something with a dough, filling, and frosting, but they're still easy enough for her to help with.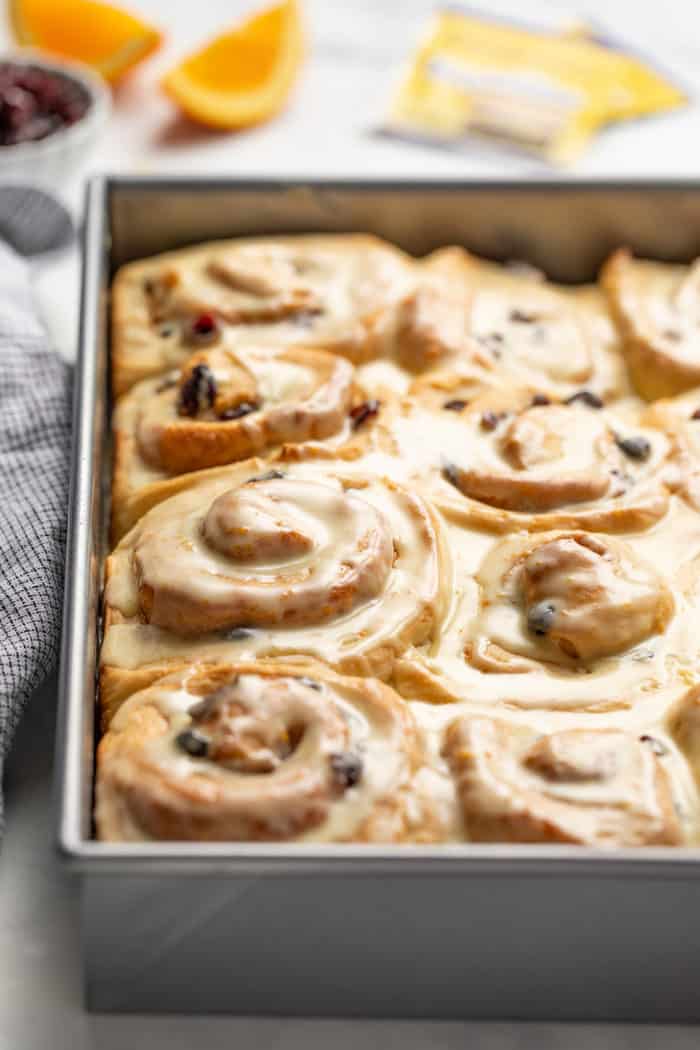 FLUFFY CRANBERRY CINNAMON ROLLS
As much as I love recipes like Cranberry Orange Bundt Cake, Cranberry Orange Muffins, and Cranberry Orange Scones, it's not always easy to find fresh or frozen cranberries.
So when I was dreaming up a cinnamon roll packed with tart cranberries and sweet orange flavors, I decided I wanted to use dried cranberries to make them easier to make year-round.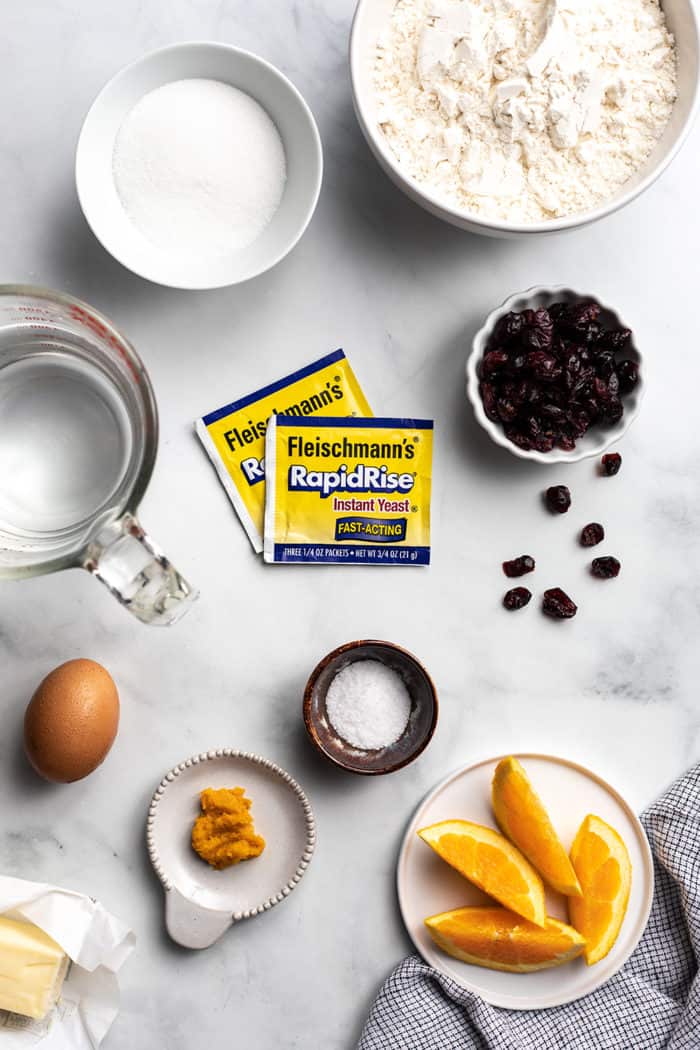 After all, just because cranberry, orange, and cinnamon are cozy fall flavors doesn't mean that you won't want to make these cinnamon rolls any time of year!
I also reached for a super simple base recipe for Homemade Cinnamon Rolls. I have used this recipe before as a base for Pumpkin Spice Cinnamon Rolls and Maple Chai Cinnamon Rolls. It's made with Fleischmann's® RapidRise® Yeast, so it's way more streamlined than a lot of cinnamon roll recipes out there.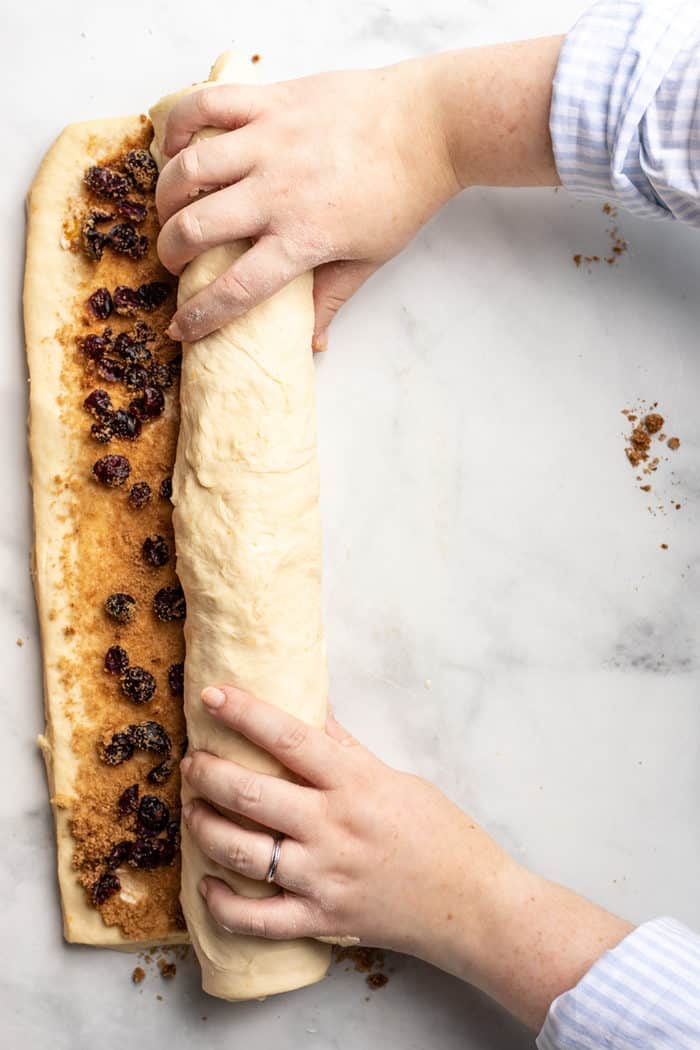 HOW TO MAKE THESE HOMEMADE CINNAMON ROLLS
I promise that making homemade cinnamon rolls can be easy and that you don't have to sit through hours and hours of rising waiting for them to be ready to bake.
Don't believe me?
To make these Cranberry Orange Cinnamon Rolls, we start with mixing together the dough. To make sure these rolls have lots of orange flavor in them, I add orange zest right into the dough. That way every part of the rolls has a bit of orange in them!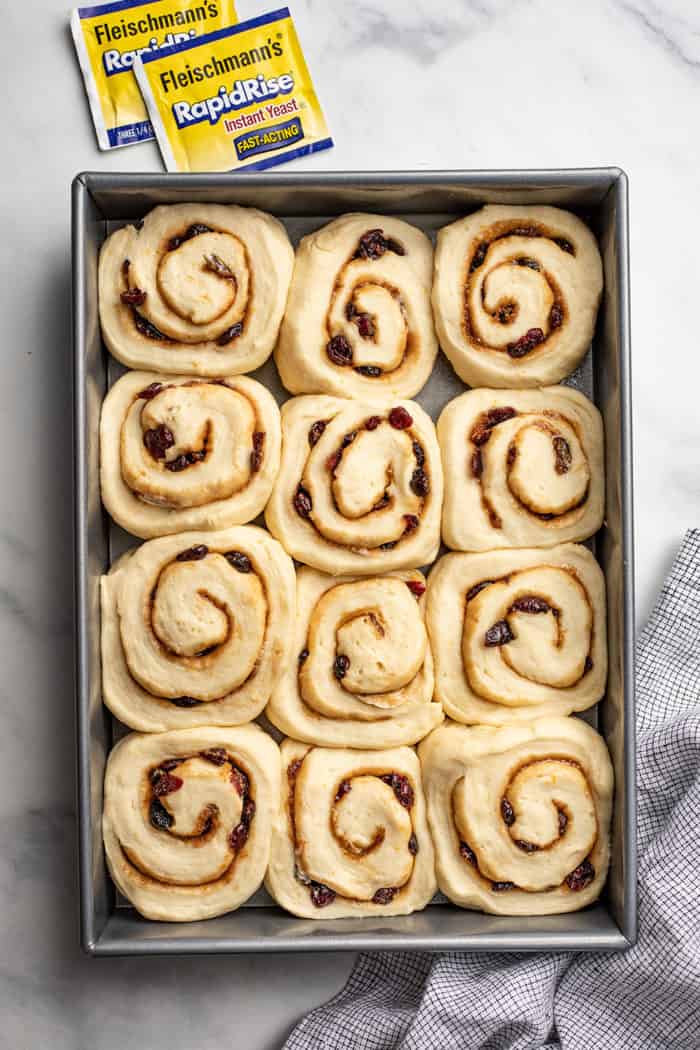 After you mix up the dough, which you can do with a mixer or by hand, knead the dough for a few minutes and then let it rest on the counter for 10 minutes before rolling and shaping the rolls.
But wait, don't we have to let the dough rise before we can start assembling the rolls?
Nope! Since we use Fleischmann's® RapidRise® Instant Yeast, the dough only needs 1 quick 10-minute rest and 1 rise instead of 2 long rises.
That means we can get to hot, fresh cinnamon rolls even faster.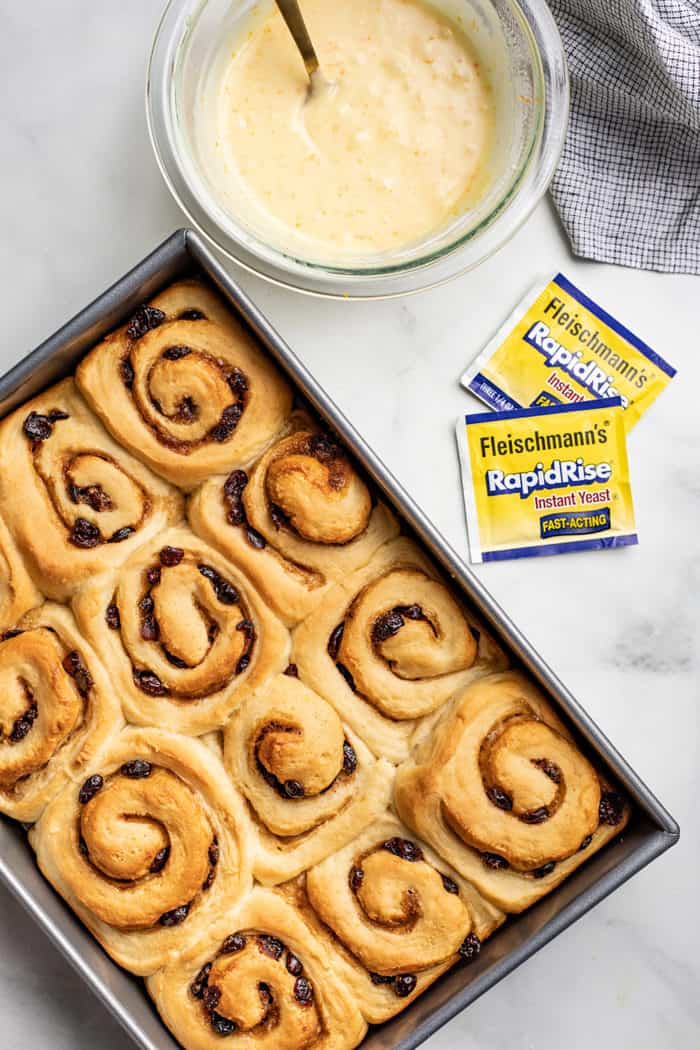 Also, since you don't have to rehydrate Fleischmann's® RapidRise® Instant Yeast before adding it to the dough, it's way easier to bake with. I'm telling you, it's so easy, even a kid can help you make these!
After the 10-minute rest, roll the dough out into a rectangle. Spread some softened butter over the surface of the dough, then sprinkle with a mixture of:
Light brown sugar,
Orange zest, and
Cinnamon.
Finish by sprinkling on a cup of dried cranberries, then roll the dough up tightly and cut it into 12 equal pieces.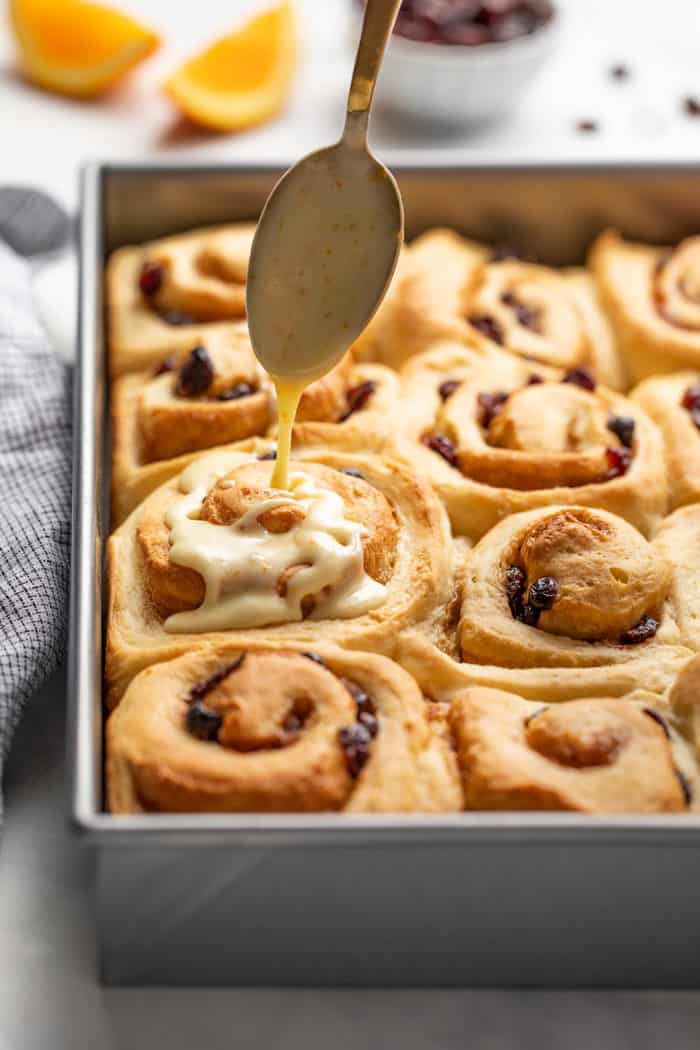 Place the rolls cut side down in a greased baking pan, cover with a clean kitchen towel, and let them rise for about an hour.
Once the rolls have doubled in size, bake them for 25-30 minutes. Let them cool for a bit before topping them with a frosting made from:
2-1/2 cups powdered sugar
2 tablespoons unsalted butter, room temperature
2 to 3 tablespoons orange juice
1 teaspoon orange zest
1/2 teaspoon pure vanilla extract
I like to frost the rolls when they are still a bit warm so the frosting gets all nice and gooey in the crevices of the rolls. After all, that's the best part!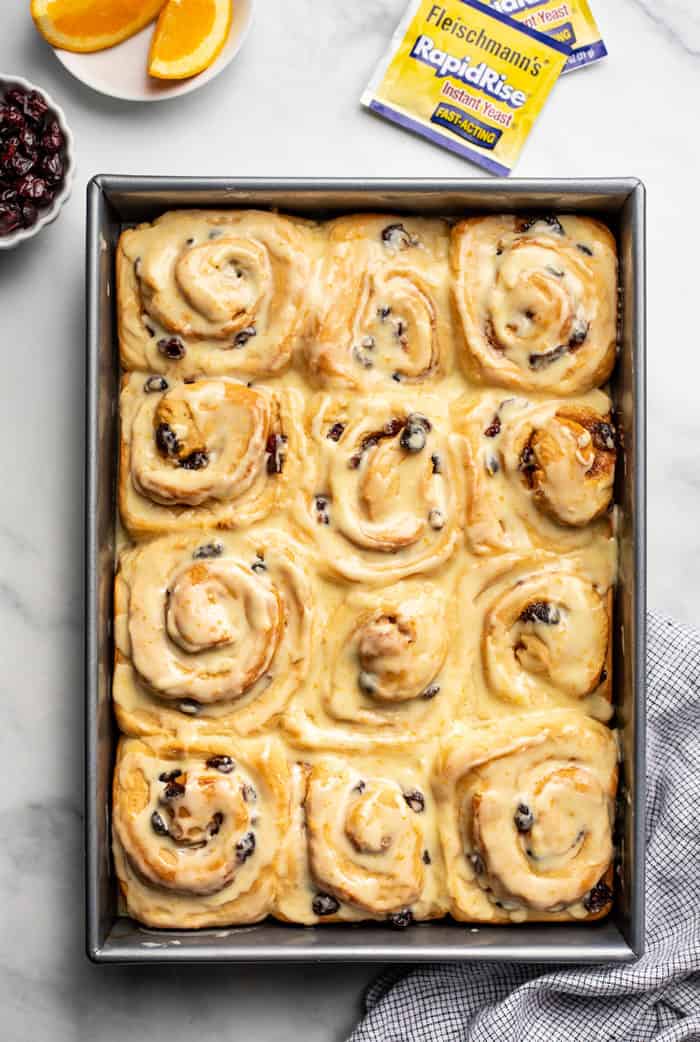 CAN CRANBERRY ORANGE CINNAMON ROLLS BE FROZEN?
If you have a big family, I bet you won't find yourself with many of the Cranberry Orange Cinnamon Rolls left on your hands!
But if there's just a few of you at home, don't stress about making a full pan of cinnamon rolls for breakfast. You can always freeze leftovers for later!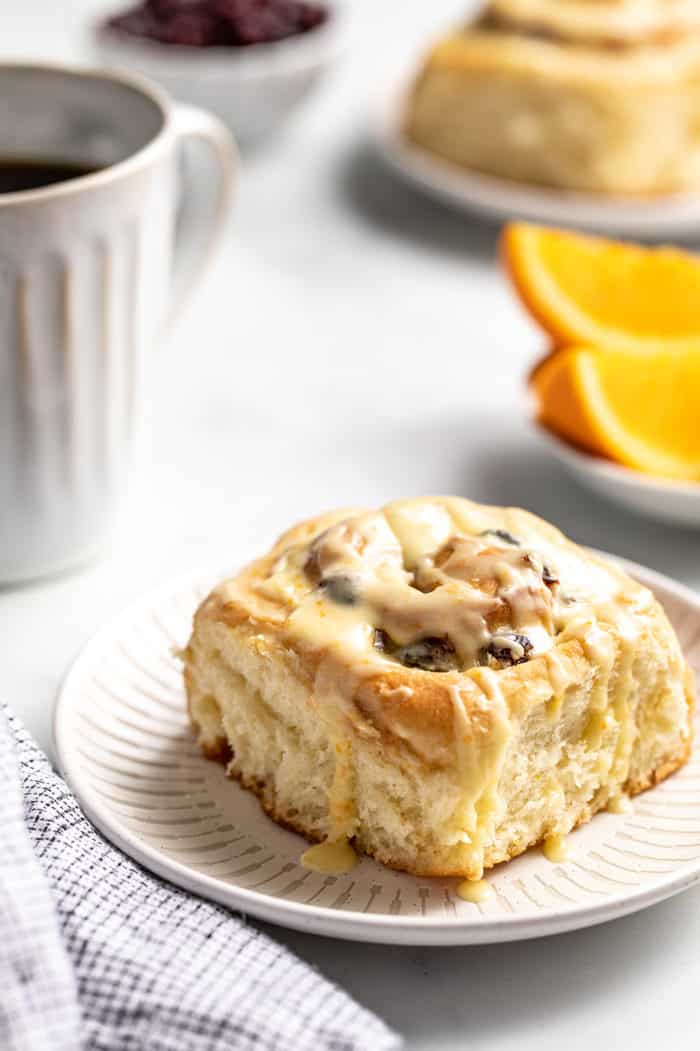 To freeze any leftover rolls, let the rolls cool completely, then wrap them individually in plastic wrap. Place them in a zip-top freezer bag and toss them in the freezer.
When you get the craving for a Cranberry Orange Cinnamon Roll, take out as many as you want and unwrap them, place them on a microwave-safe plate, and microwave for 30-60 seconds.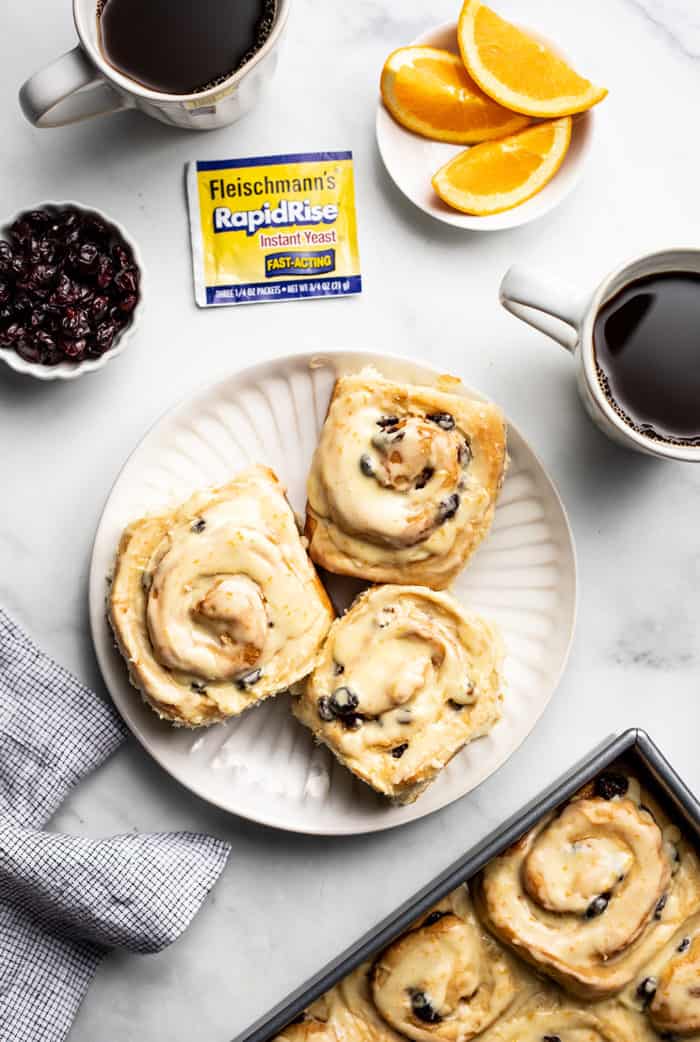 CAN YOU MAKE THESE CINNAMON ROLLS THE NIGHT BEFORE?
Look, I know not everyone functions well before they've had their coffee. So even with these being so easy to make, you might want to prep them the night before.
Good news, you totally can!
Make the rolls as written, stopping after you place the cut rolls in your greased baking pan. At this point, cover the rolls with plastic wrap and pop the pan into the refrigerator overnight.
The next morning, remove the pan from the refrigerator and let the rolls sit at room temperature for about 30-40 minutes while the oven preheats. Bake them as instructed (make sure to remove the plastic wrap!), frost, and enjoy.