Cranberry Orange Scones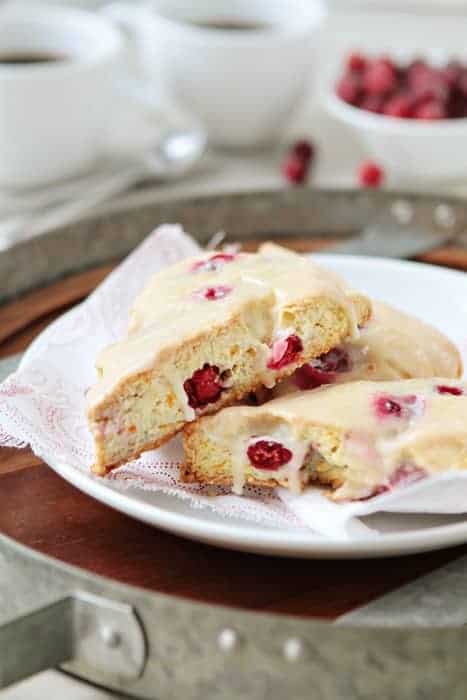 Cranberry Orange Scones drenched in vanilla glaze.
If you've followed My Baking Addiction for a little while, you know that I've divulged my hoarding ways with baking ingredients on countless occasions. From canned pumpkin towers to pounds upon pounds of unsalted butter in the freezer, I like to be prepared. Prepared for what? I have no idea.
I get especially hoarder-ish during the holiday season and if you opened my freezer right about now, you'd think my local market was giving away fresh cranberries. Nope. I purchased every bag – and pretty much tossed one into the cart on every shopping trip from November through January.
During those months I was super duper pregnant, so although I was craving all things flecked with festive cranberries, I certainly wasn't making much of anything aside from PB&Js.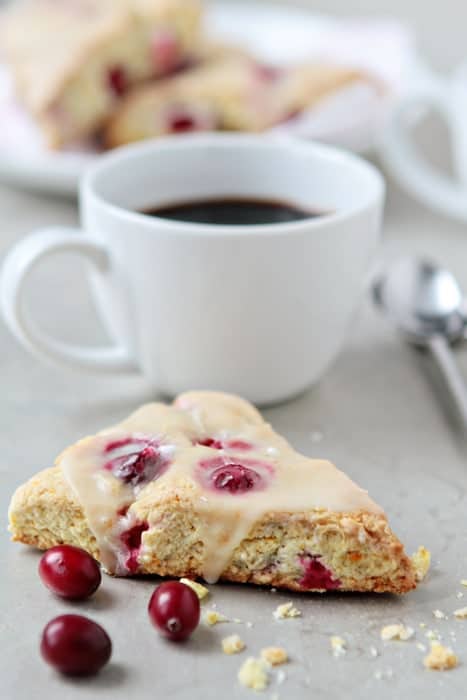 A few days before I gave birth to Elle, I got a random burst of energy and crazy strong hankering for scones. Starbucks was simply out of the question due to incredibly cold temperatures and a stupid amount of snow, so I decided to crank up the oven, grate some butter and make Cranberry Orange Scones.
And then it took me about a month to post them. Which means my baby is 3 weeks old. Not possible. Crazy delay in posting aside, Cranberry Orange Scones are pretty much heaven in scone form. They're tender, slightly sweet and drenched in a vanilla glaze that makes them even more incredible.
And if you're not a fresh cranberry hoarder like myself, they're just as delicious with dried cranberries.
Do you hoard ingredients? What's your guilty pleasure?
Cranberry Orange Scones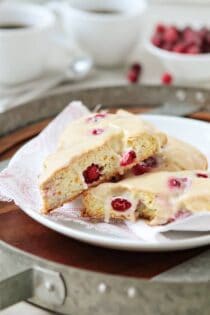 Ingredients:
For the Scones
1/3 cup sugar
zest of two medium oranges
2 cups all-purpose flour
1 teaspoon baking powder
1/4 teaspoon baking soda
1/2 teaspoon salt
8 tablespoons unsalted butter, frozen
1/2 cup sour cream
1 large egg
1 cup fresh/frozen cranberries or 1/2 cup dried cranberries
For the Glaze
3 tablespoons unsalted butter; melted
1 cup confectioners' sugar; sifted
1/2 teaspoon pure vanilla extract
2 tablespoons freshly squeezed orange juice
Directions:
1. Adjust oven rack to lower-middle position and preheat oven to 400 degrees. Line a baking sheet with parchment paper.
2. In a medium bowl, combine sugar and orange zest; mix with your fingertips until the sugar is moistened and fragrant. Add in the flour, baking powder, baking soda and salt and mix until combined.
3. Grate butter into flour mixture on the large holes of a box grater; use your fingers to work in the butter until the mixture resembles coarse meal.
4. In a small bowl, whisk the sour cream and egg until smooth.
5. Using a fork, stir sour cream mixture into flour mixture until large dough clumps form. Add in cranberries. Use your hands to press the dough against the bowl into a ball. The dough will be sticky first, but as you press, the dough will come together.
6. Place on a lightly floured surface and pat into a 7-inch circle about 3/4-inch thick. Use a sharp knife to cut into 8 triangles; place on prepared baking sheet, about 1 inch apart. Bake until golden, about 15 to 17 minutes. Cool for 10 minutes and prepare the glaze.
7. In a medium bowl, prepare the glaze by mixing together the melted butter, confectioners' sugar, vanilla and orange juice. Whisk until smooth. Dip the top of the scones into the glaze and allow the glaze to harden. At this point, you can leave them as is or go for the double dip. I glazed my scones twice.
Notes:
-Scones store well in an airtight container for up to two days.
Follow Jamie on Instagram. We love to see what you're baking from MBA! Be sure to tag @jamiemba and use the hashtag #mbarecipes!
This post may contain affiliate links. We are a participant in the Amazon Services LLC Associates Program, an affiliate advertising program designed to provide a means for us to earn fees by linking to Amazon.com and affiliated sites.