Tart cranberries and sweet oranges come together in these soft and buttery Cranberry Orange Scones drenched in vanilla-orange glaze.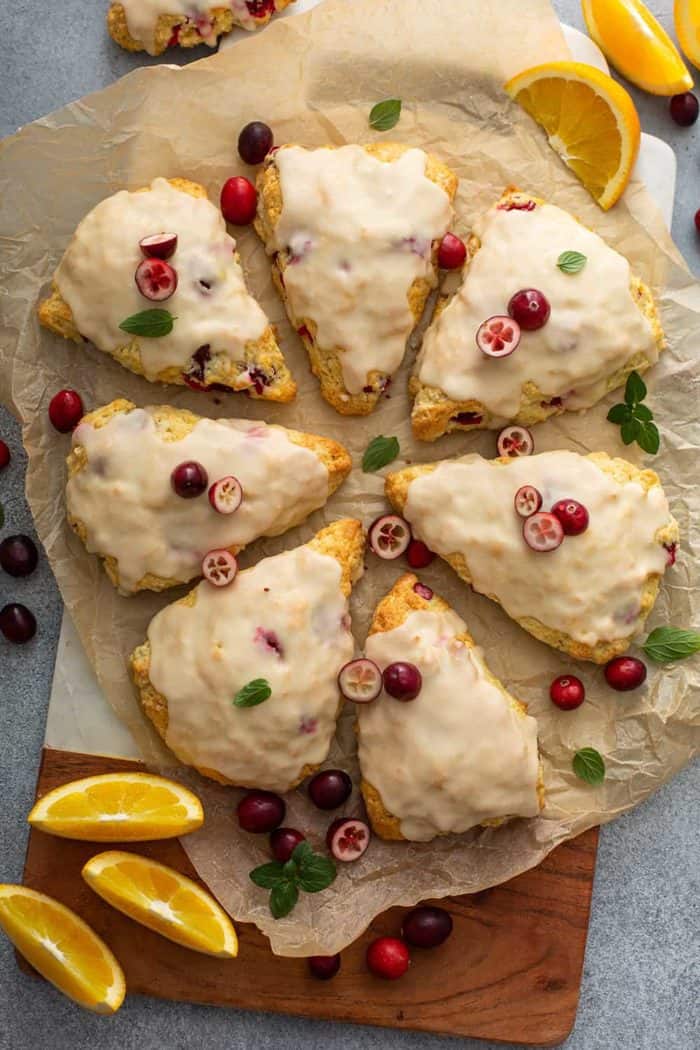 Obviously we all know that I bake a lot. From recipe testing and baking for family to just getting into the kitchen with my girl – a ton of baked goods get whipped up in my kitchen each month.

And while I'm all for my favorite chocolate chip cookies, banana bread and sugar cookie cheesecake, I feel like I've been highly neglecting scones. So here we are with a perfectly seasonal recipe for Cranberry Orange Scones.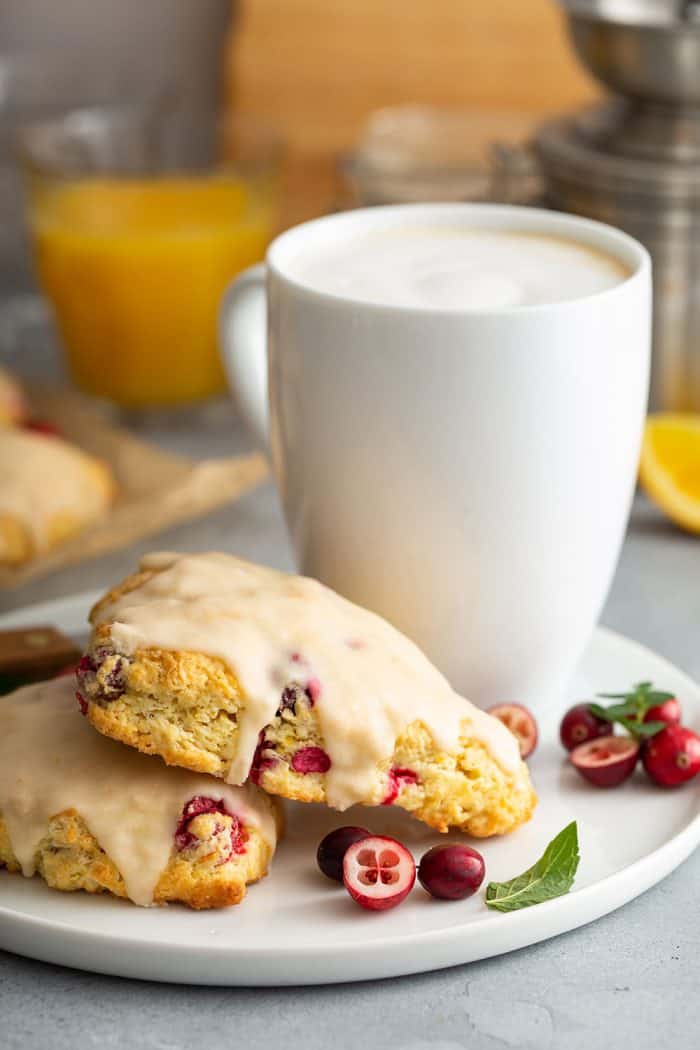 TART AND SWEET CRANBERRY SCONES
If you've followed My Baking Addiction for a little while, you know that I've divulged my hoarding ways with baking ingredients on countless occasions.
From towers of canned pumpkin for making Pumpkin Crunch Cake to pounds upon pounds of unsalted butter in the freezer for my favorite chocolate chip cookies, I like to be prepared.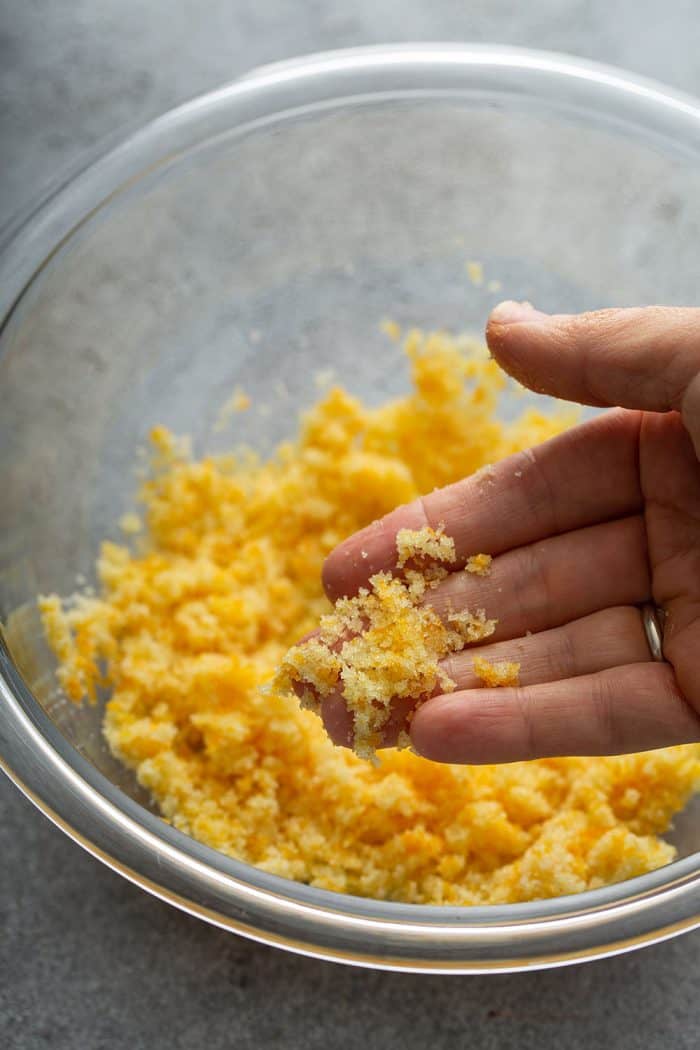 Prepared for what? I have no idea.
I get especially hoarder-ish during the holiday season and if you opened my freezer right about now, you'd think my local market was giving away fresh cranberries.
Nope. I purchased every bag – and pretty much tossed one into the cart on every shopping trip starting in November.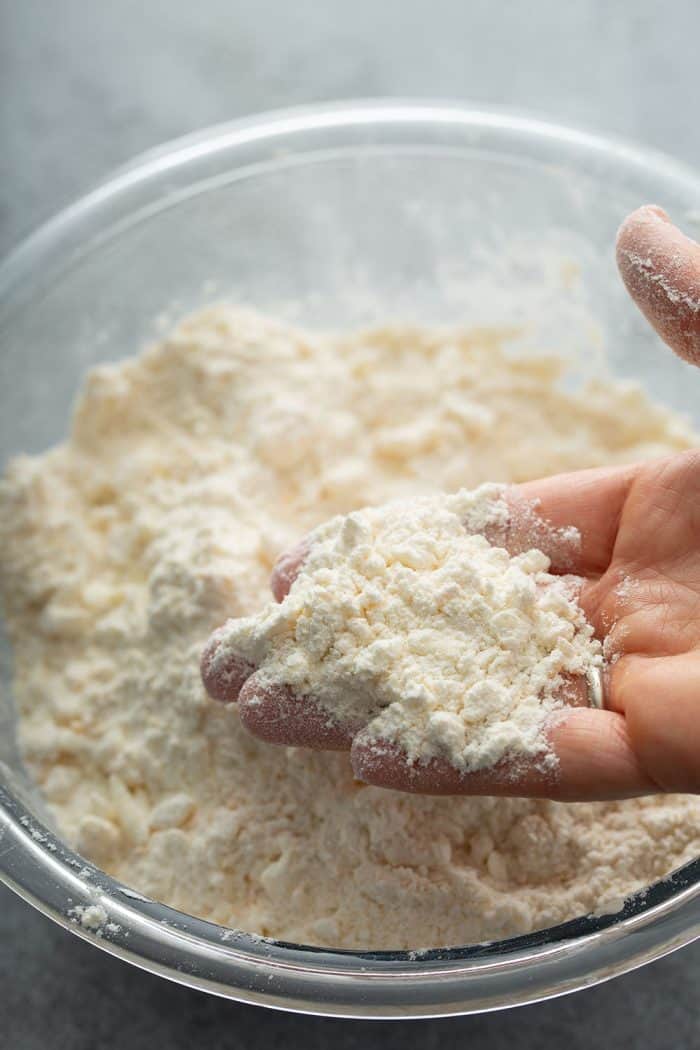 Aside from the obvious batch of homemade cranberry sauce, followed by Cranberry Cream Cheese Dip and Cranberry Brie Bites, I've been looking for ways to use up these tart little gems.
I love love love a good scone, but since coffee shop trips are not exactly happening lately, I decided to crank up the oven, grate some butter and make Cranberry Orange Scones.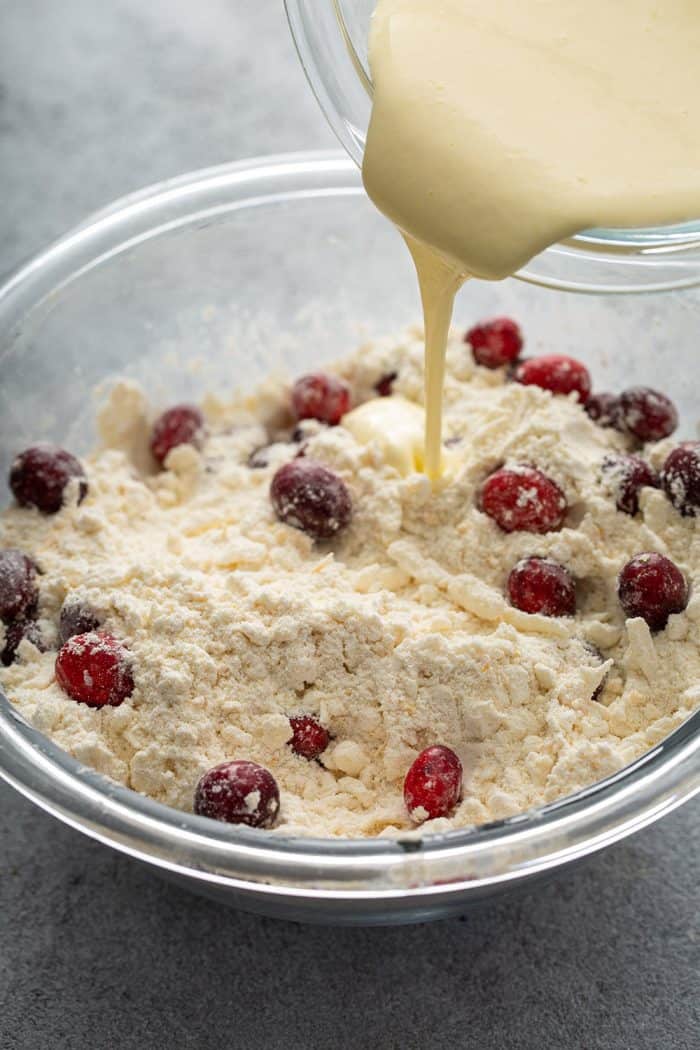 HOW TO MAKE CRANBERRY ORANGE SCONES
Cranberry Orange Scones are pretty much heaven in scone form. They're tender, tart, slightly sweet and drenched in a vanilla-orange glaze that makes them even more incredible.
To make these scones, you'll need:
1/3 cup sugar
Zest of two medium oranges
2 cups all-purpose flour
1 teaspoon baking powder
1/4 teaspoon baking soda
1/2 teaspoon salt
8 tablespoons unsalted butter, frozen
1/2 cup sour cream
1 large egg
3 tablespoons milk
1 cup fresh/frozen cranberries or 1/2 cup dried cranberries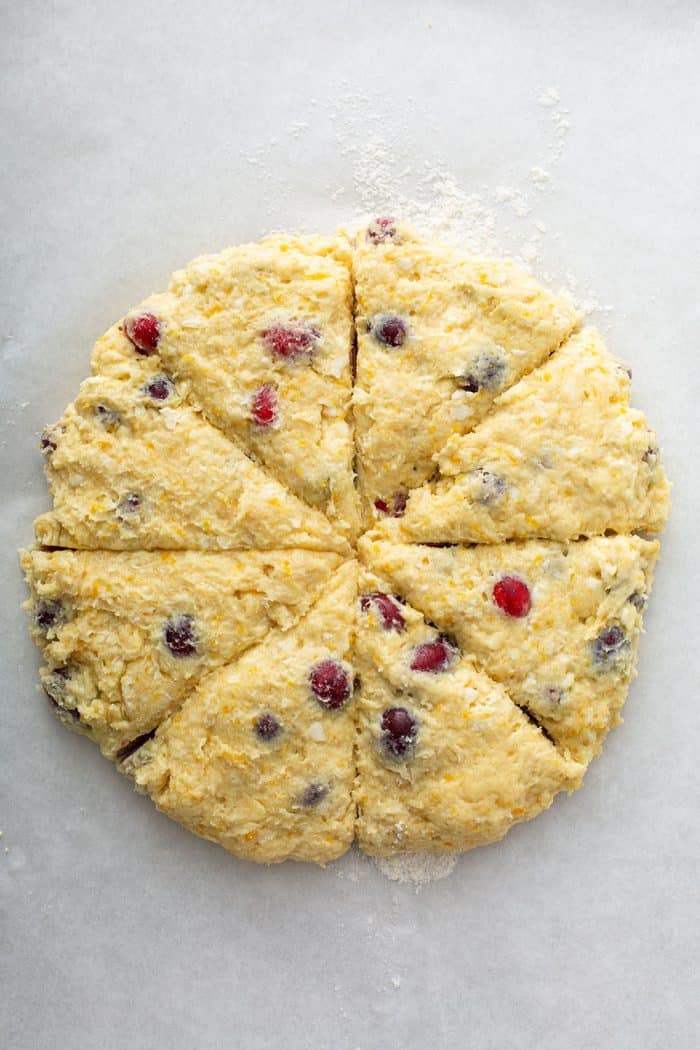 I prefer to use fresh or frozen cranberries in these scones because I absolutely love the tart flavor they give to the scones. I personally prefer fresh or frozen over dried in breads like Cranberry Orange Bread and Cranberry Nut Bread and these scones.
But if you prefer dried cranberries or only have dried cranberries on hand, feel free to use them instead!
Grab a medium bowl and mix the sugar and the orange zest with your fingertips until the sugar is moistened and fragrant. This releases the oils in the orange zest and really punches up the flavor in the scones.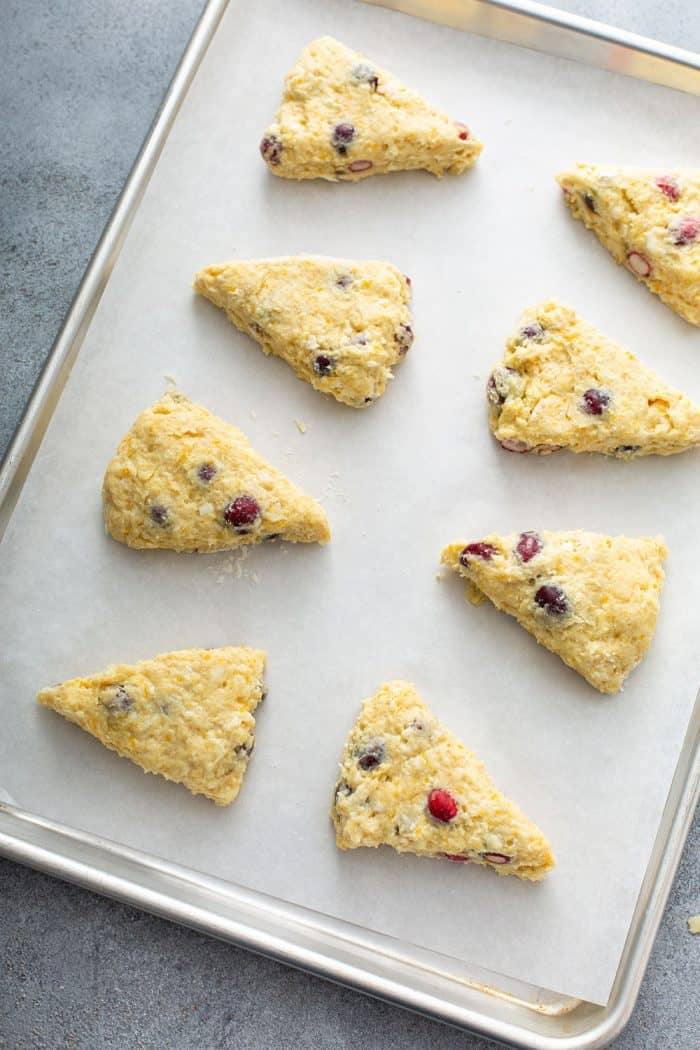 Add in the other dry ingredients and mix to combine before grating in the frozen butter. Use your fingertips again to work the butter into the dry ingredients until everything resembles coarse meal.
In a small bowl, whisk the sour cream, egg and milk until smooth.
Toss the cranberries into the flour mixture. Using a fork, stir the wet ingredients into flour mixture until large dough clumps form. Use your hands to press the dough against the bowl into a ball. The dough will be sticky first, but as you press, the dough will come together.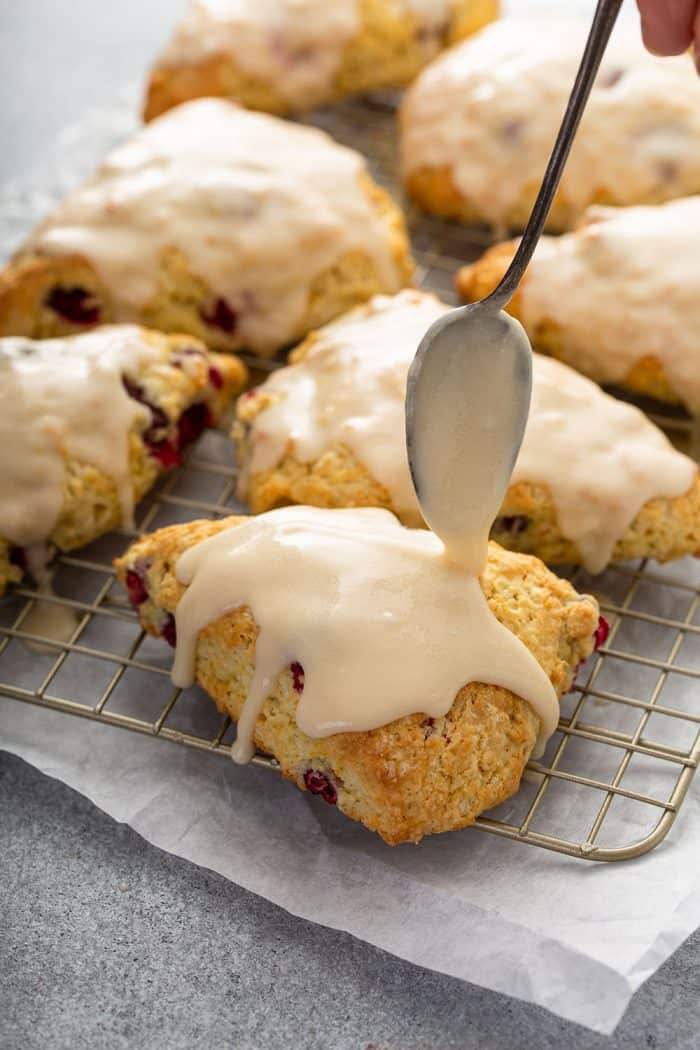 Dump the dough out onto a lightly floured surface and pat it into a circle. Use a sharp knife or dough blade to cut it into 8 triangles. Place the triangles on a baking sheet and bake for about 20 minutes.
Once the scones have cooled, whisk together a bit of melted butter, powdered sugar, vanilla, and orange juice. Dip the scones in the glaze or spoon the glaze on top for a coffee-shop-worthy finish.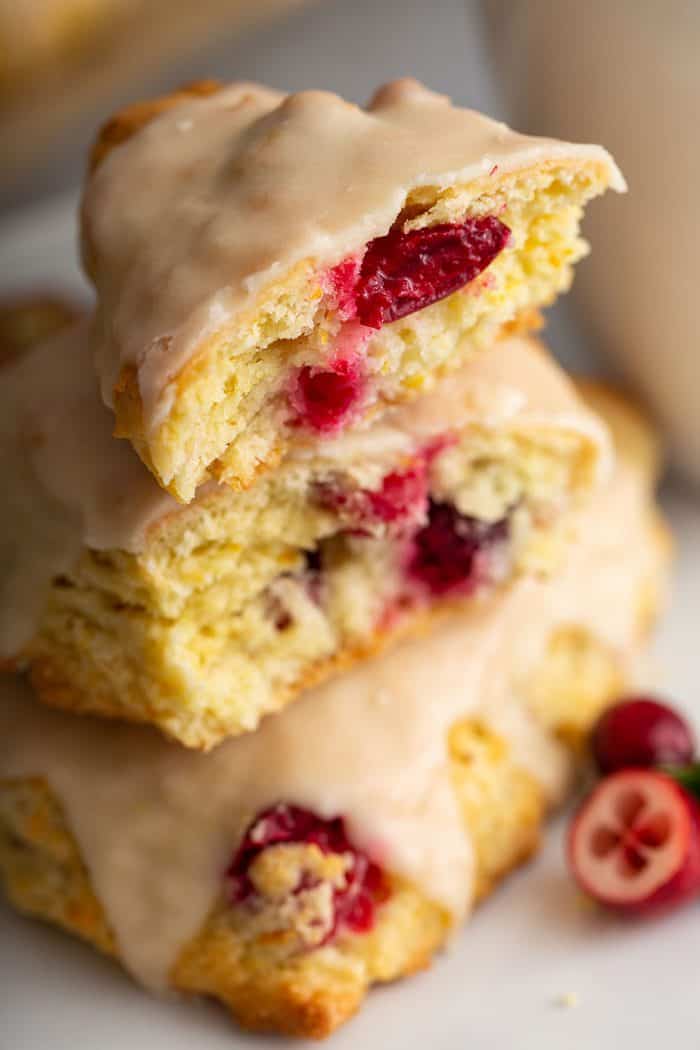 HOW TO STORE THESE SCONES
I think Cranberry Orange Scones are best the day they're baked (and who doesn't love a fresh scone?) but you can also store them at room temperature for a couple of days.
Just pop them in an airtight container on the counter for up to 2 days.
If you want to freeze them for later, you can do that as well. Pop them in a zip-top freezer bag for up to 2 months.
I like to grab a scone straight from the freezer and microwave it for 30-60 seconds for a quick, delicious breakfast treat. The glaze may melt a bit, but the warm scone is well worth it.