Pumpkin Crunch Cake
Pumpkin Crunch Cake is brimming with fall flavors. Top each slice with a dollop of whipped cream and chopped pecans to create the perfect pumpkin dessert.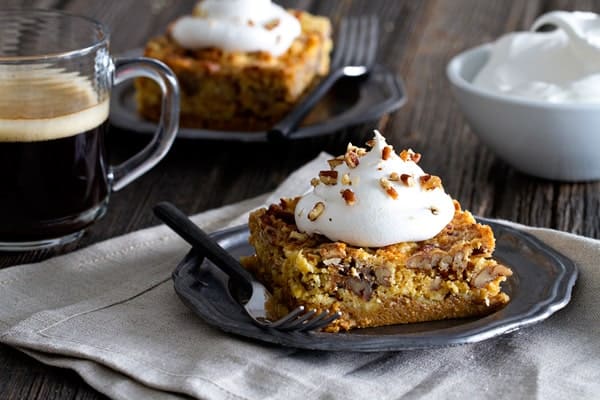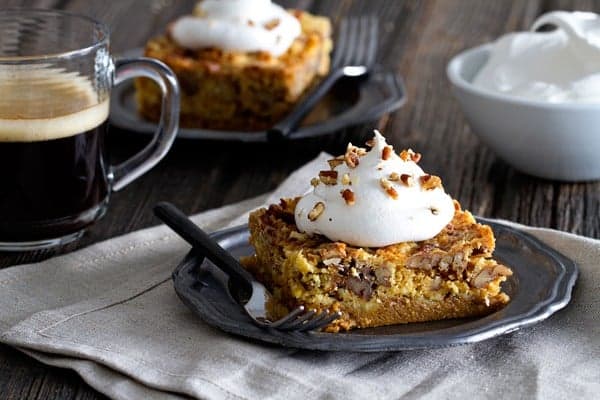 This is post is sponsored recipe development on behalf of Fisher Nuts. Thank you for continuing to support the brands that make My Baking Addiction possible.
If you happen to follow me on Instagram, you are probably aware that I just returned home from a culinary conference in Jamaica.
While I loved spending time with some of my favorite people on Earth and making new friends, it was hot.
Like glistening in the sun, potentially soaking through your clothes, the minute you walk out the door hot. So when I hopped off the plane and was greeted with 52 degrees of crisp fall weather, I was pretty excited for a few reasons.
Namely boots, pumpkin and not having to shower three times a day. It's the little things.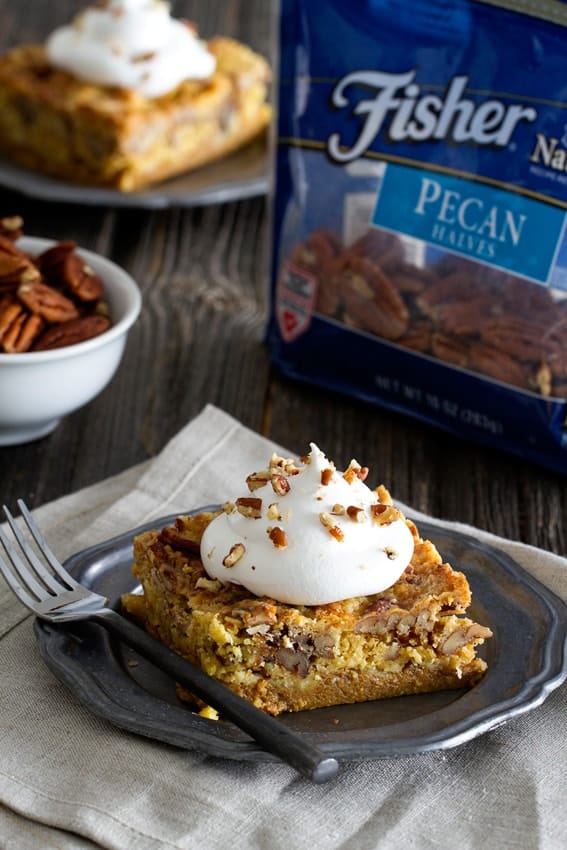 Growing up, Pumpkin Crunch Cake was a dessert staple at my Nana's house. Not only is it super simple to make, it's also incredibly delicious.
With just a handful of ingredients and minimal effort, you can create a rich, flavorful pumpkin dessert that's perfect for Thanksgiving, or just a random Thursday night.
Sometimes Nana would leave out the pecans, but not me. There's just something about them, especially when combined with pumpkin and warm spices, that I can't skip.
You might think I'm crazy, but I actually love this cake year-round. Thanks to canned pumpkin, it's something you really can whip up whenever the mood strikes, be it April or October.
There's no shame in reveling in pumpkin and pecans when the temperature is above 55°F.
PUMPKIN CAKE WITH YELLOW CAKE MIX
Nana always made Pumpkin Crunch Cake with a mix, and I have to tell you, cake mixes have come a long way since I was a little kid baking in Nana's kitchen, and I love the fact that I find mixes without all the artificial stuff.
Using a yellow cake mix also makes Pumpkin Crunch Cake incredibly easy to whip up.
Seriously, it will probably take longer for your oven to preheat than it will for you to get the cake ready to bake. Since so many of the ingredients are pantry staples, it's easy to pull together at the last minute, completely stress-free.
I especially love using Fisher Nuts in this recipe because they're preservative-free. Nothing in the bag but the nuts as they came off the tree. That's something this dessert lover can get behind.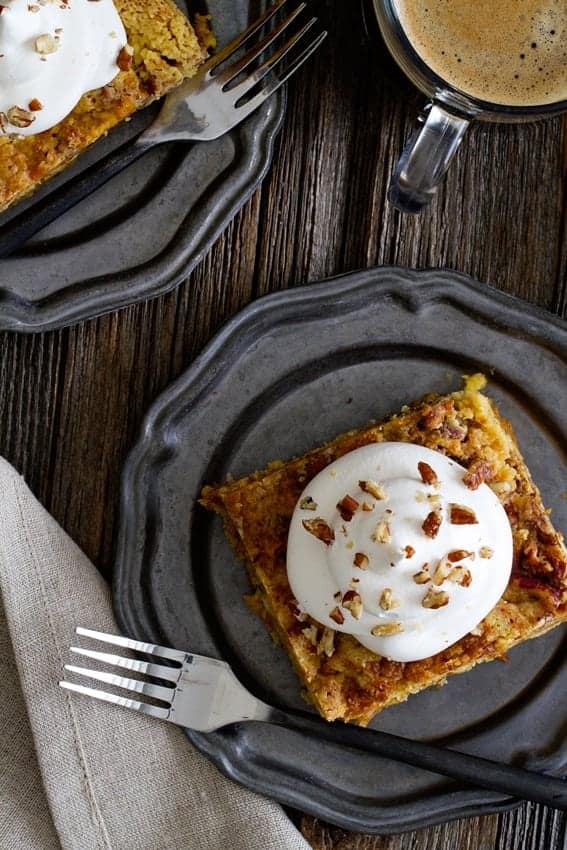 PUMPKIN CRUNCH DUMP CAKE
The way Pumpkin Crunch Cake comes together puts it in the "dump cake" category.
I know, the phrase "dump cake" is kind of weird, but trust me on this one, ok?
A dump cake just means that you "dump" the ingredients in the pan and everything magically comes together in the oven.
Since you whisk together the evaporated milk, pumpkin puree, eggs, sugar and spices first, Pumpkin Crunch Cake does require one more bowl than most dump cake recipes. But I promise it is still super simple.
Once that mixture is spread in the pan, you sprinkle on the cake mix and pecans and then drizzle melted butter all over the top before baking.
The result is a cake that is moist on the bottom and has a buttery, crumb-like texture on top. It's heavenly.
MORE FALL BAKING INSPIRATION
Can't get enough pumpkin? Neither can I. Luckily, I've got you covered.
Be sure to check out my Pumpkin Roll, Pumpkin Cheesecakes with Salted Caramel Sauce and Pumpkin Pecan Bars – they're all seasonal staples around here! Oh and don't forget the Pumpkin Pie Spice!
You can even have pumpkin for breakfast. Try my Pumpkin Bread, Pumpkin Cream Cheese Muffins, or Pumpkin Pancakes.
Now if you'll excuse me, I need to run out and buy a few more cans of pumpkin puree.
This post may contain affiliate links. We are a participant in the Amazon Services LLC Associates Program, an affiliate advertising program designed to provide a means for us to earn fees by linking to Amazon.com and affiliated sites.