Pumpkin Cream Cheese Muffins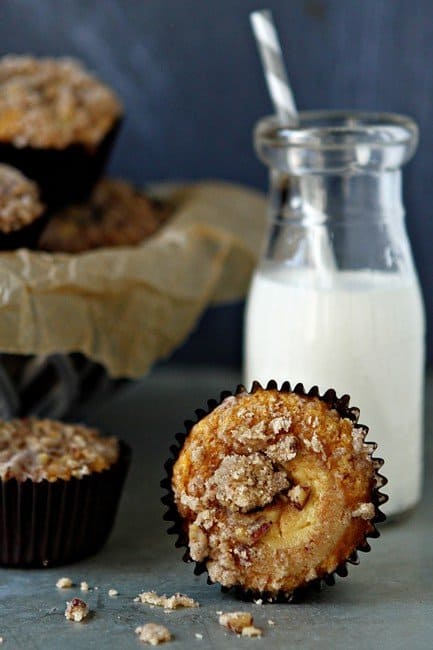 If you've followed MBA for any length of time, you know that I'm madly in love with all things pumpkin. And what's better than a pumpkin recipe in the middle of Fall? I'll tell ya – a pumpkin recipe that happens to incorporate cream cheese. From Pumpkin Cookies with Cream Cheese Frosting to Pumpkin Roll – I promise you, there is no better combination.
While playing around in the kitchen last week, I went on a slight muffin baking binge. Within about 72 hours, I had baked Chocolate Chocolate Chip Muffins, Apple Pie Muffins and these beautiful cream cheese filled pumpkin muffins finished with a sweet and spicy streusel topping. Complete and utter muffin madness I tell ya.
All of the muffins were pretty fantastic; however, the Pumpkin Cream Cheese Muffins reigned supreme. They're deliciously moist with the perfect level of sweetness and spice. And come on – who could possibly resist a cream cheese filling let alone a streusel topping? Paired with a piping hot cup of coffee, these beauties pretty much equal breakfast bliss.
[pinit]

Pumpkin Cream Cheese Muffins
Yield: about 24 muffins
Prep Time: 25 minutes
Cook Time: 20-25 minutes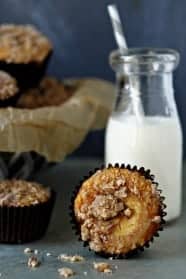 Ingredients:
For the Filling
1 (8 ounce) package cream cheese, slightly softened - not room temp
1 large egg
1 teaspoon pure vanilla extract
3 tablespoons light brown sugar
For the Streusel Topping
4 1/2 tablespoons Gold Medal all-purpose flour
5 tablespoons white sugar
3/4 teaspoon homemade pumpkin pie spice
1/4 cup chopped pecans
3 tablespoons unsalted butter, slightly softened and diced
For the Muffin Batter
2 1/2 cups Gold Medal all-purpose flour
2 cups white sugar
2 teaspoons baking powder
2 1/2 teaspoons homemade pumpkin pie spice
1/2 teaspoon salt
2 large eggs
1 1/3 cups canned pumpkin
1/3 cup vegetable oil
2 teaspoons pure vanilla extract
Directions:
1. Preheat oven to 375°F. Spray muffin tins with nonstick cooking spray or line with paper muffin liners.
2. Prepare the Filling: In a medium bowl, with an electric mixer, beat cream cheese until soft; about 3 minutes. Add egg, vanilla and brown sugar. Beat until pretty smooth - there may be some cream cheese chunks, that's perfectly fine. Set aside.
3. Prepare the Streusel Topping: In a medium bowl, mix flour, sugar, pumpkin pie spice and pecans. Add butter and cut it in with a fork until crumbly. Set aside.
4. Prepare the Muffin Batter: In a large bowl, sift together flour, sugar, baking powder, pumpkin pie spice and salt. Add eggs, pumpkin, oil and vanilla. Beat with an electric mixer until just combined and smooth - do not overbeat .
5. Using a large scoop, evenly distribute the muffin batter between 24 muffin wells. Add one tablespoon of the cream cheese mixture into the center of the batter of each muffin. Try to keep cream cheese from touching the paper cup. Sprinkle on the streusel topping.
6. Bake in preheated over for 20 to 25 minutes. Remove muffin pans to cooling racks and allow the muffins to cool completely before serving.
Notes:
Pumpkin Cream Cheese Muffins are best served the day they are made; however, they will keep in an airtight container within the refrigerator for up to 2 days.
My Baking Addiction slightly adapted from allrecipes.
37 Responses to "Pumpkin Cream Cheese Muffins"