Pumpkin Muffins pop with warm and comforting fall spices, a perfect match for earthy pumpkin. Top them with pumpkin seeds for an extra crunch!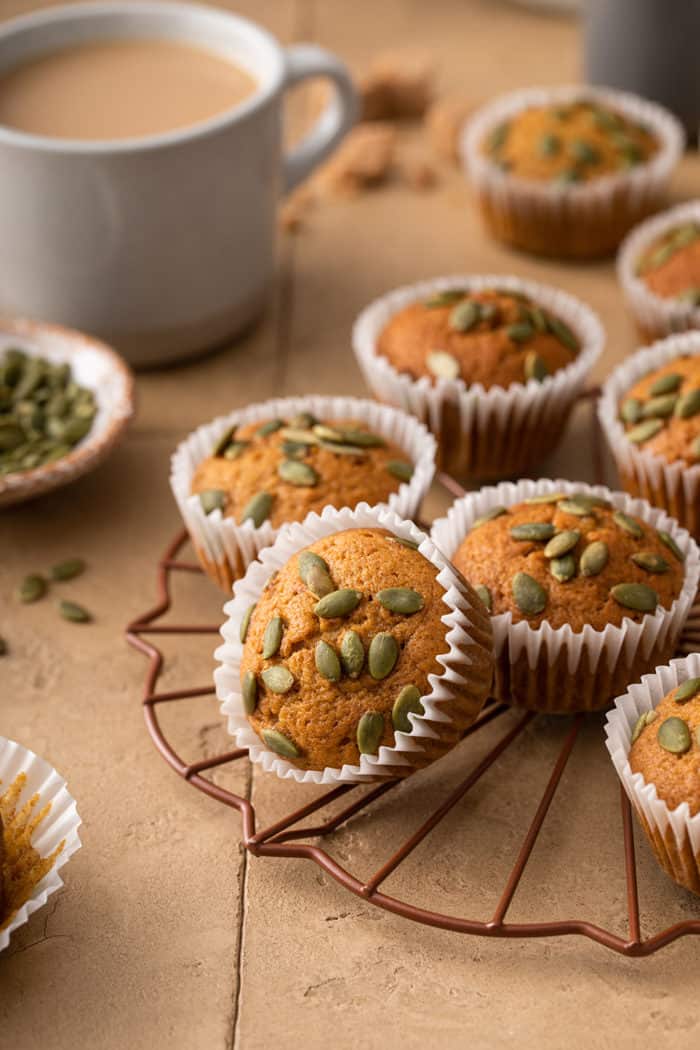 While I typically don't make a big fuss about Thanksgiving day breakfast, I'm little ahead with my Thanksgiving prep this year. So instead of us pulling out a box of cereal or packet of oatmeal on Thanksgiving morning, I thought I'd whip up a batch of Pumpkin Spice Cinnamon Rolls and these simple Pumpkin Muffins for us to enjoy with a hot cup of coffee while watching the parade.
The great thing about the cinnamon rolls and these pumpkin muffins is that they both can be made the day before, so we can enjoy breakfast without a lot of prep and hand's on time. Since I prep the majority of our Thanksgiving dinner days beforehand, I figured why not do the same for breakfast?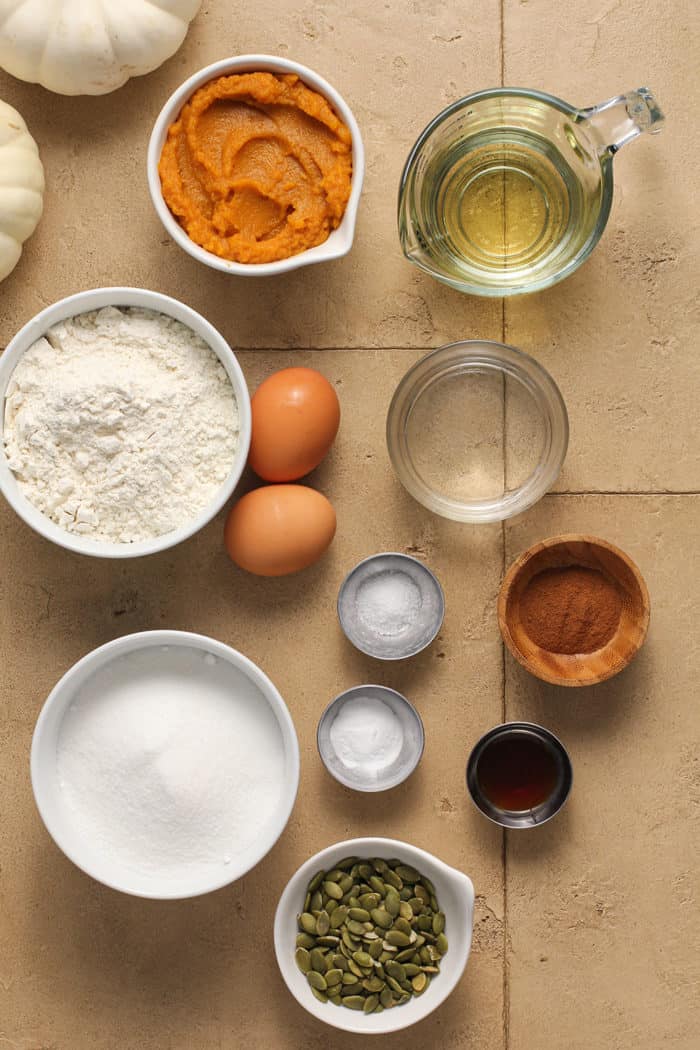 MY FAVORITE PUMPKIN MUFFIN RECIPE
If you were to ask me my favorite flavor in life, it would probably be pumpkin plus those fall spices that we all call "pumpkin spice" or "pumpkin pie spice."
Every year my Pumpkin Bread is one of the most popular recipes on My Baking Addiction along with my homemade pumpkin pie spice, pumpkin roll and pumpkin crunch cake.
Yes, I love pumpkin. Why do you ask?
These muffins are everything you love about the flavors in those recipes combined into an easy quick bread muffin that can be made a day ahead. They even make a great grab-and-go breakfast on the way to work, too.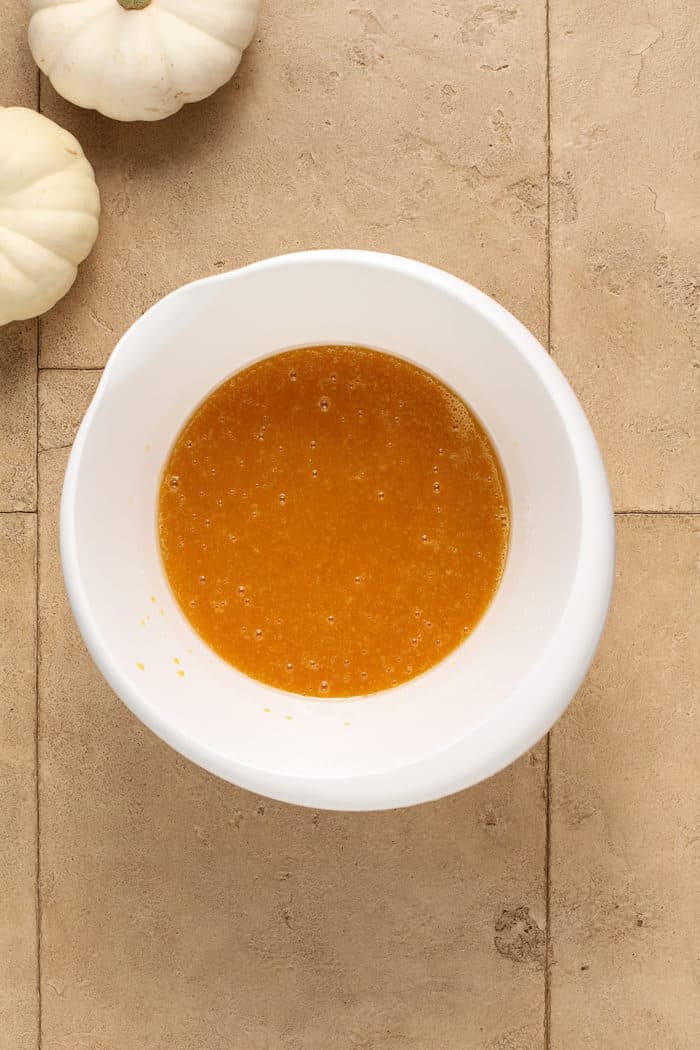 These Pumpkin Muffins are sweet, spicy and moist. I know, I know, moist is not my favorite word either, but there is really no way to adequately describe this Pumpkin Muffin recipe without mentioning that word.
I also decided to top these Pumpkin Muffins with some pumpkin seeds to add a bit of extra flavor and crunch to them. Sometimes I can even find pumpkin spice-flavored pumpkin seeds at Trader Joe's, so they're totally a match made in pumpkin heaven.
These muffins are even better after a day or two, so they're perfect for packaging up and gifting. With Thanksgiving approaching, they'd be a great make-ahead Thanksgiving breakfast or host gift.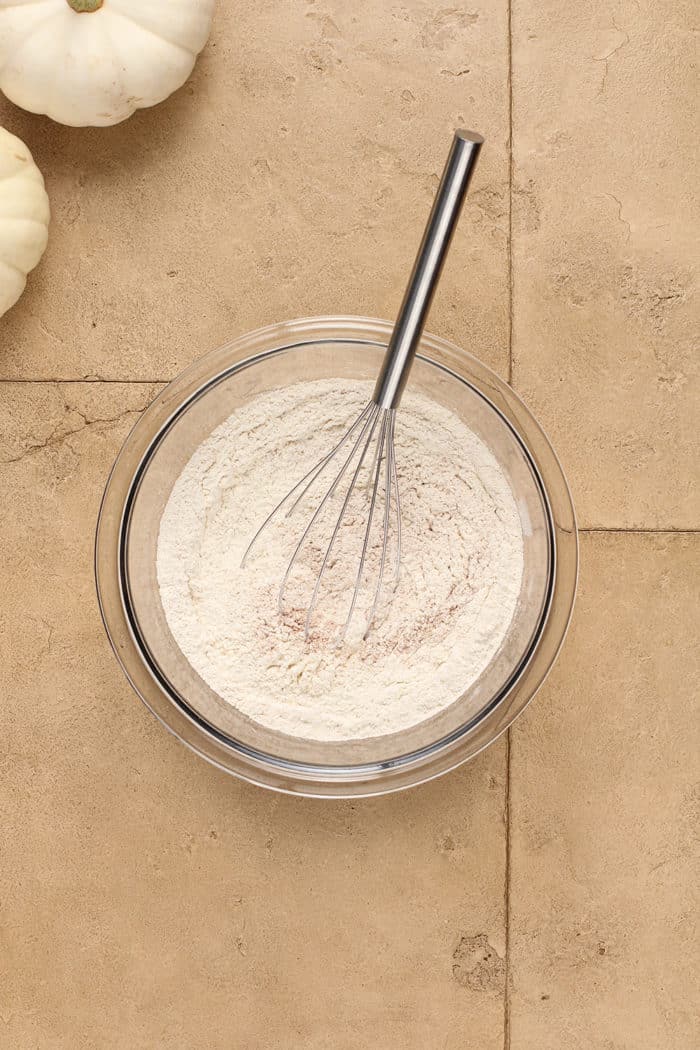 HOW TO MAKE PUMPKIN MUFFINS
This Pumpkin Muffin recipe is super easy to make. And unlike Pumpkin Bread, which takes a bit of time to bake, Pumpkin Muffins bake up pretty quickly.
You can easily go from wanting these muffins to eating them in the span of an hour if you have the ingredients on hand.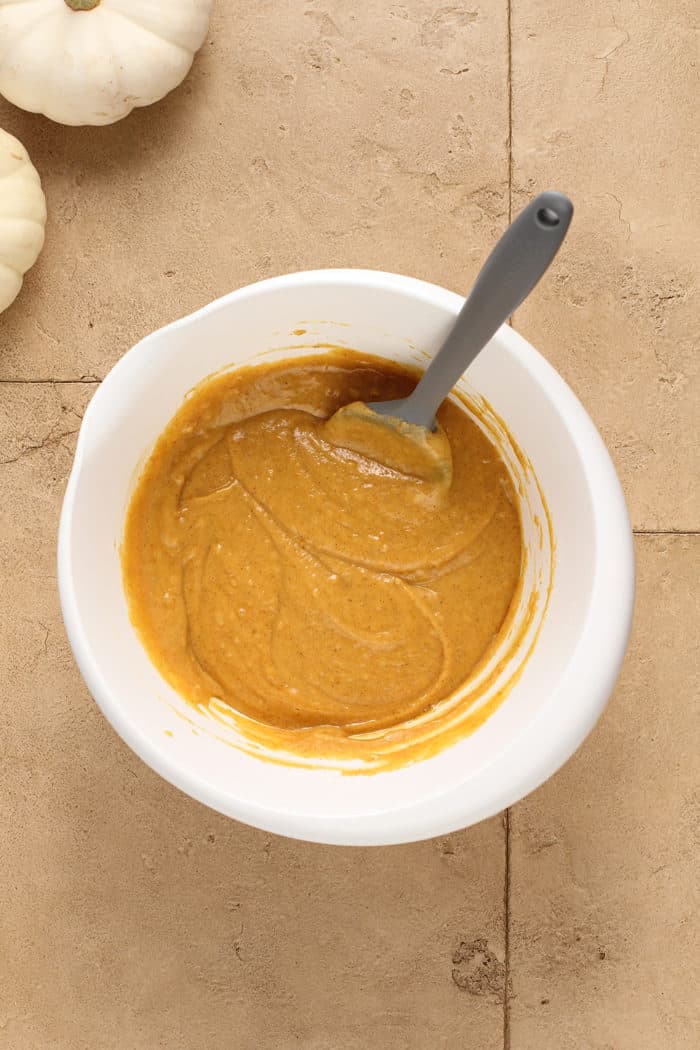 Like our other quick bread recipes, we mix together the wet ingredients in one bowl, which in this case includes a whole can of pumpkin puree. Make sure to use pumpkin puree, not pumpkin pie filling!
In another, we whisk together our dry ingredients. From there, we'll mix the two together before dividing into lined muffin tins.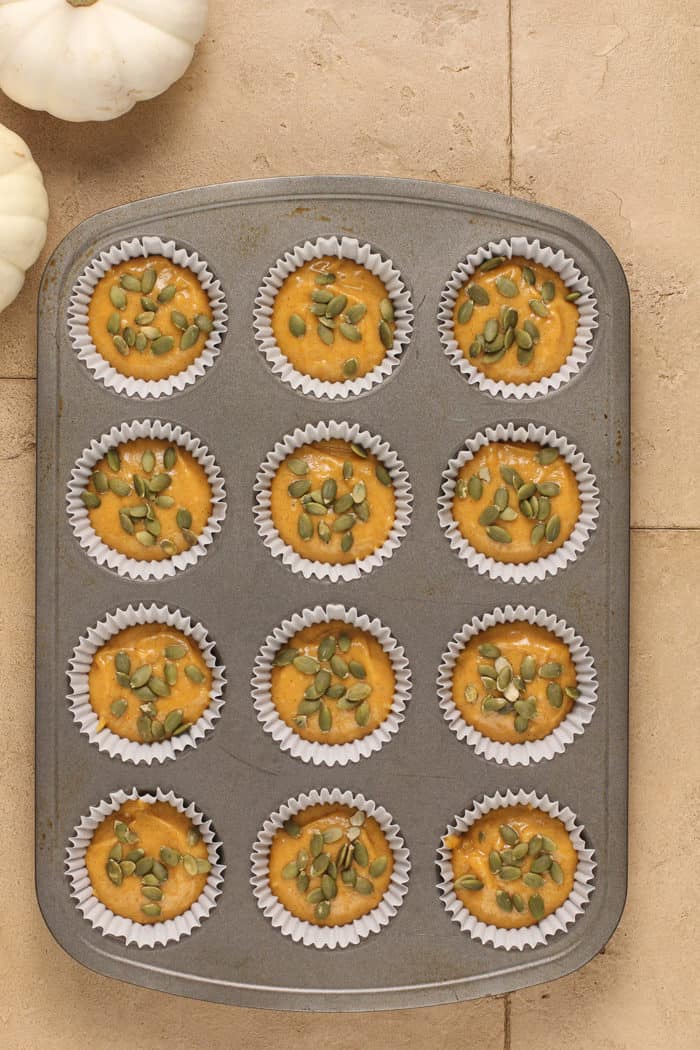 RECIPE VARIATIONS
Like I said, I topped my Pumpkin Muffins with some pumpkin seeds. I love the added crunch on top!
If you want to add any other extras, like chopped pecans, dried cranberries or even chocolate chips, simply fold them in before you add the batter to the muffin tin.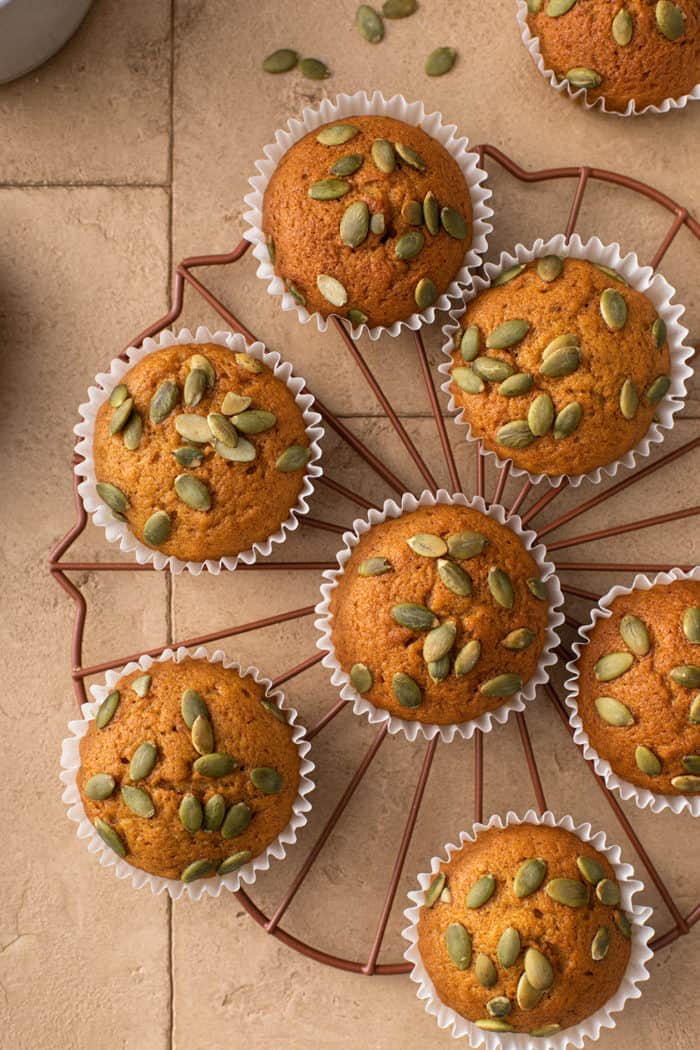 STORAGE TIPS
I think Pumpkin Muffins would make a lovely Thanksgiving hostess gift – pack them into a basket with some homemade cinnamon honey butter.
If you're planning to eat them within a few days, store them in an airtight container at room temperature. If you want them to last a bit longer, store them in the refrigerator for up to 5 days.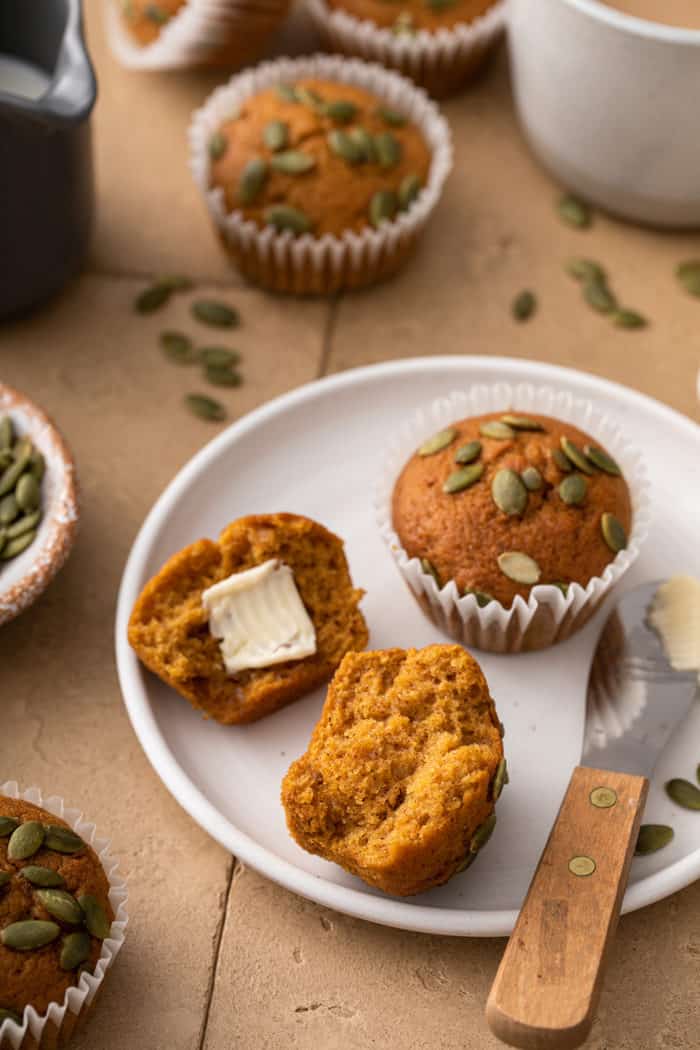 But they also freeze wonderfully, so you can always keep them for yourself. Pop them into a zip-top freezer bag and freeze them for up to 3 months.
When you're ready for a muffin, grab out as many as you like and let them thaw at room temperature or microwave them for 30-60 seconds.
Either way, you can't go wrong when Pumpkin Muffins are involved.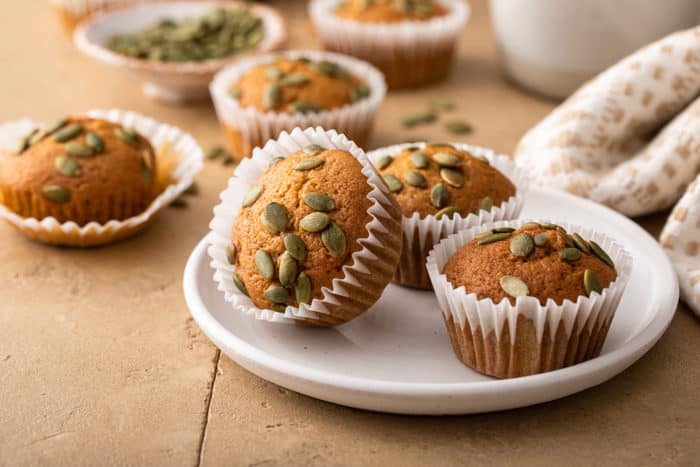 MORE SEASONAL MUFFIN RECIPES
Looking for more seasonal muffin recipes?
Try Apple Cider Doughnut Muffins, Apple Cinnamon Muffins, Cranberry Orange Muffins, Chai Spiced Doughnut Muffins.
Bake and freeze a bunch of yummy fall-inspired muffins for a breakfast buffet or to snack on whenever a muffin craving strikes!