Pumpkin Muffins pop with warm and comforting fall spices, a perfect match for earthy pumpkin. Top them with pumpkin seeds for an extra crunch!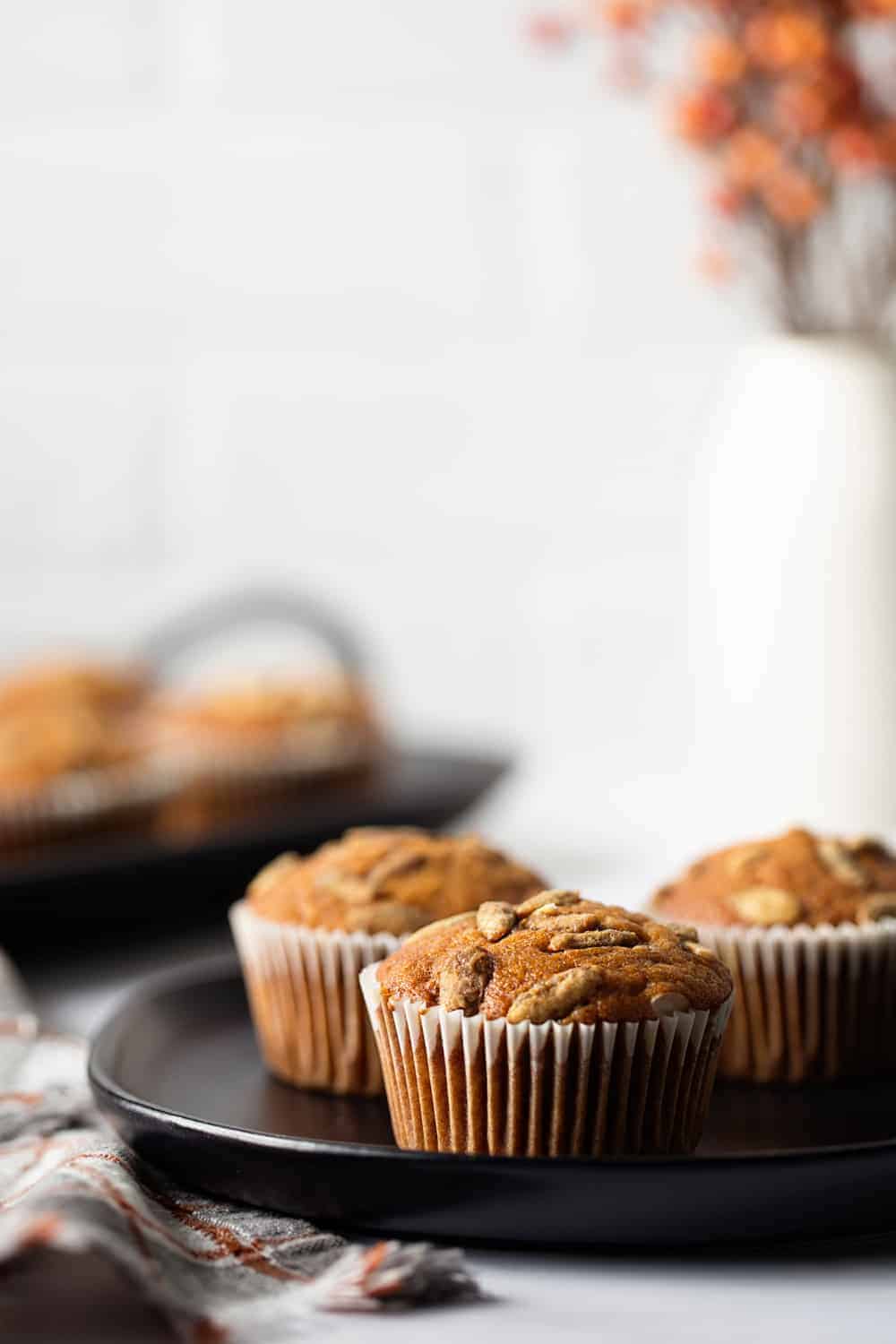 You guys, there's only a few days left until Thanksgiving and let me tell you, I'm already feeling the stress.
Mainly because I typically do a lot of my prep work the day before Thanksgiving, but this year, my husband decided to purchase CAVS tickets for Wednesday night's game.
THE NIGHT BEFORE THANKSGIVING!
Sure, he can totally take someone else, BUT it's the only game where Lebron will be back in Cleveland this season, so I totally want to go. But the timing could not possibly be worse.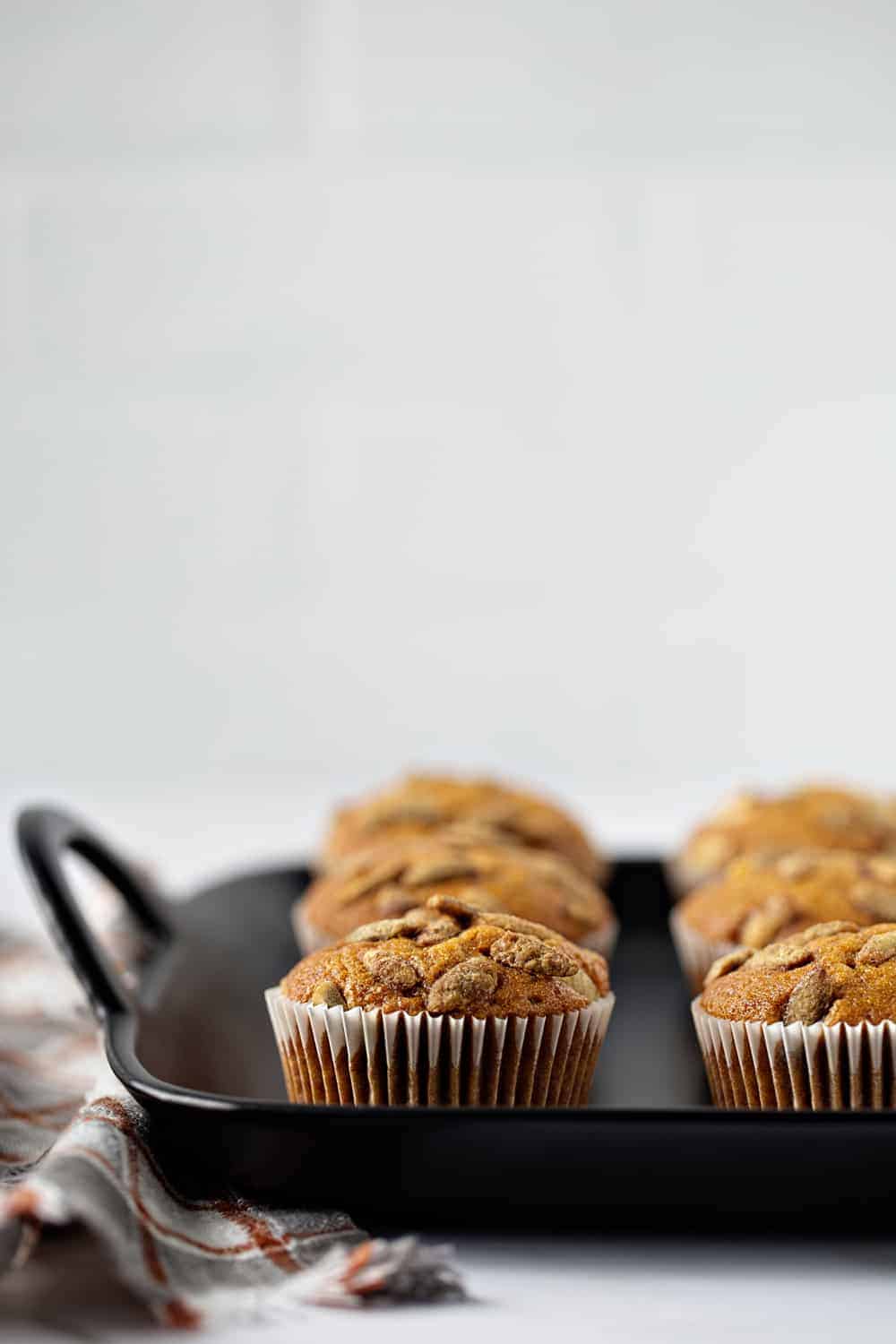 I'm not sure why I always stress out so much about Thanksgiving.
It's always fine.
I mean, even if I burn the turkey and my gravy comes out ultra-lumpy, it'll all be okay.
The most important thing is that we're all together under the same roof, right?
I can tell myself that 100 times a day, but I still get all flustered. Norman Rockwell's vision for Thanksgiving is my vision for Thanksgiving, and I love providing that for my family.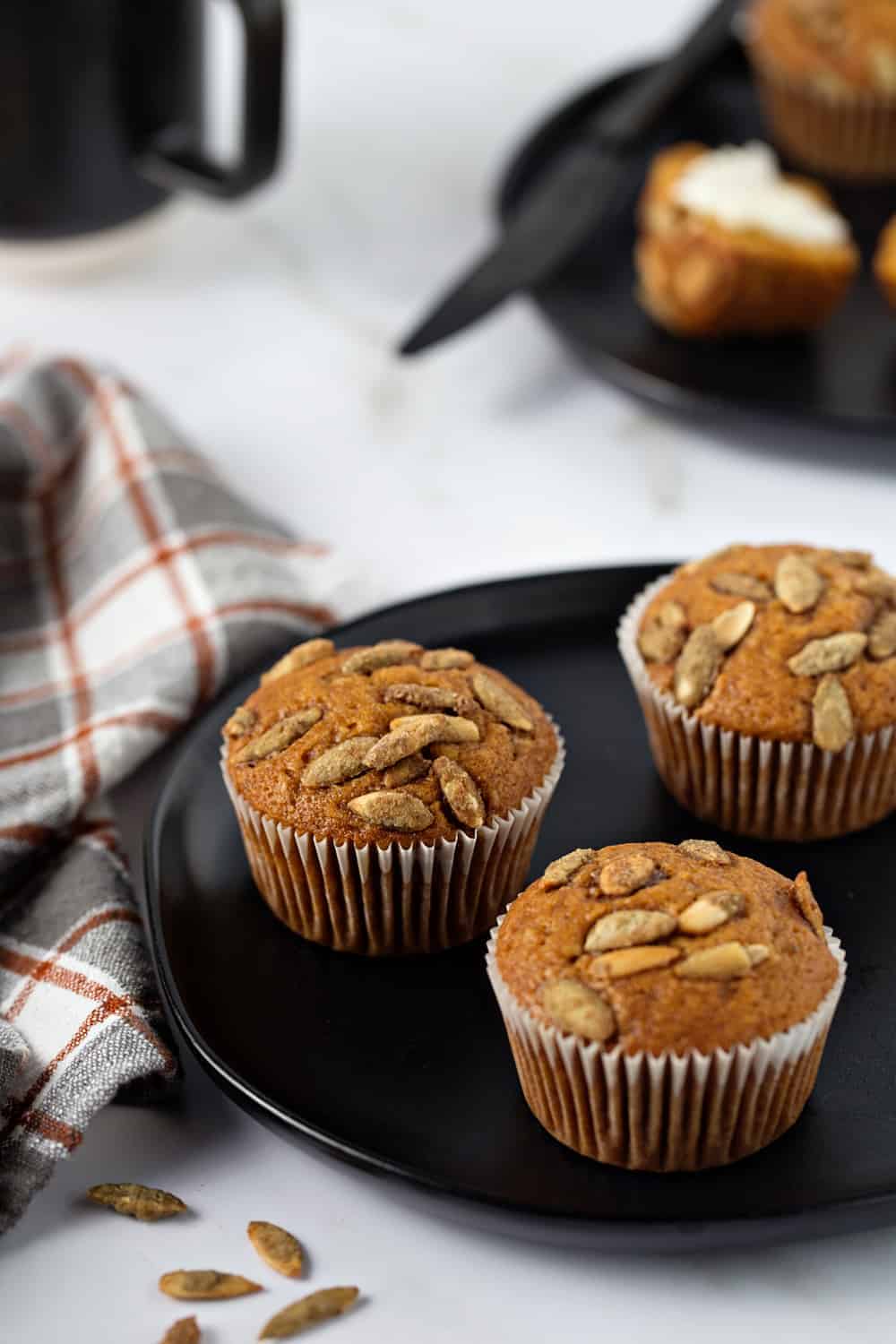 That doesn't just start with dinner. Thanksgiving is an all day affair around here, from breakfast through to turkey sandwiches around 10 p.m.
Since I know we're going to be away from the house starting from about 5 p.m. onwards on Wednesday, I'm going to spend that morning making muffins, so that all I need to do is pop them in the oven for a quick warm up on Thursday morning.
They can do that while the oven is preheating for the turkey. Double duty, y'all.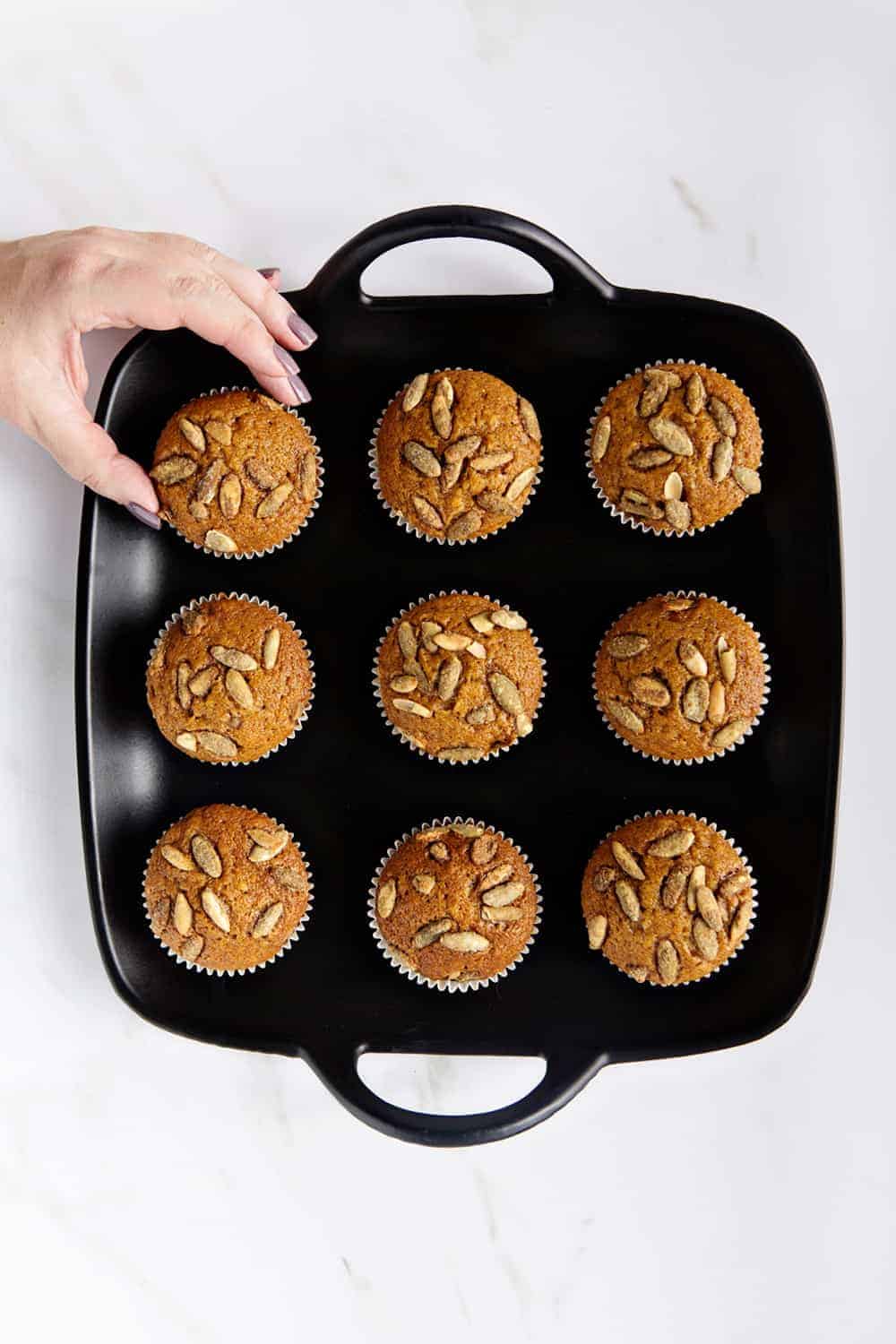 If you were to ask me my favorite flavor in life, it would probably be pumpkin plus those fall spices that we all call "pumpkin spice" or "pumpkin pie spice".
These muffins are everything you love about those flavors combined into an easy quick bread muffin that can be made a day ahead, and even make a great grab-and-go breakfast on the way to work too.
That's what I've done in years past, but since I don't leave the house anymore (#hermitlife) unless it's to take Elle to school or my Target run, instead I'm thinking about gifting a few batches of these to the teachers at her school.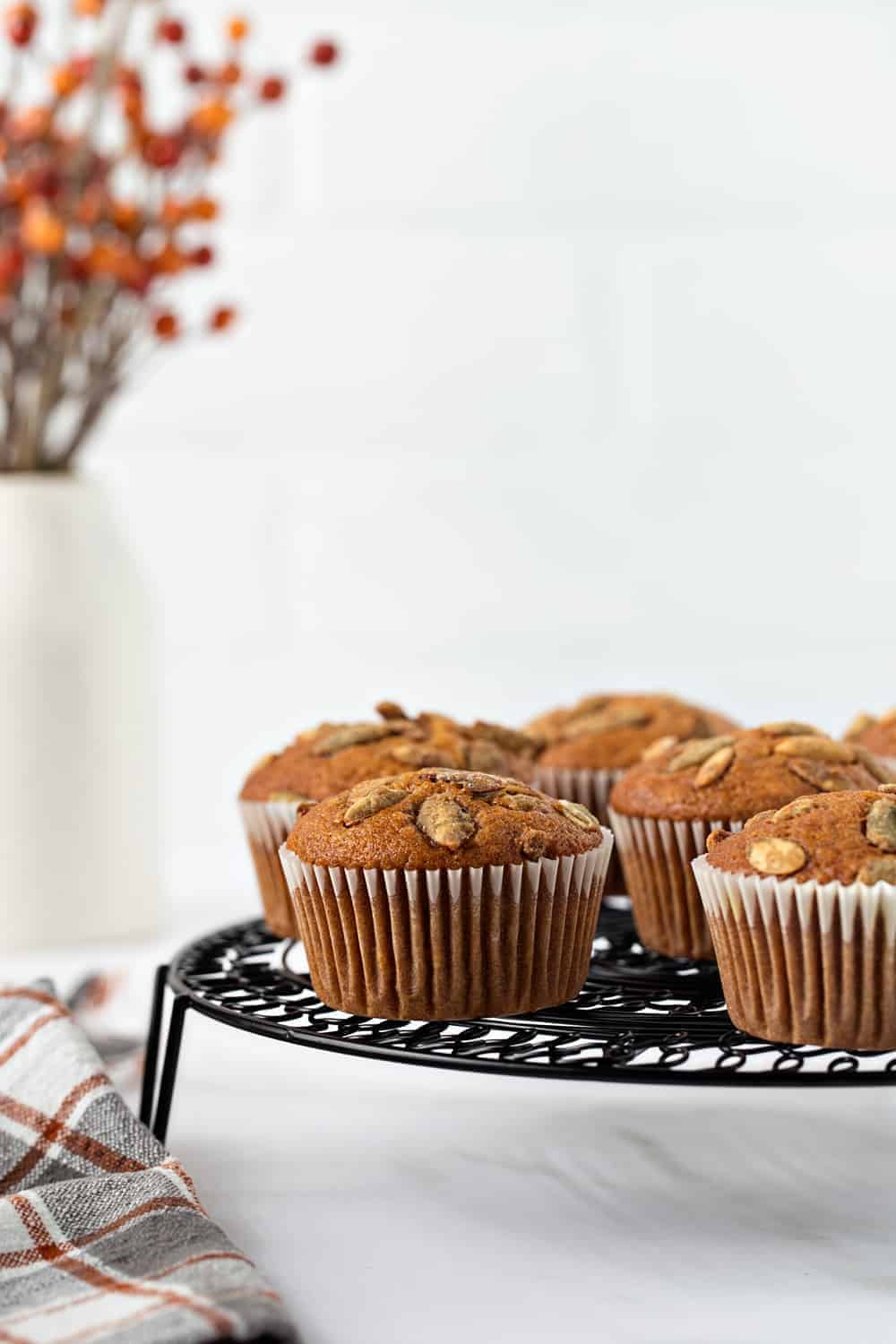 They work so hard – I should know, I used to be a teacher. And I want them to know how much we appreciate them.
These muffins definitely say it. So consider whipping them up for the teachers in your life before Thanksgiving break starts.
PUMPKIN MUFFIN RECIPE
Every year my Pumpkin Bread is one of the most popular recipes on My Baking Addiction along with my homemade pumpkin pie spice, pumpkin roll and pumpkin crunch cake.
Yes, I love pumpkin. Why do you ask?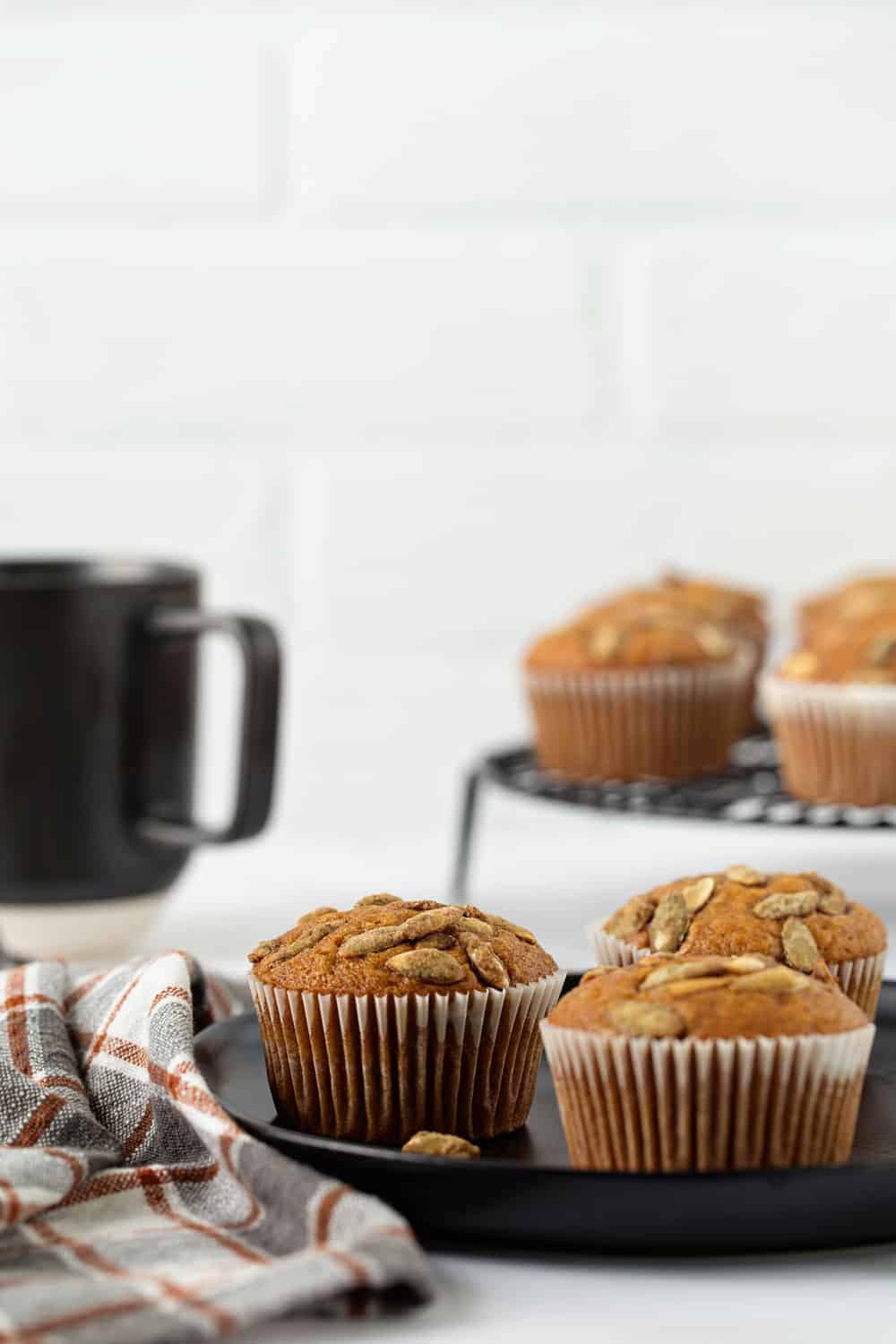 It never really feels like fall to me until I've made a batch of Pumpkin Bread. I've been making it for years – long before I started blogging – and this year I decided to finally turn that family favorite into Pumpkin Muffins.
These Pumpkin Muffins are sweet, spicy and moist. I know, I know, moist is not my favorite word either, but there is really no way to adequately describe this Pumpkin Muffin recipe without mentioning that word.
I also decided to top these Pumpkin Muffins with some pumpkin seeds to add a bit of extra flavor and crunch to them. I picked mine up from Trader Joe's and they just so happen to be pumpkin spice pumpkin seeds, so they're totally a match made in pumpkin heaven.
Pumpkin Muffins are even better after a day or two, so they're perfect for packaging up and gifting. With Thanksgiving approaching, they'd be a great make-ahead Thanksgiving breakfast or hostess gift.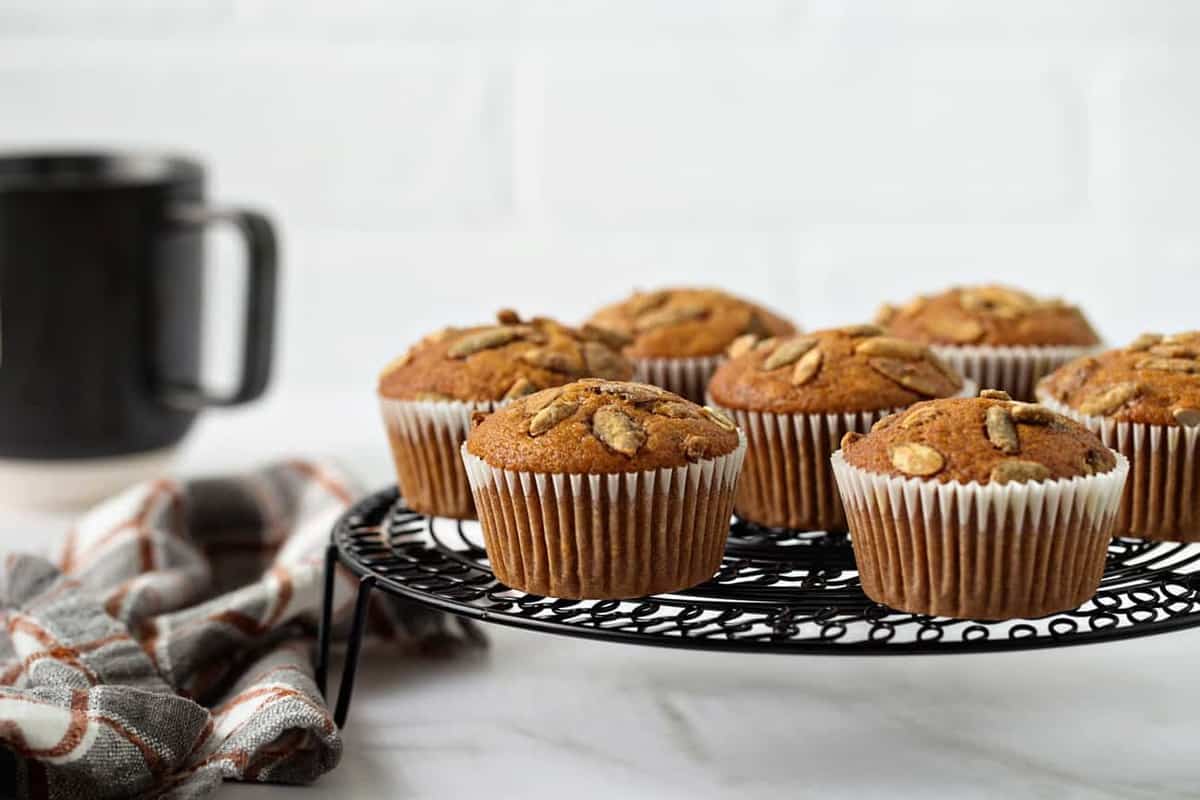 HOW TO MAKE PUMPKIN MUFFINS
This Pumpkin Muffin recipe is super easy to make. And unlike Pumpkin Bread, which takes a bit of time to bake, Pumpkin Muffins bake up pretty quickly.
You can easily go from wanting Pumpkin Muffins to eating Pumpkin Muffins in the span of an hour if you have the ingredients on hand.
Like our other quick-bread recipes, we mix together the wet ingredients in one bowl, which in this case includes a whole can of pumpkin puree. Make sure to use pumpkin puree, not pumpkin pie filling!
In another, we whisk together our dry ingredients. From there, we'll mix the two together before dividing into a lined muffin tin.
Like I said, I topped my Pumpkin Muffins with some pumpkin spice-flavored pumpkin seeds I picked up at Trader Joe's, but you could use regular pumpkin seeds instead. If you want to add any other extras, like chopped pecans, dried cranberries or even chocolate chips, simply fold them in before you add the batter to the muffin tin.
I think Pumpkin Muffins would make a lovely Thanksgiving hostess gift – pack them into a basket with some homemade cinnamon honey butter. But they also freeze wonderfully, so you can always keep them for yourself.
Either way, you can't go wrong when Pumpkin Muffins are involved.
Looking for more seasonal muffin recipes? Try my Apple Cider Doughnut Muffins, Pecan Pie Muffins from The Cookie Rookie, Cranberry Orange Muffins from Stetted, or Chai Spiced Doughnut Muffins from Jelly Toast.