If you follow me on Facebook or Instagram, you may remember me posting images from the lovely state of Vermont a couple of weeks ago. I traveled to the Green Mountain State with a few of my favorite food bloggers and fellow Keurig Ambassadors.
I arrived in Vermont after 11pm, so I was greeted by a pitch black sky and more twinkling stars than I've ever seen. The following morning I stepped out onto the balcony at the Stowe Mountain Lodge and it was love at first sight.
If you've read My Baking Addiction for any length of time, you know that I'm slightly obsessed with Fall. Growing up in Ohio has definitely given me the opportunity to experience Fall in all its glory; however, I must admit – there's nothing that can compare to an Autumn day in Vermont.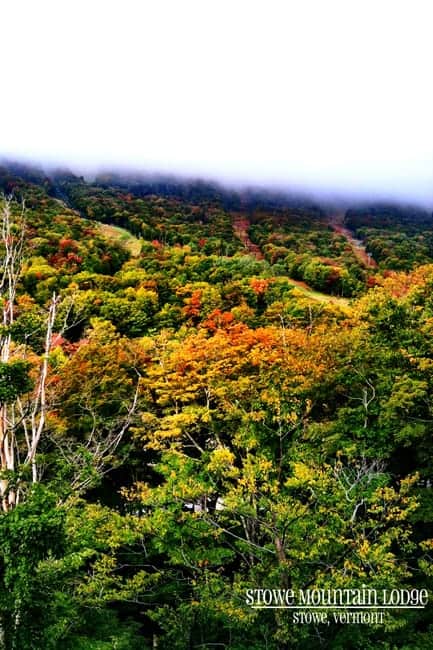 While visiting Green Mountain Coffee's head quarters, Amber, Cheryl, Julie, Kristen, Tracy, Kelby and I were given the opportunity to learn some fascinating information about coffee and even got to participate in a cupping. I never really pondered the fact that coffee beans aren't actually beans at all. They're actually the pits/seeds from the coffee cherries that grow on coffee plants. You're welcome for that little fun fact! Now let's talk Apple Cider Doughtnut Muffins!
One of my absolute favorite K-Cups® happens to be Green Mountain Naturals® Hot Apple Cider. It's pretty much Fall in a mug and has become my go-to evening beverage for chilly nights. If I'm feeling a little saucy, I'll even add a spoonful of homemade caramel sauce which takes the experience to a whole new level of awesomeness.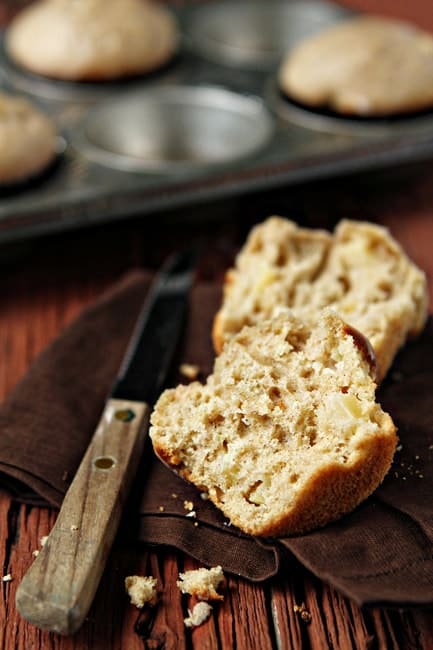 While playing around in the kitchen, I decided to experiment with using Hot Apple Cider in a recipe. And if I must say so myself – the result was pretty darn fantastic. I started with my favorite muffin recipe and gave them a little Fall flair with the addition of diced Honey Crisp apples and a generous spoonful of homemade apple pie spice. As though that wasn't delicious enough, I gave them a quick dip in a sweet and spicy Hot Apple Cider glaze.
The apple cider flavor in these Apple Cider Doughnut Muffins isn't overwhelming – plenty of "Doughnut" still shines through too. These babies are just the thing to start a chilly morning off right – especially when you pop it in the microwave for 20 seconds and get that just-from-the-oven warmth all over again.
I'll tell you more about my trip to Vermont in my next Keurig K-Cup Ambassador post, but for now, let's all toast a cup of Green Mountain Naturals® Hot Apple Cider and thank the heavens that it is FINALLY Fall!
Apple Cider Doughnut Muffins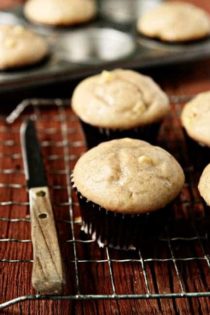 Ingredients:
For the Batter
1/4 cup unsalted butter, softened
1/4 cup vegetable oil
1/2 cup granulated sugar
1/3 cup lightly packed light brown sugar
2 large eggs
1 teaspoon pure vanilla extract
2 2/3 cups all-purpose flour
1 1/2 teaspoons baking powder
1/4 teaspoon baking soda
1 teaspoon homemade apple pie spice
3/4 teaspoon salt
3/4 cup milk
1/4 cup apple cider, at room temperature
1 cup diced Honey Crisp apples
For the Glaze
3 tablespoons butter; melted
1 cup confectioners' sugar; sifted
1/4 teaspoon homemade apple pie spice
3 tablespoons apple cider, at room temperature
Directions:
1. Preheat the oven to 425°F. Lightly grease a standard muffin tin, or line with 12 paper muffin cups.
2. In the bowl of a stand mixer fitted with a paddle attachment or in a large mixing bowl with an electric mixer, cream together the butter, vegetable oil, and sugars until smooth. Add the eggs and vanilla, beating to combine.
3. In a medium bowl, combine the flour, baking powder, baking soda, apple pie spice and salt. In a glass measuring cup, combine the milk and apple cider. Stir the flour mixture into the butter mixture alternately with the milk/cider, beginning and ending with the flour and making sure everything is thoroughly combined. Fold in diced apples.
4. Spoon the batter evenly into the prepared pan, filling the cups nearly full.
5. Bake the muffins for 15 to 17 minutes, or until they're a pale golden brown and a cake tester inserted into the middle of one of the center muffins comes out clean. Remove pan to a cooling rack and allow muffins to cool for about 10 minutes.
6. In a medium bowl, prepare the glaze by mixing together the melted butter, confectioners' sugar, apple pie spice and apple cider. Whisk until smooth.
7. Place a layer of wax or parchment paper under the cooling rack. Dip the muffin crowns into the glaze, place the muffins back onto the cooling rack and allow the glaze to harden.
Notes:
- I used Green Mountain Naturals® Hot Apple Cider. I have not tested this recipe with regular apple cider, but I think it will be just fine.
- Muffins will keep in a sealed container at room temperature for about a day.
Follow Jamie on Instagram. We love to see what you're baking from MBA! Be sure to tag @jamiemba and use the hashtag #mbarecipes!
Disclosure: I am a paid ambassador for Green Mountain Coffee. This post is part of that program; however, all views and opinions expressed within this post are purely my own.