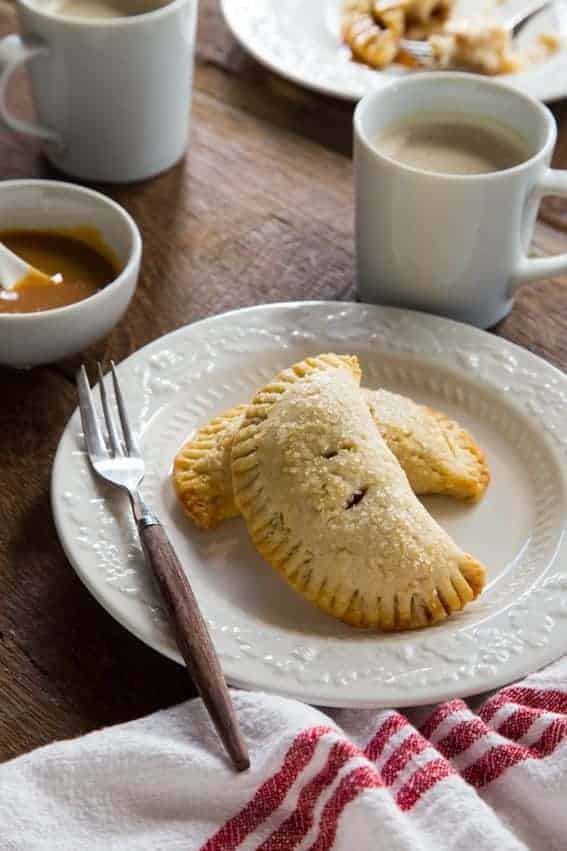 Apple Hand Pies are everything you love about fall, in one tiny, edible package. Flaky, tender pie crust with warm and spicy apple pie filling will just make your day!
This post is sponsored recipe development on behalf of Crisco©. All opinions are my own. Thank you for continuing to sponsor the brands that make My Baking Addiction possible.
Crisper temperatures are finally here, and with it, my desire to make apple and pumpkin everything. I feel like this is the first fall where Elle will sort of get it, and I'm excited to capitalize on that by starting our fall traditions early.
One of the recipes that's been on my mind is pie crust, and apple pies. For years, I've considered myself no good at pie crust. But that didn't really mesh with memories I have of baking pies with my Nana, of which there are plenty.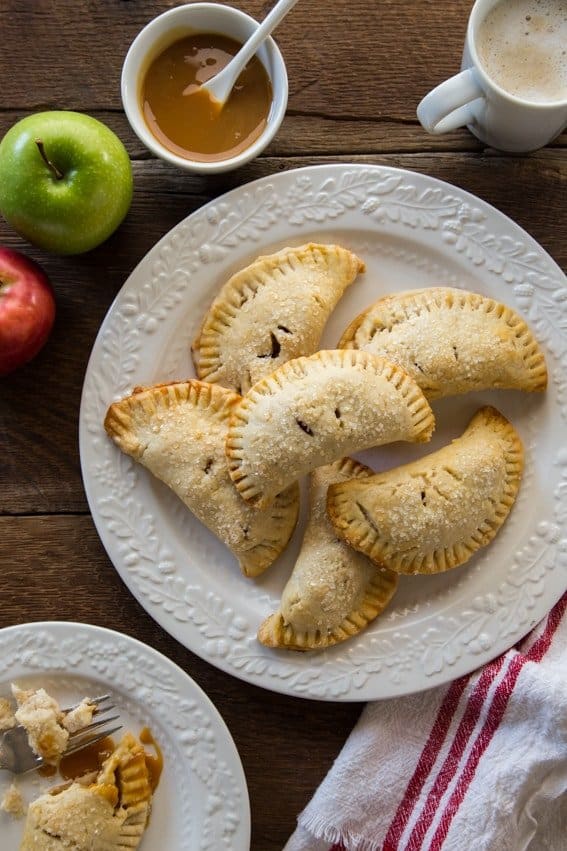 When I was a kid, we'd spend one of the first crisp fall weekends baking up pies that would see us through the season – potlucks, parties, and holiday get-togethers. My job was to help Nana roll and place the silky pie crusts into each pie pan, ready to be filled with all sorts of good stuff.
I remembered her crusts always being so soft and supple. But in the years since, my homemade experimentations have typically been neither of those things. Crumbly and fall-apart-y is what I'm saying. You too?
I really don't want Elle to thing that pie crust only comes from a box at the grocery store's refrigerator section, so I decided it was time to give it another whirl. I even found Nana's well-worn recipe card that included pie crust. And her secret ingredient? Crisco.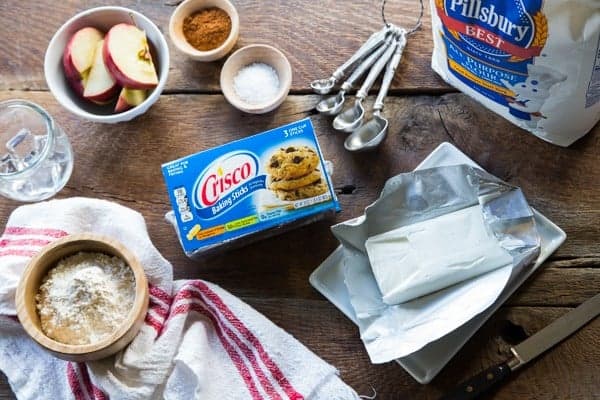 Nana used All-Vegetable Crisco Shortening in the big tub when I was a kid, but I've tried both Butter Flavor and All-Vegetable Crisco Shortening and Baking Sticks with this recipe now, and I have to tell you – I love baking with the sticks! They deliver a lighter, higher textured pie crust, and are definitely now my best advice for perfect pie crust.
Elle's a little small to tackle a wedge of apple pie all on her own, so Apple Hand Pies are the order of the day. Perfect for little hands or big hands to hold and eat during a walk through the neighborhood, kicking up leaves.
Oh, how the memories flooded back as I put together this dough. Sometimes, there's nothing more important than reveling in everything Nana managed to pass down. Brand loyalty and all. Biting into a delectable Apple Hand Pie with perfectly flaky, everything-you-ever-want-in-a-slice-of-pie crust made my whole day.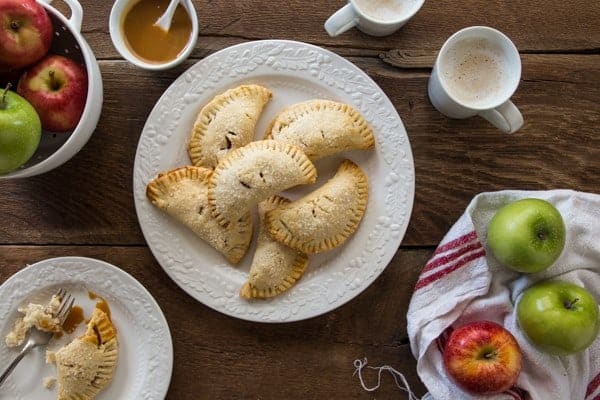 It's been a long while since I've been able to spend a day in the kitchen with my Nana. But making these little hand pies made me feel like I gave a little of that to my baby girl. Not to get all sappy or anything, but it's true. Funny how food does that for you, isn't it?
I plan on tackling many a pie this holiday season, because now I know the secret ingredients, to all of Nana's pie recipes. It's Crisco – and love.
If you're feeling a little nervous about tackling pie baking after a long time away like I was, Crisco has you covered. This year they're celebrating their
10th
year of the Crisco Pie & Baking Hotline! It's a great resource for home bakers. You can call 24 hours a day and get answers to all sorts of questions, like "How do I keep my hand pies from getting soggy?". Even better for this technology-loving girl, you can now get help online at
http://www.piehotline.com/
.
I've teamed up with Crisco as part of the Crisco Scratch Academy baking school to show you how easy it is to make delicious pie crust from scratch. Find new pie recipes and other inspiration for your next baking adventure at the Crisco Heritage Kitchen.
Video filmed and edited in collaboration with Emily Caruso.