Apple Turnovers are easy to make with puff pastry and a flavorful apple filling. Bake them immediately or freeze them to bake whenever you get the craving for a warm, flaky apple breakfast or dessert!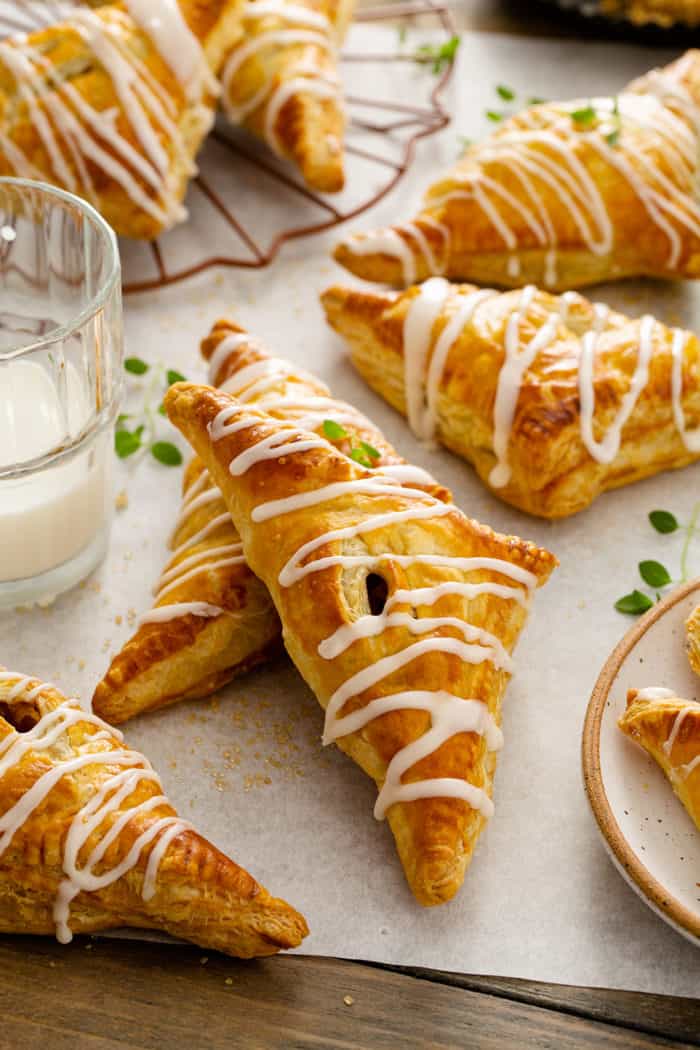 As soon as it's fall, I typically go all in with loads of pumpkin desserts, but this year, I've decided to momentarily put pumpkin on pause and share some delicious apple recipes first.
My little one has been learning all about Johnny Appleseed at school, so we've been taste testing different apple varieties and researching ways to keep sliced apples from browning in her lunch box.
So far, we're loving the brining method from the Kitchn where you simply dissolve 1/2 teaspoon of Kosher salt into 1 cup of cold water and let the sliced apples soak in the salty water for 10 minutes. Then I give them a rinse, bag them up and toss them into her lunch box.
You're probably wondering if they're salty, right? Nope, a quick rinse removes any hint of salt and this little trick definitely prevents browning.
Since we've had a lot of apples on hand this week, I decided to whip up this recipe for easy Apple Turnovers. They're simple, delicious and the perfect breakfast for fall.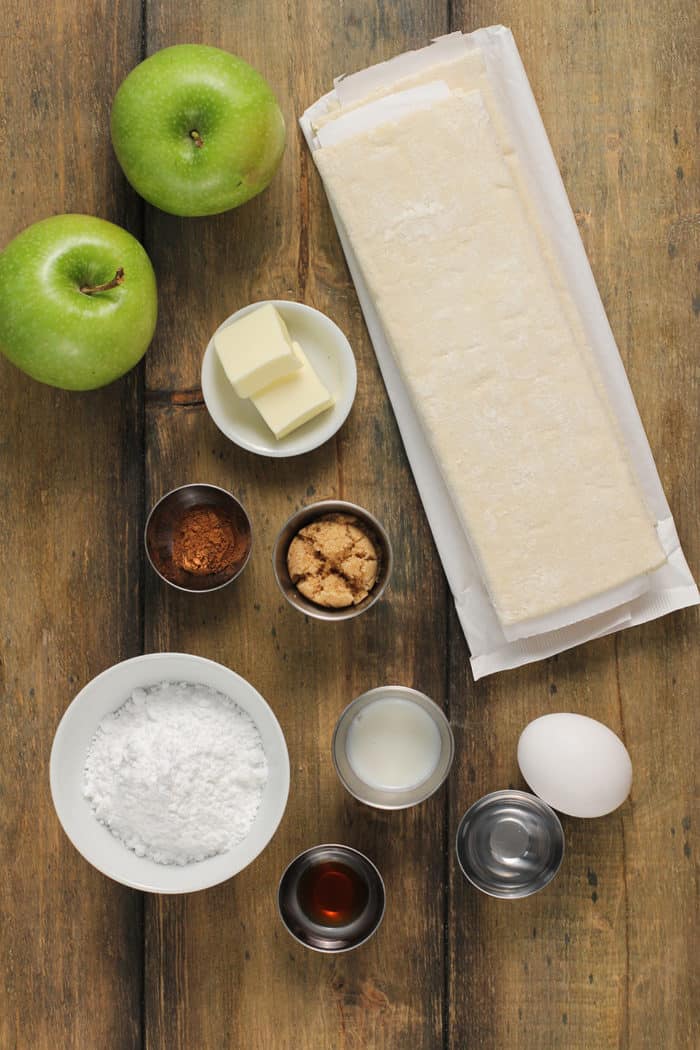 WHAT ARE APPLE TURNOVERS?
There's just something about turnovers that scream fall to me. I mean, who doesn't love a warm apple pastry? Give me Apple Turnovers and Easy Apple Dumplings all day.
Turnovers are just a flaky pastry, usually puff pastry, that is filled with a sweet or savory filling and then folded over and baked. They're a little bit like a hand pie, with the filling sealed inside the pastry.
Sweet turnovers are often topped with a simple icing, but they can be topped with turbinado sugar, too.
These Apple Turnovers are filled with a simple, sweet apple filling for some perfect fall vibes.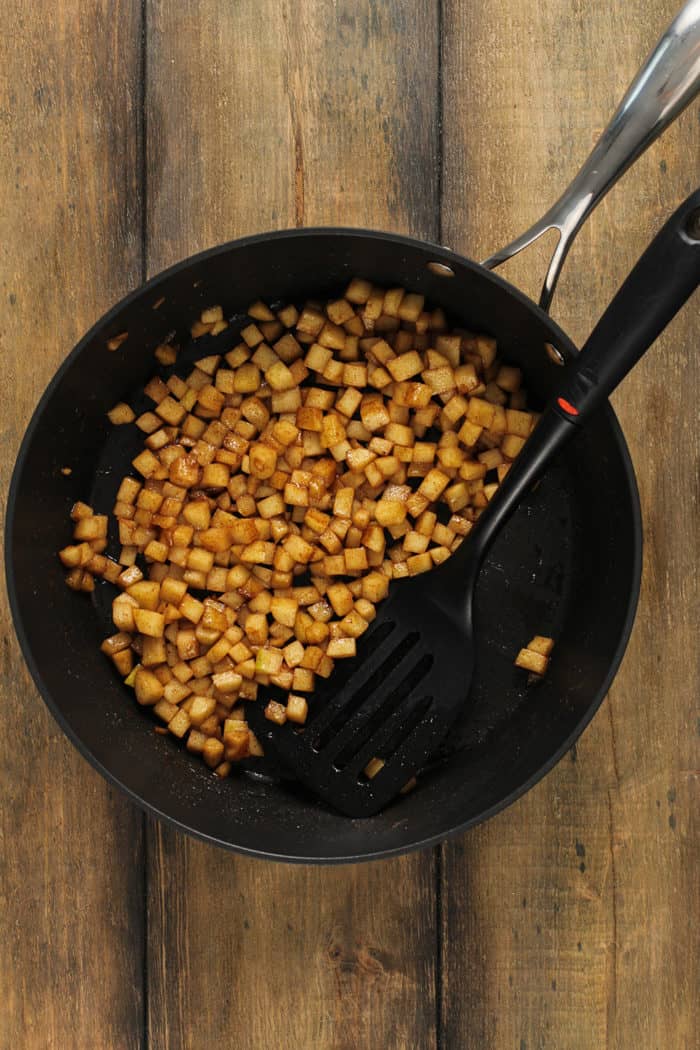 APPLE TURNOVER FILLING
I used just 4 ingredients to make a super simple apple filling for these turnovers:
2 cups small-diced Granny smith apples
2 tablespoons unsalted butter
2 tablespoons light brown sugar
1 teaspoon apple pie spice
I melted the butter in a skillet over medium, then added the apples and let them cook for a few minutes. Then I added the brown sugar and apple pie spice and continued cooking the filling until the apples are soft and the syrup is thick and sticky.
Don't worry about the filing adding a lot of prep time to this recipe, though. Making the filling only takes about 5-8 minutes total!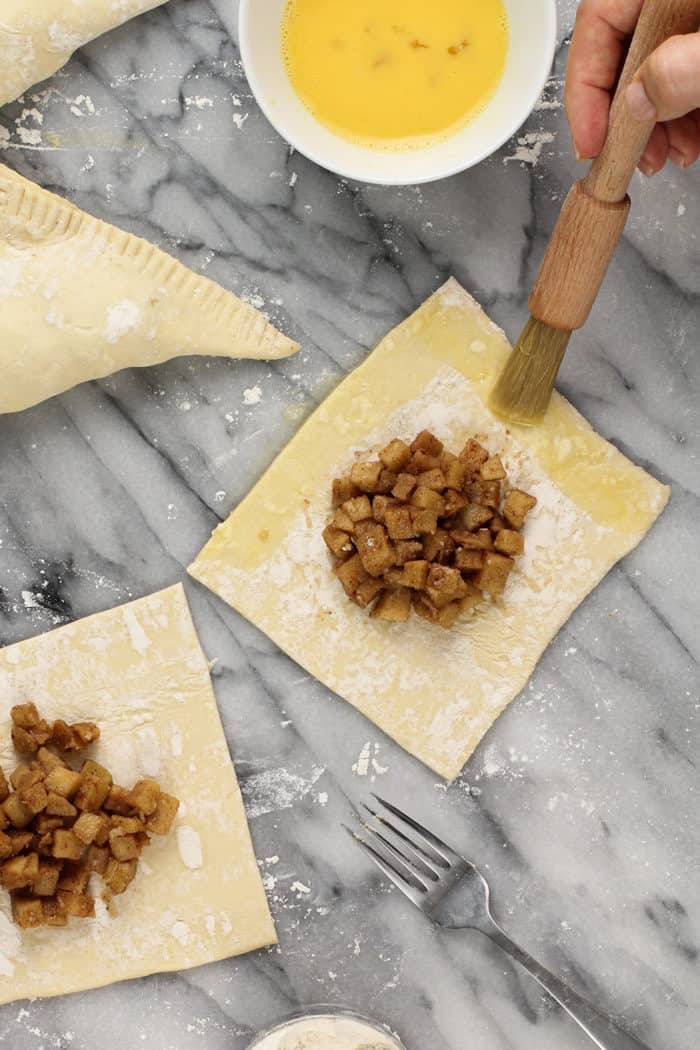 HOW TO MAKE THESE PUFF PASTRY TURNOVERS
If you've never worked with puff pastry before, don't worry. It's a lot easier than it seems! The most important thing is to keep it cold so the butter doesn't melt.
If your puff pastry starts to get too warm, just pop it back in the refrigerator or freezer for a few minutes to cool it back down.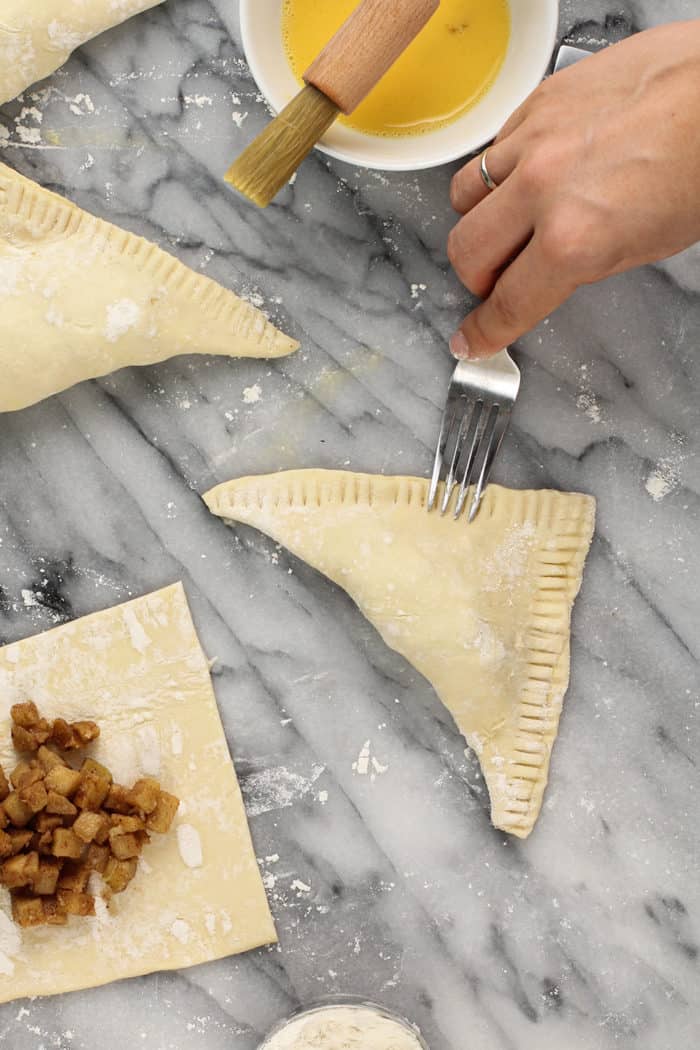 Working with one sheet of puff pastry at a time, unfold the puff pastry onto a floured surface. Use a rolling pin to very gently pinch the seams back together and shape the dough into a square if needed.
Cut each sheet of puff pastry into 4 equal pieces. Divide the filling into the center of each square, then brush egg wash along 2 of the edges of the dough.
Fold the dough over, corner to corner, and use a fork to crimp and seal the edges.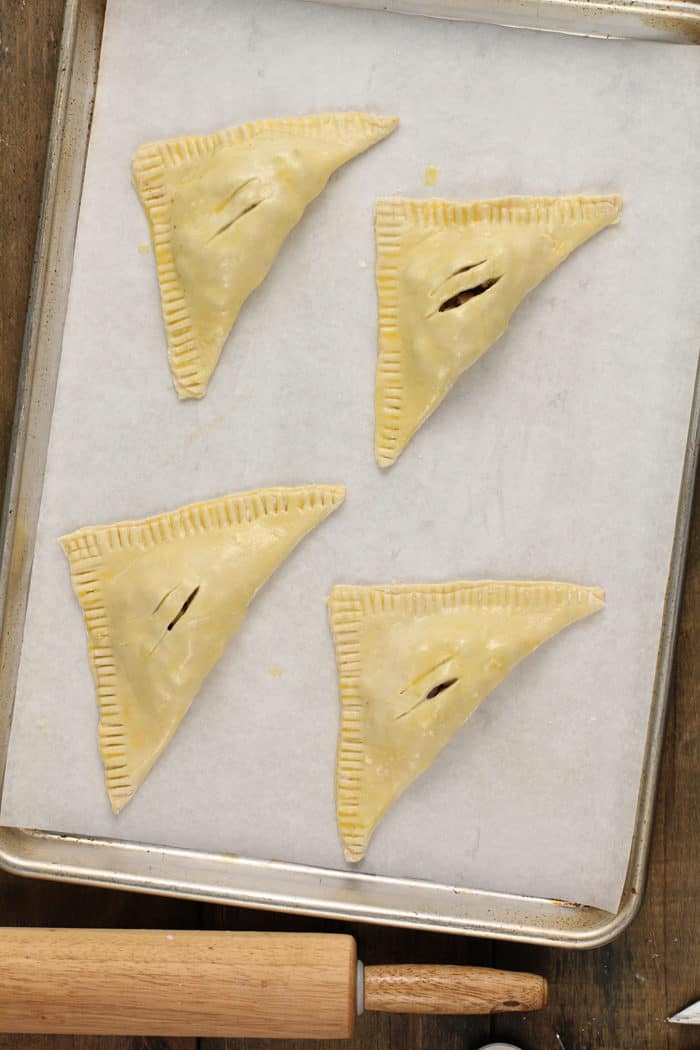 Before baking, use a knife to cut a small slit into the top of each turnover and gently brush the tops with the egg wash.
Bake the turnovers for 20 minutes. When the turnovers are puffed and golden, and the bottoms have some light color on them as well, they're ready!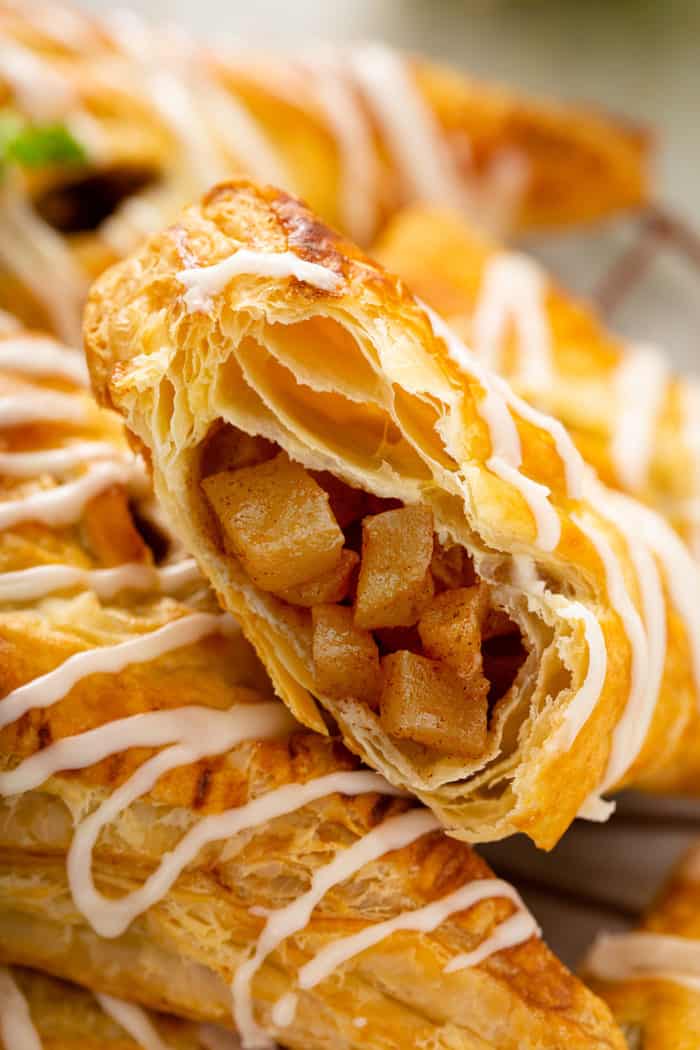 SERVING SUGGESTIONS
I love to drizzle the tops of these Apple Turnovers with a simple icing made from powdered sugar, milk, and vanilla.
If you don't want to ice them, you could sprinkle the tops with turbinado sugar or even cinnamon sugar after brushing them with the egg wash and before you bake them.
(Not sure what turbinado sugar is? Check out my guide on the types of sugar!)
Now whether you serve these turnovers for breakfast or dessert…that part is totally up to you. Although a scoop of vanilla ice cream is pretty amazing with these.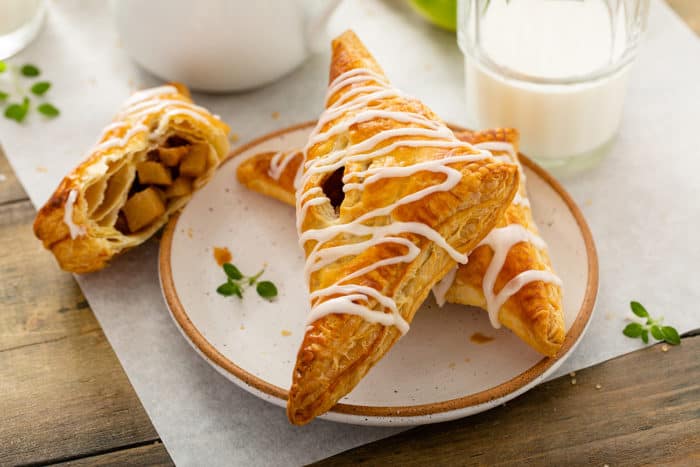 FREEZING INSTRUCTIONS
One of the best things about this recipe is that you don't have to bake all of the turnovers right away. You can easily freeze them to bake later!
To do this, place the assembled turnovers on a baking sheet lined with parchment paper. Cut a slit into the top, but do not brush them with the egg wash.
Pop the baking sheet into the freezer until the turnovers are frozen solid. Place the frozen turnovers into a freezer bag for up to 1 month.
When you're ready to bake, place the frozen turnovers on a lined baking sheet. You don't even need to thaw them before baking! Simply pop them in the oven and bake for 20 minutes and enjoy a perfect turnover any time.