What happens when you combine sliced apples, crescent roll dough, and ginger beer? One of the easiest and best fall desserts! These Easy Apple Dumplings are quick to make and are always a crowd favorite.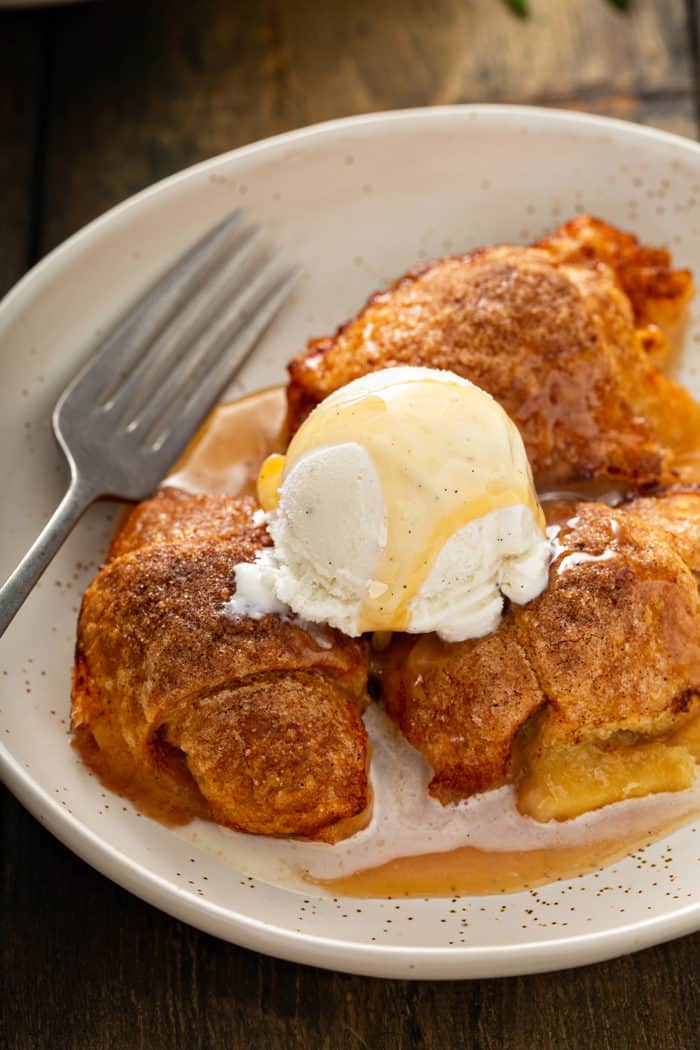 If you happened to catch my Classic Zucchini Bread recipe post, you may remember me telling you how ready for fall I am.
Despite last week's hot an humid temps, I'm thinking we're finally easing our way into my favorite season. Although we haven't headed to our favorite apple orchard just yet, I did happen to have a bunch of Granny Smith apples on hand a couple of weeks ago and decided to whip up these Easy Apple Dumplings.
This simple recipe comes together super quickly which makes it the perfect weeknight dessert and it is enough to get even the tiniest of helpers involved.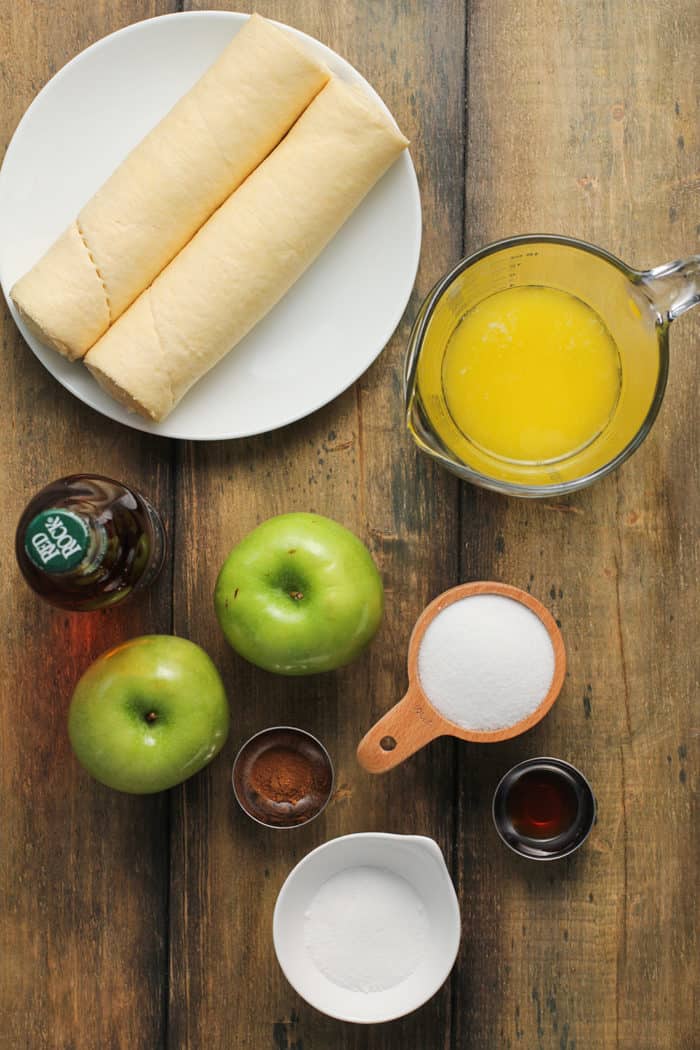 WHAT ARE APPLE DUMPLINGS?
Apple dumplings are just good old-fashioned Midwestern comfort food. Chances are good that if you're from the Midwest and have a grandma or aunt who liked to bake, you've probably had some version of apple dumplings before.
Apple dumplings are apples that have been wrapped in pastry and baked, although really old-school recipes sometimes call for boiling the dumplings.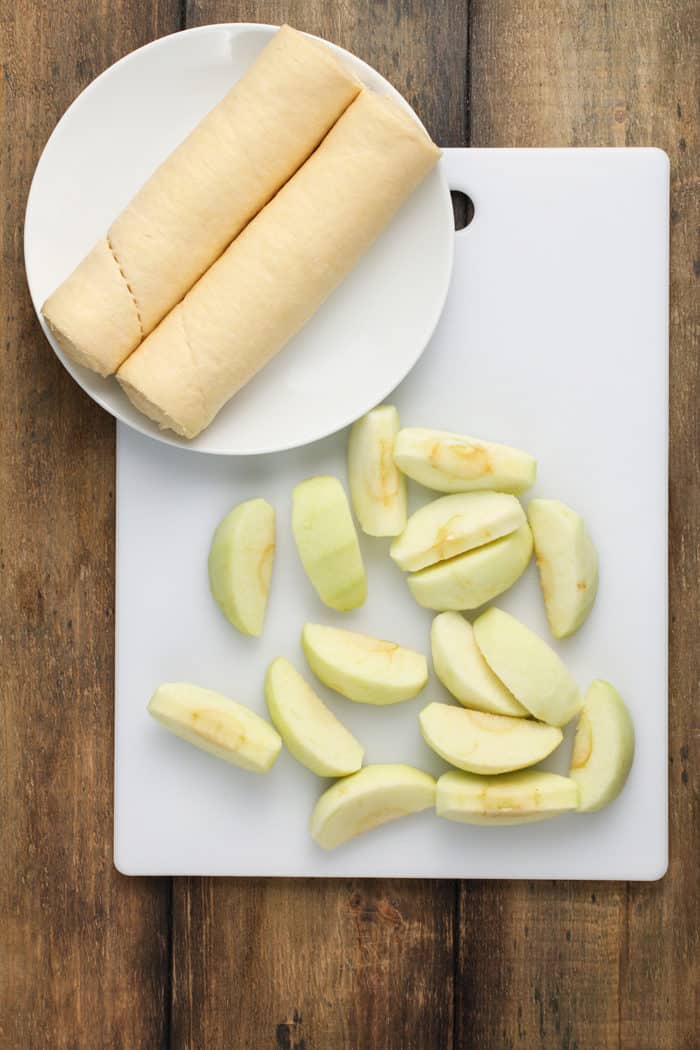 Often there is a sauce that the apples bake in that can then be served with the dumplings.
As much as I love a good old-fashioned apple dumpling made with whole apples and pie crust, they are a bit more time consuming to make.
So when I want apple dumplings without a lot of effort, I turn to this Easy Apple Dumpling recipe made with…crescent rolls.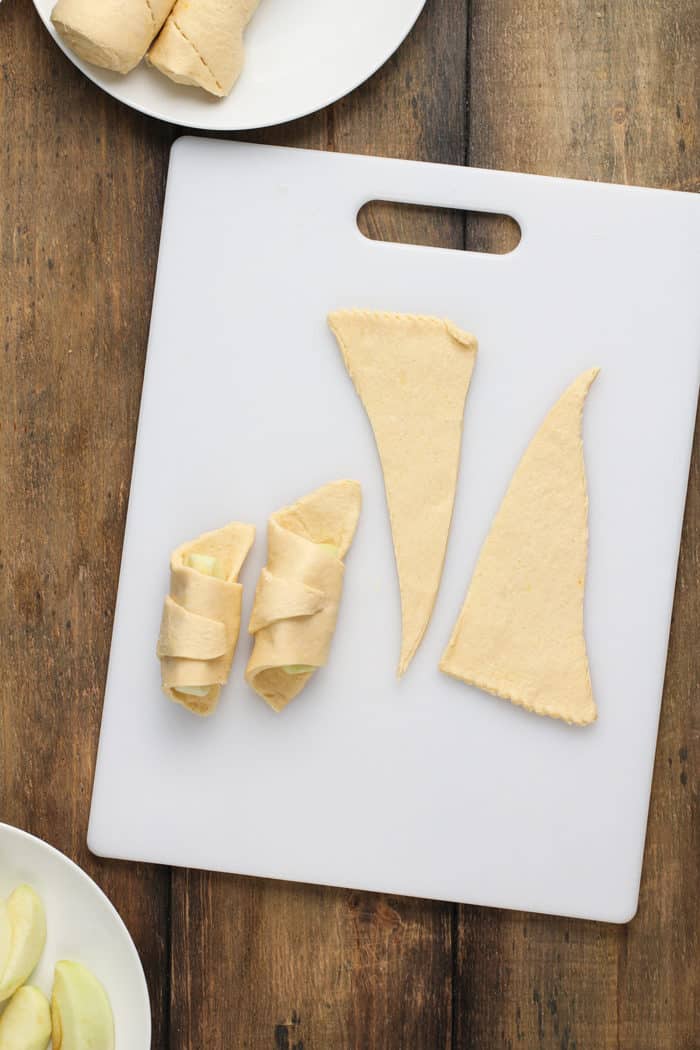 HOW TO MAKE CRESCENT ROLL APPLE DUMPLINGS
Yes, that's right. Crescent rolls!
I'll be honest, the first time I saw a recipe for crescent roll apple dumplings, I didn't think there was any way this could possibly work.
Wrapping apple slices in crescent roll dough and baking them in soda just doesn't sound like something that would turn out delicious. And yet, it totally does!
My version of this recipe uses:
Granny smith apples
Crescent roll dough
Unsalted butter
Granulated sugar
Vanilla extract
Ginger beer or ginger ale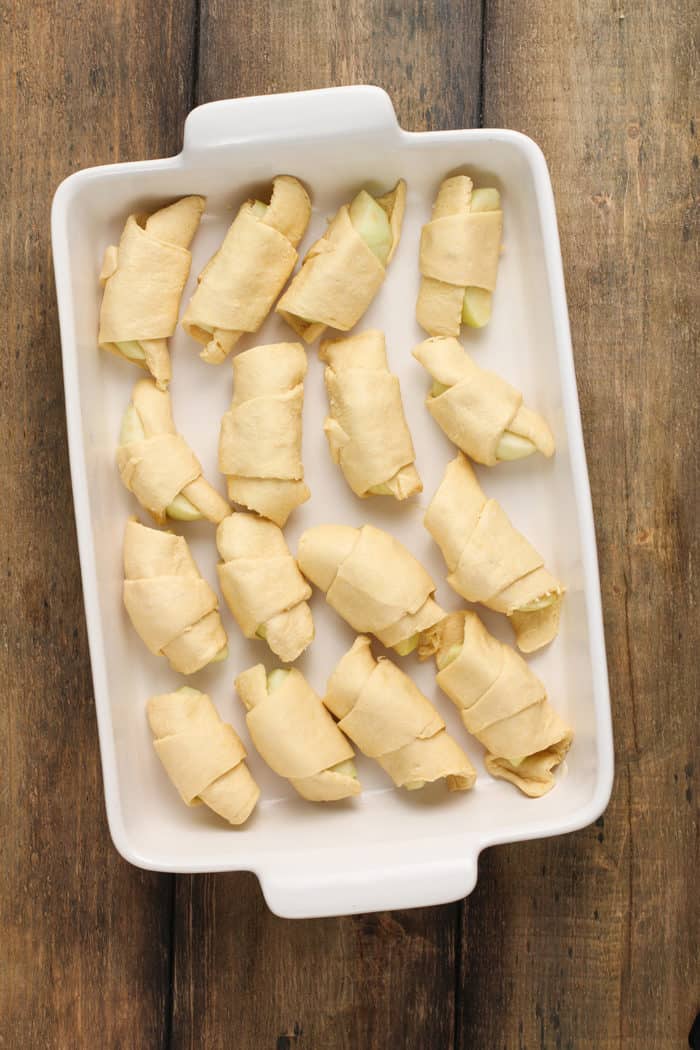 I know that a lot of versions of these Easy Apple Dumplings use lemon-lime soda, but I really like to use ginger beer or ginger ale instead. Ginger goes great with apples and cinnamon, so I love the way the ginger beer complements the other flavors in the dumplings.
To make these dumplings, peel and core 2 apples and cut each into 8 slices. Wrap each apple slice in one of the crescent roll triangles and place these in a greased baking dish.
In a small bowl, whisk together melted butter, granulated sugar, and vanilla. The mixture will be grainy – that's ok! Pour this evenly over the dough-wrapped apples, then pour the ginger beer around the edges of the pan.
Before popping the pan in the oven, mix together some more granulated sugar and apple pie spice and sprinkle this evenly over the dumplings.
Bake for 40-45 minutes or until the tops of the dumplings are golden and the syrup is bubbly. Let the dumplings cool for a few minutes before serving warm with homemade whipped cream or vanilla ice cream and salted caramel sauce.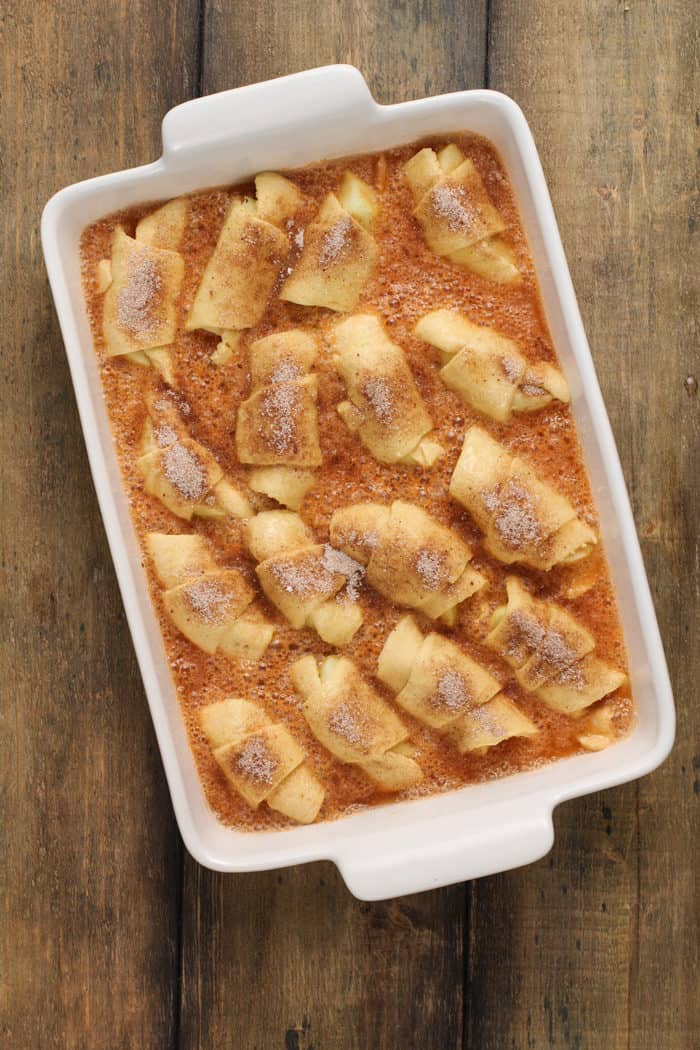 IS GINGER BEER DIFFERENT FROM GINGER ALE?
I love making these Easy Apple Dumplings with ginger beer, but you could use ginger ale instead!
My friend Susannah has a whole guide on ginger beer with everything you need to know, but ginger ale is typically ginger syrup mixed with carbonated water. Ginger beer, on the other hand, is made with real ginger and is fermented over several days.
Because of this, ginger beer usually has a stronger, spicier ginger flavor. Don't worry, the strong ginger flavor doesn't overpower these dumplings. In fact, it pairs perfectly with the apples and the spices!
Even though it has the word "beer" in the name, ginger beer is not typically alcoholic, so these dumplings are perfectly safe to serve to everyone.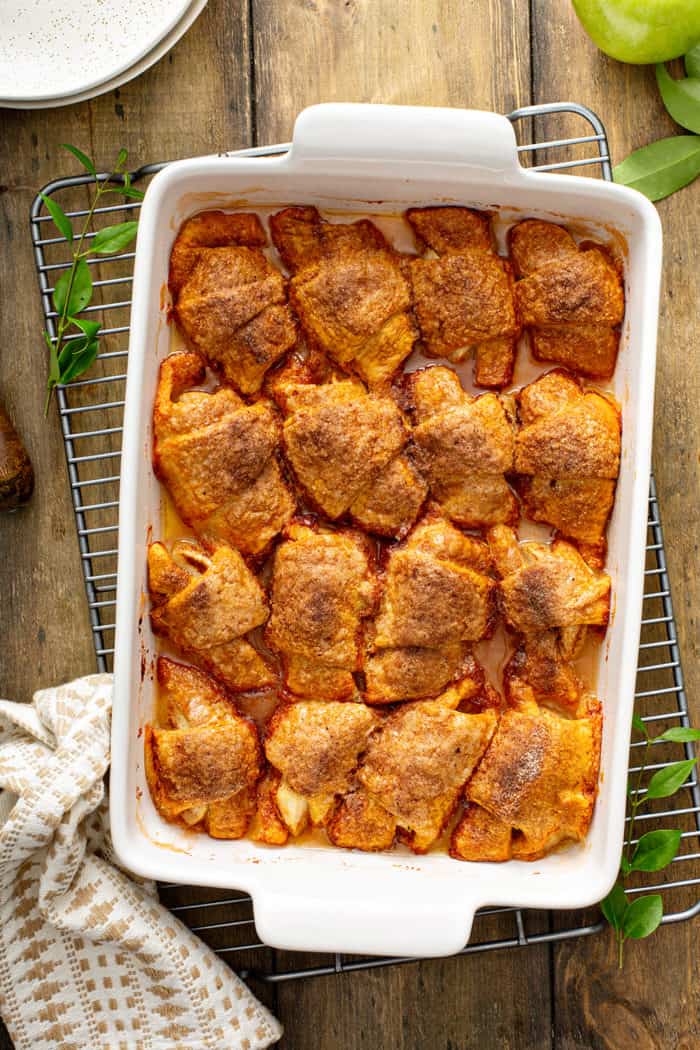 RECIPE VARIATIONS
Even though I use ginger beer or ginger ale when I make this recipe, you could use a lemon-lime soda instead. I have seen variations of this recipe made with 7UP or even Mountain Dew if that's what you like and have on hand!
You could also swap out the apple pie spice for cinnamon if you prefer, although I love the extra depth of flavor that comes from the mix of spices.
I have also seen versions of this recipe made with canned biscuit dough instead of canned crescent rolls. While I have not tried that myself, it would be worth trying if you only have canned biscuits available to you!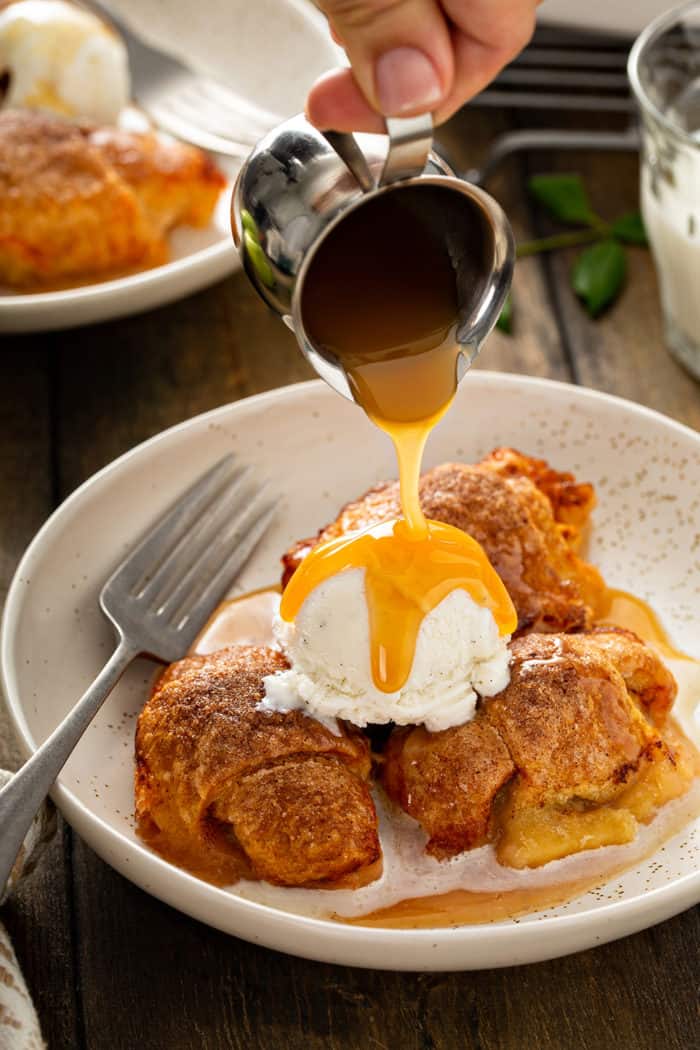 STORAGE TIPS
If you have any leftover Easy Apple Dumplings, you can store them in an airtight container in the refrigerator for up to 3 days.
To reheat them, simply microwave each portion for 30-60 seconds.
You could also cover the pan in foil and pop them in a 350-degree oven for 10-15 minutes. I do recommend keeping them covered with the foil to keep them from drying out if you choose to reheat them in the oven.