This Classic Zucchini Bread is a staple for the late summer and early fall! Packed with zucchini and chopped pecans, this easy quick bread is especially good with a bit of butter and a drizzle of honey.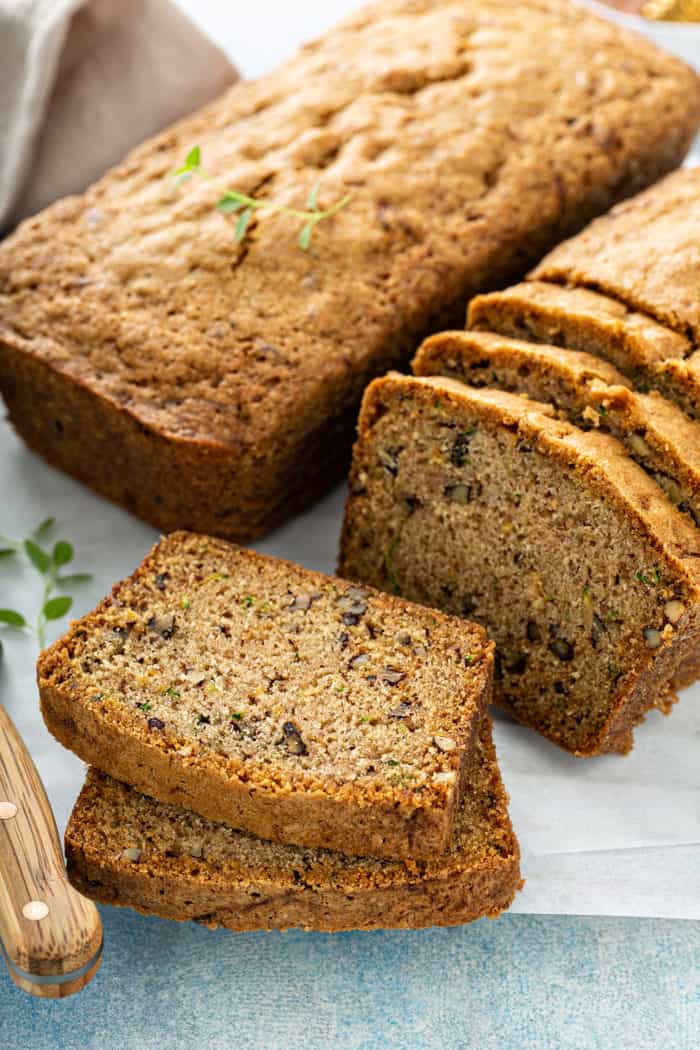 We started pulling out the fall decor bins from our storage area in the basement, which just seemed like the right thing to do because it's already mid-September.
However, there's just something that seems a little off about peppering our house with ceramic pumpkins and faux fall leaves when it is freaking 88 degrees outside. Your girl was sweating while she was tying up cornstalks and switching out our porch pillows.
I can't believe I'm about to say this, but guys – I'm ready for summer to be over. I'm ready for cozy sweaters, hot coffee and all the pumpkin recipes.
But before I move to full on fall mode over here, I had to share another zucchini recipe with you. This Classic Zucchini Bread is so simple to make and it might just be my new favorite breakfast bread. Lightly toast it up and top it with a little butter for the perfect quick morning breakfast with a cup of coffee.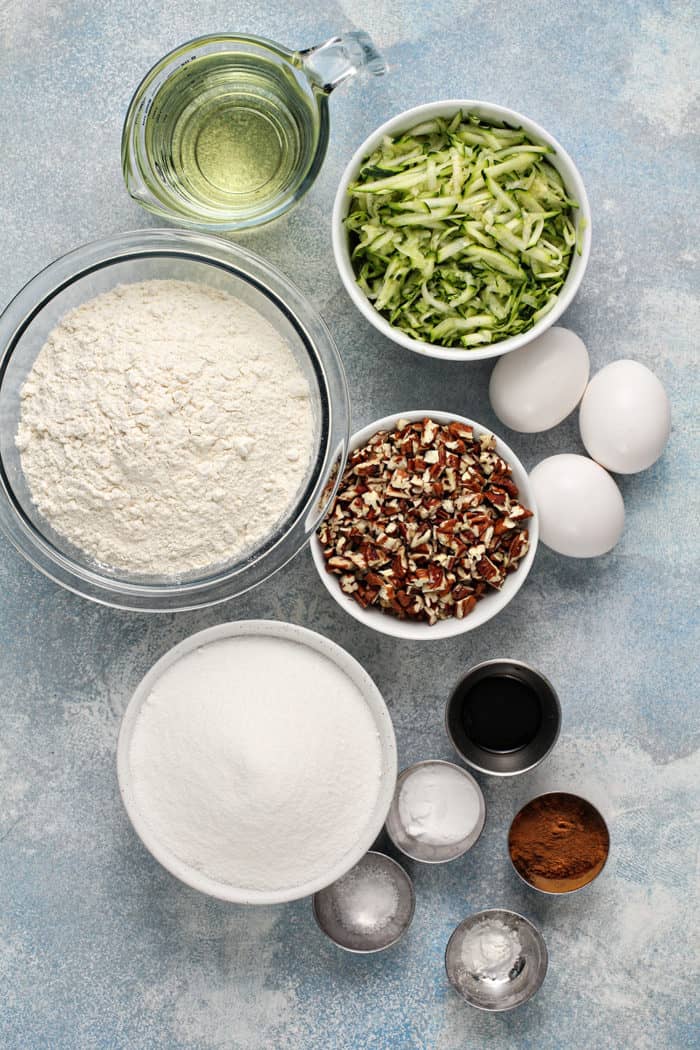 MY EASY, CLASSIC ZUCCHINI BREAD RECIPE
I told you guys: after making my Zucchini Banana Bread and Zucchini Cake, I'm on a bit of a zucchini recipe bender.
Even though I've shared spruced-up versions of zucchini bread in the past, such as the Zucchini Banana Bread and Lemon Zucchini Bread, there's something to be said for the classics.
I got this recipe from my friend, whose mom used to make this bread every year. As soon as zucchini started to come in, her mom would make a few batches of this bread to gift to neighbors and freeze for the winter.
This is a no-frills type of quick bread, and I honestly love that about it. There aren't a ton of ingredients, the instructions are super straightforward, and it makes a classically delicious zucchini bread.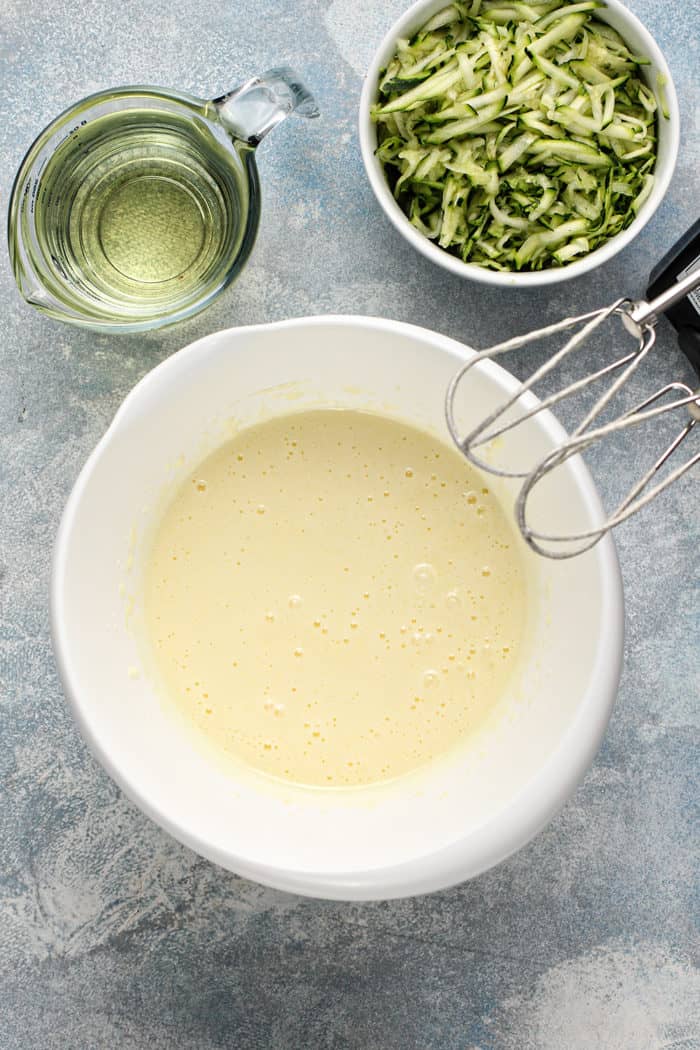 HOW TO MAKE ZUCCHINI BREAD
Because this recipe is so straightforward, it would be a great one to make with your kids. You don't even need to use a mixer, although you definitely can. Aside from things like grating the zucchini and putting the bread in and out of the oven, they could probably make most of this recipe by themselves!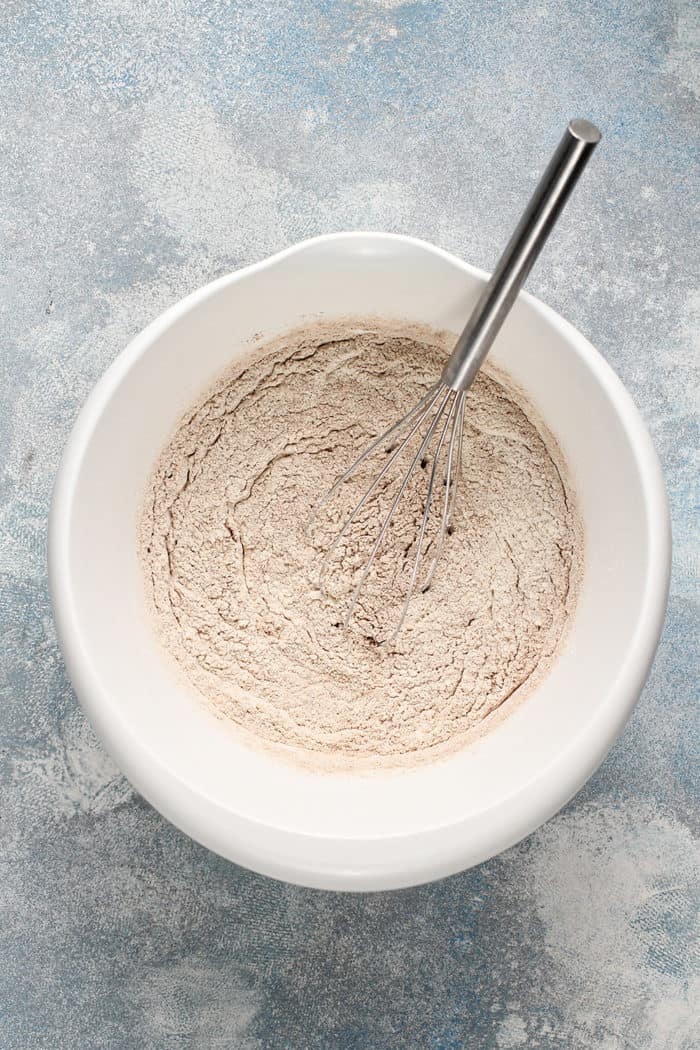 You'll need:
3 large eggs
2 cups sugar
1 cup vegetable oil
1 tablespoon vanilla extract
2 cups grated zucchini
3 cups flour
1 teaspoon fine sea salt
2 teaspoons baking soda
½ teaspoon baking powder
1 tablespoon cinnamon
1 cup chopped pecans (optional)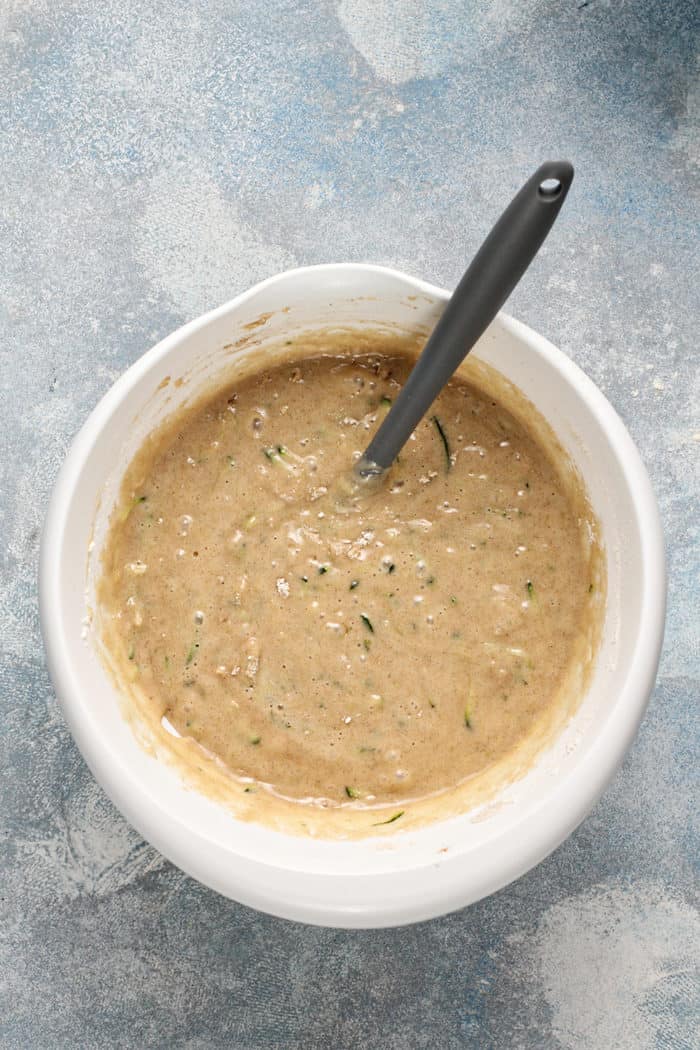 Start by beating together the eggs and sugar until lightened in color. This can be done with a whisk or an electric mixer. Beat in the vegetable oil, then add the vanilla and the zucchini.
In a separate bowl, whisk together the flour, salt, baking soda, baking powder and cinnamon. Add the wet ingredients to the dry ingredients and mix until just combined. Fold in the pecans.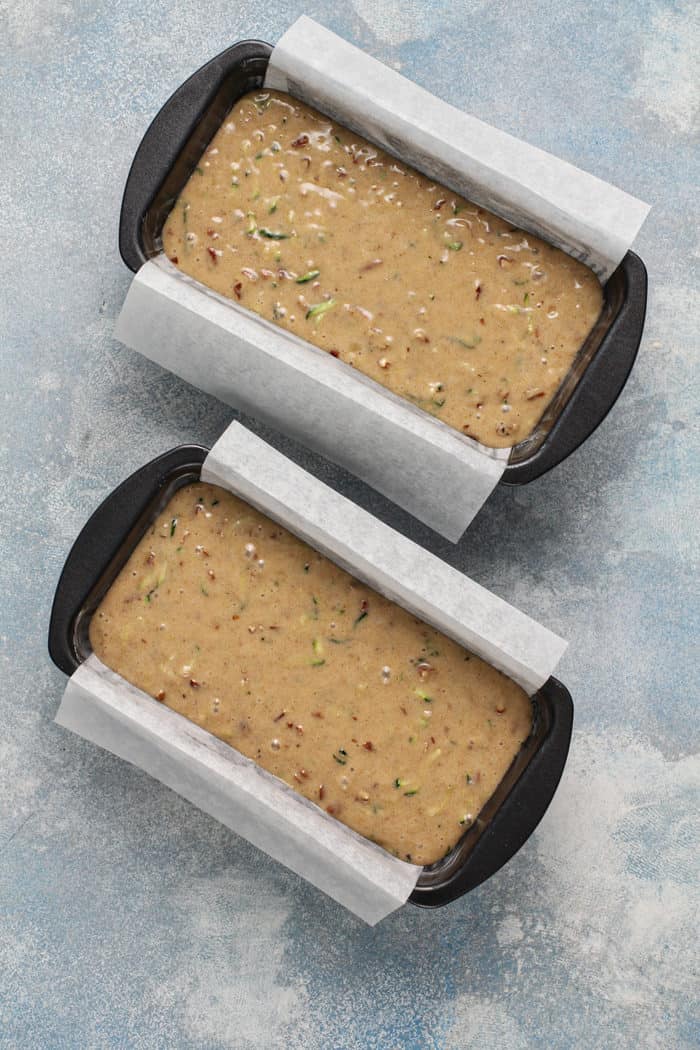 Divide the batter between two greased 8×4-inch loaf pans. Bake for 50-60 minutes or until a toothpick inserted into the center of the loaves comes out clean.
I like to let the loaves cool for about 20 minutes before turning them out from the pans and letting them finish cooling on a wire rack.
Or letting them cool for as long as I can stand it before I must try a slice. You know how it goes!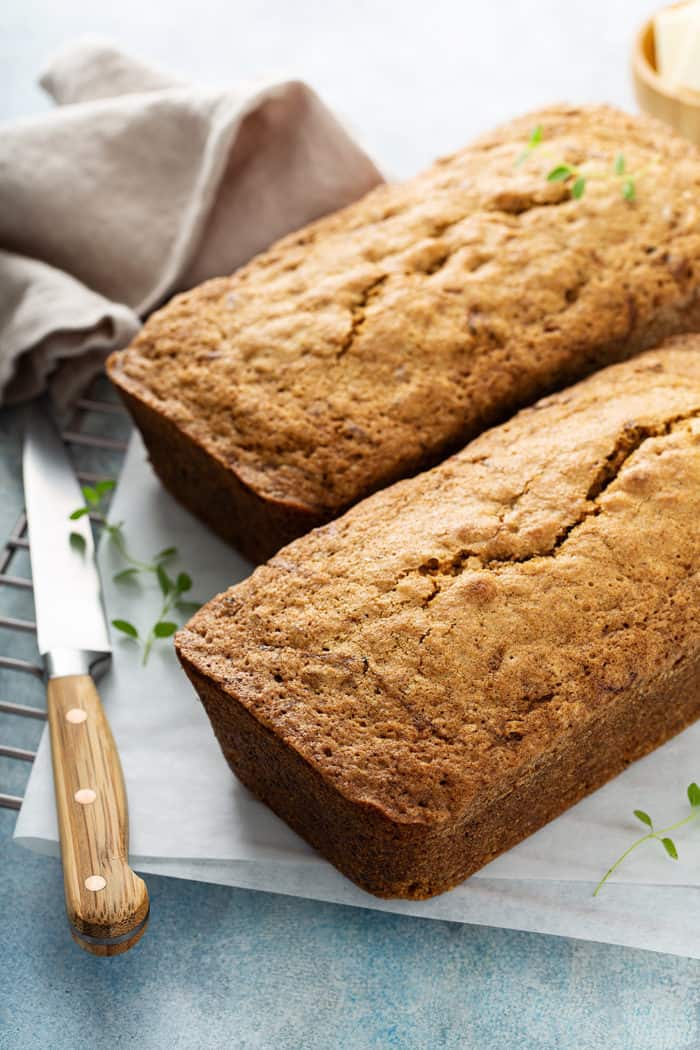 HOW TO STORE THIS QUICK BREAD
This Classic Zucchini Bread stores well on the counter at room temperature for about 3-4 days. I like to keep it wrapped in a layer of foil.
I actually think it's better on day 2 or 3 than on day 1!
If you want to stretch it for a couple more days, you can try storing it in the refrigerator instead of on the counter.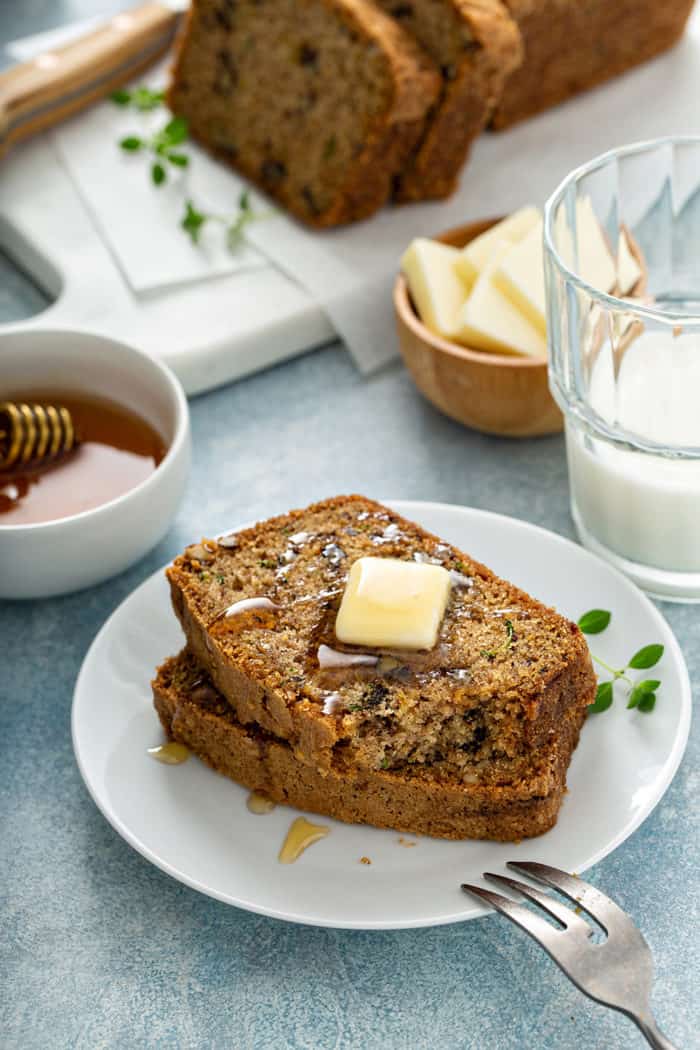 CAN YOU FREEZE ZUCCHINI BREAD?
This is one of the best recipes to freeze for later! Since the recipe makes two loaves, I like to give one to a friend or freeze it to enjoy later.
Wrap the bread in a layer of foil and store the loaf in a zip-top freezer bag. The bread will be best if you eat it within 3 months, but it'll honestly last all winter.
When you're ready to eat the bread, just let it thaw at room temperature before slicing and enjoying with butter or honey butter.