If you love zucchini bread and banana bread, you'll love this marriage of both! Zucchini Banana Bread is a twist on your favorite banana bread. Don't forget the crunchy sugar topping!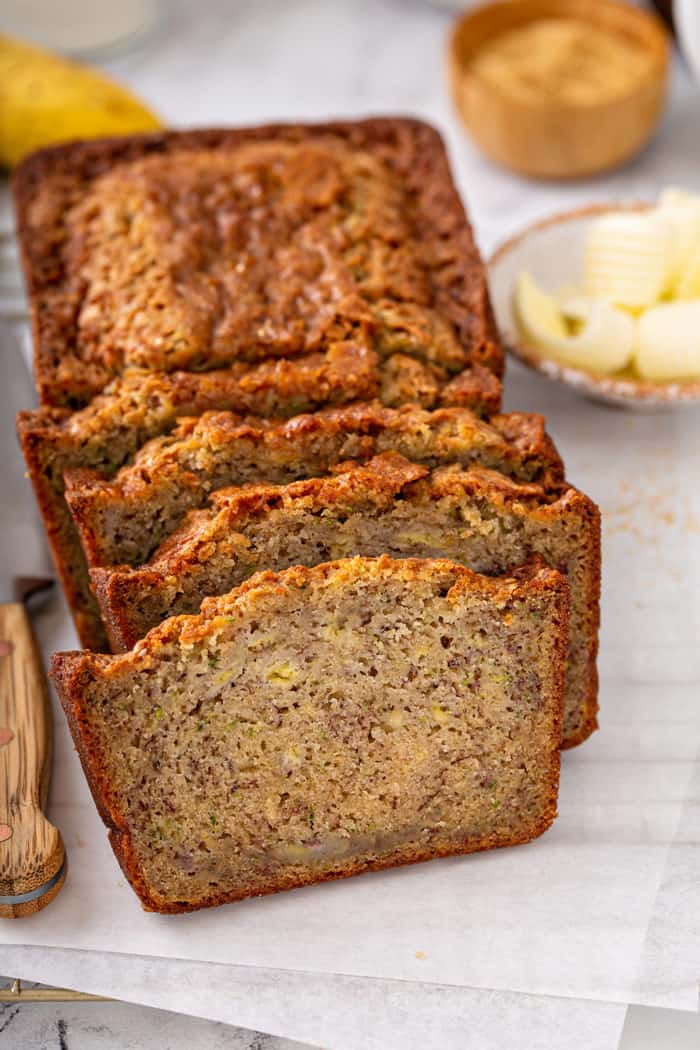 I'm starting to think that the only reason I purchase bananas these days is to make banana bread. No one in our house is in a fresh banana mood right now, but for some reason I keep adding them to my Instacart order week after week.
At any given moment there are no less than 4 ripe bananas sitting on my counter just waiting to either be made into banana bread, or be attacked by fruit flies.
Some of them find there way into freezer bags for smoothies, but for the most part I'm using them to whip up my favorite banana bread for friends, family, neighbors and even Eric's chiropractor.
This Zucchini Banana Bread is my new favorite twist on classic banana bread and it is absolutely perfect for this time of year!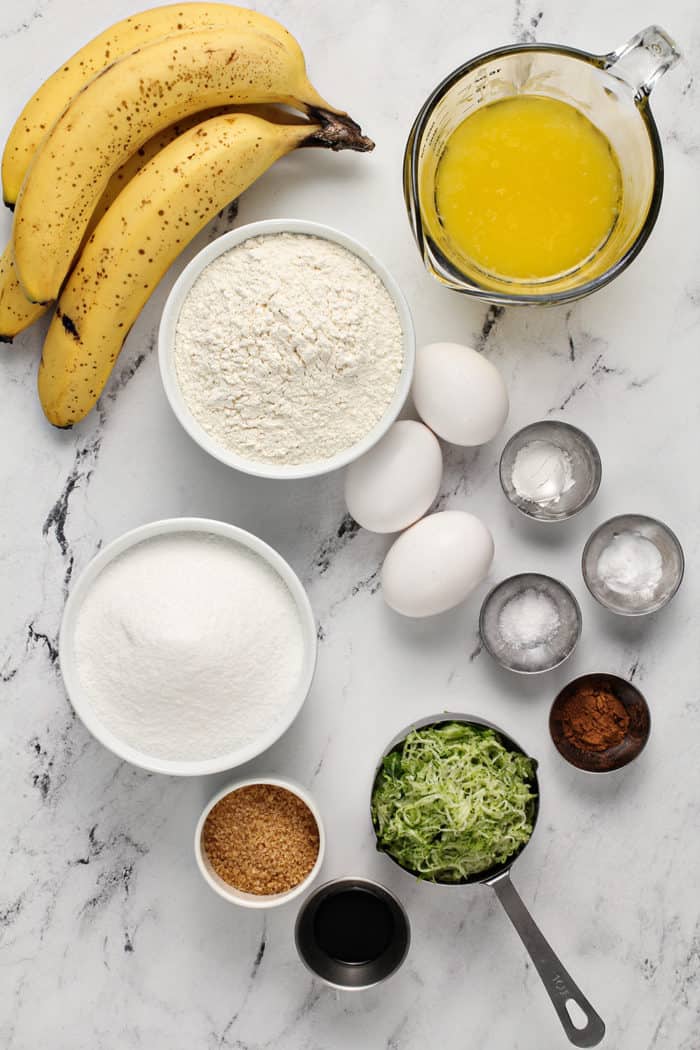 RICH AND BUTTERY ZUCCHINI AND BANANA BREAD
I love making zucchini desserts in the summer. I may not be the best at growing zucchini (or anything else), but I always have friends, family, and neighbors who have too many zucchini from their garden.
So what's a gal to do besides make lots of zucchini baked goods?
I've made everything from Zucchini Cookies to Lemon Zucchini Bread to Chocolate Zucchini Muffins and even Chocolate Zucchini Cake and Zucchini Bread Pancakes.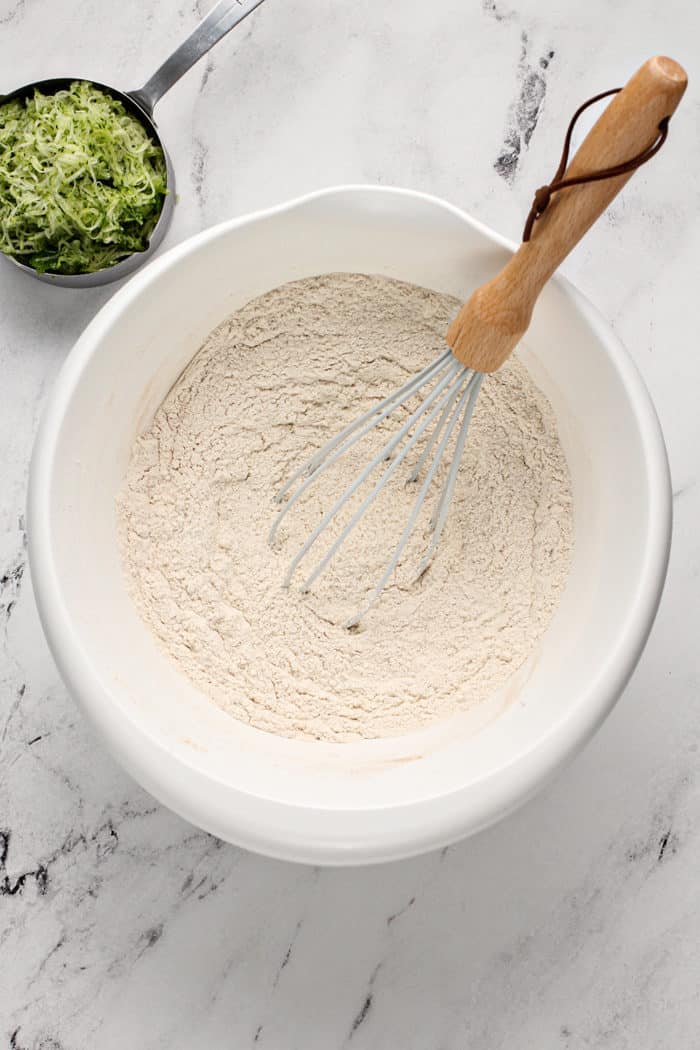 One thing I hadn't done is combine another of my favorite baked goods, banana bread, with zucchini bread. But there's no time like the present, right?
So I pulled up my all-time favorite banana bread recipe, Dominique Ansel's Banana Bread, and figured out how to zhuzh it up with some of the extra zucchini I've found myself with lately.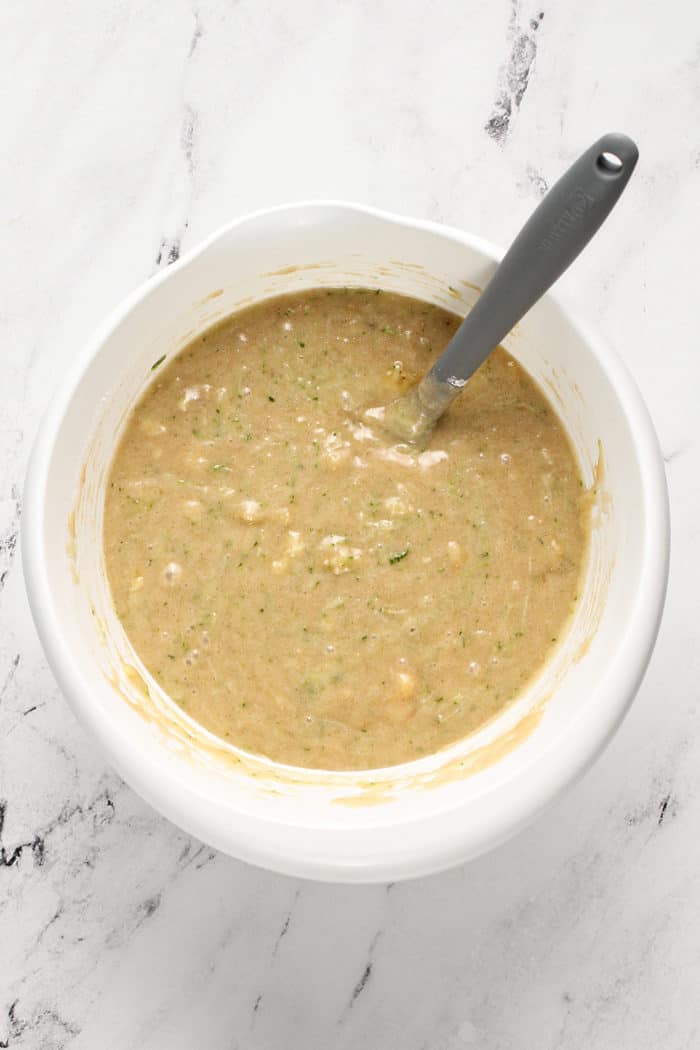 Now, if you've made Dominique Ansel's Banana Bread, then you know that it isn't exactly a healthy banana bread recipe. So this Zucchini Banana Bread is not what I'd call healthy either. It's rich and buttery and has a delicious crunchy sugary top.
So maybe it's not the most balanced breakfast. But as an afternoon snack with a cup of tea, or even for dessert?
This bread is what dreams are made of.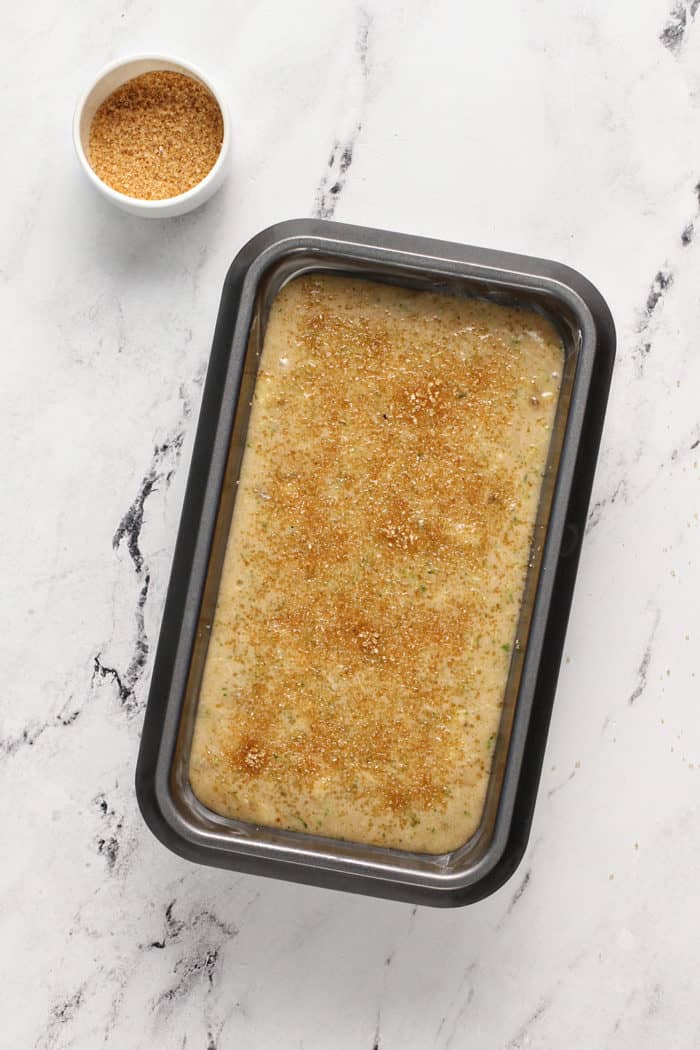 HOW TO MAKE ZUCCHINI BANANA BREAD
To make this Zucchini Banana Bread, you will need:
2 cups sugar
2 cups flour
¾ teaspoon baking soda
1 teaspoon ground cinnamon
1 teaspoon salt
1 teaspoon baking powder
3 eggs
1 1 /2 teaspoons vanilla extract
4 overripe bananas, mashed
14 tablespoons unsalted butter, melted, plus more for greasing pan
1 heaping cup finely shredded zucchini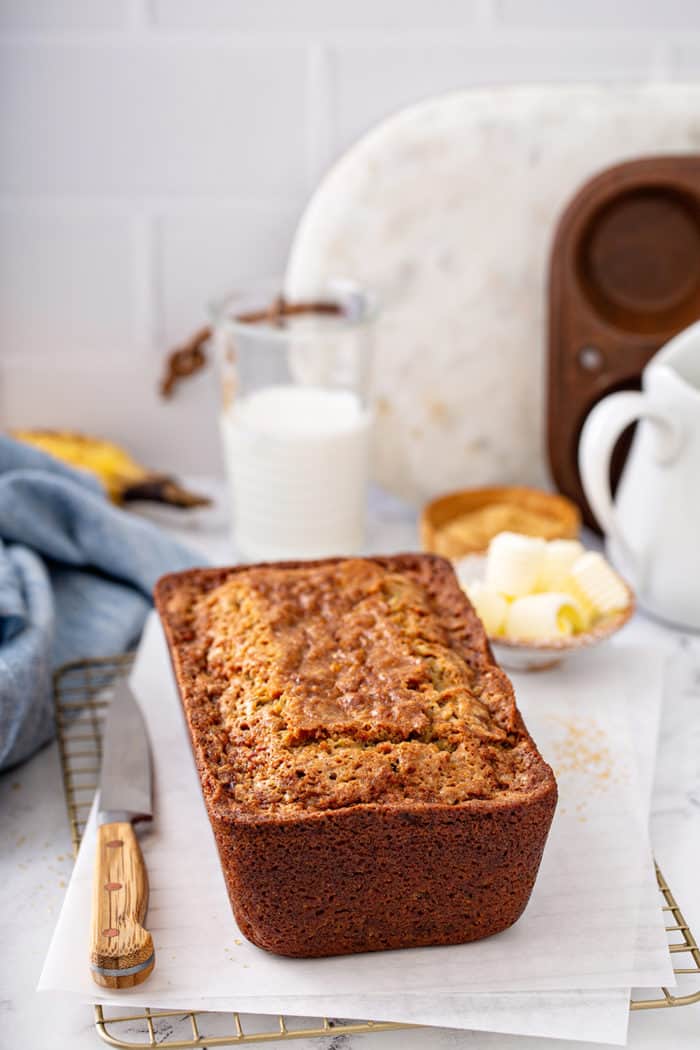 Start by whisking together the dry ingredients: sugar, flour, baking soda, cinnamon, salt, and baking powder.
In a separate bowl, beat together the eggs, vanilla, and mashed bananas. Add this mixture to the dry ingredients and mix until just combined. Add the melted butter and stir until combined, then fold in the shredded zucchini.
Pour the batter into a greased 10×5-inch loaf pan and sprinkle the top with turbinado sugar.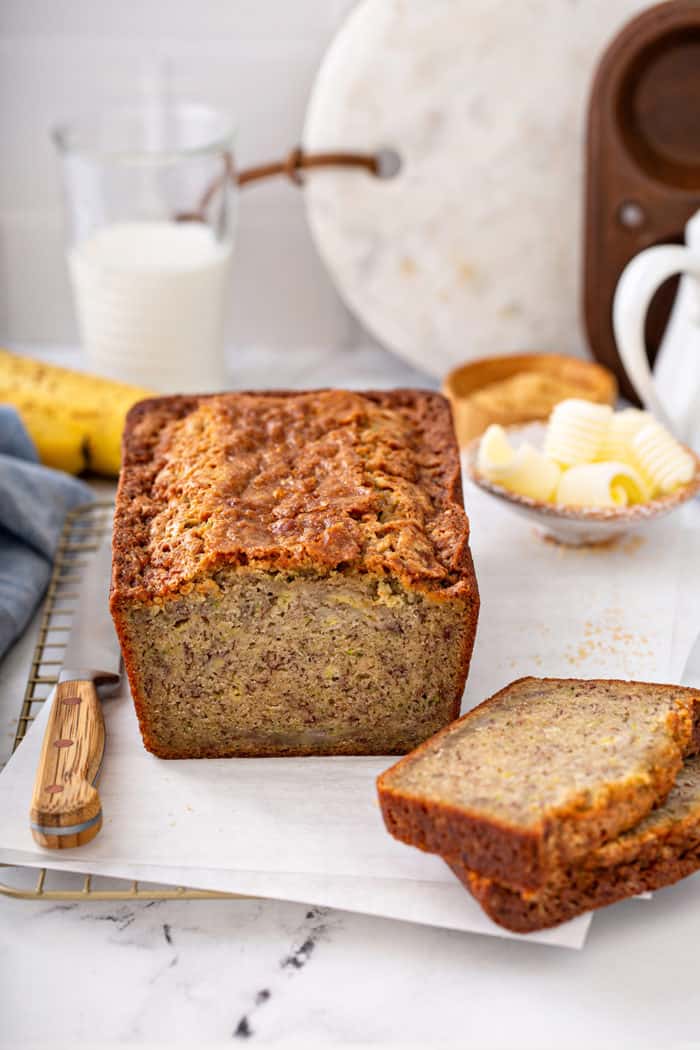 Technically adding the turbinado sugar is optional, but I highly recommend it. When the bread bakes, the sugar creates the perfect crunchy top. I can promise that will be your favorite part.
After the bread bakes, allow it to cool for about 20 minutes before digging in.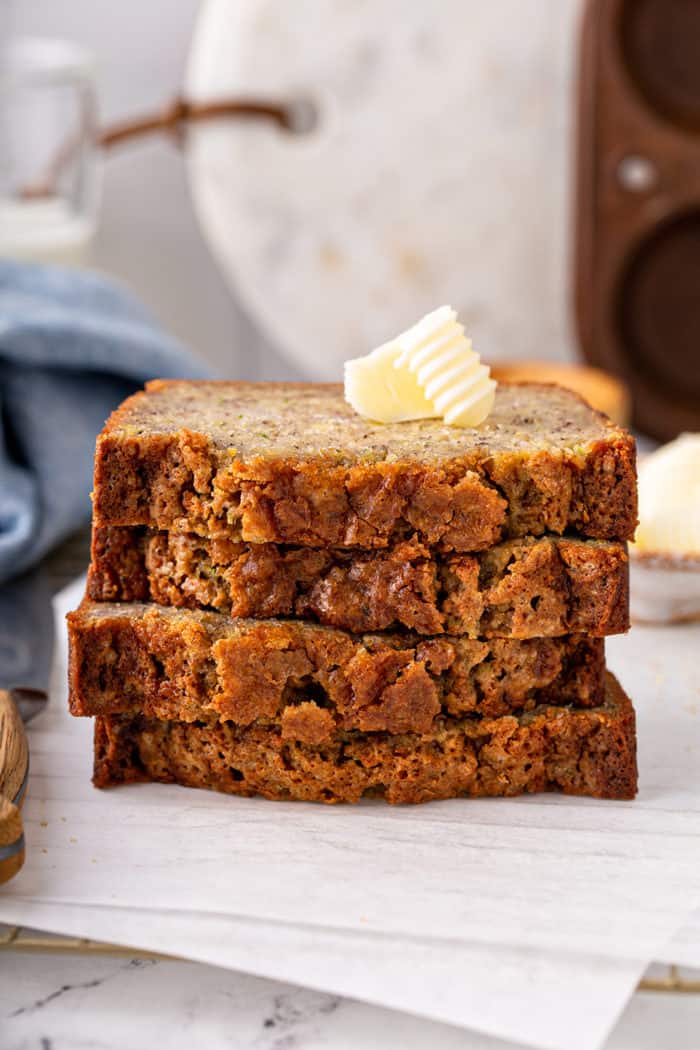 CAN THIS QUICK BREAD BE FROZEN?
I love freezing quick breads! You could freeze the loaf whole or freeze individual slices.
If you freeze the loaf whole, wrap tightly it in plastic wrap, followed by a layer of foil. Let the bread thaw overnight before slicing.
If you want to freeze individual slices, wrap each slice in a piece of plastic wrap. Place the slices in a zip-top freezer bag.
When you're ready for a slice of Zucchini Banana Bread, take out as many slices as you want and warm them in the microwave or a toaster oven.