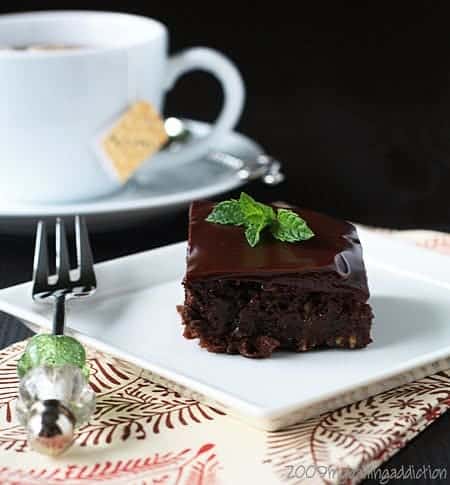 Last month I saw a cake on my blogging buddy Em's site. This cake caught my eye not only because of its amazingly moist and rich appearance, but also because it contained zucchini. I have never made a dessert that contained zucchini besides the typical zucchini bread, so I decided to make it that weekend.
When I started to assemble my ingredients, I realized I was completely out of Dutch-Process Cocoa. What to do…what to do? I contacted Em and she directed me to the King Arthur Flour site to ask them the question directly. They have a live help chat which is exactly what I did and had my answer in about one minute!
Here is the deal on the conversion: For every 3 TBS of natural cocoa you need to add an additional 1/8 teaspoon of baking soda… pretty simple, right? Math is not a strong area of mine, so this definitely took me a hot minute to figure out, but no worries, because I have included the conversion below for this recipe!
This cake was far beyond my expectations and once it chilled in the fridge overnight, it became one of the moistest and most decadent chocolate cakes to ever cross my lips! I followed Em's recommendation for the ganache which pushed this cake into the realm of pure bliss! If you have a bunch of zucchini in your garden, make this recipe and if you don't, run to the market to grab some!!!
Have a great day and thanks so much for stopping by!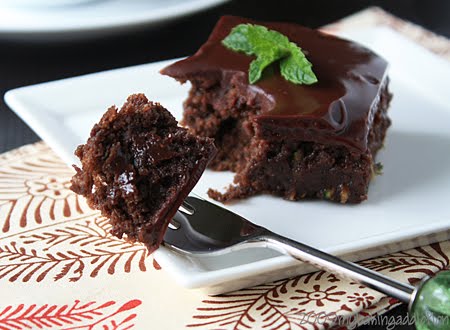 Chocolate Zucchini Cake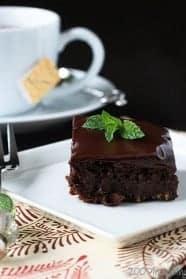 Ingredients:
For the Cake
1/2 cup (1 stick, 4 ounces) butter
1/2 cup (3 1/2 ounces) vegetable oil
1 3/4 cups (12 1/4 ounces) granulated sugar
1 teaspoon vanilla1 teaspoon baking soda
1/2 teaspoon baking powder
1/2 teaspoon salt
2 large eggs
1/2 cup (4 ounces) sour cream or yogurt
2 1/2 cups (10 1/2 ounces) King Arthur Unbleached All-Purpose Flour
3/4 cup (2 1/4 ounce) Dutch-Process Cocoa
2 teaspoons espresso powder, optional but tasty (I left this out)
2 cups shredded zucchini (about one 10" zucchini, about 12 ounces)
1/2 cup (3 ounces) chocolate chips
For the Chocolate Ganache
6 ounces of heavy cream
9 ounces of chocolate chips (I used semi-sweet)
Directions:
For the Cake
1. Preheat the oven to 325°F. Lightly grease a 9" x 13" pan.
2. In a large mixing bowl, cream together the butter, oil, sugar, vanilla, baking soda, baking powder, and salt. Beat in the eggs. Stir in the sour cream or yogurt alternately with the flour. Then add the cocoa and espresso powder, mixing till smooth. Finally, fold in the zucchini and 1/2 cup chocolate chips.
3. Spoon the batter into the prepared pan. Bake the cake for 30 to 35 minutes, till the top springs back lightly when touched, and it seems set. Cool on a rack.
For the Chocolate Ganache
1. To prepare the frosting, heat the heavy cream in a saucepan over medium heat until simmering.
2. Remove from heat and pour over the chocolate chips. Wait 3-5 minutes then stir to combine.
3. It may take a few minutes of stirring for the ganache to come together… but it will :) It will thicken as it cools…
4. When warm (but not hot) pour over cake and smooth with offset spatula. Allow frosting to set for about 30 minutes before serving.
Notes:
- If you are using regular natural cocoa powder, add an additional 1/2 teaspoon of baking soda!
- adapted from King Arthur Flour
[pinit]
43 Responses to "Chocolate Zucchini Cake"
Trackbacks/Pingbacks