Chocolate zucchini cake is rich, ultra-moist and the perfect cake for the chocolate lover in your life.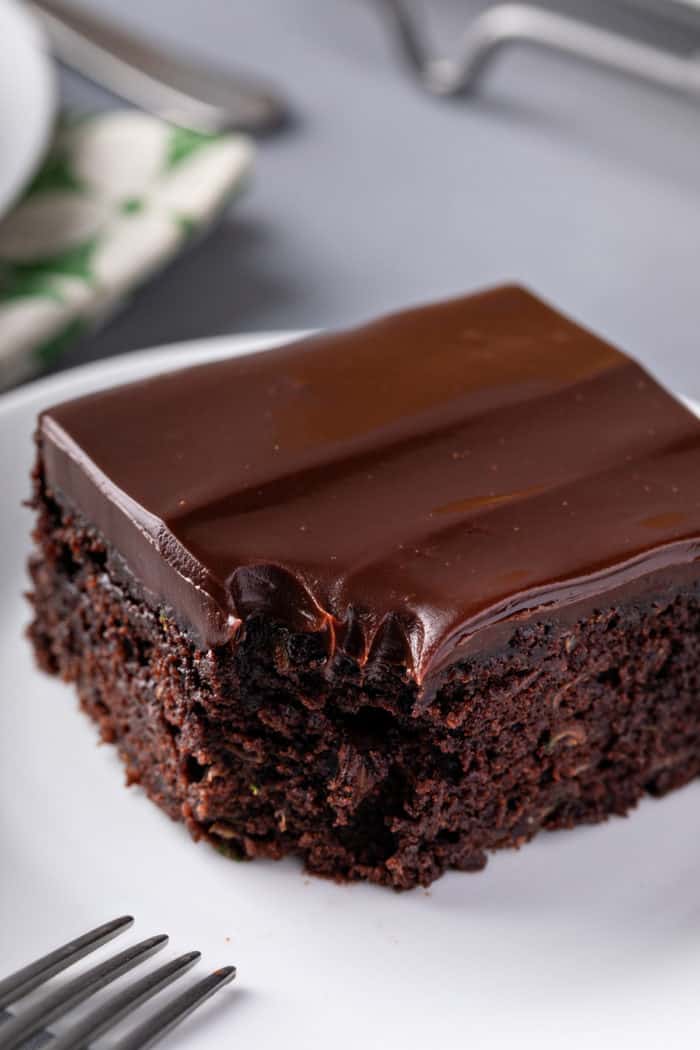 Although it's only mid-August, my social feeds are full of pumpkin and apple recipes already and I'm over here like, can we just enjoy the last couple of weeks of summer?
While I can't get behind the pumpkin recipes just yet (gimme two weeks), I can totally get behind the zucchini recipes, especially when my neighbors passed along two of them straight from their garden last week.
This chocolate zucchini cake is rich and delicious and I promise you, even my zucchini-hating husband had no idea it was packed with over 2 cups of freshly grated zucchini!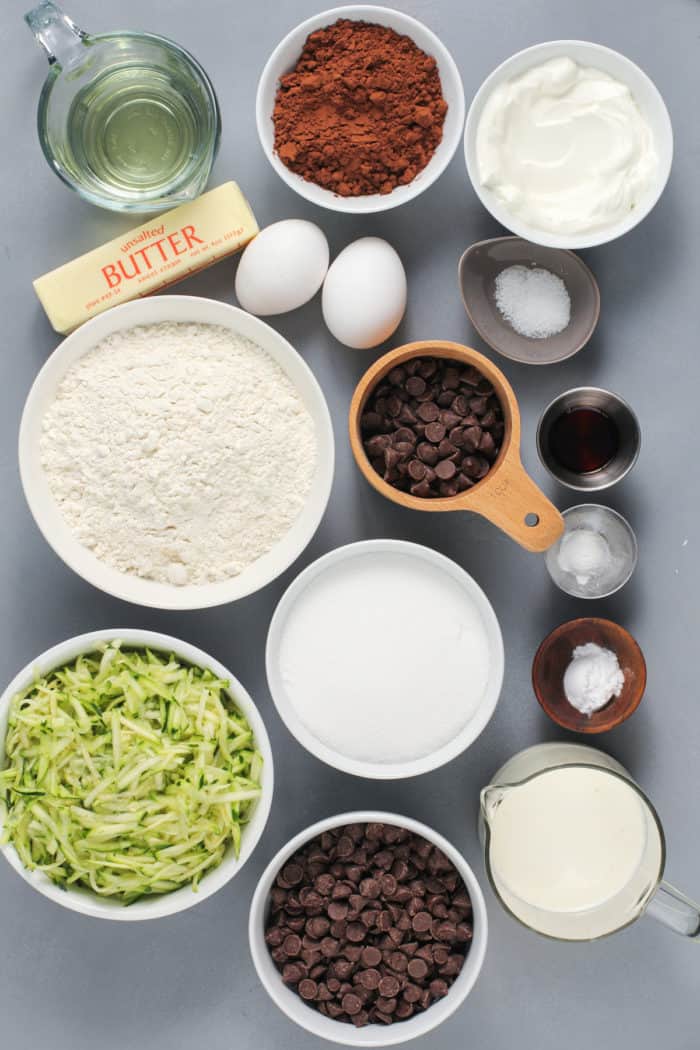 ULTRA-RICH CHOCOLATE ZUCCHINI CAKE
I'm the only one in my household who likes zucchini in its natural state.
This means that when I end up with extra zucchini, I'm better off hiding it in baked goods like zucchini banana bread, chocolate zucchini muffins, and this chocolate zucchini cake.
Nothing like sneaking a little zucchini into a chocolate cake, right? I guess cake kind of defeats the purpose of eating a vegetable, but we can overlook that fact.
If you have a chocolate lover in your life, this is a must-make even if that chocolate lover happens to be a zucchini hater. I promise, they won't be able to detect the zucchini – especially if you shred it super fine.
This chocolate zucchini cake is rich, ultra-moist, and fudgy. I've served the cake up with just a simple dusting of powdered sugar, but it really reaches its full potential with a layer of silky ganache.
I mean, more is always more, right?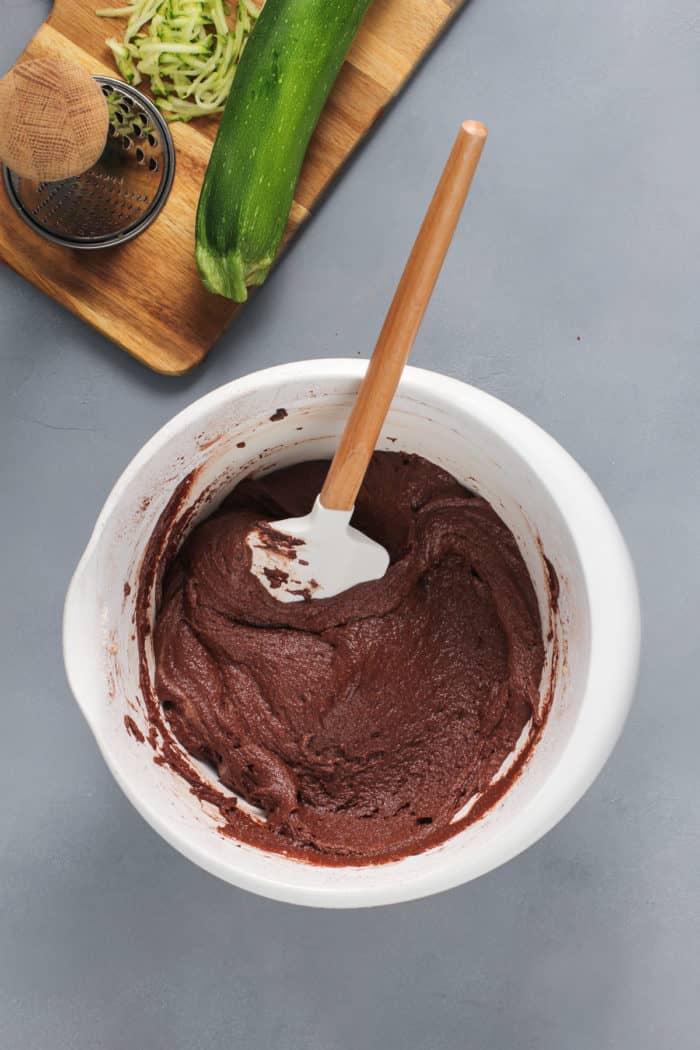 HOW TO MAKE THIS CHOCOLATE ZUCCHINI CAKE
If you love the best chocolate cake and black magic cake, you have to give this recipe a try. Let's talk through how to make it!
Ingredients you'll need
There are a few key ingredients in this recipe that help to make it super moist and fudgy:
Vegetable oil: This recipe uses a bit of butter for flavor combined with vegetable oil for texture. Because cocoa powder can often dry out cakes, using vegetable oil helps combat that and keep the cake moist.
Sour cream: Remember how in my post on how to make buttermilk we talked about using sour cream as a substitute for buttermilk? Sour cream also keeps the cake moist and adds a lovely tangy flavor.
Shredded zucchini: Zucchini has a good amount of water in it, so it always lends a nice rich texture to any baked good you put it in!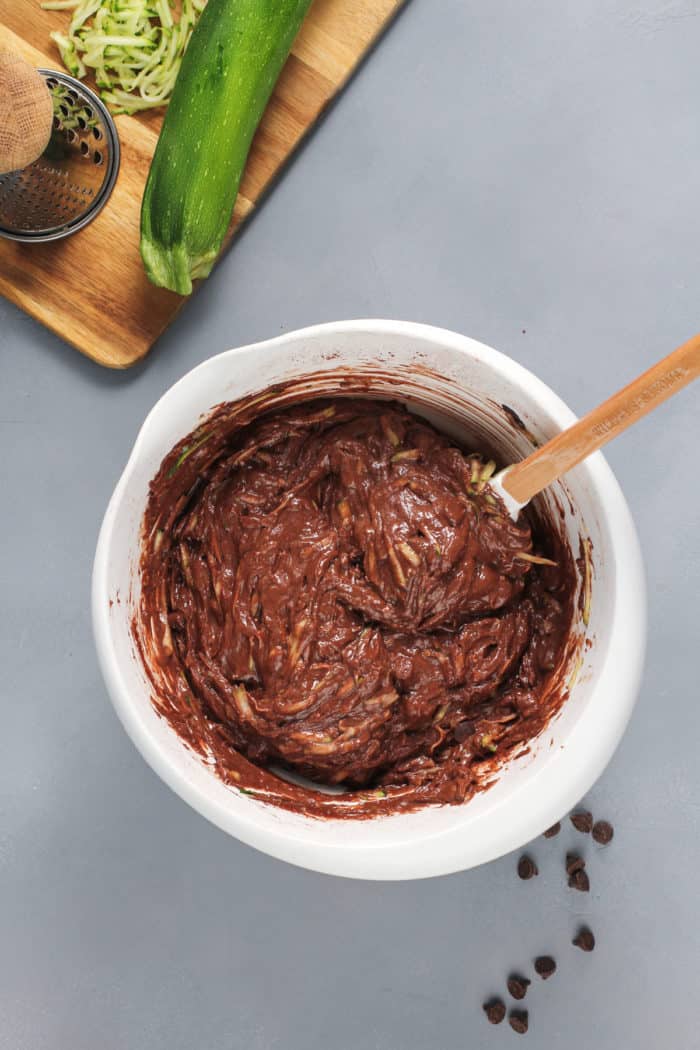 Chocolate chips: To make this cake extra chocolatey and fudgy, we'll add chocolate chips in addition to the cocoa powder. You'll love those little pockets of chocolate throughout the cake!
Other ingredients you'll need for this cake include:
Granulated sugar
Vanilla
Baking soda
Baking powder
Salt
Eggs
All-purpose flour
Dutch-process cocoa
Make sure you know how to measure flour properly so you always have success with this recipe!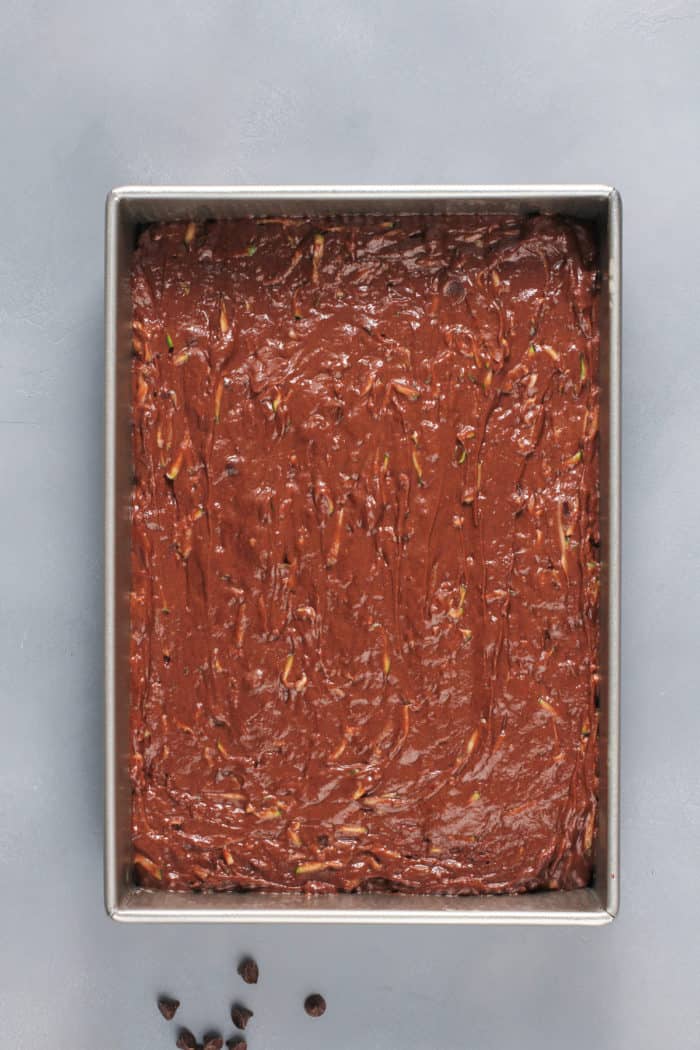 What is dutch-process cocoa powder?
There are two main kinds of cocoa powder: natural cocoa and dutch-process cocoa.
Dutch-process cocoa has been treated to reduce the acidity of the cocoa powder, which gives it a darker color and less bitter flavor than natural cocoa.
Using dutch-process cocoa in this recipe will help give it that deep, rich color and help avoid any bitter flavor. It will be pure, sweet, chocolate goodness!
If you don't have dutch-process cocoa on hand, simply use your favorite unsweetened cocoa powder and add in an extra ½ teaspoon of baking soda to the dry ingredients. Easy-peasy and no need to make a special run to the store.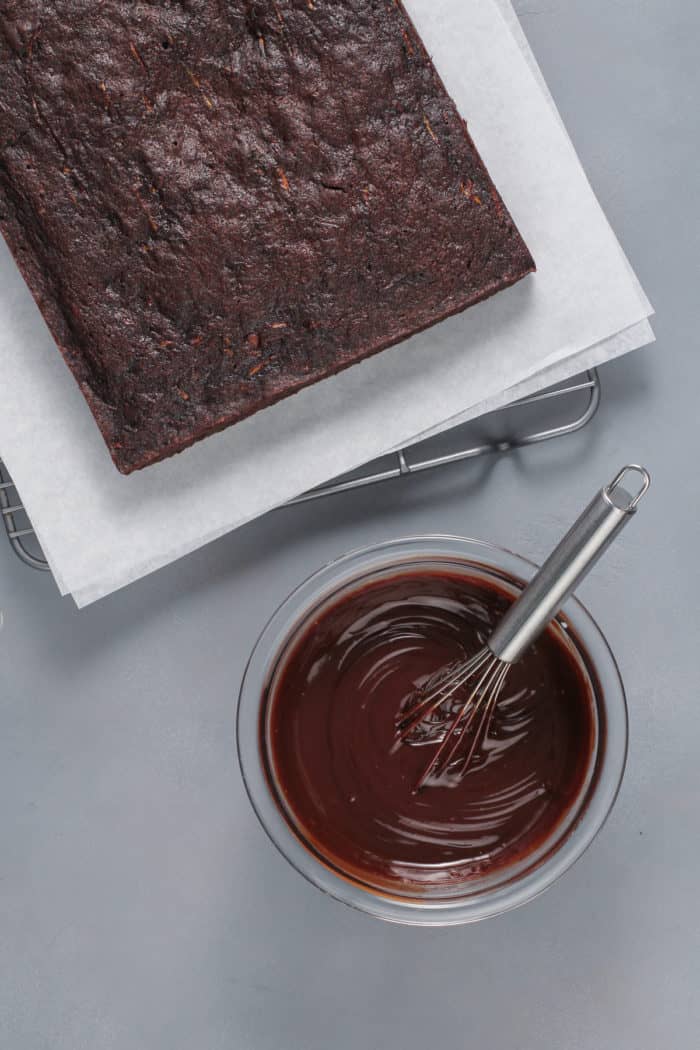 Making this recipe
In a bowl, cream together the butter, oil, sugar, vanilla, baking soda, baking powder, and salt.
I know that this order of operations is a bit different than what we're used to with most cake recipes, but trust me – it works.
Add in the eggs, then alternate stirring in the sour cream with the flour. Finally, add the cocoa powder and mix until well combined and the batter is smooth.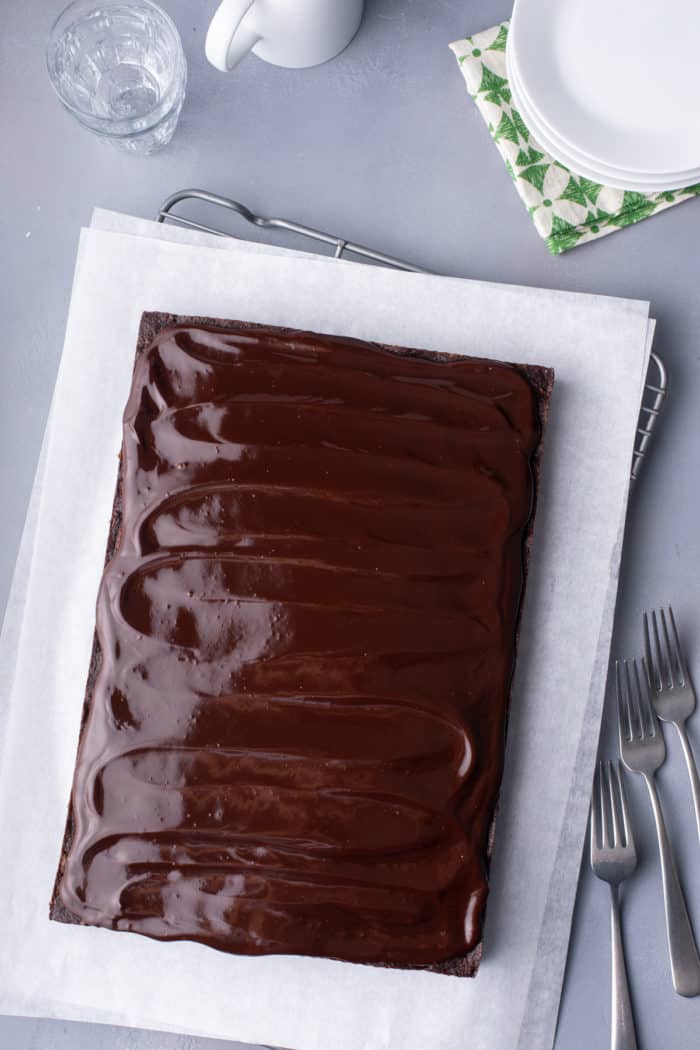 Fold in the shredded zucchini and the chocolate chips. The batter will be quite thick!
Spread the batter in a greased 13×9-inch pan and bake for 30-35 minutes. The top of the cake should spring back lightly when touched.
Let the cake cool in the pan completely before topping with the ganache.
When you're ready to add the ganache frosting, heat the cream in a saucepan over medium heat until simmering.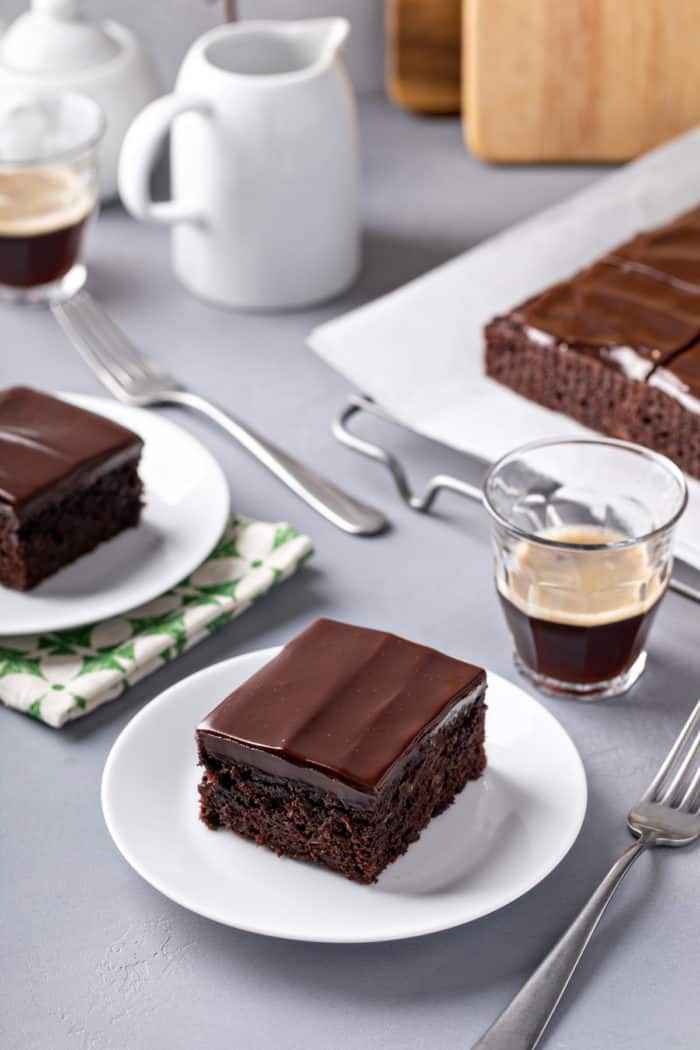 Remove the cream from the heat and pour it over the chocolate chips, then whisk to combine. Be patient – it might take a few minutes for the ganache to start to come together.
The ganache will seem quite runny at first, but it will thicken as it cools. I like to let it cool until it's just slightly warm and still pourable, then I pour it over the cake and smooth it over the top.
Let the frosting set for about 30 minutes before cutting and serving.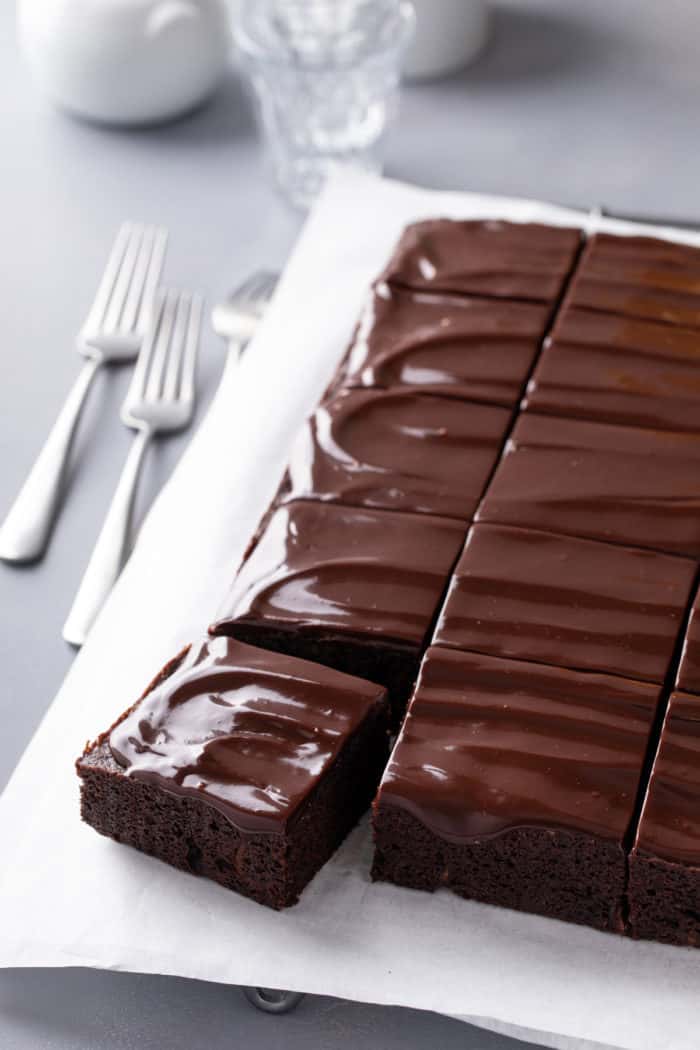 STORAGE TIPS
Because the cake is very moist and topped with a ganache, make sure to store any leftovers in the refrigerator. The cake will keep, covered in the fridge, for up to 3 days.
If you'd like to freeze the whole cake, I recommend doing so before adding the ganache. Then you can top it with the ganache after thawing and before serving.
If you want to freeze leftover slices of cake, you can wrap them tightly and freeze them for up to 1 month. Just know that the ganache frosting won't look very pretty after it thaws, but it will still taste delicious.
Give this chocolate zucchini cake a try – it's sure to impress any chocolate lover!