Chocolate Zucchini Cake is rich, ultra-moist and the perfect cake for the chocolate lover in your life.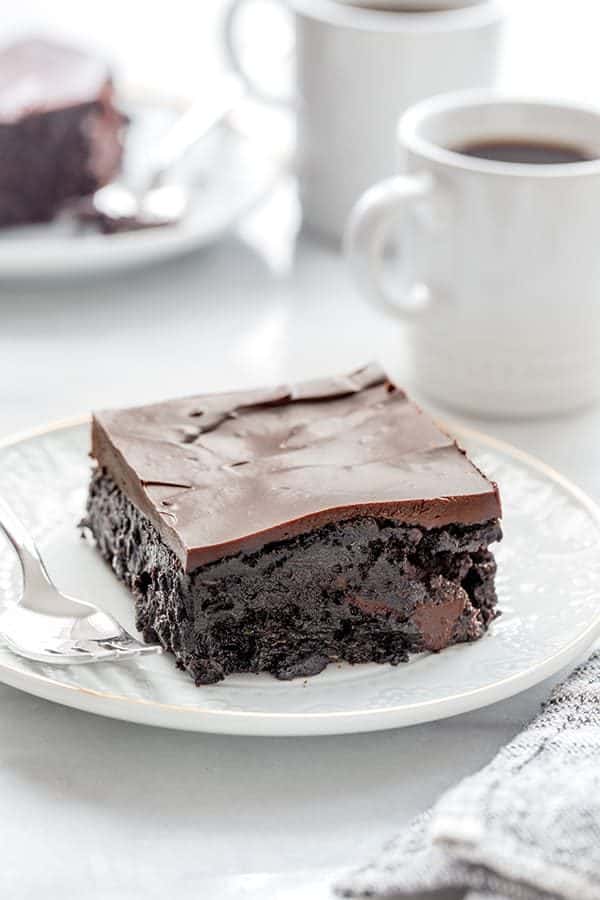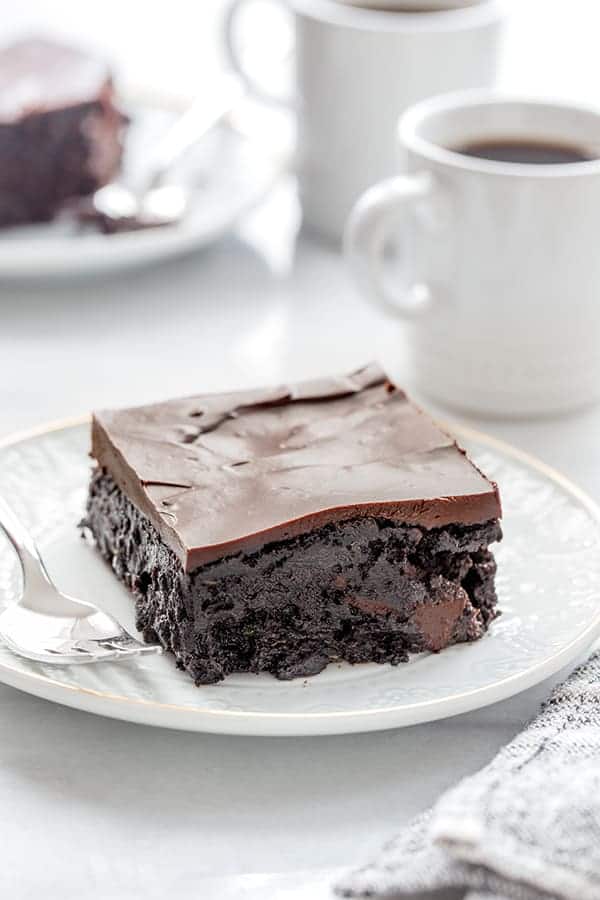 So it's officially fall, but let me just tell ya, it doesn't feel like fall at all here in Ohio. Even though my porch is peppered with pumpkins and mums, the weather feels more like late July with temperatures in the mid to high 80s.
It just feels wrong to be sipping a pumpkin spice latte while blasting my car's AC, so that I don't sweat through my clothes on the way to Target.
Even though Elle is loving the fact that she can still play in her kiddie pool and wear her favorite summer dresses, I'm officially over summer. Bring on the pumpkin pie, colorful leaves, and chilly air, please.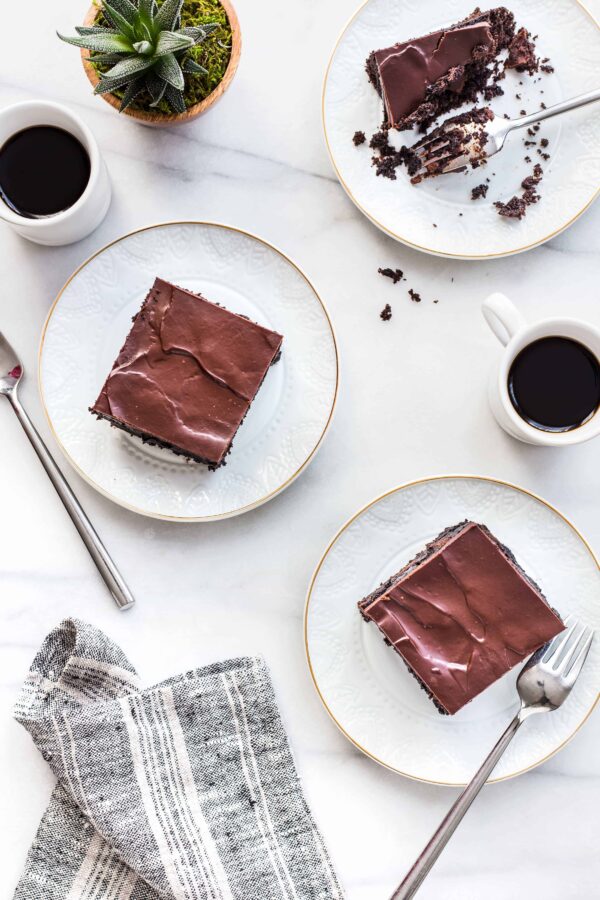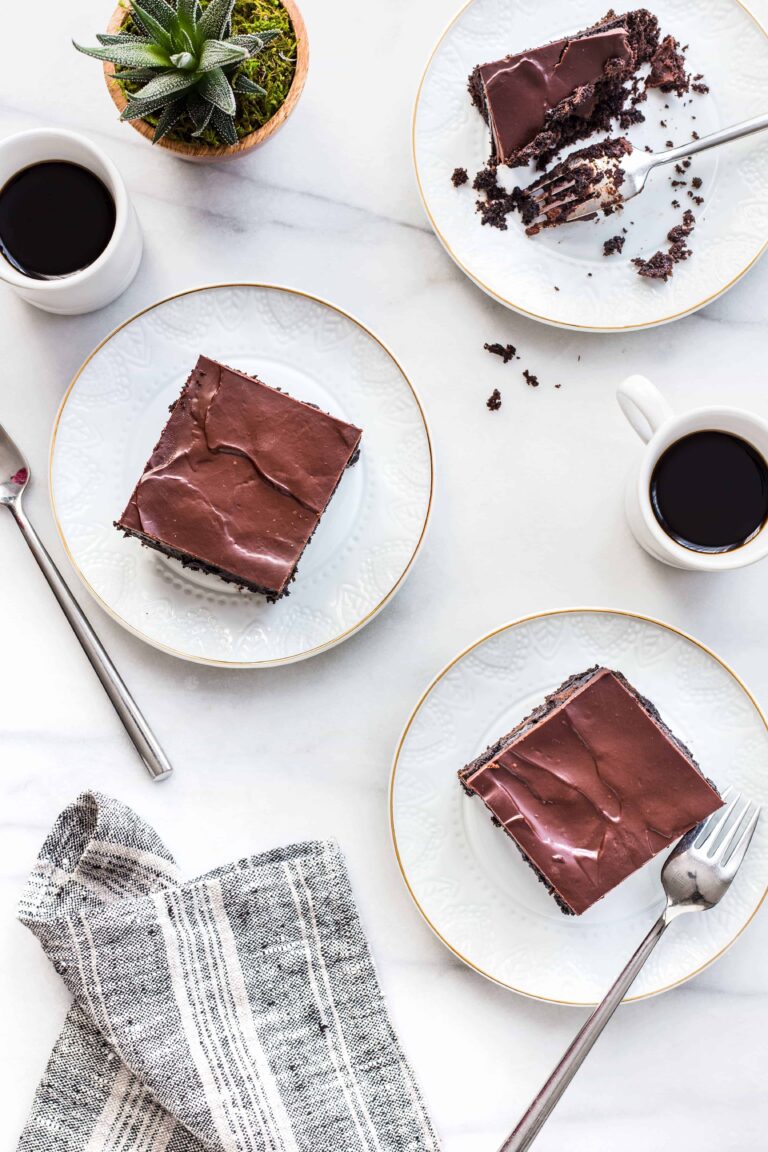 Last week I stopped at a little roadside farm stand to pick up mini white pumpkins and browse the corn stalks (yes, I am that person – our house is already completely decorated for fall) and grabbed some fresh sweet corn and zucchini.
Since I'm the only one in my household that likes zucchini in its natural state, I decided to shred some up for my favorite Chocolate Zucchini Cake recipe. Nothing like sneaking a little zucchini into a chocolate cake, right? I guess cake kind of defeats the purpose of eating a vegetable, but in my book vegetables = healthy.
This cake has been on my blog since 2009 and was definitely in need of new photos and text. I haven't made it in a couple of years, so I forgot how absolutely delicious it is.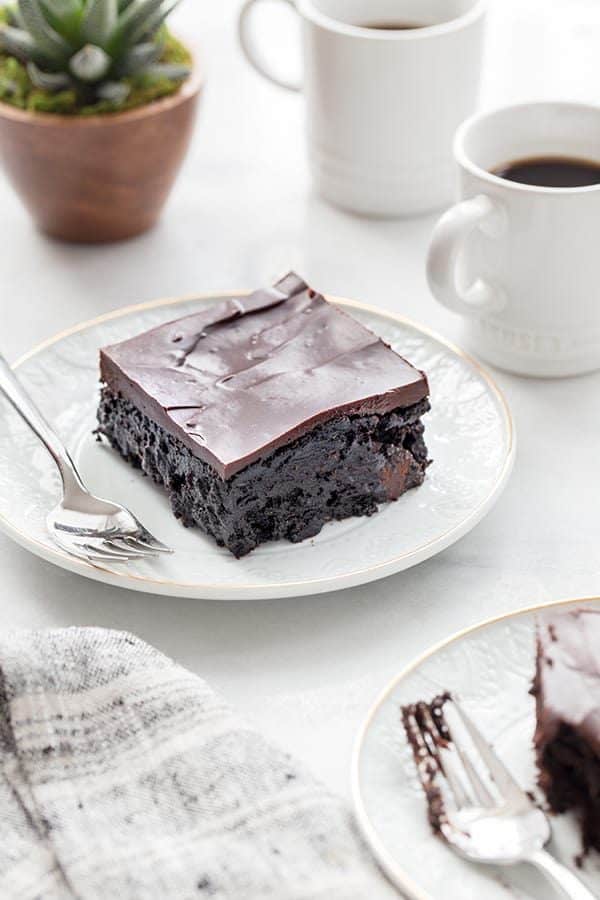 If you have a chocolate lover in your life, this is a must-make even if that chocolate lover happens to be a zucchini hater. I promise, they won't be able to detect it – especially if you shred it super fine.
The cake comes together quickly and uses pretty common ingredients, which is always a bonus in my book. If you don't have Dutch-Process Cocoa simple use your favorite unsweetened cocoa powder and add in an extra ½ teaspoon of baking soda to the dry ingredients. Easy-peasy and no need to make a special run to the store.
This Chocolate Zucchini Cake is rich, ultra-moist and fudgy. I've served the cake up naked with a simple sprinkling of powdered sugar, but it really reaches its full potential with a layer of silky ganache. I mean, more is always more, right?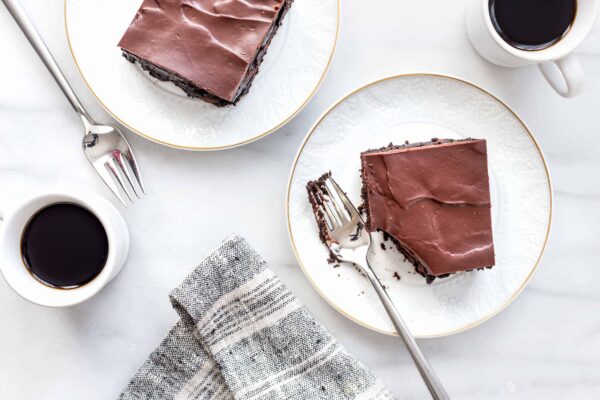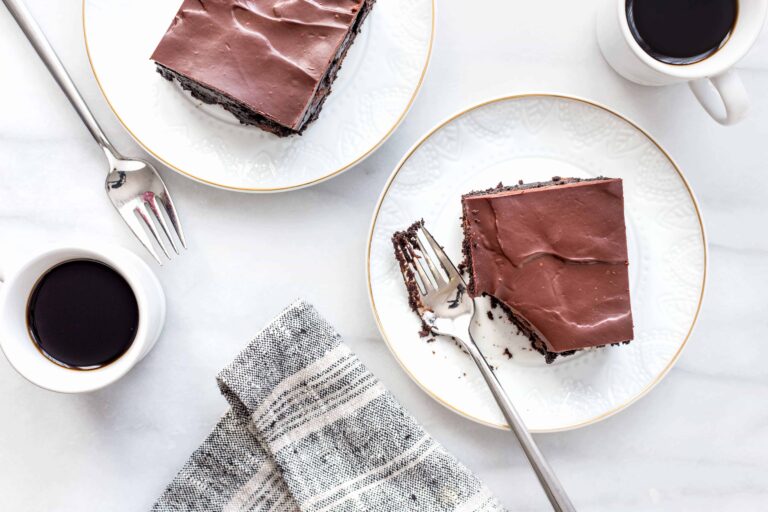 And if it's blazin' hot in your neck of the woods, a scoop of vanilla bean ice cream over a warm slice of this cake would be absolutely dreamy. It's also great straight out of the fridge – seriously, you can't go wrong with this cake!
Whether you serve it up naked, with layer of ganache, or with a scoop of ice cream, I hope you make this Chocolate Zucchini Cake and enjoy it as much as we do!
For more delicious zucchini desserts, be sure to check out this Chocolate Coconut Zucchini Bread, these Chocolate Zucchini Muffins and this Lemon Zucchini Cake.
Chocolate Zucchini Cake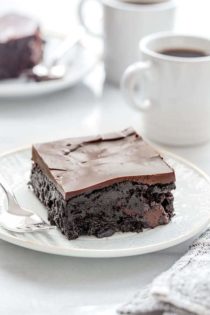 Ingredients:
For the Cake
1/2 cup unsalted butter
1/2 cup vegetable oil
1 3/4 cups granulated sugar
1 teaspoon vanilla
1 teaspoon baking soda
1/2 teaspoon baking powder
1/2 teaspoon salt
2 large eggs
1/2 cup sour cream
2 1/2 cups all-purpose flour
3/4 cup Dutch-process cocoa*
2 1/2 cups shredded zucchini
2/3 chocolate chips
For the Chocolate Ganache
3/4 cup of heavy cream
10 ounces semi-sweet chocolate chips
Directions:
For the Cake
Preheat the oven to 325°F. Lightly grease a 9 x 13-inch pan.
In a large mixing bowl, cream together the butter, oil, sugar, vanilla, baking soda, baking powder, and salt.
Add in the eggs. Stir in the sour cream alternately with the flour. Then add the cocoa powder and mix until incorporated and the batter is smooth. Fold in the zucchini and 2/3 cup chocolate chips.
Add the batter into the prepared pan and bake the cake for 30 to 35 minutes, till the top springs back lightly when touched. Place pan on a wire rack to cool completely.
For the Chocolate Ganache
To prepare the frosting, heat the heavy cream in a saucepan over medium heat until simmering.
Remove from the cream from the heat and pour it over the chocolate chips. Wait about 3-4 minutes then whisk to combine. It may take a few minutes of stirring for the ganache to come together, but I promise it will. The ganache will thicken as it cools.
Allow the ganache too cool until just slightly warm and still pourable. Pour the ganache over the cake and smooth with offset spatula. Allow frosting to set for about 30 minutes before serving.
Notes:
*If you are using regular natural cocoa powder, add an additional 1/2 teaspoon of baking soda.
Store leftover chocolate zucchini cake in the fridge for up to 3 days.
Follow Jamie on Instagram. We love to see what you're baking from MBA! Be sure to tag @jamiemba and use the hashtag #mbarecipes!
This post originally appeared on My Baking Addiction in September of 2009. The photos and text have been updated.