The Best Chocolate Cake Recipe
The Best Chocolate Cake combines cocoa and coffee to create a chocolate lover's dream. The rich buttercream frosting makes it perfect! Keep reading to find out why coffee and buttermilk play important roles in this chocolate cake recipe.
We're a family that loves to double down on chocolate. Peanut butter is a favorite, too, and my No Bake Cookies combine both with oatmeal.
But since there was a birthday, I felt like I really needed cake. Deep, dark, chocolate cake. The best chocolate cake.
For birthdays, we have to do it up right by making my version of cake bliss.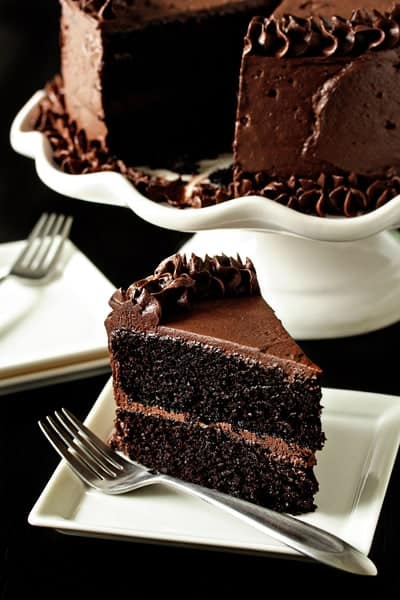 But, as you may have caught on at some point by reading MBA, I have a little bit of a multi-tasking problem.
My family enjoys watching me flit from one thing to another like I'm their own personal reality show for entertainment.
They love to point out when my missing spatula can be found at the computer desk, or my phone in the pantry, and helpfully letting me know that the oven timer has dinged at least 15 times.
I also like to do things in excess – you know a little mound of frosting will never do in this household.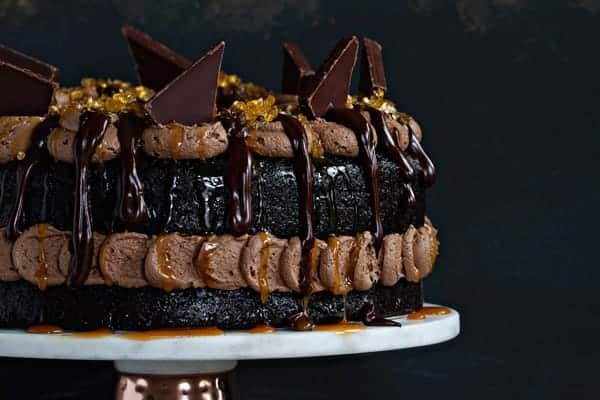 I need to swirl on a pile of it on top, and then top it off with ganache just for the fun of it. So when I organize birthday parties – I of course go a little overboard.
Is there any other way to be? Not if you're Jamie.
When we're talking frosting, is there anything better than indulgent, deep, delicious chocolate frosting? I'm going to go out on a limb and declare that no, no there is not.
THE BEST CHOCOLATE CAKE
I started my chocolate cake adventure by baking this cake – twice. Twice because I was mixing it while on the phone.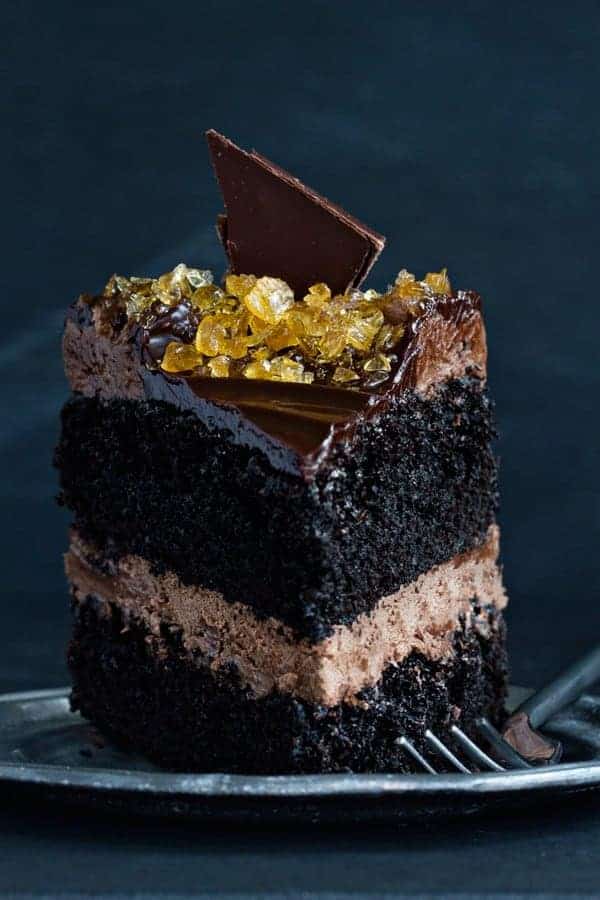 Only to realize after it had baked that I left out a full cup of sugar and all of the vegetable oil.
I think you can imagine how well that turned out: i.e., not at all.
The struggle is real. I cannot multitask to save my life.
Recipe fails don't happen that often around here, but when they do, boy, are they spectacular!
I'm just really lucky I realized before I frosted the cake. Could you imagine the birthday boy's face to take a bite full of cake with no oil or sugar?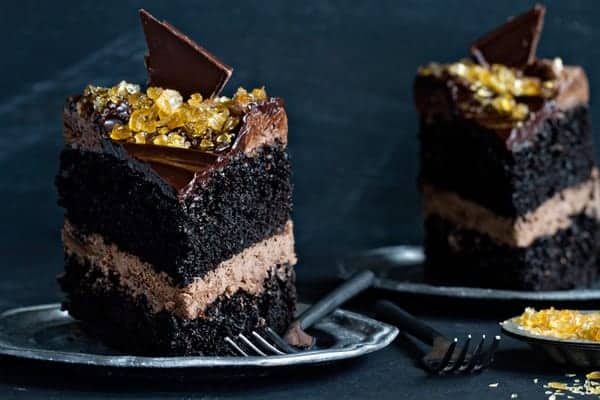 Yikes!
I quickly whipped it up again, this time focusing my full attention on the process. The cake turned out beautifully. Light and fluffy cake, with the ALLLLLLLL the chocolate flavor. That's what I'm talking about!
It was truly the best chocolate cake recipe.
I frosted it while preparing the other gazillion components of the meal. Thankfully, frosting a cake is a much more forgiving process.
You'll never believe this. After all the feasting, no one had room for cake – in fact, we left for the night without busting into song over lit candles.
So – a cake that was never meant to be blogged is here today simply because I made too much food (aaaand we're right back to doing things in excess).
RICH CHOCOLATE CAKE RECIPE
This cake is dark, moist, rich and incredibly decadent. Seriously, it's the best chocolate cake I've ever tasted.
Green Mountain Coffee's Vermont Country Blend blended amazingly well with the cocoa to create the most intense and delicious chocolate cake that I have ever tasted.
You can also use espresso powder, or just water, if coffee isn't your thing. (I know there are a few of you out there!)
Just to cover that aspect, you cannot taste coffee in this cake. It simply enhances the chocolate flavor, deepening it.
MOIST CHOCOLATE CAKE RECIPE
Buttermilk plays two important roles in the best chocolate cake recipe.
In addition to adding an ever-so-subtle tang, the acid in the buttermilk helps keep this cake incredibly tender and makes it a moist chocolate cake recipe.
If you don't have any buttermilk on hand, simply use this buttermilk substitute and you're golden!
The best chocolate cake is the perfect sort of cake for a birthday or a Tuesday. Make sure to enjoy it with a very large glass of ice-cold milk – or coffee!
For an updated version of this best chocolate cake recipe, be sure to check out my Double Chocolate Salted Caramel Cake.
This post may contain affiliate links. We are a participant in the Amazon Services LLC Associates Program, an affiliate advertising program designed to provide a means for us to earn fees by linking to Amazon.com and affiliated sites.