The Best Chocolate Cake recipe combines cocoa and coffee to create a chocolate lover's dream. Add your favorite buttercream frosting to make it perfect! Keep reading to find out why coffee, buttermilk, and oil play important roles in this chocolate cake recipe.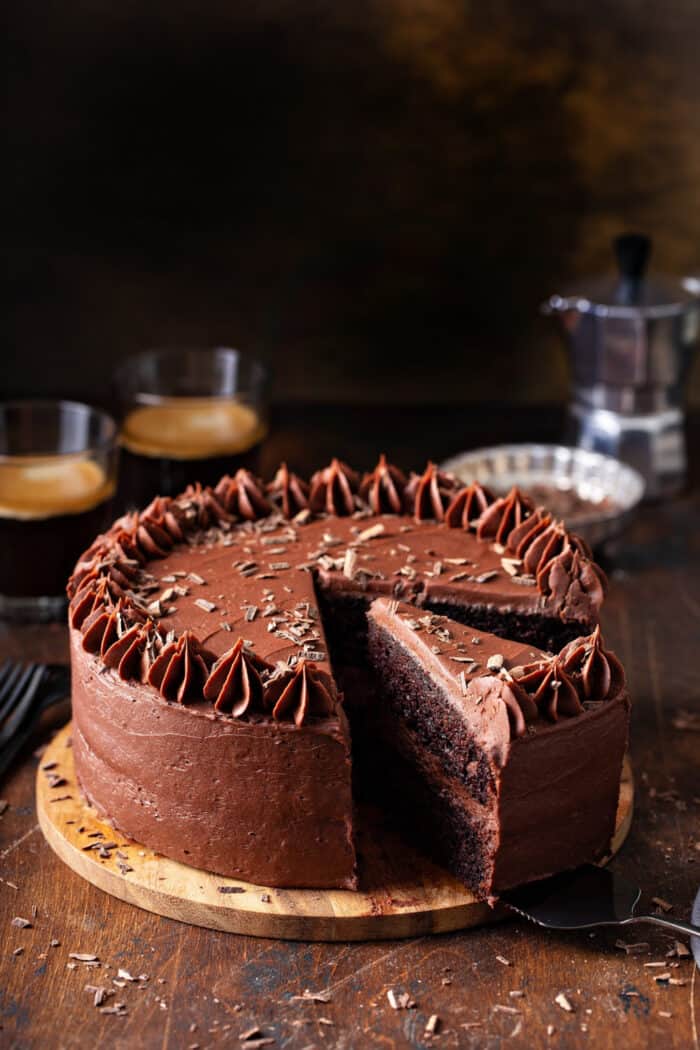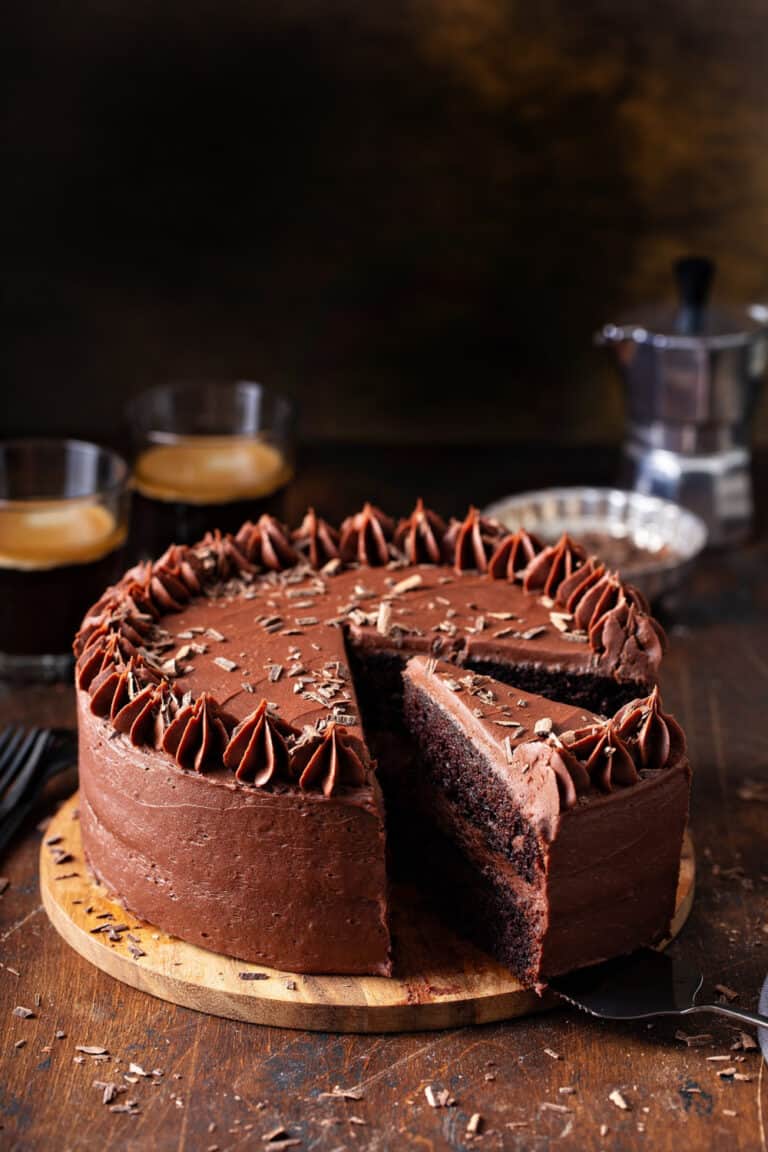 We're a family that loves to double down on chocolate. Peanut butter is a favorite, too, and my No Bake Cookies combine both with oatmeal.
And when birthdays roll around, I always feel like I really need cake. Deep, dark, chocolate cake. The best chocolate cake.
For birthdays, we have to do it up right by making my version of cake bliss.
But, as you may have caught on at some point by reading MBA, I like to do things in excess – you know a little mound of frosting will never do in this household.
I need to swirl a pile of it on top, and then top it off with ganache just for the fun of it. So when I organize birthday parties – I of course go a little overboard.
Is there any other way to be? Not if you're Jamie.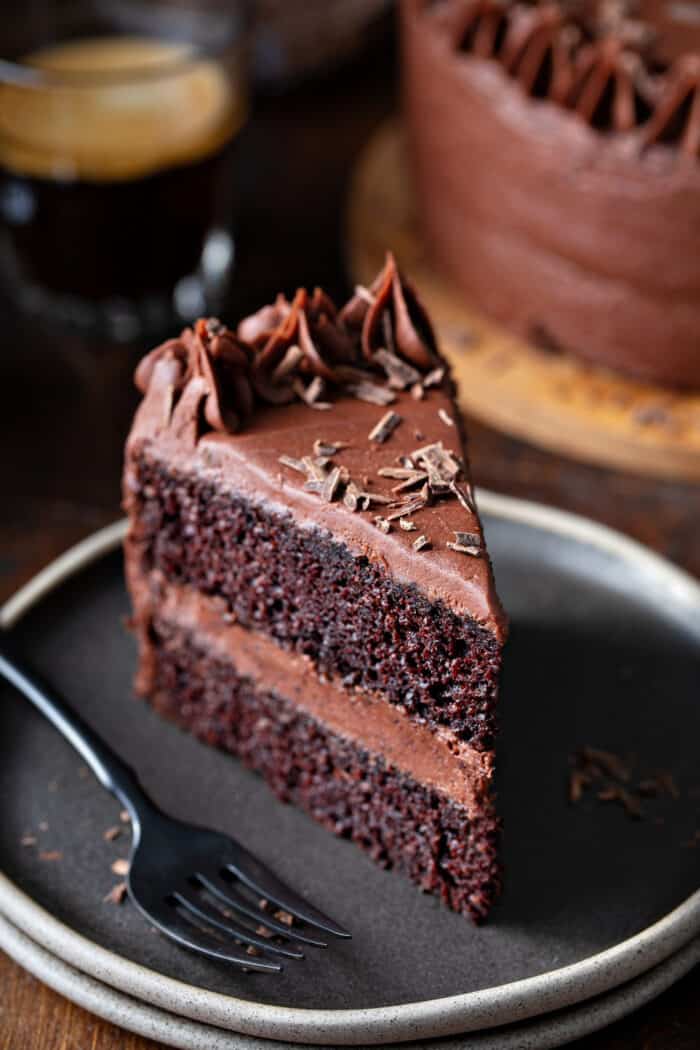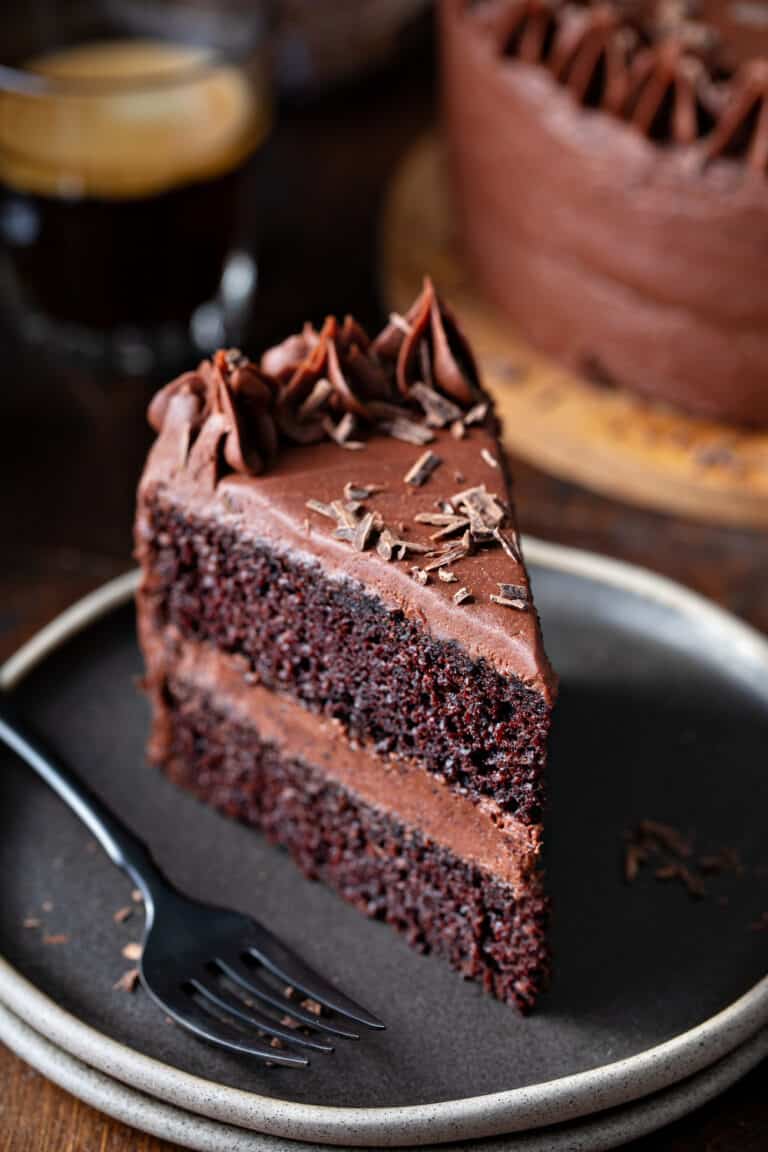 THE BEST CHOCOLATE CAKE RECIPE WITH COFFEE
This cake is dark, moist, rich and incredibly decadent. Seriously, it's the best chocolate cake I've ever tasted.
A little bit of coffee blends amazingly well with the cocoa to create the most intense and delicious chocolate cake that you'll ever taste.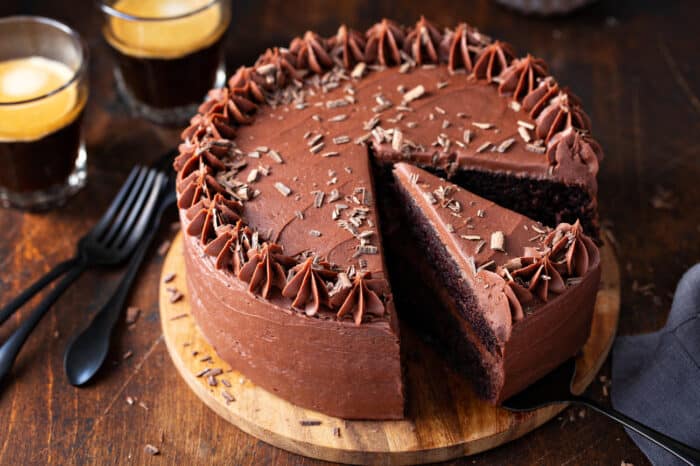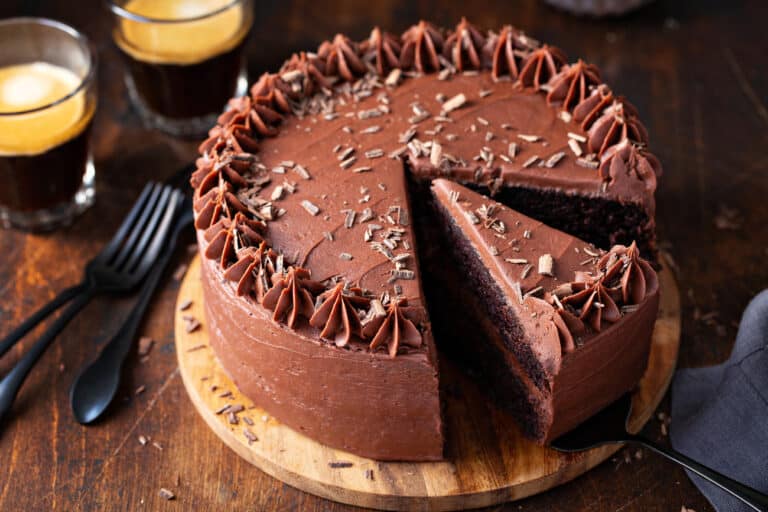 Don't freak out if you don't like the taste of coffee. You actually can't taste it in this cake!
Coffee simply enhances the flavor of chocolate. In this cake, it deepens that rich, chocolatey flavor.
If you are really opposed to using coffee, you can swap it out for water.
You can also use espresso powder – use a teaspoon of espresso powder along with 1 cup of water in place of the 1 cup of coffee.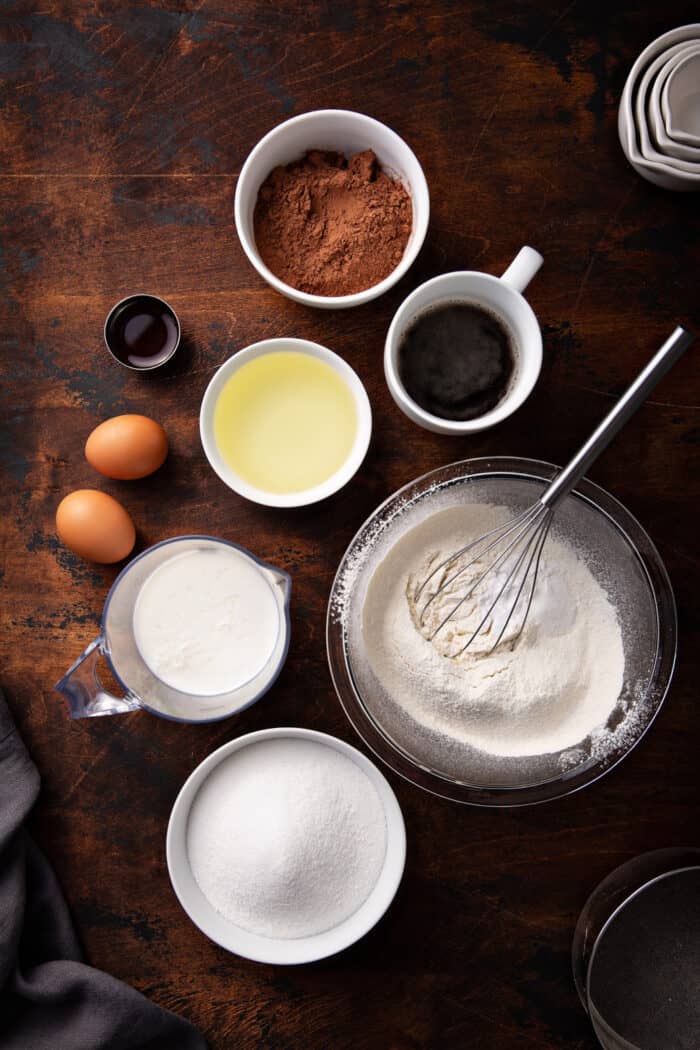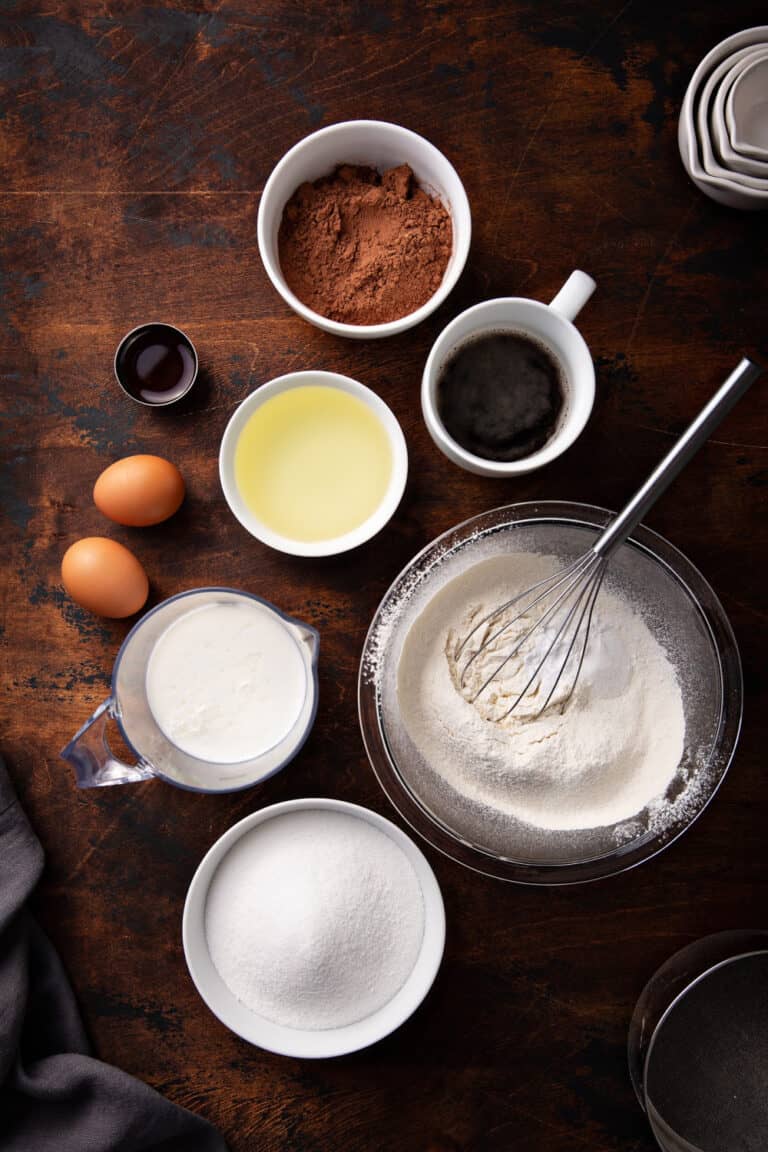 USE OIL AND BUTTERMILK FOR A MOIST CHOCOLATE CAKE
Buttermilk plays two important roles in making the best chocolate cake.
In addition to adding an ever-so-subtle tang, the acid in the buttermilk helps keep this cake incredibly tender and makes for a moist chocolate cake recipe.
If you don't have any buttermilk on hand, simply use this buttermilk substitute and you're golden!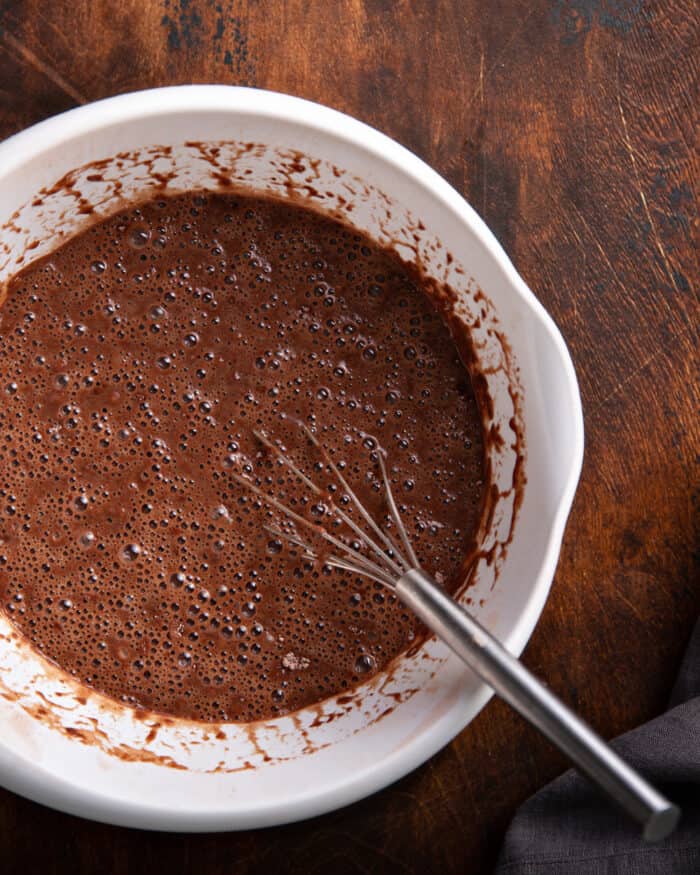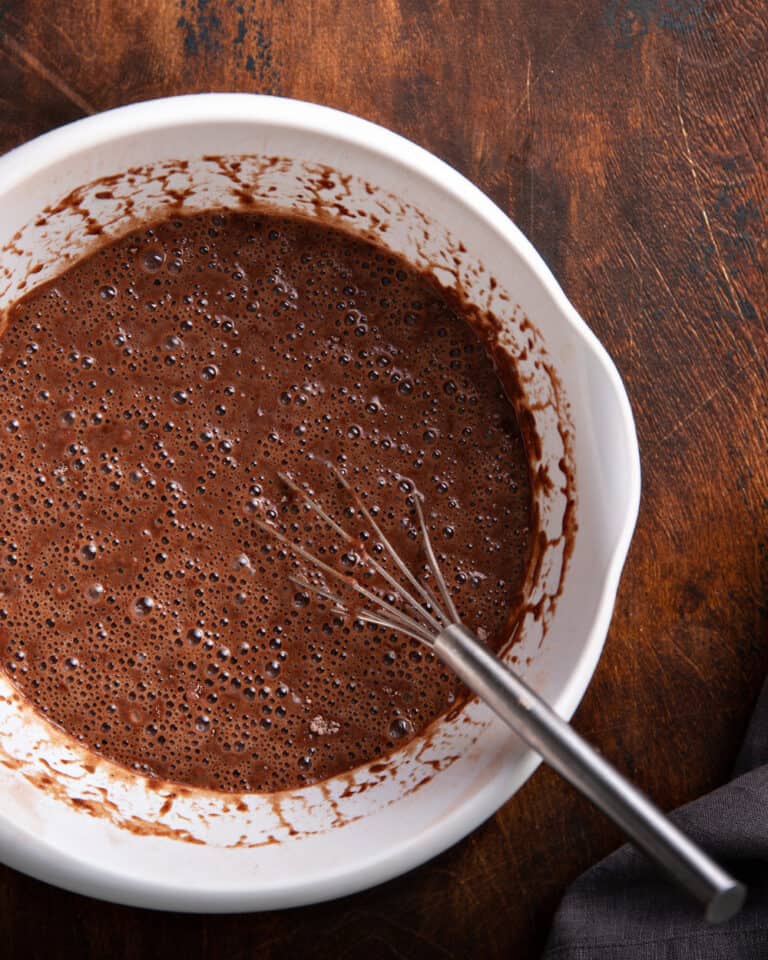 This cake also uses oil instead of butter. While butter provides a lot of flavor in recipes such as 7UP Pound Cake and Homemade Funfetti Cupcakes, oil gives cakes a lovely, light texture.
Since the combo of unsweetened cocoa powder and Dutch-process cocoa give this cake so much chocolatey flavor, we don't necessarily need the flavor of the butter to compete or overpower the chocolate.
Cocoa can also easily dry out cakes, so using a neutral-flavored oil in combination with the buttermilk makes sure both the chocolate flavor and moist texture of this cake really sing.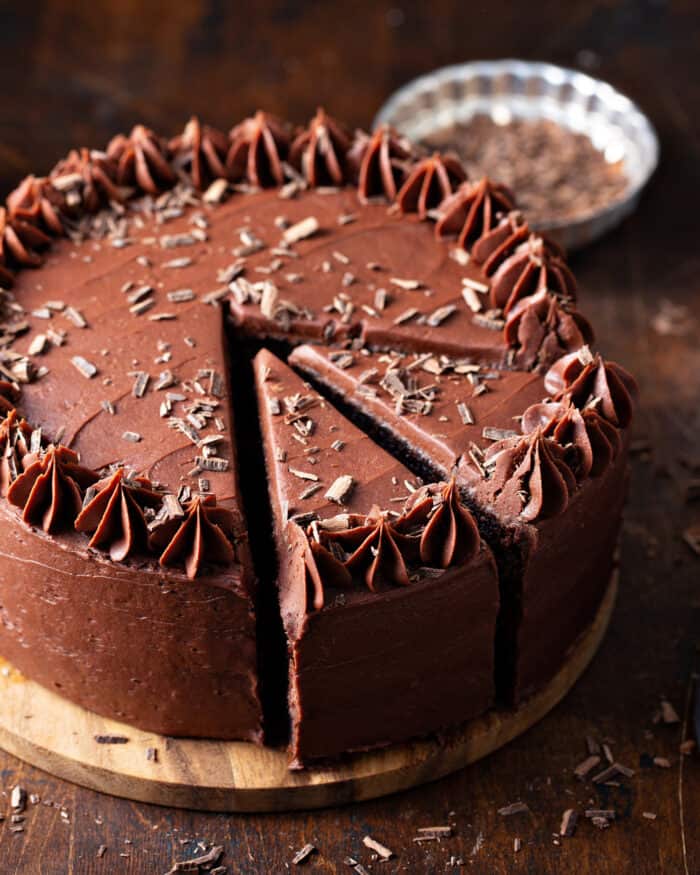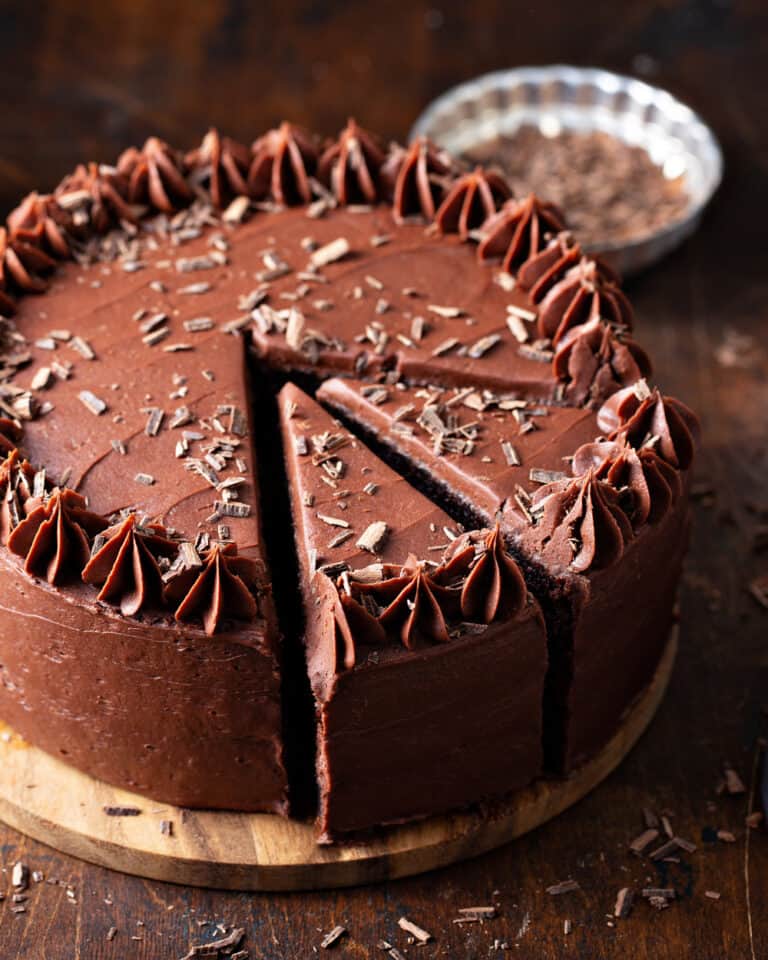 HOW MUCH CAKE DOES THIS RECIPE MAKE?
I most often make this recipe into a double-layered cake using two 9-inch cake pans. Occasionally I will bake it into a sheet cake in a 13×9-inch pan.
You can also bake it into chocolate cupcakes, though! You can get anywhere from 24-36 cupcakes, depending on how full you fill the tins. You'll want to bake the cupcakes for 20-30 minutes.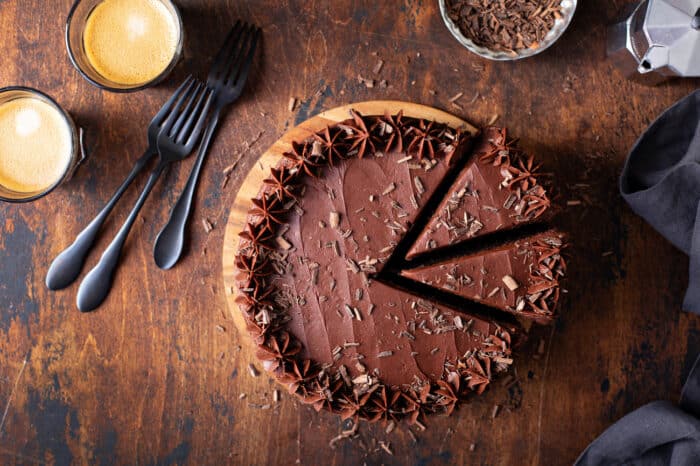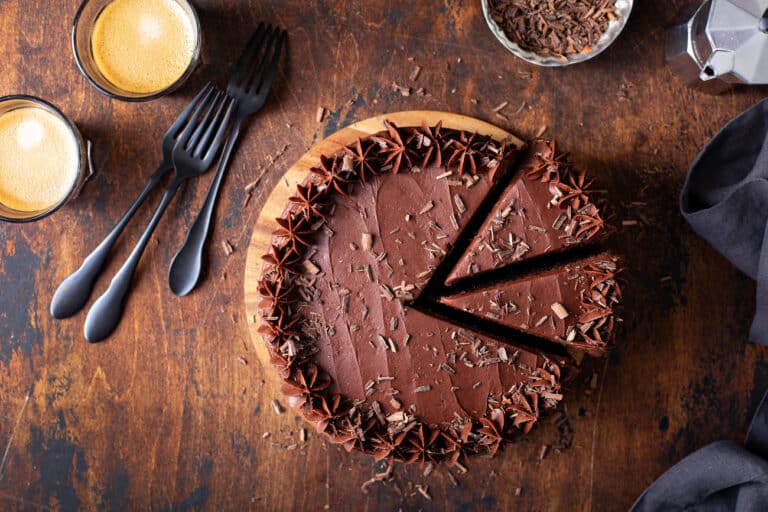 I have even used this recipe to make a bundt cake. When using a bundt cake pan, I bake it between 35-40 minutes.
You might be wondering if you can bake this in 8-inch cake pans instead of 9-inch cake pans. Yes, you can, but you may have a little bit of batter leftover. Just be sure to start checking for doneness a tiny bit earlier than noted in the recipe card.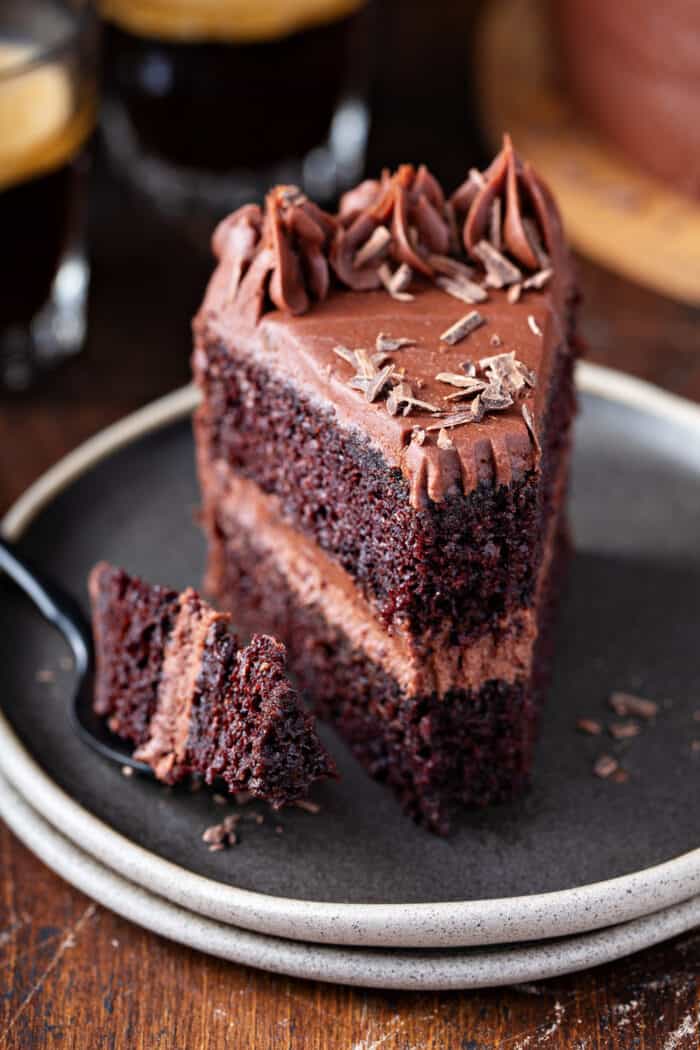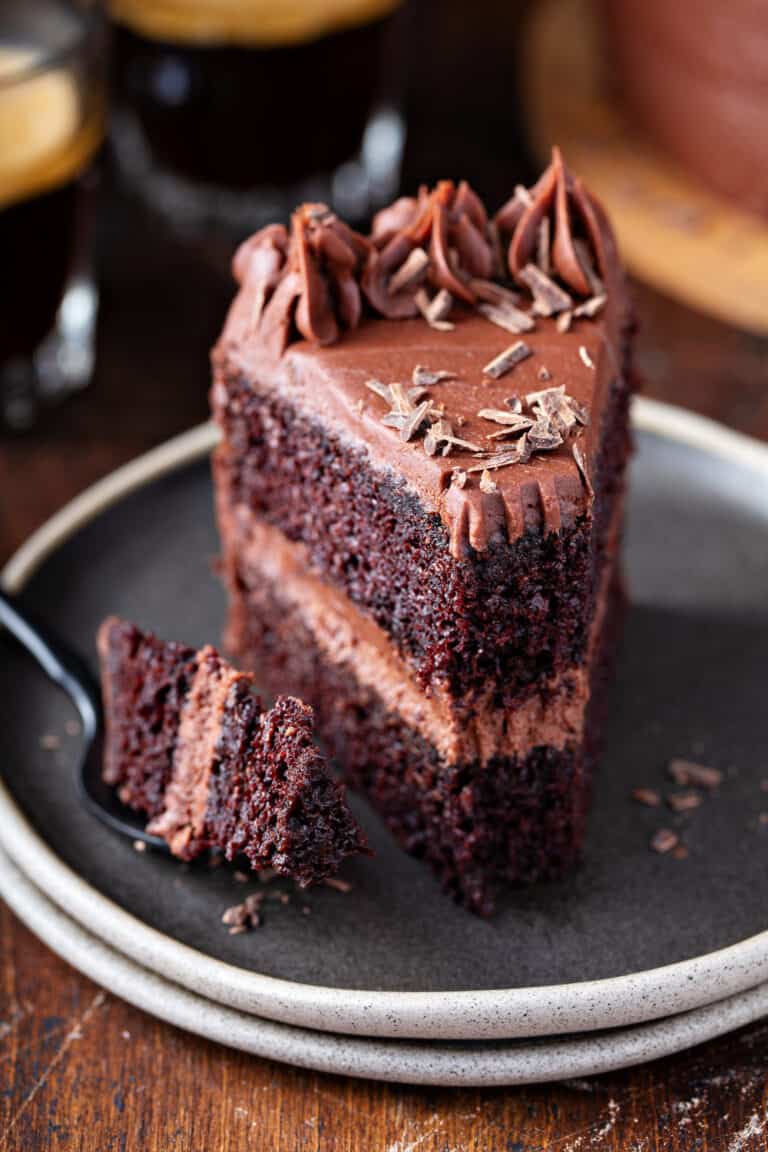 HOW TO TOP MY FAVORITE CHOCOLATE CAKE RECIPE
What's a cake without some frosting?
My homemade buttercream frosting is a delicious way to top the best chocolate cake.
Rich chocolate cake paired with sweet vanilla buttercream? Sign me up.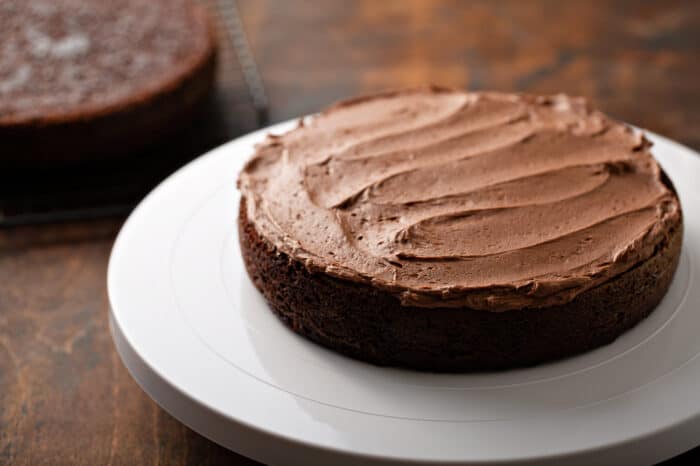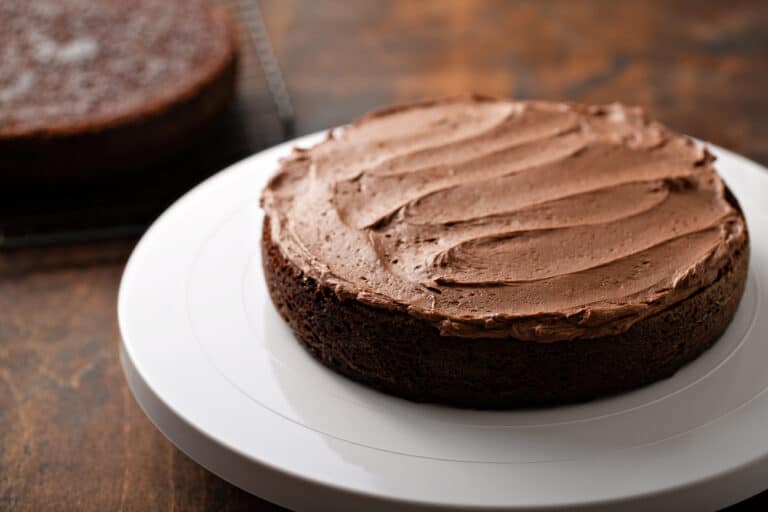 If you are a true chocolate fanatic and want double the chocolate, I would go for chocolate buttercream frosting instead.
If you really want to play up the coffee angle, why not try using a coffee buttercream?
And who doesn't love chocolate and strawberries together? Top your chocolate cake with sweet strawberry frosting for a play on chocolate covered strawberries!
I have even paired this cake recipe with chocolate ganache and salted caramel to make a Double Chocolate Salted Caramel Cake.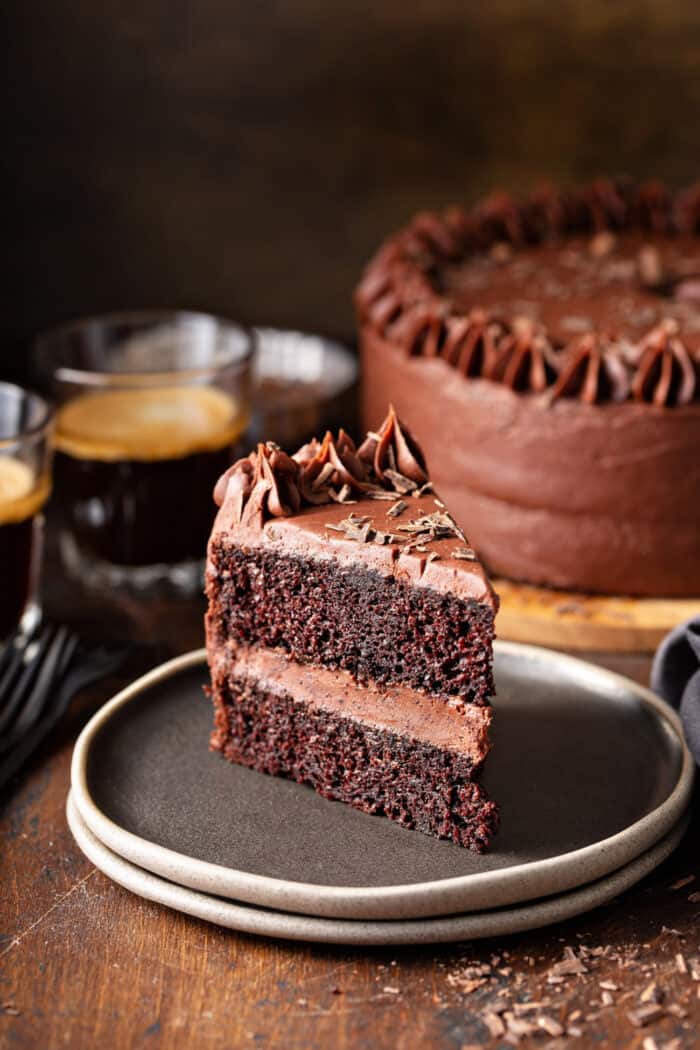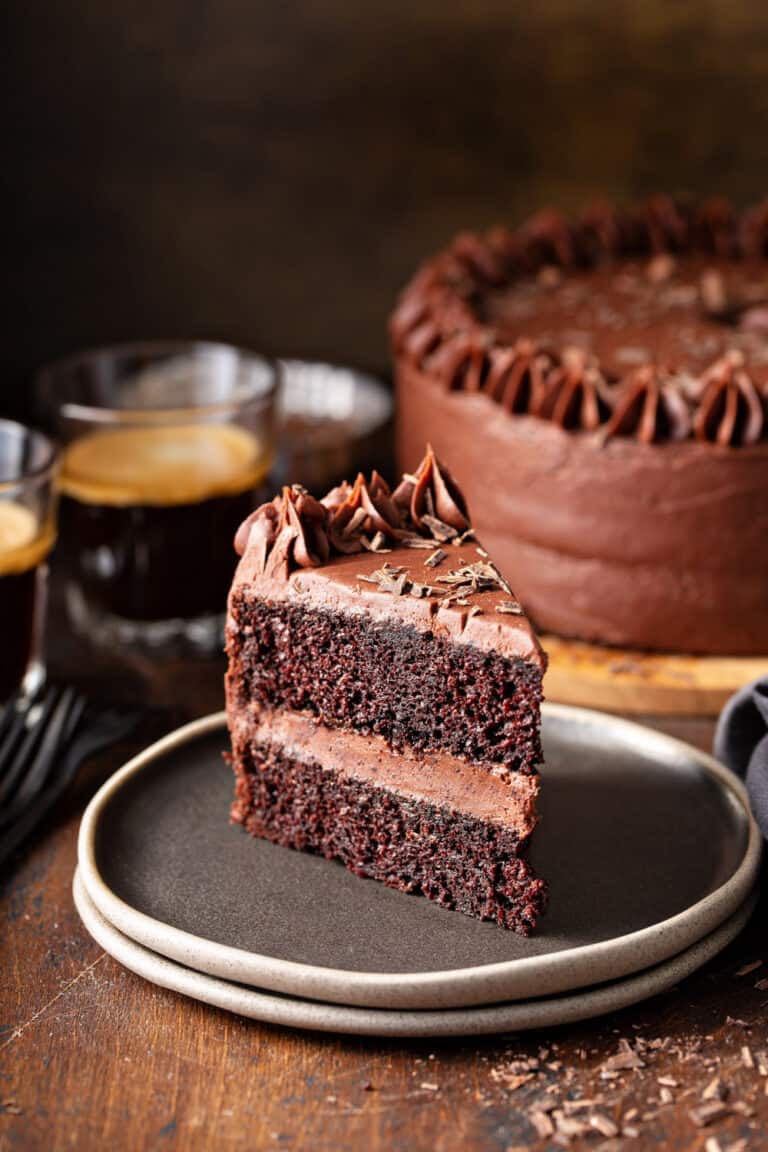 DOES HOMEMADE CHOCOLATE CAKE NEED TO BE REFRIGERATED?
Can you store your chocolate cake at room temperature or does it need to be refrigerated?
The answer depends on how long you want to keep it and what kind of frosting you used.
Unfrosted cake can be stored at room temperature for up to 3 days. To make it last longer, you can tightly wrap and refrigerate the cake for up to a week or even freeze it for a few months.
Chilled cake is actually a bit easier to decorate, so a lot of cake decorators prefer to work with cold cake instead of cake that is fresh from the oven.
If you frosted your cake with buttercream, it can be stored safely at room temperature for up to 2 days. Store in the refrigerator if you want it to last longer, up to 5 days.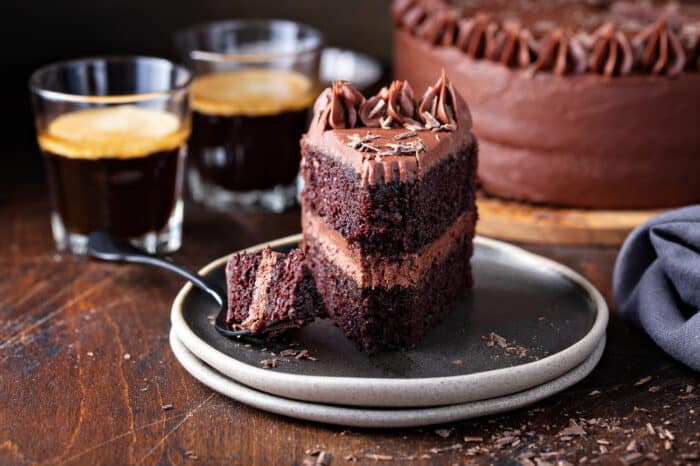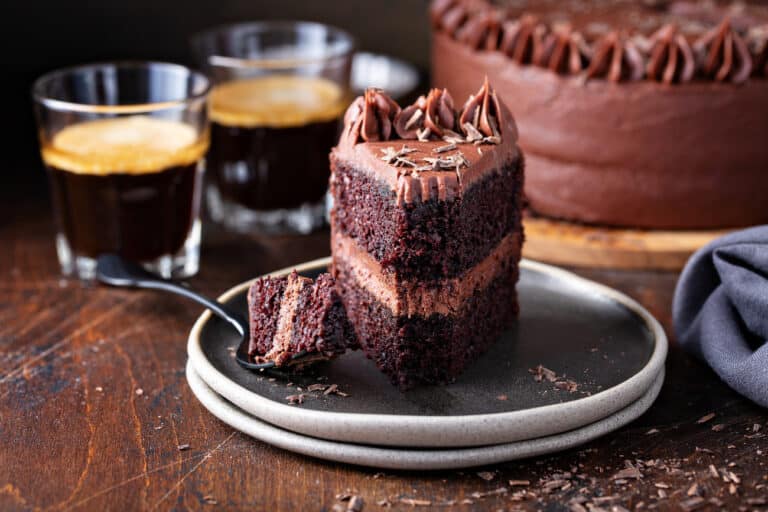 If you used cream cheese frosting, the cake must be stored in the refrigerator and will keep for up to 3 days.
I don't recommend freezing frosted cakes.
And remember, frosted cakes are their best the first day or two. After that, the texture won't be quite the same.
Here's a little storage cheat sheet for you:
Unfrosted cake:
Room temperature: Up to 3 days
Refrigerator: Up to 1 week
Freezer: Up to 3 months
Cake frosted with buttercream:
Room temperature: Up to 2 days
Refrigerator: Up to 5 days
Cake frosted with cream cheese frosting:
Refrigerator: Up to 3 days
No matter how you frost and decorate it, the best chocolate cake is the perfect sort of cake for a birthday or just a Tuesday. Make sure to enjoy it with a very large glass of ice-cold milk – or coffee!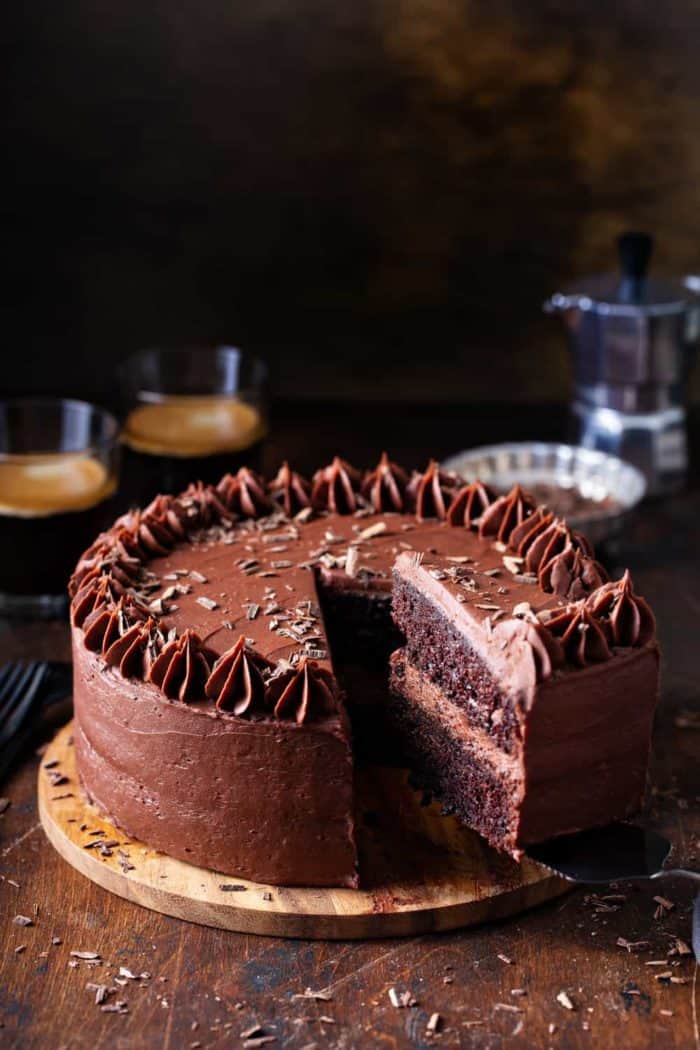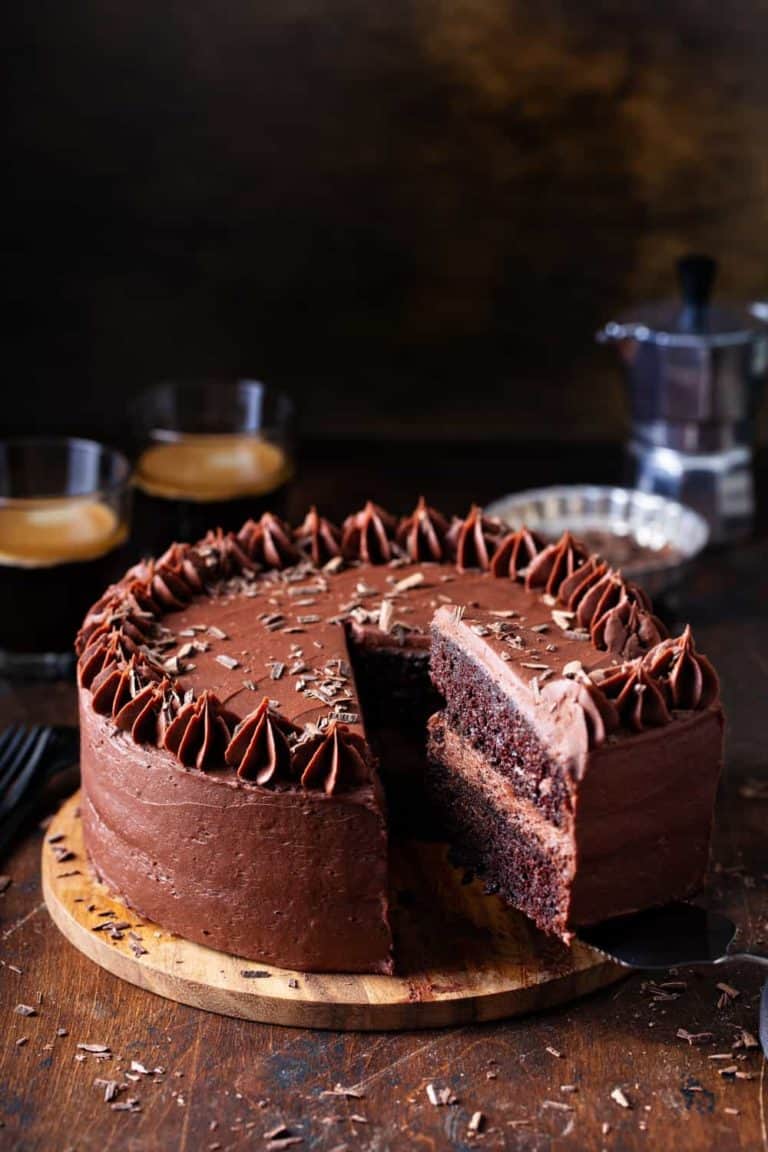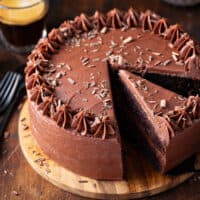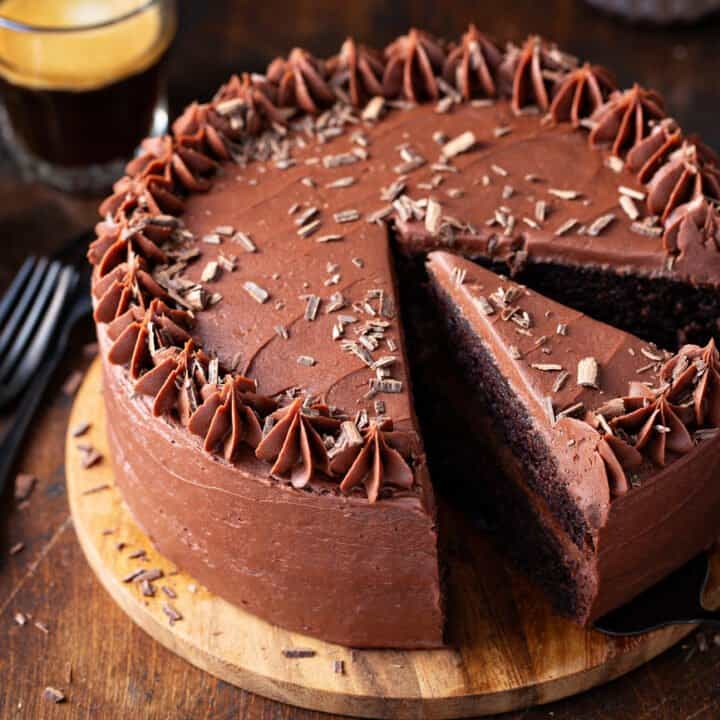 The Best Chocolate Cake Recipe
The Best Chocolate Cake combines cocoa and coffee to create a chocolate lover's dream. The rich buttercream frosting makes it perfect!
Print
Pin
Ingredients
2

cups

sugar

1 ¾

cups

all-purpose flour

¾

cup

unsweetened cocoa powder

2

tablespoons

Dutch process cocoa

optional

2

teaspoons

baking soda

1

teaspoon

baking powder

1

teaspoon

kosher salt

2

eggs

1

cup

buttermilk

1

cup

strong black coffee

½

cup

vegetable oil

2

teaspoons

pure vanilla extract
Frosting of choice, such as:
Instructions
Heat oven to 350°F. Grease and flour two 9-inch round baking pans or one 13x9x2-inch baking pan. Set aside. In the bowl of a stand mixer fitted with the whisk attachment or in a large bowl with an electric mixer, combine the sugar, flour, cocoa(s), baking soda, baking powder and salt. Mix on low until dry ingredients are thoroughly combined.

Add eggs, buttermilk, coffee, oil and vanilla. Beat on medium speed for about two minutes; the batter will be thin.

Pour batter evenly into prepared pans.

Bake in preheated oven for 30 to 35 minutes for round pans, 35 to 40 minutes for rectangular pan or until wooden toothpick inserted in center comes out clean.

Cool 10 minutes; remove from pans to wire racks. Cool completely.

Frost as desired.
Notes
The Dutch process cocoa is optional – it simply provides a great depth of flavor and color to the chocolate cake.
This cake also pairs beautifully with a simple chocolate ganache.
The coffee really brings out the depth of the chocolate (you won't even taste the coffee at all!), but if you really don't want to use it, feel free to substitute water.
For an egg substitute, simply add one mashed banana or 1/4 cup unsweetened applesauce for each egg.
This recipe will make about 24 to 36 cupcakes. Bake at 350 degrees between 20 and 30 minutes.
You can also make a bundt cake with this recipe. The cake should bake for about 35 to 40 minutes at 350 degrees.
Get tips on high altitude baking.
Very slightly adapted from Ina Garten
Nutrition
Serving:
1
slice (unfrosted)
|
Calories:
471
kcal
|
Carbohydrates:
78
g
|
Protein:
7
g
|
Fat:
17
g
|
Saturated Fat:
4
g
|
Polyunsaturated Fat:
8
g
|
Monounsaturated Fat:
4
g
|
Trans Fat:
0.1
g
|
Cholesterol:
44
mg
|
Sodium:
668
mg
|
Potassium:
244
mg
|
Fiber:
4
g
|
Sugar:
52
g
|
Vitamin A:
109
IU
|
Calcium:
87
mg
|
Iron:
3
mg
The default measuring system on My Baking Addiction is US Customary. Unit conversions are provided as a courtesy; please be aware that there may be some discrepancies.
Card may contain affiliate links. As an Amazon Associate and member of other affiliate programs, I earn from qualifying purchases.