7Up Pound Cake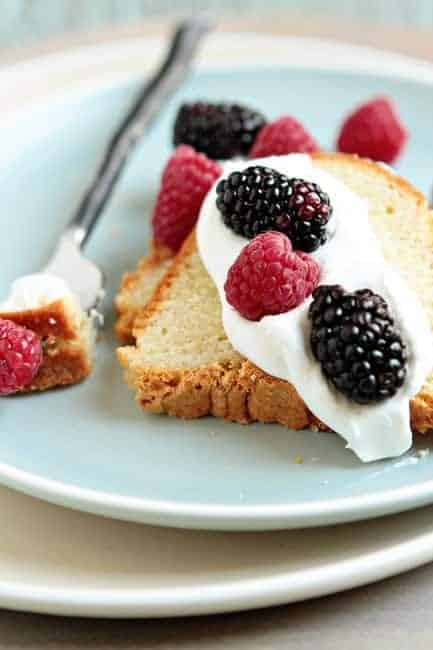 Years ago I was given a recipe for 7Up Pound Cake from a woman that I used to work with. It was sweet, lemony, and had an incredible crunchy bottom to it. Sometimes she'd serve it plain, other times, she finish it off with a zesty, 7up lemon glaze. Seriously, it was to die for.
Connie was a from scratch cook, so rarely did she have exact measurements for her creations. She'd give basic details then throw in words like, a handful of this, a pinch of that. Needless to say, I was never able to recreate her incredible food based upon her vague directions. But one day, she called me down to her office and had an actual recipe for her 7Up Pound Cake written in her pristine, cursive handwriting on a yellow sticky note.
After receiving the recipe, I made it countless times – always playing with the toppings and trying to perfect the 7Up glaze – which I never did. For whatever reason, it never tasted as good as Connie's. At some point, I forgot about this cake and even lost the recipe.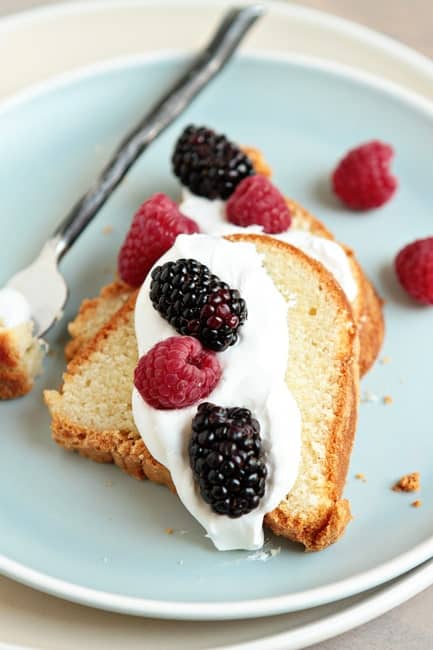 Yesterday, I wanted to make a pound cake and immediately Connie's 7Up version popped into my head. I became a little obsessed with finding the recipe and after a valiant effort of digging through countless cookbooks and recipe binders, I came up empty handed.
I turned to the internet and happened upon a recipe that I thought was pretty darn close, so I went with it – adding a couple of tweaks along the way. It turned out fantastic and even had that perfect crunchy bottom that was always my favorite part of her recipe. It was still missing a little something, but I'm starting to think that Connie may have a little secret ingredient that she decided to keep to herself.
Serve this 7Up Pound Cake with a simple dusting of confectioners' sugar or you can get a little fancy and top it with whipped cream and ripe summer berries. Regardless, this is a pound cake you'll want to make again and again. Especially during the summer, when you can throw it on the grill and impress your friends with the extra depth of flavor grilling a pound cake can produce. Don't believe me? Try it, just once. You'll want to grill your pound cake from now on!
7Up Pound Cake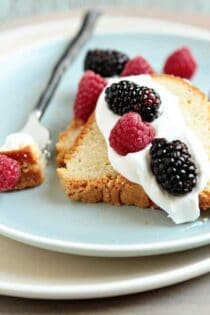 Ingredients:
1 1/2 cups butter, room temperature
3 cups granulated sugar
zest of one lemon
5 large eggs
2 teaspoons pure vanilla extract
2 teaspoons lemon extract
3 cups Gold Medal all-purpose flour
8 ounces (1 cup) 7Up, Sprite, or Sierra Mist
Directions:
Preheat the oven to 350° F. Spray a 10-cup capacity bundt-style pan with non-stick cooking spray such as Pam for baking. This has flour in it and I find that it helps with a clean release after the cake has baked.
In the bowl of a stand mixer fitted with the paddle attachment, add butter and beat on medium high speed for 5 minutes. Add in sugar and lemon zest and continue beating for another 5 minutes. The mixture will be light and fluffy.
Add in eggs one at a time, incorporating each egg before adding in the next, scraping down the sides of the bowl as needed. Add in the extracts and mix until incorporated.
Slowly mix in the flour and lemon-lime soda alternatively, starting and ending with flour. Spoon the batter into the prepared pan and smooth out the top.
Bake in preheated oven for 75-85 minutes or until a cake tester inserted into the center comes out clean.
Remove the cake from the oven and allow it to cool for about 10 minutes on a wire rack. Carefully invert the cake onto another cooling rack and allow it to cool completely.
Serve the cake with a sprinkling of confectioners' sugar or fancy it up a bit with whipped cream and fresh, summer berries.
Notes:
7Up Pound Cake is best served the day it is prepared, but it will keep at room temperature in an airtight container for up to one day.
My Baking Addiction adapted from allrecipes.
All images and text ©
Follow Jamie on Instagram. We love to see what you're baking from MBA! Be sure to tag @jamiemba and use the hashtag #mbarecipes!
This post may contain affiliate links. We are a participant in the Amazon Services LLC Associates Program, an affiliate advertising program designed to provide a means for us to earn fees by linking to Amazon.com and affiliated sites.