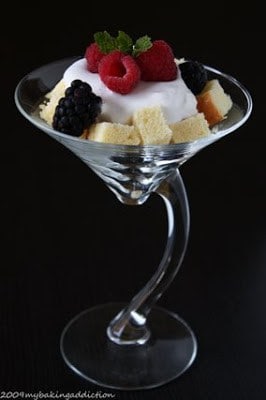 Over the weekend I was linked to a Pound Cake recipe by my good pal and fellow blogger, Em . This recipe included sweetened condensed milk and that alone piqued my interest. Honestly, I was bored, it was Memorial Day and I had my fair share of planting flowers, so I headed off to the grocery store to grab a few ingredients. This recipe whipped together in no time and produced a gorgeous, sweet and delicious pound cake. Once it had cooled, I contemplated tossing it on the grill to serve alongside grilled pineapples. However, I ultimately made the decision to make use of all the amazing ripe berries in my fridge and create parfaits. Before I assembled the parfaits, I whipped up one cup of heavy cream with the rest of the sweetened condensed milk and folded in a variety of chopped berries. This created a berry cloud of sorts and made the parfaits absolutely drool-worthy! Trust me though…this pound cake would be just as scrumptious plain or with a shot of Reddi Wip! Layer this up in a pretty glass or glop it into your favorite cereal bowl, either way you will be in berry bliss!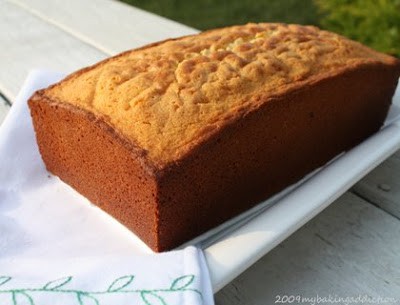 Condensed Milk Pound Cake
From Simply Anne's
1 cup unsalted butter at room temperature
1 and 1/3 cups cake flour
3/4 tsp baking powder
1/2 cup sugar
2 tsp vanilla extract
1/2 tsp salt
3/4 cup sweetened condensed milk
3 large eggs
1. Preheat oven to 325 F. Butter an 8 1/2 x 4 1/2 inch loaf pan and set aside.
2. Sift together the flour, baking powder and salt.
3. In a bowl beat butter and white sugar until light and fluffy about 2 minutes. Add condensed milk and vanilla beat until well incorporated.
4. Add the sifted dry ingredients and beat until no traces of flour remains.
5. Beat in the eggs one at a time, beating well and scraping the bottom and sides of the bowl after each additions.
6. Transfer batter into the prepared pan. Bake until the top is dark golden brown and a tester inserted in the center comes out clean about 1 hour. Cool and slice.