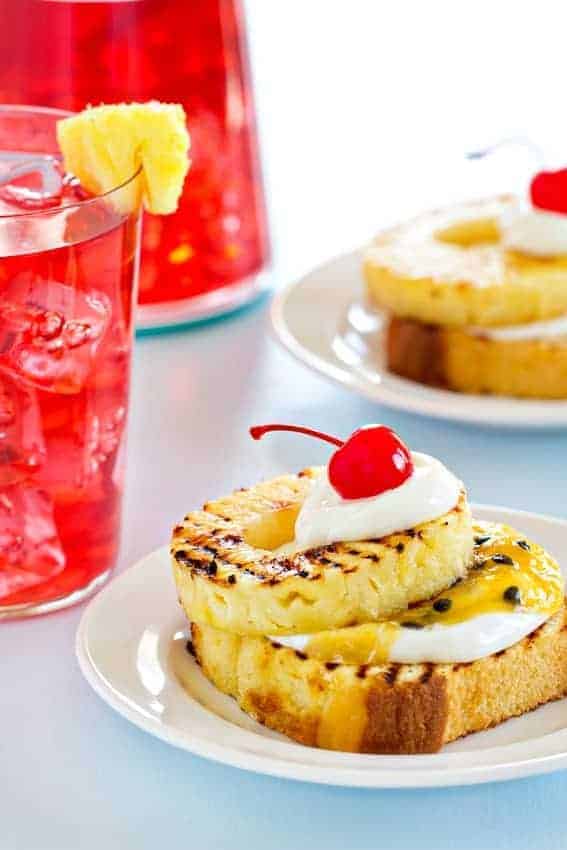 Grilled Pound Cake with Pineapple and Passion Fruit could be summer's best dessert yet. This fruity, easy treat is also absolutely stunning.
This is a sponsored post on behalf of Starbucks®. All opinions are my own. Thank you for supporting the brands that continue to make My Baking Addiction possible.
Alright, everyone. Let's talk about something amazing for summertime; GRILLING all the desserty things.
Seriously, have you ever grilled pound cake before? It's amazing. AH-mazing. Sugar in the pound cake gets caramelized into something almost akin to the burnt sugary taste of the top of creme brulee, and I can't stop thinking about it.
But then Eric and I went and did something crazy – we threw pineapple rings on the grill too. We're rebels like that.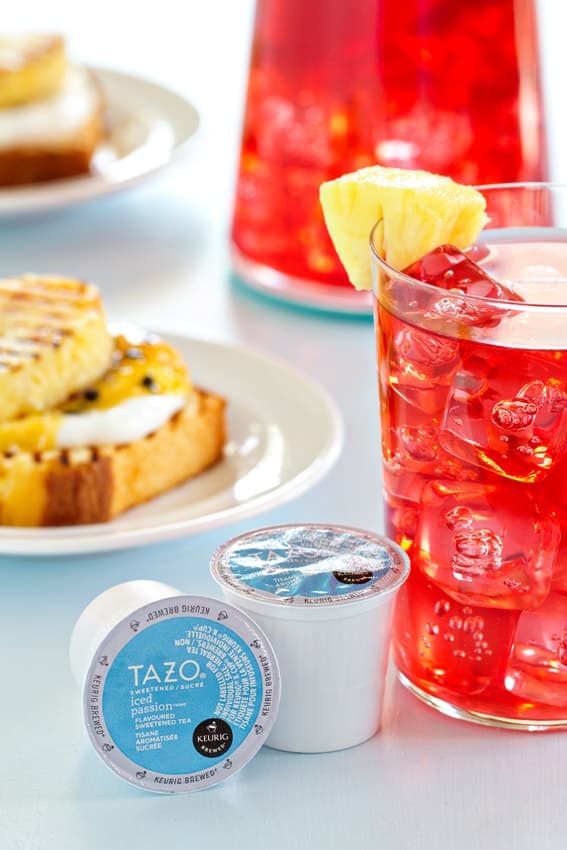 We're totally not rebels – grilling pineapple has been around forever, just not on our grill.
This crazy dessert idea of ours started to feel a lot like a tropical Strawberry Shortcake, but where's the creamy factor? Enter passion fruit yogurt. Done and done.
Where did the inspiration for adding passion fruit yogurt come from, you ask? It's not an obvious choice, since not every yogurt maker offers it. Well, I'm obsessed with Tazo® Iced Tea K-Cup® Packs in Sweetened Iced Passion®. That sweet, tropical flavor is all I've been drinking for days now, and adding it to our dessert seemed natural.
We sat out on our front porch (you know, since our backyard is still a wasteland of mud and weeds), and scooped up heavenly bites of grilled pound cake and pineapple with dollops of passion fruit yogurt. It wasn't too heavy – perfect after the steaks we'd grilled up – and delightfully fruity.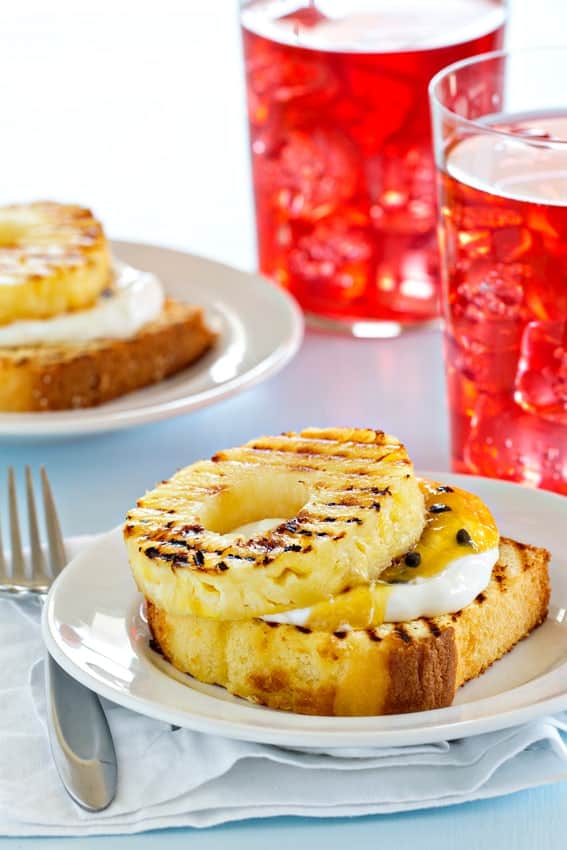 If you've never tried passion fruit, you must. I'll try to describe it, but I don't know if I can do it justice. I feel like it's kind of mango meets banana meets lemon. It's tangy, but sweet. It goes really really well with other tropical fruits, like pineapple, coconut, or mango. You could use any of them here – though obviously I went with pineapple because we love it.
Grilling fruit isn't always an obvious choice, but in summer, you really should give it a try. So many of summer's fruits lend themselves well to a little fire – peaches, or any stone fruit, would be equally yummy here. Even strawberries can be grilled, believe it or not. Just use a grill pan, the same way you would to grill mushrooms or squash. Once you've grilled fruit, you'll be doing it constantly. It adds such a depth of flavor to any fruit or bread – you've just got to do it!
Sipping on iced tea, nibbling on grilled pound cake with fresh grilled pineapple and cool yogurt. This is how you spend summer, friends. This is how you savor summer.
If you're looking for a delicious pound cake recipe, be sure to check out my 7-Up Pound Cake and Cream Cheese Pound Cake! Both get even more delicious when they're grilled!