Grilled peaches are a fun and easy way to celebrate one of summer's best fruits. Topped with brown sugar and spices, these peaches are amazing when served with a scoop of ice cream and a drizzle of honey.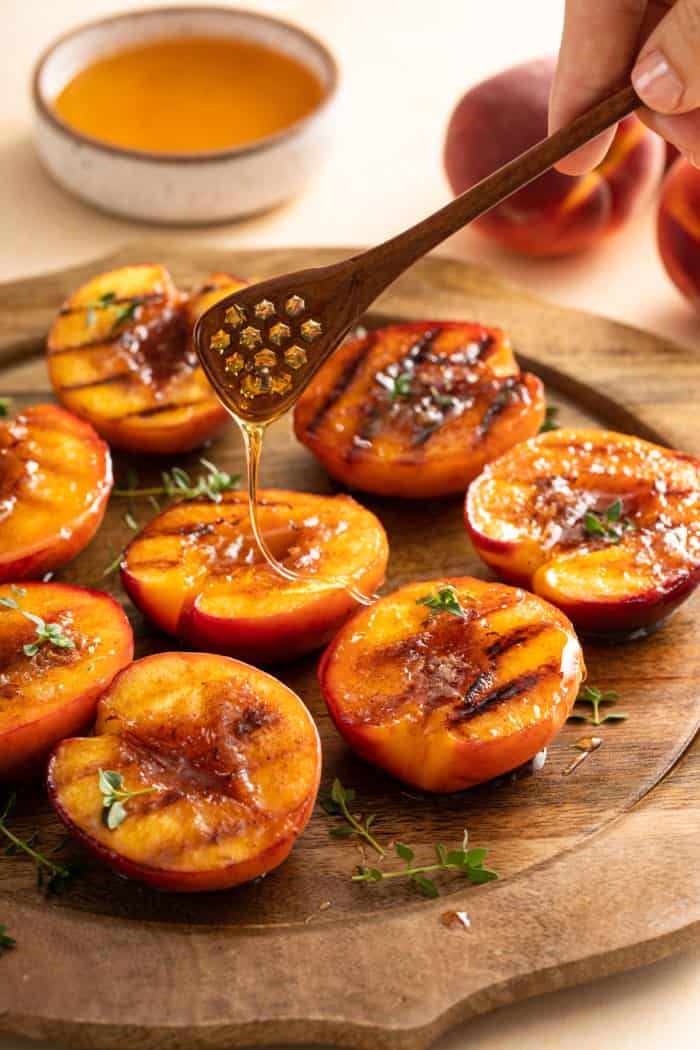 This post contains affiliate links.
One of our favorite summer fruits is peaches. However, the ones that we typically purchase from the grocery store here in Ohio are totally hit or miss.
Some are delicious and some are bland and mealy. If you've ever bitten into a mealy peach, you know why my daughter thought she disliked fresh peaches for an entire summer when she was around 3.
A few years ago, we ordered fresh peaches from The Peach Truck, but your girl is not made to wait in long lines to pick up a crate of peaches that seemingly go bad within a few days, so I wisened up and ordered a dozen at a time from their website along with their peach jam.
I know mail order peaches may seem a little ridiculous to some, but to us, those peaches are worth every single penny. And if you've ever had one, you know exactly what I am talking about – they are truly peach perfection.
We typically enjoy the peaches fresh, but we also love whipping up peach desserts like these simple grilled peaches. Top them off with ice cream or whipped cream for a sweet and delicious summer dessert.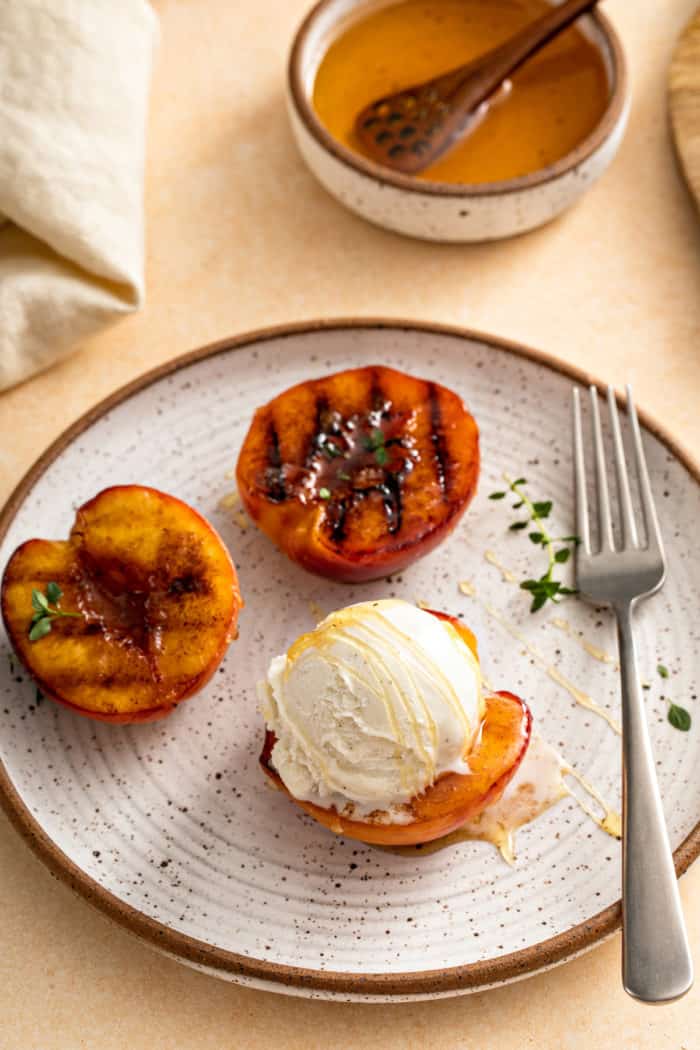 WHY GRILL FRESH PEACHES?
Have you ever had grilled peaches?
I know, I know. If you're used to grilling things like garlic basil shrimp or flank steak tacos, the idea of grilling fruit might be a little "out there" for you.
But grilled fruit is actually amazing!
Grilled watermelon and grilled pineapple are both awesome, but there's just something about grilled peaches that I love.
Grilling peaches softens and caramelizes the fruit. If you like cooked peaches in peach cobbler or peach pie, you'll love grilled peaches!
HOW TO GRILL PEACHES
Something I love about this recipe is how easy it is to make. If you're already grilling the rest of your dinner, it's so easy to throw these peaches on the grill at the end.
No need to turn on the oven, no need to use a lot of bowls or baking dishes.
But they're so pretty that they'll still impress any guests!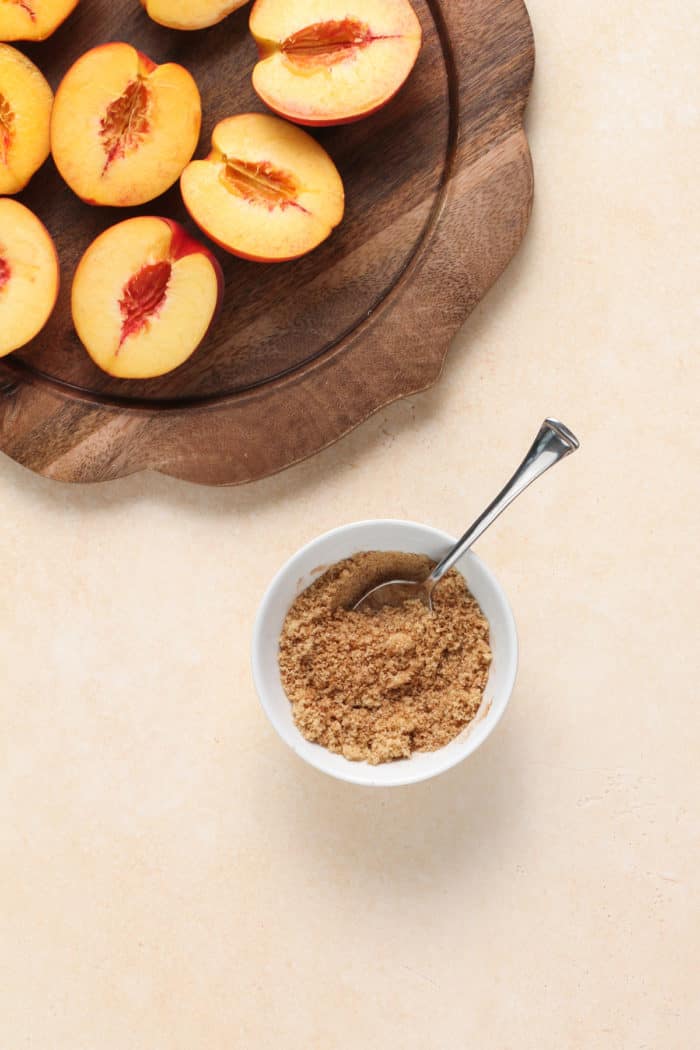 Preparing the peaches
The recipe below is for 4 grilled peaches to serve 4 people, but you can scale this up or down to feed as many people as you like. For a nice-sized dessert, I would plan on one full peach per person.
To prepare the peaches, wash them and halve them. Remove the pits.
This process will be much easier with freestone peaches, but you can use clingstone peaches if that's all you can find. You may need to carefully cut the pits out if using clingstone peaches.
I typically leave the skin on my grilled peaches. However, if you don't like the texture of peach skin, you can peel the peaches before cutting them in half.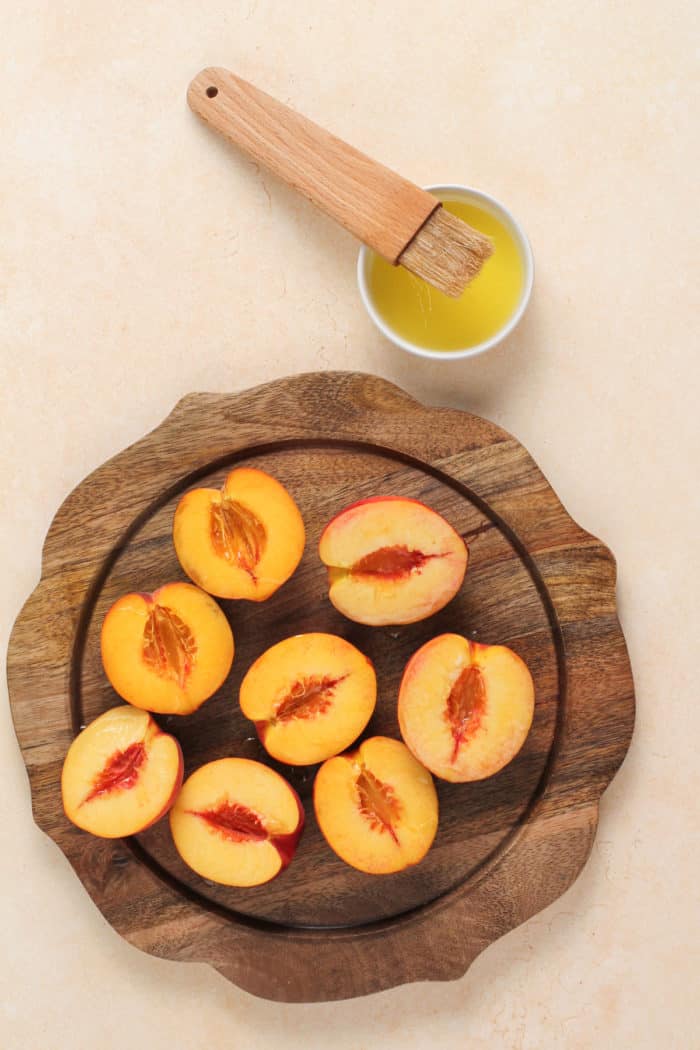 Sweet versus savory
I really like to serve grilled peaches as a simple dessert, so this recipe calls for sprinkling a brown sugar and spice mixture over the top of the peaches.
If you want to use grilled peaches in a savory recipe, simply leave off the sugar mixture. You can still choose to brush them with melted butter or you can use olive oil instead.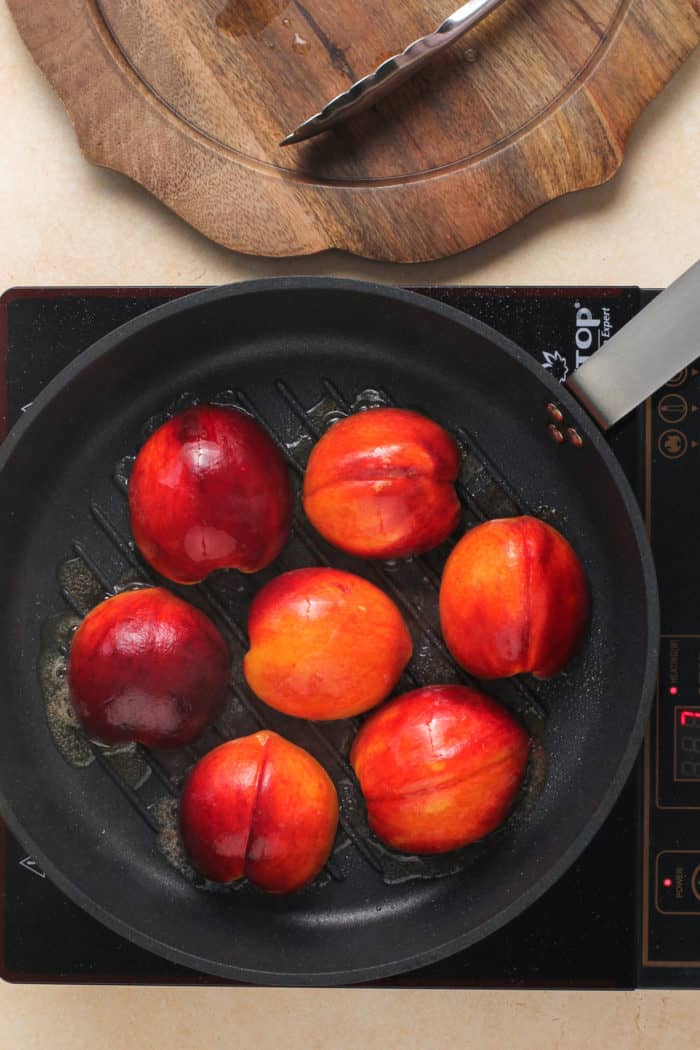 What if I don't have a grill?
If you don't have an outdoor grill, you can still make this recipe!
All you will need is a grill pan. I like using a cast iron grill pan – I think it gives the most similar results to my outdoor grill.
You can grill almost anything on a grill pan, so it's a pan that is well worth having around!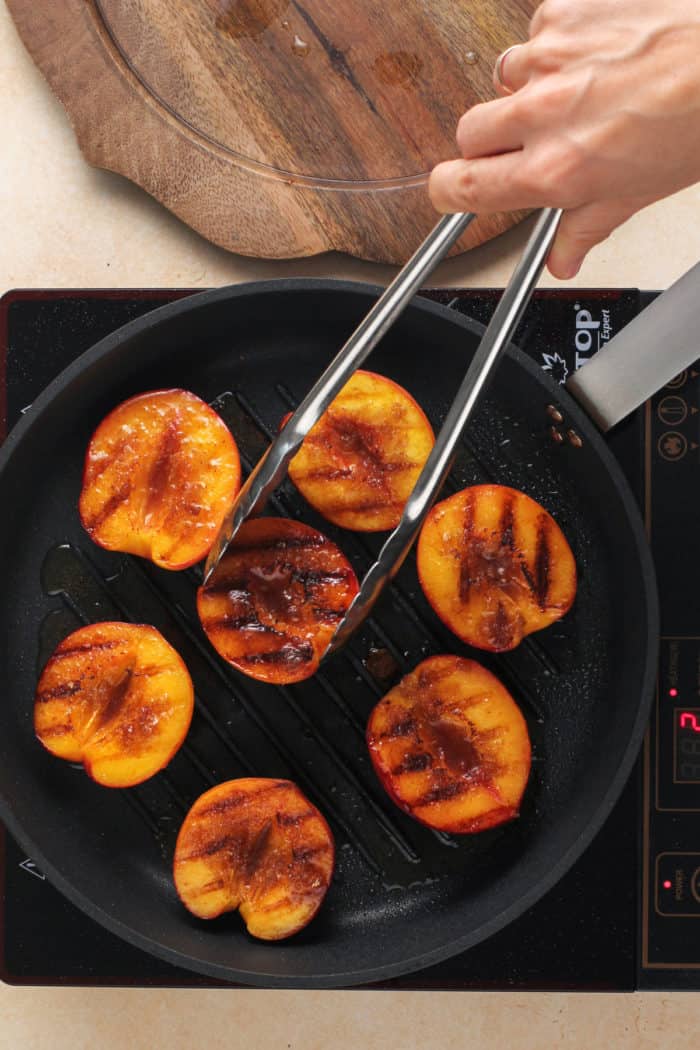 How to make this recipe
Make sure your grill or grill pan is over medium heat.
In a small bowl, mix together the brown sugar and pumpkin pie spice.
I know – this isn't a fall or a pumpkin recipe. But the spices in pumpkin pie spice – ground cinnamon and ginger in particular – all go really well with peaches, so I love using it in this recipe!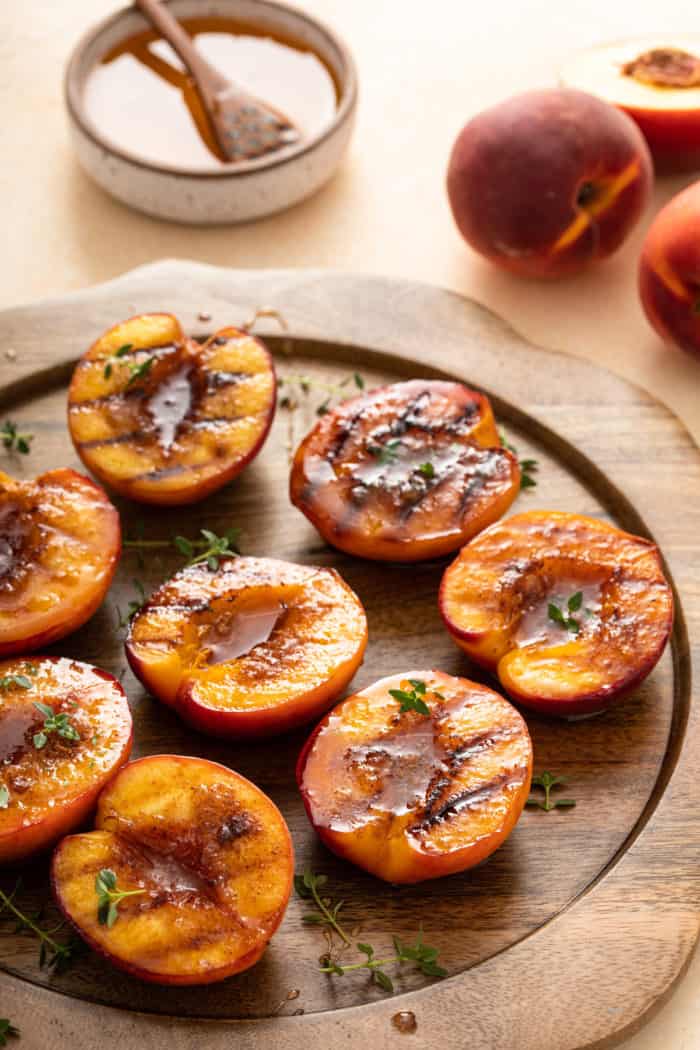 Brush the cut sides of each of the peach halves with melted butter. Place each peach half cut-side down on the grill, then brush the tops with the rest of the butter.
Cook the peaches for 4-6 minutes, or until you've got some beautiful grill marks and the peaches start to soften.
Flip the peach halves and sprinkle the tops with the brown sugar mixture. Keep cooking for another 3-5 minutes, or until the brown sugar has melted and the peaches are soft.
Remove the peaches to a platter and get ready to serve!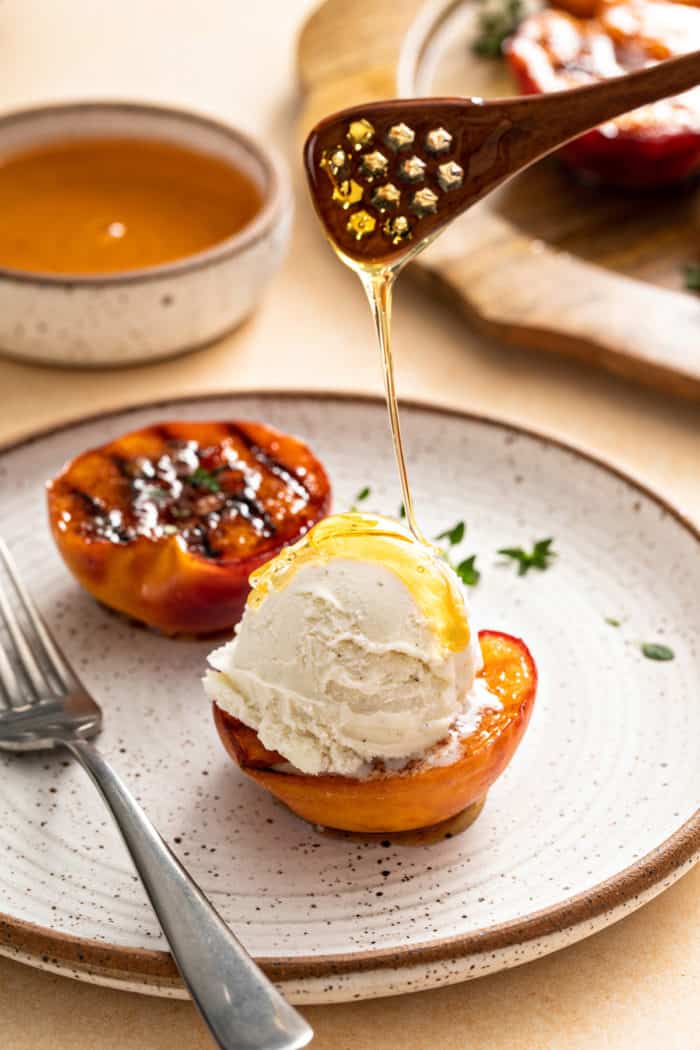 WHAT TO DO WITH GRILLED PEACHES
I really like to keep things simple here and serve these grilled peaches with a big scoop of vanilla bean ice cream or no-churn ice cream, a drizzle of honey, and a sprinkle of fresh thyme leaves.
A sprinkle of chopped toasted pecans would be delicious, too!
But don't stop there! They would also be delicious with homemade whipped cream, salted caramel sauce, or alongside grilled pound cake or a grilled slice of whipping cream cake.
If you want to use grilled peaches in a savory application, try adding them to a salad. Or cut the grilled peach halves into slices and put them on a charcuterie platter alongside some burrata cheese, prosciutto, and grilled slices of sourdough bread.
Give grilled peaches a try and see just how amazing grilled fruit can be!