If taco night is a weekly occurrence at your house, you'll want to add these Flank Steak Tacos into the rotation! Top the marinated and grilled flank steak with pickled onions, avocado, and crema for a delicious homemade taco.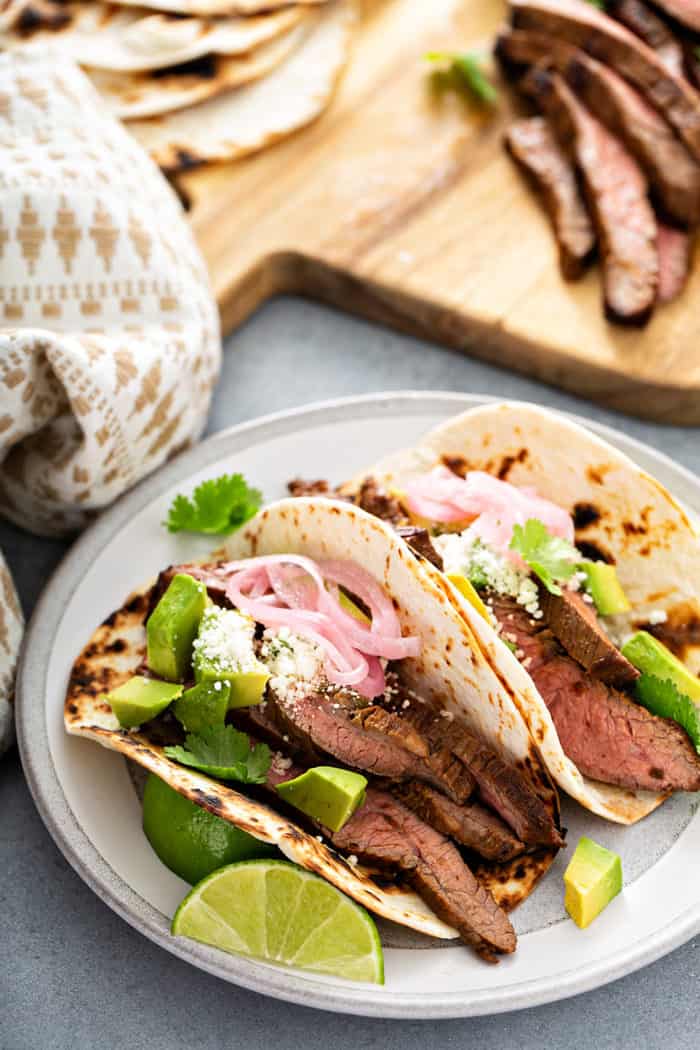 We're pretty taco obsessed in this house. Whether we're talking about regular ground beef tacos with homemade taco seasoning (or heck, even a packet of Ortega), or a fancier version like these Flank Steak Tacos with all the fixings – tacos are a weekly event over here.
Although Elle and Eric are pretty simple when it comes to their taco topping preferences and are completely happy with shredded lettuce, Mexican blend or Cotija cheese and a bottle of Ortega sauce, I tend to go all-in with the toppings.
From pickled onions and fresh cilantro to Mexican crema and a variety of hot sauces, I'm totally a "more is more" type of taco eater. Throw in a bag of tortilla chips and the Queso Mama White Queso with Green Chilies from Costco or a bowl of guacamole and I'm pretty much in heaven.
Since the weather is finally warming up here in Ohio, we're eager to get outside and grill all the things – starting with these delicious Flank Steak Tacos.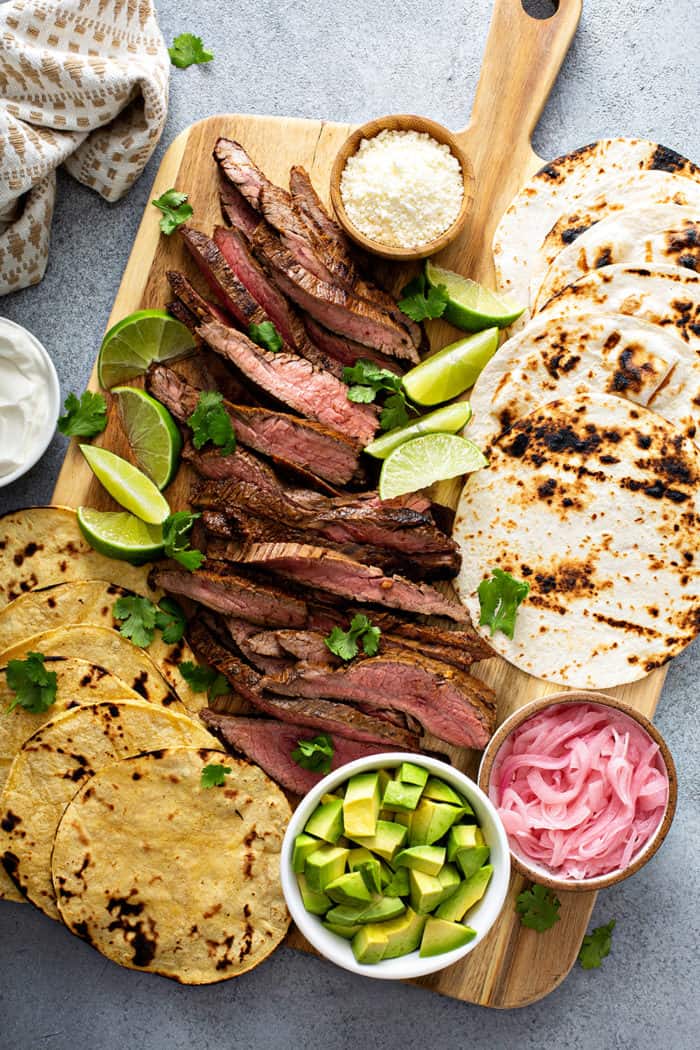 FLANK STEAK TACO MARINADE
Obviously the steak is the star of these tacos, so we have to make sure the meat is as flavorful as possible before we even put it on the grill.
You might look at the ingredient list for this marinade and think I've asked you to use every ingredient in your pantry.
I promise that, just like when making Chipotle Barbacoa, every ingredient in this marinade serves a purpose and is important! And a lot of these are things you might already keep on hand, especially if you're a taco fiend like I am.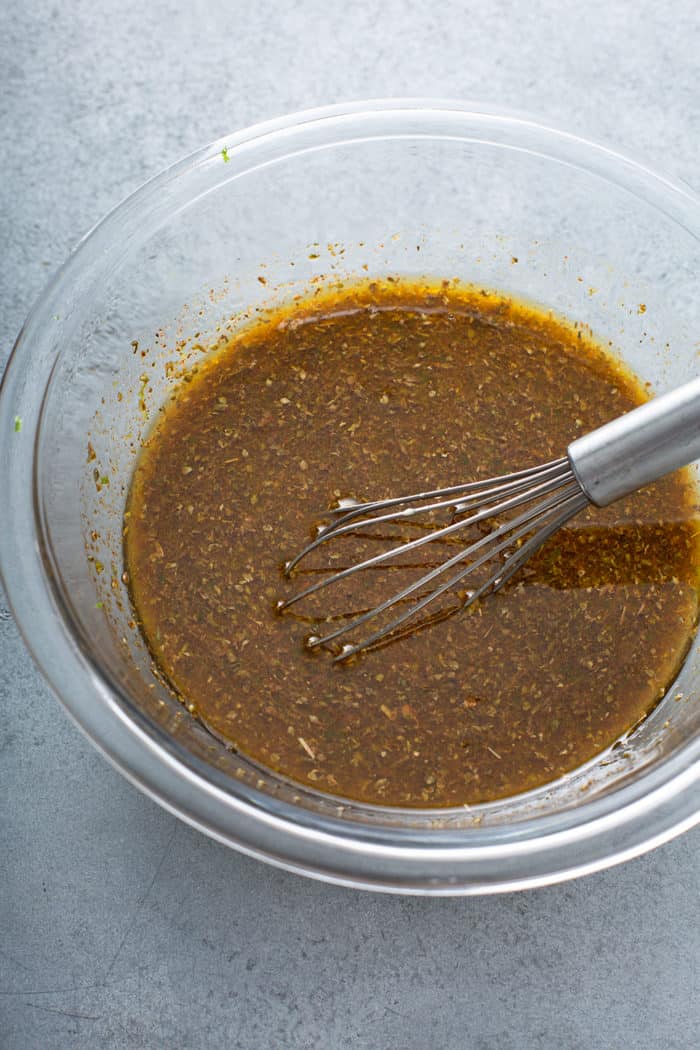 Let's take a look at the ingredient list:
Orange juice
Lemon juice and zest
Lime juice and zest
Garlic
Worcestershire sauce
Brown sugar
Chipotle sauce or chipotle peppers in adobo sauce
Paprika
Dried oregano
Ground cumin
Salt and pepper
Hot sauce of choice, optional
Olive oil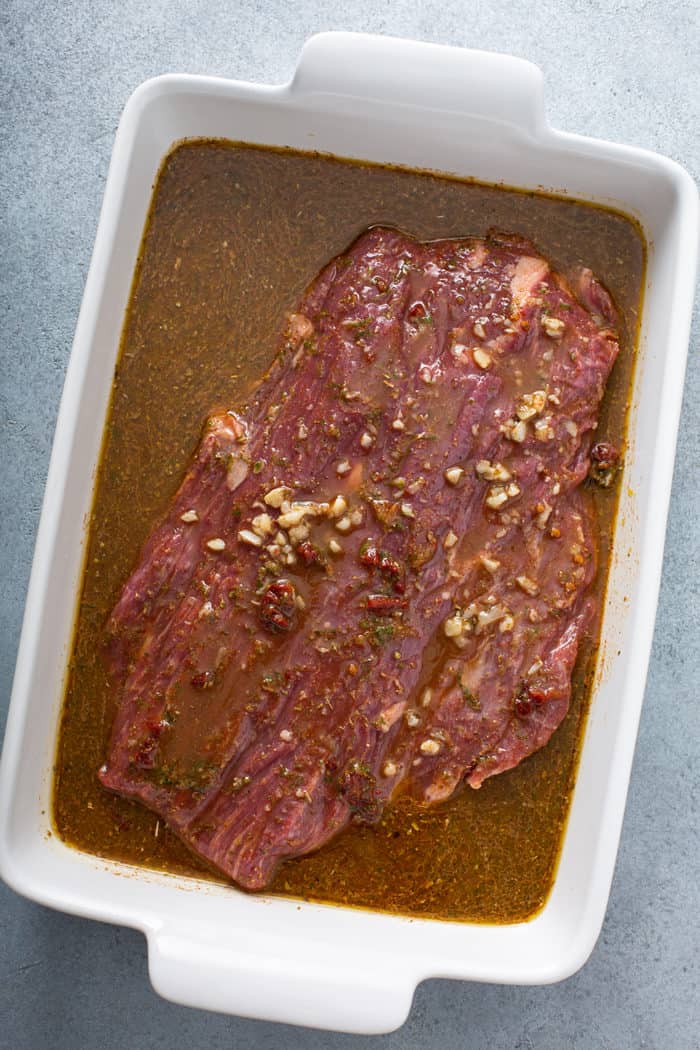 I pack this marinade with tons of citrus to keep it bright and to balance the smokiness of the chipotle peppers and the spices. If you've never purchased chipotle sauce or chipotle peppers in adobo before, I usually pick them up at my local Mexican grocery or you can find them at most mainstream grocery stores with the other Hispanic foods.
If you've never checked to see if your town has a Mexican grocery store, do it! You'll be able to pick up the best ingredients for your marinade, as well as the best tortillas, taco toppings, and rice or beans for serving on the side.
Plus, you'll be supporting a local small business!
To marinate your steak, whisk together all of the marinade ingredients. Cover your steak – either flank steak or skirt steak – with the marinade and refrigerate for at least 2 hours. The longer it marinades, though, the tastier it will be, so let it go all day or overnight if you can.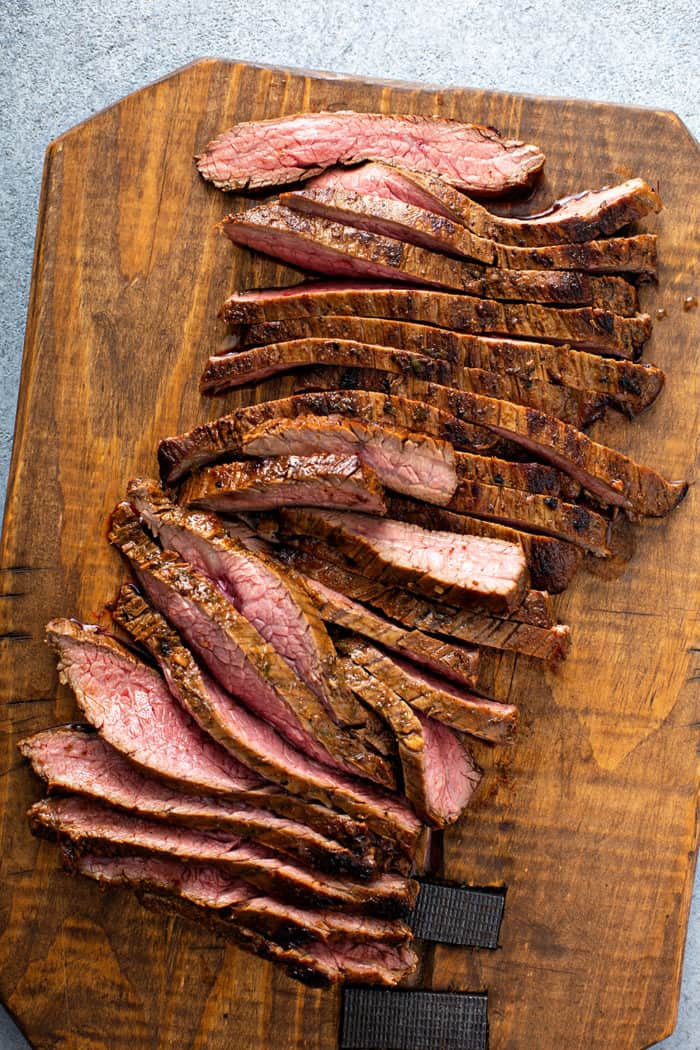 HOW TO COOK FLANK STEAK FOR TACOS
When you're ready for dinner, fire up your grill.
We like to use our outdoor grill, but you could definitely use a grill pan if you don't have a traditional grill or want to make these indoors.
Remove the steak from the marinade, setting the marinade aside. Grill the steak for 3-5 minutes per side, basting a couple of times with the reserved marinade.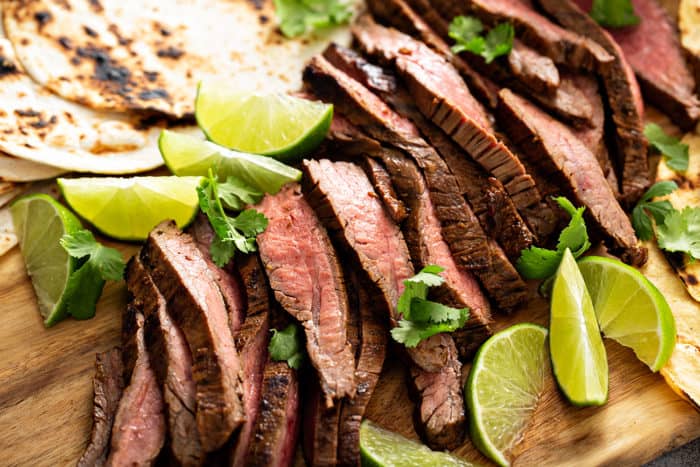 If you're experienced at grilling and cooking steak, you might be able to eyeball when it's at your desired doneness. I think it's always good to use a thermometer to double check, though!
When the flank steak is done, remove it to a plate or cutting board and let it rest for at least 5 minutes before thinly slicing it against the grain.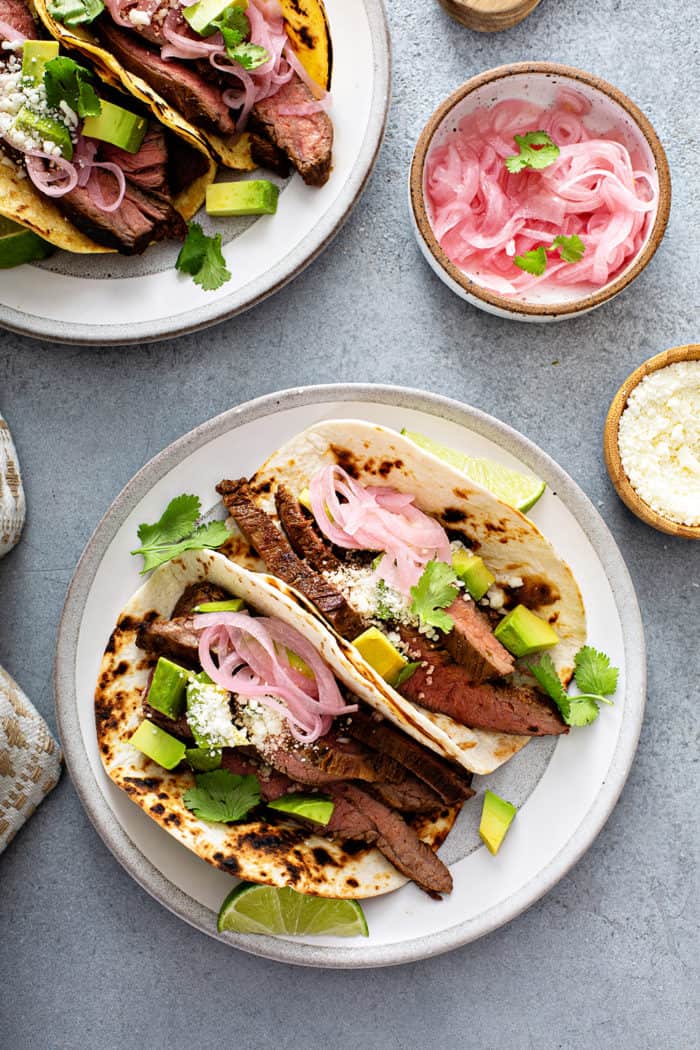 HOW TO SERVE THESE TACOS
I like to serve these Flank Steak Tacos with a mix of corn and flour tortillas. Just please, I beg of you: warm your tortillas before you assemble the tacos!
As for toppings, I think these tacos are best served with accompaniments like pickled onions, cotija cheese, avocado, Mexican crema, or fresh cilantro.
And don't forget to make a big pot of borracho beans to go with them!